We know it's difficult to imagine a time when the Starbucks Frappuccino didn't exist. But that time was 1994. The era when Lisa Loeb, Nine Inch Nails, and Warren G ruled the top of the charts and Tom Cruise was the vampire everyone wanted to climb like a tree. And, yet, no frappe.
But, following a successful soft launch in the San Fernando Valley in 1993, Starbucks decided to launch the beverage nationwide in the summer of 1995. With two flavors: Coffee and Mocha. And no whipped cream. Cue sad power ballad.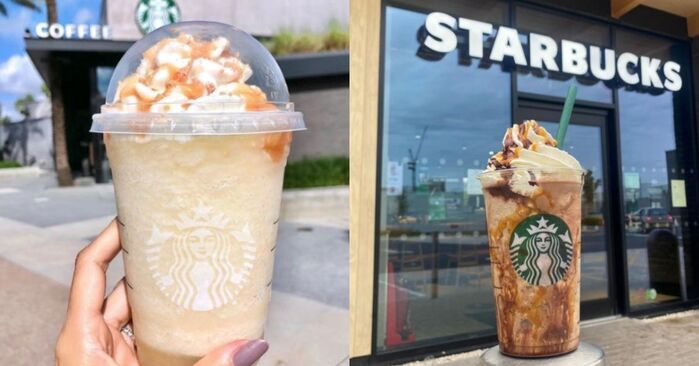 Despite that "missing" ingredient, the Frappuccino's launch was much more successful than expected. Not only did the milkshake-like beverage bring in people who didn't typically drink coffee, it also boosted summer sales, and pushed Starbucks stock to an all-time high.
Since then, Starbucks has been rolling out new Frappuccino flavors since, some of which are fantastic… some of which are a little "hey, well that was an interesting experiment."
Here's a look at what's on the current menu, plus some secret menu frappes you can order.
So, What Is a Starbucks Frappuccino?
The Starbucks Frappuccino is a line of blended iced coffee drinks. It consists of a coffee or ​​crème base that the barista blends with ice and other ingredients. You can also get bottled versions at grocery stores, gas stations, and other locations, but you'll have to BYO whipped cream.
The name (a portmanteau of cappuccino and frappe) comes from Boston's The Coffee Connection. The coffee chain bought the brand, "along with one of their products called "frappuccino," a cold, slushy drink made using a soft-serve machine."
In 1999, Starbucks followed up the Coffee and Mocha launches with the Caramel Frappuccino. It was the first to feature whipped cream and is still, for obvious reasons, a menu favorite.
Official Starbucks Frappuccino Options
1. Mocha Cookie Crumble Frappuccino
The Mocha Cookie Crumble is a blend of rich mocha sauce, vanilla syrup, Frappuccino chips, coffee, ice, and milk, then topped with chocolaty whipped cream and chocolate cookie crumbles.
You can also order a Crème version, which leaves out the coffee. And maybe the will to stay awake during an 8am meeting.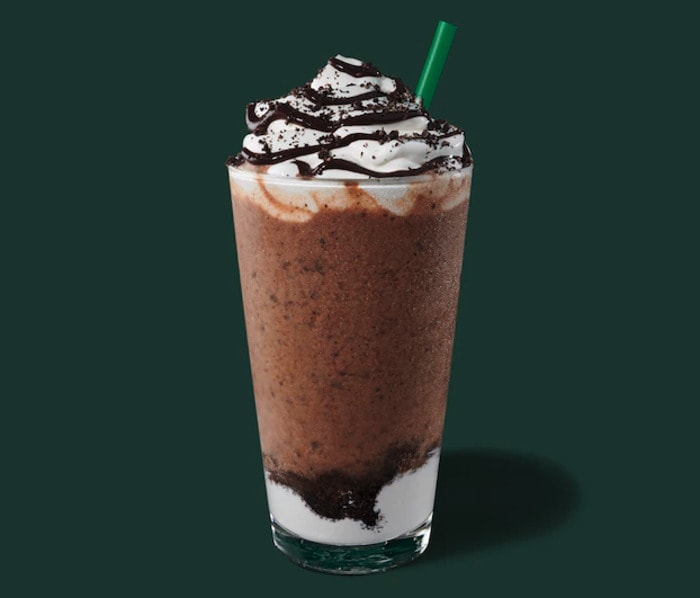 2. Caramel Ribbon Crunch Frappuccino
The Caramel Ribbon Crunch blends caramel syrup with roast coffee, milk, and ice. It's then topped with a layer of dark caramel sauce, whipped cream, caramel drizzle, and crunchy caramel sugar topping. It's like a snack on top of a snack! Frappes, they're just like us!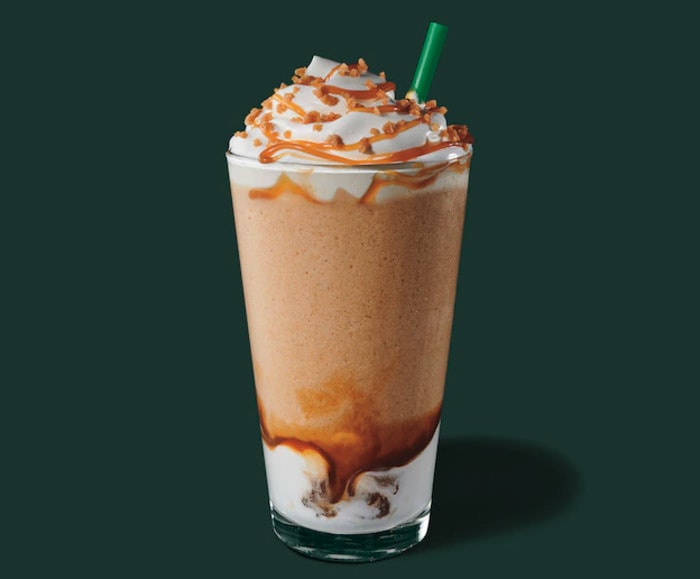 3. Espresso Frappuccino
The Espresso Frappe combines espresso, milk, and ice. It's like the OG Frappuccino in that it doesn't come with whipped cream or drizzle. It does, however, come with a tiny time machine to beam you back to 1994.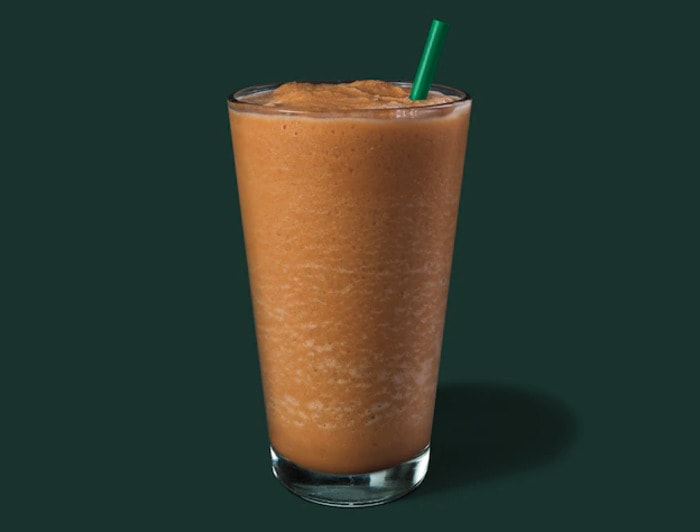 4. Caffè Vanilla Frappuccino
For the Caffè Vanilla, baristas blend Vanilla Bean powder, milk, and ice and top the drink with whipped cream. Starbucks saw your vanilla milkshake and raised it a dose of caffeine. And a few extra bucks.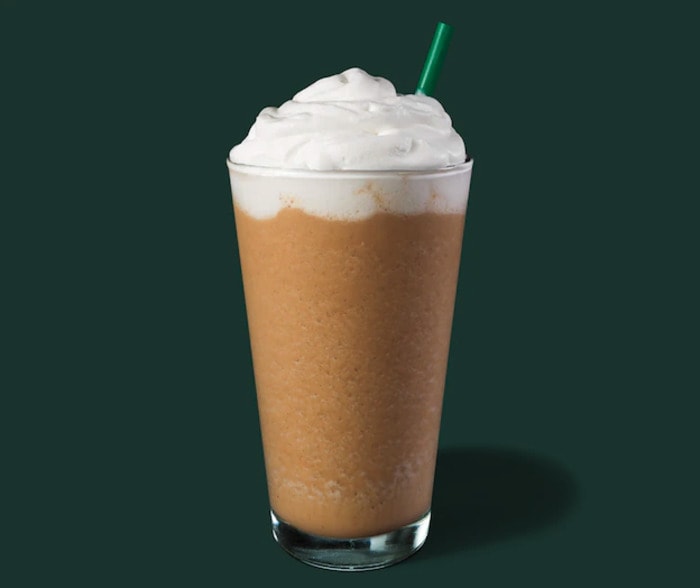 5. Caramel Frappuccino
Starbucks most popular Frappuccino is made with coffee, caramel syrup, milk, and ice and topped with whipped cream and caramel drizzle.
It wasn't just the first to feature whipped cream. It also debuted with the now iconic green straw and dome lid. We know it's been a while since you've seen those since you've been using your reusable cup, right? Right?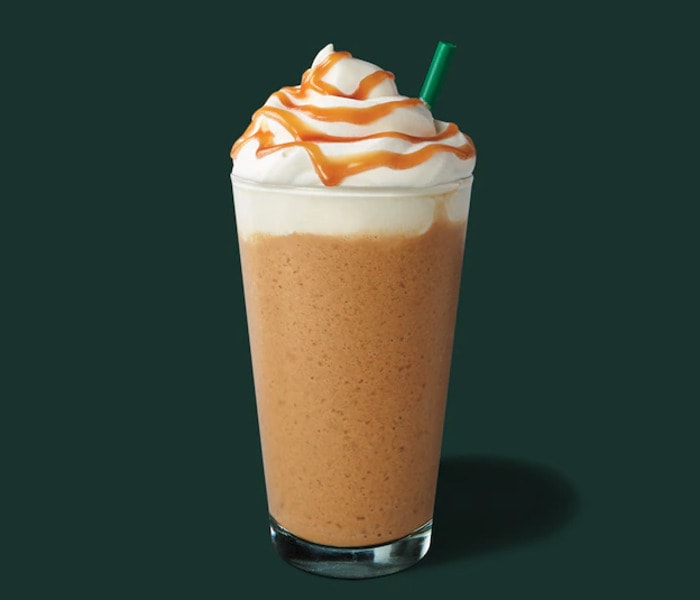 6. Coffee Frappuccino
This is the original Frappuccino. It blends coffee with milk and ice and sets you off on your merry, caffeinated way. We're off to see the wizard! He's got our extra shot.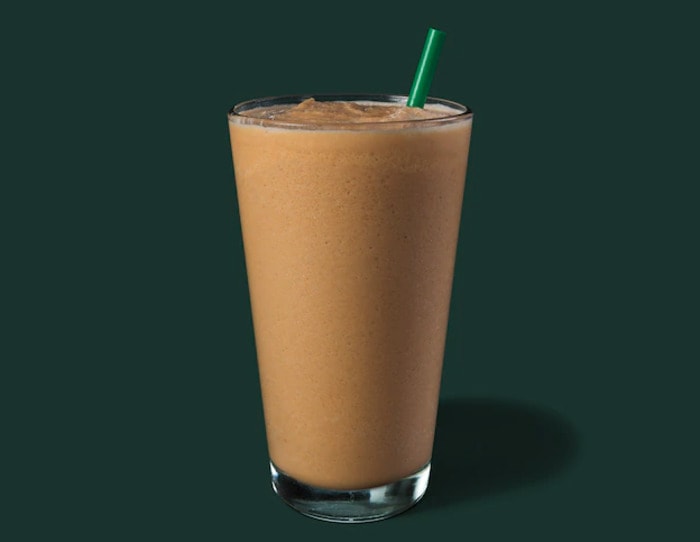 7. Mocha Frappuccino
The Mocha Frappuccino was the other original frappe. It's a combination of ice, milk, coffee, mocha sauce, and now comes standard with whipped cream. Some things have in fact improved from the 90s.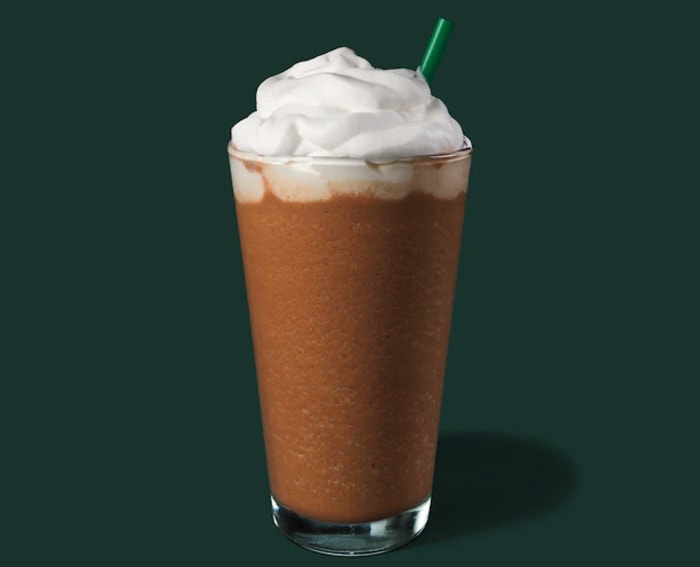 8. Java Chip Frappuccino
For the Java Chip, the baristas take coffee, mocha sauce, milk, chocolate chips, and ice and throw them all in a blender. They then top the mixture with whipped cream and chocolate drizzle. Wheeeeee! (That's the only sound we're capable of making after two of these.)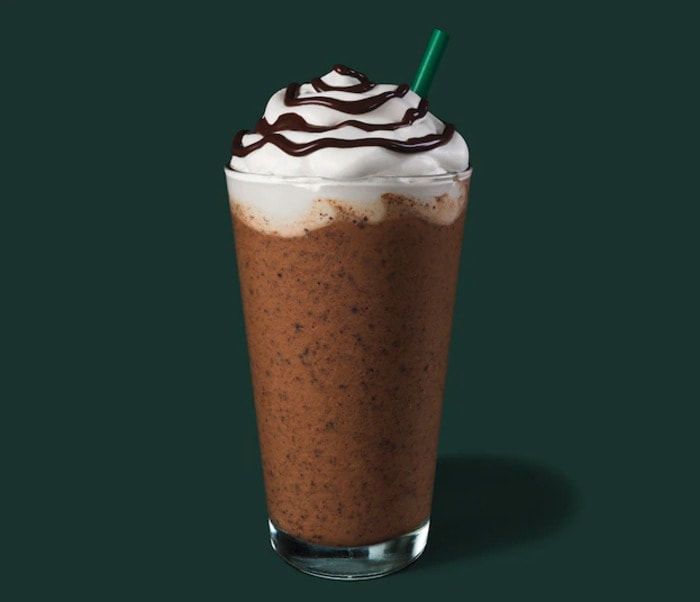 9. White Chocolate Mocha Frappuccino
For the White Chocolate Mocha, you'll get a blend of coffee, white chocolate mocha sauce, milk, and ice pulverized together and topped with whipped cream.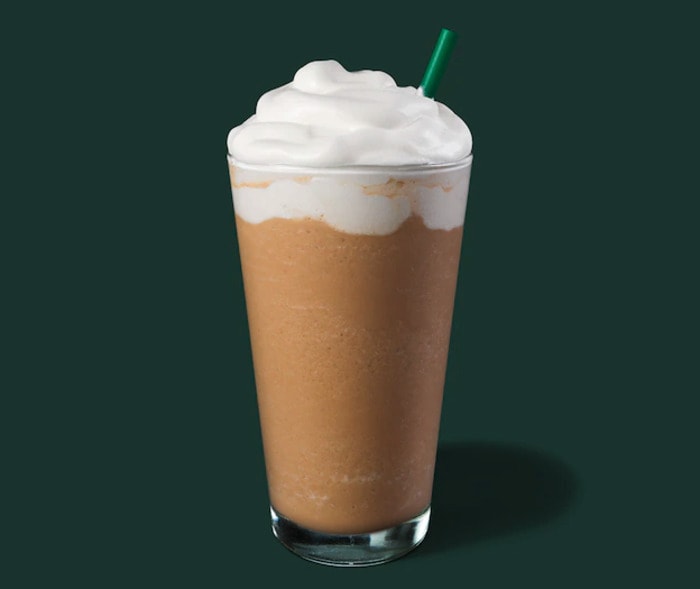 10. Strawberry Crème Frappuccino
The caffeine-free Strawberry Crème is a combination of strawberries and milk blended with ice and topped with whipped cream. Our nutritionist told us to drink a smoothie every morning. And this isn't that.

11. Chai Crème Frappuccino
For non-coffee drinkers who still want caffeine, the Chai Crème features black tea but it does have tea. It' s a combination of chai, milk, and ice, that's topped with whipped cream and a sprinkle of cinnamon.
Can't decide between coffee and tea? Add a shot of espresso and make it a Dirty Chai Frappuccino.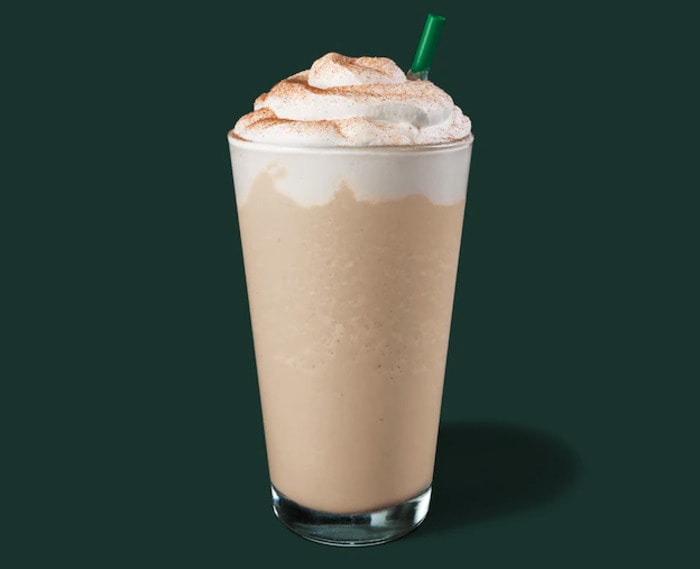 12. Double Chocolaty Chip Crème Frappuccino
Who needs coffee when you can sip on a mixture of mocha sauce, chocolate chips, milk, and ice that's topped with whipped cream and mocha drizzle? One out of five dentists approve!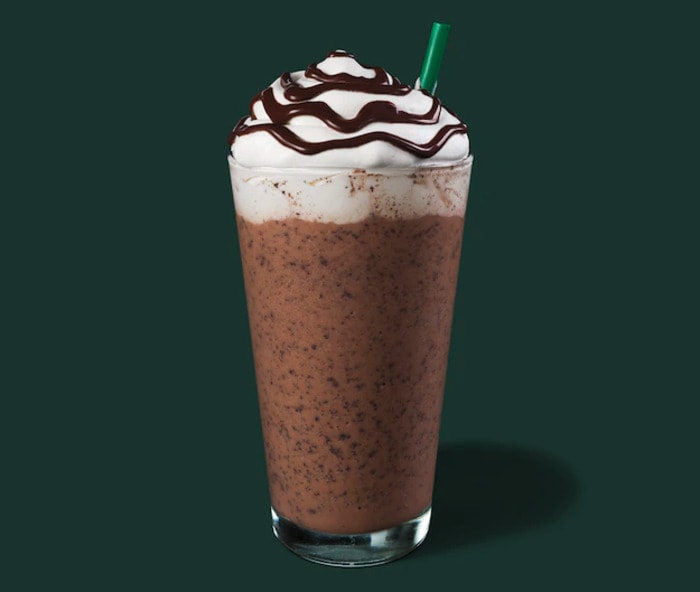 13. Matcha Crème Frappuccino
The Matcha Crème is a tea-based blend green tea, milk, and ice that's topped with whipped cream. The matcha green tea is a great little energy booster. And it doesn't get stuck in your teeth like some other green things. That's the last time we're eating kelp off the beach.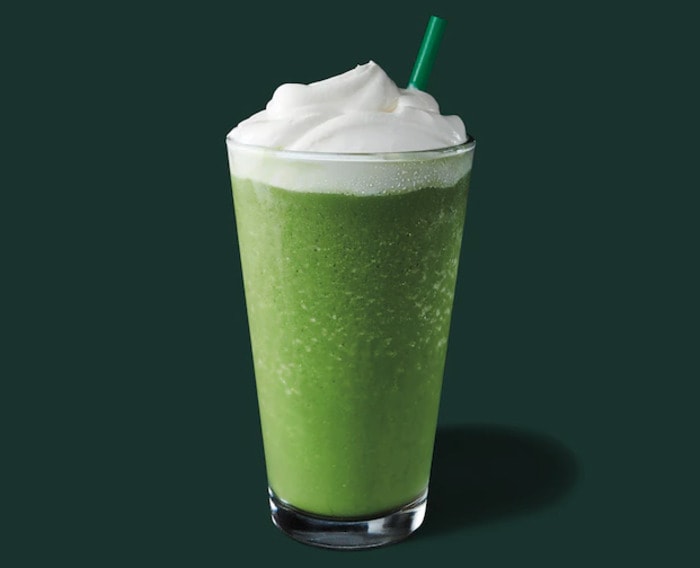 14. Vanilla Bean Crème Frappuccino
Vanilla doesn't have to be boring. The Vanilla Bean Crème features vanilla bean powder, milk, and ice blended and then topped with whipped cream. It's the coffee-free version of the Caffé Vanilla and is the only Creme version that's more popular than the coffee one.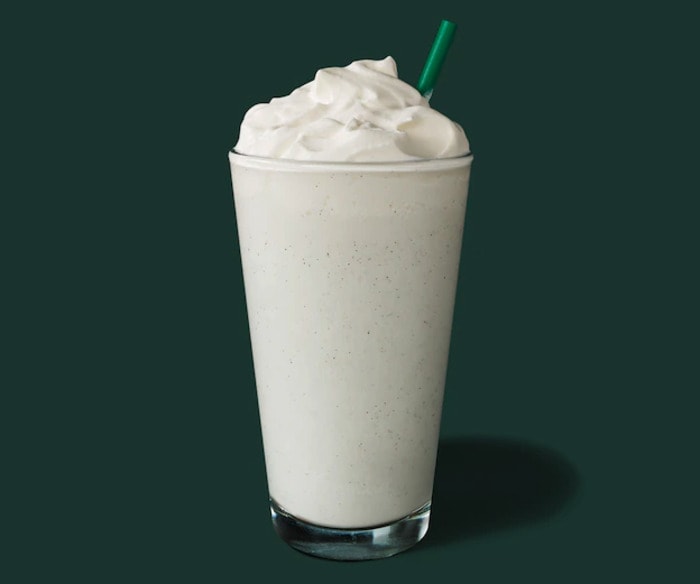 15. White Chocolate Crème Frappuccino
We swear the White Chocolate Crème is not just a glass of fluffy milk. It's white chocolate mocha sauce blended with ice and milk and topped with whipped cream. Ok, it's basically a glass of fluffy milk.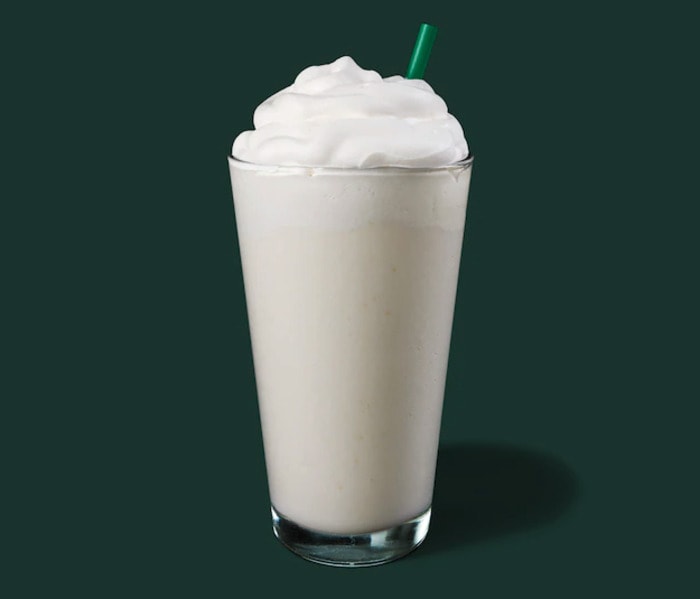 Seasonal Frappuccinos
16. Pumpkin Spice Frappuccino
The PSL isn't the only fall drink in town. The Pumpkin Spice Frappuccino version is it's hip cousin. It's made with pumpkin syrup, topped with whipped cream, pumpkin drizzle, and pumpkin pie spice powder and knows all the cool bands.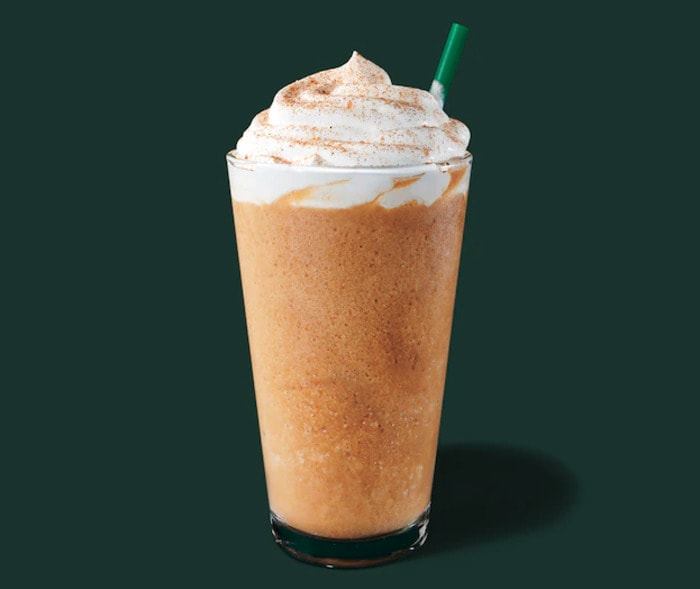 17. Strawberry Funnel Cake Frappuccino
The Strawberry Funnel Cake was 2021's summer addition and was not exactly a favorite. It combined ice, whole milk, coffee Frappuccino syrup, strawberry puree, and funnel cake syrup. It was then topped with whipped cream and powdered sugar funnel cake pieces.
18. Peppermint Mocha Frappuccino
The Peppermint Mocha has been a fan favorite for a long time. The holiday beverage blends mocha sauce, peppermint syrup, milk, ice, and coffee and is topped with whipped cream and dark chocolate curls.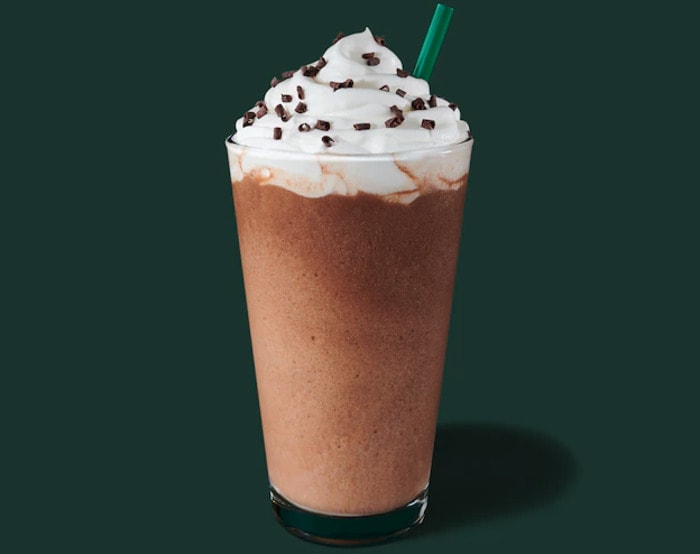 Starbucks Frappuccino Secret Menu Drinks
19. Churro Frappuccino
Order a Grande Vanilla Bean Crème Frappuccino
Ask for 1.5 pumps white chocolate mocha sauce and 1.5 pumps cinnamon dolce syrup
Ask for caramel drizzle
Top with whipped cream and cinnamon
20. Cake Batter Frappuccino
Order a Venti Vanilla Bean Crème Frappuccino
Add four pumps of hazelnut syrup
Top with whipped cream and toppings of your choice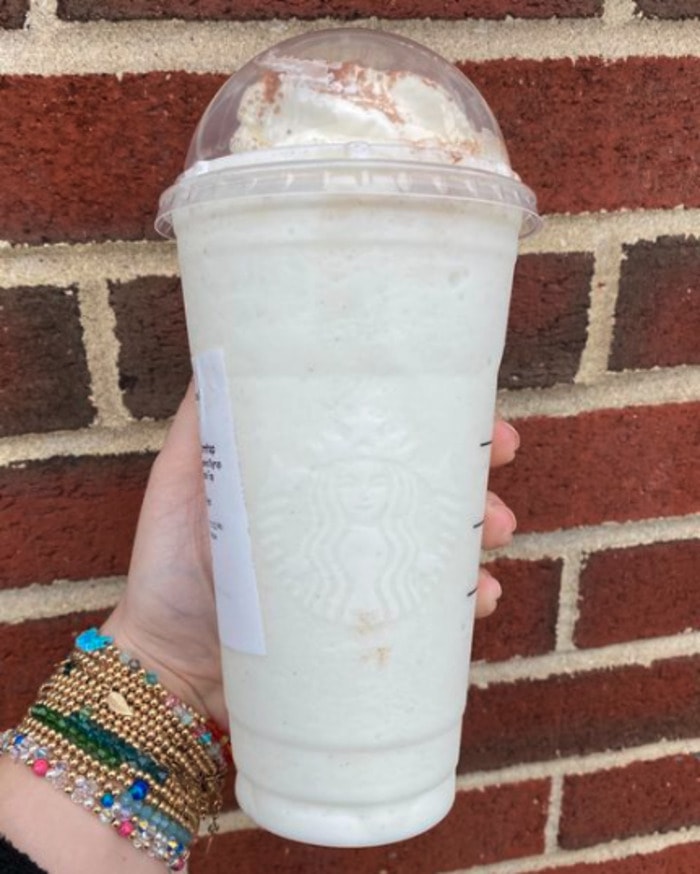 21. Apple Pie Frappuccino
Order a Grande Vanilla Bean Crème Frappuccino
Add apple juice
Top with whipped cream, caramel drizzle, and cinnamon dolce topping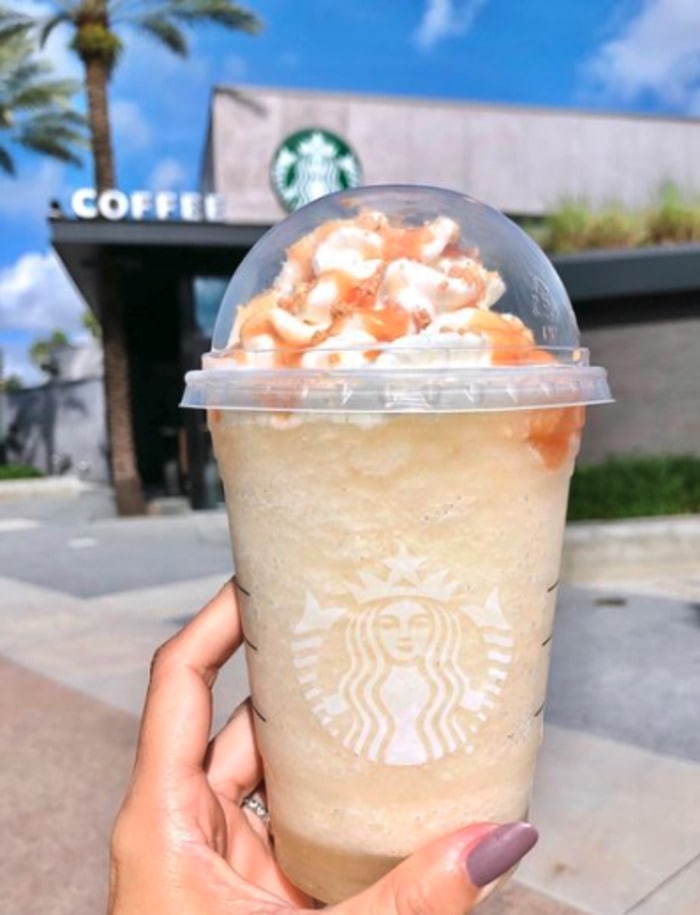 22. Twix Frappucino
Order a Venti Caramel Frappuccino
Add two pumps each of caramel and hazelnut syrup
Add Frappuccino chips
Top with whipped cream, caramel drizzle, and mocha drizzle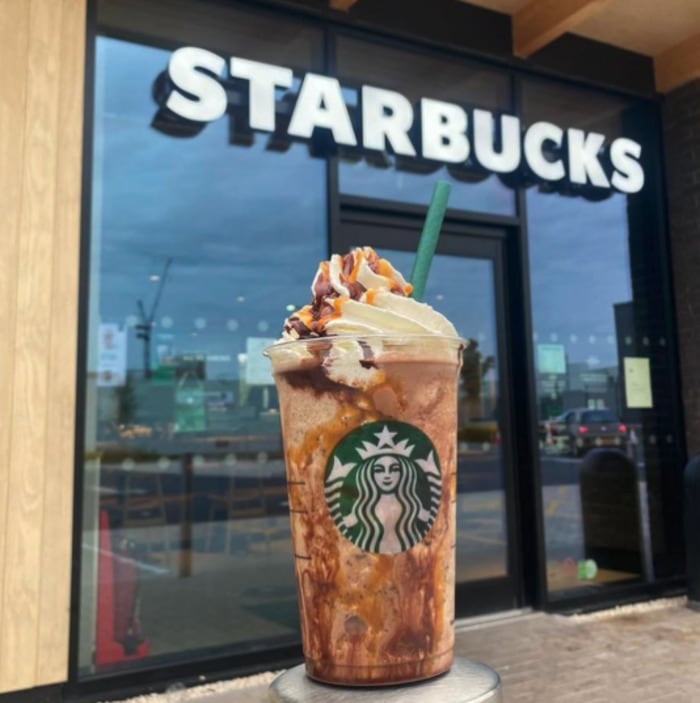 23. Thin Mint Frappuccino
Order a grande Matcha Green Tea Crème Frappuccino
Ask for 2 pumps of mocha syrup and 1.5 pumps of peppermint syrup
Ask for java chips
Top with whipped cream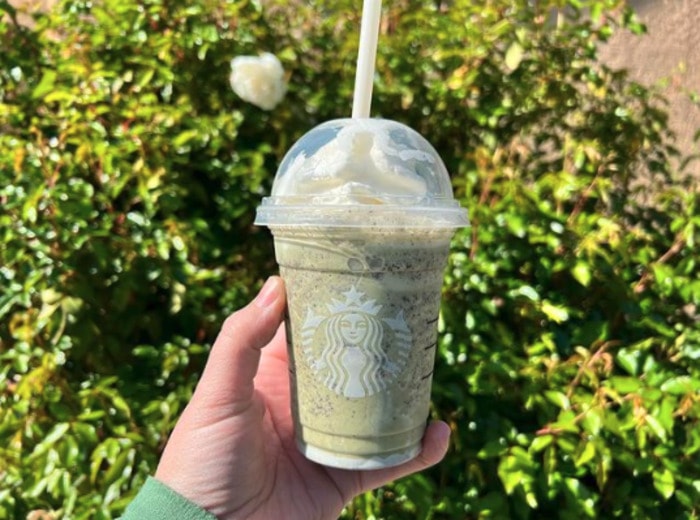 24. Witches Brew Frappuccino
Order a Grande Vanilla Bean Crème Frappuccino
Add one scoop of freeze dried blackberries
Add one pump of raspberry syrup
Ask for matcha powder to be sprinkled on the bottom and top of the drink
25. Cotton Candy Frappuccino
Order a Grande Vanilla Bean Frappuccino
Ask for two pumps raspberry syrup
Top with whipped cream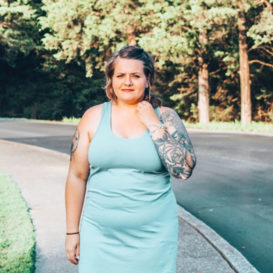 Latest posts by Ashley Hubbard
(see all)