It's pretty staggering to think about how many people consume, enjoy, and rely on coffee. Americans alone drink about 400 million cups of coffee a day. There are a number of coffee brewing methods you can choose from to get your caffeine juice.
Some people stumble groggily into their kitchens to smack on their Mr. Coffee machine, wreaking Godzilla-like havoc to retrieve a gallon-sized mug reading, "But first, coffee."
Other people treat coffee preparation like an art, weighing and timing and calculating the beans every step of the way in order to produce the perfect cup. Most people are in between these two camps, taking coffee however they can get it, and sometimes with so much cream and sugar you can barely tell the coffee is there.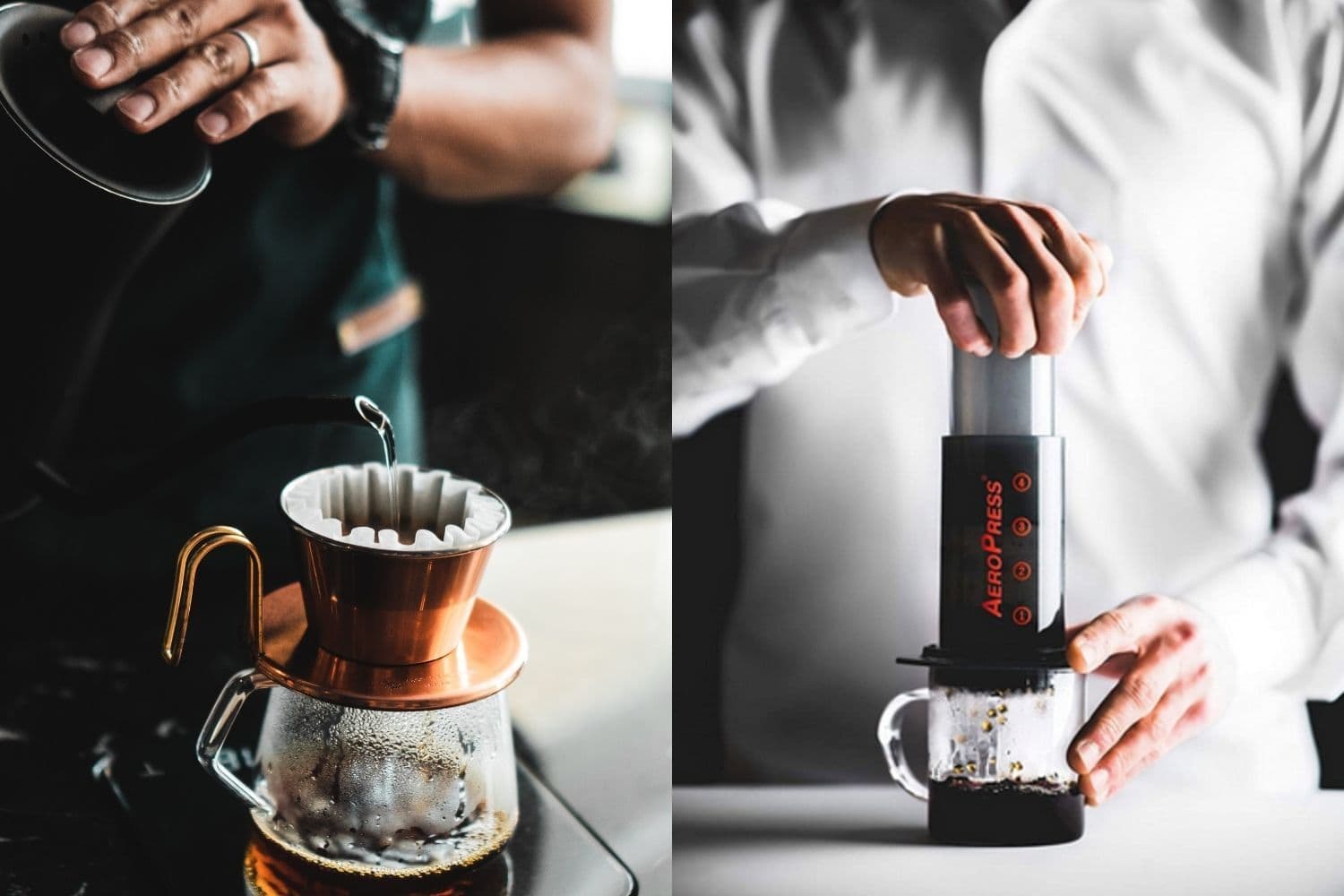 From pour overs to Keurigs, we've laid out some of the most commonly used coffee brewing methods and what they say about about someone's personality. You know, for when you're doom scrolling at 2AM because you didn't switch to decaf in time.
12 Different Coffee Brewing Methods, From Instant to Overly Complicated
1. Basic Drip Coffee Maker
The classic coffee maker! It's convenient in that you can "set it and forget it," but it also means you have less control over your coffee's taste than many of the other methods. Simply add the correct ratio of coffee grounds and water to the machine, press a button, and go about your morning while your robot creates your life juice.
Also perfect for those Hollywood family breakfast scenes where the domestic parent has laid out an entire breakfast spread and the tween runs downstairs, grabs a piece of toast, and runs out the door. Every. Single. Day.
What this method says about you: You want your coffee without a lot of fuss, because you probably have a child or a roommate or just want someone else to make a decision for once.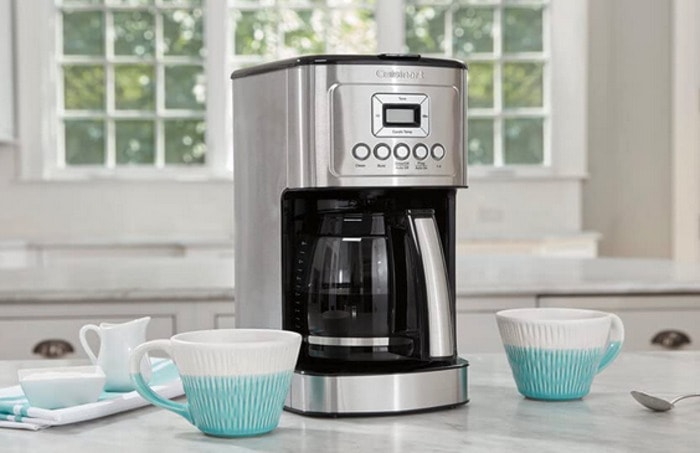 Available on Amazon.
2. Keurig
The Keurig is the "you can't sit with us" of coffee machines. They only accept pre-measured, single-use K-Cups for the common folk. Or the reusable K-Cups for the people who bring their own bags into the grocery store. Instead of the rest of us who bring them then forget them in the trunk.
It takes these machines between 20 and 60 seconds to produce a cup full of coffee, so it's all the speed of instant coffee with slightly better taste. The coffee pods come in tons of flavors, are sealed individually to stay fresh, and don't cause any mess. And you don't have to worry about messing up the coffee to water ratio, since it's a pretty fool-proof machine.
What this method says about you: You probably used to have a normal coffee machine, but then decided you wanted to have the coolest commercialized kitchen gadget of the early 2000s. It sits in your rustic-style kitchen next to your Live Laugh Love sign. You secretly hate the environment.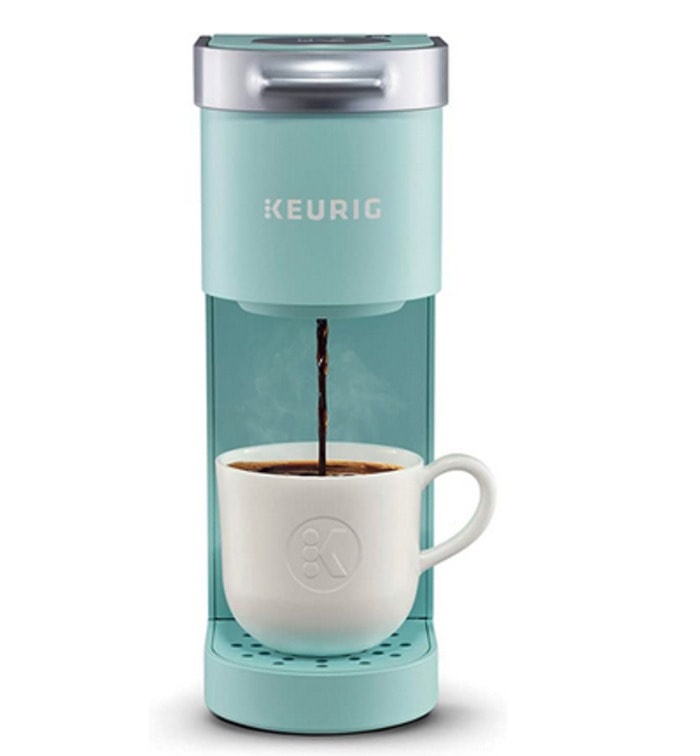 Available on Amazon.
3. Pour Over
To make a pour-over coffee, you need a pour-over coffee maker (like a Chemex), a paper filter, coffee cup, and kettle. And coffee.
Weigh out the beans and grind them to medium-coarse.
Rinse your filter and set up your pour-over machine on a scale.
Boil the water to 195 and 205° Fahrenheit.
Add your ground coffee to the filter.
Slowly pour in the water, pausing to let your coffee "bloom," or bubble up and release carbon dioxide.
Keep pouring the water in a circular motion until you reach the 16:1 ratio of water to grounds.
This definitely isn't a bulk method of brewing coffee, as each batch needs to be carefully crafted. But it's a great way to showcase unique flavors and aromas and sample unusual beans. Unfortunately, not of the jelly variety. We're still recovering from that idea.
What this method says about you: If a pour over is your go-to coffee brewing method, you're either a coffee snob, a scientist, or a perfectionist. Or all three! You love feeling like Marie Curie. Lab coat included.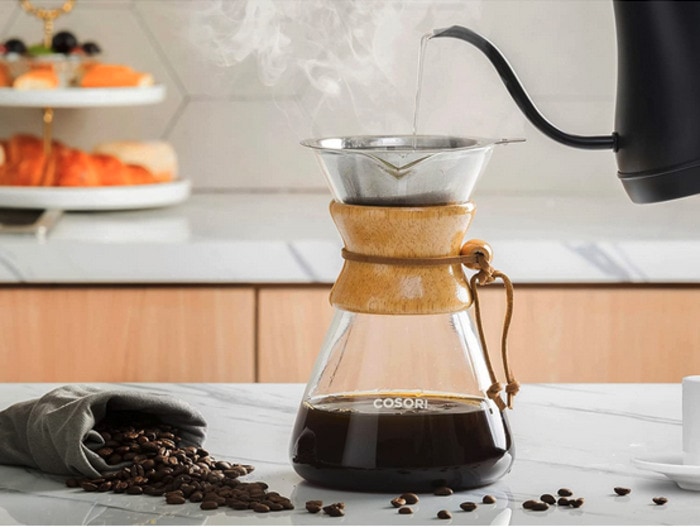 Available on Amazon.
4. French Press
Not to be confused with the bench press, the French press is a simple product that features a glass container and a removable plunger top. This coffee brewing method is similar to a pour over in that you need to be mindful of the coffee ground courses and ratio to water. And you also don't need a spotter.
To make French Press coffee, pour the grounds into the bottom, add the water, and let the grounds steep for about five minutes. Then, press the plunger top down to trap the grounds at the bottom, leaving brewed coffee at the top.
What this method says about you: You like to camp, and by that you mean glamp. Or you're not quite patient enough for something like a pour over, but still want to brag about having a fancy coffee routine.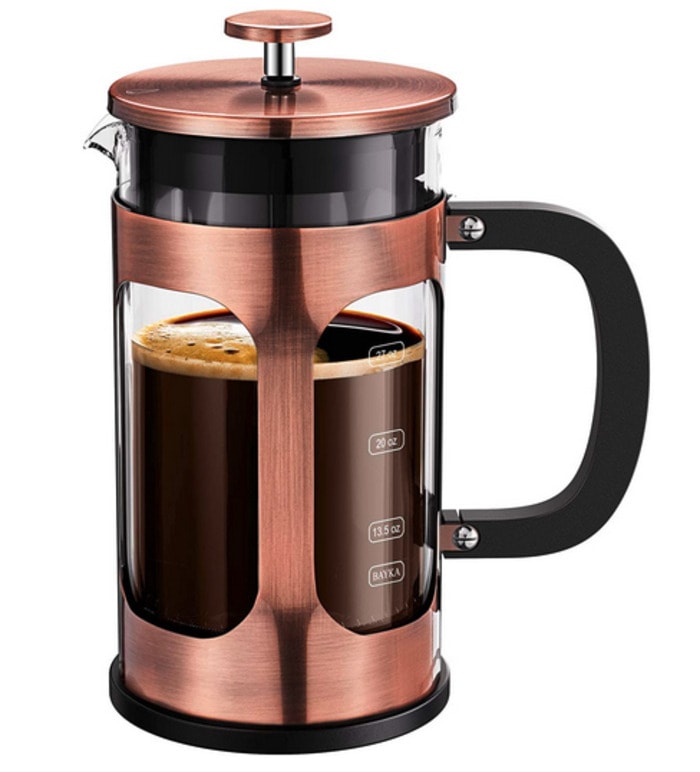 Available on Amazon.
5. Aeropress
The Aeropress is a relative newcomer to the coffee brewing scene. It's a piston-style brewer that forces coffee through a paper filter and into a cup to make a single serving at a time. Small but mighty, it's great for travel. Especially if you're so clumsy that you already broke two French presses.
To make coffee, place the Aeropress on top of a cup, fill the chamber with water and coffee, insert the plunger-type apparatus, and slowly press it down. Unlike a French press, you don't wait for the water to steep before pushing the plunger down. Instead, the pressure in the chamber extracts all the good stuff from the coffee beans more quickly.
What this method says about you: You drive a manual car, delegate tasks like a champ, and grow your own basil.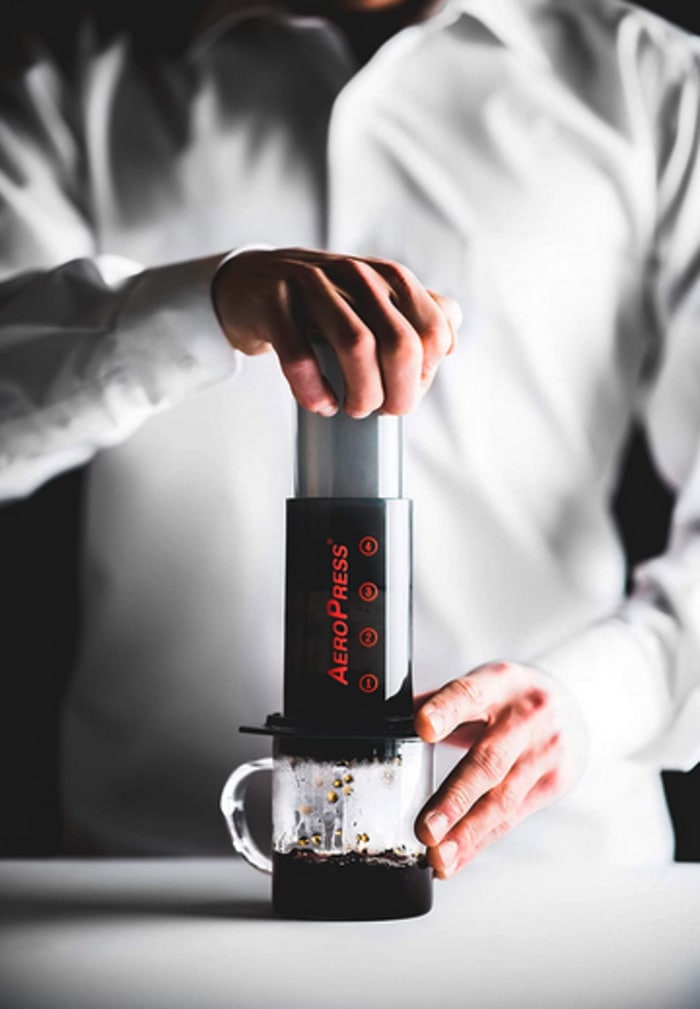 Available on Amazon.
6. Percolator
The classic Italian percolator (or Moka pot) is a stovetop kettle with separate chambers; one below for water and one above with a basket for coffee grounds. When it's heated, water is forced through a vertical tube that passes over the grounds before dripping back to the bottom of the pot. The coffee is brewed multiple times, so it's a delicate balance between flavoring the water and over-brewing coffee.
What this method says about you: You casually drop Italian into conversations and needed something vintage to fit in with the people who hang out in record shops. You're reading this from your Vespa. The light is green, by the way.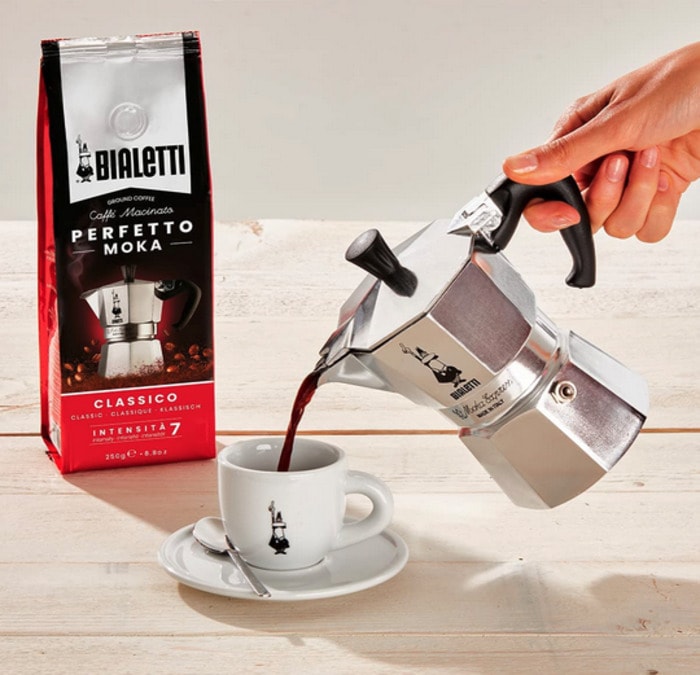 Available on Amazon.
7. Espresso Machine
For aspiring at-home baristas, true coffee enthusiasts, the espresso machine is your preferred coffee brewing method. It involves pulling shots, pressing grounds, flipping switches, and a bop it and a pull it for good measure. Many machines not only make espresso, but also have steaming wands for heating and frothing milk.
What this method says about you: You would go to the local coffees hop down the street, but you just got these special beans from this grower you know in Costa Rica. You know, he's a friend of a friend and, well, you know how it is.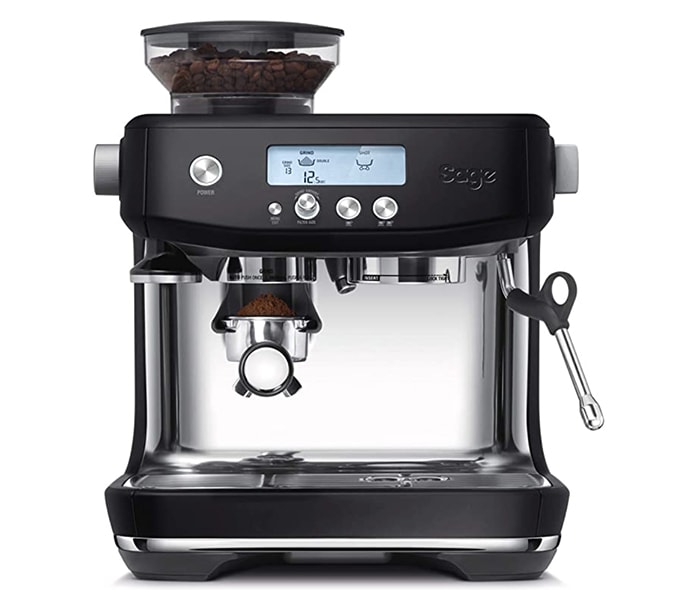 Available on Amazon.
8. Instant Coffee
Coffee aficionados may turn their noses up at these dissolving coffee crystals. But more than half the world actually prefers it.
You use instant coffee when you're short on time or when your taste buds are so fried from Sour Patch Kids and Frank's RedHot that you literally can't taste anything else. Just add hot water and instant coffee to your favorite mug, stir, and enjoy?
What this method says about you: You didn't really sleep last night.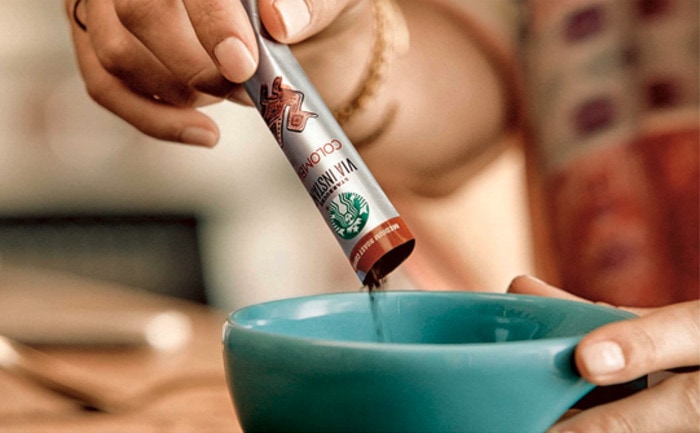 Available on Amazon.
9. Cold Brew
Most cold brew drinkers buy their concentrate from the store or get it from a coffee shop. But it's also pretty easy to make your own using the method below or this cold brew maker.
Grind one cup of coffee coarsely, pour four cups of cold filtered water on top, and stir.
Cover it and place it in the fridge for 12 hours.
Strain out the grounds through a cheesecloth and store the liquid in the fridge for up to a week.
What this method says about you: You're the person who drinks iced coffee all year long. You give yourself bonus points if you drink it from a glass bottle. Bonus bonus points if it's from a Mason jar.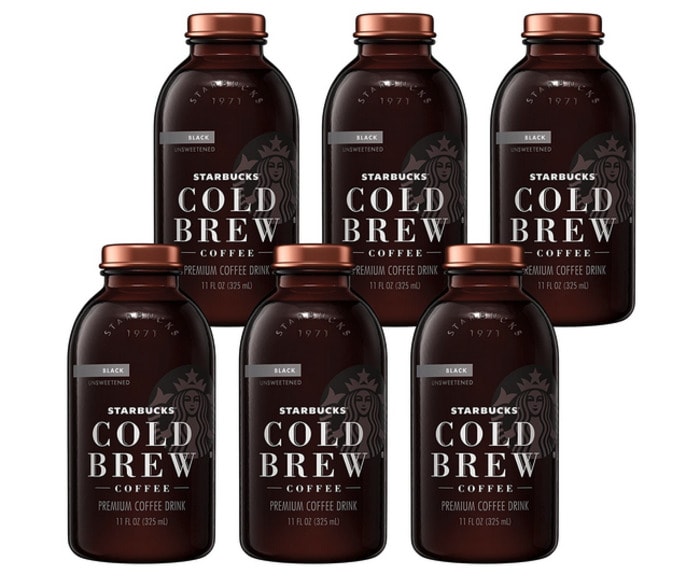 Available on Amazon.
10. Coffee Bag
It's like a teabag, but for coffee! This mesh satchel is devoid of tea leaves and is instead filled with ground coffee. You can pop it into hot water, let it steep, and fish it out. Genius!
What this method says about you: You're an American trying to masquerade as a Brit. Or, for anyone else who enjoys the practice of making tea without all of the disappointment of drinking water that tastes like a dandelion.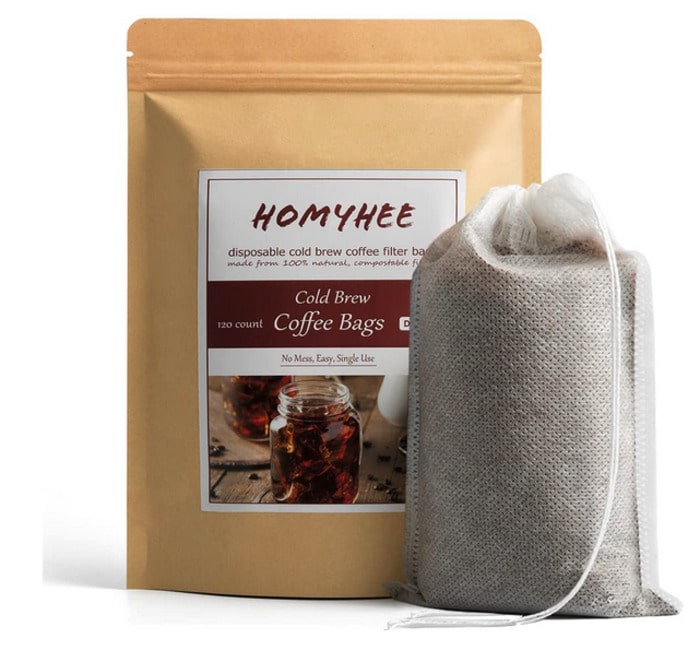 Available on Amazon.
11. Your Local Barista
Make your own coffee? Never. Because sometimes when you say "coffee," you mean double chocolate blended frappe with caramel drizzle.
What this method says about you: You know what you like, and you know that there's no way you can actually make it yourself. You're also definitely running late for work.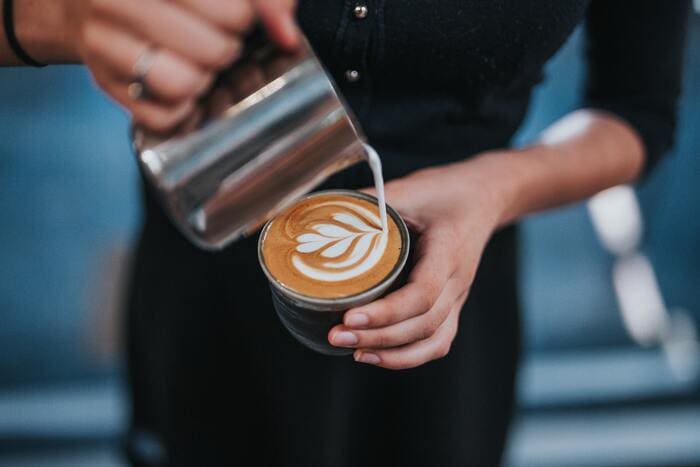 12. None at All
Good luck with that.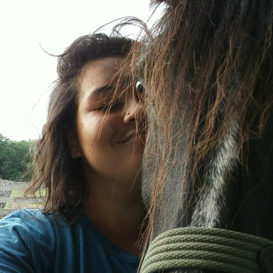 Latest posts by Hebba Gouda
(see all)