Starbucks just released their summer cups for 2021 and with it, their first summer drinks for this year: The Strawberry Funnel Cake Frappuccino and a Strawberry Funnel Cake Crème Frappuccino.
Clearly, the popular coffee chain is as excited for summer to come back as we are, because they're throwing an "As Summer As Possible" carnival-themed party. And, yes, the deep-fried Oreos are invited (though you'll have to BYOO) as long as you leave the Carnies at home.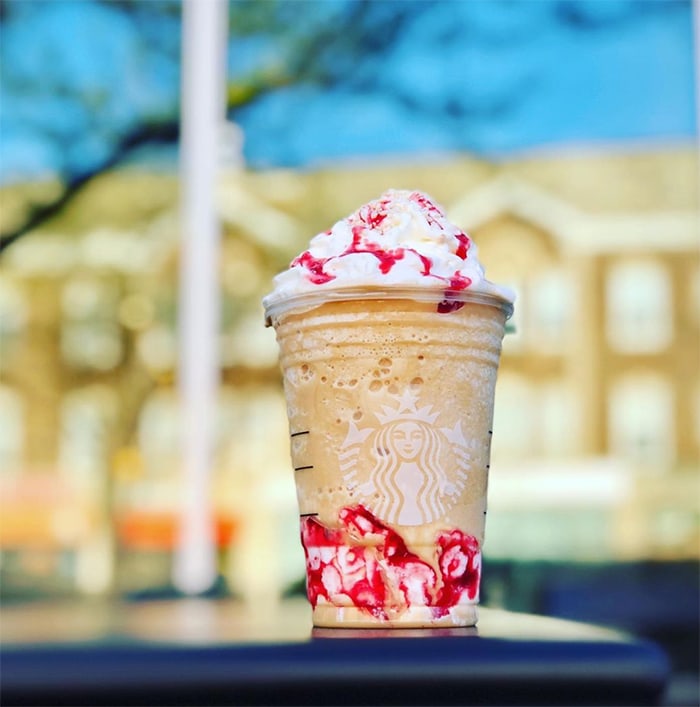 They're kicking it off with these two flavors (and the return of a the Unicorn Cake Pop), which surprisingly are their first new Frappuccino flavors in three years. (The last two were 2018's Ultra Caramel Frappuccino and Triple Mocha Frappuccino.)
In addition to these two Frapps, their A.S.A.P. menu includes:
Caramel Ribbon Crunch Frappuccino
Mocha Cookie Crumble Frappuccino
Dragon Drink
Pink Drink
Mango Dragonfruit Starbuck Refreshers
Mango Dragonfruit Lemonade Starbucks Refreshers
Strawberry Açaí Starbucks Refreshers
Strawberry Açaí Lemonade Starbucks Refreshers
Starbucks Nitro Cold Brew
Here's a look at some other Starbucks summer drinks you can enjoy from the regular menu.
Starbucks Summer Drinks
1. Strawberry Funnel Cake Frappuccino
The Starbucks summer drink headliner is the Strawberry Funnel Cake Frappuccino. The 410-calorie beverage blends coffee, funnel cake-flavored syrup, milk, and ice. Then it's topped with layers of strawberry puree, whipped cream, and crunchy funnel cake pieces that have been dipped in powdered sugar. Tiny circus not included, though we hope it is soon. We've been working on our fire breathing!
2. Strawberry Funnel Cake Crème Frappuccino
Starbucks has described summer memories as "a kaleidoscope of the senses – from the colorful blur of the carnival rides to the clickety-clack of an old-fashioned roller coaster," but we think they were just talking about what happens after we have three of these. This 380-calorie drink has almost all the sugar of the regular Frapp, and none of the caffeine.
3. Iced Pineapple Matcha Drink
If you like matcha, you'll love this refreshing iced drink. The 170-calorie Iced Pineapple Matcha Drink features the sweet Pineapple Ginger Syrup and coconut milk so you can get your daily dose of caffeine while drinking something green. Green means it's healthy, right?
4. Salted Caramel Cream Cold Brew
Try this salty-sweet combo that's loaded up with caffeine. The 230-calorie Salted Caramel Cream Cold Brew combines cold brew, a "touch" of caramel, and a topping of salted cold foam.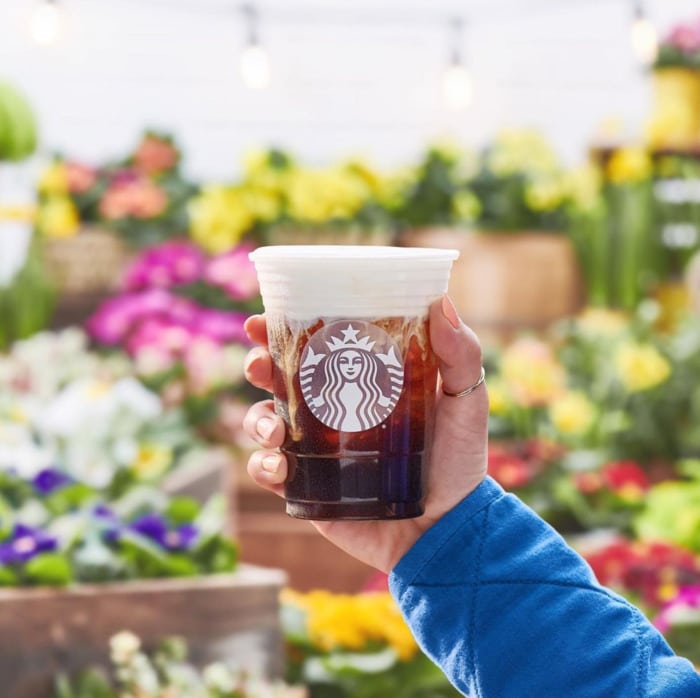 5. Iced Guava Passion Fruit Drink
If we've learned anything, it's that people really love their passion fruit. And, can you blame them? Even if the fruit does look like an alien's insides, it's sweet and tart: two elements essential in any poolside drink. Now where's our umbrella?
6. Star Drink
Starbucks is proof that you can pretty much throw any fruit, coconut milk, and ice together and people will drink it. The 130 calorie Star Drink combines star fruit and kiwi-flavored juice, real kiwi fruit pieces, coconut milk, and ice to deliver this sweet green drink. Just bring some floss for those seeds.
You can also get this as a Refresher if you skip the coconut milk. Or go the tart route with a Lemonade Refresher by skipping the coconut milk and adding lemonade. Or skip Starbucks altogether and just combine coconut milk, pineapple juice, and rum for a homemade pina colada.
7. Matcha Crème Frappuccino
The vibrant green 420 calorie Matcha Crème Frappuccino blends matcha green tea, milk, and ice and is topped with sweetened whipped cream.
8. Iced Cinnamon Dolce Latte
For the 300 calorie Iced Cinnamon Dolce Latte, Starbucks combines freshly steamed milk, cinnamon dolce-flavored syrup, classic espresso, and ice. They then topped it with whipped cream and cinnamon dolce topping to give it a let's hang all the Christmas lights in July vibe. All that sugar has to go somewhere productive.
9. Iced Peach Green Tea Lemonade
Starbucks has a nice range of tea flavors and you can pretty much just get any of them iced for a nice cold treat on a hot summer day, but this 80 calorie Iced Peach Green Tea Lemonade has it all. By which we mean it's two flavors, not all of them. Don't be greedy!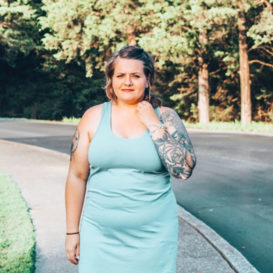 Latest posts by Ashley Hubbard
(see all)