It's only — checks date — September, but there's already a sneak peek available of the Starbucks holiday menu for 2022. The holiday drinks will be at stores starting on November 3rd along with new cups (and the red ones).
As usual, influencer Markie Devo has the scoop on what coffee drinks are returning (hey there Caramel Brûlée Latte) and which ones aren't. From the winter menu we've seen, it doesn't appear that there are any new holiday beverages.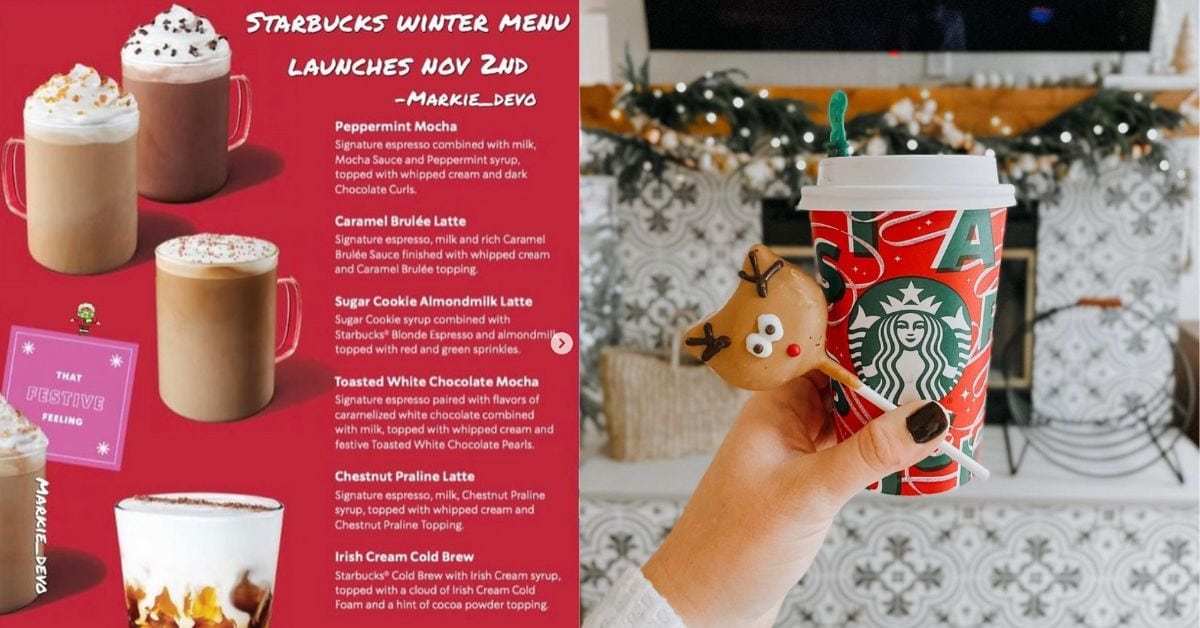 When Will Starbucks Launch Their Holiday Menu for 2022?
When it comes to hopping into the winter, Starbucks doesn't waste a moment. Their holiday menu usually comes out when you're still cleaning up from your epic Halloween party. Oh, hey, is that a mini Snickers?
This year, the tidings are set to arrive on November 3rd along with us standing in line for our first Peppermint Mocha of the season.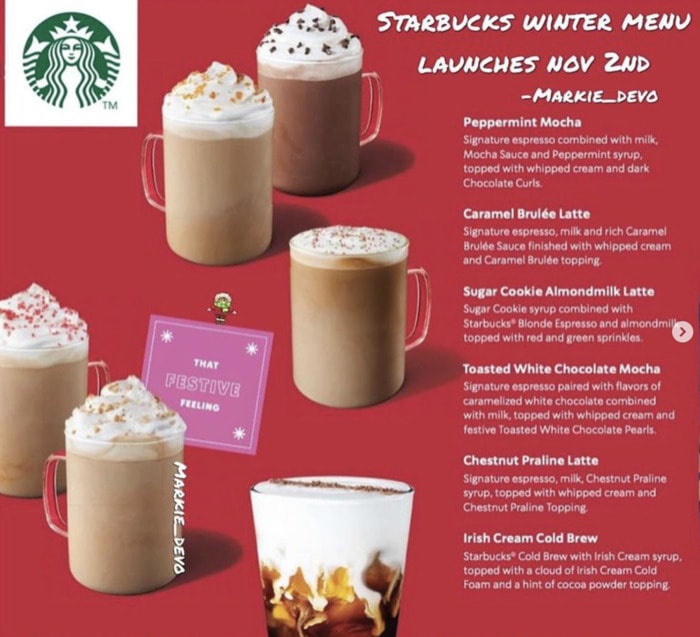 What's on Starbucks' Holiday Menu for 2022?
Here's what you can expect to see on the menu this year:
Peppermint Mocha
Caramel Brûlée Latte
Chestnut Praline Latte
Irish Cream Cold Brew
Chocolate Pistachio Swirl (new)
Snowman Cookie
Sugar Plum Cheese Danish
Reindeer Cake Pop
Cranberry Bliss Bar
If you're not seeing any new holiday drinks, your eyes don't deceive you. Or at least, they match ours. Which is great, because we've always wanted an eye doctor buddy!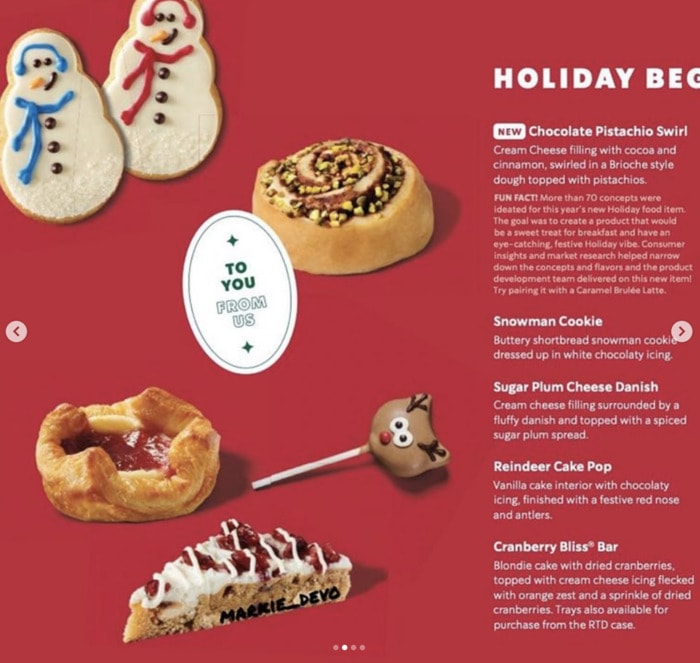 What is new, however, is the Chocolate Pistachio Swirl. Fun fact: they came up with more than 70 ideas for the new holiday food item. But… there's not one new drink? That's weird.
Or, hey, maybe bring back the Gingerbread Latte? Just a totally random thought there.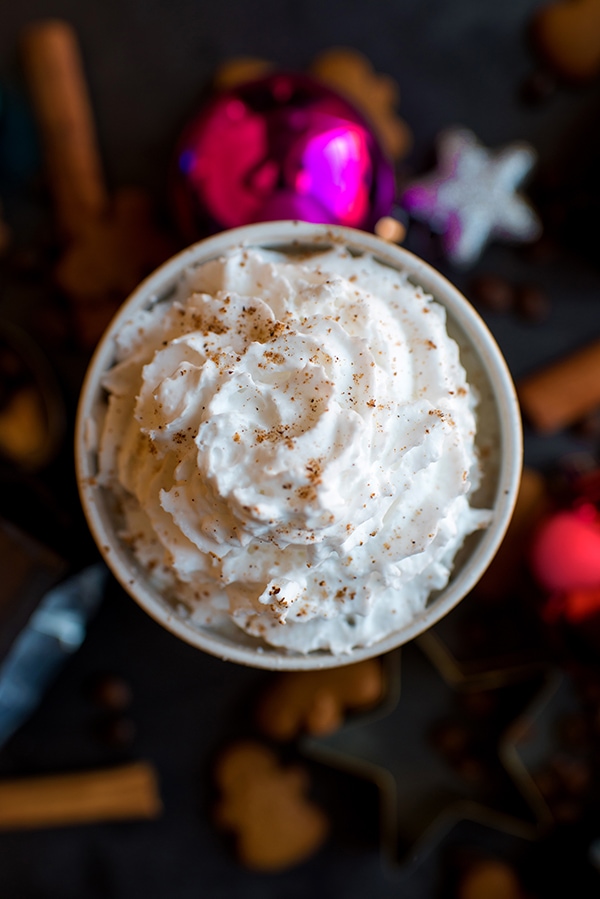 Starbucks Holiday Drink Menu 2022
1. Peppermint Mocha (440 calories)
The Peppermint Mocha is the quintessential holiday drink. It's got chocolate, peppermint, whipped cream, chocolate sprinkles, and probably reindeer magic buried in there somewhere. But we never get to the bottom without ordering another one so we wouldn't know. (It's also available in a White Chocolate Mocha version.)
Make it vegan-friendly by asking for no whipped cream, non-dairy milk, and no chocolate curls.
2. Caramel Brûlée Latte (410 calories)
If you prefer your coffee with an extra side of sugar and accent marks, sip on this while enjoying a side of Blåbärssoppa (not available at Starbucks). The caramel brûlée sauce is blended with your choice of milk and finished with whipped cream and plant-based caramel brûlée bits. Spoon not included. Or needed.
Make it vegan-friendly by asking for no whipped cream, non-dairy milk, and swapping the caramel brûlée sauce for toffee and caramel syrups.
3. Sugar Cookie Almond Milk Latte (150 calories)
We know Starbucks spells almondmilk as one word and that's been a point of contention in our office. Do we spell it as two words as it's spelled literally everywhere else? Or, do we match their branding for article about the brand? Also, this vegan cookie-inspired latte is back (along with its Frappuccino cousin).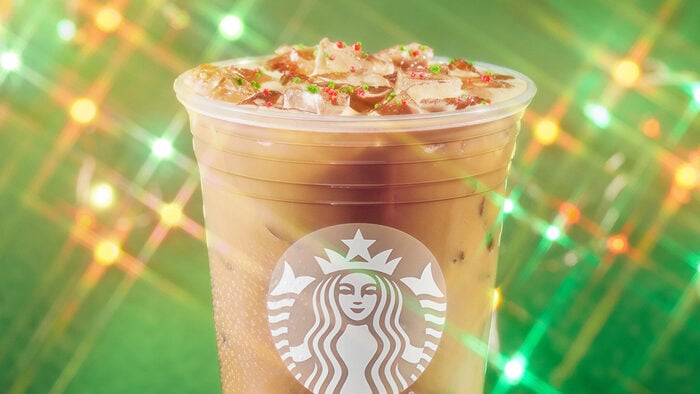 4. Toasted White Chocolate Mocha (420 calories)
The Toasted White Chocolate Mocha takes the classic White Chocolate Mocha and turns the sugar dial up to 11 with a toasted version of the sauce, red holiday sprinkles, and crispy pearls. Which somehow is only 2 extra grams. Yay science.
We know we took some liberties to make the Caramel Brûlée Latte vegan, but the toasted white chocolate mocha sauce contains dairy, so there's really not much you can do here.

5. Chestnut Praline Latte (330 calories)
This cozy holiday drink is perfect next to a roasting fire. Or by a YouTube video of a roasting fire, preferably hosted by Nick Offerman. The baristas make the beverage with a chesnut praline syrup and sprinkle on a topping made from cinnamon, ginger, and cloves to give it a holiday feel. Seconded only by staring deep into Nick Offerman's eyes.
Make it vegan by asking for no whipped cream and your choice of non-dairy milk.
6. Irish Cream Cold Brew (200 calories)
We would love for the barrel-aged drinks to make it from the Starbucks Reserve menu to the standard one, but until that happens we'll be ordering this vegan cold brew made with Irish Cream syrup. Or by pouring Bushmills into our morning coffee.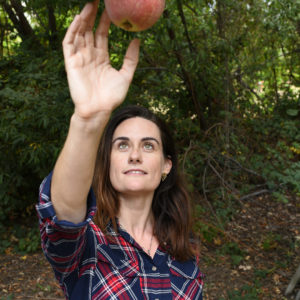 Latest posts by Rebecca Swanner
(see all)