Put away the green beer this St. Patrick's Day and pull out the Green Spot. Green what? Ok, pull up a bar chair, because here's your quick guide to Irish whiskies. From light whiskeys that are easy to drink to those best enjoyed in an Irish Coffee, here's our ranking of some of the best and worst Irish whiskey brands.
Or, rather, good to best, as Raymond Chandler accurately stated that "There is no bad whiskey. There are only some whiskeys that aren't as good as others." We searched high and low for terrible Irish whiskeys, and couldn't come up with anything. But, feel free to suggest some.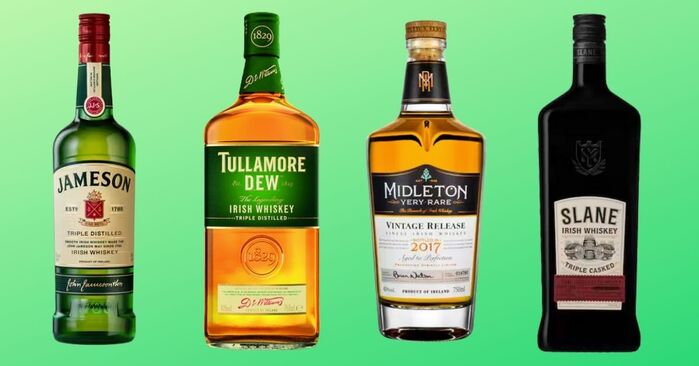 What Is Irish Whiskey?
To be classified as Irish whiskey it must:
Be made in Ireland from a mash of malted barley
Bottled at no less than 40% ABV
Stored in wooden casks for at least three years in Ireland
Distilled to no more than 94.8% ABV
Irish whiskey comes in one of four types: malt, pot, still, grain, or blended. It's smoother than Scotch whiskey and usually has an added e, though "Irish whisky" and "uisce beatha Eireannach" are accepted names. ("uisce beatha" means water of life, which is pretty much how we think about alcohol too. Take that, actual water.)
The Best Irish Whiskey Brands Ranked From Good to Best
1. Tullamore D.E.W. Original
Originally made in Tullamore, Ireland, Tullamore D.E.W. is a triple-distilled blend of three different Irish whiskeys: grain whiskey makes it taste sweet, malt whiskey makes it taste fruity, and pot still whiskey highlights the traditional Irish whiskey spice.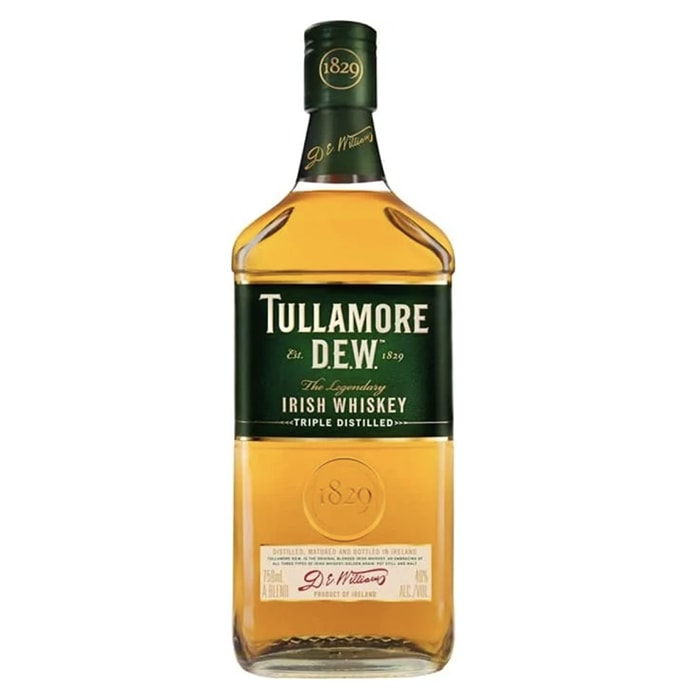 Available on Drizly.
2. Jameson Irish Whiskey
When we think whiskey, we kinda always think of Jameson. It's a classic blended Irish whiskey with notes of vanilla, cream, freshly cut grass, and tastes spicy, nutty, and sweet. It's definitely the most popular Irish whiskey in the United States by a landslide, and in this case, its popularity is well-deserved. Like Thin Mints being the best Girl Scout Cookie.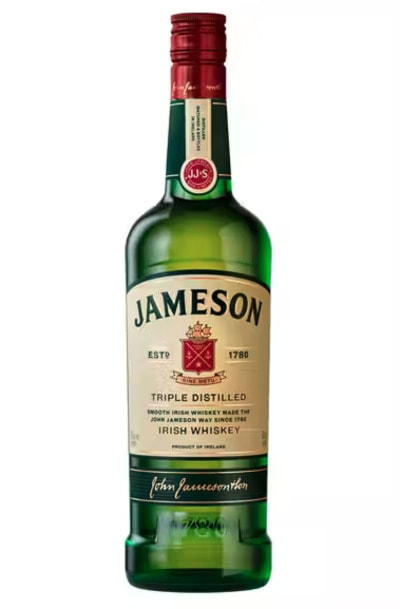 Available on Drizly.
3. Two Stacks Cask Strength Irish Whiskey
Two Stacks is a true cask-strength whiskey that has hints of red apple, baked peach, chocolate, and hot pepper. At 65% ABV, it has the most alcohol by volume when it comes to Irish whiskeys. It's still no match for our Everclear.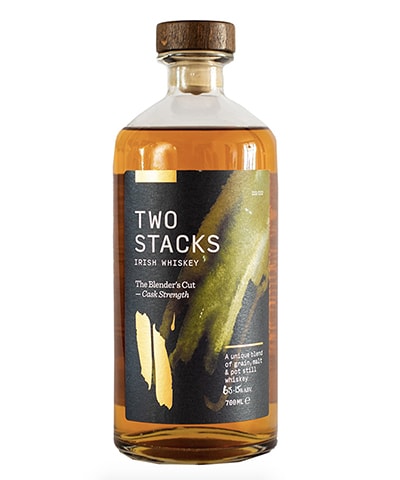 Available at Drizly.
4. Green Spot Irish Whiskey
Green Spot Irish Whiskey is made from malt and unmalted barley, and tastes of toasted oak, green apples, and has hints of cloves, spices, and barley. It's left to mature in old bourbon and sherry casks for 7-10 years, and was originally produced in Dublin but is now made in Cork. Ireland. Not the tree.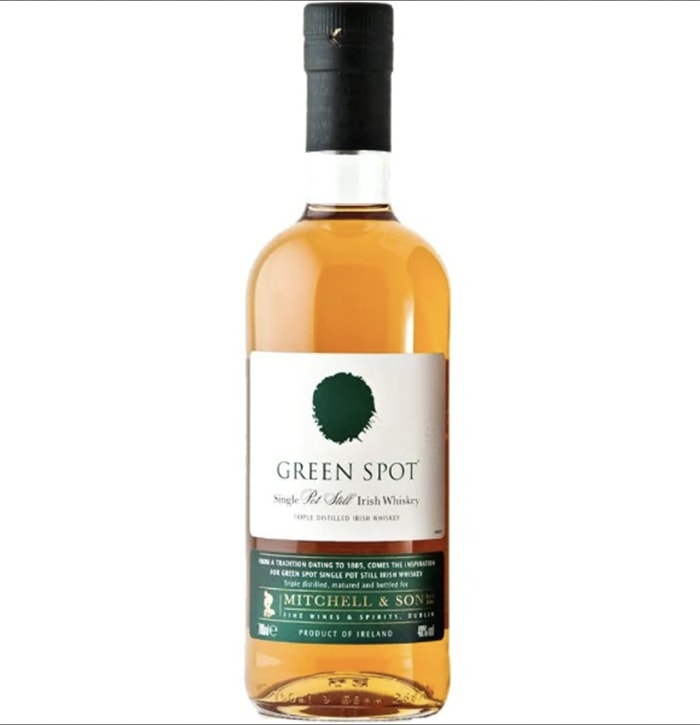 5. Writers Tears Pot Still Irish Whiskey
Writers Tears consists of flavors like green apple, vanilla, caramel, and ginger, and tears. Perhaps not, but legend has it that writers enjoyed a certain style of whiskey so much that they cried while drinking it. Apparently the silent part of "write drunk, edit sober" is "have a sobbing fit in the middle."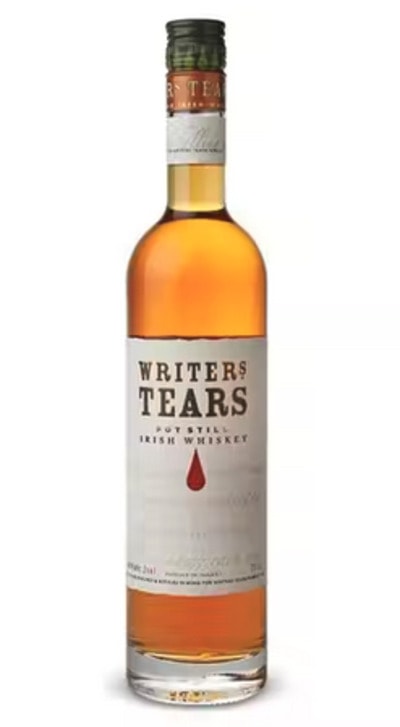 6. Bushmills 16 year old Irish Single Malt Whiskey
Kim Ohanneson, President of Women Who Whiskey Los Angeles, founder of Ardent Spirits L.A., and curator of Highlands & Islands Distillery Tours says this "multi-gold medal winning whiskey has classic Irish whiskey notes of orchard fruit blended with Christmas spices; while pricier, it will impress the most discerning whiskey sipper."
She also notes that "Bushmills Distillery, located in Northern Ireland, is the world's oldest licensed distillery and the recently retired Bushmills Master Blender Helen Mulholland is the first woman in the history of Irish Whiskey to be inducted into the Whisky Hall of Fame." Neat.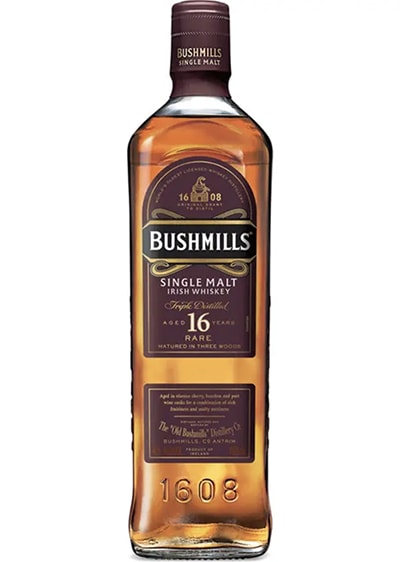 7. Yellow Spot Irish Whiskey
Yellow Spot is a single pot still whiskey. It's left alone for 12 years to sit in American bourbon barrels, Spanish sherry butts, and Spanish Malaga casts. When you take a sip (or a chug, we won't tell), you'll taste fresh coffee, milk chocolate, and Crème Brûlée, along with red apples and toasted oak. Now, go sit and ponder than for the next dozen years.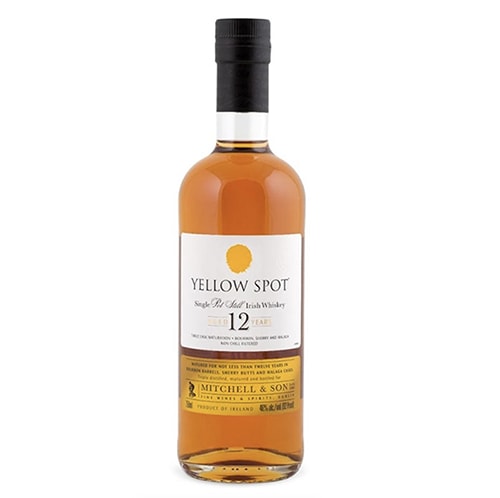 8. Glendalough Double Barrel Whiskey
Glendalough Double Barrel Whiskey is made in the Wicklow Mountains. This single grain Irish whiskey is aged twice, first in American oak Bourbon casks (which bring out the sweet vanilla and caramel notes) and again in Spanish oak Oloroso Sherry barrels (which bring out the Christmas spices and dried fruit). And for a third time in our stomachs!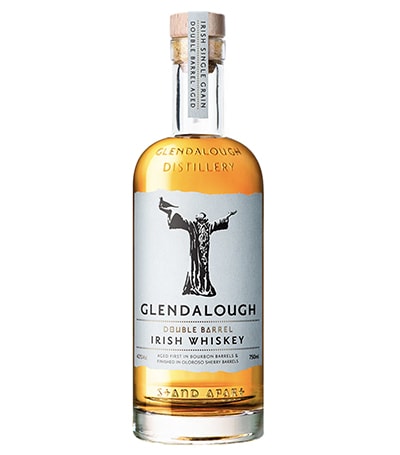 9. Teeling Small Batch Irish Whiskey
"When it first opened in 2015, Teeling Whiskey Distillery was the first distillery in Dublin in over 125 years," says Ohanneson. "This approachable whiskey is selected from a small number of whiskey barrels and finished in rum casks, which adds to its deliciously fruity flavor profile." The grape onesie we bought for it also helps.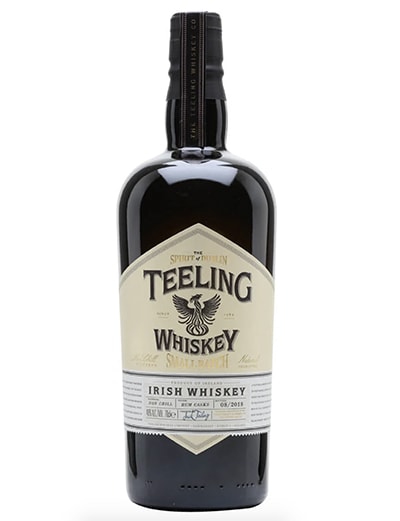 10. Knappogue Castle Single Malt 16 Year
This single malt whiskey is first aged in bourbon barrels and then Oloroso sherry casks for a total of 16 years. It boasts flavors of oak, apple, and chocolate more often than we boast about our volleyball participation trophy from sophomore year.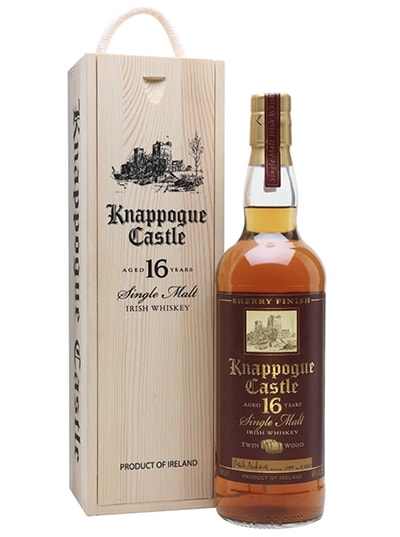 11. Redbreast 12 Year
Likened to a 'Christmas cake,' Redbreast 12 Year is a single pot stilled Irish whiskey that's triple distilled in copper pot stills and matured in an American Oak cask and an Oloroso sherry cask. It won the award of 'Best Irish Whiskey' at the International Whiskey Competition in 2019, and experts describe it as spicy, creamy, and fruity. We describe it as mmmmm.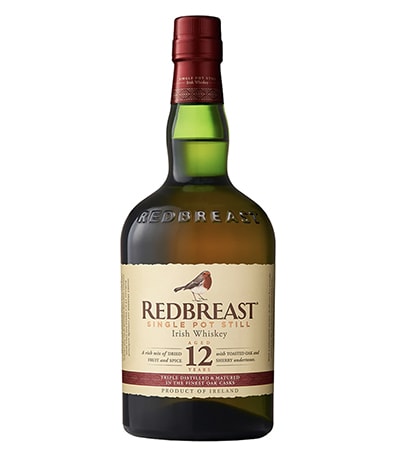 12. The Sexton Single Malt Irish Whiskey
"Given the grinning, top-hatted skeleton head on the black, six-sided bottle, it's not surprising that The Sexton Single Malt Irish Whiskey was chosen as the The Official Whiskey of The Walking Dead's final season," says Ohanneson.
"In contrast to the ominous bottle, the sherried whiskey inside, from female Master Distiller Alex Thomas [Bushmills new Master Blender] , delivers sweet notes of chocolate, honey, and dried fruit that works well over ice and in cocktails; The Walking Dead Limited Edition bottles are available in March at various dates depending on location."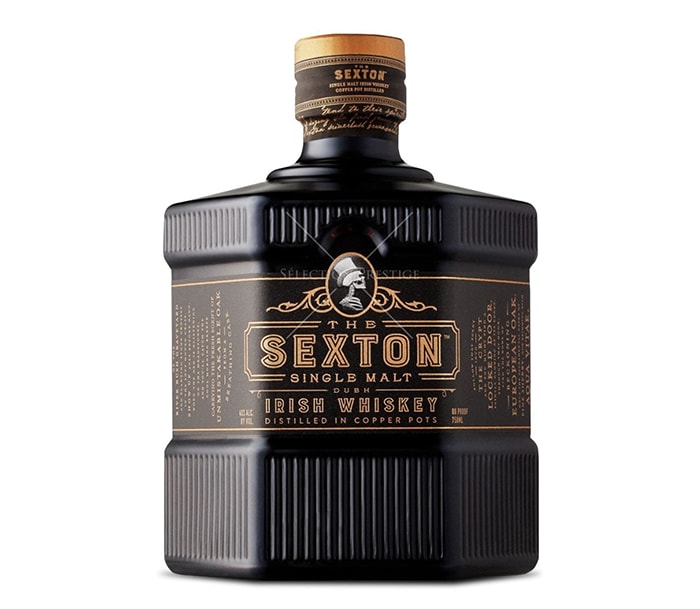 13. Midleton Very Rare
Midleton Very Rare's production is so limited that each bottle is numbered, and the Master Distiller signs each bottle. It continues to win award after award, and the 2021 release tastes of fruits, vanilla, coffee liqueur, cocoa powder, cloves, and nutmeg. If anything screams "summer drink by the pool" this is not it. Fireplace on the other hand…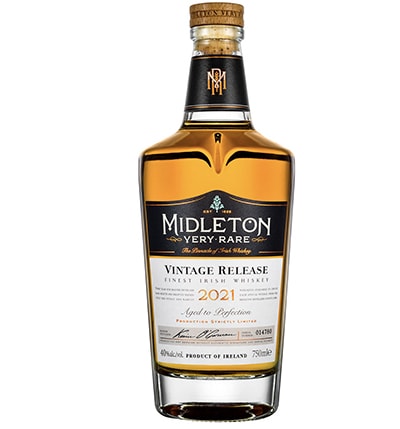 14. Slane Irish Whiskey
Ohanneson says Slane Whiskey is "matured and blended at Slane Castle in Ireland, where U2 recorded part of their album The Unforgettable Fire... and the notes of caramel, ginger, jam, and butterscotch work well sipped neat, over ice, in alcohol-forward cocktails, and especially in Irish Coffee." Don't tell us twice.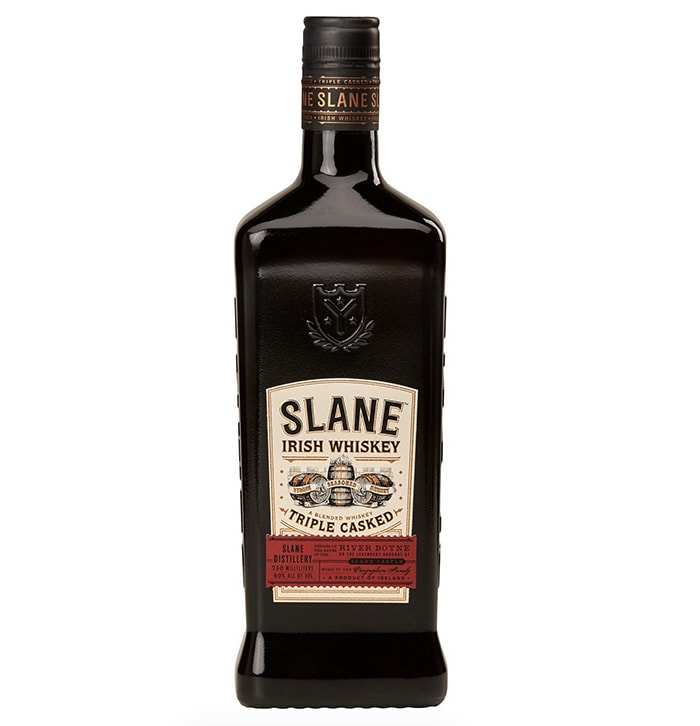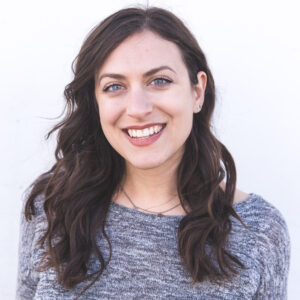 Latest posts by Kelsey Frey
(see all)