We love a good Old Fashioned, but when it comes to whiskey drinks, there's more options than "cocktails best sipped in front of a fireplace in a dark room."
Whiskey cocktails range from strong and intense to "is there alcohol in this thing?" depending on what type of whiskey you use. Sweeter drinks tend to feature bourbon, while punchier, peatier ones contain rye or scotch. And the salty ones include whatever bottle the pirates threw off a boat 150 years ago.
Whether you're sipping these drinks for St. Patrick's, the Kentucky Derby, or because you're on your fourth Zoom meeting of the day, here's a whole bar cart full of whiskey concoctions. From the classic Mint Julep and the modern Blackberry Bourbon Smash to the unique Peanut Butter Manhattan, we're sure you'll find something you love.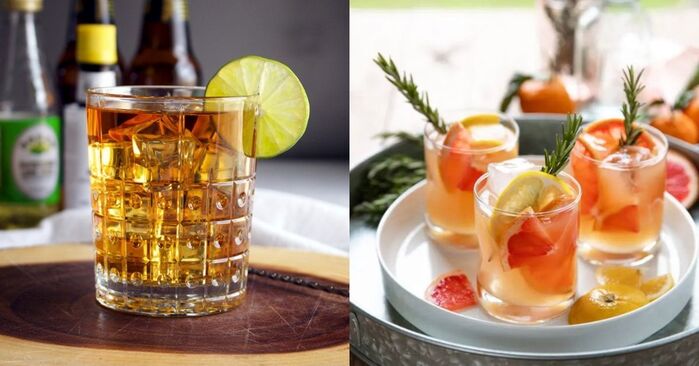 Whiskey Drinks to Enjoy Year Round
1. Whiskey Sour
With only four ingredients, a Whiskey Sour is a sweet, citrusy whiskey drink that has been a favorite for more than a century. Use egg whites to give the drink a foamier texture and then use the egg yolks to make ice cream. Waste not, want more ice cream.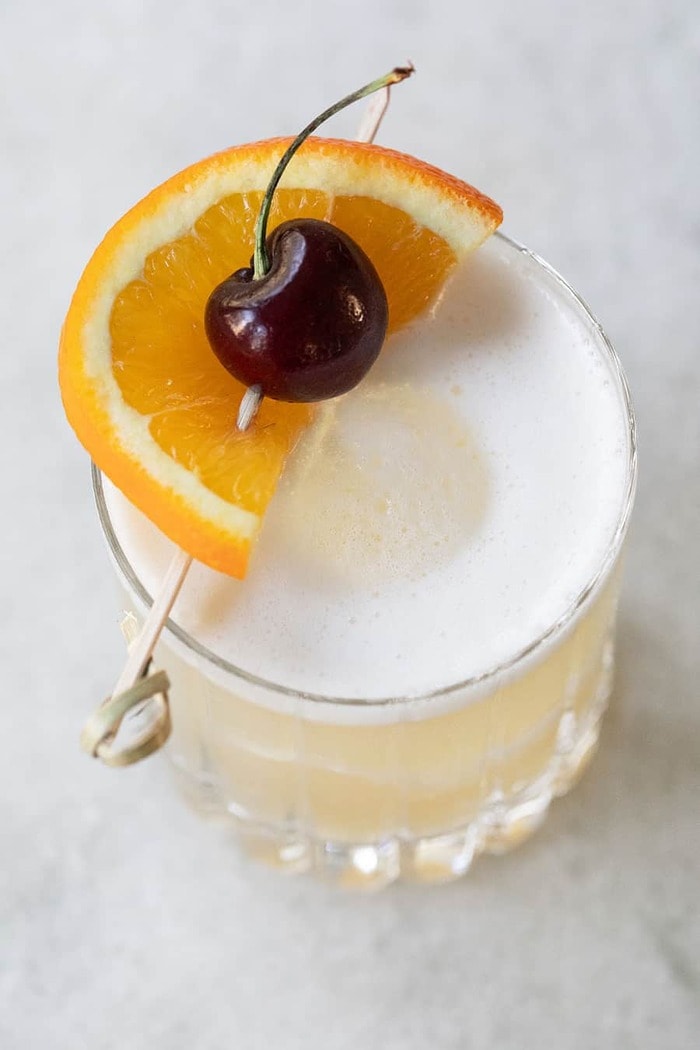 2. Penicillin
Rumor has it that a well-made Penicillin is a cure-all. The cocktail contains one ounce of lemon juice and are garnished with ginger to give it just enough bite. Any more and we might have to add garlic and a mini wooden cross.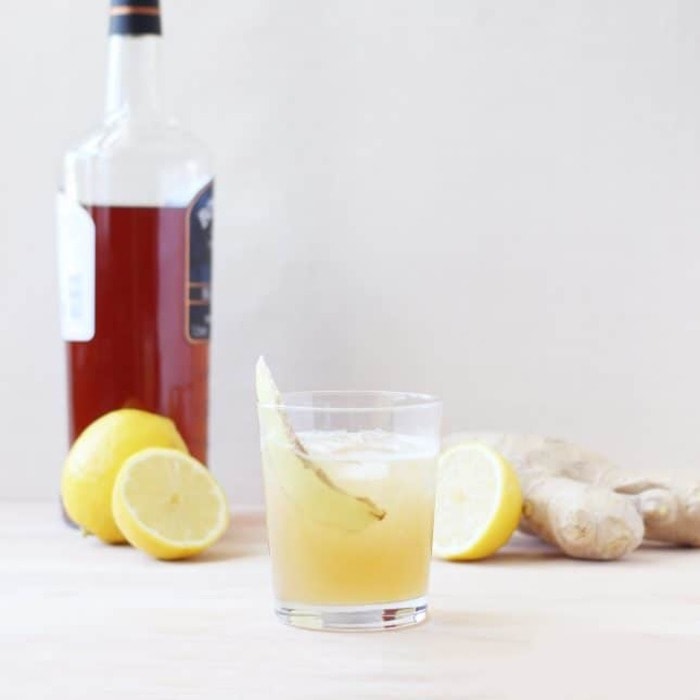 3. Blackberry Bourbon Smash
A Blackberry Bourbon Smash features fresh blackberries, lime, mint, and soda water. It's a summery drink that's a very distant cousin to the Mint Julep. You can find it hanging by the pool and flirting with the bar staff to get free drinks at all family reunions.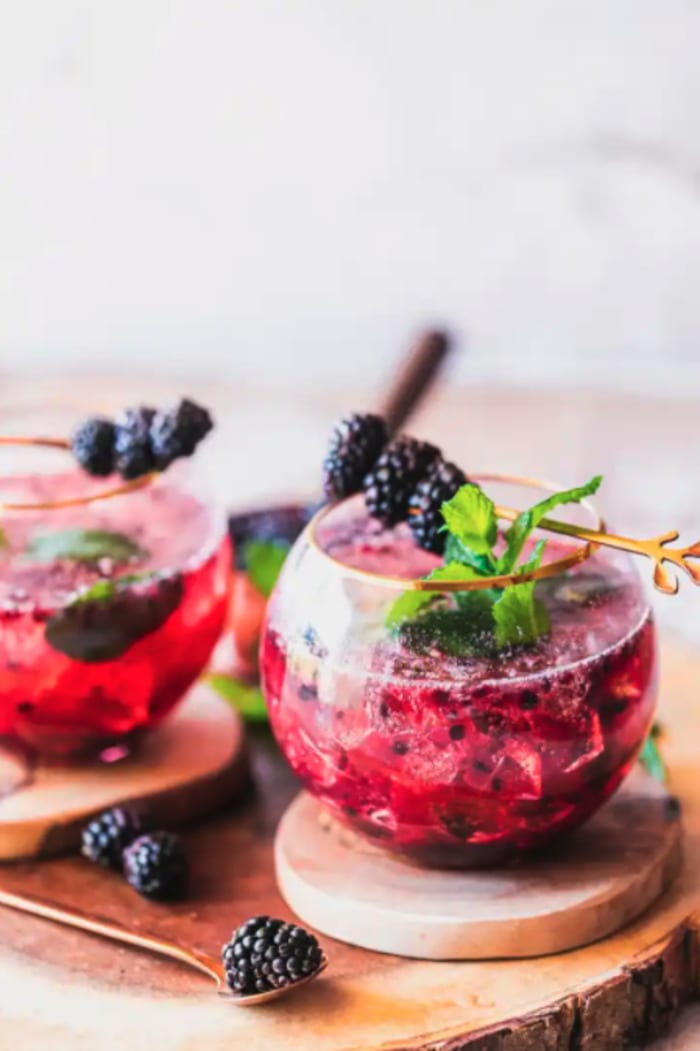 4. Peanut Butter Whiskey Manhattan
The Peanut Butter Whiskey Manhattan is a variation on that classic cocktail that uses peanut butter whiskey as the base. The subtle nutty flavor tricks your brain into believing this is a dessert. Garnish with a peanut butter cookie and don't listen to James Bond: try it stirred, not shaken. Also, creamy, not crunchy.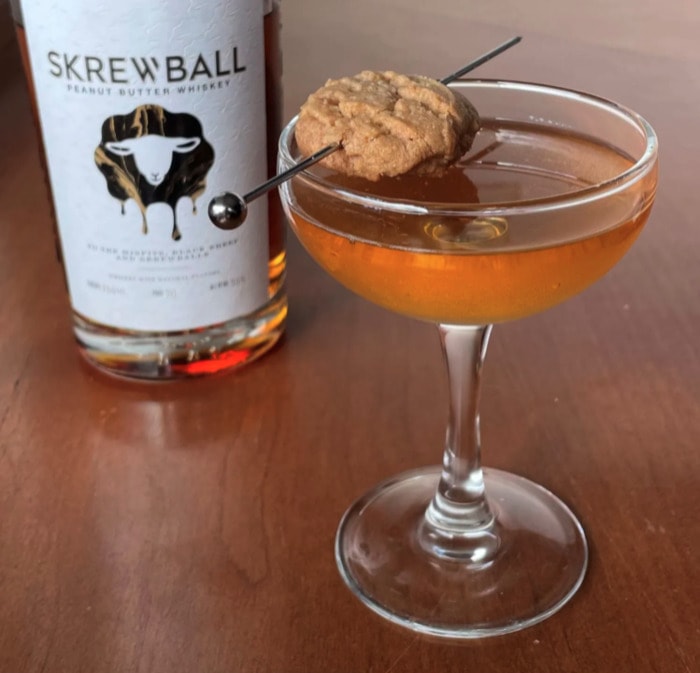 5. Smoked Cherry Old Fashioned
If the classic Old Fashioned is an old-school Don Draper type, then a Smoked Cherry Old Fashioned is his femme fatale foil. The simple cherry syrup blends perfectly with the smoky flavors, creating a drink that's at once seductive and strong. Sounds like the makings for the next great ad campaign…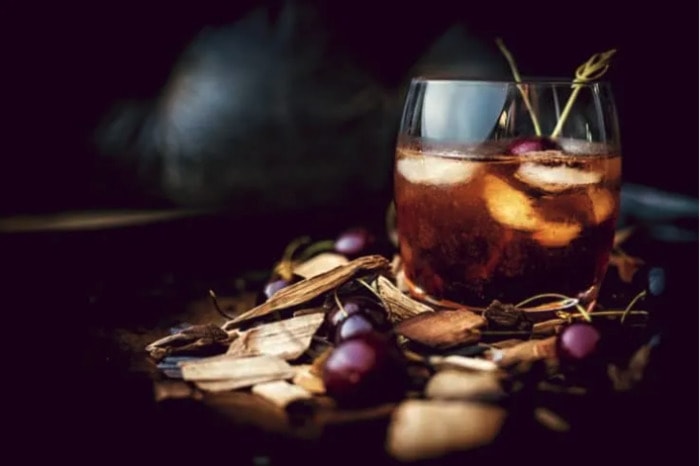 6. Irish Coffee
A classic Irish Coffee is made with hot coffee, Irish whiskey, heavy cream, and granulated sugar. The whiskey drink was originally intended to improve the mood of bedraggled airline passengers. It's only fitting to enjoy one to get you through the last few work meetings on St. Patrick's Day. Just make sure you put it in your best "Cat Mom" coffee mug.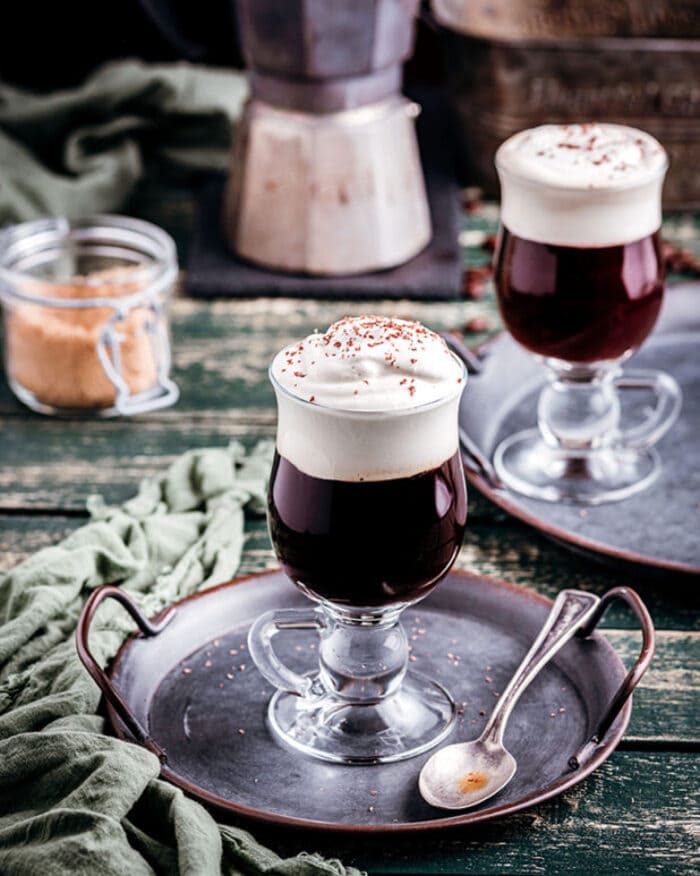 7. Bourbon Rosemary Cocktail
This cold weather cocktail is made using rosemary syrup, bourbon, lemon juice, and maple syrup. The herbaceous cocktail is then served on the rocks. Careful – they're slippery. Take a wrong step and all of a sudden you've had three of these and you're signing "Don't Stop Believing" at your neighbor's cousin's bar mitzvah.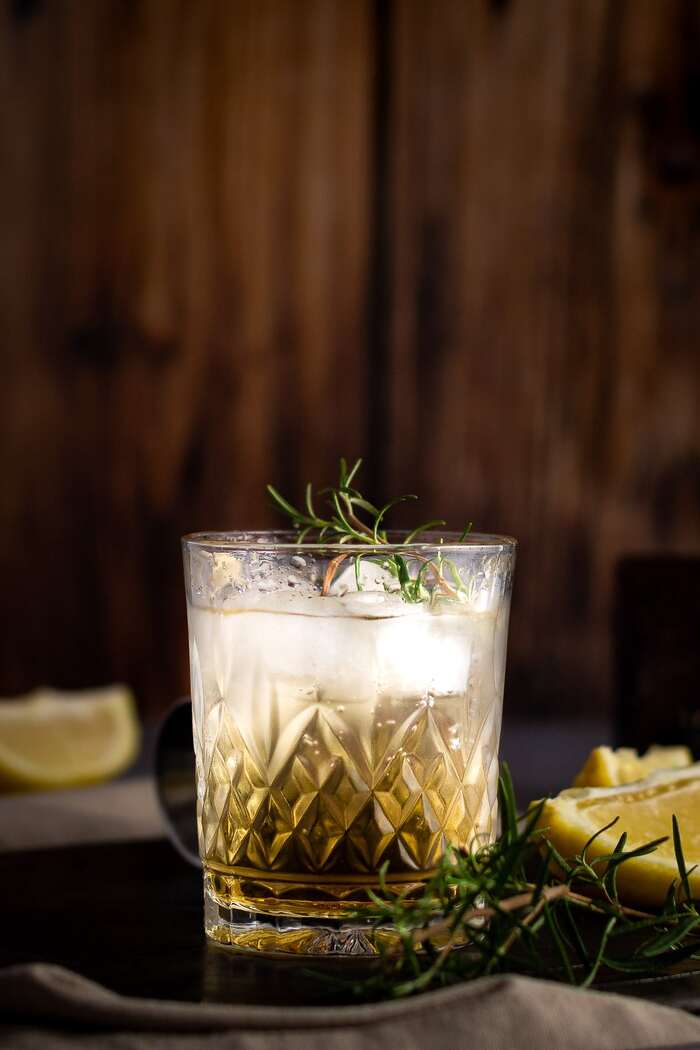 8. Mint Julep
Mint Juleps are a summertime staple in the South made with bourbon, simple syrup, and torn mint leaves. They're best enjoyed during the Kentucky Derby when your horse is winning. Or…your friend's horse. Or…any horse? We're really not that picky.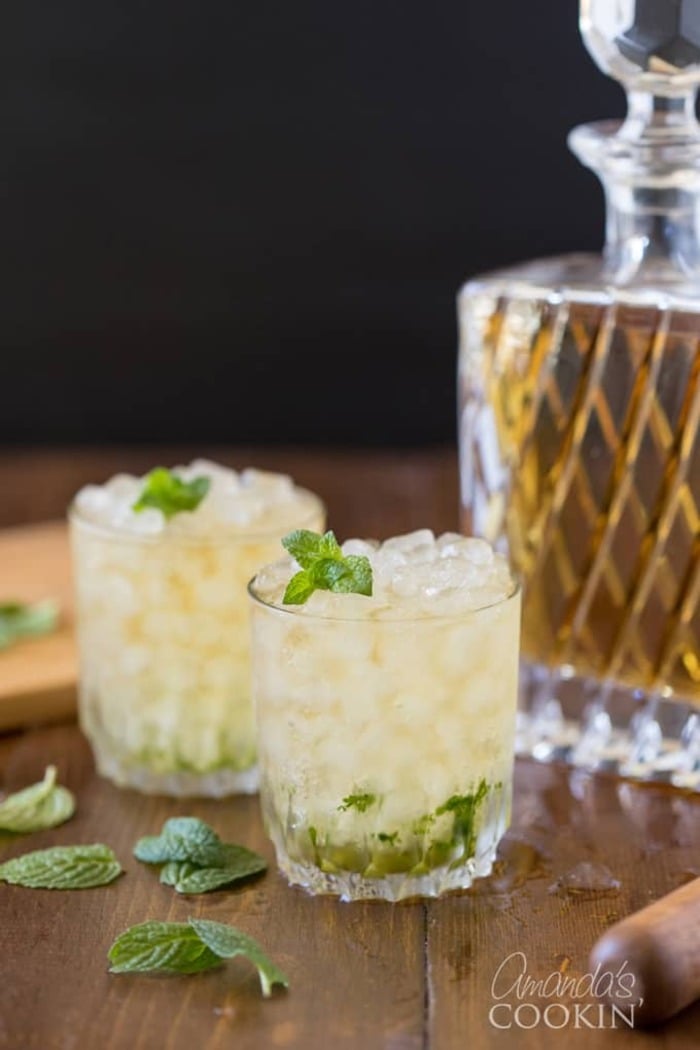 9. Cinnamon Cider Boulevardier
Make this Cinnamon Cider Boulevardier by combining apple cider, rye, Campari, sweet vermouth, cinnamon simple syrup, and garnish it with a slice of orange. Even if you're not a rye drinker, you'll want it for this cocktail as it's strong enough to not get lost among the other flavors. Not something we can say about ourselves in any corn maze.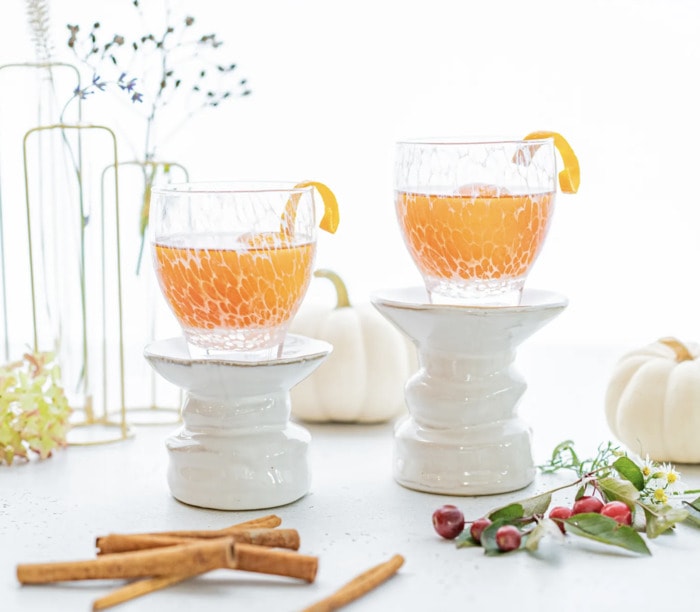 10. Whiskey Pucker Up
Pucker Up is a cocktail made with whiskey, lemon juice, and simple syrup. It's essentially a boozy alternative to the Arnold Palmer and perfect for the golf course. Even if you're only sitting in the cart and looking out for groundhogs.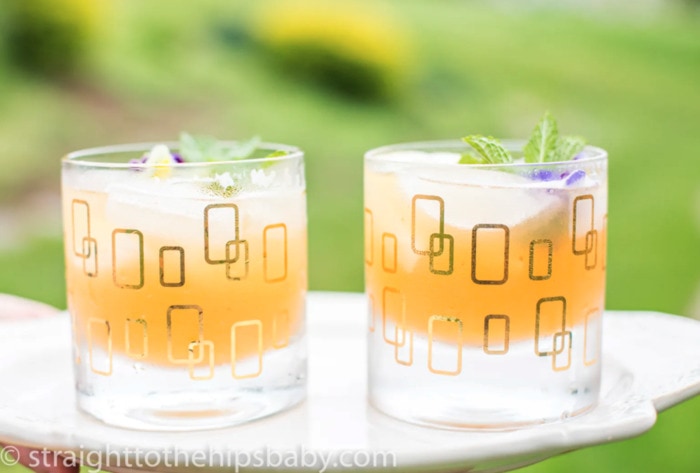 11. Fall Spiced Old Fashioned
If you wish fall was year-round, you will absolutely love this Fall-Spiced Old Fashioned. The whiskey drink will require you to create a seasonal simple syrup, but it's less work than you think. Just batch these cocktails out before a party and they're sure to impress. Martha Stewart and Snoop Dogg would be proud.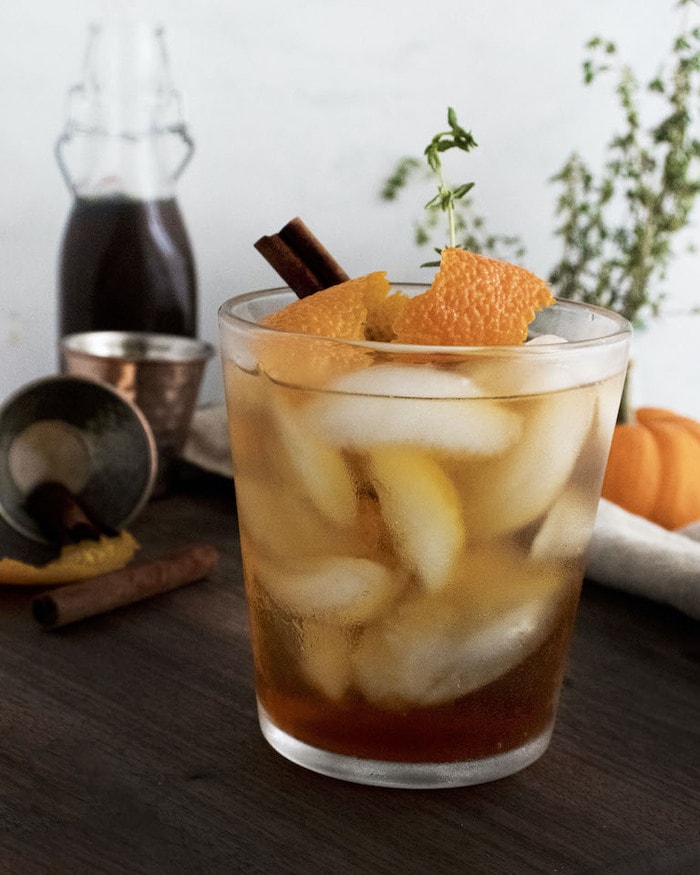 12. Rosemary Brown Derby
This grapefruit-forward whiskey cocktail combines bourbon, lemon, honey, rosemary, and sliced citrus for an amalgamation of flavors that serve to complement one another. Plus, grapefruit is healthy! So having this drink is practically the healthiest thing you can do all day. Especially if the other things you do include drinking Four Loko.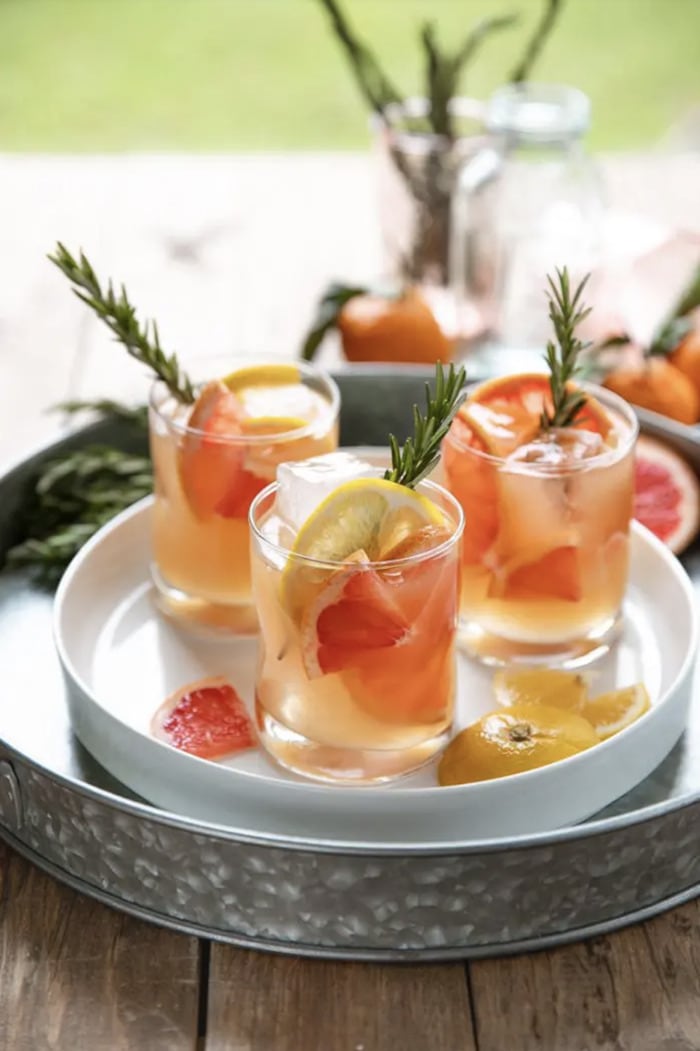 13. Grapefruit Ginger Bourbon Sour
For this Grapefruit Ginger Bourbon Sour, the first step is making a batch of ginger-infused simple syrup. Once the syrup has cooled, make this whiskey drink by combining the syrup with bourbon, grapefruit juice, and finally, garnishing it with lime. Be not afraid. Drinking this is like landing in citrus heaven. Tons of bees, but luckily no B.O.!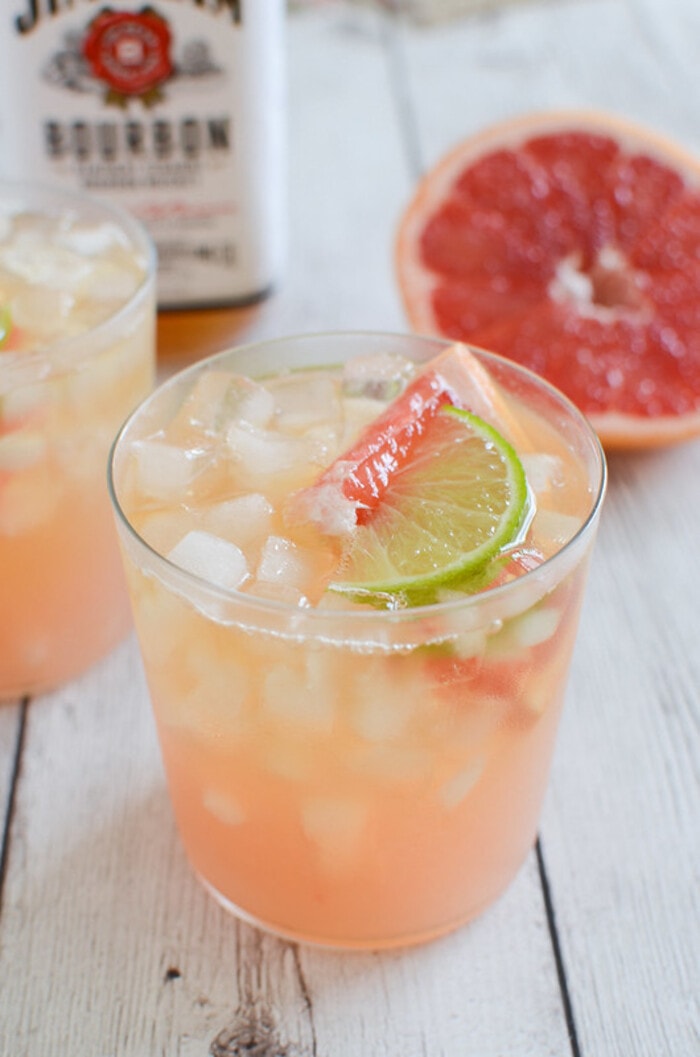 14. Peanut Butter White Russian
White Russians aren't just the cocktail of choice for The Dude in Big Lebowski. For a whiskey variation on the vodka drink, combine a peanut butter-infused whiskey (like Skrewball) with coffee liqueur and heavy cream. And maybe some Tums. It really ties the drink together.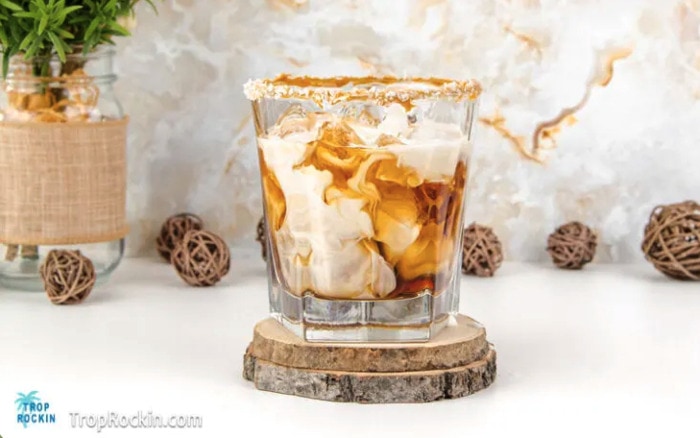 15. Peach Old Fashioned
For a late summer take on the Old Fashioned, mix orange bitters, bourbon, and fresh peaches to create a sweet whiskey drink. Suns out, buns out. But someone please explain to our mom why sending the peach emoji to everyone is not ok.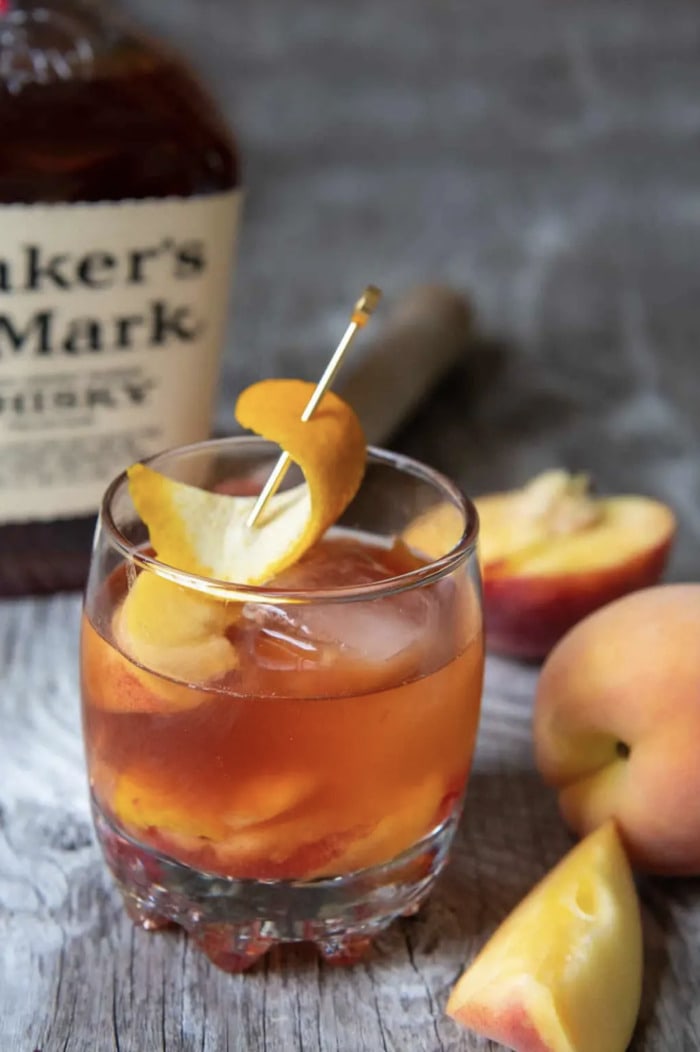 16. Old Pal
It's important to appreciate your oldest friends. But if you want to skip your high school reunion and still be filled with nostalgia, try the Old Pal, a tart whiskey cocktail with rye, Campari, and dry vermouth. It would have never let you get bangs.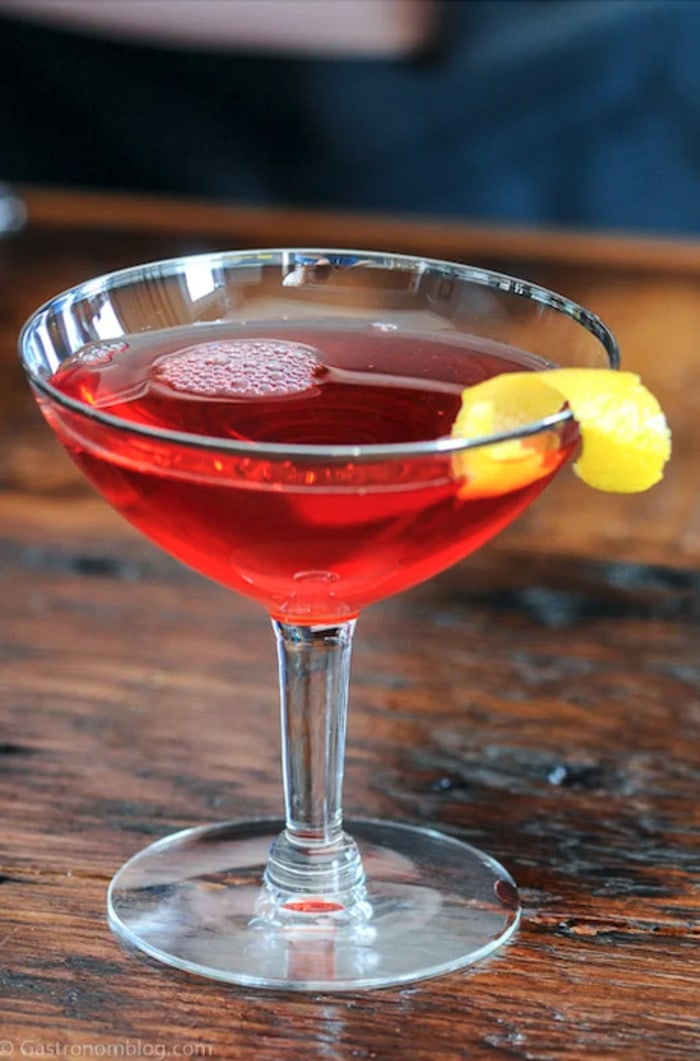 17. Pumpkin Ice Cream Cider Float
This frozen whiskey drink mixes apple hard cider, chocolate bitters, and the pumpkin ice cream lodged in the back of your freezer. If it tastes slightly of frozen cauliflower rice from 2018, you dug back too far.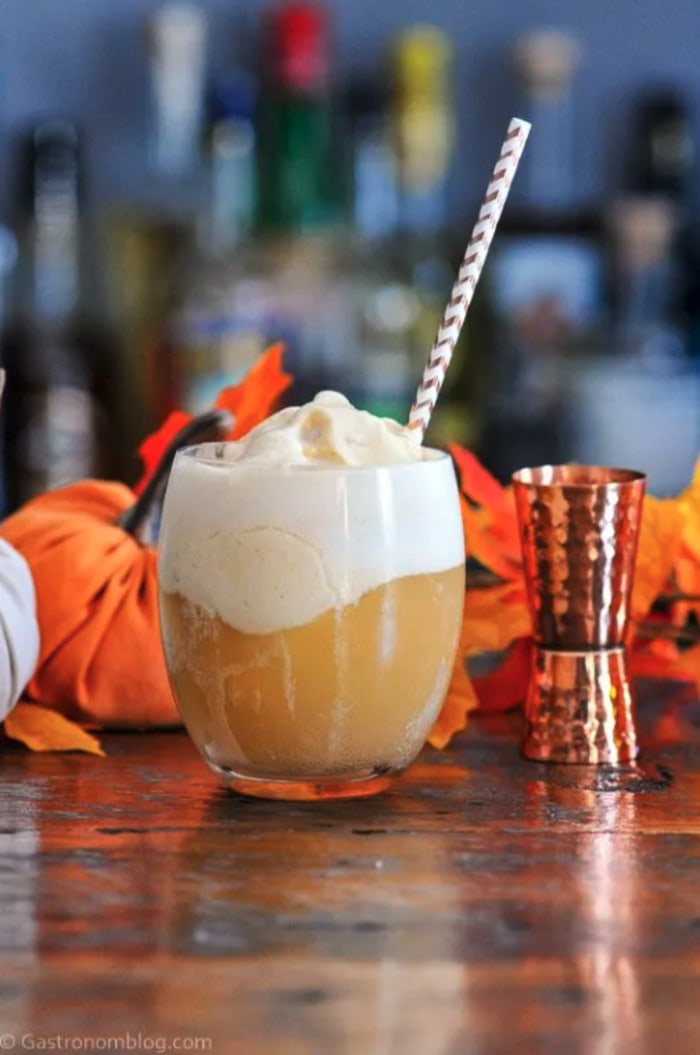 18. Chocolate Mint Julep
To make the Chocolate Mint Julep you'll combine a homemade chocolate mint-infused simple syrup with bourbon and chocolate macadamia nut bitters (available at Total Wine). Add lots of crushed ice and a large silver cup for a sweet, stylish whiskey drink. Why yes, she does have her own TikTok account!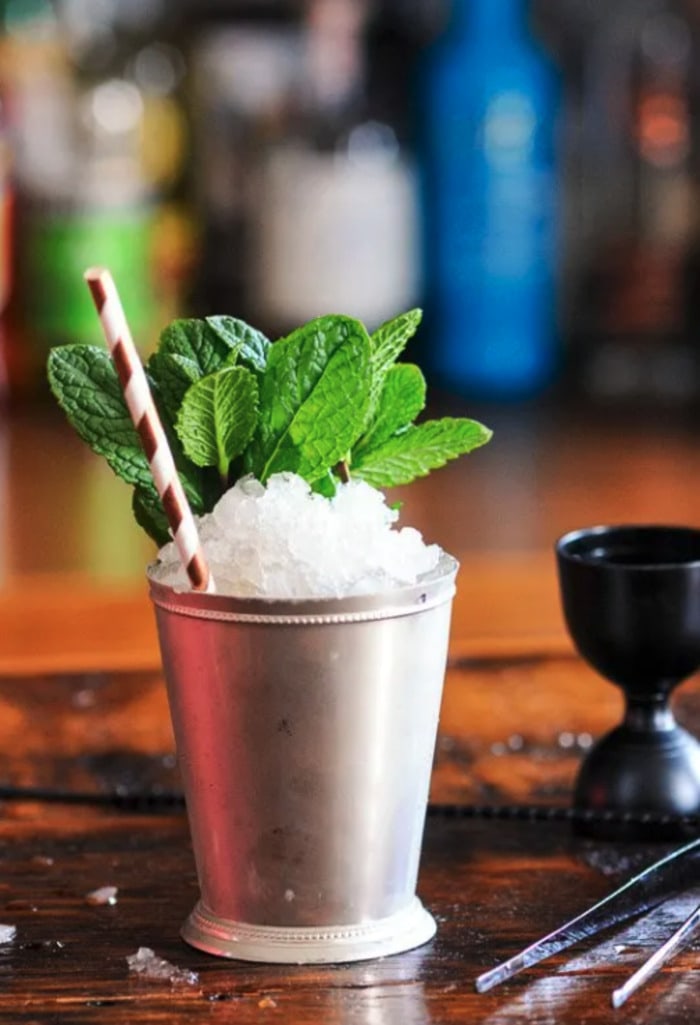 19. Hot Toddy
The Hot Toddy is a similar to a Penicillin, except it uses bourbon instead of Scotch. Garnish this whiskey cocktail with a stick of cinnamon or slice of lemon and sip on cold winter nights. Or 75-degree winter nights, if you live in The Valley. It's all relative.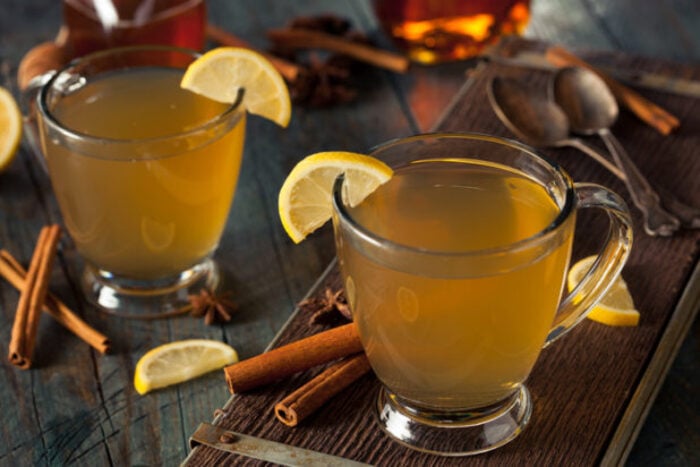 20. Cherry Vanilla Whiskey Sour
This sweet Cherry Vanilla Whiskey Sour might even win over drinkers who claim they don't like whiskey. It's got egg whites, cherry and vanilla-infused simple syrup, bitters, lemon juice, and a good amount of bourbon. Ok, maybe don't remind them about the last part.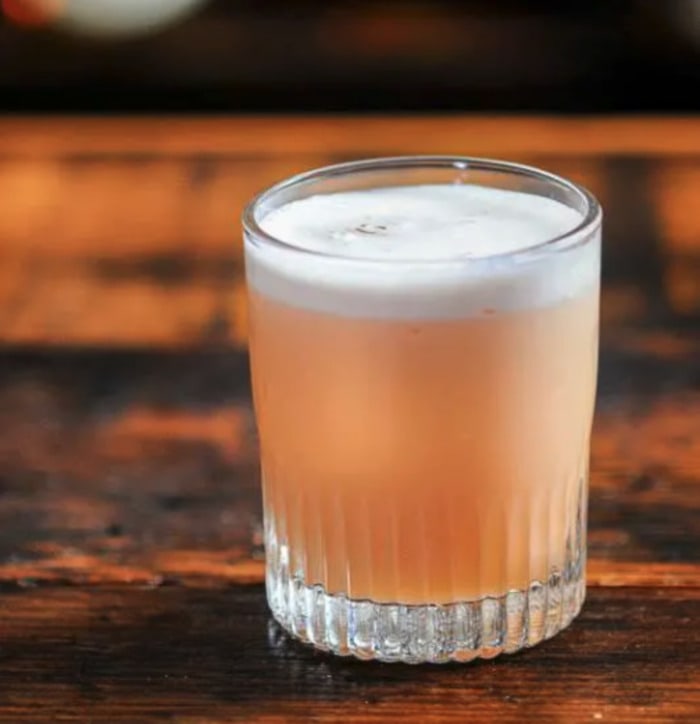 21. Rhubarb Whiskey Cocktail
This Rhubarb Whiskey Cocktail is perfect for spring or summer or whenever rhubarb would like to show up at the farmer's market thank you very much. No we didn't once mistake it for chard. Definitely not..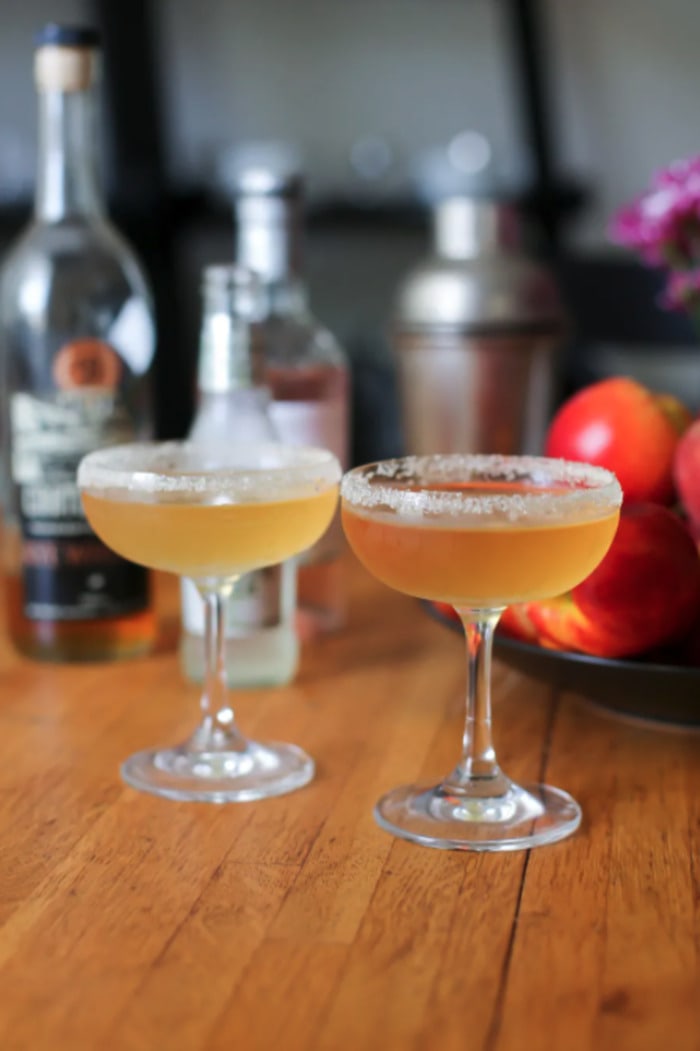 22. Bourbon Spiked Apple Cider
If you're having recurring dreams of frolicking in an apple orchard, the Bourbon Spiked Apple Cider is the drink for you. Simply mix together unfiltered apple cider, mulling spices, whiskey, oranges, and cinnamon sticks. Batch it ahead of time for a camping trip or backyard BBQ. Or if you're really an expert, a camping trip BBQ.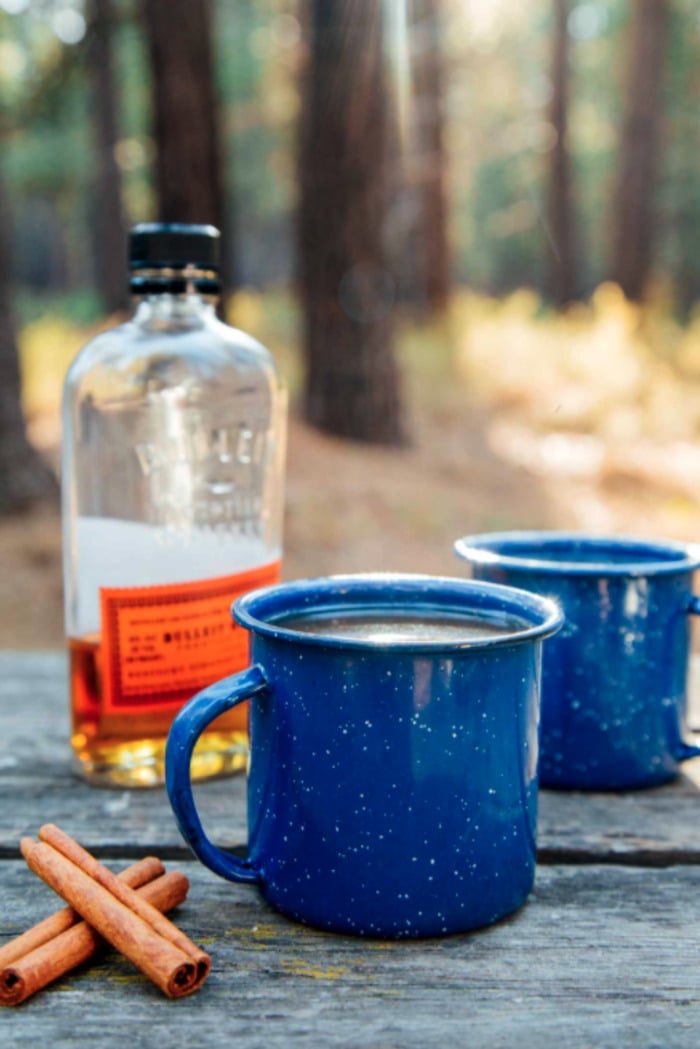 23. Blood and Sand
The 1920s brought flapper dresses, great haircuts, and whiskey cocktails like the Blood and Sand. The drink combines Scotch, sweet vermouth, cherry liqueur, and orange juice. It's typically served "up," — meaning cold without ice — and is guaranteed to "up" your mood. Watch out for those ceiling fans!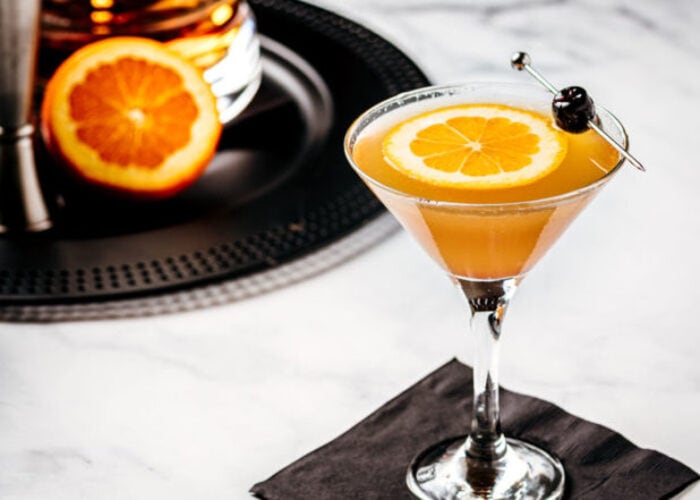 24. Boulevardier
The Boulevardier is a classic made with only three ingredients: whiskey, Campari, and sweet vermouth. It's sweet with just a touch of bitterness. Relatable, no?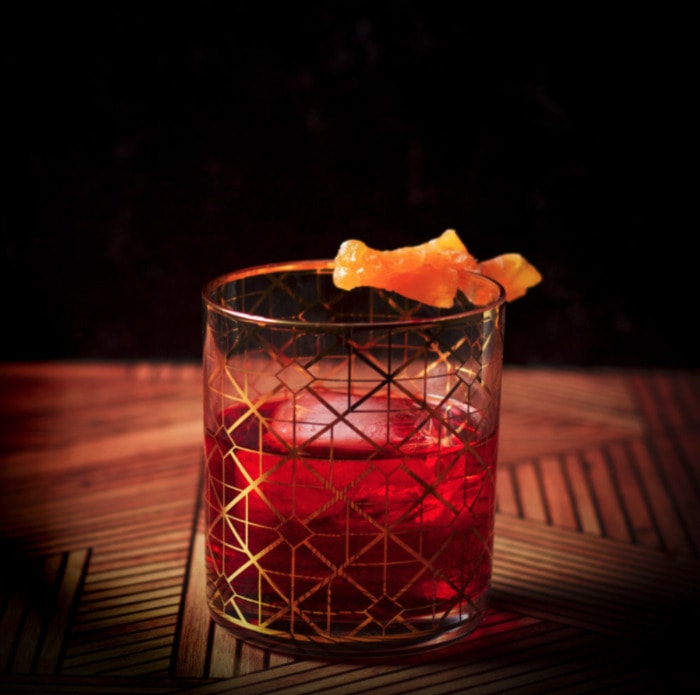 25. Horsefeather
Despite the strange name, the Quarter Horse Cocktail (also known as the Horsefeather) is a delicious whiskey cocktail similar to a Moscow Mule. It's made with bourbon, ginger beer, lime juice, and bitters. But we recommend riding your horse before drinking it, not after.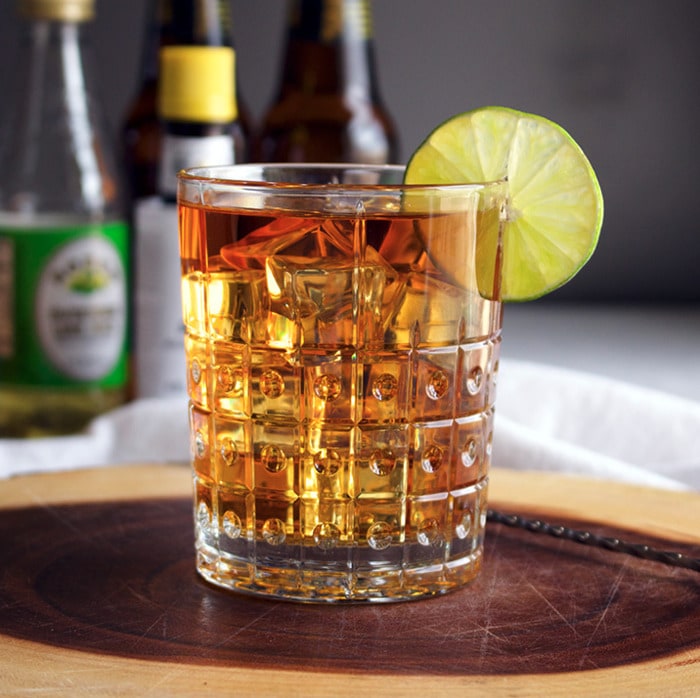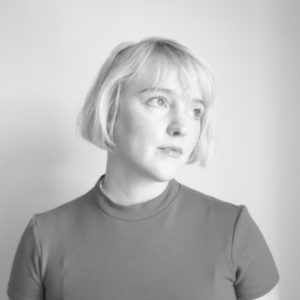 Latest posts by Kate Santos
(see all)