For Starbucks fans, Pumpkin Spice and the fall season are pretty much the same thing. This year, according to junk food blogger Markie Devo, Starbucks' Fall menu for 2022 will arrive on August 30th.
So far, it doesn't look like there is a new drink for the fall, but the Apple Crisp Macchiato is returning. To which we say… yay? We weren't a huge fan of the drink, so we're hoping they've got something else up their coffee-covered sleeves. Perhaps a s'mores beverage is hiding up there somewhere?
Though, we asked an anonymous barista and they said there's nothing that they've heard of so far.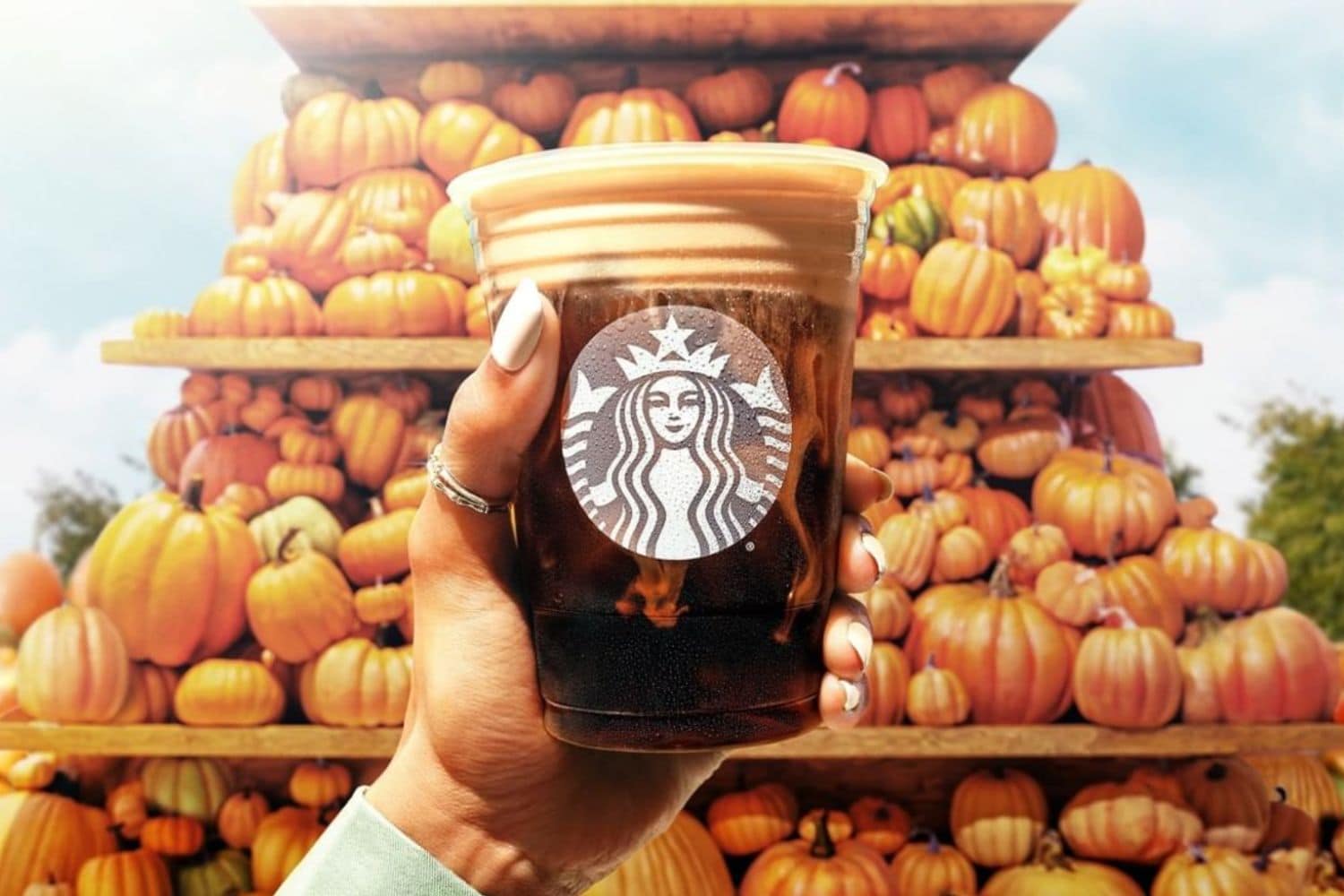 When Will Starbucks Fall Menu Launch?
Starbucks used to launch their fall menu in September, they moved the PSL release date to August in 2018 and last year, launched it on the earliest date yet, August 24.
This year, you'll have to wait – gasp – nearly a whole week longer until August 30. If you can't, here's how to make your own Pumpkin Spice Latte at home. It will taste equally delicious in one of these Halloween tumblers.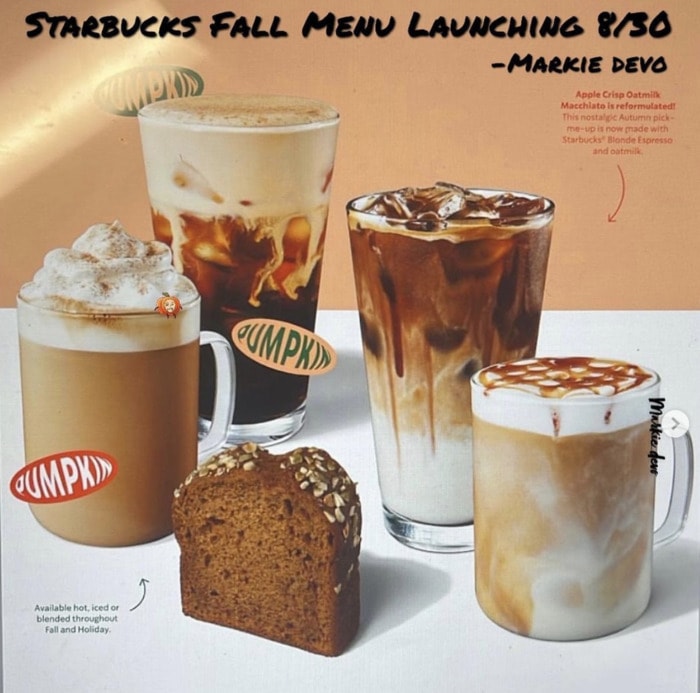 What's on Starbucks' Fall Menu for 2022?
Now, all of this has yet to be confirmed by the folks at Starbucks, but according to Devo, here's what might be on it:
The rumored Starbucks Fall Menu lineup includes:
Pumpkin Spice Latte
Pumpkin Cream Cold Brew
Apple Crisp Oatmilk Macchiato (reportedly, reformulated)
Chai Tea Latte
Iced Chai Tea Latte
Pumpkin Cream Cheese Muffin
Pumpkin Scone
Owl Cake Pop (new)
1. Pumpkin Spice Latte (390 calories)
The OG. If OG to you means a sweet drink launched by a corporate coffee chain in 2011 and not a member of the Crips. Though, TBH they probably also love the PSL. The pumpkin-y drink is our favorite way to get our helping of vegetables every fall season. We might also have scurvy.
2. Pumpkin Cream Cold Brew (250 calories)
If the caffeine in our cold brew wasn't enough to put us on the ceiling, the vanilla syrup and sweetened cold foam in this beverage should do the trick. Look, ma, we're flying!
3. Apple Crisp Oatmilk Macchiato (320 calories)
We weren't terribly wowed by this plant-based drink, but seems we weren't the only ones. According to Devo, this one went back to the lab for a reboot. That said, we did like the Frappuccino version. Then again, we like anything with whipped cream. Brussels sprouts? Don't mind if we do!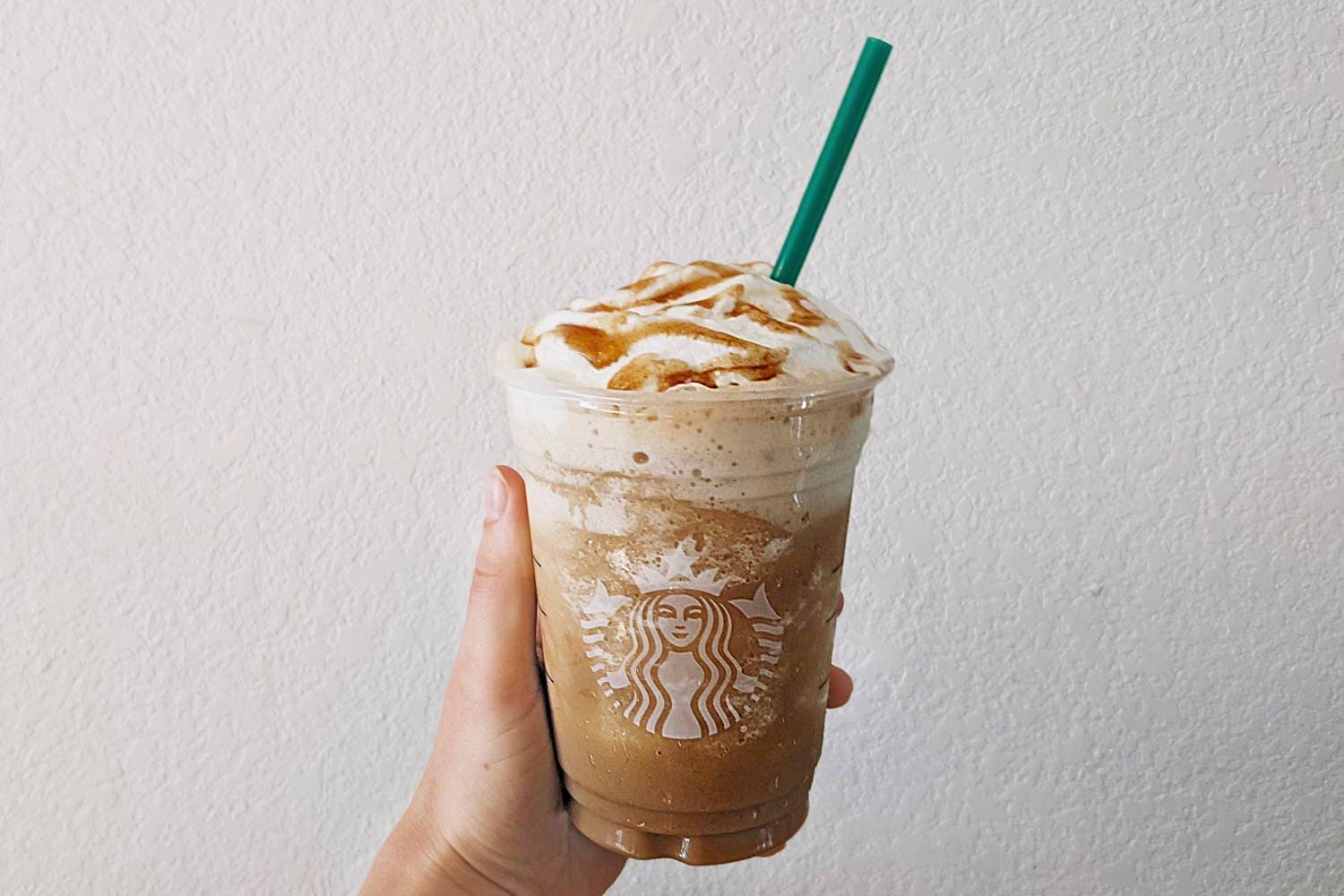 4. Chai Tea Latte (240 calories)
Isn't this a menu staple? Wow, maybe we really do need to get our eyes checked.
5. Pumpkin Cream Cheese Muffin (350 calories)
While carrot cake is the literal worst cake ever, that doesn't mean vegetables shouldn't ever make it into cake. Eventually we'll put the Pea Cupcake that we made for Cupcake Wars on the site. Until then, enjoy this tender, creamy muffin that will create more crumbs than you ever thought possible.
6. Pumpkin Scone (500 calories)
The scone is the perfect breakfast treat. Usually they're not too sweet, just dry enough to not break your teeth like biscotti, and make you want more coffee. Wait, how are you 500 calories, dude? Anyway, we'll be investigating that just as soon as we get out of our dentist's chair.
7. Owl Cake Pop (approx 150 calories)
This new purple owl cake pop looks not all almost identical to the owl who was supposed to tell us how many licks it takes to get to the center of a Tootsie Pop but then ate it instead. How the tables have turned. (If you want to make the literal cutest owl cake pops, follow this tutorial.)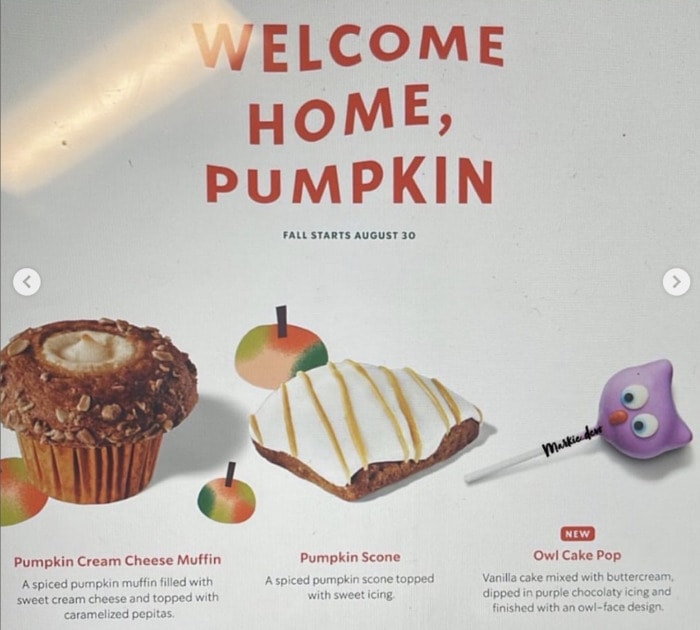 Is the PSL Going Up In Price?
Yes. It's rumored that Starbucks has raised the price of the Pumpkin Spice Latte by 80 cents, in an effort to increase wages across the board (including for baristas).
We still have some thoughts about their anti-union actions, but raising their rates to a $15-per-hour minimum and "adding incremental increases that will apply to all U.S. store partners, while recognizing and rewarding tenure" is a good start.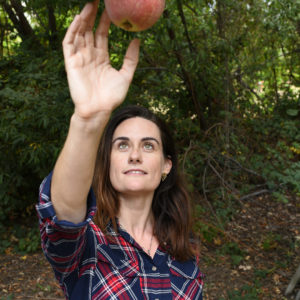 Latest posts by Rebecca Swanner
(see all)