Just a few days ago, Dunkin' announced their Fall menu for this year, so of course, Starbucks couldn't wait any longer. So, here's what's on the Starbucks Fall menu for 2023.
Where Dunkin' didn't announce any new drinks or menu items, Starbucks is rolling in with not one, but two new fall drinks, cups, and a new bakery item along with their signature Pumpkin Spice Latte. Well, at least according to the Internet and food insider Markie Devo. There's
From the brand-new iced Pumpkin Cream Chai Tea Latte to the returning Owl cake pop, here's what's coming to Starbucks this Halloween season.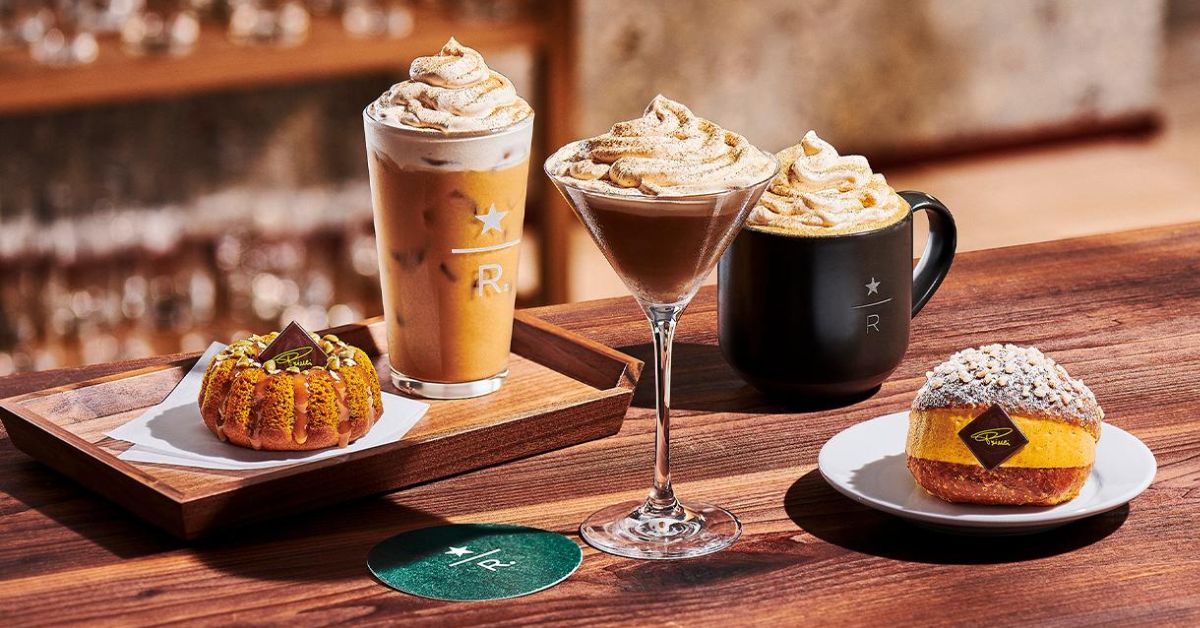 What Will Starbucks' Fall Menu Include?
Starbucks fall menu will reportedly launch on August 24th and go until November 1st, at which time they will likely debut their holiday drinks. Or maybe clocks will just skip to June. Who knows.
Pumpkin Signature Latte
Pumpkin Cream Cold Brew
Iced Pumpkin Cream Chai Tea Latte (new)
Iced Apple Crisp Oatmilk Shaken Espresso (new)
Pumpkin Cream Cheese Muffin
Pumpkin and Pepita Loaf
Baked Apple Croissant (new)
Owl Cake Pop
Pumpkin Spice Whiskey Barrel-Aged Iced Latte (Starbucks Reserve Roasteries in NYC, Seattle, and Chicago only)
Pumpkin Spice Espresso Martini (Starbucks Reserve Roasteries in NYC, Seattle, and Chicago only)
Pumpkin Spice Cake (Starbucks Reserve Roasteries only)
Pumpkin Maritozzo (Starbucks Reserve Roasteries only)
The new Starbucks' fall cups launched in late August as well, but if you want a PSL in the middle of the month, you'll have to head to Dunks until the OG Pumpkin Spice Latte arrives.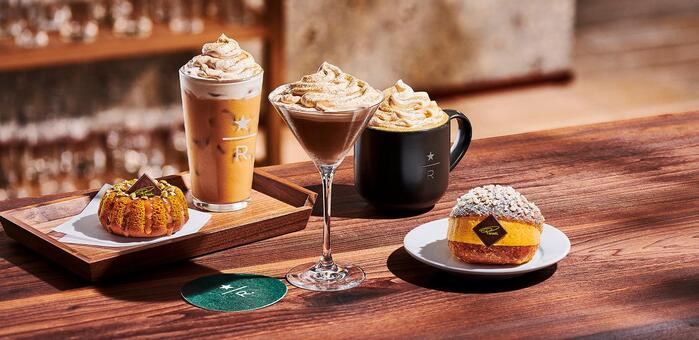 Starbucks Fall Menu for 2023
1. Pumpkin Spice Latte
The one. The only. Starbucks Pumpkin Spice Latte is the undisputed King of Autumn. At least when it comes to drinks. Probably not when it comes to tactical anything.
Once you've tried the original, try one of these Secret Menu PSLs. Or get the Pumpkin Spice iced, like Danielle did here.
2. Pumpkin Cream Cold Brew
If cold brew's caffeine alone isn't starting your day off right, add sugar. That's actually our motto for most things.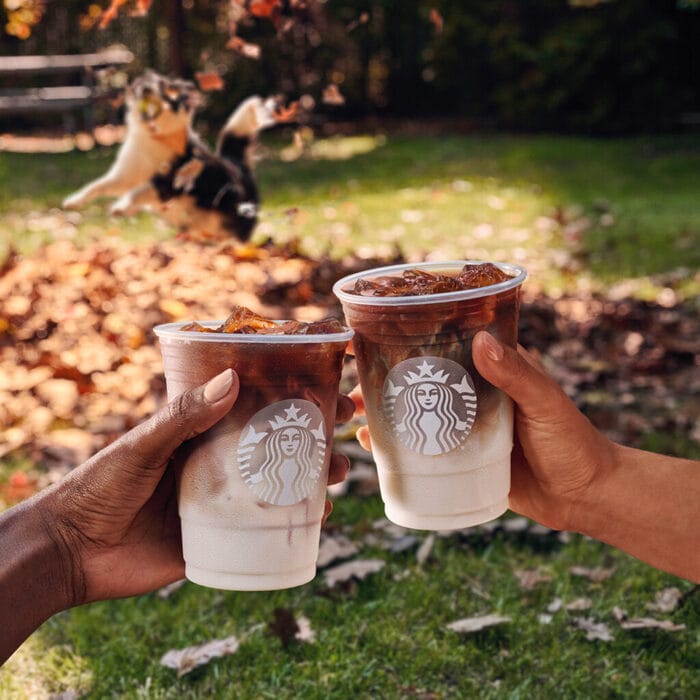 3. Iced Pumpkin Cream Chai Tea Latte
We have a sneaking suspicion that this Chai Chai Latte will become our new favorite fall drink. Stop sneaking. We can see you there. You're just making things awkward.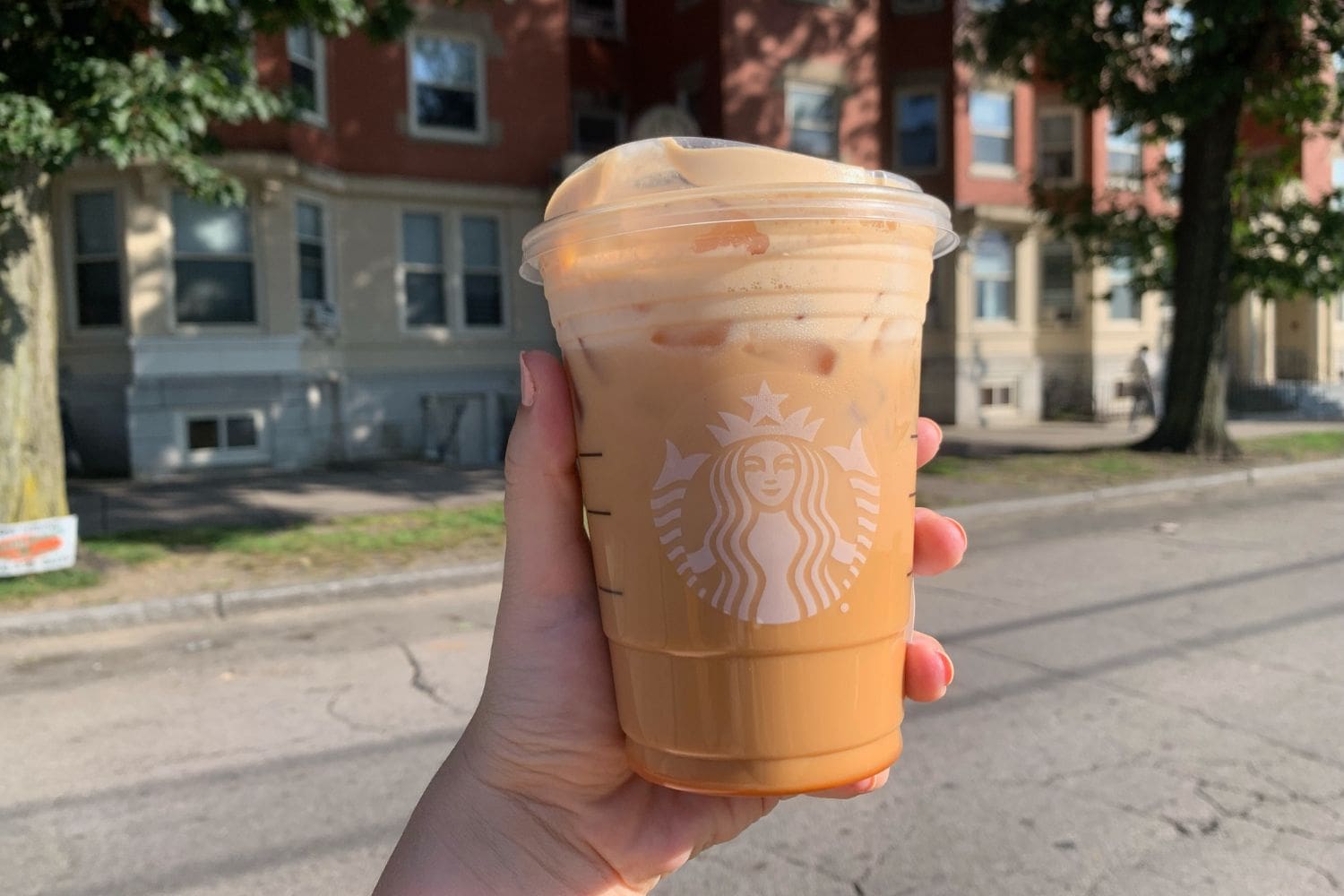 4. Iced Apple Crisp Oatmilk Shaken Espresso
Starbucks, us — and the dictionary — would like a word with you about your alternative milk spellings. But that can wait.
We appreciate that you've has gotten the memo that we really like shaking our iced coffees. But, really, how different is this Shaken Espresso from the Iced Apple Crisp Oatmilk Macchiato below? Guess we'll have to wait to find out.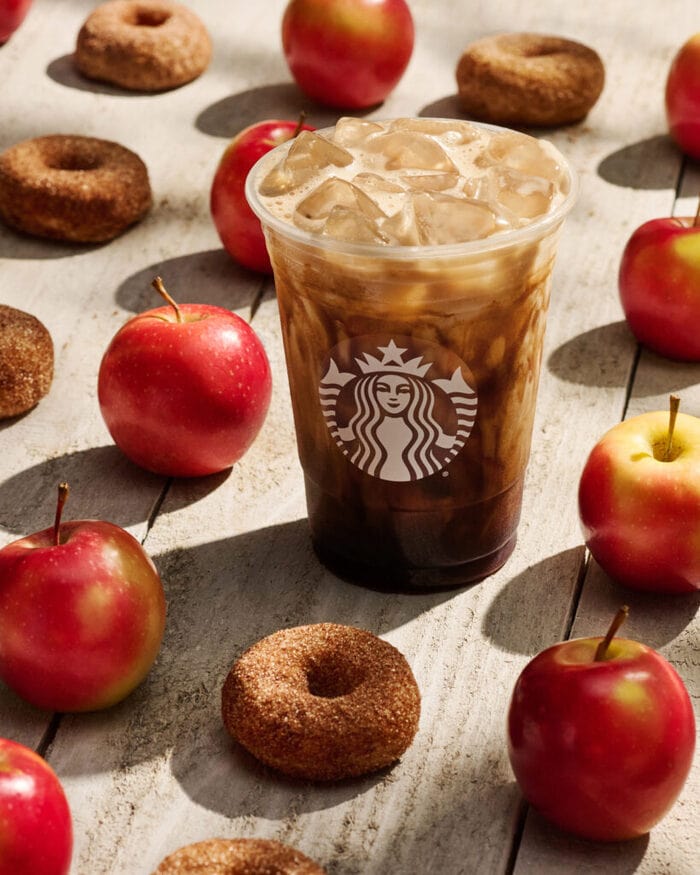 5. Pumpkin Cream Cheese Muffin
It's a muffin stuffed with cream cheese. It's not our favorite thing on the menu, but we won't yuck your yum. At least not right now.
6. Baked Apple Croissant
This new bakery item sounds really promising. Now, we've been burned before by dry, phoning it in croissants, but this has potential.
7. Owl Cake Pop
Finally, something is putting that poor cat, er bumblebee, cake pop out of its misery. The fact that it sort of looks like the Duolingo owl is not lost on us.
8. Pumpkin Spice Whiskey Barrel-Aged Iced Latte
The next few items are only available at Starbucks Reserve Roasteries in Chicago, Seattle, and New York. This one combines whiskey barrel-aged coffee with pumpkin spice sauce, pumpkin pie spice, and whiskey barrel-aged whipped cream. Oh, and milk. Because anything else would be weird.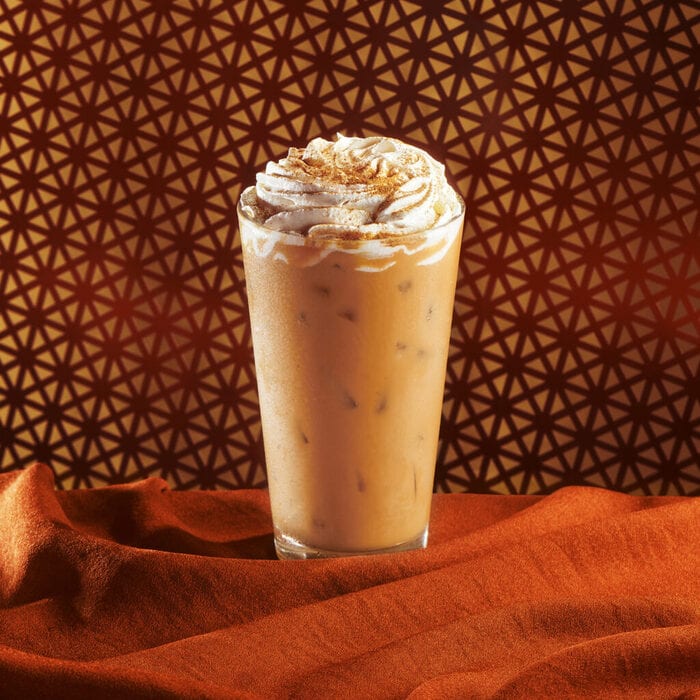 9. Pumpkin Spice Espresso Martini
Never have we wanted to book a trip to NYC so fast. (Sorry, Chicago.) Starbucks describes this as an "Espresso Martini infused with fall's favorite flavors – pumpkin, cinnamon, nutmeg, and clove – topped with pumpkin spiced whipped cream and a sprinkle of pumpkin-pie spices for the perfect aromatic blend."
Just keep saying those words while we check flight prices.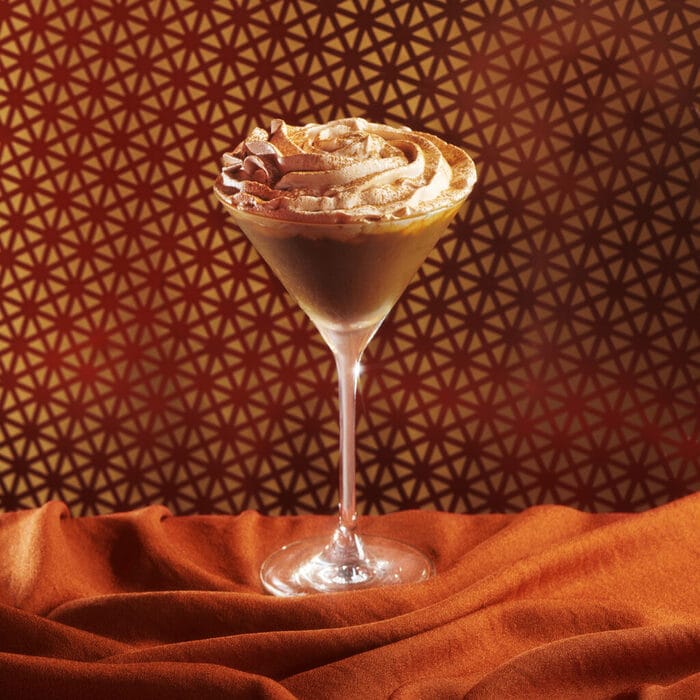 10. Pumpkin Spice Cake
This luscious dessert (or breakfast if that how you wanna roll), is a great reminder to also visit your local coffeeshops this fall. Because, while this particular pumpkin loaf is only available in Reserve locations (the Pumpkin and Pepita loaf will be available at all Starbucks locations), independent bakeries will be serving up warm slices of pumpkin bread all season long.
11. Pumpkin Maritozzo
This bakery item, which literally means "pumpkin hubby" is pretty cute. According to the Delicious Italy, "a prospective husband would give a large maritozzo decorated with sugar to his bride-to-be, inside of which was a ring or a small golden object."
Thanks, babe, we love our gorgeous ring that is now coated in bread! We don't recommend you follow suit as this sweet brioche is filled with pumpkin spiced marscapone cream. For one, we'd probably eat it accidentally.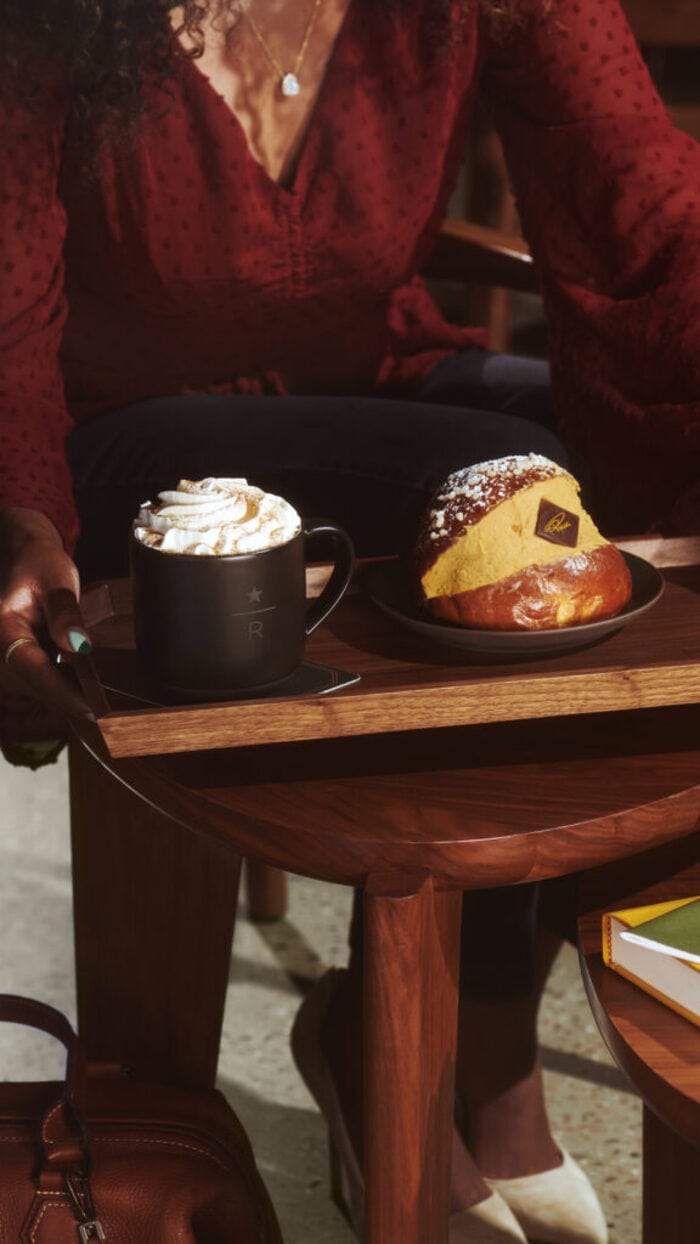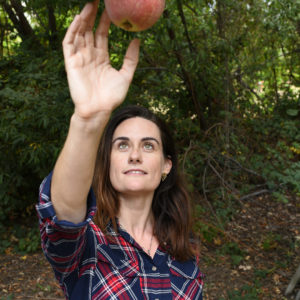 Latest posts by Rebecca Swanner
(see all)