When it comes to the most-anticipated Starbucks releases, it's the Halloween and Fall cups that everyone really looks forward to. Because, while, sure the Summer cups are cool, it's really the autumn ones that come out with the PSL that we get excited about. So, here's your first look at Starbucks Fall cups and tumblers for 2023.
What can we expect this season? TikTok and Instagram are abuzz over the neon green glow-in-the-dark slime tumbler that's giving Ghostbusters meets Goosebumps meets Double Dare. There's also a hot pink pumpkin mug that hasn't been spotted yet, but that our inner Barbie is ready for.
It's worth also noting that there are a few release dates for these cups. Chapter 1 arrives with Starbucks' Fall menu on August 24th. Chapter 2, when the Halloween cups arrive, is September 12th. And, Chapter 3 is said to launch on September 26th.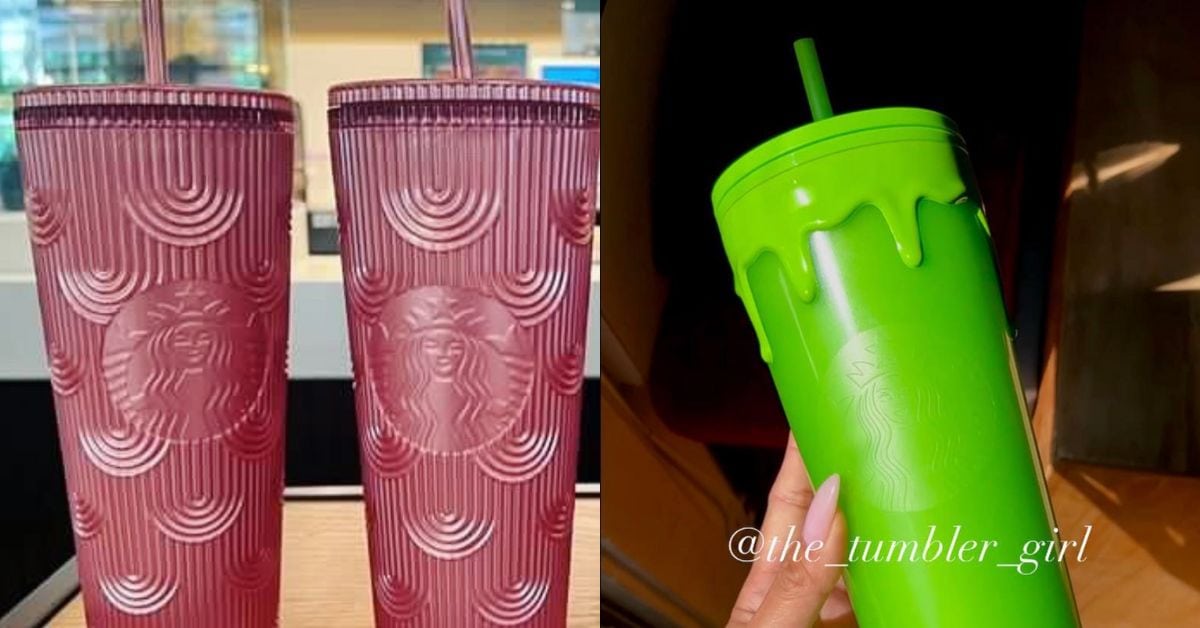 Starbucks Fall Cups for 2023: Chapter 1
1. Jellyfish Cold Cup (24 oz)
We can't tell if these are mushrooms or jellyfish? Probably best not to eat them either way.
2. Teal and Yellow Ombre Studded Tumbler (24 oz), $22.95
This new ombre color has us feeling things. In this case, that Starbucks is running out of color combinations.
3. Lilac Bubbleseed Cold Cup
Green and purple seem to be this year's Halloween colors. Somewhere Maleficient is beaming.
4. Manuela Heart Cold Cups (24 oz)
For their summer cup Pride designs, Starbucks' collaborated with artist Tim Singleton to create bold, collectible tumblers. Now, for Fall, they're working with Philadelphia-based artist Manuela Guillén. We're loving all her designs, but are partial to this one with its attention-grabbing yellow and red heart straw topper.
5. Buenas Vibras Ceramic Mug
For all your cottagecore fans, this is your fall mug. Complete with butterflies, plants, animals, and no science experiments growing inside of it. Yet.
6. Dark Green Stainless Steel Water Bottle
When green isn't just the color of the season, it's your whole personality.
7. Pink Shimmer Shell Mug (24 oz): $22.95
Finally Starbucks recognizes that summer in August with this mug whose job is beach.
8. Ceramic Double Walled Jellyfish and Parasols Mug
If we keep starting at this maroon one Magic Eye style maybe we'll see the design.
9. Manuela Dream Stainless Steel Tumbler (16 oz), $24.95
Yup, that's also totally what we look like when we dream. Just remove a few multicolored stars and add some drool. But, like, totally the same.
10. Neon Pink and Black Cold Cup
That's what the inside of said dreams look like.
11. Vida Cold Cup by Manuela (24 oz)
In case you weren't sure that coffee was life, this'll help remind you.
12. Red Jellyfish Cold Cup (24 oz)
Once again, if this is supposed to be a Rorschach test whether we think these are mushrooms or jellyfish we're failing it. The answer is yes.
13. Yellow Soft Touch Stainless Steel Tumbler
Why do we have a sudden desire for lemonade during PSL season?
14. Pink and Orange Ombre Tumbler
If you're just waking up to the new Barbie world, pick up this sherbet-inspired tumbler and you'll fit right in.
Starbucks Fall Cups: Chapter 2
15. Studded Rainbow Oil Slick (16 and 24 oz)
For when rainy gloomy season returns and you need a Starbucks tumbler to match it.
16. Green Glow-in-the-Dark Slime Tumbler (24 oz): $29.95
Our inner Slimer is so delighted with this Starbucks Halloween Tumbler. And in the mood to haunt a ballroom. After dinner, ok, little guy?
17. Reusable Glow-in-the-Dark Hot Cups (16 oz.): $19.95
Now you can match your cup to your drink. One Ghost Latte coming right up.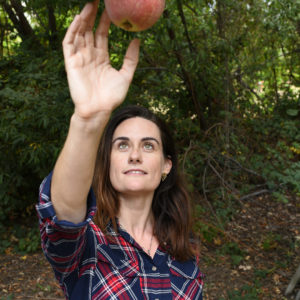 Latest posts by Rebecca Swanner
(see all)