There's nothing scarier than facing the day before coffee. (What's that? We're sheltered? Carrying on.) Whether you take your coffee black, iced, or haunted, we found the perfect Halloween coffee mug for you.
You'll have to call Ghostbusters regarding the latter.
Between mugs shaped like pumpkins to those stamped with ghosts, and even some that pay homage to our favorite Halloween movies, don't blame us if you blow your entire budget on these.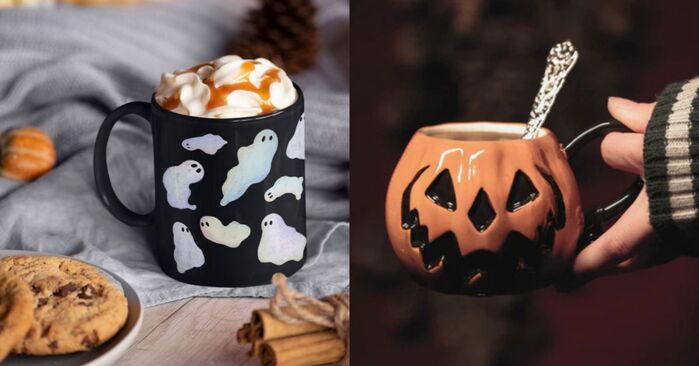 Halloween Coffee Mugs to Spookify Your Mornings
1. If You've Got It, Haunt It Coffee Mug
This is the logic that got us banned from the library. Don't go in aisle 13.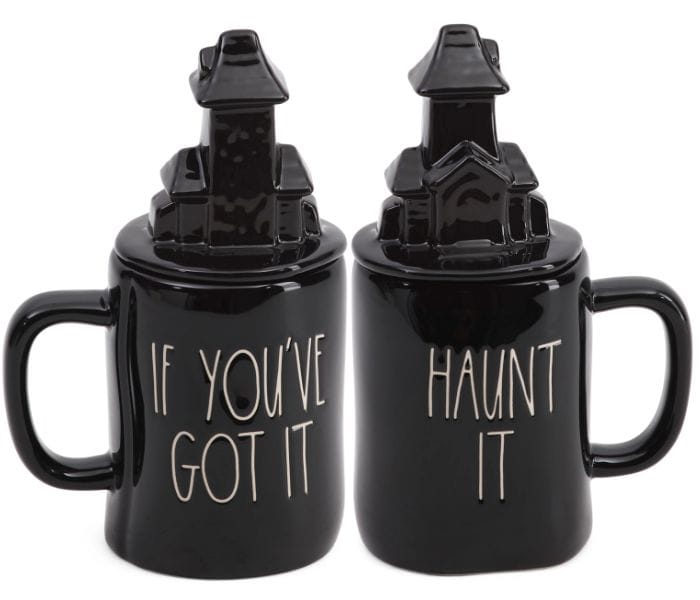 Available on Etsy
2. Memento Mori Coffee Mug
This mug brings us back to our high school English class. And that time we got lost in Paris.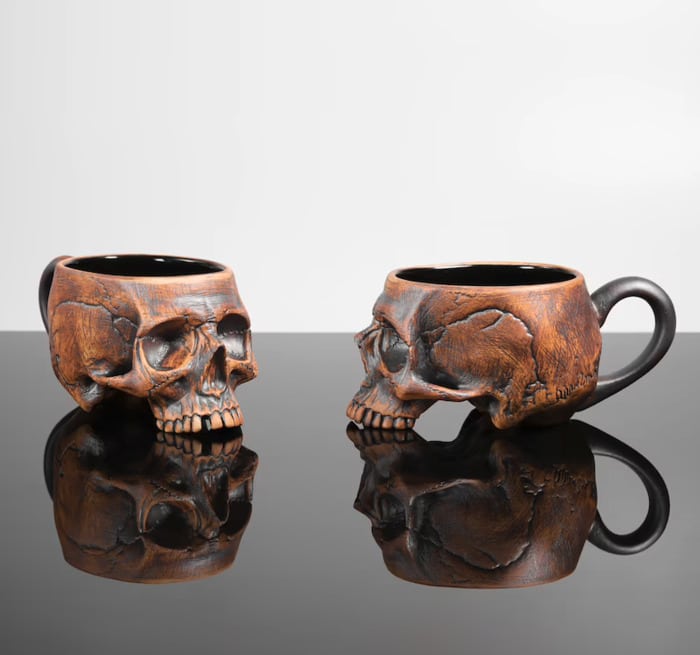 Available on Etsy
3. Black Cauldron Mug
Our iced coffee recipe is practically a potion at this point, so this cauldron mug is perfect for practicing new spells. Preferably ones without actual eye of newt.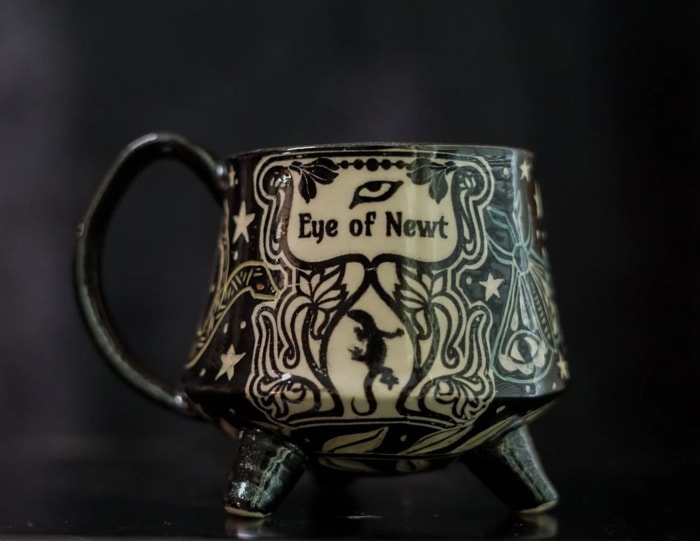 Available on Etsy
4. Beetlejuice Coffee Mug
We sleep with our socks on. We imagine that's what Lydia meant.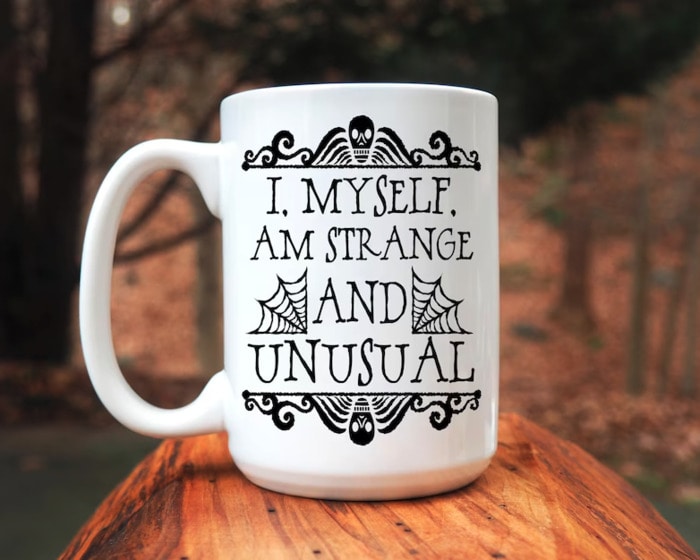 Available on Etsy
5. Addams Family Quote Coffee Mug
Normal might be an illusion, but our landlord says that's not a good reason for not paying rent.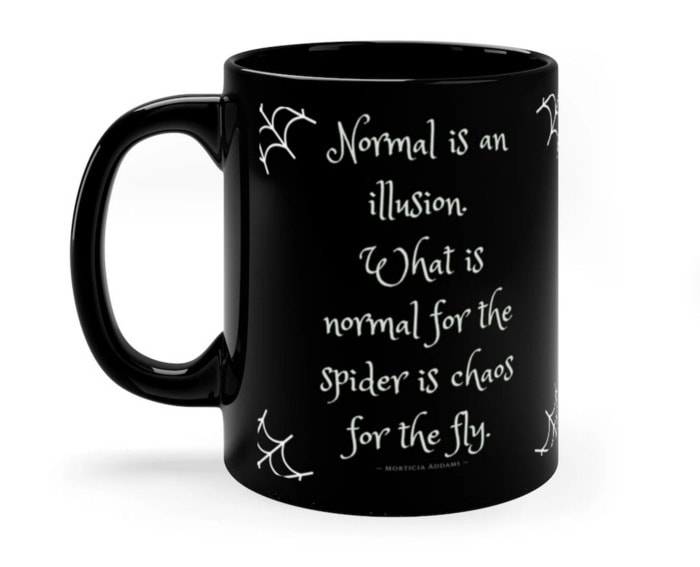 Available on Etsy
6. The Reader Tarot Card Mug
Reading with our eyes closed is a talent we've yet to master. Falling asleep in the middle of a book? Down pat.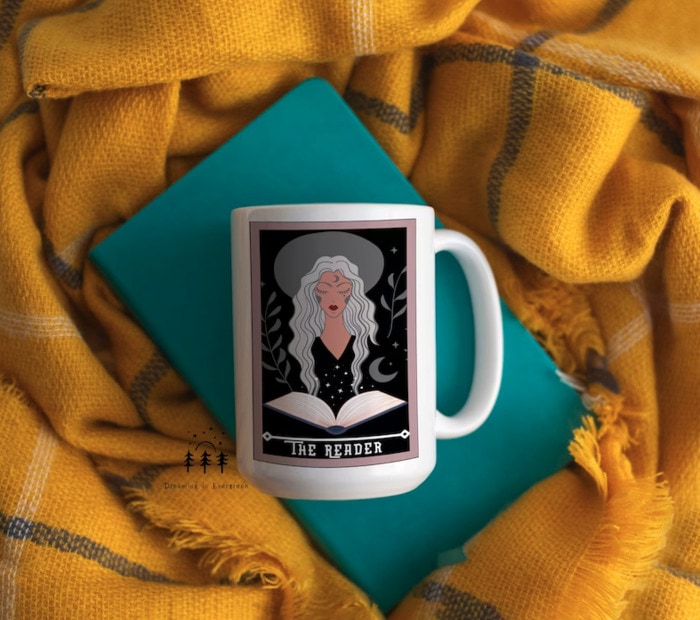 Available on Etsy.
7. As Above So Below Mug
Bats, skulls, tarot cards… this spooky Halloween mug has everything to make your inner witch happy. Except coffee.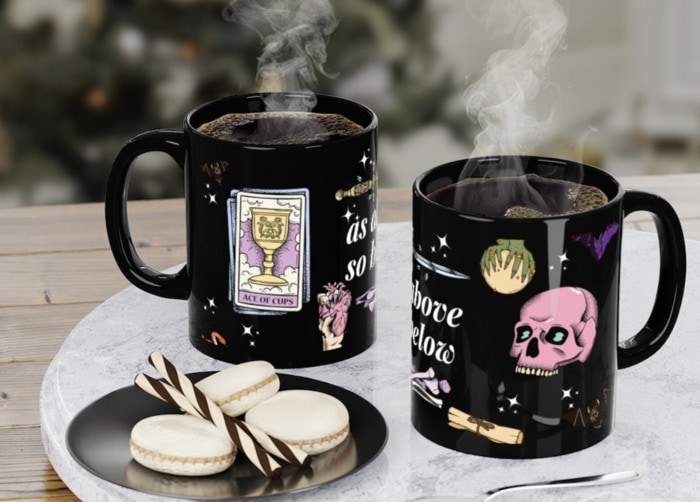 Available on Etsy
9. Spooky Season Coffee Mug
Next, we're gonna need the link for all those rings. And the sprinkles.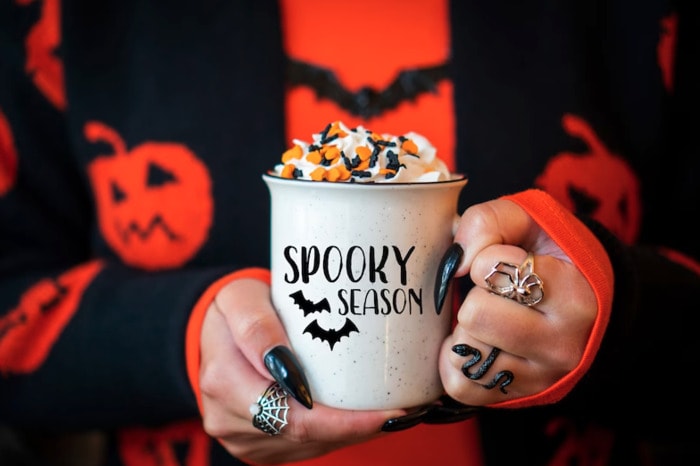 Available on Etsy
10. Sleepy Hollow Dead and Breakfast Coffee Mug
We knew dying had to have an upside: unlimited breakfast.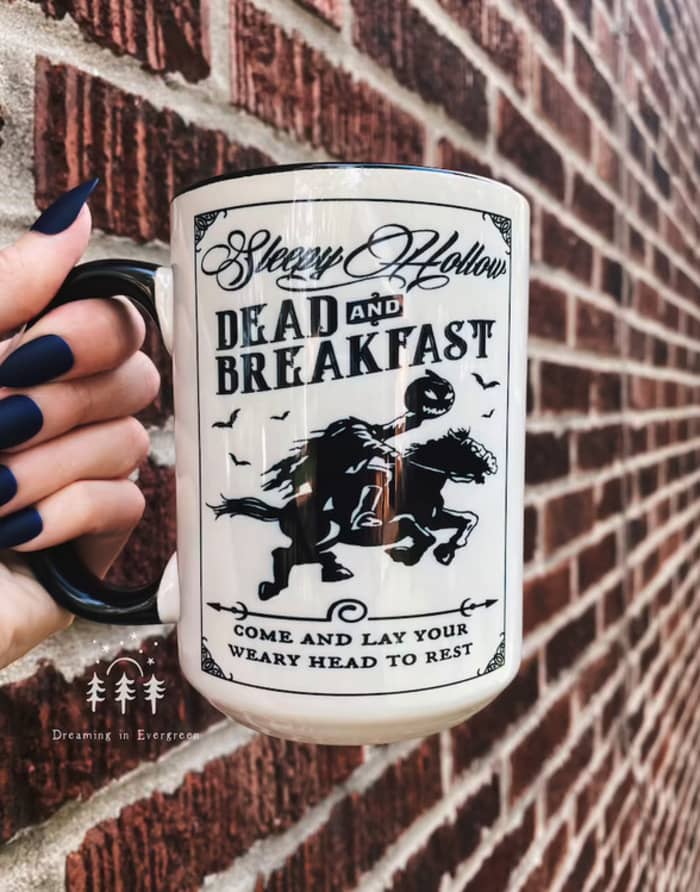 Available on Etsy
11. Jason Voorhees Mug
Perfect for vampires who need to conceal the contents of their coffee mug. Not ideal for office workers.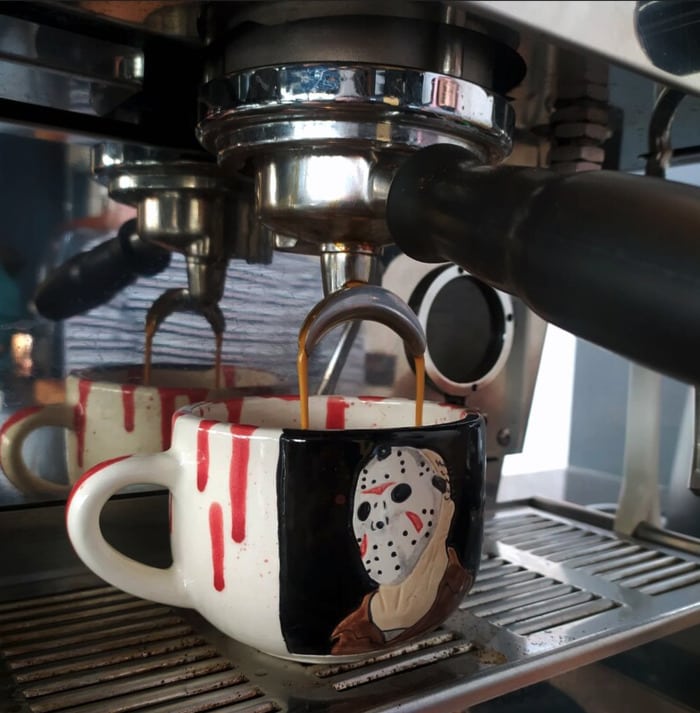 Available on Etsy
12. Ghost Halloween Mug
If anyone asks, these are…ghost cats. They are definitely not balled up shreds of ideas.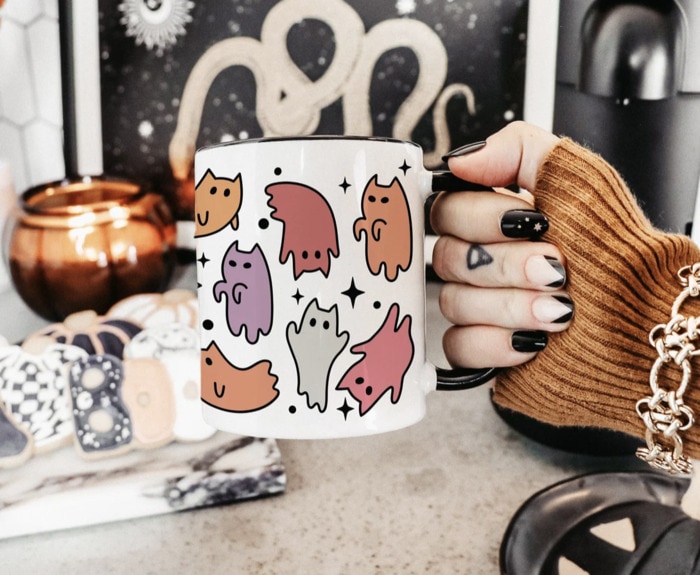 Available on Etsy
13. Starbucks Skeleton Mug
Legend has it, this is what will become of the Starbucks Siren if you skip your afternoon Frappuccino.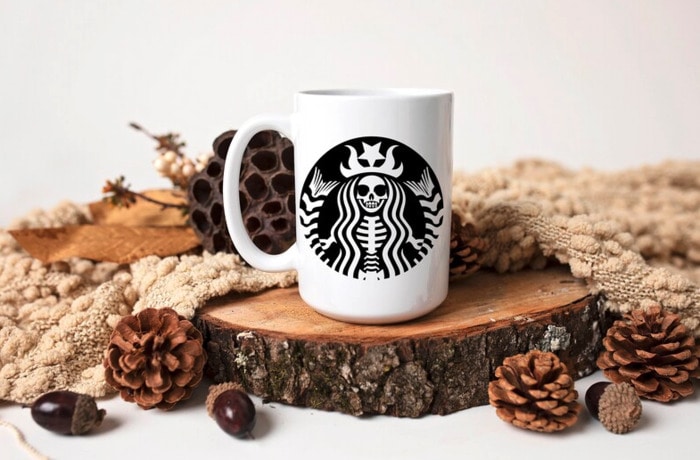 Available on Etsy
14. Feelin' Spooky Clear Mug
This mug perfectly describes how we feel before our first cuppa Joe. Okay, fifth.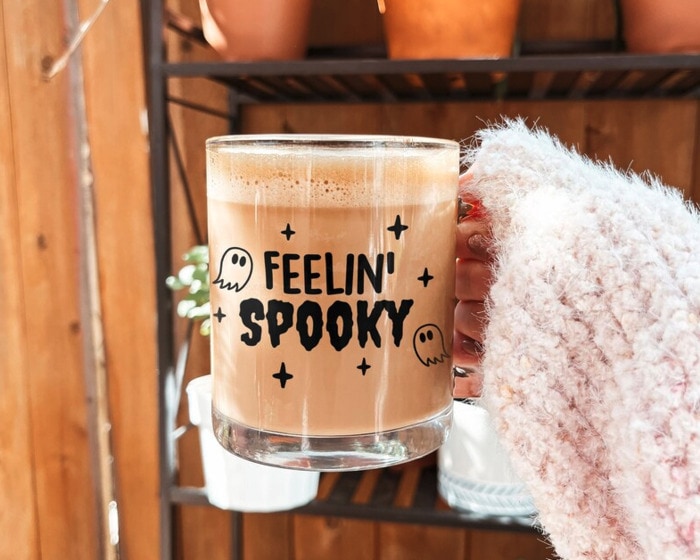 Available on Etsy
15. Jack O'Lantern Stoneware Mugs
The candy corn is not included with these coffee mugs. We told you to allot a generous candy budget!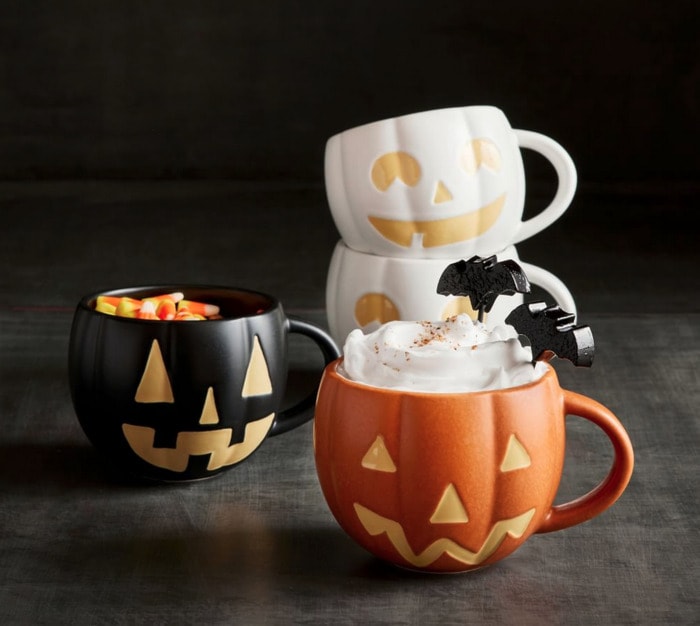 Available at Pottery Barn
14. Morticia Quote Coffee Mug
But not the otters. We have to draw a line somewhere.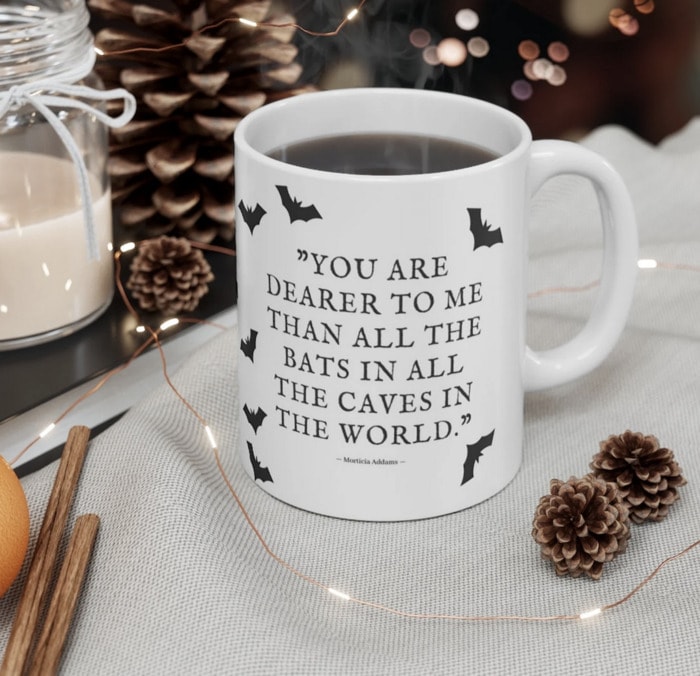 Available on Etsy.
16. Snow White Poison Apple Mug
We totally get why she ate that apple now. Why are there three of you?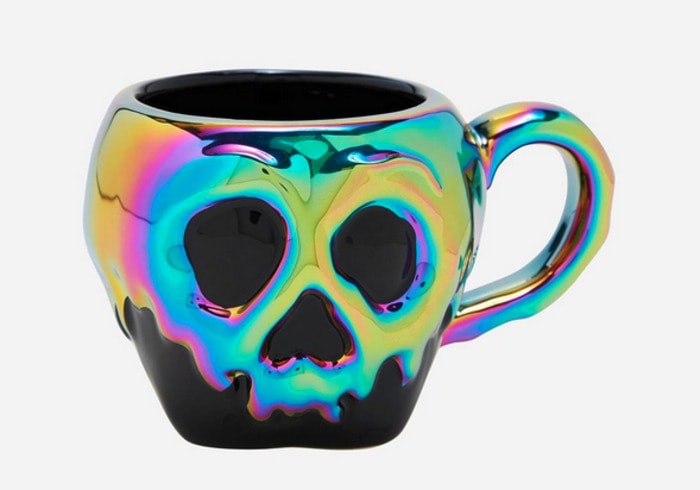 Available at Hot Topic
17. Sanderson Museum Mug
We came back from the dead and all we got was this glorious mug.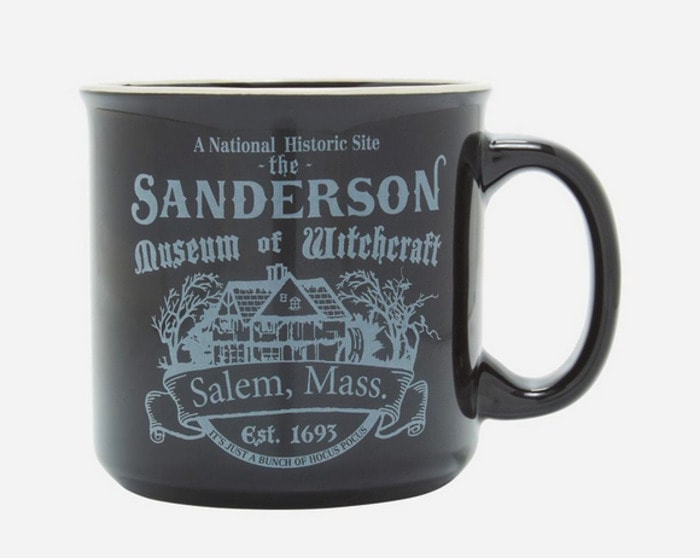 Available at Hot Topic
18. Meowloween Mug
The cat got into the pumpkin again. We're in for a real scary bath time.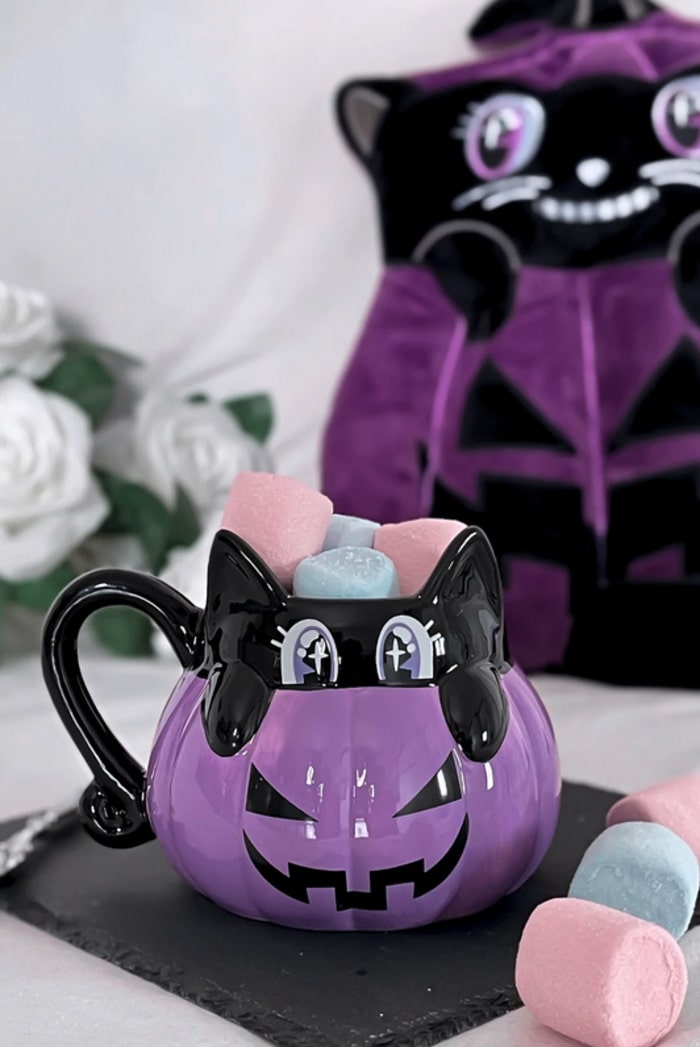 Available at Killstar.
19. Morticia Teacup and Saucer
Yes, this is technically a teacup. No, that's never stopped us from drinking coffee out of it. Our rebellious spirit can't be tamed.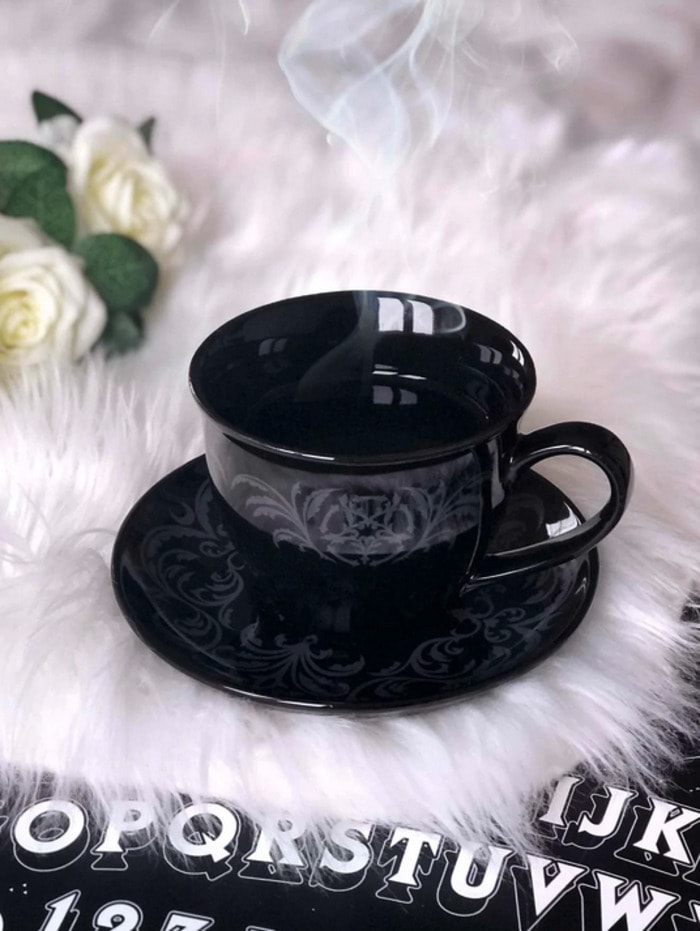 Available at Killstar.
20. Skeletor Tiki Mug
It's honestly such a master of the universe move to sip your iced caramel latte with cinnamon and oat milk out of this bad boy. Basic who?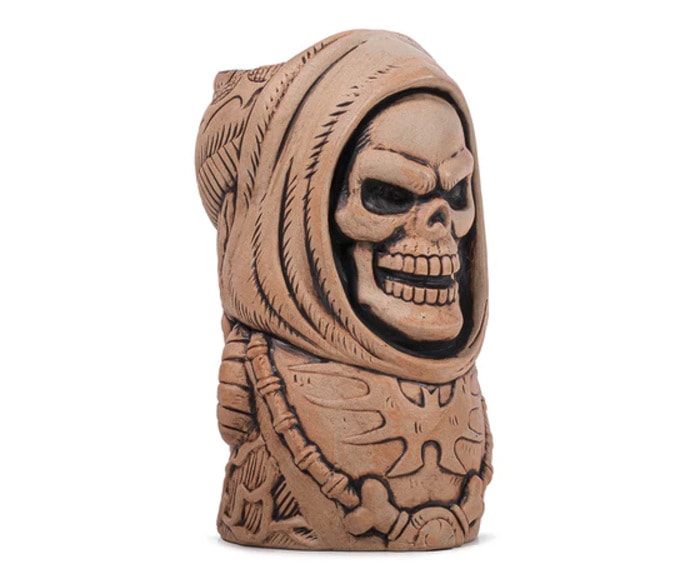 Available at MONDO
21. Feelin' Witchy Mug
And itchy. What did you put in this coffee?


Available on Etsy
22. Haunted Hallows Mug
This pumpkin has a sinister smile. Did you drink all our oat milk again?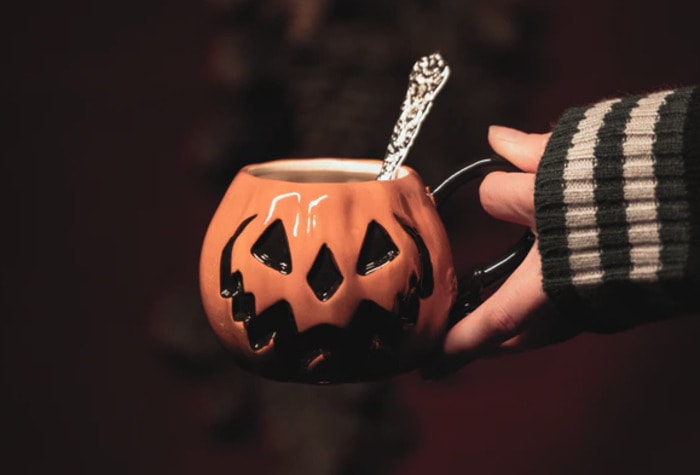 Available on Lively Ghosts
23. Eddie Munson Glass Tumbler
Clear glass tumblers are the trend for iced coffee lovers. It also exposes you every time you drink apple juice.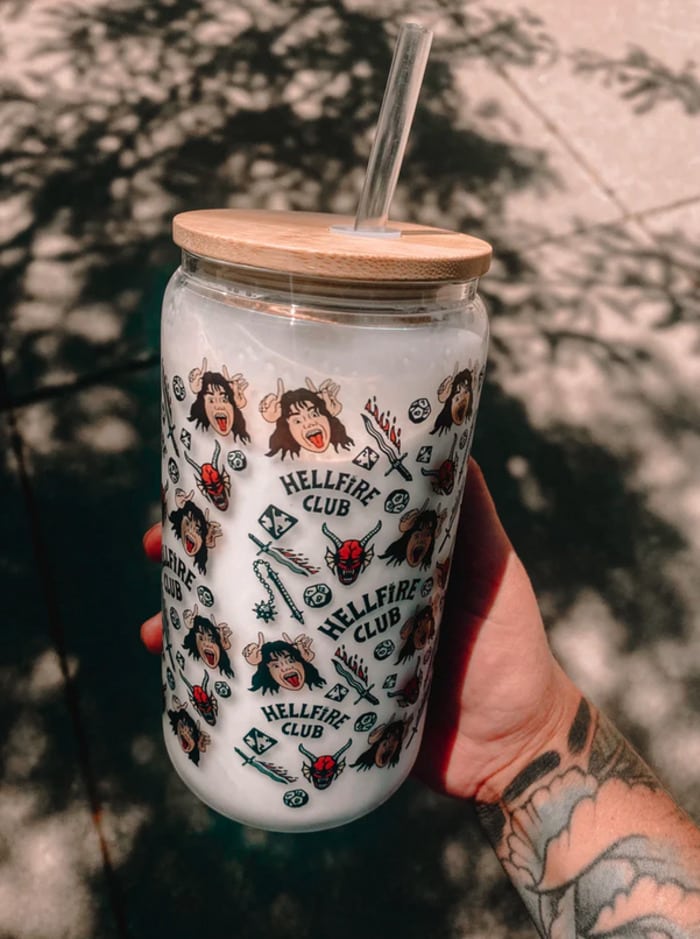 Available on Not Your Average Babe
24. Ghost Iced Coffee Tumbler
Is it weird if we drink from this all year long? Okay, well no one asked you.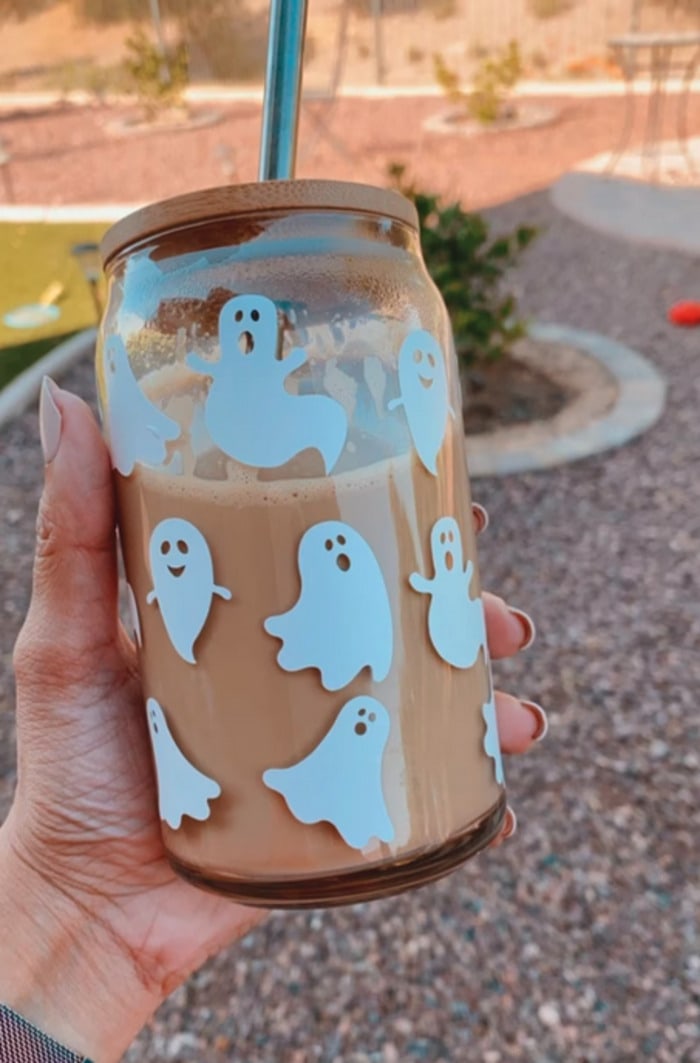 Available on Etsy
25. Halloween Witch Teacup
Our bats just chill on our shoulders while we walk around the park. Bo-ring.


Available on Etsy.
26. Vintage Halloween Mug Set
"Who could possibly drink that much coffee," you ask? Allow us to introduce you to us, ourselves, and we. *bounces off wall*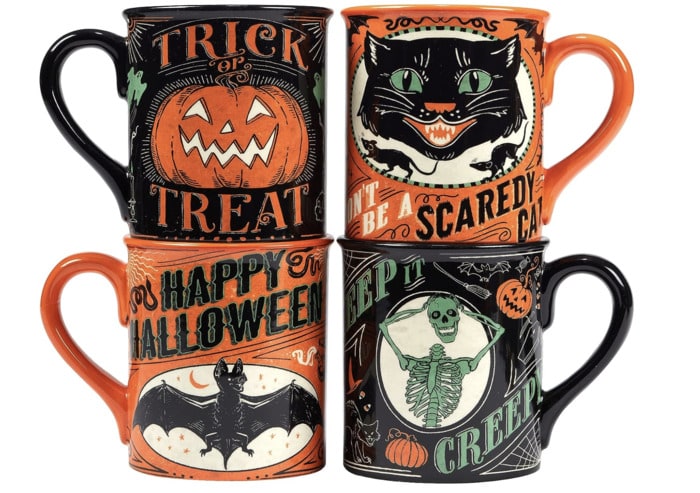 Available on Amazon
27. Halloween Hippie Coffee Mug
A Halloween hippie is someone who values peace and love, and also enjoys a healthy dose of fear and death. It's called balance.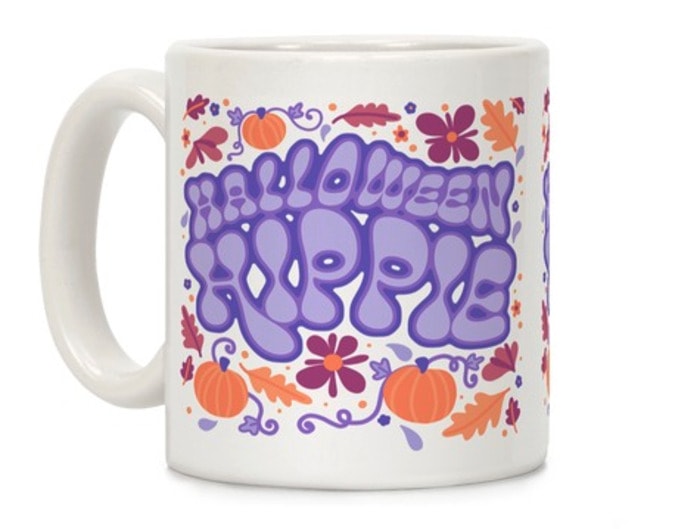 28. Purge-Inspired Pumpkin Coffee Mug
This is we feel after eating the third mug-full of candy. Ahem. Why'd you stop filling it back up?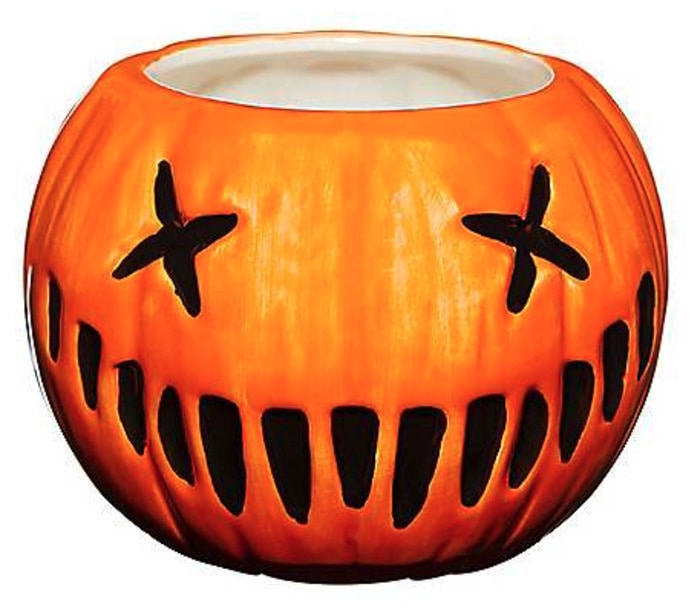 Available at Spirit Halloween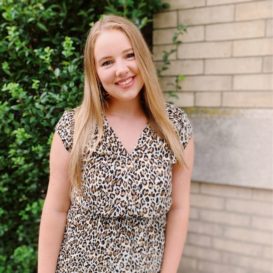 Latest posts by Laura Davis
(see all)