This Chocolate Pumpkin Bread recipe combines the flavors of pumpkin spice and swirls of rich chocolate to create a moist, easy, quick bread. If you're looking for the perfect fall loaf, this is it!
I love a good, quick bread recipe – check out my healthy banana bread and our lemon blueberry bread if you do too! So, this year, why not try an easy Chocolate Pumpkin Bread? Pumpkin and chocolate and bread are all delicious on their own so they must be even better together, right?
(Yes.)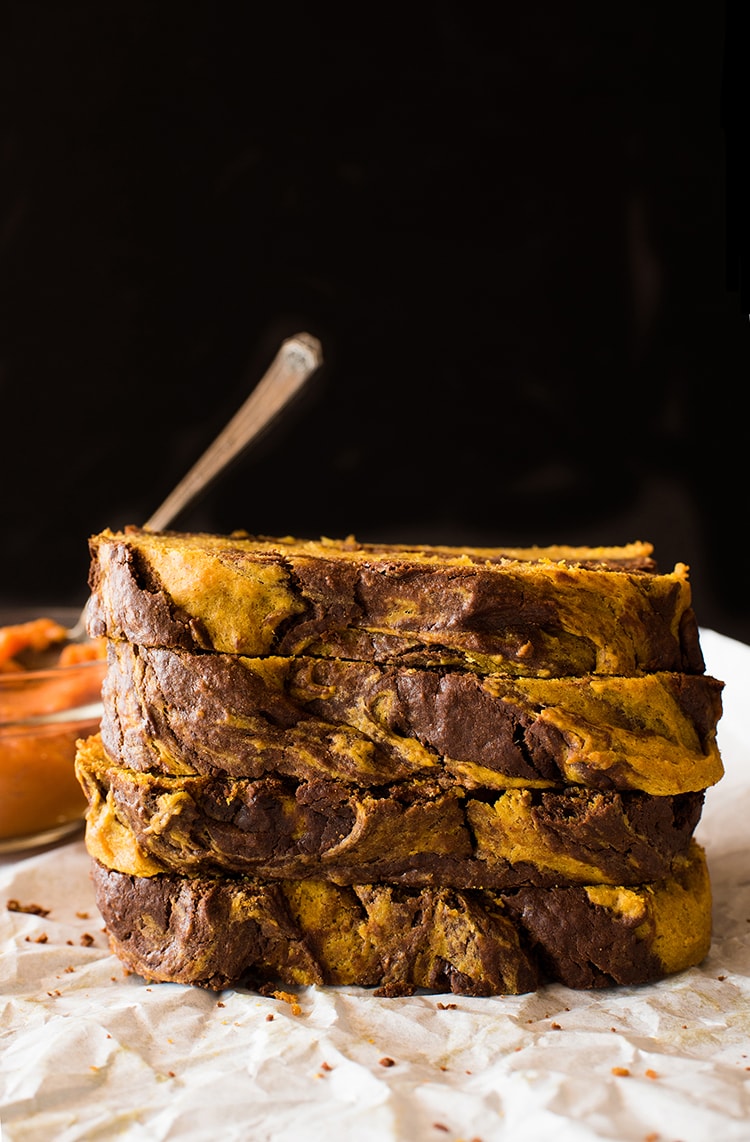 I also love fall – watching the leaves change color, sipping pumpkin spice lattes, baking cozy desserts on brisk mornings when the temperature slips below 80°F degrees…
Last year, I made a Pumpkin Pie with Maple Whipped Cream and this year, I baked Pumpkin Donut Holes and rolled them in cinnamon sugar. Because everything is better with cinnamon sugar. Trust me, I checked.
How to Make Chocolate Pumpkin Bread
Unlike yeasted breads — like my Italian Easter Bread — that require you to have some amount of patience while you wait for them to rise, quick breads are one of the easiest recipes you can bake.
Another great thing about quick breads? You don't have to worry about any persnickety yeast deciding it's too warm or cold for it to perform. Does yeast make a delicious loaf? Sure. But sometimes we could use a break from its diva status. And that's where quick breads come in!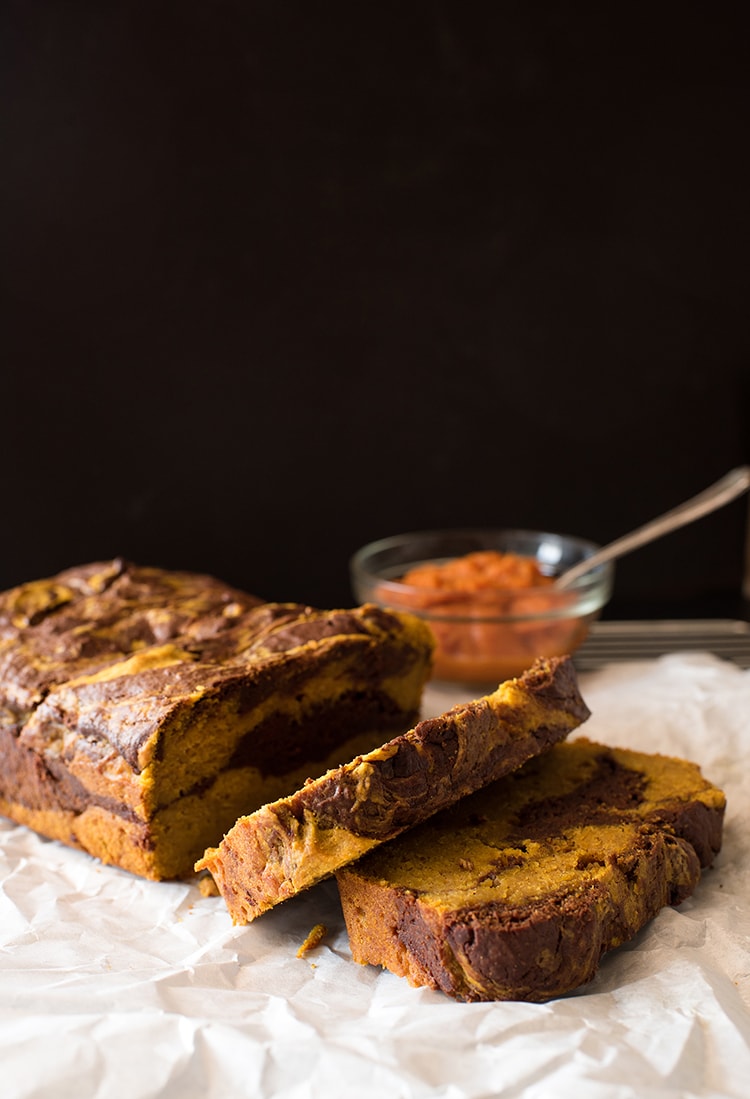 To make this Chocolate Pumpkin Bread, combine your dry ingredients (except the brown sugar) in one bowl and set it aside. Then, use a stand mixer or hand mixer to blend together the pumpkin puree and the sugar until the two are fully combined. Add the eggs (one at a time) and the oil.
Once your mixture is an even consistency, turn the mixer to low and add one third of your dry mixture. Let the mixer run until everything is just combined, then add ½ of your buttermilk. Repeat this process, then add the final 1/3 of your dry mixture.
To Create the Chocolate Swirl
To give your bread a marbled look, remove one cup of batter and place this in a bowl. Add the cocoa powder and melted chocolate (I like to use the Private Selection semi-sweet chocolate chips) and stir the mixture until it's just combined.
Add ½ of the chocolate-free batter to the bottom of your prepared loaf pan and spread it to create an even layer. Top with ¾ of your chocolate batter and smooth this to make an even layer. Repeat with your remaining two batters, then swirl it together with a knife until you like how it looks!

Chocolate Pumpkin Bread Tips
Start with your eggs and coconut oil as close to room temperature as possible. They'll combine better!
Don't use pre-spiced pumpkin puree! Use 100% pumpkin, like the Simple Truth Organic Solid Packed Pumpkin available at Ralphs, part of the Kroger Family of Stores. It doesn't have any extra ingredients (it's all pumpkin all the time, kind of like Instagram come October) and that means you can adjust the spice levels of your loaf to your liking.
Once the loaf has baked, don't leave it in the pan for more than 7 minutes. If you do, some of the moisture may sneak back in. And, while you do want a moist pumpkin bread, you don't want a gummy one.
Chocolate Pumpkin Bread
Print Recipe
Chocolate Pumpkin Bread combines the flavors of pumpkin spice and swirls of rich chocolate to create a moist, easy, quick bread. It's a great fall loaf, for breakfast, brunch, or dessert.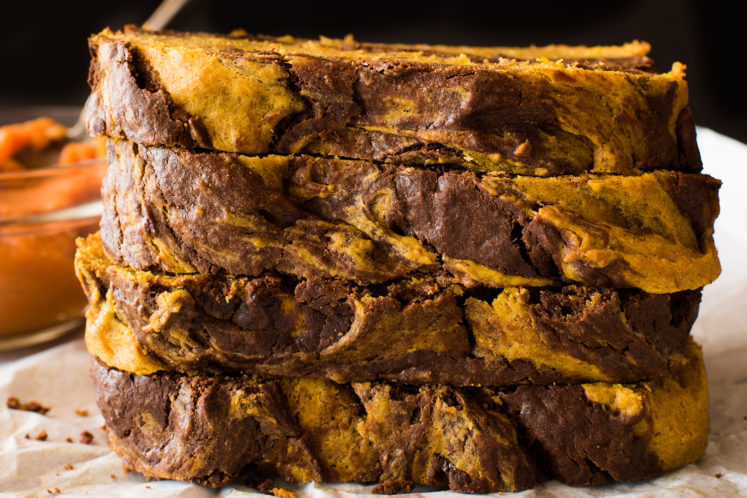 Prep Time: 15 mins
Cook Time: 50 mins
Total Time: 1 hr 5 mins
Servings: 8 slices
Ingredients
Pumpkin Bread
1½ cup all-purpose flour
¼ tsp. baking powder
½ tsp. baking soda
½ tsp. salt
2 tsp. pumpkin pie spice
1 tsp. ground cinnamon
1 pinch ground cloves
1 cup sugar
1 cup 100% pumpkin puree (like Simply Organic Solid Packed Pumpkin)
1/3 cup coconut oil (melted)
2 large eggs (room temperature)
¼ cup buttermilk
Chocolate Swirl
2 Tbsp. cocoa powder
¾ cup chocolate chips (melted)
Instructions
Spray loaf pan with nonstick spray.

Preheat oven to 350° F.

Whisk flour, baking powder, baking soda, salt, pumpkin pie spice, cinnamon, and cloves in medium bowl. Set aside.

Combine sugar, pumpkin puree, and oil in mixing bowl at medium speed until it reaches an even consistency.

Add eggs, one at a time, letting the mixer run for 30 seconds in between each addition.

Turn mixer to low and add 1/3 of dry mixture.

Add ½ of buttermilk.

Add dry mixture. Add buttermilk. Add remaining dry mixture.
Chocolate Swirl
Place one cup of batter in small bowl and combine with cocoa powder and melted chocolate.
Chocolate Pumpkin Bread Assembly
Add ½ of chocolate-free batter to prepared loaf pan and spread to create even layer.

Add ¾ of chocolate batter on top and spread to create even layer.

Add remaining chocolate-free layer, spread evenly.

Add remaining chocolate layer, spread evenly.

Bake for 55 minutes or until knife inserted into loaf comes out clean.

Let cool on cooling rack for 5-7 minutes then remove from pan and let cool fully.
Nutrition Facts
Chocolate Pumpkin Bread
Amount Per Serving (1 slice)
Calories 352
* Percent Daily Values are based on a 2000 calorie diet.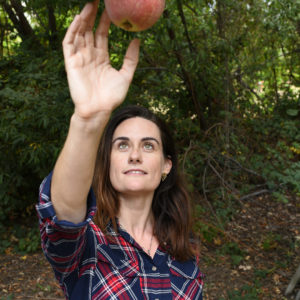 Pleased to meet you. I'm the founder and Editor-in-Chief of Let's Eat Cake: The world's first smart, funny lifestyle site for women.
My background is in publishing (I've worked at Parade, Men's Journal, Us Weekly, Stuff, Blender, Beachbody, and more), mostly with a focus in health, fitness, and entertainment. I've also run my own baking company and competed on Cupcake Wars, so hit me up with your baking questions!
For more details, check out my
full bio
or follow me on
Instagram
,
Twitter
, or
LinkedIn
.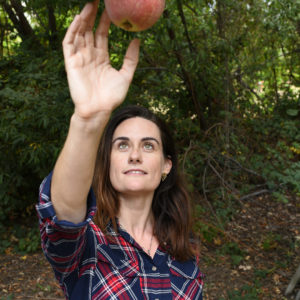 Latest posts by Rebecca Swanner (see all)