This Lemon Blueberry Bread recipe is drizzled with a lemon glaze and is a variation of the classic lemon loaf. It's a quick bread that's perfect for brunch… and so easy you can make it while pre-gaming with a Bloody Mary. Say that three times in a mirror and free drinks for everyone!
Going down the rabbit hole of spring and summer recipes? Make sure to pin these Lemon Blueberry Cupcakes and this Italian Easter Bread.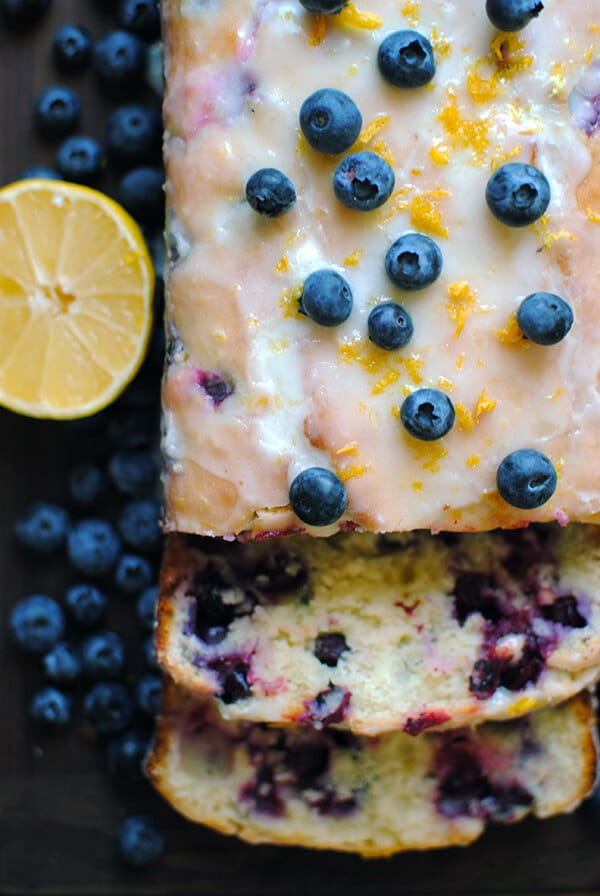 A while back, my neighbors gifted me with a bounty of lemons from their tree and I used them to create a pie, macarons, and this French yogurt loaf recipe from Bon Appetit.
I made the lemon loaf for a weekend brunch and it was excellent. Light, soft, and tender, and so perfect with a little bit of whipped cream on top. It was the sleeper hit of brunch. It looked unassuming, but when my guests started trying it, everyone asked me for the recipe. So, I decided to make it again.
This time, I increased the lemon flavor because I love lemons and years of eating too many Sour Patch Kids means I can eat them like oranges. I didn't go totally overboard, though, because I realize that not everyone is a citrus freak. Which is not the same thing as being a circus freak, mom.
To increase the tartness, I added lemon juice to the loaf and combined lemon juice and powdered sugar together to create a Starbucks's Lemon Loaf copycat lemon glaze which I drizzled it on top after I let the loaf cool completely.
I also threw in a cup and a half of fresh blueberries because why the heck not. I mean because they pair really nicely with the citrus fruit.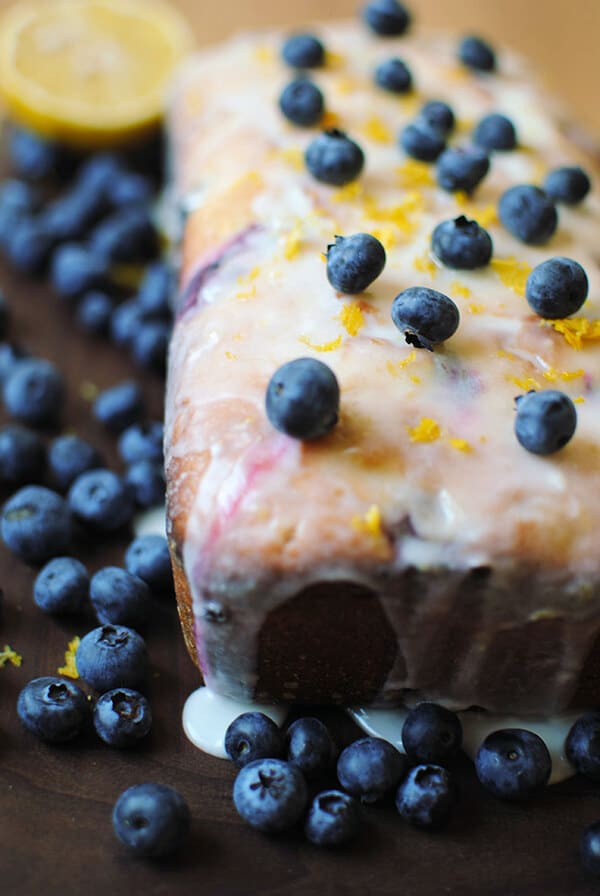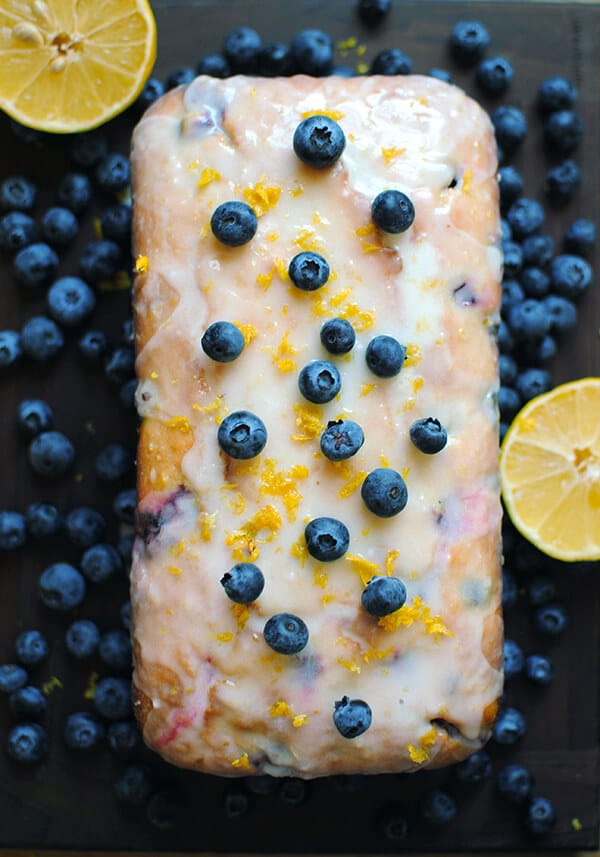 Tips to Make the Perfect Lemon Blueberry Bread
The best thing about this lemon blueberry bread is you don't need yeast to get it to rise and you can make it without an electric mixer, all of which means you can bake it when your best friend calls and tells you she's hosting an impromptu brunch in two hours.
Here are some tips to make this recipe even more foolproof:
Oil and flour the pan. Making her guests dig your lemon blueberry cake loaf out of the pan isn't going to win you any points. So do yourself a favor and spray the loaf pan with oil and dust it with flour before you do anything else.
Get a zester. You'll be zesting 3-4 lemons for this recipe and that box grater will do a number on your knuckles so do yourself a favor and pick up a zester. And, remember, we don't talk about Fight Club.
Use fresh blueberries. They taste so much better when they're fresh and in season (which is April to September, btw.) If you have to use frozen blueberries, rinse them in a colander until the water runs clear and then dry them.
Swap butter for oil. I think one of the things that makes this recipe so good is that it swaps butter for oil. Butter is delicious, but it results in a denser cake, whereas oil provides more height and a lighter crumb.
Don't over bake the bread. Again, this sounds obvious, but someone out there is going to turn this luscious loaf into a burnt block. Don't let that someone be you. Bake it for 50 minutes, or just until a cake tester or toothpick inserted into the center of the loaf comes out clean.
Wait for the bread to cool before you glaze. You can make the lemon glaze while the bread bakes, but let it cool completely on a wire rack before drizzling it with glaze. If you begin pouring and find the glaze isn't sticking, pop it back in the fridge until it's set. If you have patience everything will eventually work… er the glaze will eventually set. Whoa got a little personal there. Ok, we're out!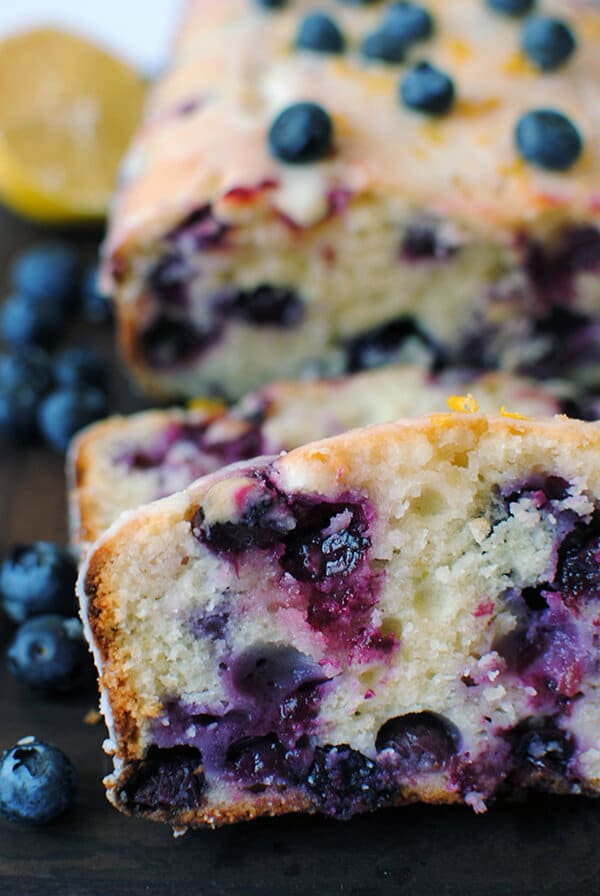 Lemon Blueberry Bread Recipe
Print Recipe
This Lemon Blueberry Bread is drizzled with a lemon glaze and is a variation of the classic lemon loaf. It's a quick bread that's perfect for brunch!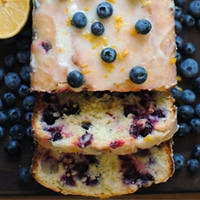 Servings: 16 slices
Ingredients
Cooking spray
13⁄4 cup flour (divided)
2 tsp. baking powder
3⁄4 tsp. coarse kosher salt
1 cup sugar
1 Tbsp. lemon zest (from 2-3 lemons)
3⁄4 cup whole-milk Greek yogurt
½ cup vegetable oil
2 large eggs
½ tsp vanilla extract
¼ cup lemon juice
1½ cup blueberries
Lemon Glaze
2 cups confectioner's sugar
½ tsp. lemon zest (from 1 lemon)
3 Tbsp. lemon juice
1 tsp. unsalted butter (melted)
1 pinch fine salt
Instructions
Preheat oven to 350° F. Coat nonstick loaf pan with cooking spray and dust with flour. Shake excess out of pan.


Zest lemons using box grater or zester. Set aside.


Juice lemons. Set juice aside.


Place flour, baking powder, and salt in small bowl. Whisk to blend. Set aside.


Place sugar and 1 Tbsp. of lemon zest in large bowl. Work zest and sugar together with your hands until sugar is moist and fragrant.

Add Greek yogurt, vegetable oil, eggs, vanilla extract, and lemon juice to large bowl with sugar mixture. Whisk to combine until no lumps remain. Stir in fresh blueberries.


Add flour mixture to yogurt mixture and stir gently to combine.


Pour batter into prepared loaf pan. Bake for 50-55 minutes or until a knife or toothpick inserted into the center of the loaf comes out clean.

Remove from oven and place on a wire rack. Let cool for 10 minutes. Flip pan over and remove loaf. Let cool completely before adding lemon glaze.

Lemon Glaze
Whisk powdered sugar, lemon zest, lemon juice, melted butter, and salt in large bowl until combined. Place in fridge until no longer runny.


When the lemon blueberry bread has cooled, drizzle glaze over the top.

Nutrition Facts
Lemon Blueberry Bread Recipe
Amount Per Serving (1 slice)
Calories 237 Calories from Fat 81
% Daily Value*
Fat 9g14%
Saturated Fat 2g13%
Polyunsaturated Fat 5g
Monounsaturated Fat 2g
Cholesterol 27mg9%
Sodium 89mg4%
Potassium 37mg1%
Carbohydrates 37g12%
Sugar 29g32%
Protein 3g6%
Vitamin A 100IU2%
Vitamin C 2.5mg3%
Calcium 20mg2%
Iron 0.2mg1%
* Percent Daily Values are based on a 2000 calorie diet.
Did you make this recipe?
Leave a review below, then take a photo and tag @letseatcakeblog on Instagram so we can see it!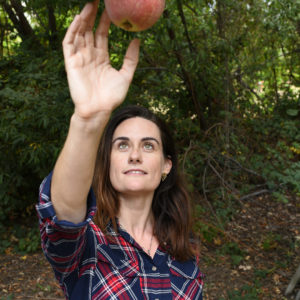 Latest posts by Rebecca Swanner
(see all)