Perhaps the best part of any wedding day (outside of getting hitched to your beloved), is when the cake is elevated from humble dessert offering to gorgeous showstopper. Like with these fall wedding cakes.
Because while summer weddings are fun and all, fall weddings are underrated affairs. Between your guests feeling comfortable in the breezy weather and the gorgeous color palette options of orange, rust, and other names for orange that we're too lazy to look up on our thesaurus, we can't imagine why anyone would want to get married at another time of the year. And, these fall wedding cakes are just one more reason.
The wedding cakes below feature autumnal colors, woodland vibes, and more earthy feel. Plus, they look great with a cute forest animal cake topper, so really, they are a win-win-squeak.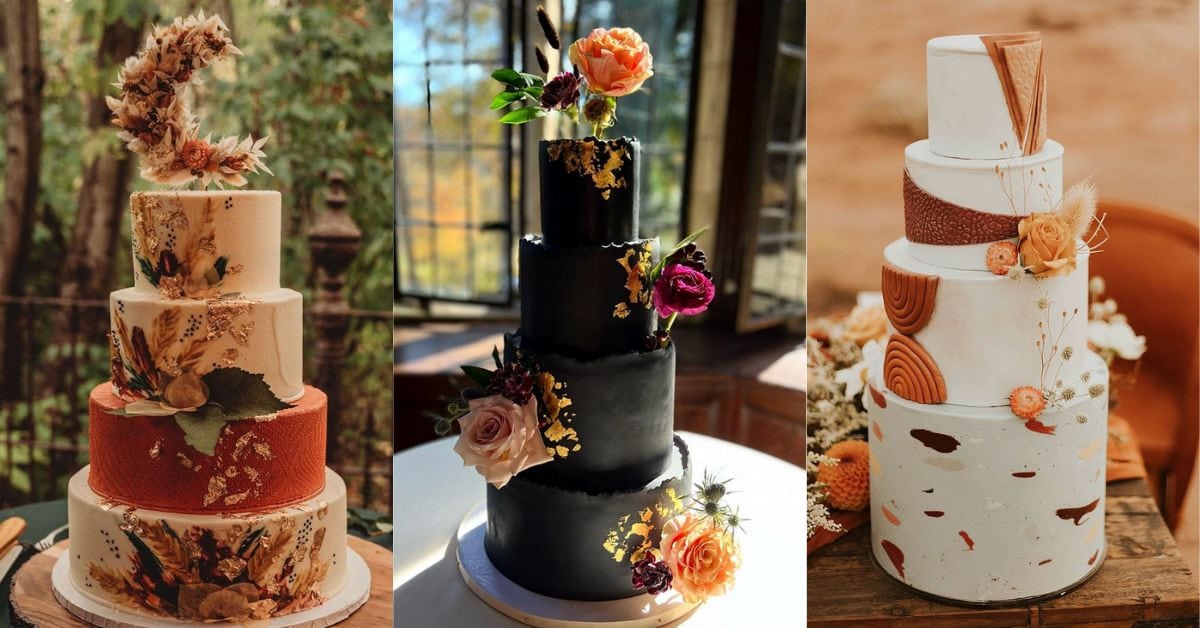 32 Fall Wedding Cakes
1. Fig and Caramel Drip Wedding Cake
When it comes to wedding cakes, there are the traditional flavors, like chocolate and vanilla, and then there are the flavors you might find in a Michelin star restaurant.
This caramel and fig option is a great example of the latter. Why say "I do" when you can say "I do" *sticky mouth full of caramel version*?
2. Berry Good Fall Wedding Cake
This raspberry-flavored cake comes with buttercream flowers, which taste way better than the other kind. It's the perfect cake for a small wedding, and even better for an elopement. Okay, okay, the officiant can have one bite.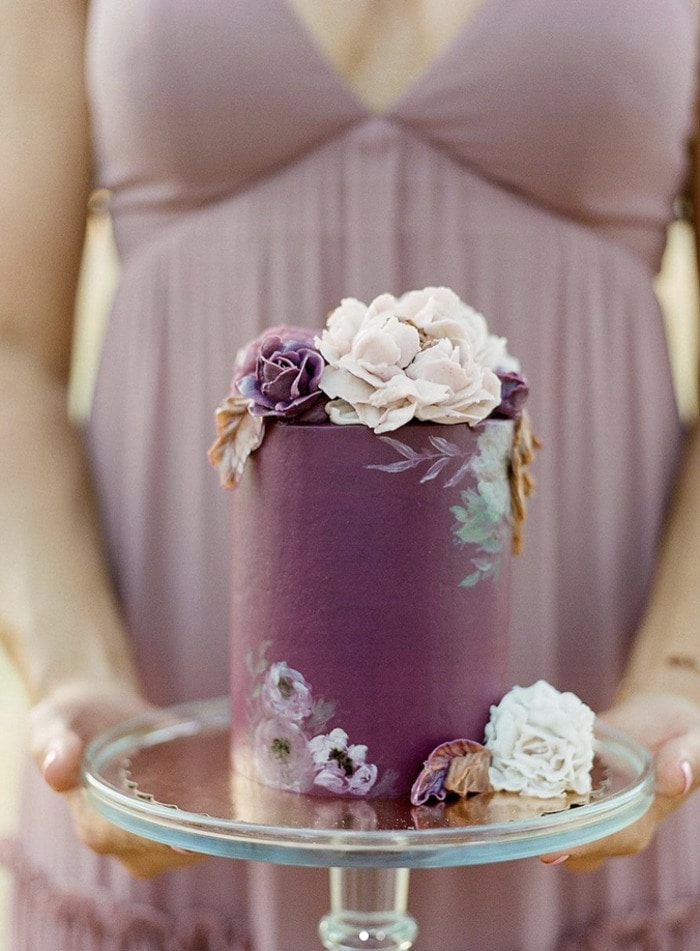 3. Vegan Woodland Wedding Cake
Celebrate your vegan love with this wedding cake topped by two woodland creatures. This design does raise another question: is it OK to eat vegan animal-shaped cake toppers?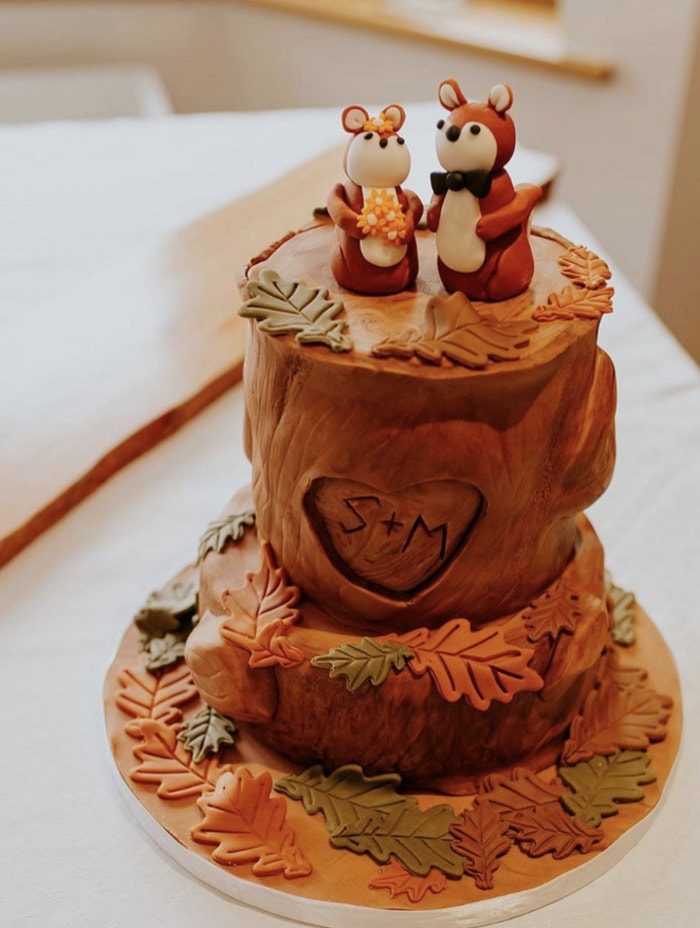 4. Forever Carved Initials Wedding Cake
It's a cake that looks like wood but tastes like… well, presumably, cake.
But we will be disappointed if it doesn't also taste like pumpkins. Don't be a tease, baked good.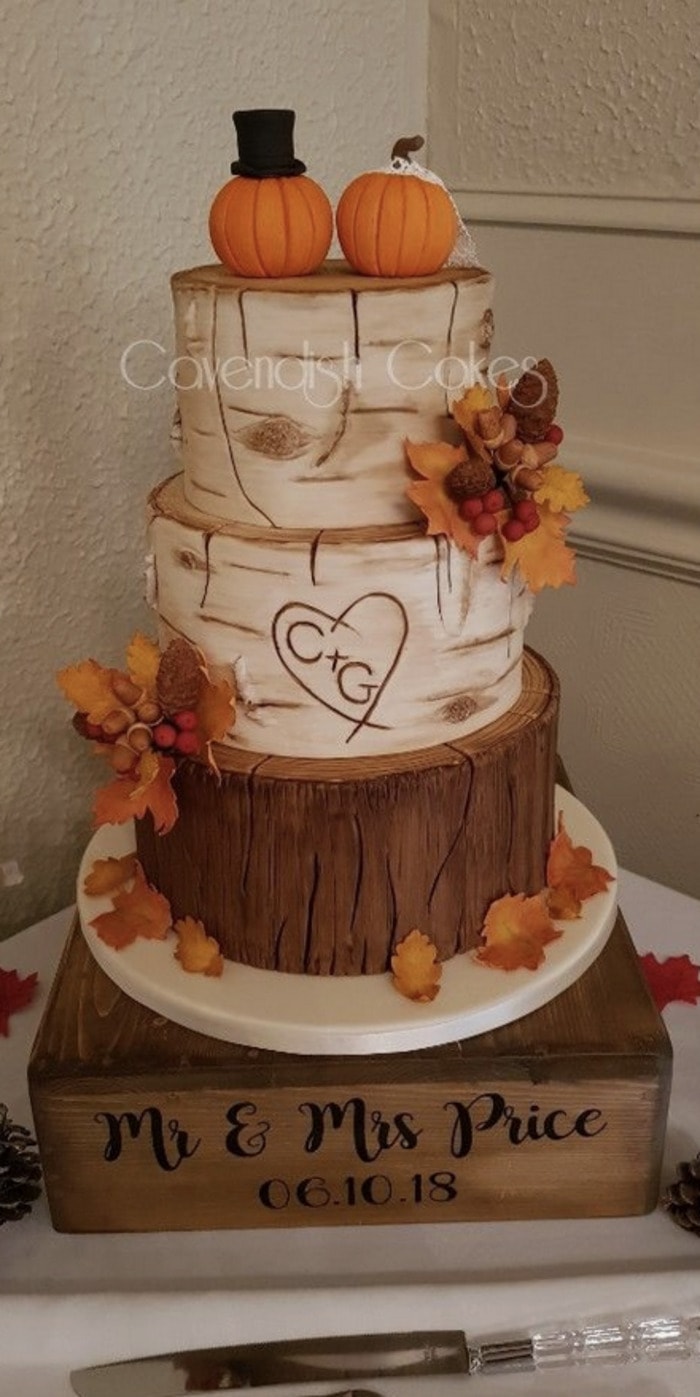 5. Owl Love You Forever White Wedding Cake
Owls tend to mate for life, so they are the perfect critters to welcome you into marriage. Let go of your Tinder past; these guys won't fly away and ghost you. You did bring food pellets, right?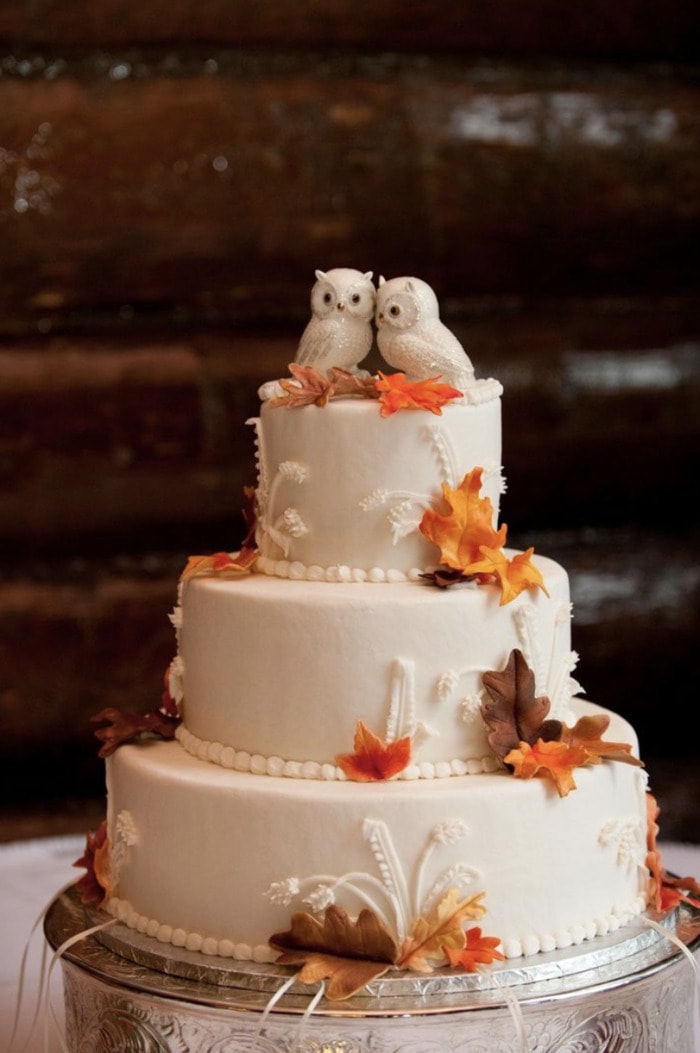 6. Birch Bark Fall Wedding Cake
With different flavors in each layer of this cake, you never know what you're going to get. Unless you can read. Congrats on your literacy!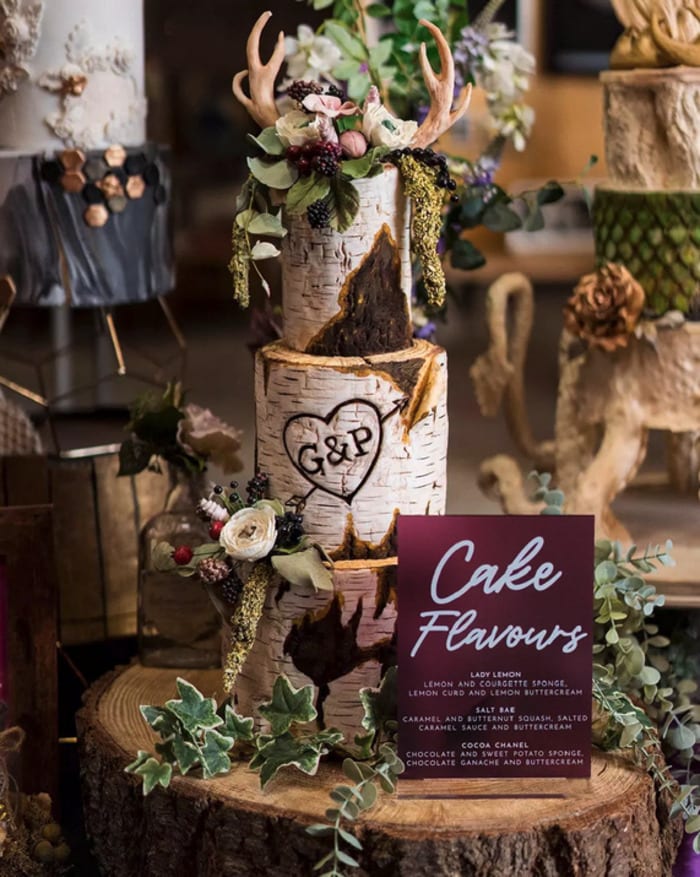 7. Harvest Moon Fall Wedding Cake
Harvest Moon is both an amazing video game and a gorgeous fall wedding cake. Just don't mention the Nintendo Switch version.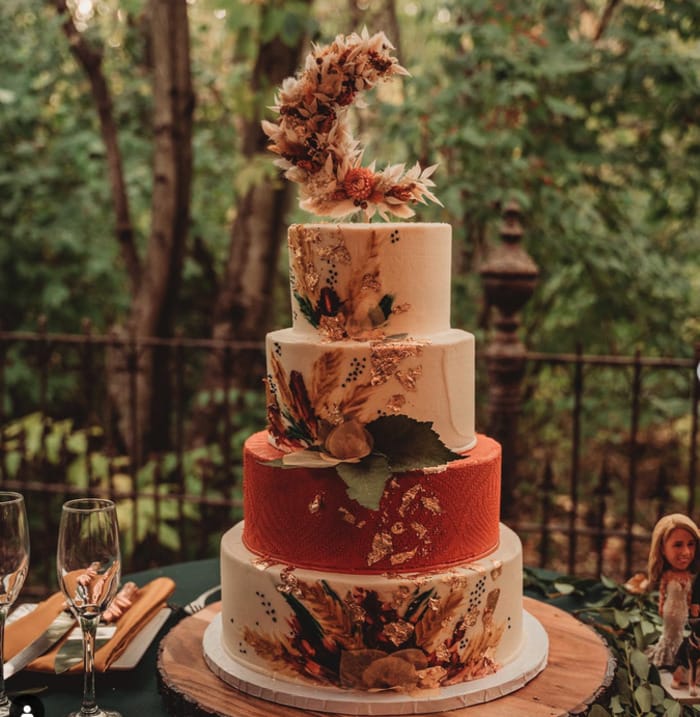 8. Fresh Fall Florals Wedding Cake
We can't tell if these flowers are edible or not, but there's only one way to find out. Want the first slice?
9. White and Rust Buttercream Dream Wedding Cake
Buttercream dream? Count us in. That's way better than the stress dreams we've been having lately where a lady squirrel steals our new husband. Her name is Jolene.
10. Apple Cider Donut Naked Cake
Being naked at your wedding ceremony? Generally frowned upon. Serving up this naked cake drizzled with frosting and topped with apple cider donuts? We can almost overlook the fact that you served it to us in the nude.
11. Impressionist Art Wedding Cake
The poster of this fall wedding cake posed the question, "how gorgeous is this?" We'd like to answer with Shakespearean words befitting of its beauty, but unfortunately we forgot the part of Romeo's speech we had to memorize for high school English class.
12. Harvest Florals Wedding Cake
This is the kind of cake you might look at and think, "I could make that." But then the next thing you know, you're knee deep in buttercream and one of the cakes in the stack is lying on the floor in a puddle of failed dowels. Ha ha, that totally wasn't us! What are you even talking about?
13. Fall Terrazzo-Inspired Wedding Cake
This cake was inspired by a terrazzo-style floor, so it'll blend in when you smash a piece of it into your new spouse's face at the cutting ceremony. Except don't do that. It's weird.
14. Wafer Paper Fall Wedding Cake
Wafer paper is a cool decor choice for a cake because it gives a stacking effect that would be hard to achieve with traditional frosting. Not impossible, we suppose, if you have the patience of a monk. More wafer paper for us squirrel-brained individuals.
15. Too-Pretty-To-Eat Pumpkin Wedding Cake
We got upset about a pumpkin tease earlier, but if this cake isn't pumpkin-flavored, we would throw a full-blown fit. And by fit, we mean we would gossip about it to everyone at our table. We aren't toddlers, after all.
16. Navy and Gold Wedding Cake
Weddings are a joyful occasion, but that doesn't mean you can't bring dark colors into the mix. The navy is offset by vibrant gold leaf and pretty fall flowers. You can use the remaining gold leaf to… redecorate that one guest who is wearing white.
17. Modern Fall Wedding Cake
This one is giving fall, contemporary, desert wedding vibes. It's also weirdly making us crave a hot dog with extra mustard. We don't have to explain.
18. Black and Gold Fall Wedding Cake
Want to make your flowers really pop? Use a black wedding cake base. Pro tip: wear a black wedding dress too so you don't ruin your white one.
19. Elegant Comfort Cake
This cake makes us feel like everything is going to be okay. Not good at frosting cakes? Make it look intentional! We won't tell anyone your secrets.
20. Fall Fruit-Topped Wedding Cake
If we've learned anything today, it's that figs scream fall. We also learned that figs can talk, but who didn't know that?
21. Cats on a Wedding Cake
Bringing a dog to your wedding is one thing, but most cats wouldn't be thrilled to leave their homes for an unfamiliar environment with crowds. So, bring your cats to your special day with cake portraits instead! Finally, you can fantasize about eating them for a change.
22. Arizona Adobe Fall Wedding Cake
If you asked us how they made this cake look embroidered, we'd say "lots of icing" and hope you didn't ask us to get more specific and realize we have no idea what we're talking about. Because what's a marriage without trust?
23. Hedgehogs In Love Wedding Cake
So, we had a hedgehog once and we can tell you they would have no interest in topping a wedding cake. No, they'd be burrowing inside it looking for a dark hole to hide in. But it's a cute idea!
24. Woodland Romance Wedding Cake
What, mossy bark isn't appetizing to you? Is this your sick way of telling us you're not actually a beaver? Where does the betrayal end?
25. Cozy Puppies Wedding Cake
This cake is a great way to figure out which of your guests are Millennials. They're the ones saying, "aww, look at the doggos!"
26. Crisp Fall Wedding Cake
This cake says, "I had a lot of extra buttercream to use" and we love it.
27. Climbing Orange Florals Cake
Florals can climb, figs can talk. What's next? Aliens are real?
28. Autumn Wedding Cake
Does it get more fall than this wedding cake? I guess it would if someone falls on it. Don't open the bar until after dessert, perhaps.
29. Painted Flowers Fall Wedding Cake
Color us impressed. Hey, put down the neon pink.
30. Macrame Wedding Cake
This cake takes fondant to the next level. It's true. Did you know level two of fondant is macrame? We don't make the rules.
31. Autumn Emerald Wedding Cake
This couple either has a thousand wedding guests to feed or they really like leftover cake. Either way, we respect it.
32. Harvest Abundance Naked Wedding Cake
Figs have made their final triumphant return, and this time they brought friends. You thought blueberries were only for summer recipes? Naw.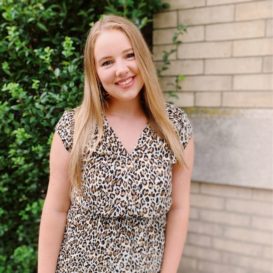 Latest posts by Laura Davis
(see all)