If it's not abundantly clear by the website name and that we are human beings with taste, we like cake. We also appreciate reasonably priced desserts, creative treats, and fun Hawaiian shirts. So we doubly (triply?) like Trader Joe's cakes.
TJ's has the goods to fit all occasions, tastes, and levels of laziness. Want to pick up a fully baked and frosted cake? No problem. Have a few moments to throw a mix together with some ingredients for a birthday surprise? TJ's has got you!
Want to farm your own wheat, raise your own hens, and harvest your own sugarcane? Then get out of the parking lot and give the space to someone who has places to be and snacks to buy.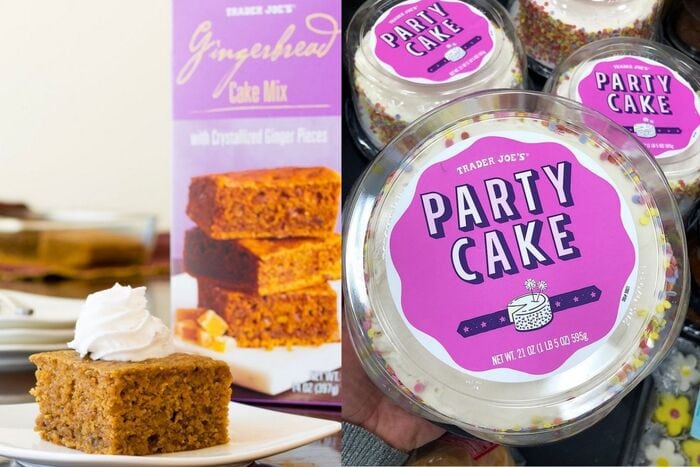 Since the selection of goods at your local store can often be overwhelming, we've rounded up our 15 favorite cakes from Trader Joe's. And if you want to use this as a way justify buying all 15, who are we to stop an adult with some spendable cash?
15 Cakes from Trader Joe's That Marie Antoinette Wishes She Knew About
1. Vanilla Cake Mix
Trader Joe's vanilla cake mix is perfect for when you want a blank canvas to work with, but you don't quite want to start from scratch.
Think of it as the coloring book of baked goods. You have a solid starting point, but creative license to bake, frost, or shape however you'd like. While it tastes better than your coloring book, there is less fiber. Can't win 'em all.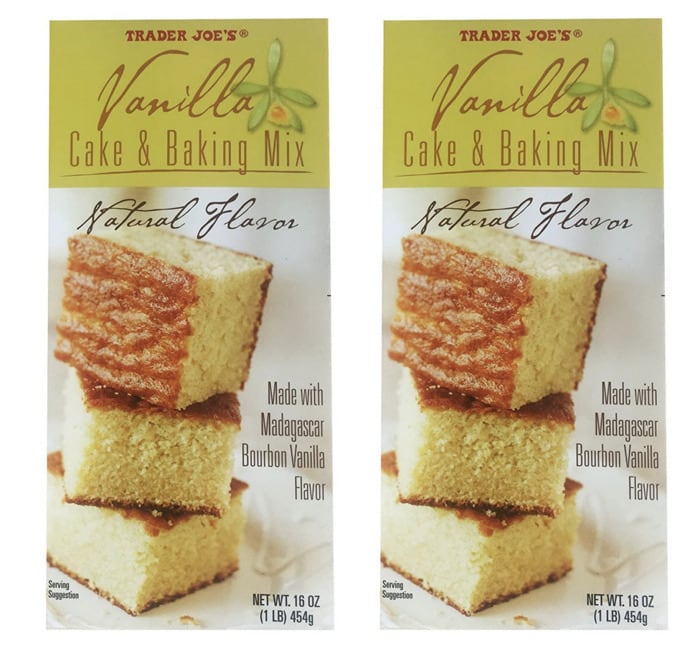 Available on Amazon.
2. Chantilly Cream Vanilla Bean Mini Sheet Cake
Ah, a Chantilly cream vanilla bean cake. One of the only things we like better than a slant rhyme is this cake.
In addition to an exploration of poetic devices, Trader Joe's also delves into the realm of science. Specifically, the placebo effect. Do "Chantilly" and "sweetened whipped cream" taste the same to the average palate? Probably. Can most people taste the difference between something flavored with vanilla extract vs. vanilla bean? Probably not.
But one version tempts us to throw our pinkies up and drink out of a crystal goblet, even though we know we're still eating it at 11PM without pants on.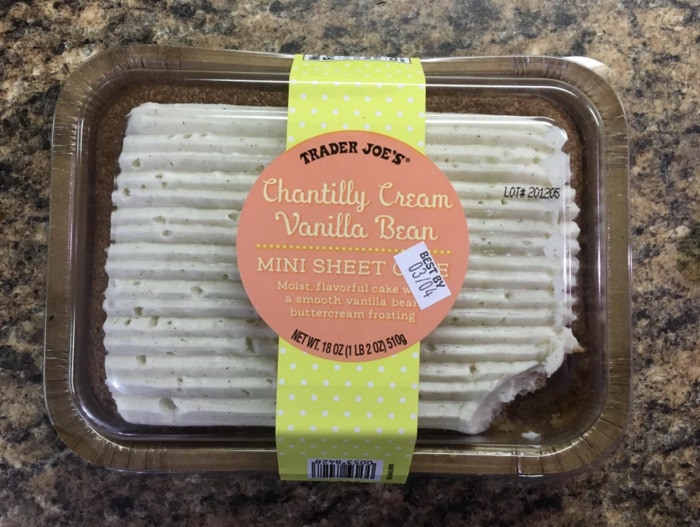 3. Dark Chocolate Ganache Mini Sheet Cake
You've heard of "tall, dark, and handsome." But what about "flat, dark, and maybe also handsome if you're into that kind of thing?"
For chocolate lovers, Trader Joe's has a dark chocolate ganache mini sheet cake that transcends all social rules and makes the word "moist" acceptable.
It's as if their vanilla bean sheet cake went through a similar metamorphosis to Toby Maguire's Peter Parker in Spider-Man 3: turning from neighborhood sweetheart to dangerous, brooding, and emo. But this cake has none of the cringe and less awkward dancing.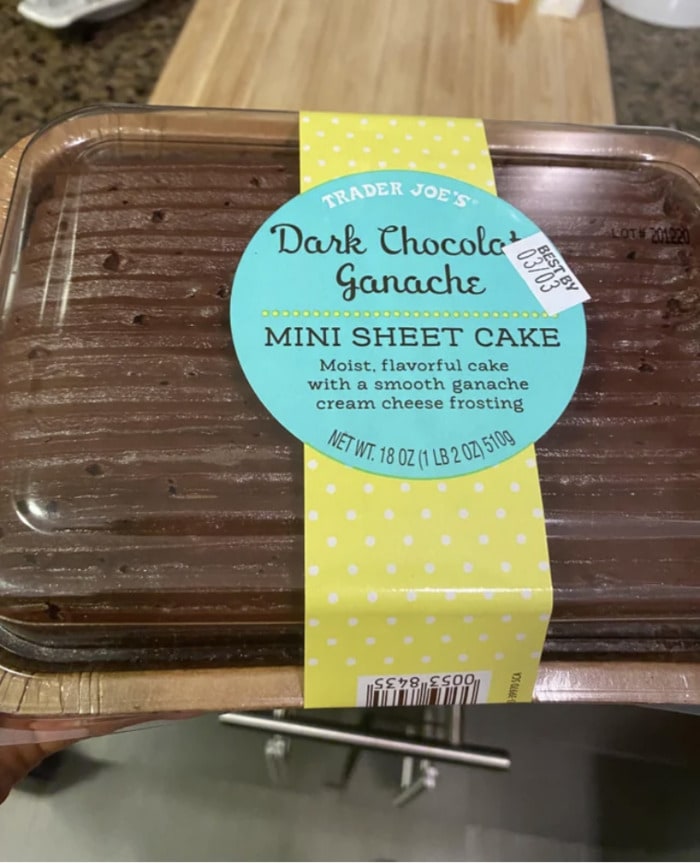 4. Chocolate Lava Cake
We have a lot in common with these Chocolate Lava Cakes. Held together on the outside, albeit mostly by chocolate, but an absolute mess on the inside.
With these cakes, however, that's the whole point! And boy, does it work. Pick up a box of these from the frozen section, pop it in the microwave, and let the brown goo run amuck. Yet another thing that's better when the cake does it than us.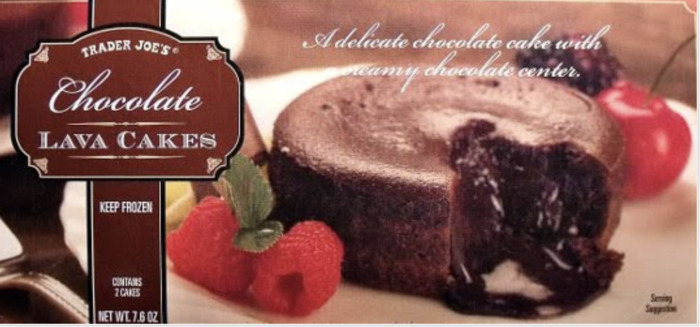 5. New York Deli Style Baked Cheesecake
We know, we know, there's debate. Is a cheesecake a cake? A pie? What is love? Baby, don't hurt me. Regardless of how you categorize it, we're filing Trader Joe's NY Deli Style Baked Cheesecake under "cakes."
Mainly because it's delicious, we want an excuse to include it, and we make the rules.
Cheesecakes can be finicky to make, so it's a whole lot easier to pick up one of these at the store for a fancy dessert night. If you're still craving the real New York experience, pay triple your rent this month, then go get the door slammed in your face by a 92 year old grandma.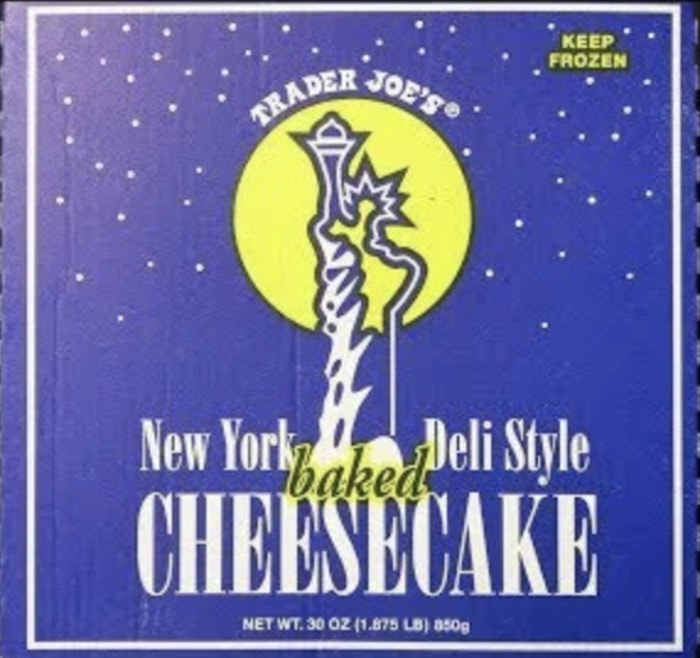 6. Cheese-Less Cheesecakes
To throw more fuel on the fire of the "cheesecake isn't really a cake" debate, why not take out the cheese? The wheels are off the wagon, but TJ's cheese-less cheesecakes are so good that they melt all tension and resolve all arguments. They are the key to world peace.
With these vegan cake bites, Trader Joe's proves that we don't need dairy to have fun. But all the gorgeous gorgeous girls with lactose intolerance knew that already.

7. A Dozen Sweet Bites
Trader Joe's Dozen Sweet Bites is great for four reasons: chocolate, caramel, coffee, and raspberry. This box of frozen treats contains these flavors in an assortment of three different mini-cakes.
The first is a chocolate and coffee opera cake. Which is something you know you've wanted to try ever since hearing about it on Great British Bake Off.
Then there is a raspberry "Macaron Aux Framboises" cake, which is white cake with raspberry filling, cream, and toasted coconut. The two-bite size makes it the perfect snack to enjoy while you're Googling the pronunciation.
The third is a caramel and chocolate cake, which is something you should know about without us having to spoon feed you. The information, that is. We'll happily spoon-feed you the cake. Here comes the choo-choo train!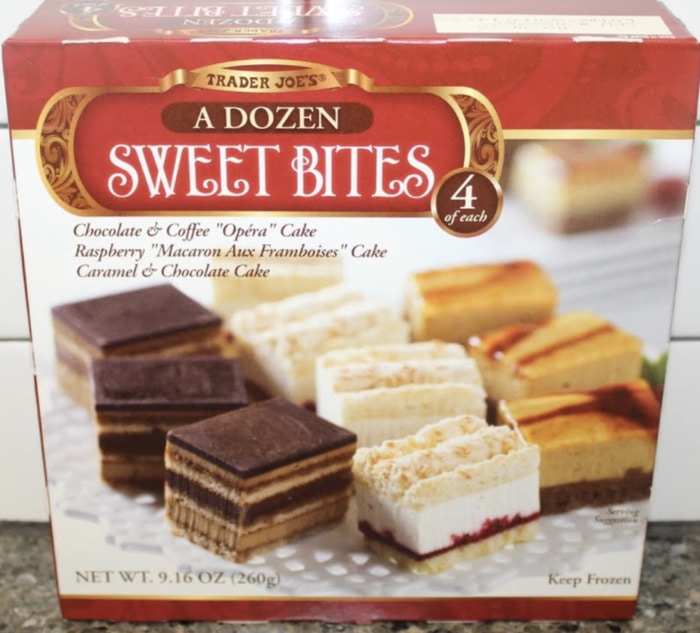 8. Gingerbread Cake Mix
Trader Joe's gingerbread cake mix proves that gingerbread is one of the many occasions in which we prefer cake to men.
This molasses-infused mix features pieces of crystalized ginger and only requires the addition of oil, water, and one egg. It's a seasonal favorite, so be on the lookout for it when temperatures begin to drop. Or if you're in LA, the time when people start wearing sweaters in 90-degree weather.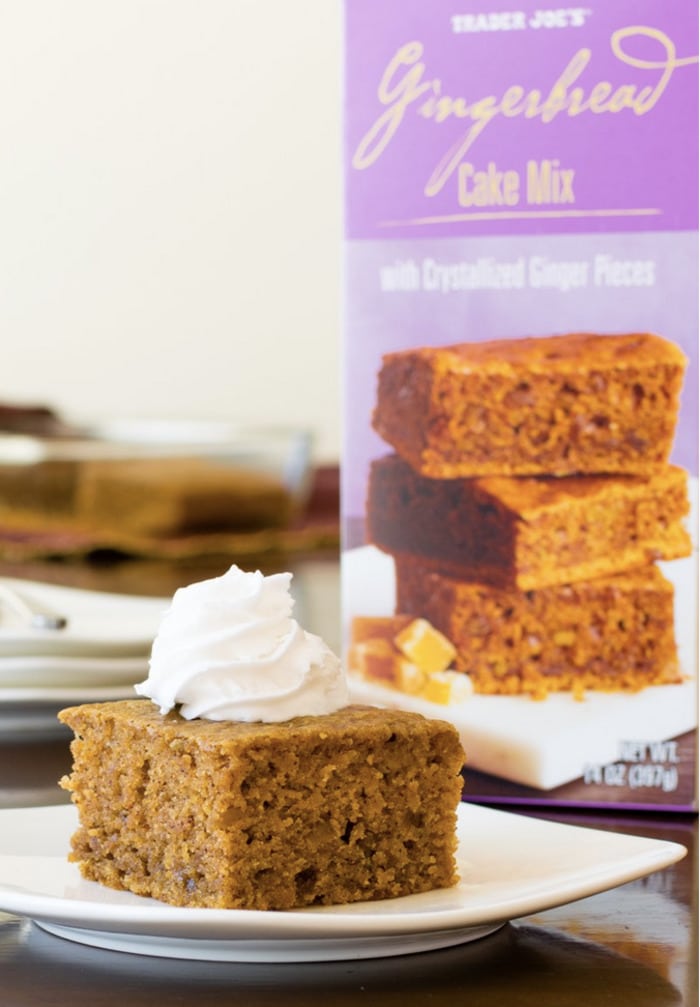 Available on Amazon.
9. Gluten-Free Cinnamon Coffee Cake Muffins
Delicious though they may be, TJ's gluten-free cinnamon coffee cake muffins are here to shake the foundations of nomenclature of dessert enthusiasts everywhere.
These are not made with coffee, nor are they really cake. Unless you count muffins as cake. But if do you, where's the line? While you try to find it, drown out your confusion with a nice mouthful of whatever you call these sweet treats.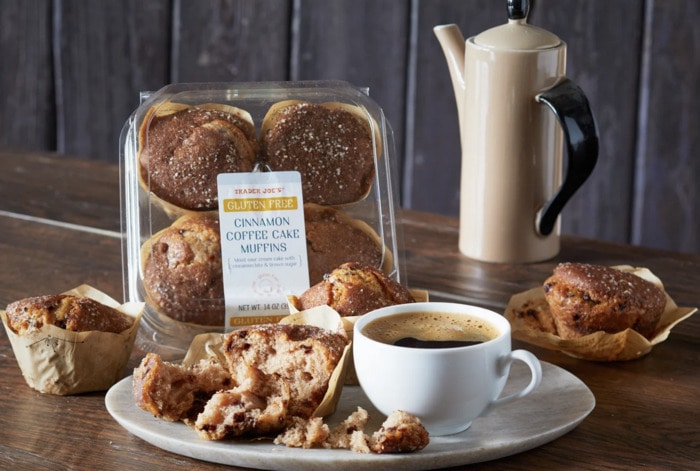 10. Party Cake
Oh no! You're late to a party and you totally forgot you were supposed to bring the cake! Good thing Trader Joe's has you covered with their ready-made party cake.
This vanilla cake with vanilla frosting is amped up with colorful sprinkles around the side. And it conveniently has a blank top where you can write a message of your choice. We recommend authenticity. Try something like, "Didn't have time to bake. Also, how old are you, again?"
11. Blood Orange Cake Mix With Icing
You can make any orange cake a blood orange cake if you're a really bad cook. But the Trader Joe's Blood Orange Cake Mix is both delicious and raises few health and safety concerns.
Though it's seasonal to spring, the easy-to-throw-together mix is worth the wait.
The blood orange fortifies the flavor and color to add new levels of brightness to your gray days. Orange you glad we didn't go where you thought we were going with this joke?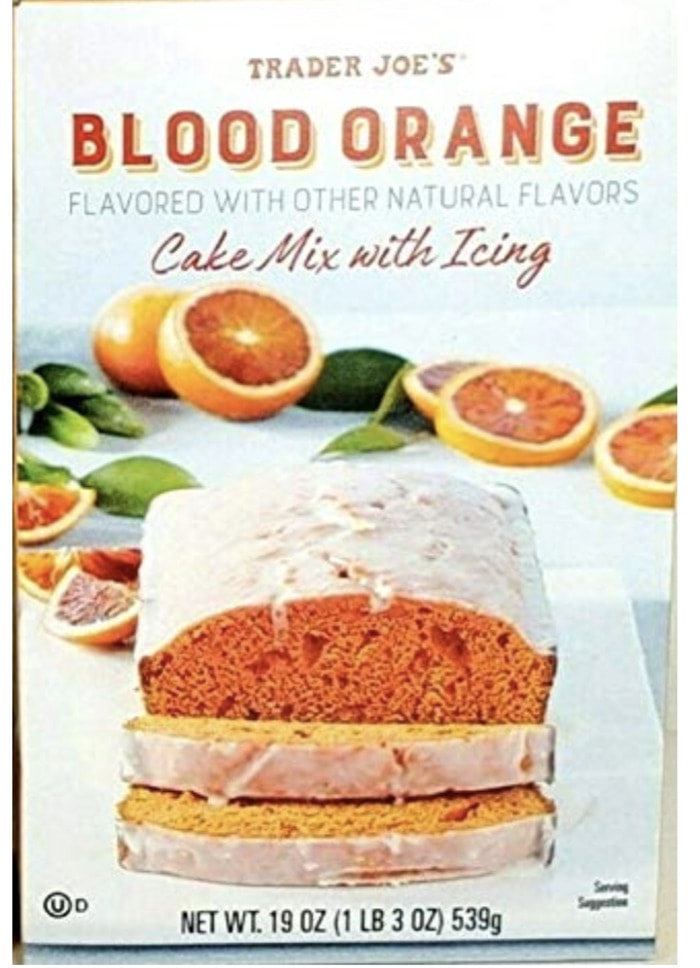 Available on Amazon.
12. Raspberry and White Chocolate Bundt Cake
There are a lot of things to love about the holidays, but this bundt cake from Trader Joe's will dethrone family and friends from their first place spot. And it won't look back.
The white chocolate chunks, raspberries, and rich sour cream cake play together so well that you'll forget about bundt pans being an overrated trend. Who decided to trust the person that said, "Cake is great. But what if it looked like a tire?"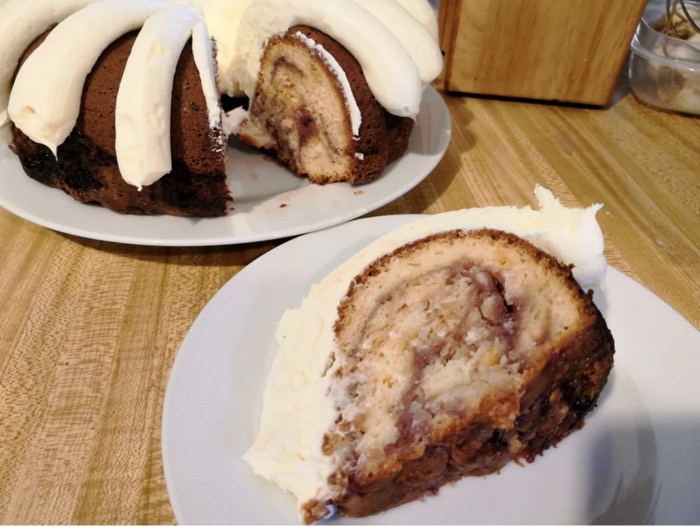 13. Chocolate Mochi Cake Mix With Peanut Butter Frosting
Trader Joe's offers a plain mochi cake mix, but they've also adapted it to include chocolate and peanut butter. Why crawl when you could fly?
This cake combines the flavors of a peanut butter cup, the chewy texture of mochi, and the ease of a boxed cake mix.
The only people that might have qualms with this cake are your loved ones, for whom you no longer have space in your heart after this cake set the bar so dang high. Also, people who don't like chocolate and peanut butter. We're sorry for your loss.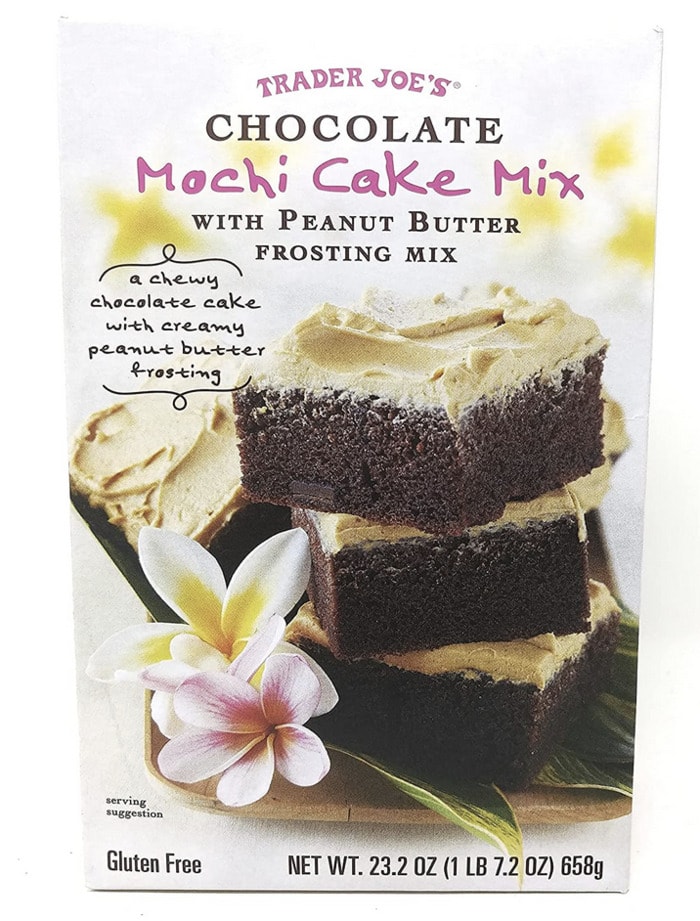 Available on Amazon.
14. Citrus Mousse Cakes
We always find ourselves wanting to pucker up at Trader Joe's. Not just because their employees are so charming, but because they offer such a great selection of citrus products. Their citrus mousse cakes are no exception.
The mixture of bright lemon or orange flavor with the creamy mousse will have Orange Julius shaking in his boots. And we're big fans of anything that strikes fear into the hearts of our enemies.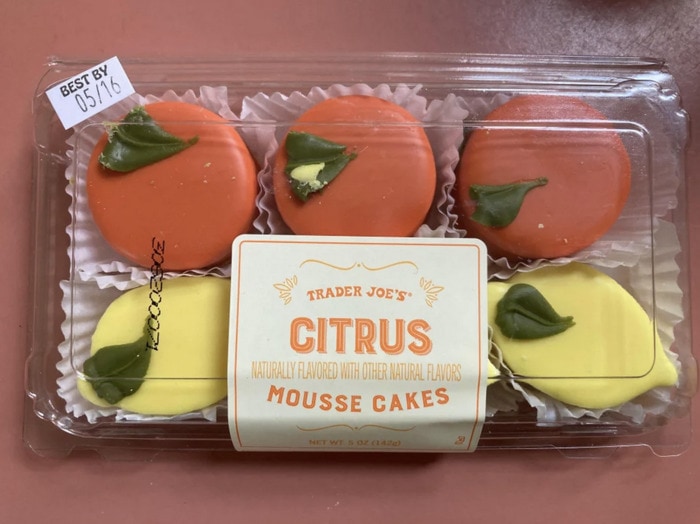 15. Tiramisu Torte
When the moon hits your eye like a big pizza pie, politely remind the moon that it's A) impolite to hit people and B) this is an article on cake, not pie. If the moon could kindly stay in its lane, we can talk about Trader Joe's Tiramisu Torte.
Appropriately, "Tiramisu" is Italian for "pick me up."As in "pick me up off of the floor, I just ate this entire cake in one sitting." Wait, it wasn't personal sized?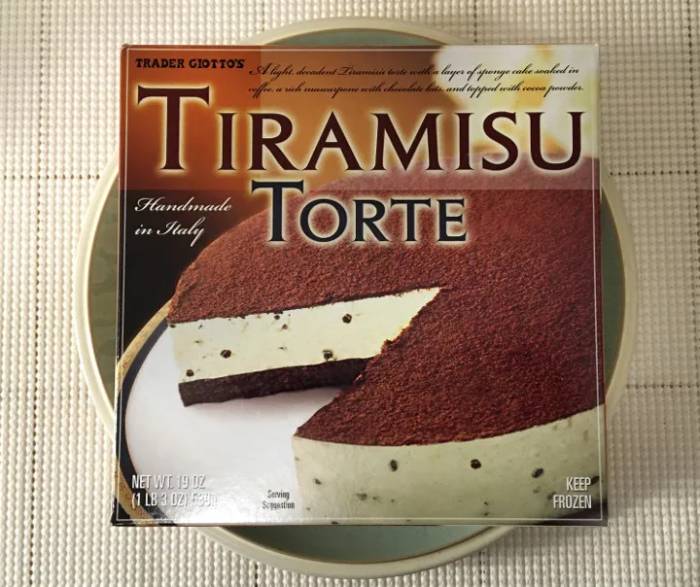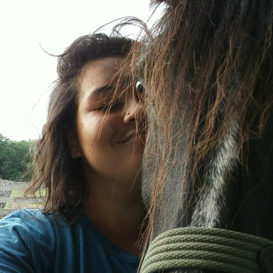 Latest posts by Hebba Gouda
(see all)