Trader Joe's is an ever-changing wonderland of delicious snacks and sweets. And salads, if you get excited about that sort of thing. It's hard to refrain from buying everything in sight – especially the Trader Joe's desserts – but our bank account does have its limits.
And, sadly, Trader Joe's doesn't accept bitcoin. Yet.
The Trader Joe's desserts are a cultivated collection of magical creations and some twists on the classics. There are so many to weed through – including brownies and macarons and the most adorable mini ice cream cones – so we made a list of the ones you absolutely need to try.
At least before Amazon makes grocery stores irrelevant.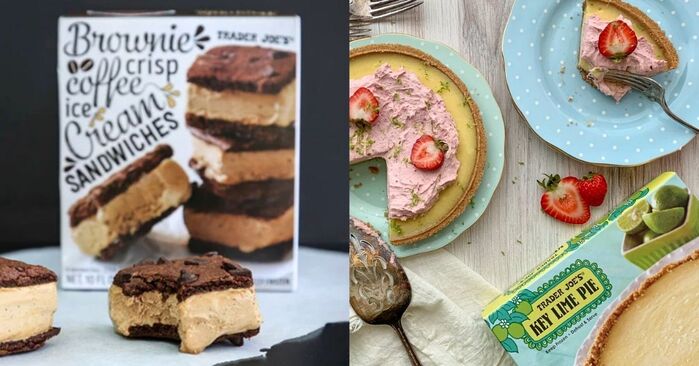 The 23 Best Trader Joe's Desserts You Need To Try
1. Chantilly Cream Vanilla Bean Mini Sheet Cake
The word "chantilly" sounds bougie, but it's really just rich person speak for sweetened whipped cream. This delicious vanilla bean cake is topped with fluffy cream and is the perfect size for that small dinner party you've been trying to have since 2019.
They also have a dark chocolate version, which tastes just as good by the spoonful at 2AM.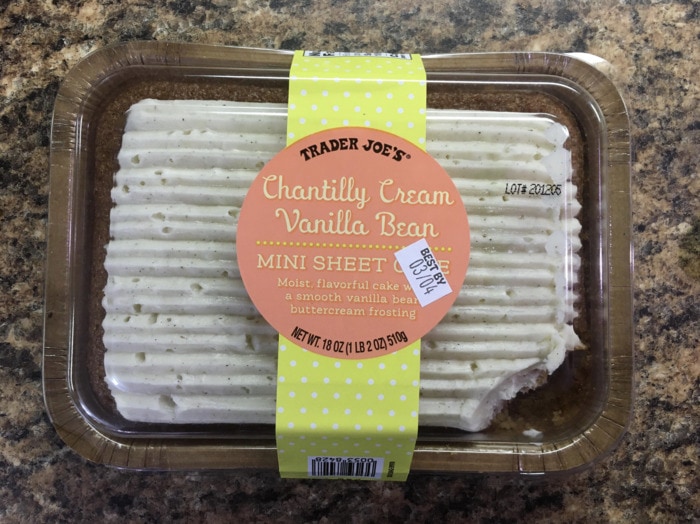 2. Chocolate Lava Cake
Trader Joe's frozen desserts give you a fancy restaurant experience without having to put on pants. For this Chocolate Lava Cake, all you need to do is microwave it and serve it up Lady and the Tramp style.
Just make sure they cool a little before you bite it from both ends. A trip to the burn unit is kind of a downer for a date.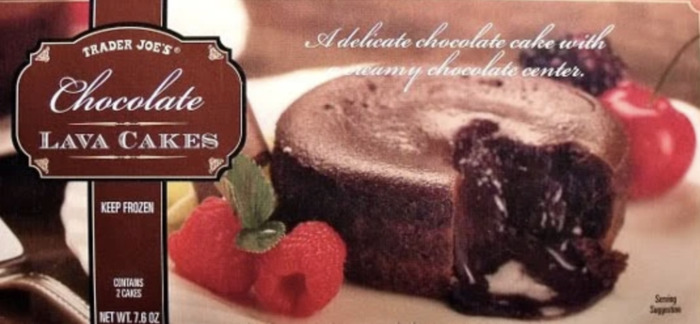 3. Sea Salt Brownie Petites
There's no better combo than salty and sweet, which is why the Trader Joe's Sea Salt Brownie Petites are our go-to in the bakery section. And why we never going to the beach without a full watermelon.
These mini brownies are the sexy older sister to the Little Bites we grew up with. And there's nothing hipper than a blast from the past – just ask butterfly clips and micro purses. (We'll leave the low rise jeans, though.)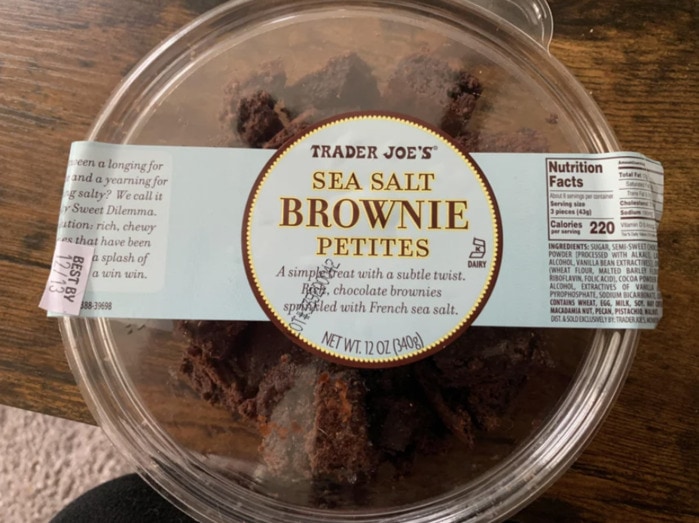 4. New York Deli Style Baked Cheesecake
Buying one of these cheesecakes is a whole lot cheaper than a plane ticket to New York. Or if you live in New York, a lot easier than getting out of your bed, down the street, and over to a bakery.
Just let this cheesy boy thaw for one hour before serving. You'll be enjoying a classic cheesecake in the comfort of your own home, and without all the yelling and subway stops.

5. Chocolate Brooklyn Babka
A babka is a sweet, braided cake and bread hybrid that's usually flavored with cinnamon or chocolate. The Trader Joe's chocolate version has a sticky and smooth exterior, a flaky layered interior, and chocolate chips on top for good measure. This dessert is so good, it'll make you fuggedabout every other Trader Joe's dessert.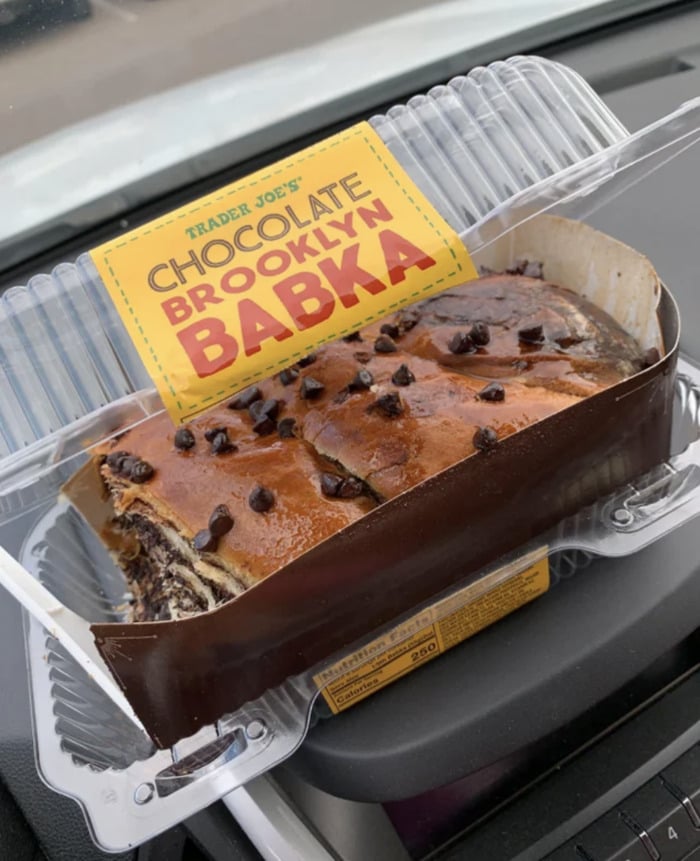 6. A Dozen Sweet Bites
Got a case of dessert decision fatigue? Get three in one with the Trader Joe's Sweet Bites. It includes three cake flavors: Chocolate and Coffee Opera Cake, Raspberry Macaron Aux Framboises, and Caramel and Chocolate Cake.
It's basically a take-home version of a dessert tray. Now you won't need to smuggle them home in your purse after a gala anymore. Maybe you'll start getting invited to them again.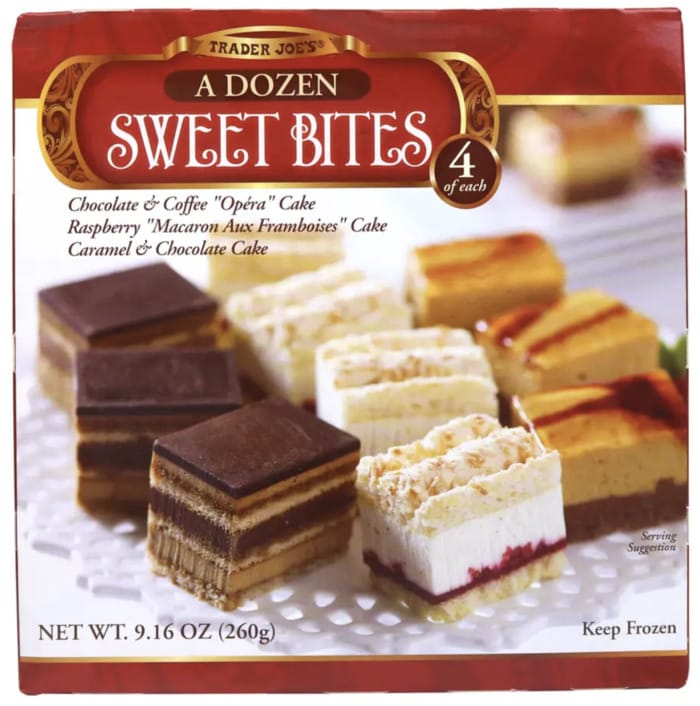 7. Vegan Cookies and Creme Vanilla Bean Bon Bons
Whoever thinks that vegan desserts are second tier has obviously never tried these vegan Trader Joe's bon bons. A hard chocolate exterior is the outer layer of this frozen treat, and in the center you'll find chocolate cookies and a sweet coconut-based, non-dairy, vanilla bean ice cream. You won't find a kitschy cereal box toy, but we won't dock too many points for that.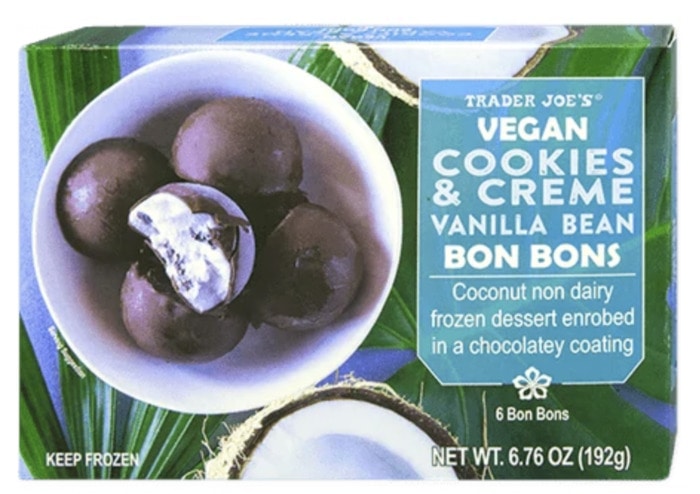 8. French Macarons
In a perfect world, we'd be living in Paris with Emily Cooper's entire wardrobe at our fingertips (and her hot French neighbor). While that dream manifests, we'll gnaw on these Trader Joe's French Macarons.
This 12-pack offers six different flavors, and is another frozen item that just needs a little defrosting. Which also happens to be a great Tinder bio.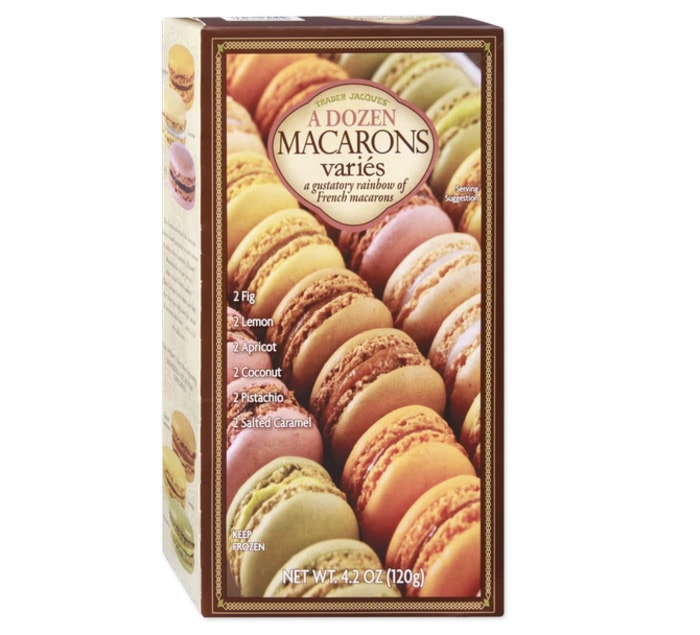 9. Hold the Cone Ice Creams
These might be the most popular dessert item at Trader Joe's, and rightfully so. One box includes eight mini ice cream cones with vanilla ice cream and a chocolate coating. It's the perfect blend of nostalgia and adulthood. So basically, it's the Steve from Blue's Clues of ice cream.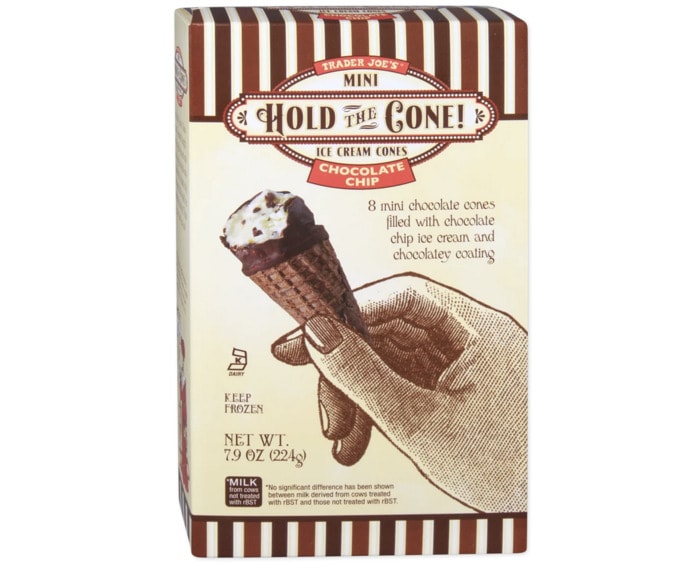 Available at Trader Joe's.
10. Scandinavian Swimmers
Trader Joe's has a penchant for making their own version of famous snacks. Kind of like how we have a habit of making their desserts our main course.
The Trader Joe's Scandinavian Swimmers are essentially Swedish Fish, just a little stickier, slightly less sweet, and more colorful. They're also one of the many Trader Joe's gluten-free desserts! Or again, if you're like us, dinner.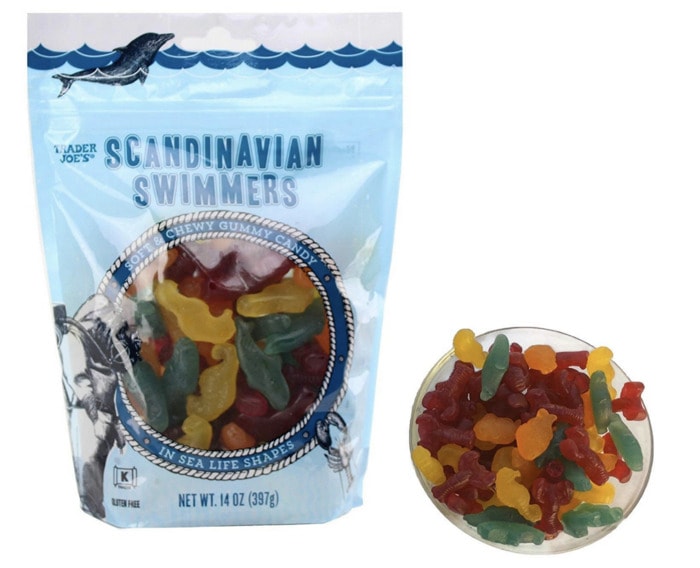 Available on Amazon.
11. Ube Mochi
Ube is truly a flavor unlike anything else, and the Trader Joe's Ube Mochi will take your dessert game to a level of sophistication that Kate Middleton would be proud of.
This purple yam ice cream tastes kind of like a combination of vanilla and pistachio, and the mochi exterior is a chewy sweet rice dough. All together, this creates a treat that fits in the palm of your hands and can be devoured in one bite. Unless you have a superhero-like kind of restraint.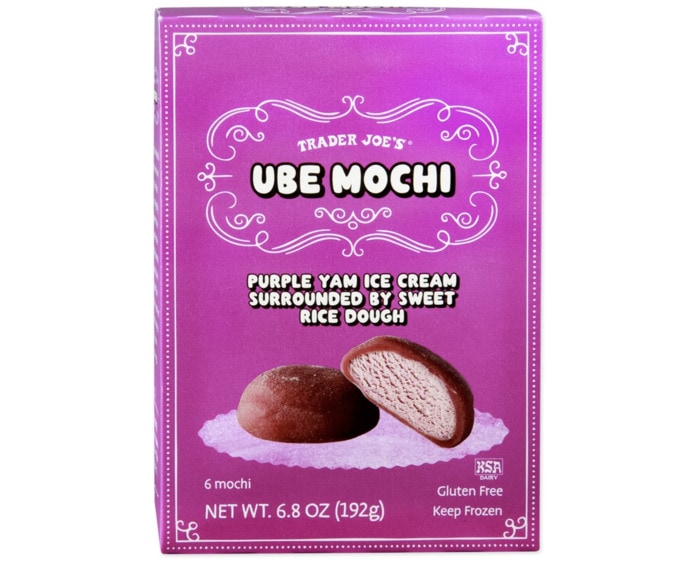 12. Sunflower Seed Butter Cups
The Sunflower Seed Butter Cups are for you nut-free chocolate baddies. They're another take on the classic peanut butter cups (like the Trader Joe's Dark Chocolate Almond Butter Cups), but are conscious of many common dietary restrictions.
They're certified vegan, tree nut free, gluten free, peanut free, soy free, and dairy free. Essentially, they're free of everything except joy. There's plenty of that!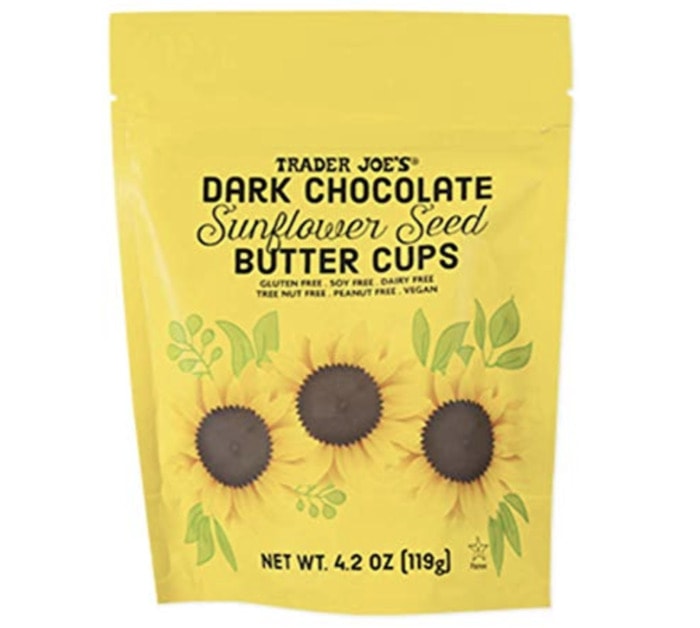 Available on Amazon.
13. Cold Brew Coffee and Boba Ice Cream
This non-dairy ice cream is 95% chaotic, but 100% delicious. It's a cold brew/boba/non-dairy ice cream concoction that will give you a caffeine buzz and a brain freeze at the same time. And to think, you used to only be able to get that by walking outside in January with an iced coffee!
As your spoon slices through the creamy coconut-based ice cream, it occasionally gets interrupted by pieces of frozen boba. The duality may sound wild, but just like Kim Kardashian and Pete Davidson, it just works.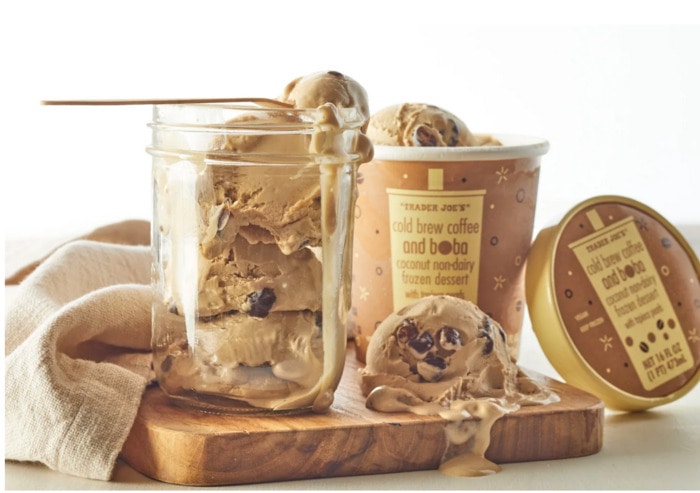 Available at Trader Joe's.
14. Half Moon Cookies
With a soft, melt-in-your-mouth cookie topped with icing that's just sweet enough, the Trader Joe's as Half Moon Cookies are a perfect dessert for someone who can't choose between vanilla and chocolate. Just eat it right in the middle and you can have both at the same time.
They're also great for people who's wardrobe only consists of neutral colors. When the cookie crumbs fall onto your outfit, it'll blend right in! Follow us for more fashion advice.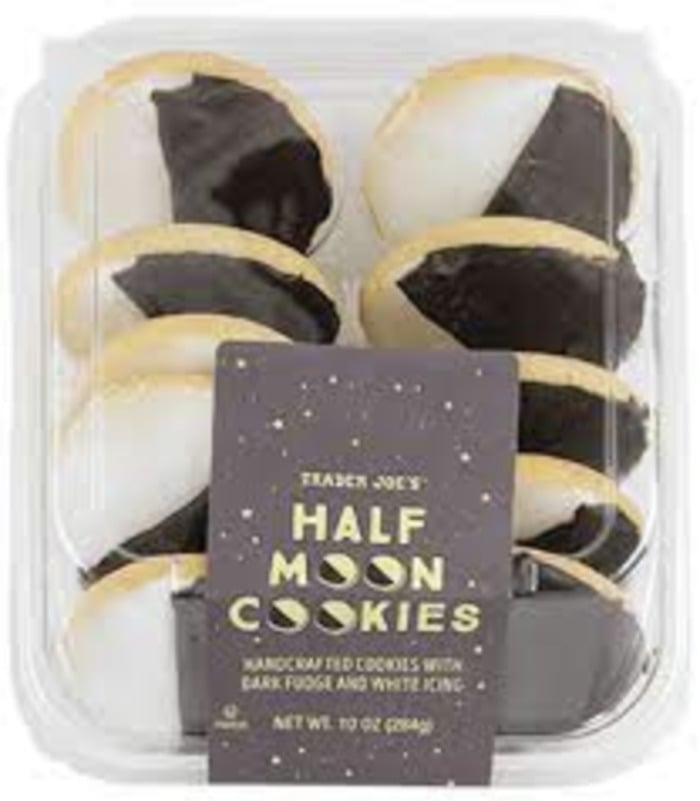 15. Kunefe
Kunefe is a Middle Eastern dessert made with shredded phyllo dough pastry, layered with cheese and pistachios, and soaked in syrup. We're not saying this would be an acceptable breakfast meal, but you know that Buddy the Elf has tried it in place of pancakes.
And TJ's has really thought this one through: the syrup packet comes on the side to add after baking so you don't have to worry about it getting soggy. Innovative at its finest. Sliced bread, who?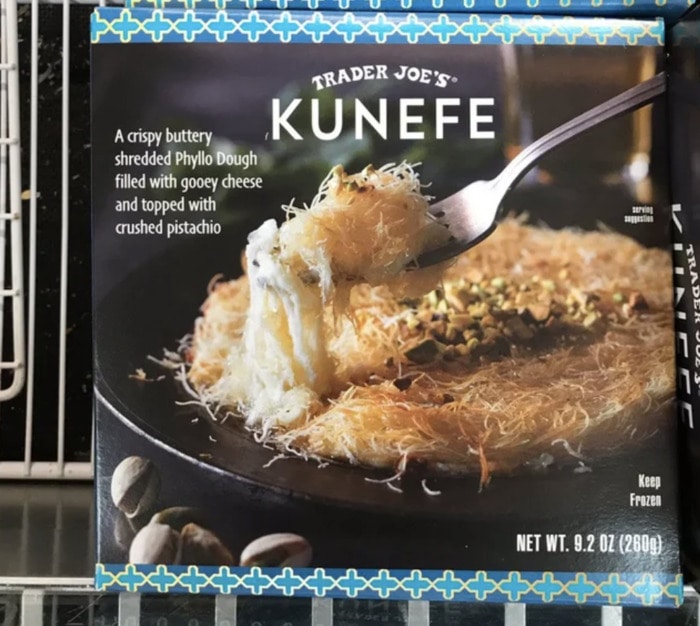 16. Apple Cider Donuts
This is a seasonal Trader Joe's dessert, but we can't help but mention them even if it's not fall. The ingredients for the Trader Joe's Apple Cider Donuts come from a New England-based supplier, giving them a truly authentic taste.
They're the ideal balance of apple, cinnamon sugar, and fried dough, and can instantly transport you to a fall festival just outside of Boston. Who knew they were also a portkey!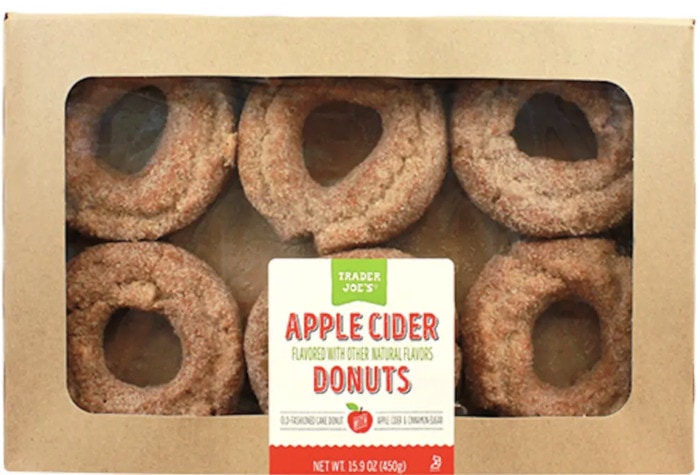 17. Gone Bananas
Pick up a pack of these chocolate-covered bananas from the frozen aisle for a sweet treat you can have at any time of the day. Breakfast? It's made with fruit! Dessert? It's made with chocolate!
And according to four out of the five people we interviewed in the aisles, eating a whole box is positive progress on a healthy diet. It's a win-win-win.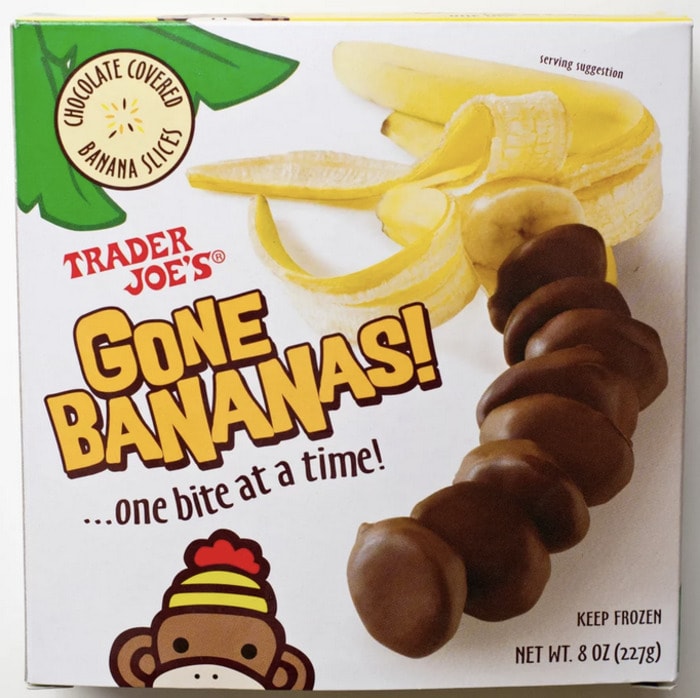 Available at Trader Joe's.
18. Key Lime Pie
As anyone in the south will tell you, a good key lime pie is made with sweetened condensed milk and true key limes. And this Trader Joe's frozen dessert knows what's up.
All you have to do is defrost and serve with your choice of meringue topping. While is a whole lot easier than squeezing tons of little key limes. And baking. Turning that oven knob is just so exhausting!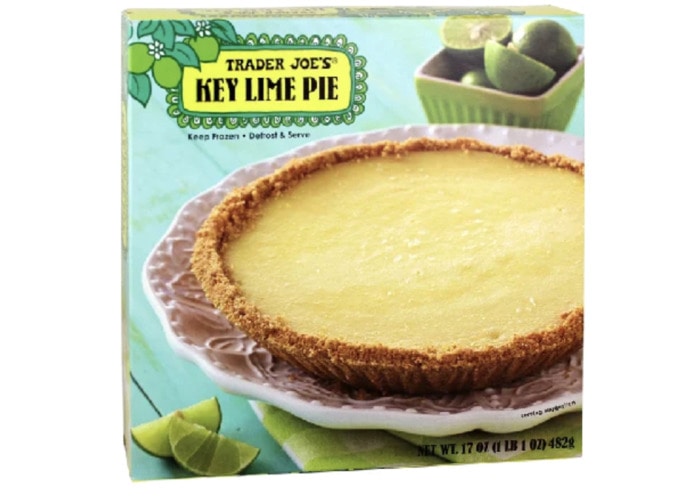 Available at Trader Joe's.
19. Speculoos Cookie Butter Cheesecake Bites
Speculoos is a classic Trader Joe specialty, so of course it gives a cheesecake the ultimate upgrade. The cheesecake filling is topped with a swirl of cookie butter, which has the flavor of warm spices like cinnamon, ginger, nutmeg, and cloves. And the crust is made from crushed speculoos cookies instead of the classic graham crackers.
We don't want to speculate, but we think theses Speculoos Cheesecake Bites might be the best Trader Joe's dessert out there. Or at least it's better than our puns.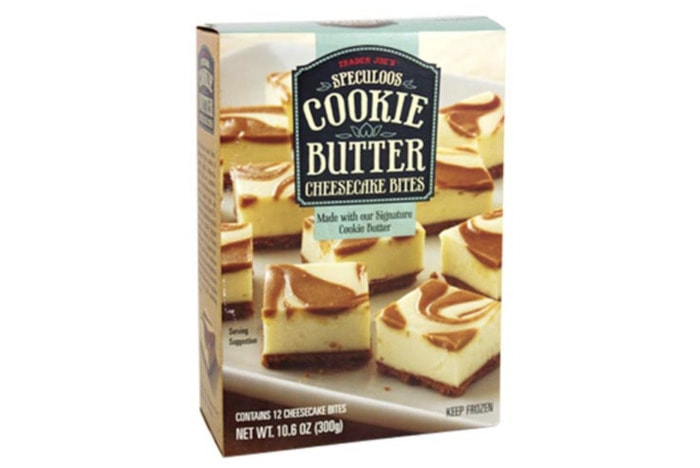 20. Neapolitan Joe Joe's Ice Cream
This frozen treat features vanilla and strawberry ice cream, with bits of Joe Joe's cookies and fudge pieces swirled in. It gives you the true Neapolitan experience. Not to be confused with the Napoleon experience, which involves freezing in the wilderness in Russia.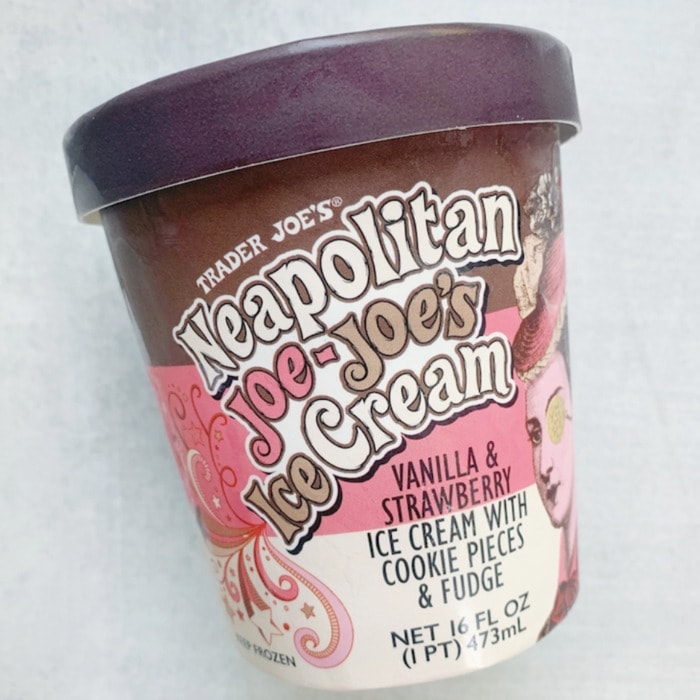 21. Chocolate and Peanut Butter Joe Joe's
Joe Joe's cookies are like an off-brand Oreo. They took their iconic sandwich cookie and coated it in chocolate and peanut butter, which makes everything taste better. Stay on the lookout for NyQuil's Chocolate and Peanut butter flavor coming later this year!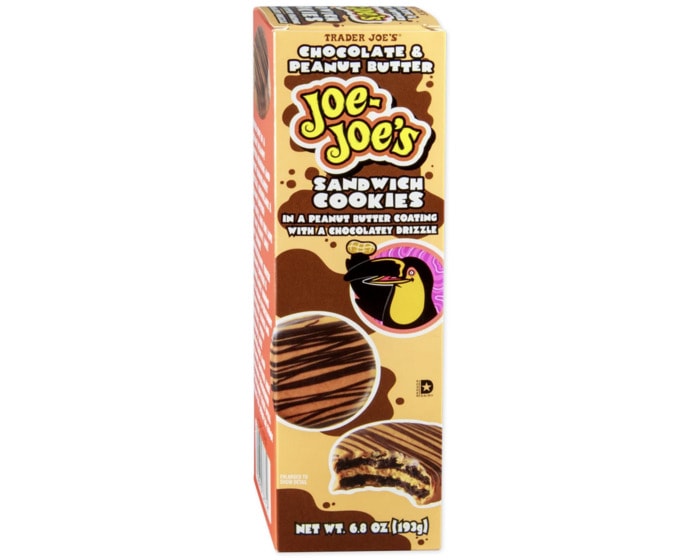 Available at Trader Joe's.
22. Lemon Bars
Bakesale Moms everywhere are aching with jealousy over how good these lemon bars are. They are fully baked and pre-cut into 12 slices, making squeezing lemons and cleaning bake trays a think of the past. In the words of Staples, "that was easy." And delicious. (The lemon bars, not the staples.)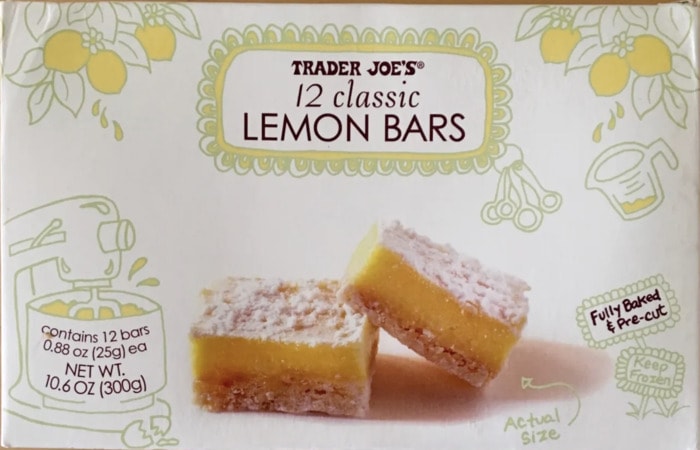 23. Brownie Crisp Coffee Ice Cream Sandwiches
Take the Trader Joe's Brownie Crisps, smash some coffee ice cream in the middle, and you've got a refreshing, chocolatey dessert that can maybe replace your fifth afternoon cup of joe. Maybe.
And you can trust TJ's to make this better than any ordinary ice cream sandwich. The top and bottom are slightly crunchy, which is a delightful contrast to the creamy center. And the ice cream made from coffee syrup, Colombian coffee extract, and espresso grounds, give you a rich, authentic flavor. It sure beats that watered down cold brew we've been sipping on for three days.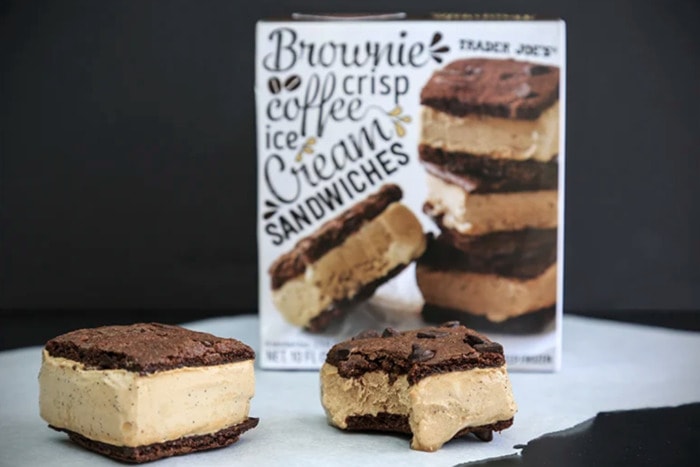 Available at Trader Joe's.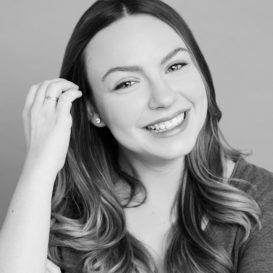 Latest posts by Katie Schindelheim
(see all)