We have a lot to look forward to this holiday season, from visits with Krampus to standing under the mistletoe waiting for your work crush to walk by. And then there's the arrival of Trader Joe's holiday items.
Who hasn't been patiently waiting by the fireplace for Father Joe to bring down his satchel of peppermint and ginger-flavored goodies? We swear that's not a euphemism.
This year's Trader Joe's holiday must-haves will spark almost as much joy as the ugly Christmas sweater in your closet that you finally get to unleash into the world. So throw on your "Merry Sithmas" sweater and pick up some tidings and treats.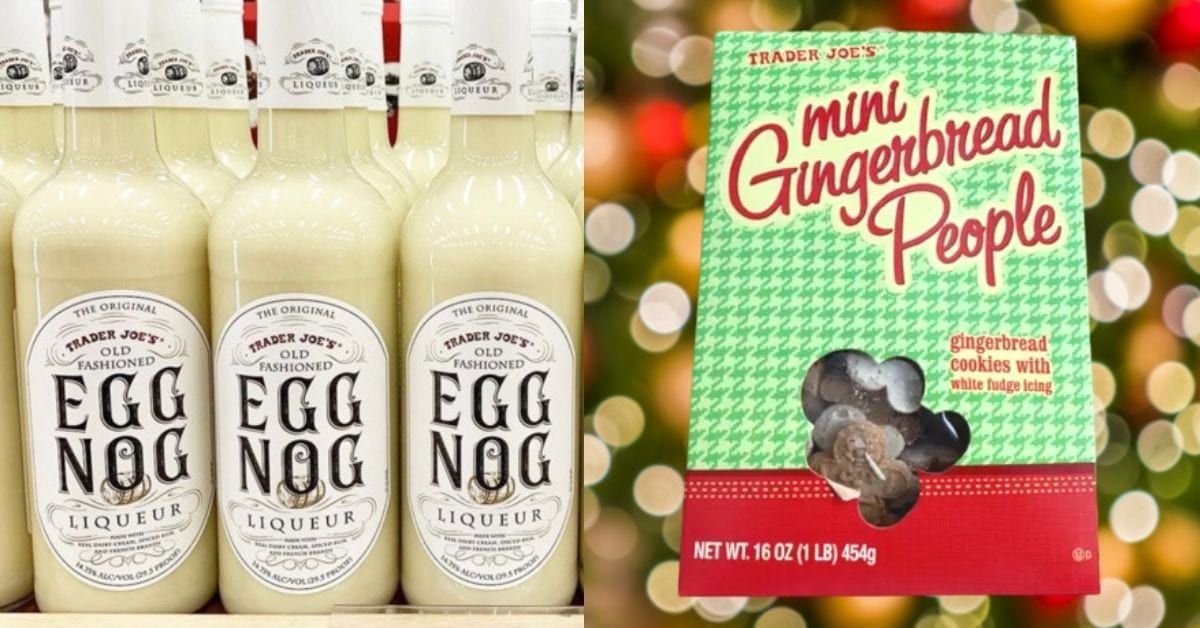 Trader Joe's Holiday Items
1. Gingerbread Sandwich Cookies
These Trader Joe's holiday cookies are reminiscent of the Little Debbie Oatmeal Pies of our youth. They chewy gingerbread cookies are so soft that grandma doesn't even have to take out her dentures to eat them. Just make sure she puts them back in so the neighborhood kids don't get scared again.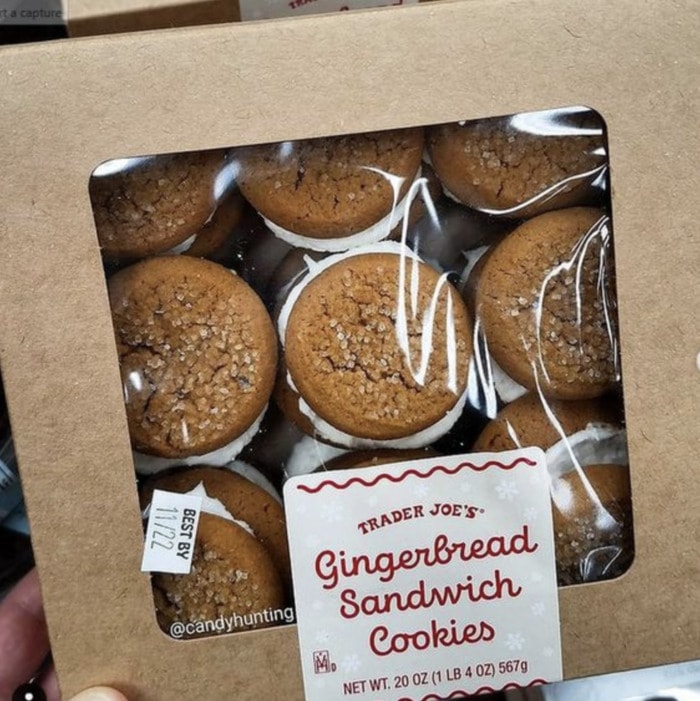 2. Peppermint Chocolate Chunk Cookie Mix
Everyone loves a good DIY project, so why not work for your dessert? This mix is basically your typical chocolate chip cookie mix supercharged with white chocolate chunks and peppermint bits. All you need to make them is one stick of unsalted butter and one egg.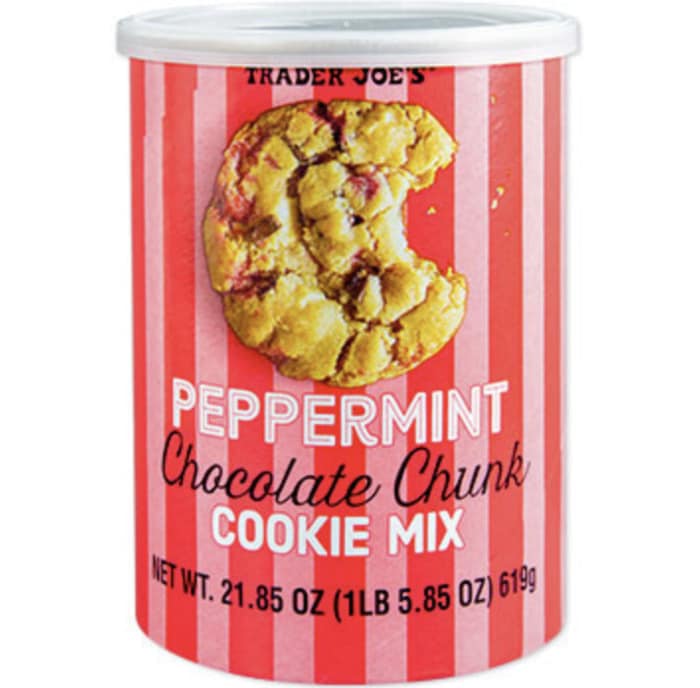 3. Candy Cane Joe Joe's
People may refer to Joe Joe's as Oreo "knock offs" but the Candy Cane flavor blows Oreo out of the treacherous TJ's parking lot. They have a chocolate cookie base with a cream layer is dotted with bits of candy cane. There is also a version covered in chocolate, which makes everything better, even Thanksgiving leftovers.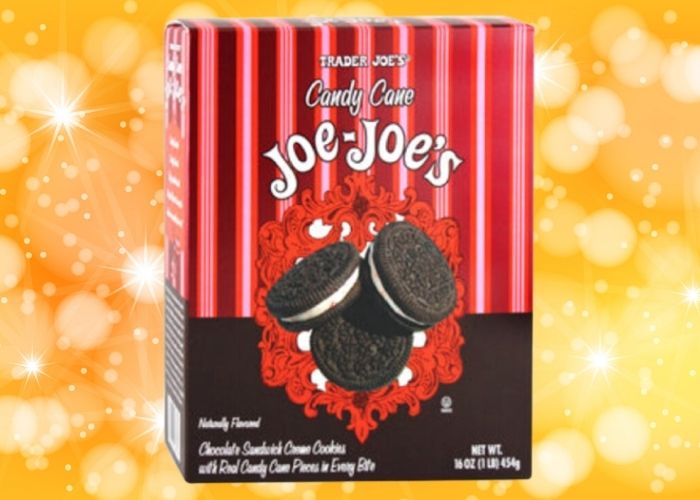 4. Advent of the Cocktail Hour Chocolate Truffles Calendar
Our official motto is that each day can be a fun surprise if you add alcohol. In this case, countdown to Christmas with liqueur truffles that come in flavors such as Peach Bellini and Coffee Martini. Fingers crossed we get Pickleback Whiskey.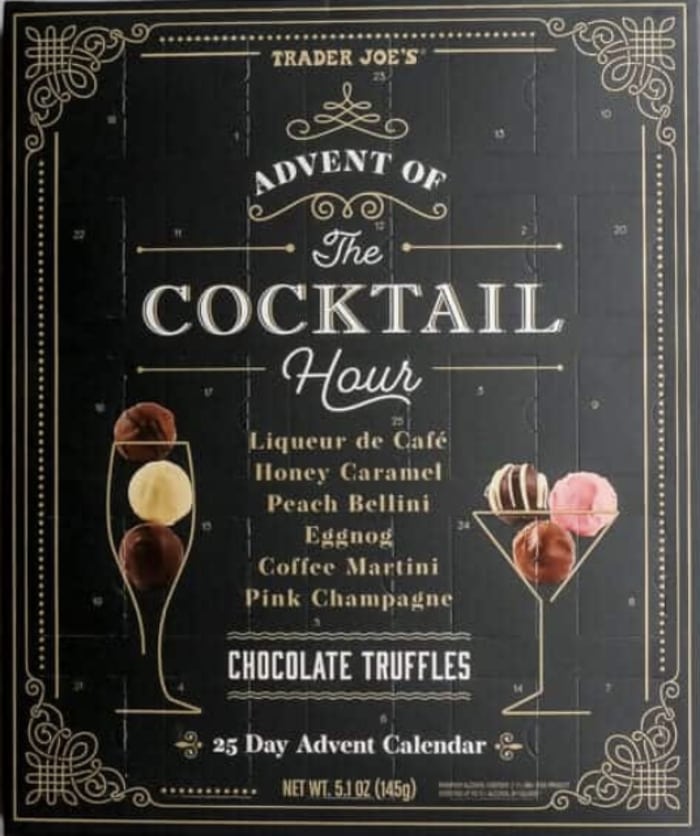 5. Mini Dark Chocolate Mint Stars
Everyone loves a Thin Mint and these tiny shortbread cookies are TJ's answer to that. They are adorably small and covered in chocolate, just like we were at that age.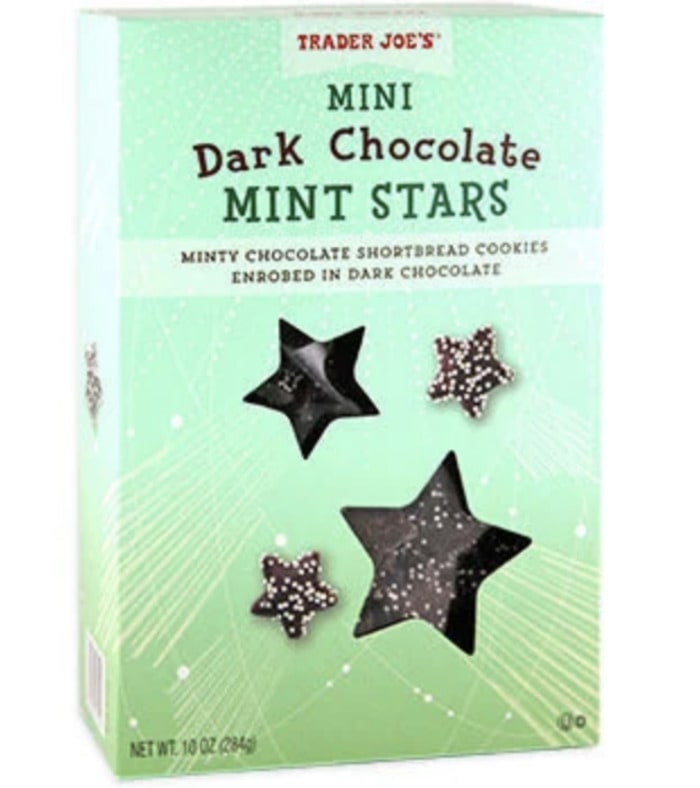 6. Candy Cane Green Tea
Don't be fooled by the Green Tea in the name, this recently revived favorite is decaffeinated with flavors of peppermint, vanilla, and cinnamon.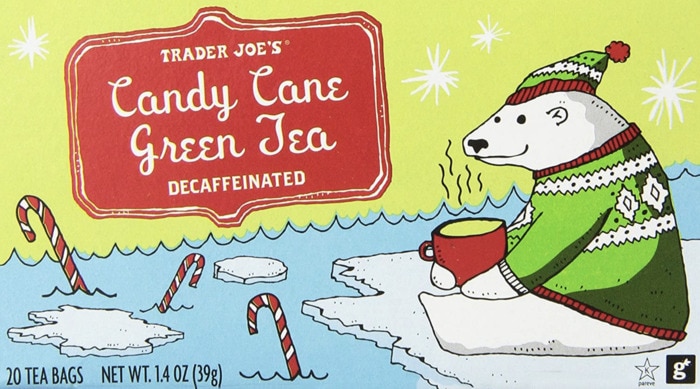 7. Eggnog Liqueur
This has all the eggnog flavor you know and love plus rum. (Which you also know and love.) The Eggnog Liquer is sweet, creamy, and has an ABV of nearly 15%. Good luck making it through that Christmas movie.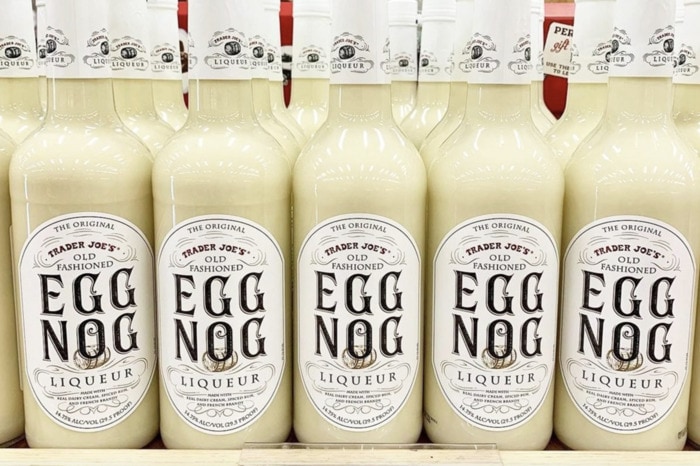 8. Gingerbread Liqueur
Trader Joe's also blessed us with a Gingerbread Liqueur. It's made with neutral grain spirit, which we believe is what gets knocked out of your body when you take a shot of it.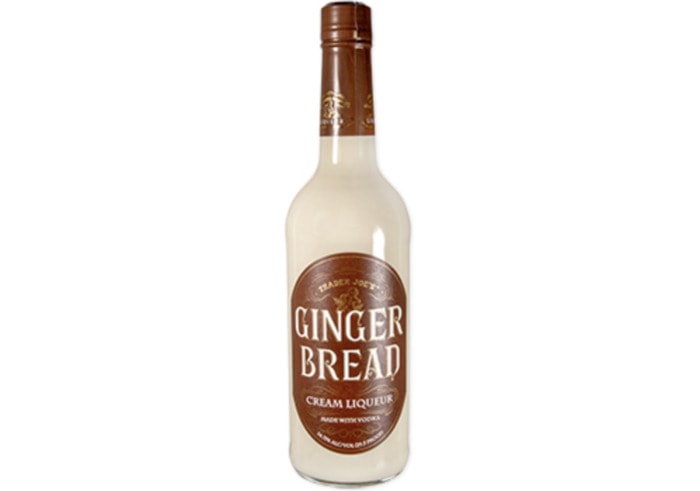 9. Sparkling Cranberry Ginger Beverage
This holiday addition to Trader Joe's sparkling beverages is sweet, thanks to the cranberry with a warm and comforting spice of ginger. It gives the best hugs.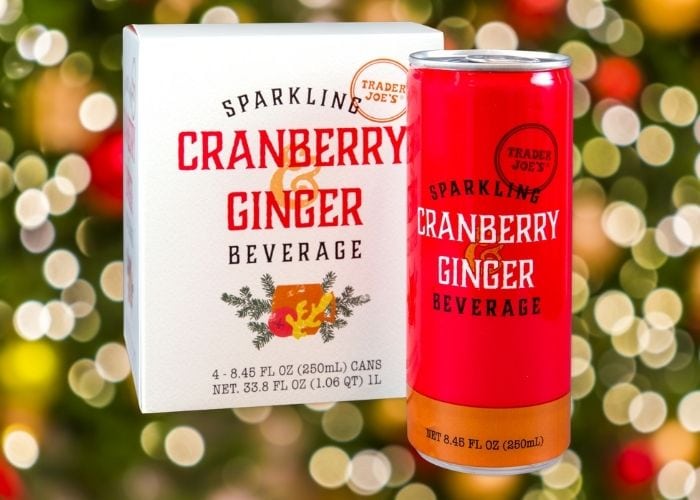 10. Jingle Jangle
Jingle Jangle is the name of a fictional drug on Riverdale, whose side effects include shark jumping. Oh, and it's also the name of TJ's very popular candy mix. This is basically diabetic trail mix with dark chocolate-covered caramel popcorn and pretzels, mini peanut butter cups, dark chocolate-covered Joe Joe's cookies, and milk chocolate candies. We're currently petitioning to add more chocolate. There's not quite enough.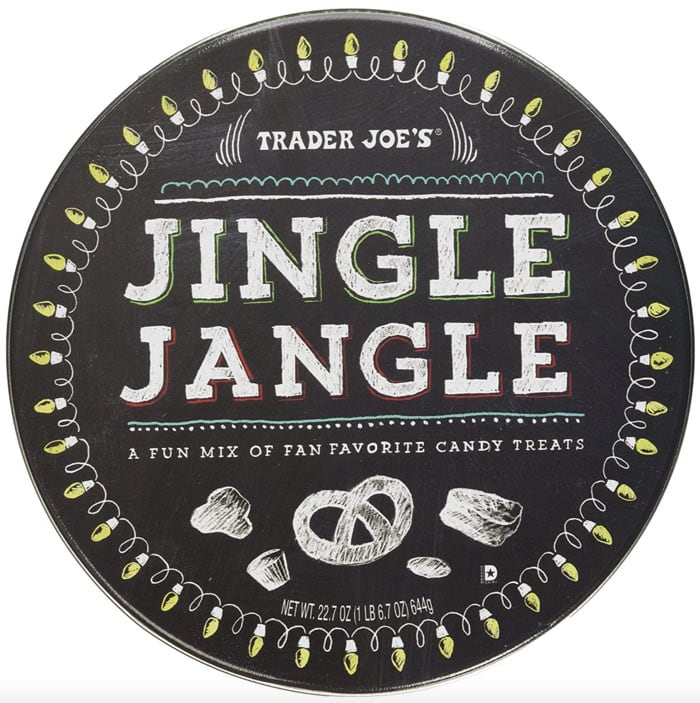 11. Peppermint Pretzel Slims
Salty and sweet are a classic combo, throw some peppermint in the mix and you are in for a party in your mouth. Did we mention it's a swingers' party? Whoever swings the highest wins!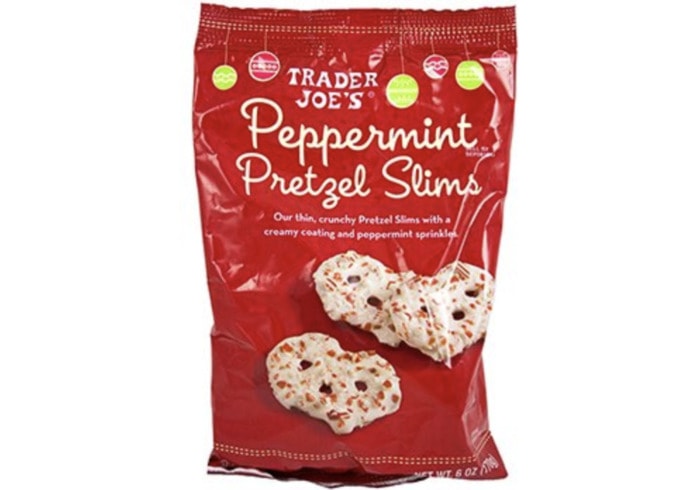 12. Mini Gingerbread People
These small gingerbread folks are decked out with a thin layer of white fudge icing. The cookies are aggressively gingery, just how we like it.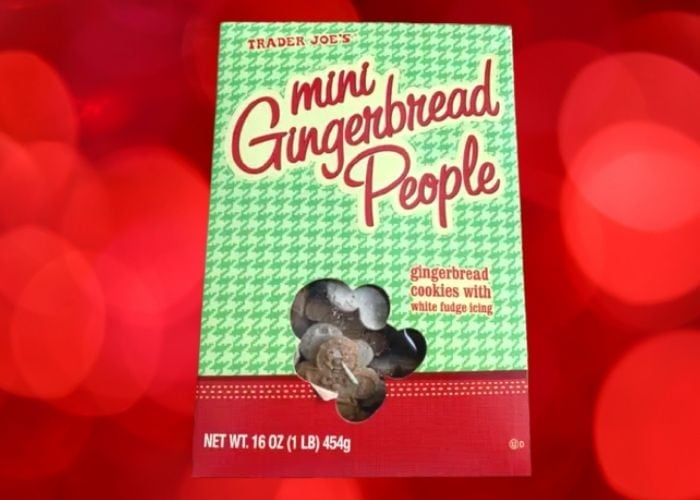 13. Traditional Italian Panettone
Panettone is a traditional Italian cake made for Christmas. It's filled with lots of butter, raisins, and dried fruit, but don't insult it by calling it a fruit cake. It's the perfect stocking stuffer as opposed to the coal you usually give.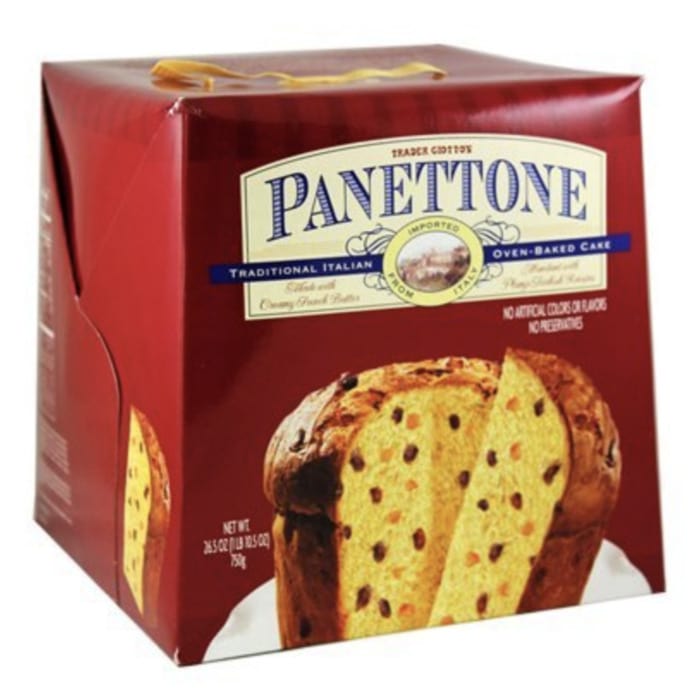 14. Hot Cocoa Snowman
Hot Cocoa bombs are all the rage. Warm up a nice mug of milk and drop Frosty in head first. Watch him bob around and scream for help, as his delicious body melts into a cozy cup of cocoa.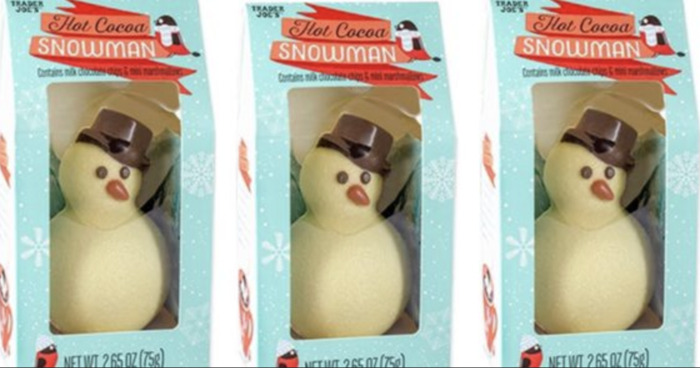 15. Dark Chocolate Orange
This orange-flavored (and shaped) dark chocolate comes in 20 individual segments. It's probably a lot easier to peel than an orange, and doesn't have juice that'll shoot into your eye if you poke it in a weird spot.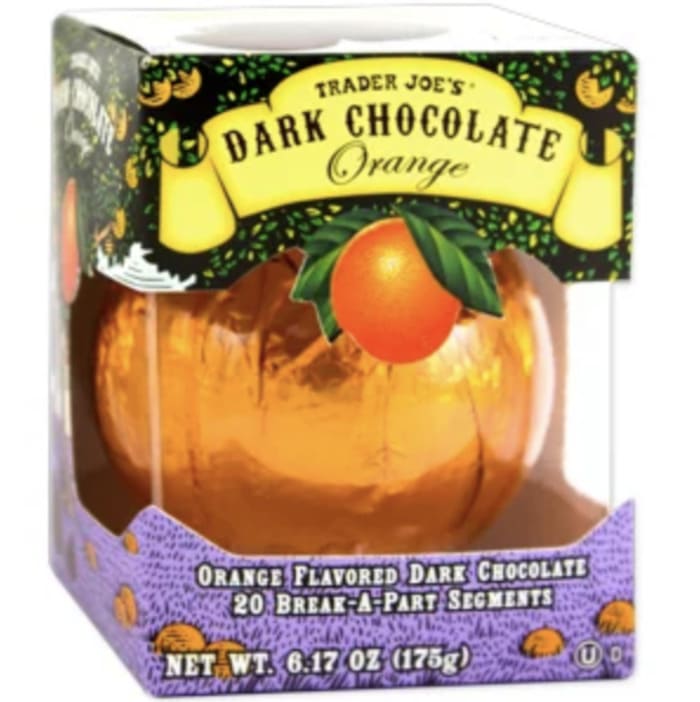 16. Cookie Mug Hangers
These cinnamon-spiced gingerbread people can fit on the edge of any drink of your choosing. So, wine. Got it.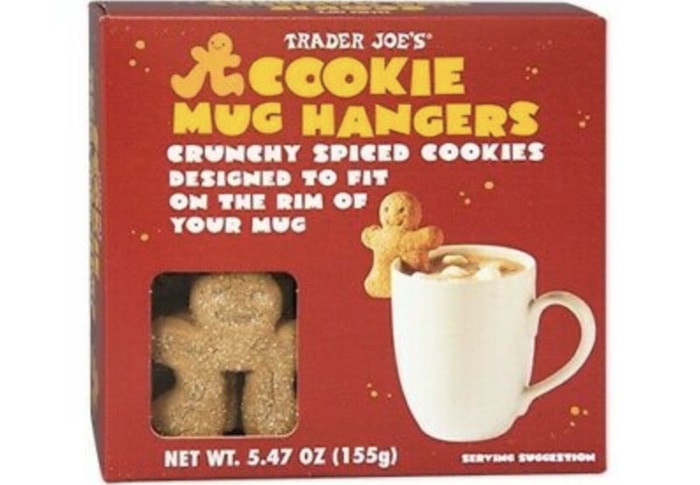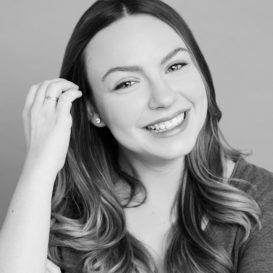 Latest posts by Katie Schindelheim
(see all)