We appreciate when food is the star, and few occasions put food at the forefront like Thanksgiving. And, if you're in need of sides, snacks, or even the turkey, Trader Joe's comes in characteristically clutch.
Whether you're planning on warming up some frozen sides in the microwave or just don't want to limit yourself to just one day of browned butter and sage-laden starches, Trader Joe's Thanksgiving items have got you covered like that Snuggie that'll be calling to you for your post-turkey nap.
However, Trader Joe's is not open on Thanksgiving, so make sure to plan ahead and pick up these at least a few days ahead of time.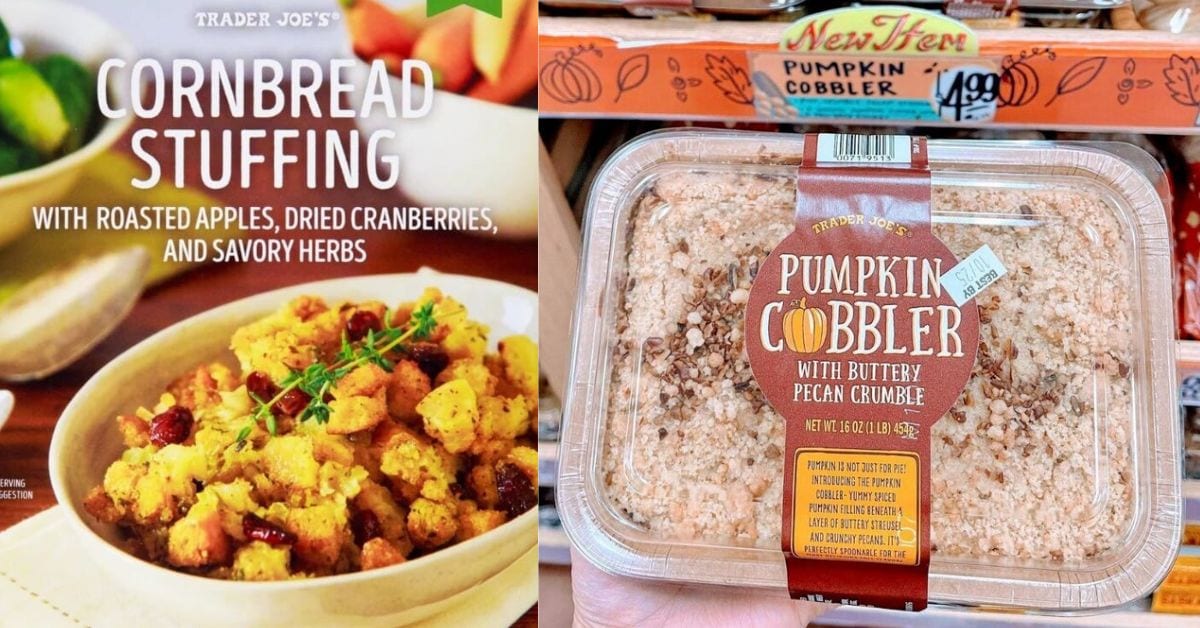 Trader Joe's Best Thanksgiving Items (2022)
1. Turkey and Sweet Potato Burrito
This roasted turkey burrito is like Thanksgiving on the go. All the flavors and foods of Thanksgiving wrapped up conveniently into one handheld package? Away with the silverware! The plates! The napkins! Let's plunge headfirst into pure chaos, and not look back!
Sign us up. No, seriously, we can't do it ourselves. We don't have any hands free, because we've got one of these in each.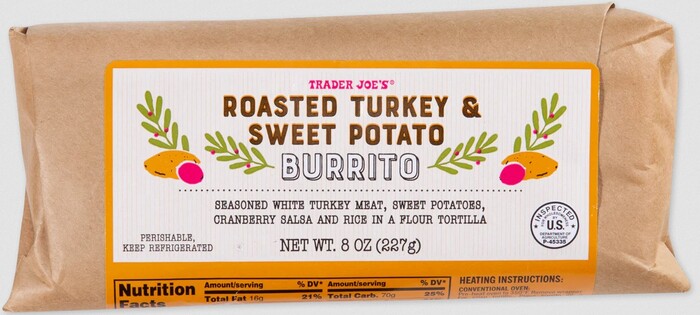 Available at Trader Joe's
2.White Stilton with Cranberries
We like our cheese like we like our role models: strong and funky. Stilton is just that. The addition of cranberries is an excellent justification for bringing it to the Thanksgiving table, but that doesn't work as well for our role models.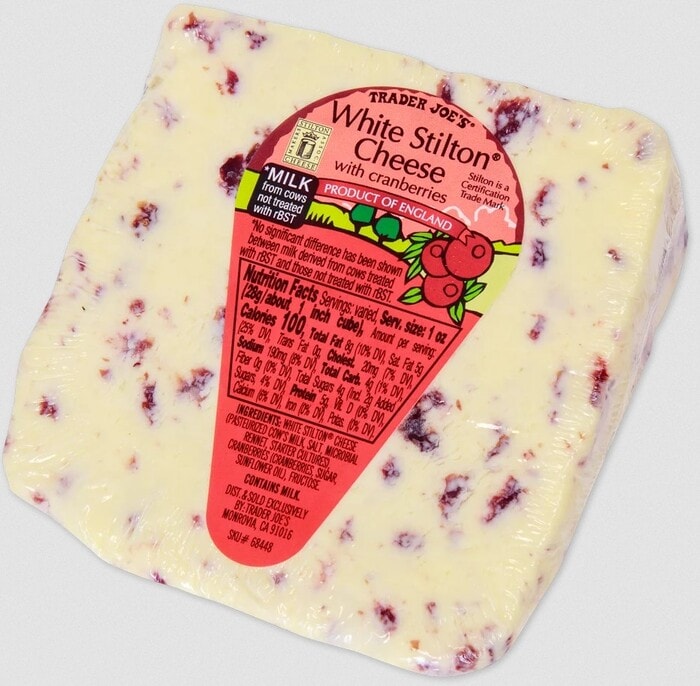 Available at Trader Joe's
3. Breaded Turkey-less Stuffed Roast
For those that are vegetarian, vegan, or just not fond of turkey, this "primarily wheat gluten" is a great option. For those that are skeptical, it's breaded and it comes with gravy. How bad could it really be?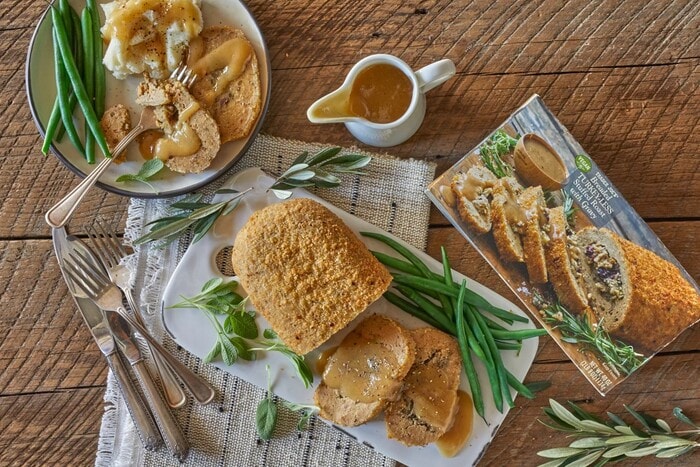 Available at Trader Joe's
4. Everything But the Leftovers Seasoning Blend
Trader Joe's really took the "Everything but the…" idea and ran with it, and we are running right after them. Metaphorically, of course. No way we can move after all that good food.
After our nap, we'll pick up 50 bottles of the seasoning blend made with onion, sea salt, turmeric, celery seed, rosemary, thyme, and parsley so we can have a little taste of Thanksgiving whenever we please. Thanksgiving leftover key lime pie, anyone?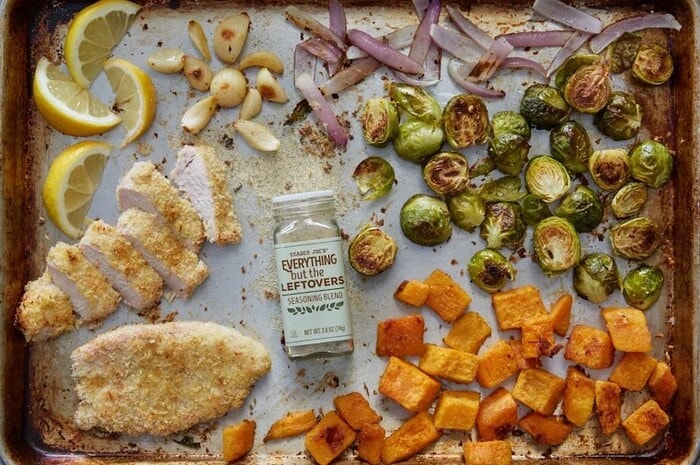 Available on Amazon
5. Turkey Sausage Stuffing Fried Rice
Some carefully craft each forkful of their Thanksgiving meal to have the perfect balance of all the different foods. Some are culinary loose cannons that just mix everything together. Are they heathens? Maybe. Are they geniuses? Also maybe.
Trader Joe's offers this version of the Thanksgiving foods mashup, with enough variety in one bite to keep things exciting.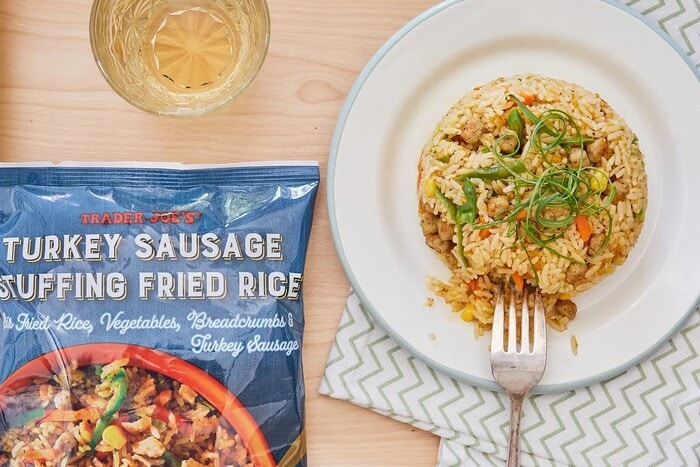 Available at Trader Joe's
6. Autumn Vegetable and White Bean Gratin
Let's get something straight: there's nothing wrong with a potato gratin. But tonight, a brand new bombshell enters the villa.
And that bombshell is a combination of roasted cauliflower, butternut squash, and white beans. White cheddar cheese sauce is here to comfort you.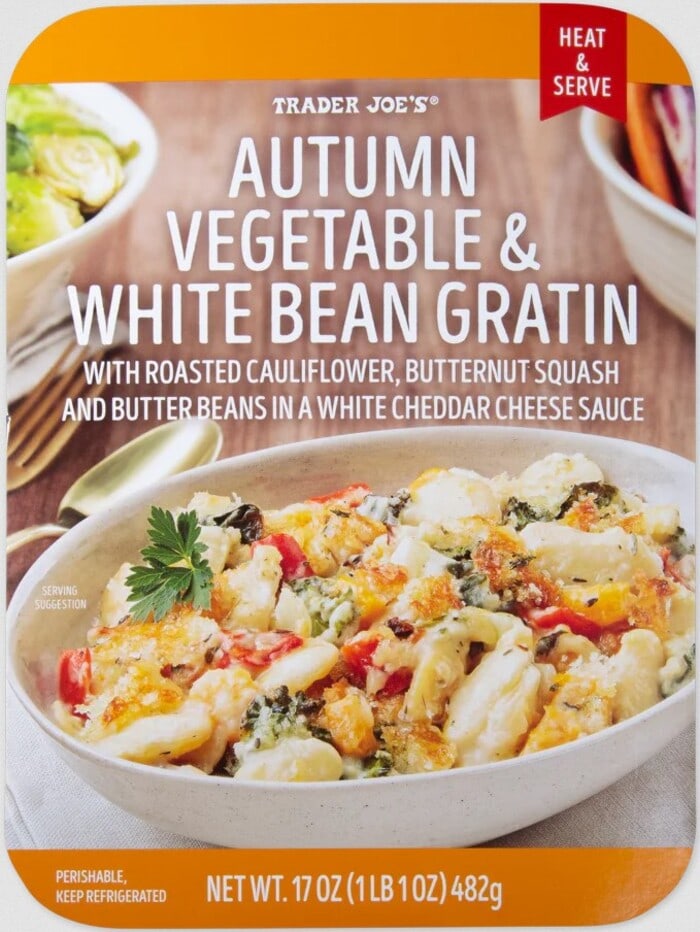 Available at Trader Joe's
7. Chocolatissimo Harvest Collection
Thanksgiving might be the one holiday where chocolate takes a backseat to apples and pumpkins. But, that doesn't need to be the case. Show that fall produce who's boss with this chocolate assortment that features caramel cream and hazelnut praline shaped like autumnal veggies. And, er, pinecones.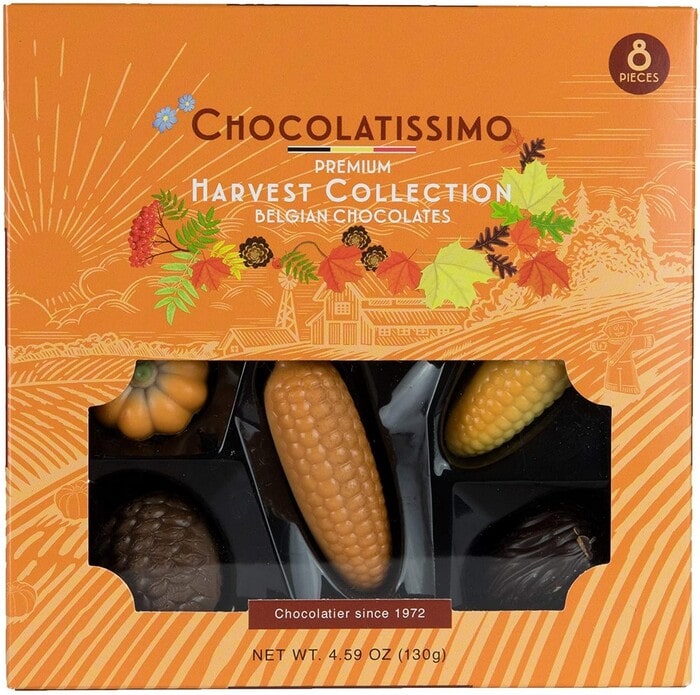 Available on Amazon
8. Cornbread Stuffing
We could eat endless meals of just stuffing, so it's dangerous to offer up this exciting variety.
The toothiness of cornbread helps with the stuffing's mushiness, and the apples and cranberries lend a welcome sweetness. We love you, stuffing. We love you so much.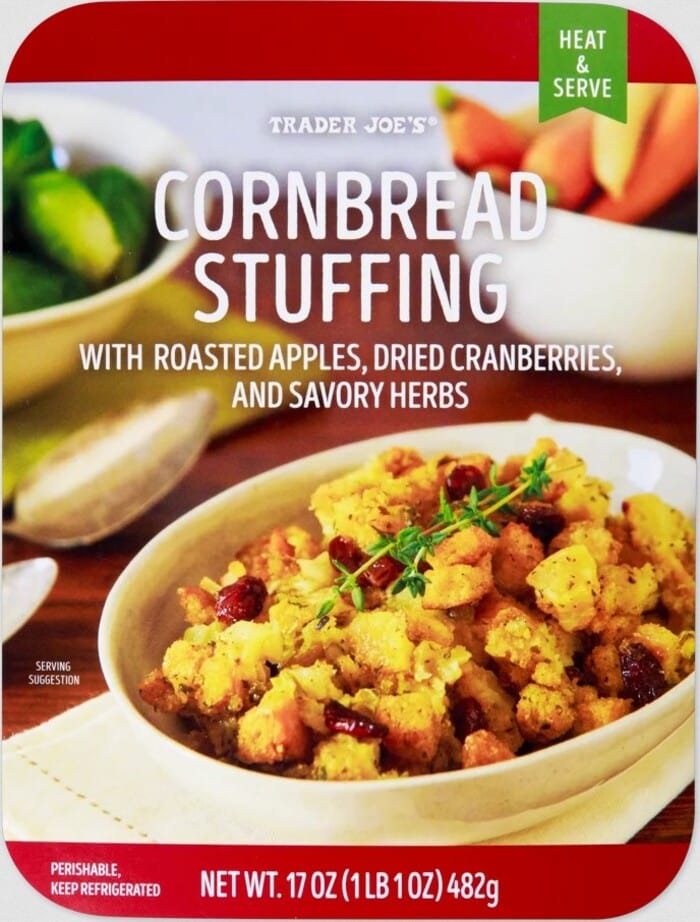 Available at Trader Joe's
9. Thanksgiving Pie Chocolate Truffles
This is a great option for chocolate lovers that still want to celebrate fall flavors. It's also great if you want to pretend you're a giant who can just eat slices of pie in one bite. We can do that with normal slices of pie, but we understand that's our special talent.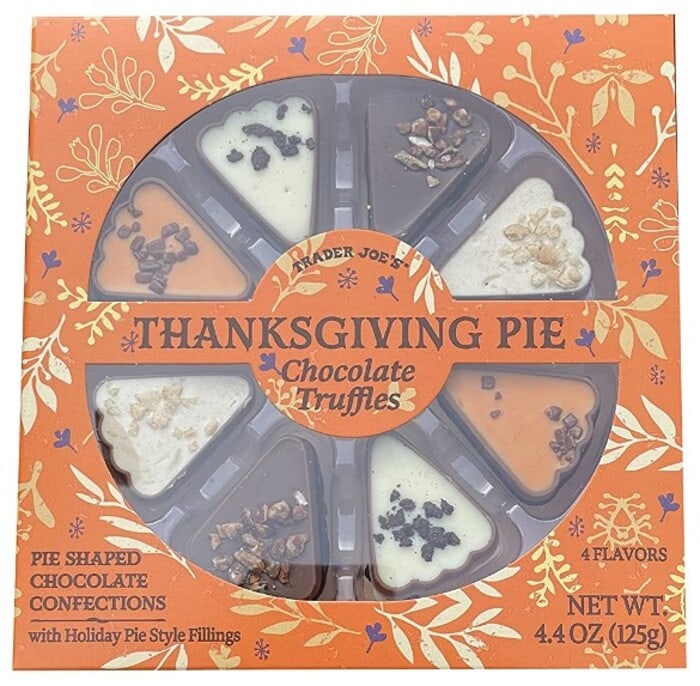 Available on Amazon
10. Gingerbread Turkey Trot Cookie Decorating Kit
For those who have someone gotten involved with a family that does the Turkey Trot, offer to make these gingerbread turkeys while the family is out running. It's the perfect post-workout snack. There's protein in here somewhere, righ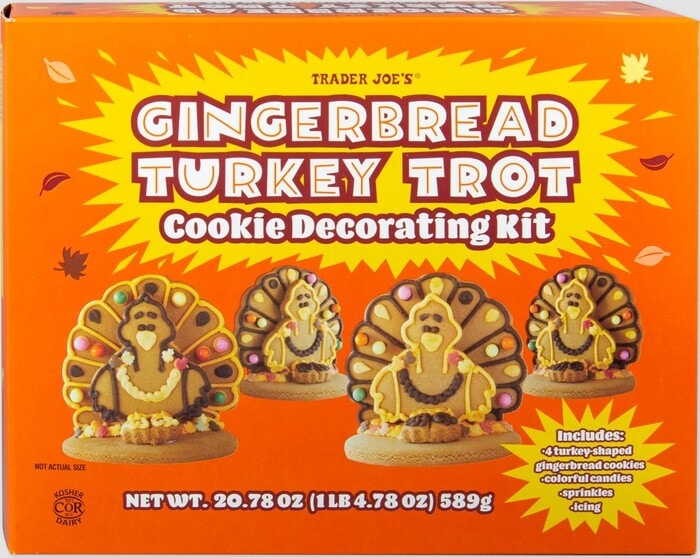 Available on Amazon
11. Gourmet Fried Onion Pieces
When you see these on the shopping list, the GOAT of all casseroles is coming. Get a second container for snacking.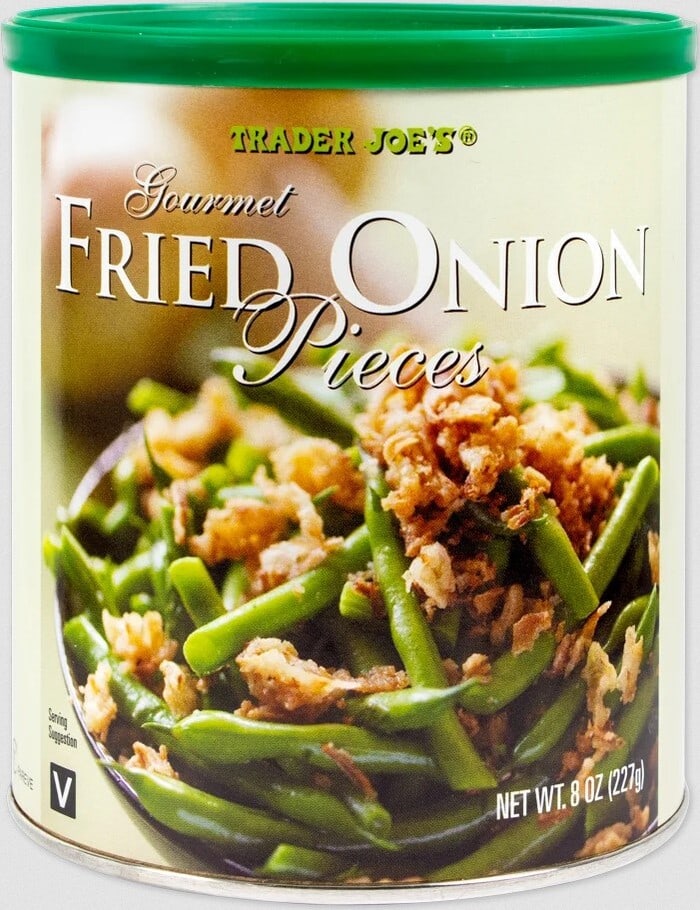 Available on Amazon
12. Turkey and Stuffing En Croute
This concoction of turkey and stuffing wrapped up in puff pastry is a Thanksgiving take on Beef Wellington.
"En croute" is actually French for "feed it to me with a shovel." Our French is also, how do you say, "bad."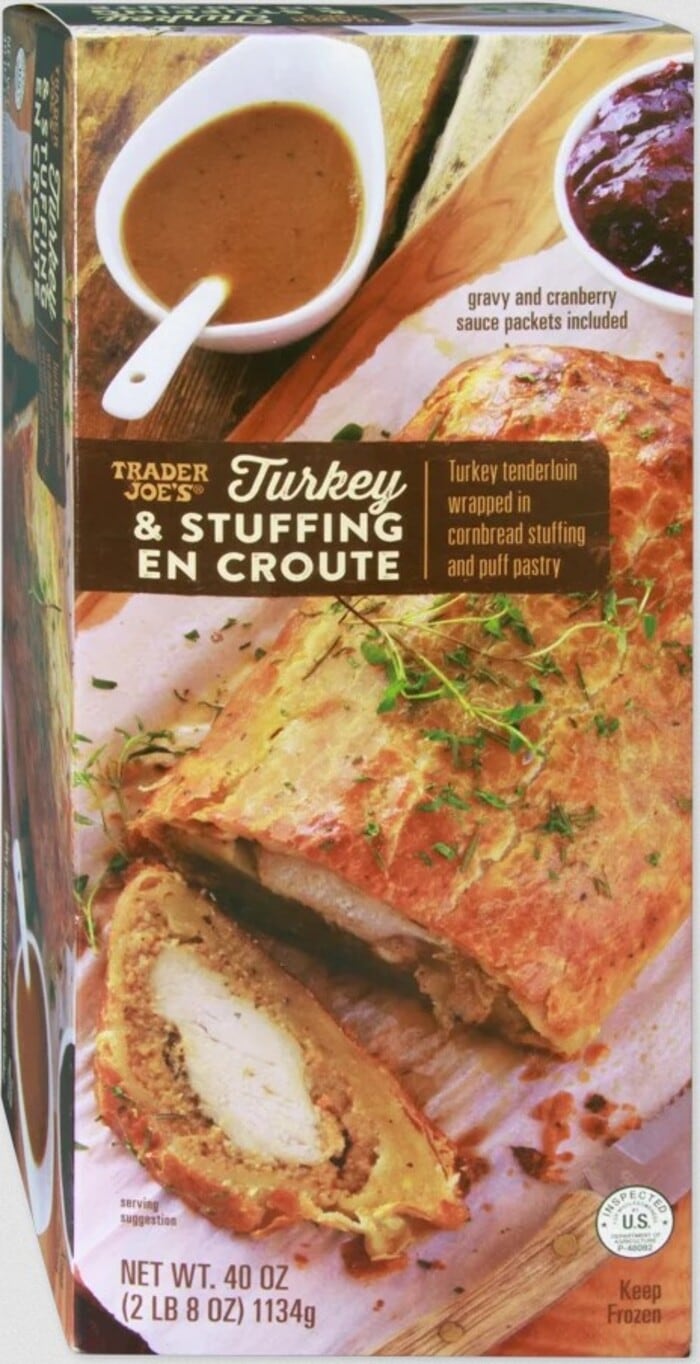 Available at Trader Joe's
13. Green Bean Casserole Bites
A green bean casserole that you can eat while on the move, sneaking around the kitchen at midnight so you don't wake your family and have to share your leftovers? Just watch out for that microwave beep.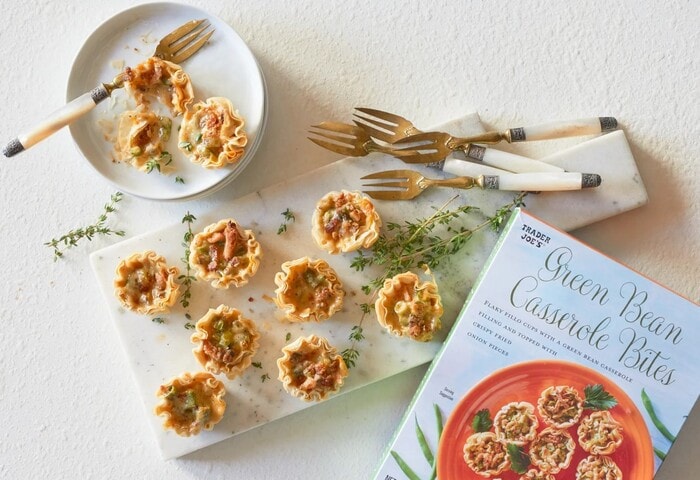 Available at Trader Joe's
14. Pumpkin Cobbler
Pumpkin pie is 99% perfect, but if it's missing anything, it's a buttery crumble on top. What's that? Trader Joe's fixed the problem with this cobbler? Why is the dessert talking to us again?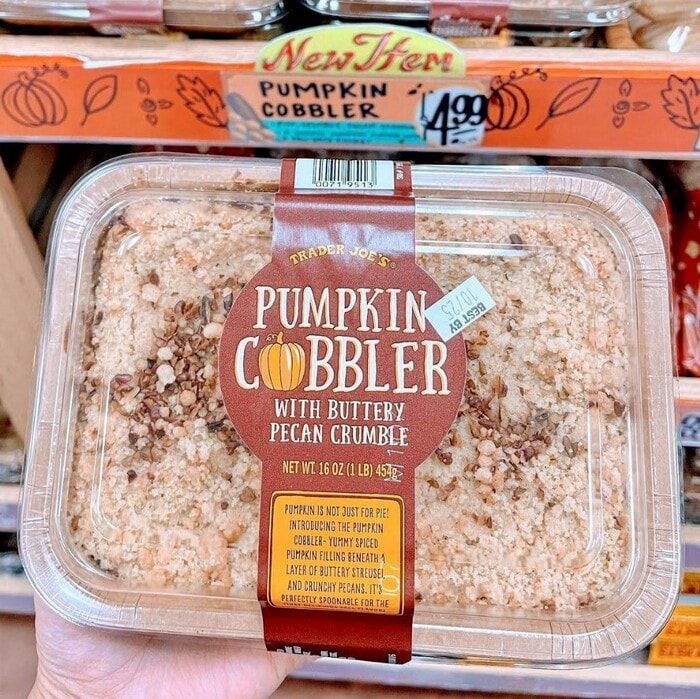 15. Turkey and Stuffing Kettle Chips
Turkey, stuffing, and potatoes: three powerhouses of the Thanksgiving table in one bite like that gum from Willy Wonka that was a full dinner. These chips probably won't turn us into a blueberry, but it'd be worth it if they did.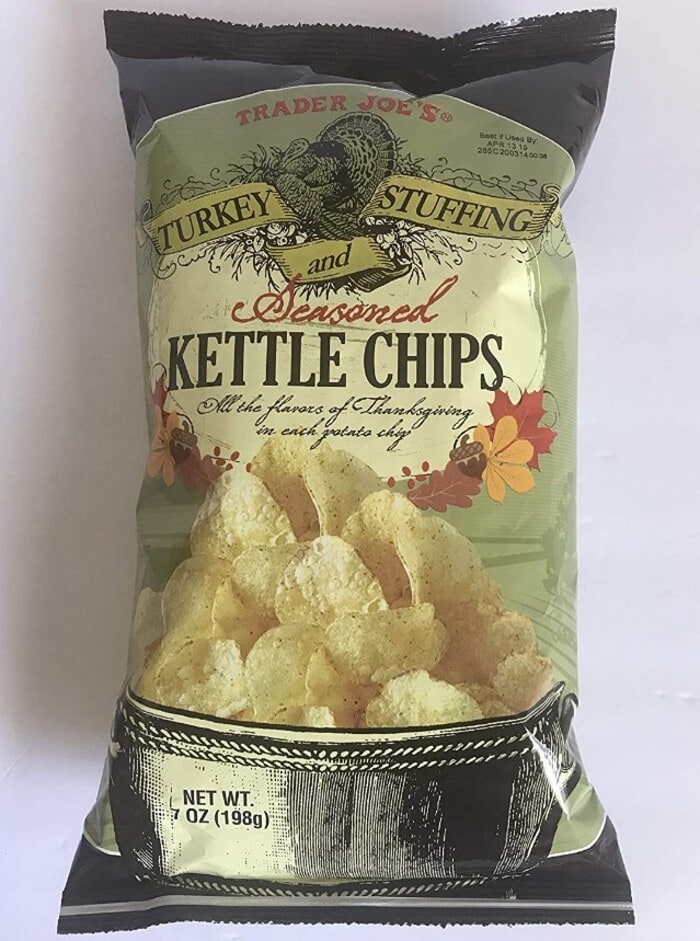 Available on Amazon
16. Mashed Sweet Potatoes with Pecans
We love to see sweet potatoes end up on the Thanksgiving table, especially when they're not covered in marshmallows. Sweet potato casserole, are you sweet or savory? Pick a lane.
17. Brussels Sprout and Bacon Ravioli
Don't want to eat your vegetables? Try adding bacon, cheese, caramelized onions, and pasta to the mix.
18. Gobbler Quesadilla
This quesadilla has all the flavors of a big leftover Thanksgiving sandwich in a more aerodynamic shape. All the better to streamline hand to mouth travel, and you don't have to unhinge your jaw to take a bite!
19. Roasted Cauliflower and Orzo
We know that cauliflower has been shouldering a great burden these past few years. And, it pulls through yet again as the base of this somewhat non-traditional Thanksgiving side.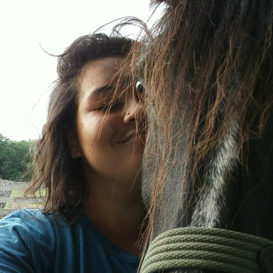 Latest posts by Hebba Gouda
(see all)