Whether it's fresh out of the oven or cold from the fridge the morning after, pizza is always a good choice. Luckily, there are a number of Trader Joe's pizzas to choose from, so you can always be making good decisions! No thanks to that last tequila shot.
This cheesy, tomatoey, culinary lynchpin is an instrumental part of our lives. It has been the star of countless birthday parties. It has resolved conflicts and shaped relationships – we're pretty sure Romeo and Juliet's families were pretty chummy until they disagreed on their "pineapple on pizza" stance.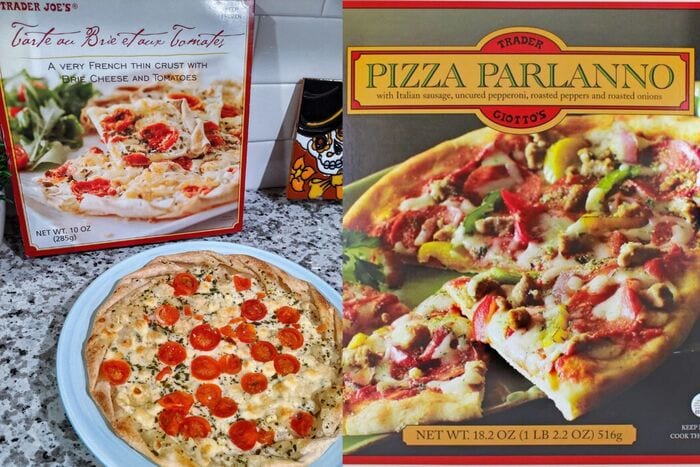 Whether traditional or modernized, Trader Joe's frozen pizza options have plenty of pizza-zz and ought to earn them a nobel piz(za) prize. So with that, we rounded up the best options from your favorite trader, any way you slice it.
Or not. You could always just shotgun it, Liz Lemon style.
13 Frozen TJ's Pizzas To Try Next
1. Pizza Parlanno
We did a Google search on "Parlanno," and it actually took a while to find a result that was not this Trader Joe's pizza. Sure, maybe it's because our computers know we're usually searching for TJ's products, but still!
This pizza topped with mozzarella, Parmesan, Romano, tomato sauce, roasted peppers and onions, sausage crumbles, and spicy pepperoni slices is really talking to us. Actually, that's funnier if you knew that "parnanno" means "they'll talk." Guess we should have started with that.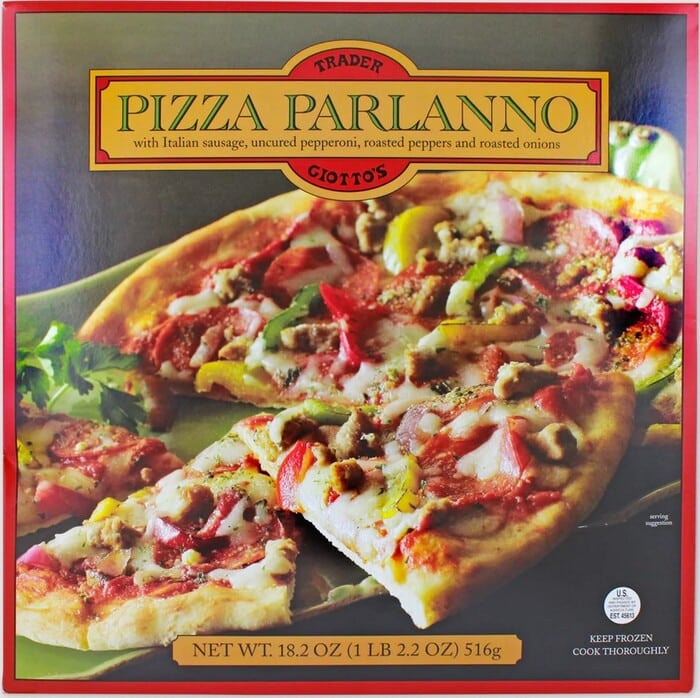 2. Gluten Free Cheese Pizza with Cauliflower Crust
No longer do gluten-free friends have to miss out on the festivities! The cauliflower crust is a sensible, trendy option that Trader Joe's has taken full advantage of.
Add any toppings you want or keep the cheese pie sweet and simple. Whatever cauls to you, ya know?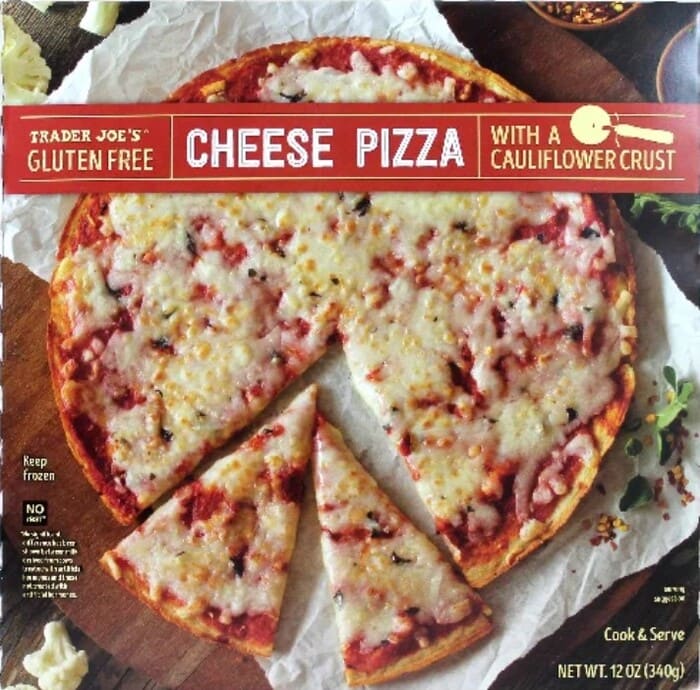 3. Organic Cheese and Tomato Pizza
This one isn't piled high with super exciting toppings, but who's going to fight a blend of mozzarella, provolone, and emmentaler cheeses? Besides vegans. Or the lactose intolerant. And people that just don't really like cheese. Or someone that had a bad day and is in the mood to pick a fight.
But you get the point. This is a solid, simple option for a frozen pizza. If you're sharing, the rectangle shape and its corners means more crust for those that like it, and jackpot center pieces for those that don't. If you're not sharing, no judgment there either.
4. Gluten Free Uncured Pepperoni Pizza
The masterminds behind Trader Joe's really know how to put a modern spin on something classic. Just look at this pepperoni pizza.
It's topped with tomato sauce, pepperoni (obviously), and a few standard veggies. But oh…what's that? It's gluten-free? Watch out for the stampede of Santa Monica socialites. The health-fluencers are coming. And we're ready to fight them for a slice.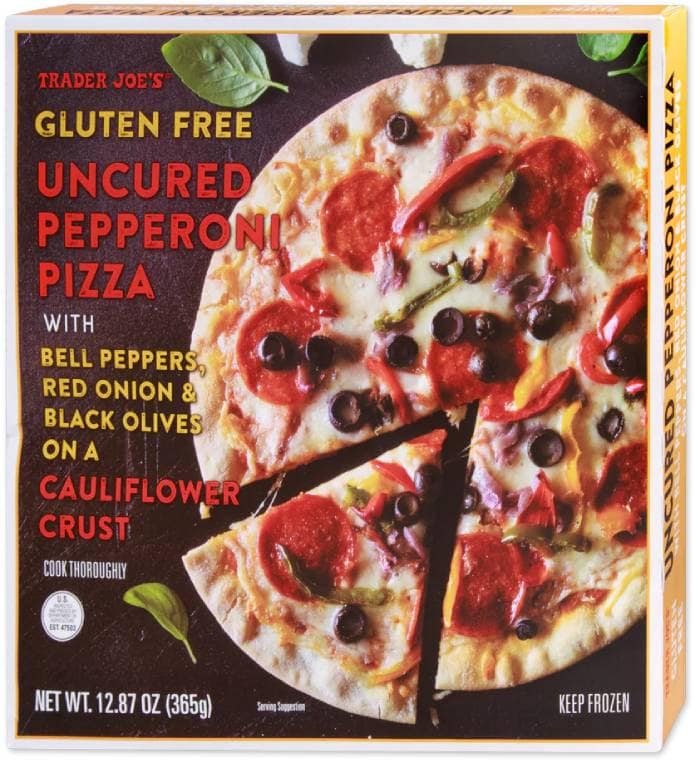 5. Tarte au Brie et aux Tomates
This fancy take on Trader Joe's frozen pizza is giving all the vibes of hopping on a plane to France. In spirit, at least. Well, not on Spirit. You can keep your highlighter-colored airplanes!
The thin crust creation features the simple ingredients of brie cheese and tomatoes. If we're going along with this whole flight analogy, we have no problem declaring our fancy French cheeses. Declaring them "delicious," that is.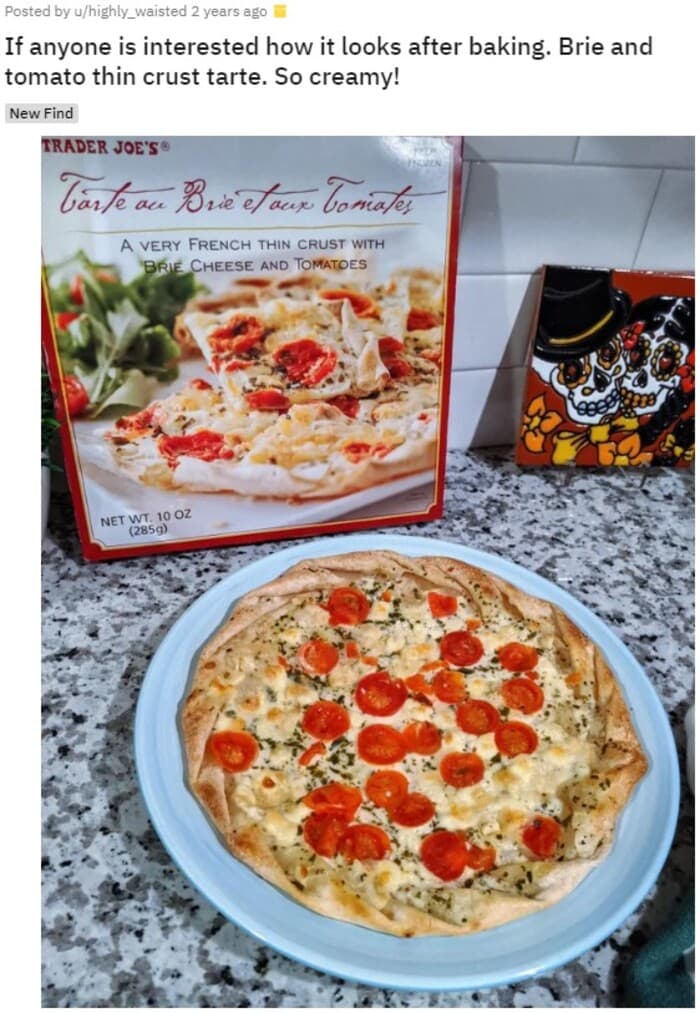 6. Burrata, Prosciutto, and Arugula Flatbread
It's important to know that this flatbread has arugula on it, so it's basically a salad. Meaning, you can absolutely ignore that the "serving size" is "3 per container."
It's also a great option for those that don't like, or want a departure, from a red sauce pizza. We love you, but we just want to see other people sometimes!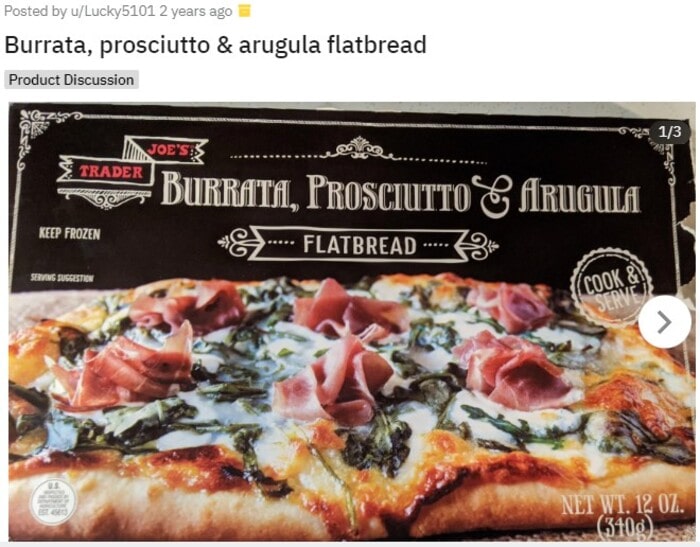 7. BBQ Chicken Pizza
We don't know what maniac decided to take a BBQ chicken dinner and make it into a pizza, but we owe them a thank you.
Maybe this would have an authentic pizzaiola rolling over in their grave. But the combination of BBQ sauce, chicken, cheese, and red onion has us rolling out of bed at 11:30PM when we're craving a midnight snack.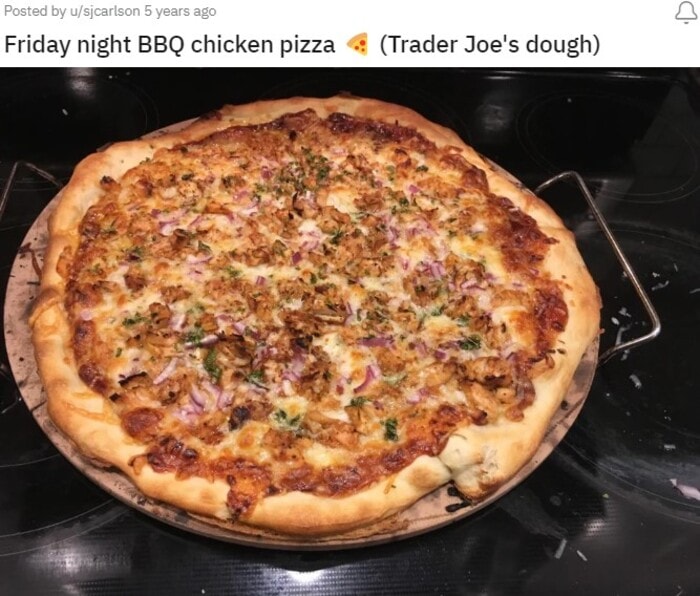 8. Vegan Meatless Meat Eater's Pizza
Vegetables are great, but sometimes even the truest veggie lovers might find themselves with a craving for meat. Enter: this pizza.
It gives vegans (or anyone trying to eat a little bit more plant-based) the option to indulge in the well-loved pizza toppings without actually eating any meat or dairy. This Trader Joe's pizza features meatless pepperoni, Italian sausage, chorizo crumbles, and vegan cheese. And of course, bragging rights for eating vegan.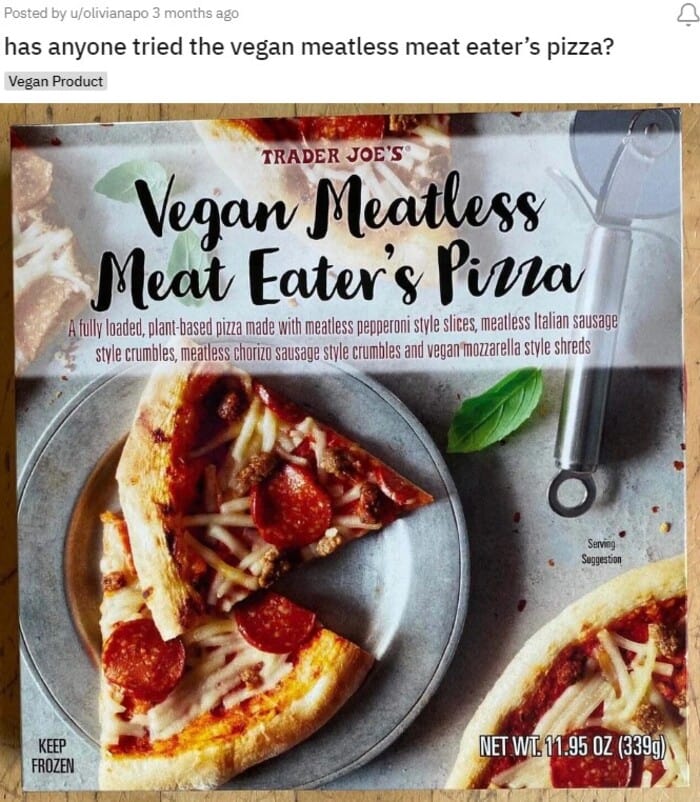 9. Tarte D'Alsace
Leave it to Trader Joe's to keep us well fed while teaching us a little bit about culture! This one is for Alsace, a French region near the Rhine River.
This flatbread is topped with ham, caramelized onions, gruyere cheese, and crème fraiche. Who needs Duolingo when you can learn French with food?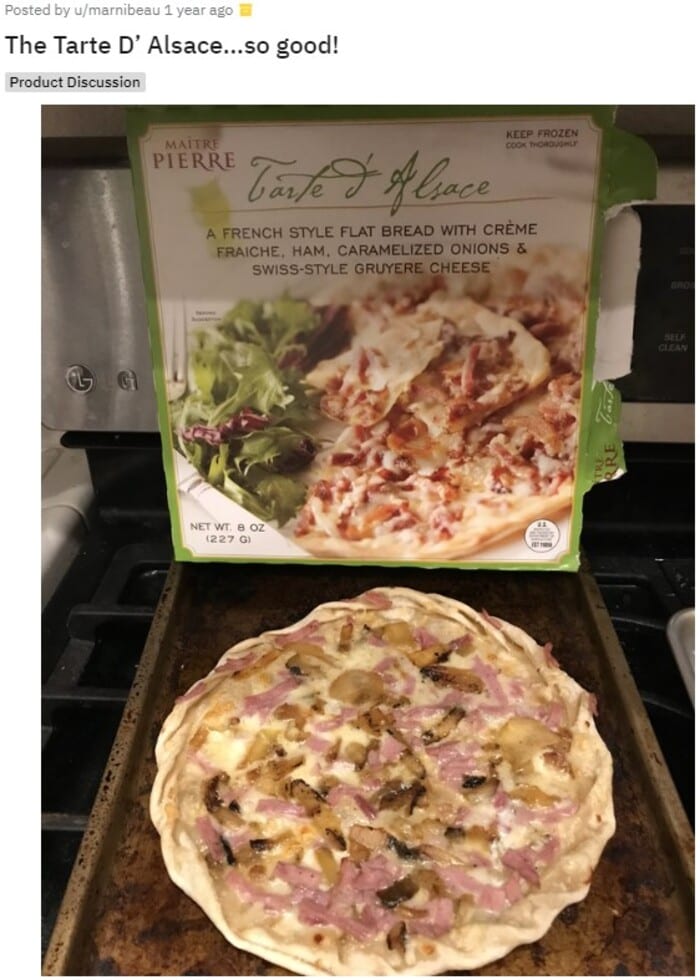 10. Tarte aux Champignons
Speaking of French…this tarte is the perfect snack to refuel after your own marathon karaoke session singing "we are the Champignons." That's pretty convenient, considering it's an inevitability after seeing this box, whether it's in your own home or the frozen aisle of Trader Joe's.
It doesn't have any sauce on it, but surprisingly, we don't miss it. It just leaves more room for the cheese. Pass the Lactaid?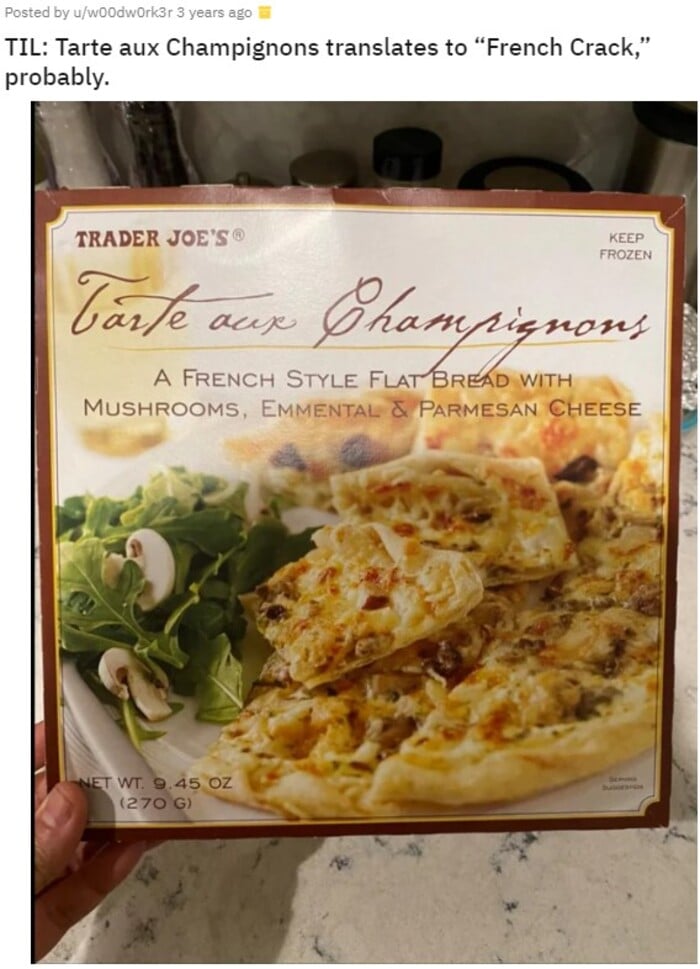 11. Roasted Garlic and Pesto Pizza with Deep Fried Crust
Red pizza is good. White pizza is good. Pesto pizza? That's next level.
And we know there are a lot of jokes poking fun at garlic breath, but we would rather eat roasted garlic all day every day and sacrifice any human company if that's what it came to. Pair those flavors with a deep fried crust? Fuggedaboutit.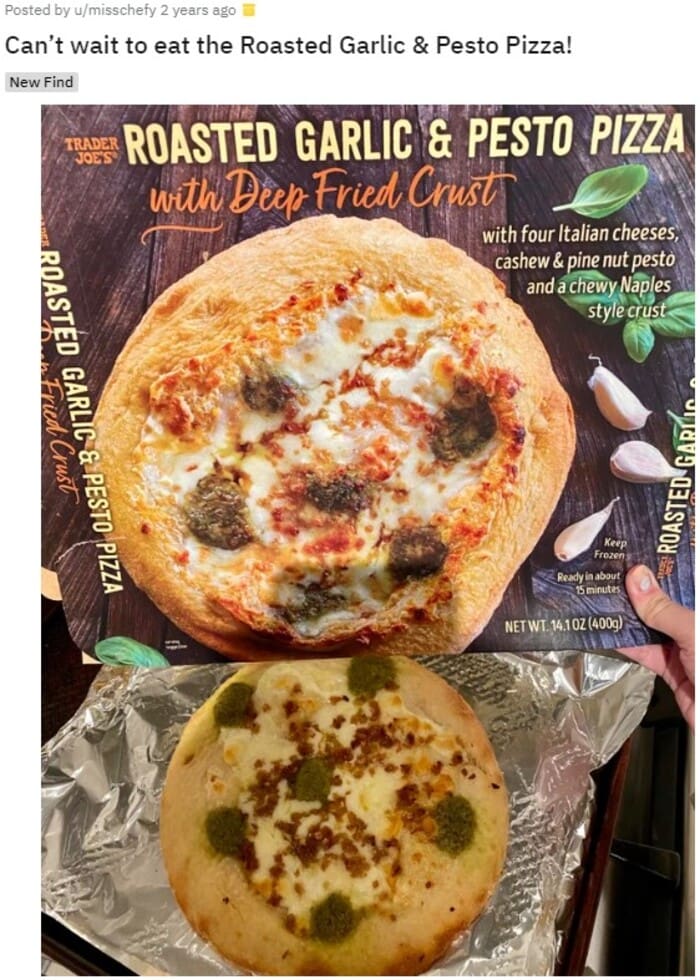 12. Mushroom and Black Truffle Flatbread
Have you ever thought, "sure, mushrooms are great, but what if there was more umami? What if it was muskier? Can there really ever be too much mushroom?" Then this is the flatbread for you.
Maybe you won't find definitive answers to your questions, but your research will be darn delicious. Better get a couple of boxes, just to be safe.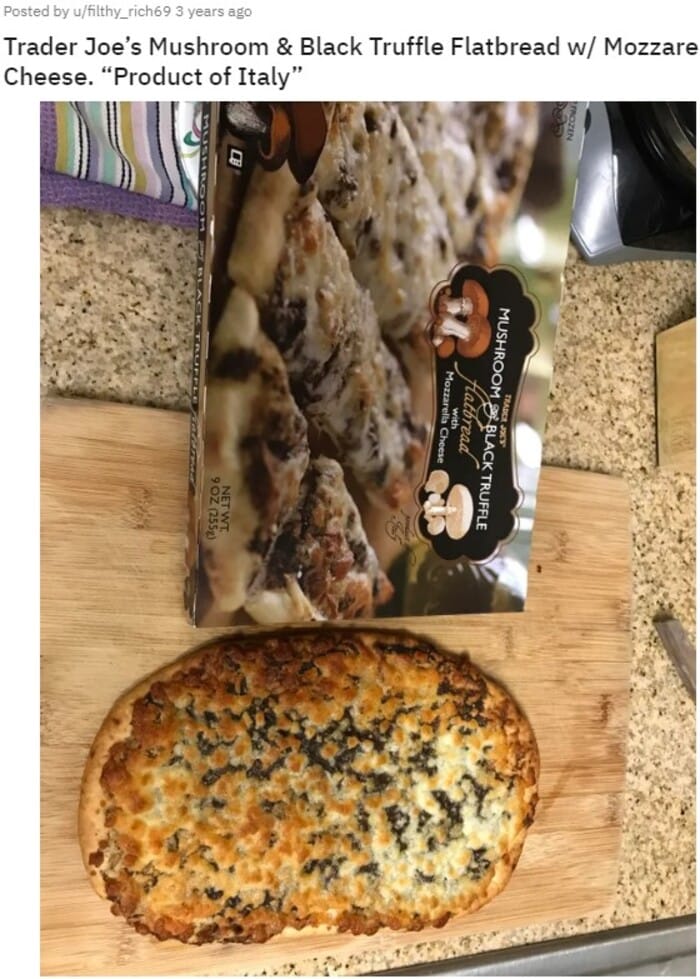 13. Organic Roasted Vegetable Pizza
We love pizza (if you couldn't already tell), but sometimes we're craving a bit more flavor and nutrition than what bread, sauce, and cheese can provide. This version includes a plethora of marinated vegetables that'll have you wondering why you ever rejected veggies as a kid.
Grilled eggplant, zucchini, peppers, and onions make this a hearty, tasty option for produce lovers everywhere.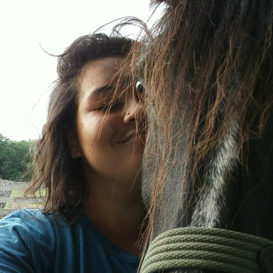 Latest posts by Hebba Gouda
(see all)