It should come as no surprise that we love Trader Joe's candy, considering that the Fearless Flyer is our go-to erotica. You say "Fabio," we say "Scandinavian Swimmers." Po-tay-to, po-tah-to. Or in this case, car-mel, care-a-mel.
In the years we've spent daydreaming about sweets, we've spent a lot of time thinking about what defines "candy." Is it simply a product where sugar is the star? What, then, does that make The Powerpuff Girls?
Is chocolate its own entity? What about gum? What about those sadists that call raisins "nature's candy?" Shriveled up grapes aside, Trader Joe's has an impressive assortment of sweet confections. Here are the best candy products to stock up on the next time you go to TJs.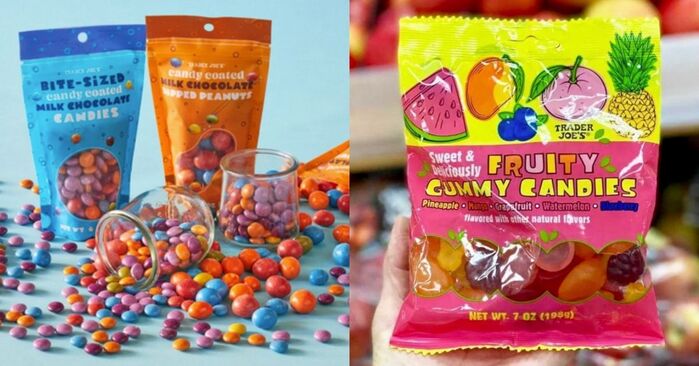 Our Favorite Trader Joe's Candies
1. Cinna Dragons
While Khaleesi would argue that these Cinna Dragons aren't anatomically accurate, we're willing to bet she'd let that slide on account of how tasty they are. And how few people they've mauled.
These Cinna Dragons take Hot Tamales and slam dunk them into the garbage. They are the right amount of spicy, but won't have you breathing fire. If you're disappointed by that, you should re-evaluate what it is you want to get out of candy.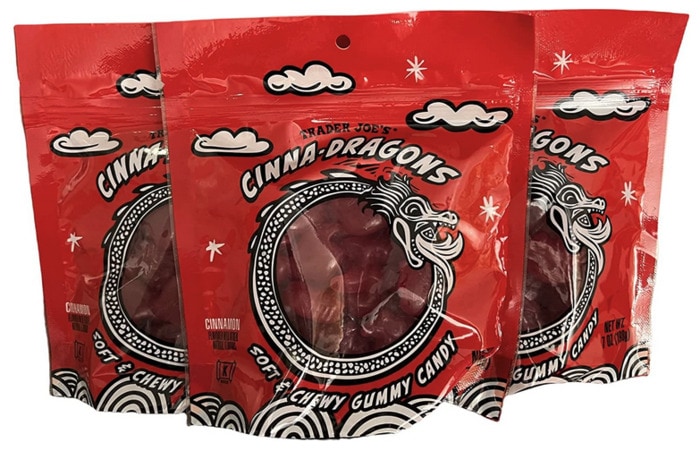 Available on Amazon.
2. Soft Strawberry Licorice Twists
Twizzlers. TJ's Soft Strawberry Licorice Twists are here to dethrone you. Although the flavor profiles of the two candies are similar, the TJ's version come in nugget form. Which just goes to show Twizzlers that bigger isn't always better. Except in the case of mattresses and teddy bears.
If Twizzlers are those gangly, inflatable men in front of car dealerships, then these are, well…they're still strawberry licorice twists. And if we're going to be eating one of those things, we'll take the latter.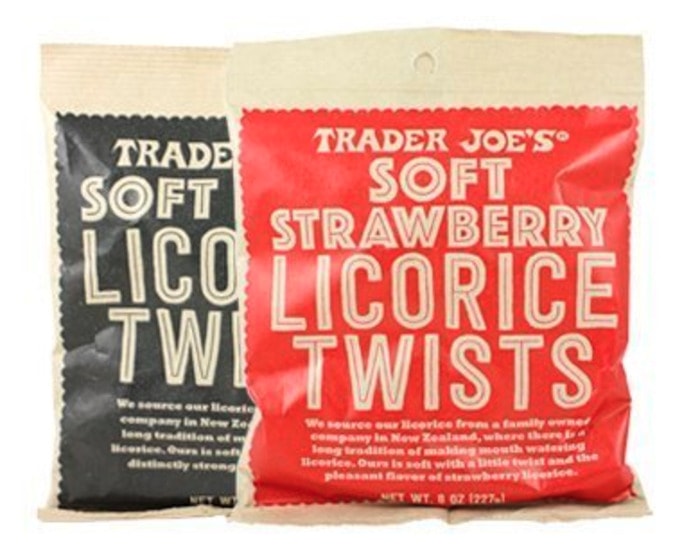 Available on Amazon.
3. Dark Chocolate Covered Caramels
We like these Dark Chocolate Covered Caramels. Let's be clear on that. The caramel is slightly on the hard side, but anything worth having is going to be a little bit of work. (We're not suggesting you make you own, though you could also do that with this recipe.)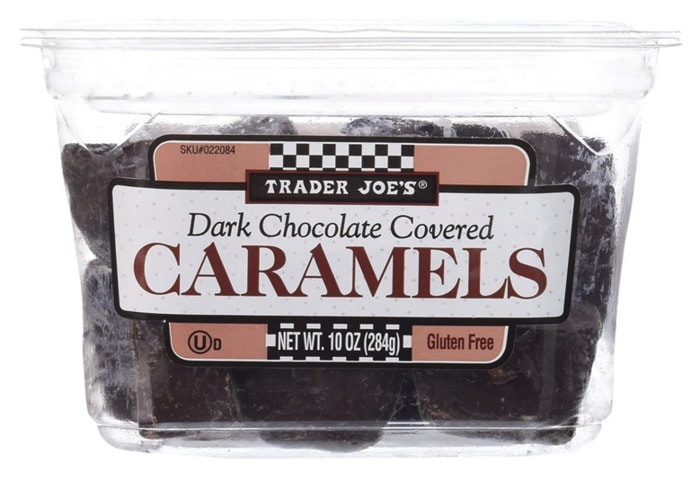 Available on Amazon.
4. Fruit Jellies
Trader Joe's Fruit Jellies are advertised as a "Kettle cooked candies with real fruit extract." We learn something every time we go to TJ's, and in this case, it's that kettle cooked isn't just a method for potato chips and popcorn. Sign us up for Jeopardy already!
These gummies are pleasantly soft and squishy, and come in orange, mandarin, raspberry, blueberry, lemon, and grape flavors. They all taste good, but the inclusion of both orange and mandarin feels like a backhanded way of implying that we don't have a sophisticated palate. "Oh, you can't tell the difference between orange and mandarin? Hm. Interesting."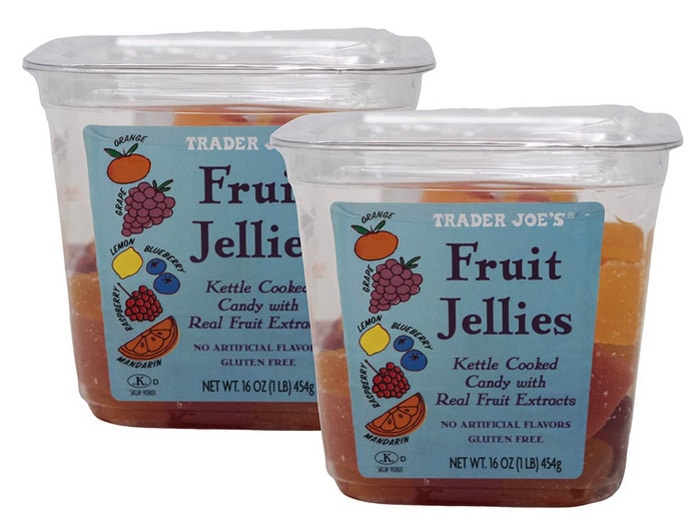 Available on Amazon.
5. Bite-Sized Milk Chocolate Candy Coated Candies
"Bite-sized milk chocolate candy coated candies" may not roll off the tongue, but they are easy to shove into your mouth by the fistful. These colorful little gems are like the bright, woke version of the M&Ms. The natural colors for the coating come from fruits, vegetables, turmeric, and spirulina.
If you're looking for an addition to your trail mix that you'll immediately fish for in the bag, let it be these!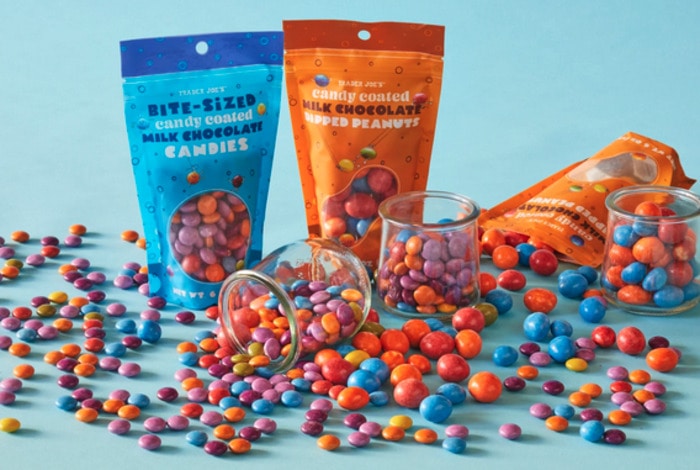 Available at Trader Joe's.
6. Super Sour Scandinavian Swimmers
If you're trying to go into full Olivia Rodrigo mode, reach for these Super Sour Scandinavian Swimmers. They won't make you sing like an angel, but they are downright delicious.
And unlike some sour candies, these tread water comfortably in the "tart" zone. If you'd rather something that will really make you pucker, go suck on a lemon or the Sour Jelly Beans in item #13, and keep your paws off of our swimmers.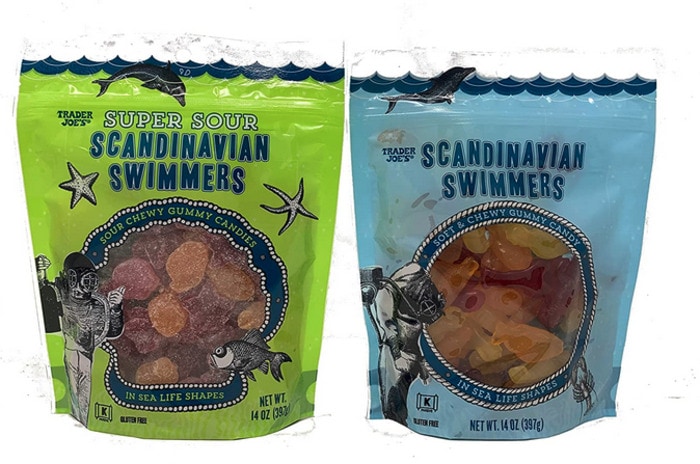 Available on Amazon.
7. Dark Chocolate Watermelon Sticks
Have you ever been at a summer cookout, munching on a slice of watermelon and thought, "Wow, it'd be a great idea to cover this in chocolate?" If so, you may have unknowingly invented these Dark Chocolate Watermelon Sticks.
You need to like artificial watermelon taste to enjoy this treat, as real watermelon is a subtle flavor that would have gotten covered up by the dark chocolate. What we're trying to say is these basically taste like chocolate-covered watermelon Jolly Ranchers.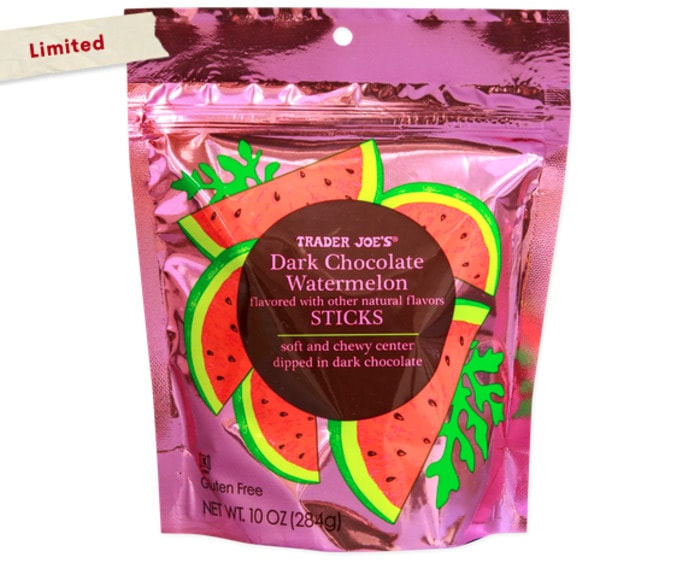 Available at Trader Joe's.
8. Dark Chocolate Honey Mints
Imagine your York peppermint patties put on a tux and took you out to a nice dinner. That's what these mints are like.
Classy dark chocolate, the subtle flavor of honey, and refreshing peppermint are the only things that make up these disks of joy. And they're sufficiently minty, so you definitely don't have to brush your teeth after. What a time-saver.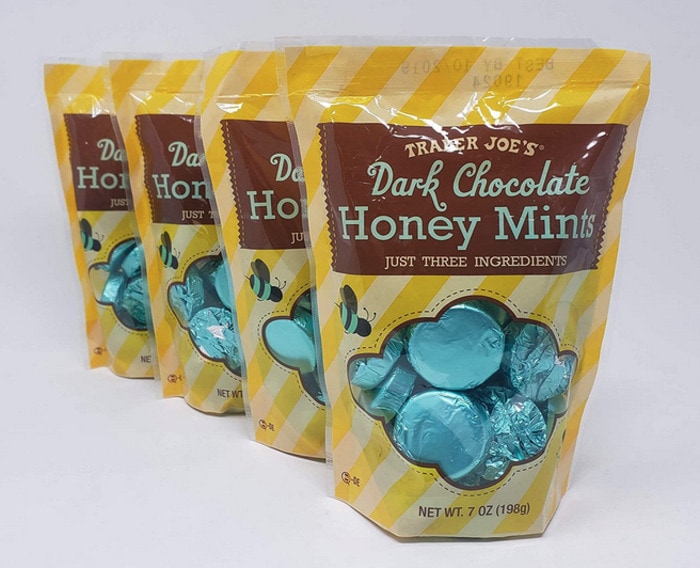 Available on Amazon.
9. Just the Lobsters
We postulate that TJ's has come up with Just the Lobsters because enough friendships have been ruined and families ripped apart by those who pick out and fight over the berry crustaceans in the Scandinavian Swimmers.
Soft, chewy, and packed full of that red gummy flavor you know and love and can't totally describe, this snack pretty much replaces the need for relationship counseling. Thanks for nothing, Freud.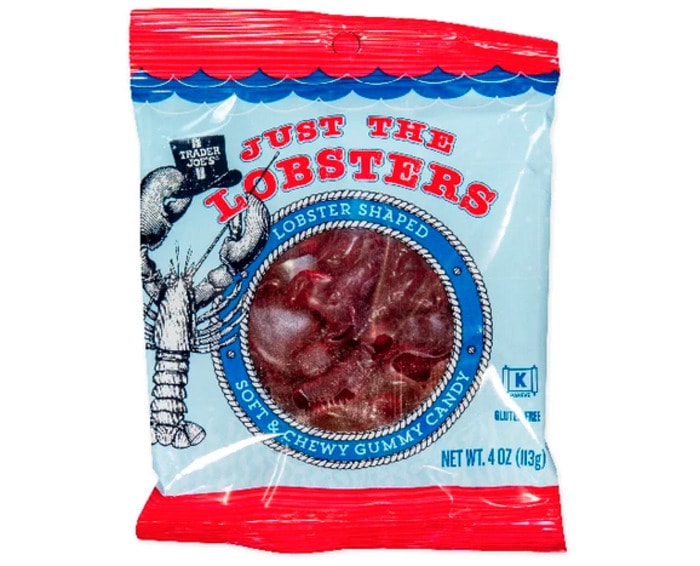 Available at Trader Joe's.
10. Crispy Peanut Butter-Filled Milk Chocolate Peanuts
We can practically hear the brainstorm session at TJ's surrounding these Crispy Peanut Butter Filled Milk Chocolate Peanuts:
"What if we took a peanut and stripped it of its protective shell? Then we replaced that shell with an imposter? Then we took the vulnerable contents and not only blended them up into a paste, but injected it back into the imposter shell? Genius!"
Some mad scientists are not successful. Victor Frankenstein, for example, but he is not real and neither is our story. The important part is that these give you the unparalleled pairing of chocolate and peanut butter in a fun shape.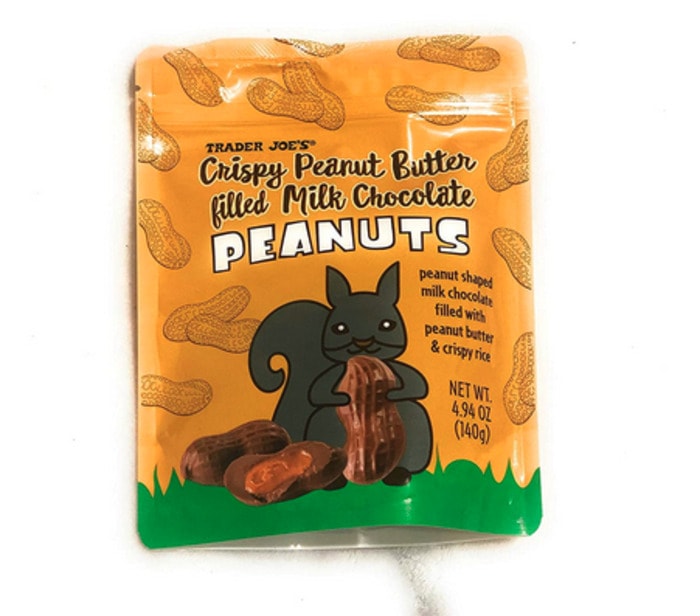 Available on Amazon.
11. Dark Chocolate Peanut Butter Cups
At the mere mention of Trader Joe's Dark Chocolate Peanut Butter Cups, Reese's products quiver in fear. So do people with severe peanut allergies.
The peanut butter is creamy and the chocolate shell is thick enough to lend a bit of structural integrity. We could use a bit of that, since these make us weak in the knees.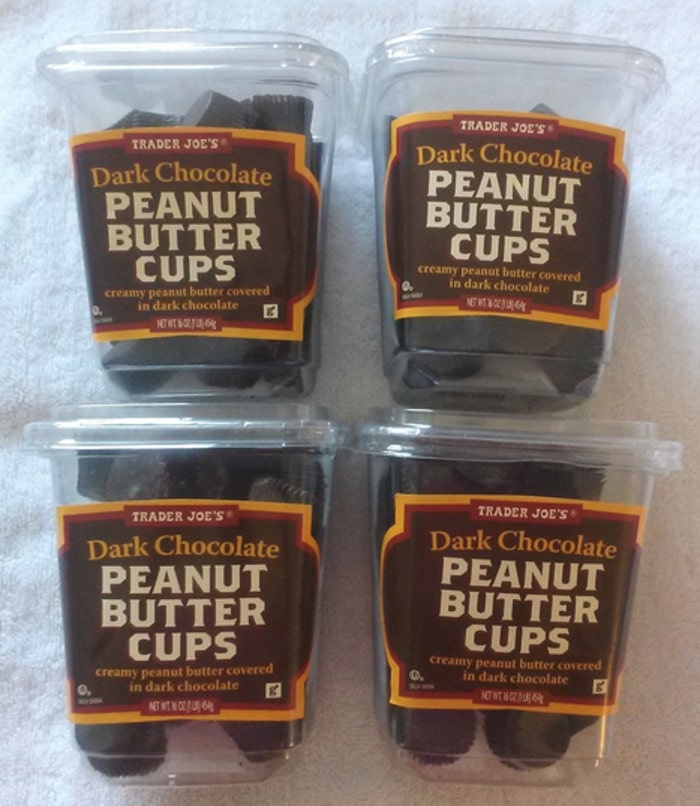 Available on Amazon.
12. Fruity Gummy Candies
The five tropical flavors in these Fruity Gummy Candies are perfect for those who want to ramp up their typical fruit snack assortment from the usual, "probably some kind of berry, idk."
The selection is a sophisticated departure from the familiar flavors. Orange? No, you're a grown-up now. Have a grapefruit. Pineapple? Why not? Don't be sad about eating Spongebob's house.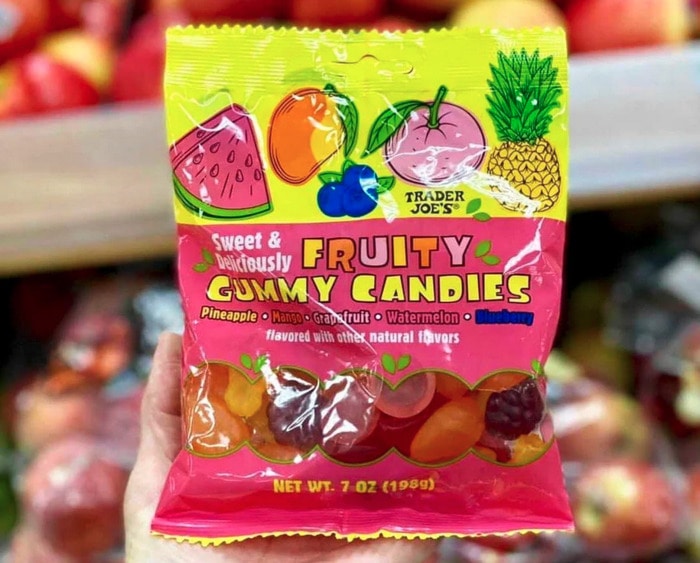 13. Sour Jelly Beans
If you want sour, these Sour Jelly Beans will give you sour. They'll take you back to memories of your childhood when you ate Warheads by the dozen because you thought you were hardcore.
These beans are so sour that the flavors are pretty indiscernible. To add to the confusion, they also contain the distinctly not-sour flavor of coconut. What are you trying to pull here, TJ's?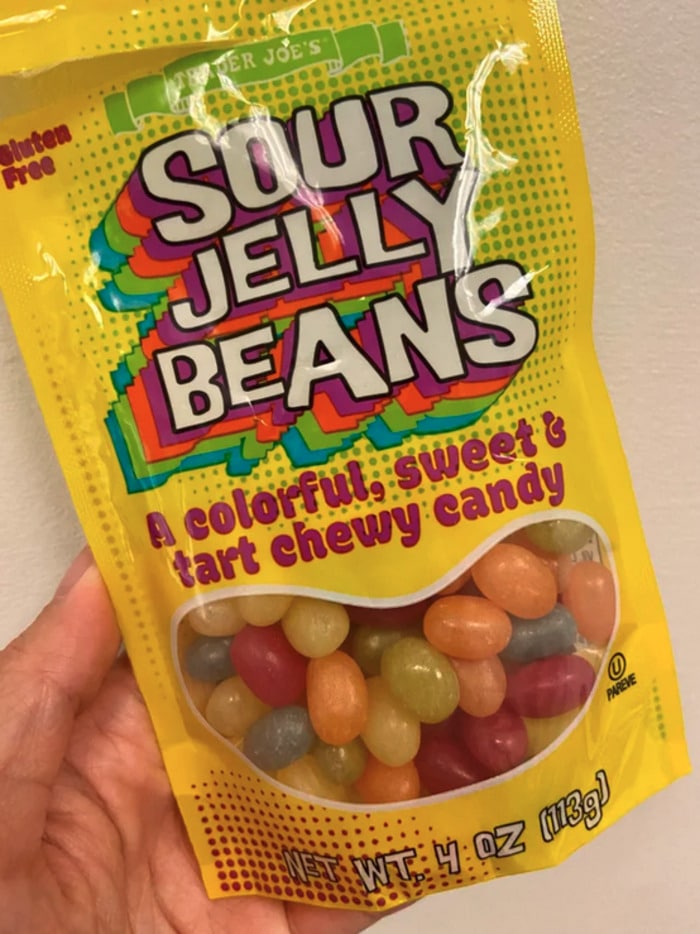 14. Organic Beary Tiny Gummies
For those who have been off-put by the famous side-effects of Haribo's sugar free gummy bears, let these Organic Beary Tiny Gummies take you by the hand and lead you gently back into the realm of trust again.
How this makes you feel about biting the heads off is up to you. These bears are so sweet they won't even hold a grudge as they watch you nom on their family members.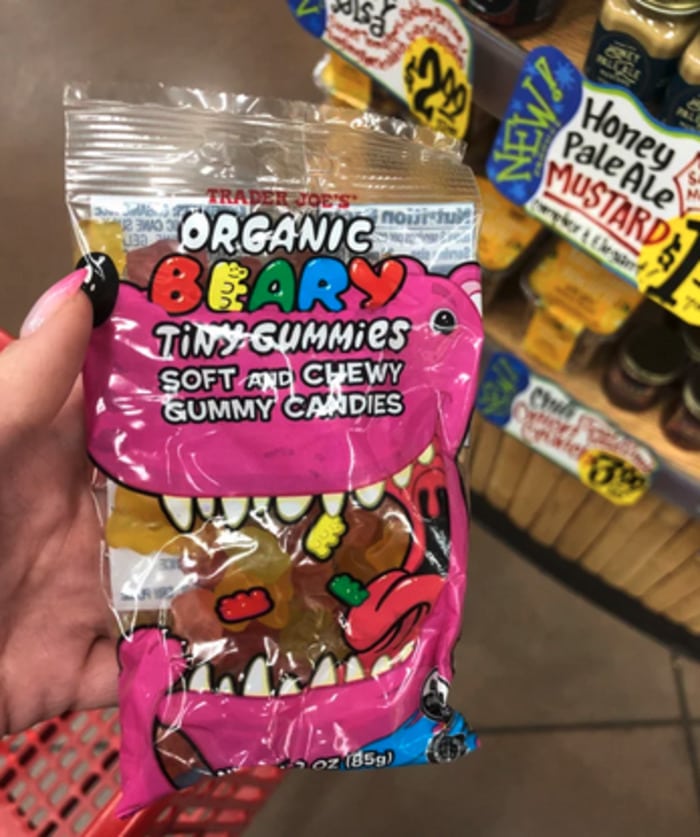 15. Flower Gummies
We would have no problem being vegetarian if all plants tasted like these Flower Gummies. But life is cruel, these do not provide sufficient nutrition, and we have an insatiable thirst for shrimp cocktail in the morning.
These gummies have a bit of yogurt mixed in, adding a creaminess to the fruity flavor. All in all, the adorable flowers allow you to experience all the beauty of a spring bounty without any of the seasonal allergies. Unless you're allergic to the ingredients.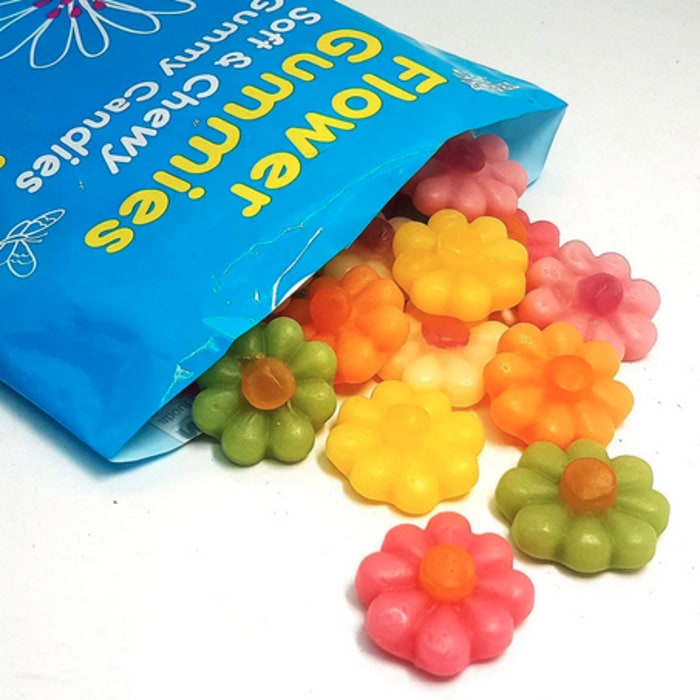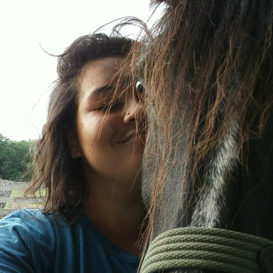 Latest posts by Hebba Gouda
(see all)