Walking into the bright murals and fully stocked shelves at Trader Joe's is like entering snack heaven…or a food-focused Coachella. Salty! Sweet! Covered in chocolate! Trader Joe's snacks provide almost anything and everything your unholy taste buds may crave, from the classics to the borderline bizarre.
Although the snack aisles can be overwhelming – mountains of chips everywhere you look, not to mention salted nuts, and candies – we'll walk you through it with our guide of the 25 all-time best Trader Joe's snacks.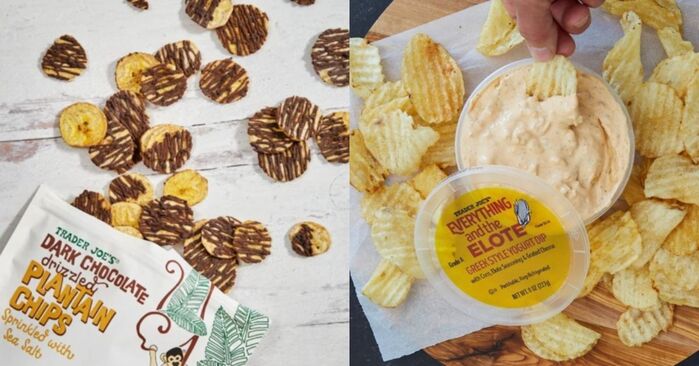 Whether you're in the mood for chocolate-covered frozen bananas or crunchy okra chips, the angels at Trader Joe's know how to create the perfect devilish treats. We recommend that you try every single one (at least once).
The Best Trader Joe's Snacks Ever
1. Mini Dark Chocolate Sunflower Seed Butter Cups
Trying to avoid nuts? Seek out these delicious Certified Nut Free butter cups. A sunflower seed-infused take on a candy bar classic, these cups are small enough to snack away throughout the day. Now the only thing nutty in your life is…everything else.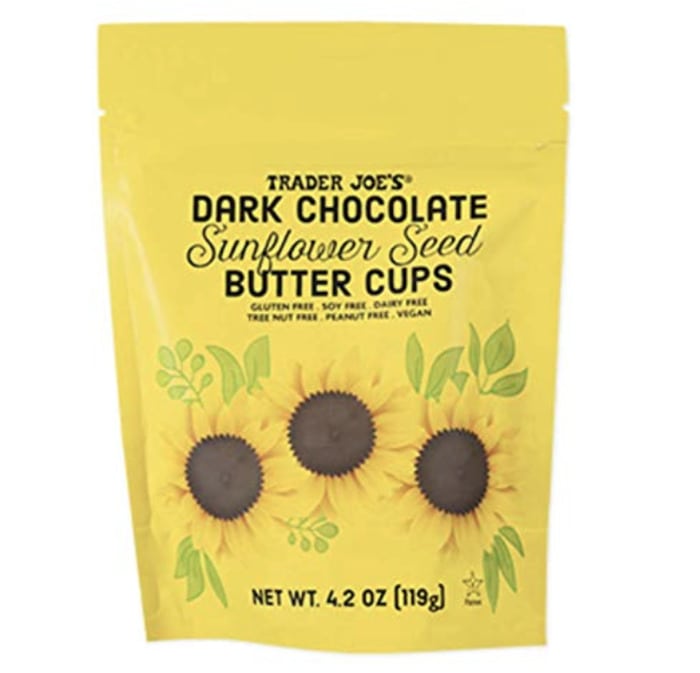 2. Organic Pita Chips With Sea Salt
Made from organic baked pita bread and seasoned lightly with sea salt, the Trader Joe's Organic Pita Chips can help you shovel your favorite hummus directly into your mouth. Sure beats the ice luge!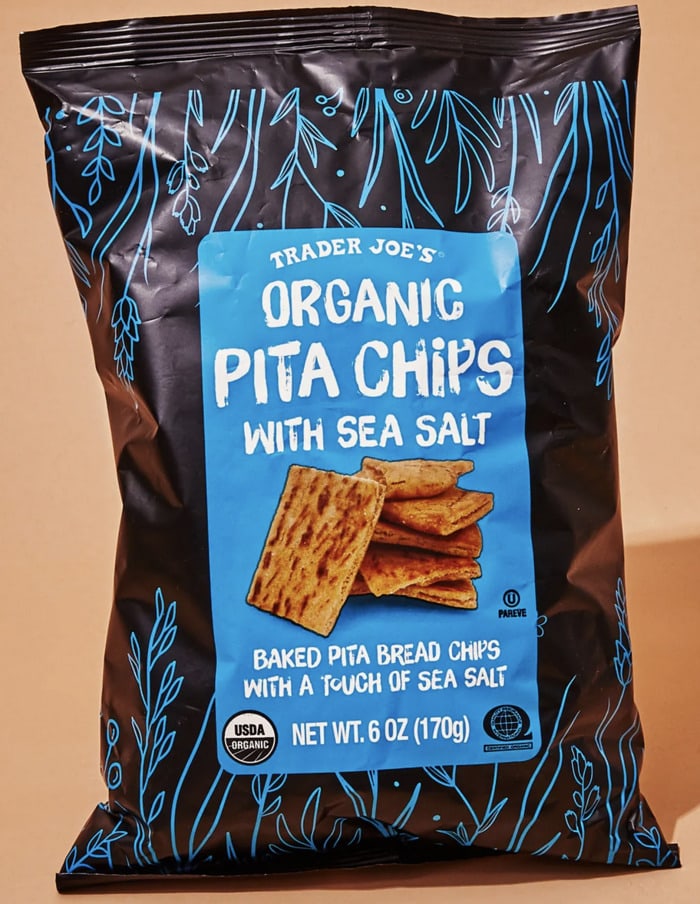 3. Milk Chocolate S'mashing S'mores
We love the Trader Joe's Milk Chocolate S'mashing S'mores snack so much, we featured it in our special report on chocolate-covered snacks. They're one way to spend a virtual night in the woods without hauling all the gear. Or bears.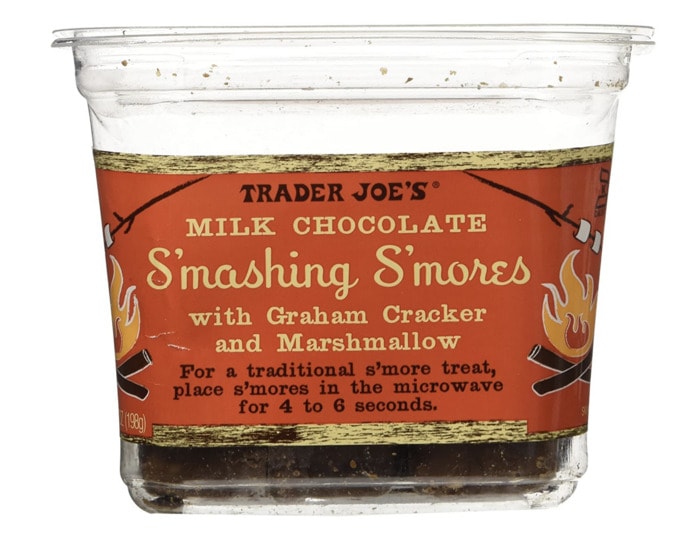 4. Ghost Pepper Potato Chips
As spice appreciators, there's nothing we like more than a chip that burns 90% of your taste buds off, while keeping enough around to enjoy another chip. Crazy spicy, tangy, and not for the faint of heart, getting through a bag of these will put you in the Hot Hall of Fame. We think that's somewhere in Louisiana. We spice appreciators definitely wouldn't make that up. Unlike our moniker.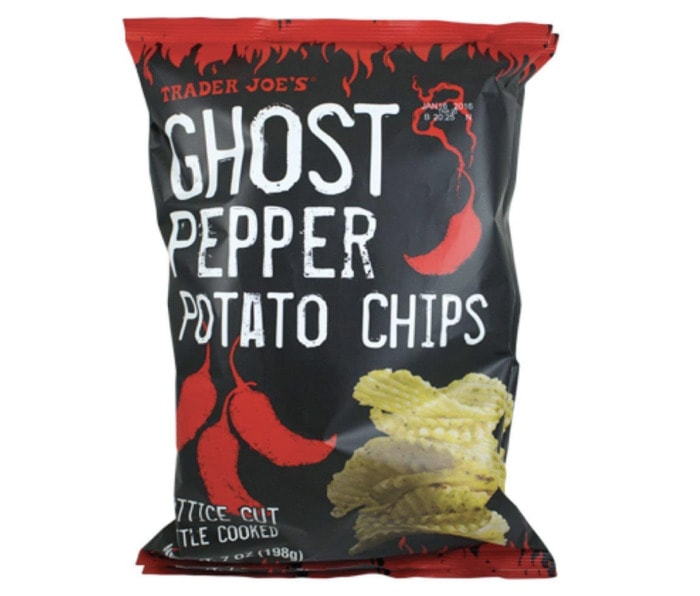 5. Trader Joe's Many Things Snack Mix
It may seem crazy to think that one snack can satisfy all your cravings at once, but this one does it. From sweet to tangy to salty – the Many Things Snack Mix really does it all. It's like the Lady Gaga of snacks… without the ability to walk in platform heels. But, you should hear them sing!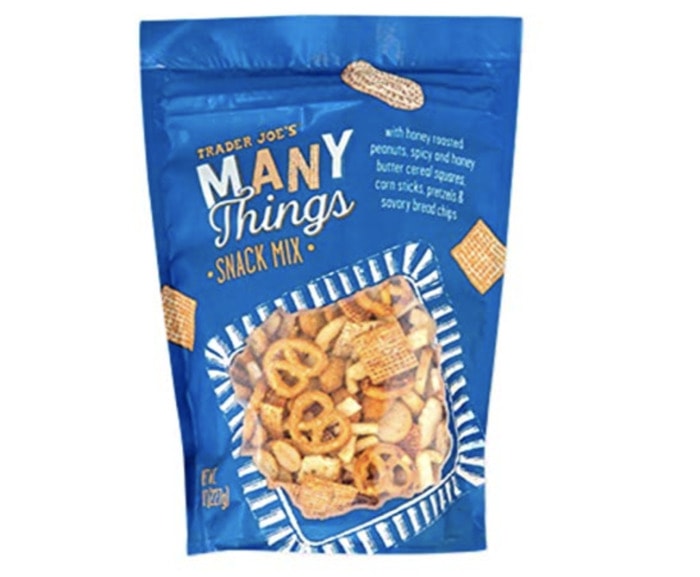 6. Almond Butter Granola
You might be more inclined to some of the sexier treats on the list like dark chocolate or spicy potato chips. But you'd be remiss if you didn't opt for an old-timer, the Almond Butter Granola made from California-grown almonds and covered in honey, oats, coconut flakes, and hints of sea salt.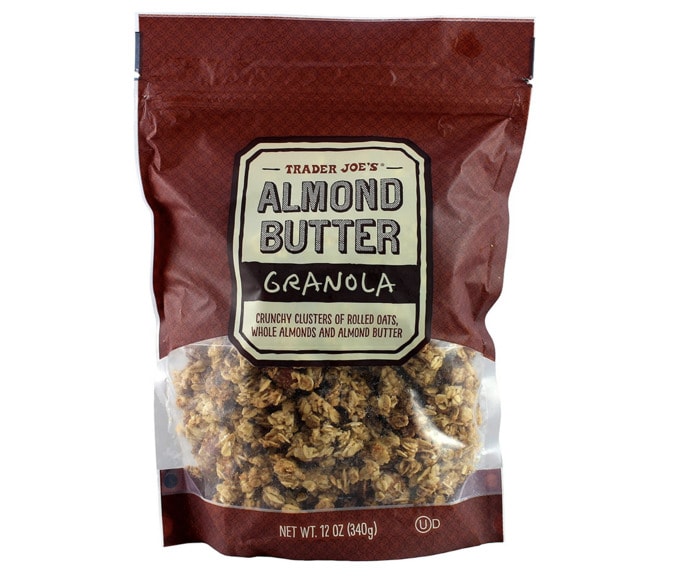 7. Dark Chocolate Crisps
This Frankenstein'd snack combines salty chips and chocolate and we're too busy eating them to think of anything else clever to say.

8. Caramel Popcorn
Caramel popcorn is not just for grandmothers to gift their least favorite grandchildren. It's now become a Trader Joe's favorite. So send you can send us cash now, Granny.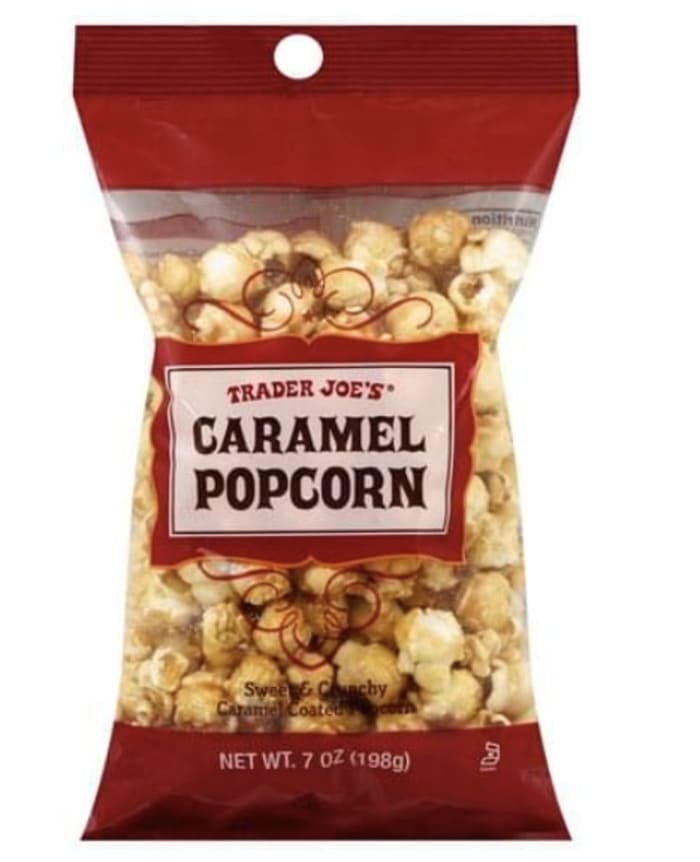 9. Everything and the Elote Greek Style Yogurt Dip
The Trader Joe's Everything and the Elote Greek Style Yogurt Dip is in a league all its own. It's made with garlic, freshly-grilled elote, Parmesan, and chipotle pepper powder, we recommend you get freaky at the Super Bowl party with this Tzatziki. Just remember, there's not crying in football.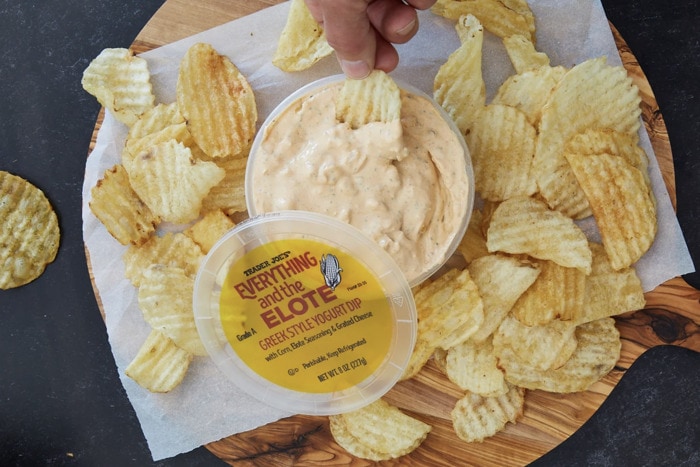 Available at Trader Joe's.
10. Seasoned Kale Chips
Oh Kale no! You didn't think we'd leave out a crowd favorite among health nuts and snack nuts alike. Trader Joe's Kale Chips are seasoned with cashew butter and tahini, so you can eat them and feel superior to all your potato chip-loving friends.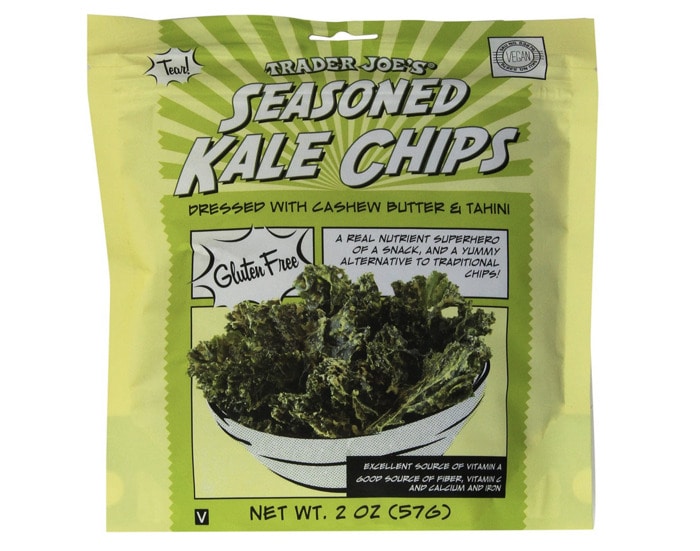 11. Strawberry & Vanilla Flavored Yogurt Pretzels
The Strawberry and Vanilla Flavored Yogurt Pretzels are not only delicious, with their own sweet, fruity, yogurt flavor. They're also beautiful with their swirl of light pink and off-white chocolate. Unfortunately, they look less beautiful after a few bites.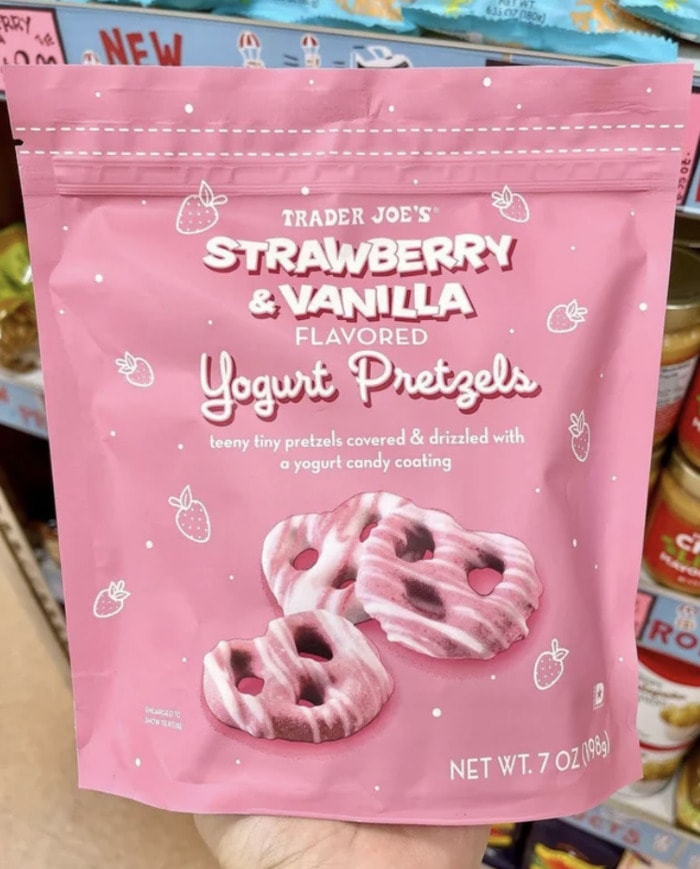 12. Rosemary Sfogliette Thin & Crunchy Italian Crackers
Italy – the place of designer shoes, perfect hand-rolled dough, and really, really good wine. It's time to add another incredible feat to the beloved boot-shaped nation: the Trader Joe's Rosemary Sfogliette Thin & Crunchy Italian Crackers. They're delizioso.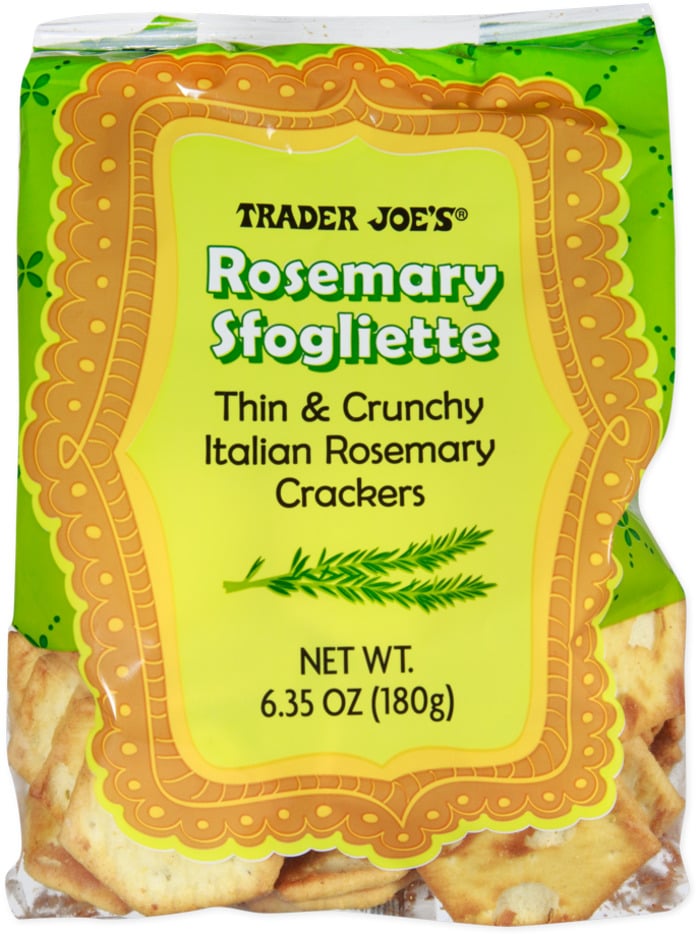 13. Crispy Crunchy Chocolate Chip Cookies
The cookie aisle at Trader Joe's can be daunting. In a world where things are sprinkled, sandwiched, or meant to be dunked, it's nice to know that a cookie classic–the bite-sized Crispy Crunchy Chocolate Chip Cookies is always a good choice. So are the edible cats.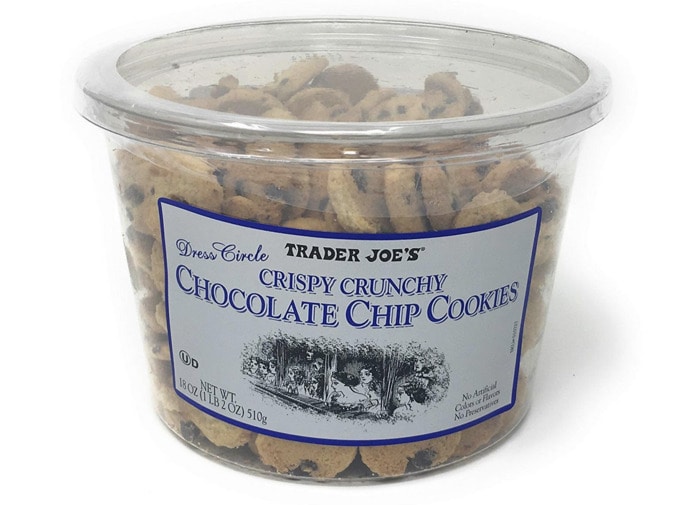 14. White Truffle Potato Chips
Like the high-low style you can find in fashion magazines, we're digging this take on an inexpensive classic. Biting into one of these incredibly tasty savory chips feels a bit rebellious. Like listening to punk rock at the spa.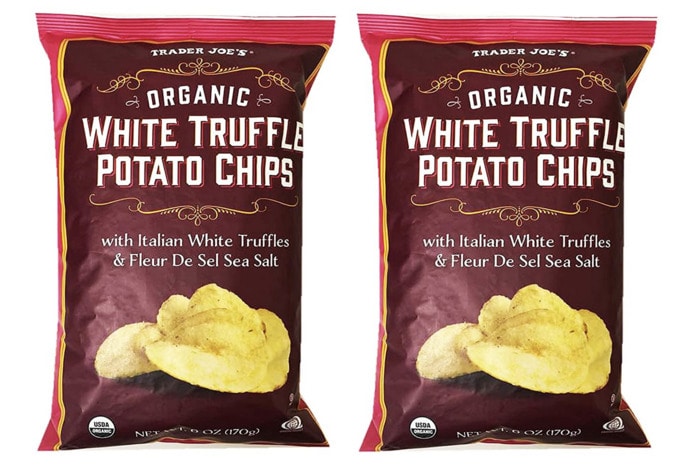 15. Spicy Porkless Plant-Based Snack Rinds
A plant-based take on a Southern classic, the Spicy Porkless Snack Rinds are tangy, crunchy, and everything you need from a meat-inspired vegan chip.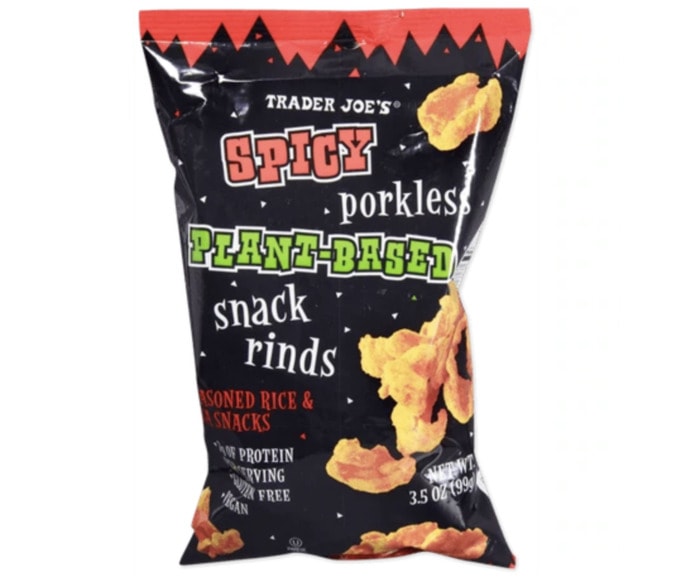 16. Fig & Olive Crisps
When we're really trying to impress our charcuterie-loving friends, we bust out these Trader Joe's Fig & Olive Crisps. And remember to peel the label off the Two Buck Chuck.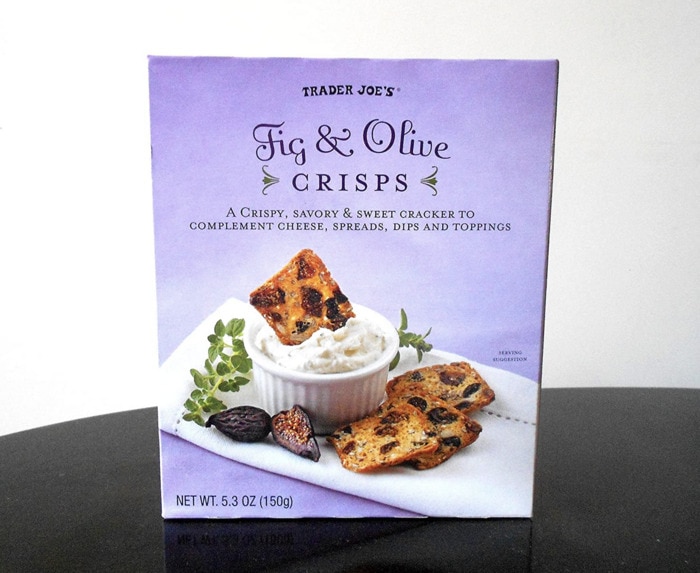 17. Dill Pickle Hummus
There are pickle people and there are anti-pickle people. For those with immaculate tastes (the pickle people), this dill pickle-flavored hummus is sure to please your refined palate.

18. Mochi Rice Nuggets
Trader Joe's Mochi Rice Nuggets are TJ's take on the popular Japanese snack. To make them, they knead steamed rice before drying and frying it. Can we be next?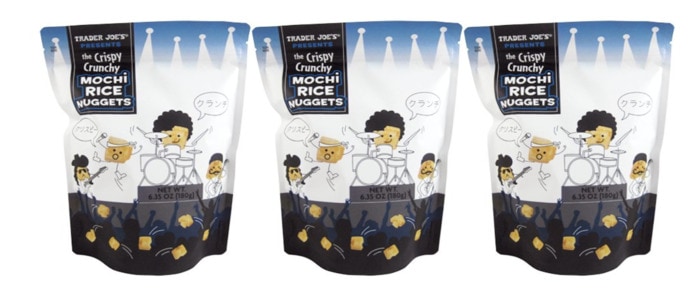 19. Crispy Jalapeño Pieces
The Crispy Jalapeno Pieces are there for us when we're looking for ways to spice up our salads and omelets. Wild, we know.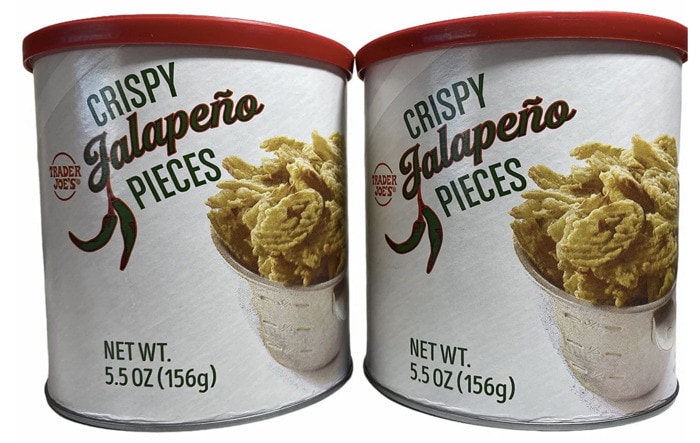 20. Ube Tea Cookies
These Ube Tea Cookies pair the delicious taste of the purple yam with lots of sugar to create a snack we're not sharing.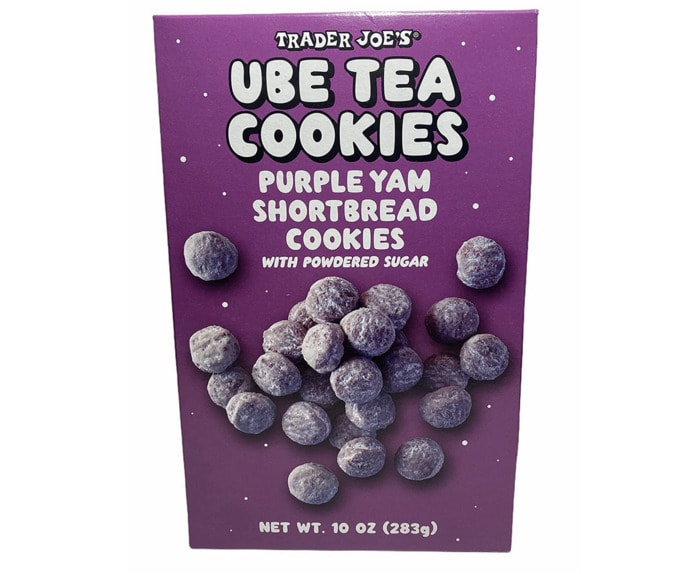 21. Oven-Baked Cheese Bites
For those who want to snack on cheese-flavored snacks before bed, these Oven-Baked Cheese Bites are a salty upgraded alternative to the real thing. Get to workin' on your Night Cheese.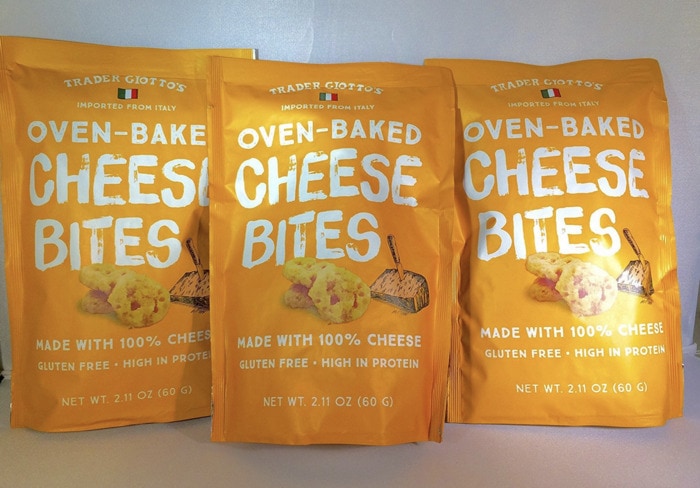 22. Thai Lime and Chili Almonds
Do you dream of exploring the markets of Thailand, collecting snacks for the beach, and nibbling away all day on some great infused nuts? Then you'll love these spicy nuts made with Thai lime. And booking the trip.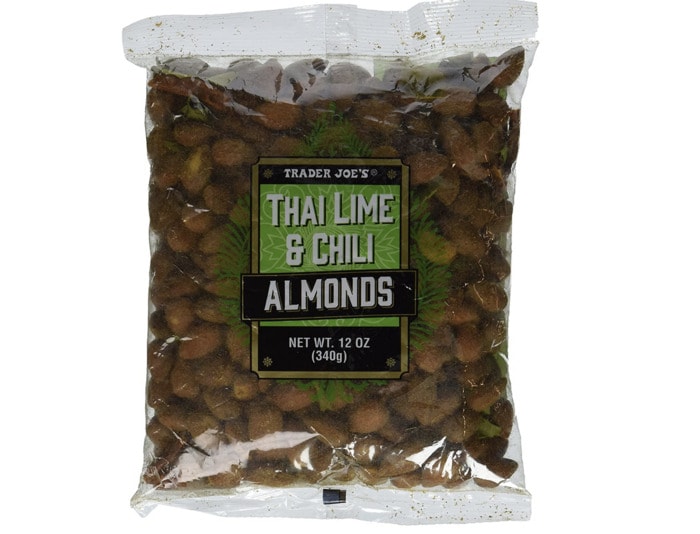 23. Dark Chocolate Drizzled Plantain Chips With Sea Salt
Plantains are the less loved relative to bananas but TJ's kicks them up a notch by drizzling them in dark chocolate and sea salt in this popular snack.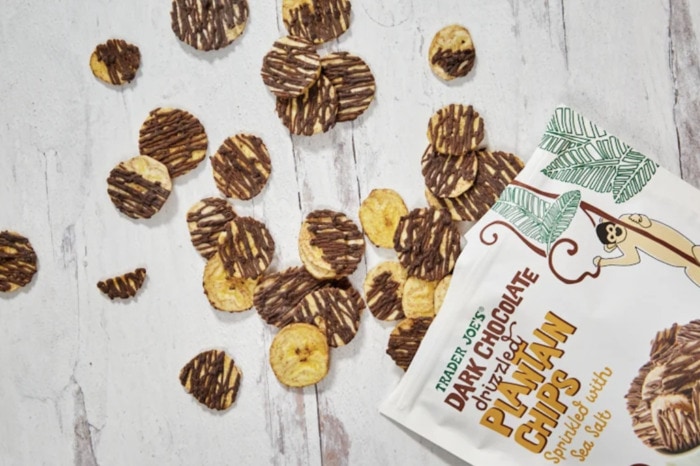 Available at Trader Joe's.
24. Pimento Cheese Dip
While hummus, salsas, and other classic chip dips also call our name, there's just something about this spicy pimento cheese dip that pleases all the senses. Next time we're wearing headphones in the dip aisle.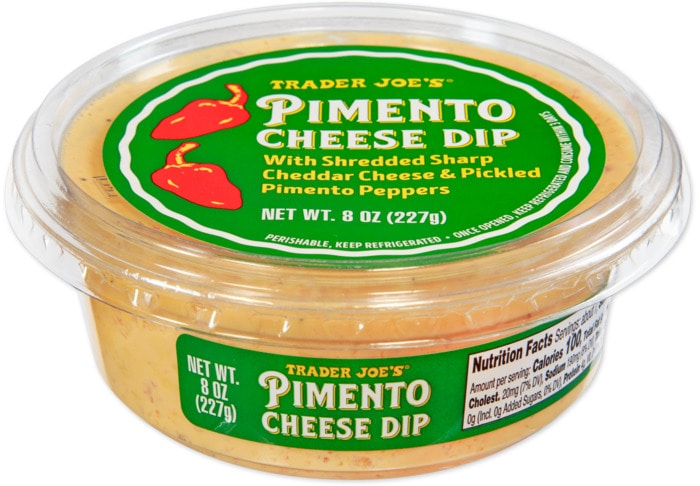 25. Organic Salsa
We can't end this list without this classic thick salsa. Throw it on chips, eggs, your best friend, what have you. We really need to work on being less klutzy.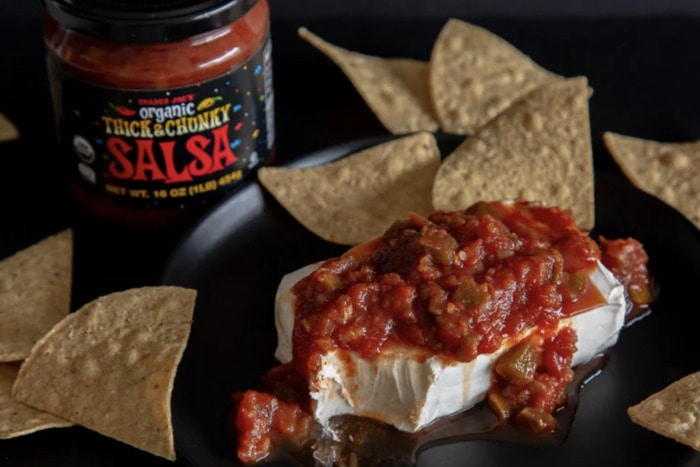 Available at Trader Joe's.
Latest posts by Kate Santos
(see all)