Trader Joe's is famous for its exceptional selections of snacks, life-changing frozen food aisle, and really really cheap wine. Among the hoards of snacks and sweet treats, there's one in particular that you don't want to miss: Trader Joe's Mochi.
This popular Japanese rice cake snack actually originated in ancient China. But, the Japanese are responsible for popularizing the snack in different varieties. And lately, the snack has plenty of fans in the US.
Mochi is made from short-grain rice, and has been used in ice creams, candies, and even in soup. Here are the 13 variations of mochi snacks we recommend adding to your basket ASAP. Actually, you should probably upgrade to a cart.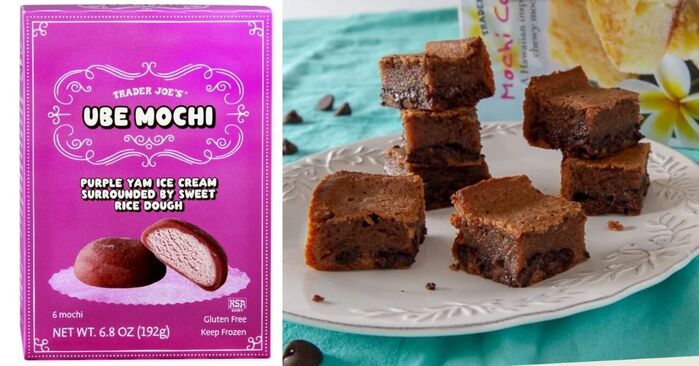 The Best Mochi Items at Trader Joe's
1. Crispy Crunchy Mochi Rice Nuggets
These lightly salted nuggets provide an interesting take on the authentic Japanese snacking experience. They're crunchy and chewy, which can satisfy an odd desire to eat chips and gummy bears at the same time.
With such an interesting texture profile, these will keep you snacking all day long. Or, until 2am when you finally reached the end of all the true crime documentaries on Netflix. And we thought the limit didn't exist.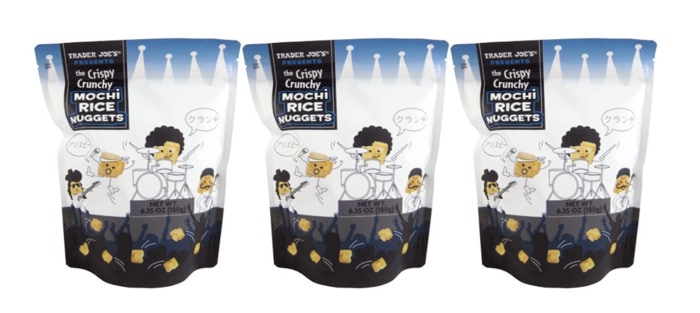 Available on Amazon.
2. Crispy Crunchy Spicy Mochi Rice Nuggets
Is the kitchen not hot enough for you? Grab a bag of the Crispy Crunchy Spicy Mochi Rice Nuggets. They have the same crunchy, crispy, chewiness as the originals. But they turn up the heat with multiple pepper powders, including chipotle, habanero, and sansho.
A cheap way to spice up your snack life, these nuggets could be the answer to your mid or quarter-life crisis. Because you already tried bangs once.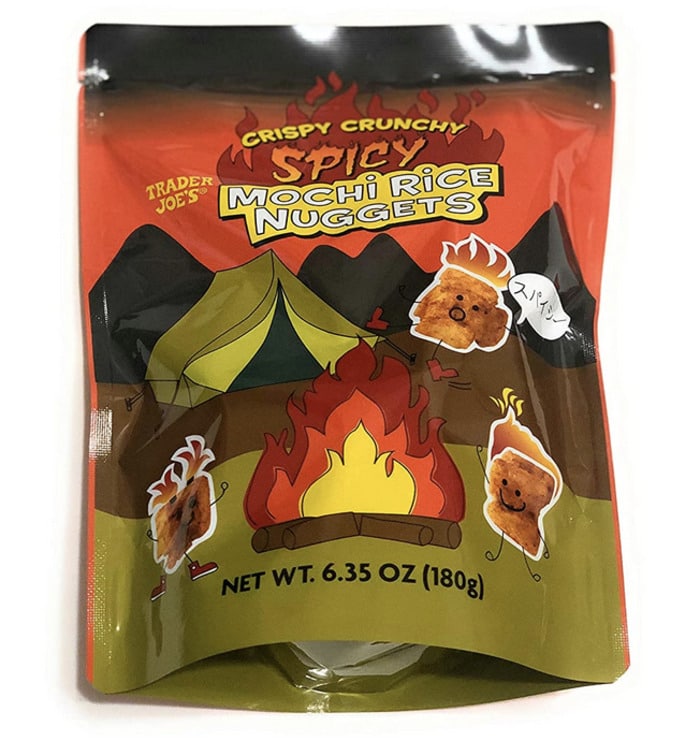 Available on Amazon.
3. Mango Mini Mochi Ice Cream
Pairing fresh fruit with mochi is common in Japanese dessert recipes, and the Trader Joe's Mango Mini Mochi Ice Cream is a great example of why.
The mochi's natural gumminess combines with the fresh, fruity flavor of mango sorbet, letting you imagine that you're on a tropical island. Alas, that glowing sun is just your salt lamp on your desk.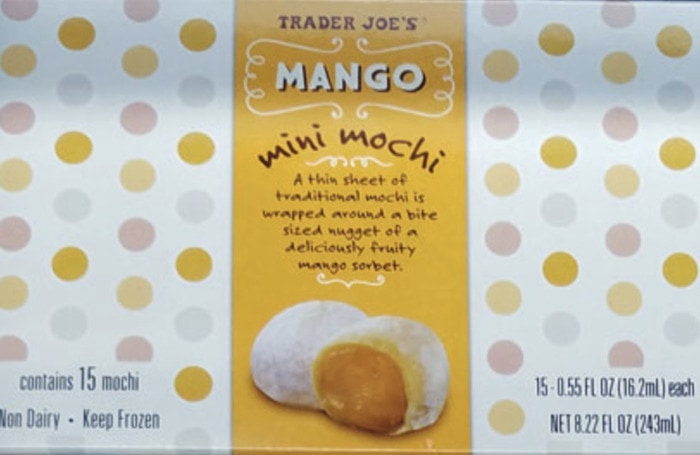 4. Vanilla Mochi Ice Cream
Mochi and sweet vanilla ice cream are like a classic, glamorous couple you just can't get enough of. They're like the Ryan Reynolds and Blake Lively of freezer snacks.
A whipped cream-like vanilla ice cream is wrapped up in the mochi, making this a dessert only for those with a strong sweet tooth. (Megan Fox and Machine Gun Kelly are Rocky Road.)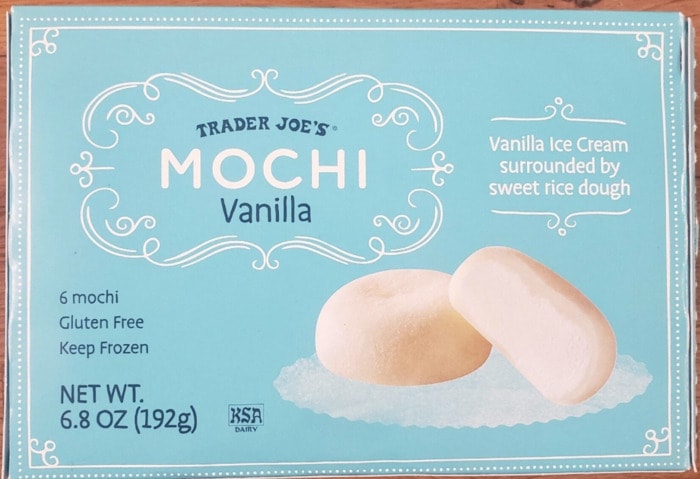 5. Mochi Strawberry Ice Cream
If "millennial pink" was a dessert, it would be the Trader Joe's Strawberry Mochi Ice Cream. In addition to being really, really, ridiculously good looking, the strawberry ice cream in the center has a refreshingly natural flavor.
We've been trying to add more fruits to our breakfast menu, and we think we just found our solution.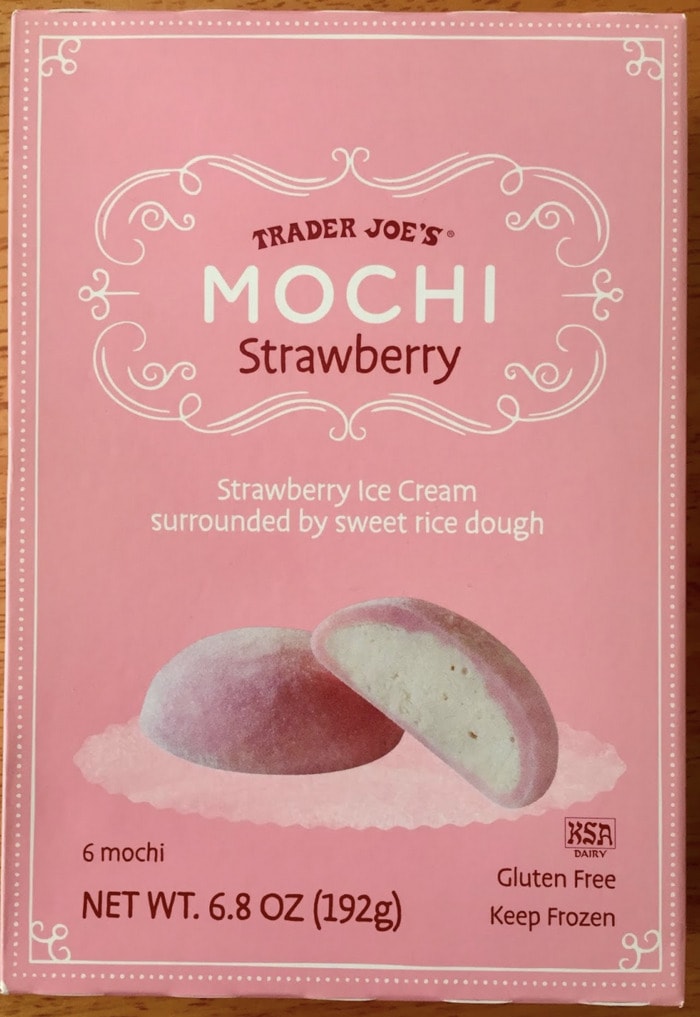 6. Ube Mochi Ice Cream
More of a purple person? Grab the Ube Mochi Ice Cream snack. The mellow, slightly nutty ube yam ice cream came from a wrapped up in sweet rice dough to create a unique and satisfying flavor. Not too yammy, not too sweet, and plenty addicting.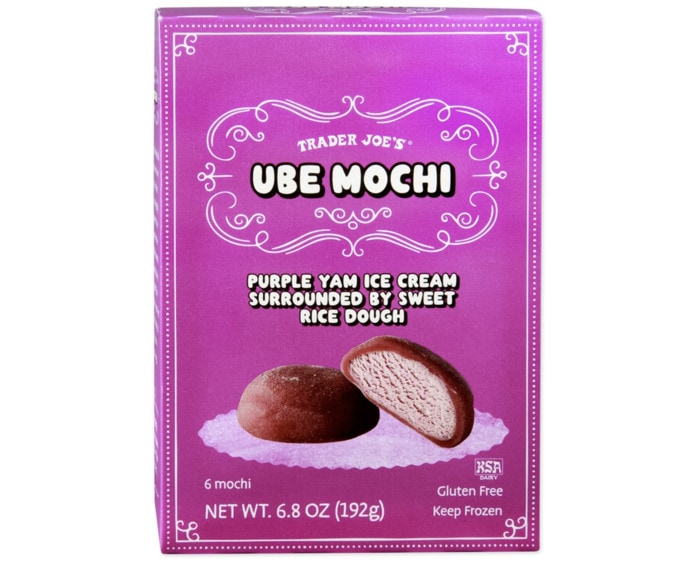 7. Chocolate Mochi Cake Mix With Peanut Butter Frosting Mix
How do you make a peanut butter chocolate cake even better? Add in some mochi for an irresistible chewy texture!
It may not be the most desirable for those who prefer crunchy brownie edges, but it is a gluten-free way to enjoy the classic flavor combo. Move over Betty Crocker, there's a new baker in town. (That's you, Joe.)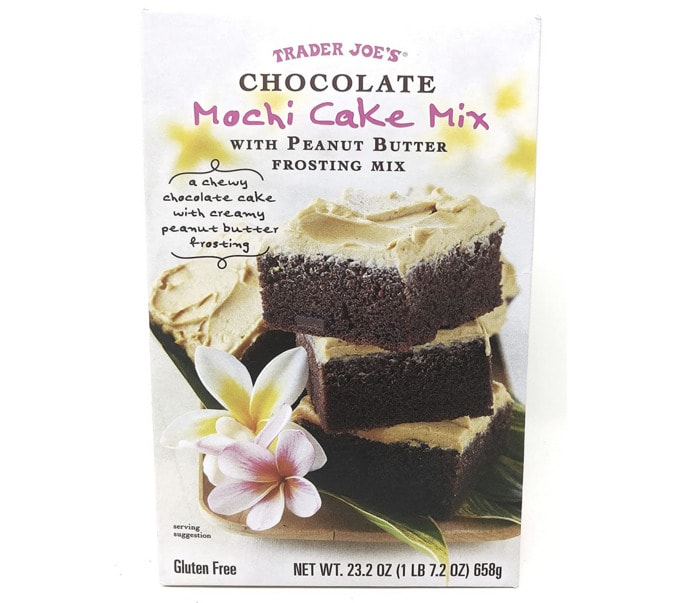 Available on Amazon.
8. Trader Joe's Mochi Cake Mix
Although this classic Mochi Cake Mix made with sweet rice flour has been discontinued in stores, it's currently available online. Judging from the amount of five-star ratings from customers, this take on a traditional Hawaiian cake is a great introduction to baking with mochi. No flight required.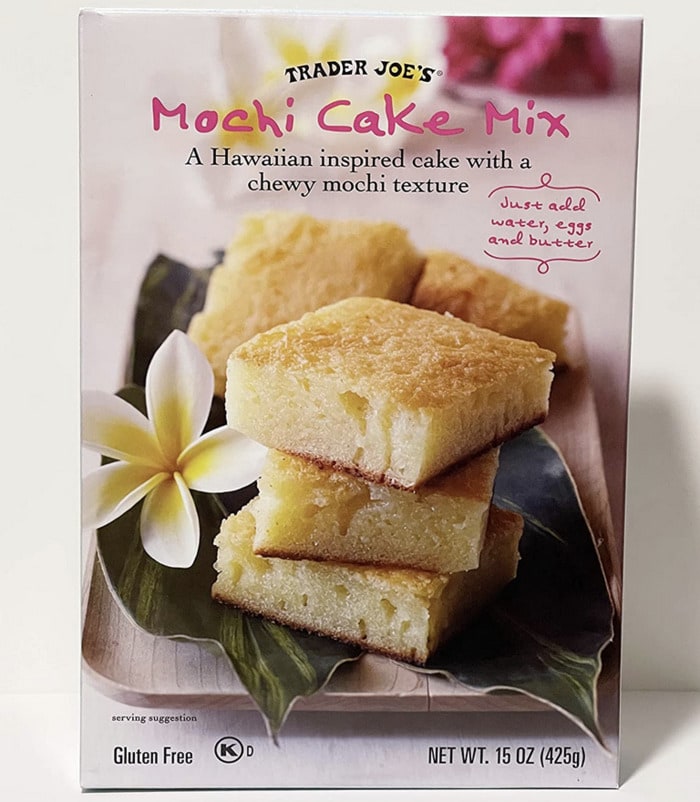 Available on Amazon.
9. Ube Mochi Pancake & Waffle Mix
Ube yams are commonly used in foods in the Philippines, and when it combines with the chewiness of mochi, you'll be wondering why you didn't switch from basic waffle mixes sooner.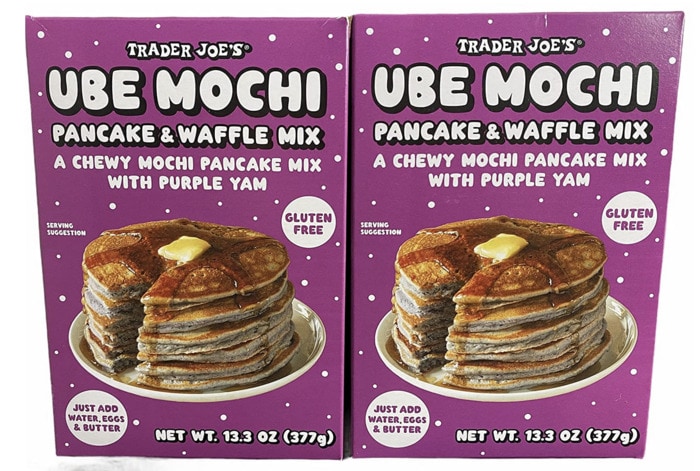 Available on Amazon.
10. Thai Tea Mini Mochi
Made with a thin layer of glutinous mochi and a coconut-based Thai tea filling, these are one of the creamiest non-dairy desserts on the TJ shelves. And if you're familiar with Thai iced teas, then you know how sweet they are compared to other teas that can be bitter or tannic. We stan.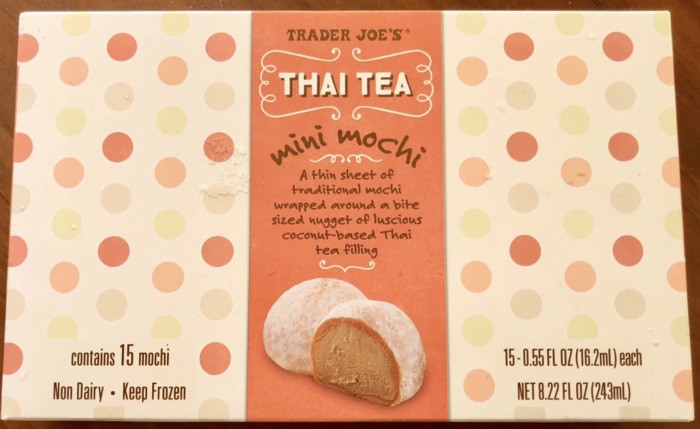 11. Coffee Mochi With Saucy Mocha Center
Leave your Frappuccino at home and eat one (or all six) pieces of this coffee-flavored mochi snack. This is another dairy-free treat that's made with coconut milk, and it only takes one bite to get to the sauce mocha center. Forget about licking lollipops. This is way more satisfying.
But snackers beware: this handheld treat does goes heavy on the coffee flavor. So be warned if you're on the fence about a cup of Joe.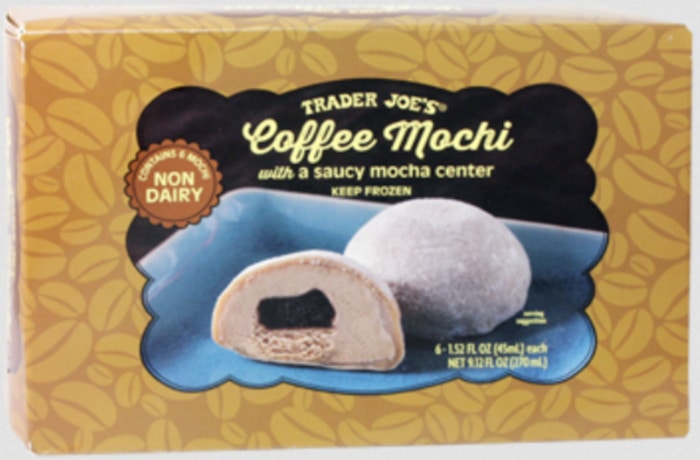 12. Buono Dairy-Free Ice Cream
There's a serious cult following around these dairy-free mochi ice cream desserts. The bad news is that they're both on a break from Trader Joe's. Like a real break, not a confusing Rachel/Ross break.
If they ever hop back onto the shelves, you'll want to snatch them up faster than you can yell "pivot!" In the Green Tea flavor, the slightly bitter matcha balances out the sweetness of the ice cream. And, we think the fruity strawberry flavor is a refreshing way to begin your day. Ice cream is pretty much the same as yogurt, right?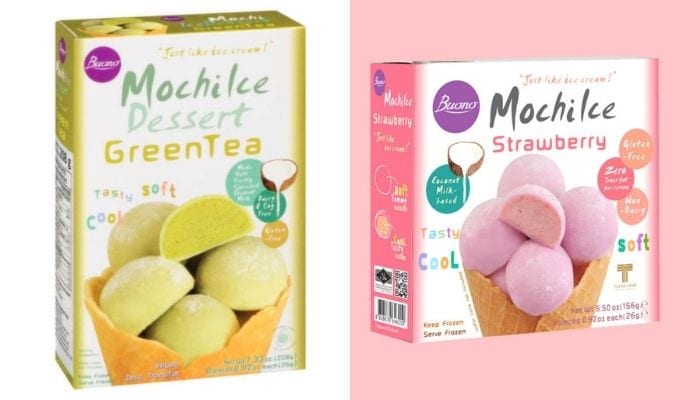 13. Kung Pao Chicken Mochi Balls
Some say appetizer, we say snack. These balls are packed with spicy Kung Pao chicken (perhaps not enough, according to some reviews), and then wrapped in chewy, doughy rice flour mochi. They're currently discontinued at the moment, but we have our fingers crossed for a return.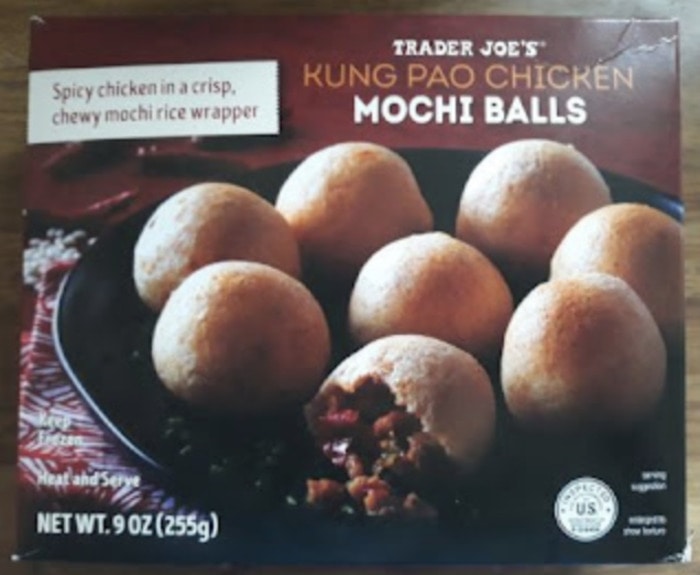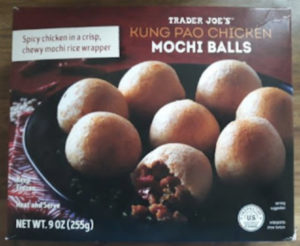 Latest posts by Kate Santos
(see all)