Wave goodbye to the days of boring vegan baked goods. And, instead, say hello to your sweetest, darkest, sugary dreams brought to you by the Pennsylvania-based vegan bakery Vegan Treats. And, ostensibly, the letter V.
Vegan Treats was founded 20 years ago by Danielle Konya. Konya kicked things off with a peanut butter bomb cake, but it's her spooky vegan Valentine's Day chocolates and miniature cakes have developed a cult-like following.
And how could it not when they look like this.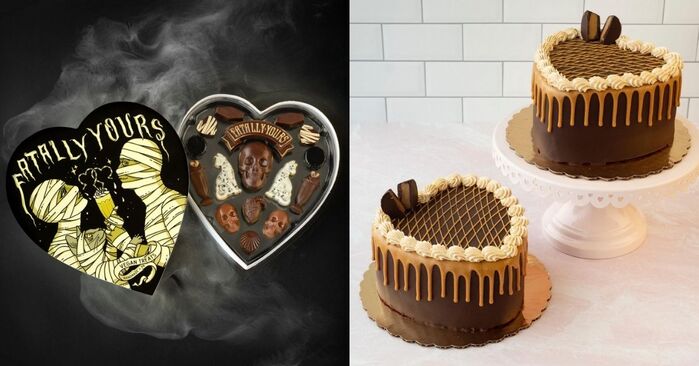 The bakery ships some of their goods nationwide, but some are only available in the surrounding states or at their physical location in Bethlehem, Pennsylvania.
If Valentine's Day isn't really your thing or you can't get your hands on the treats this year, there's always next year. Or, check out their festive creations for other big holidays such as Halloween, Christmas, and Easter. What, no National Donut Day?
Vegan Valentine's Day Treats
1. Hot and Cold Conversation Heart Cakes
Give your significant other mixed signals with these hot and cold conversation heart cakes. It's okay, they'll be too busy eating cake to ask questions. (Not available for shipping.)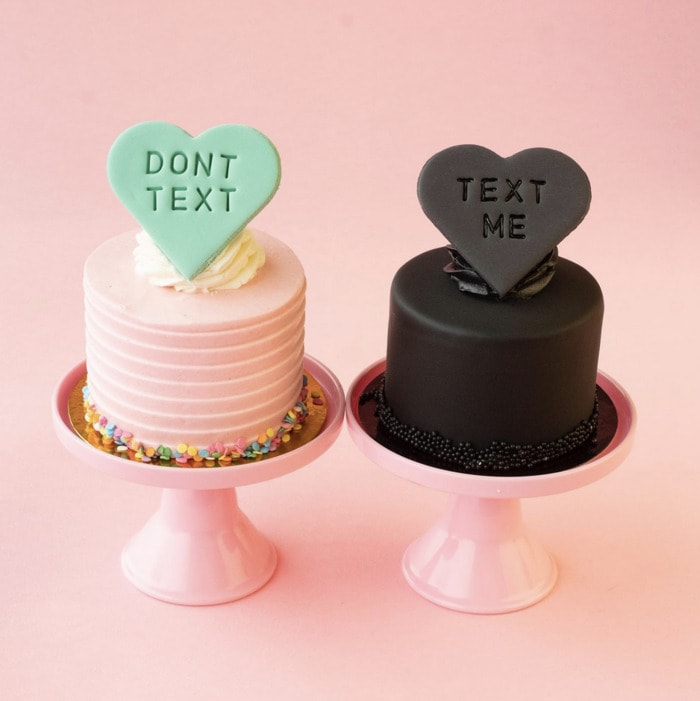 2. Anti-Valentine's Day Conversation Heart Cakes
Set some boundaries with these cakes. Can we get one that says "We're Not Sharing" please? (Not available for shipping.)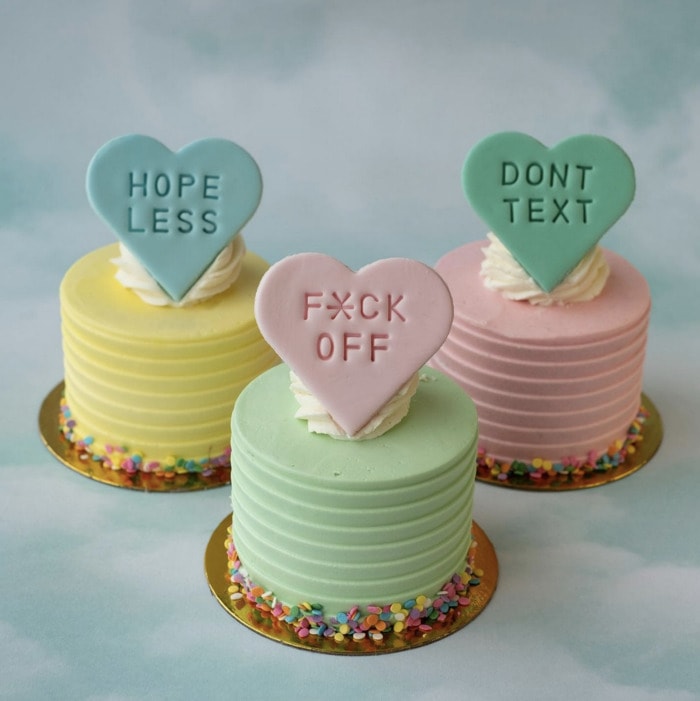 3. Fatally Yours Yummy Mummy Limited Edition Chocolate Box, $105
Delicious enough to wake the dead, the Fatally Yours chocolate box is filled with 16 pieces of handcrafted premium chocolate including "milk" chocolate Bolivian rose salted skulls, white chocolate crunch mummy cats, and a hazelnut praline chocolate anatomical heart.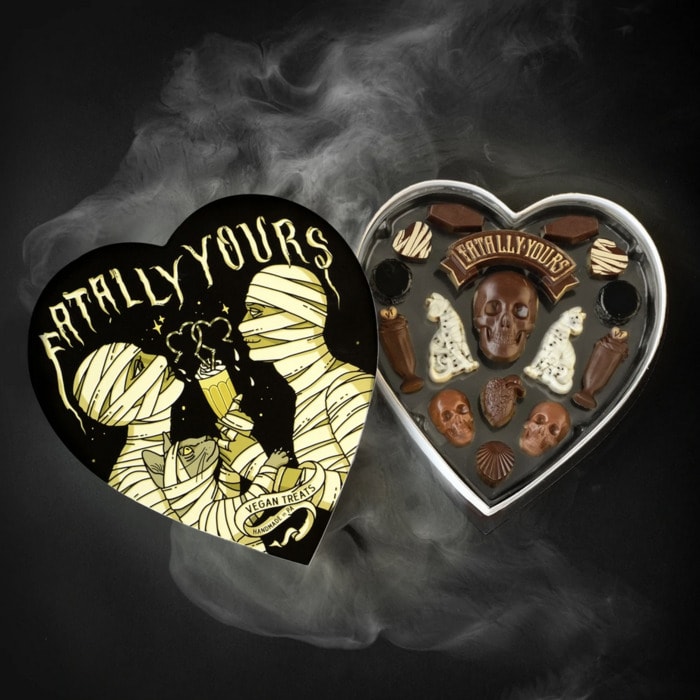 4. Yummy Mummy Chocolate Variety Pack, $43
If your wallet hasn't quite caught up with your eyes and stomach, we totally understand. Included in this cat-themed package, you'll find:
Mummy Bar! Chocolate black raspberry sesame crunch
White chocolate strawberry crunch scaredy cat
Jumbo peanut butter cups twin pack
Jumbo rice milk chocolate cookie dough cups twin pack
Betterfinger bars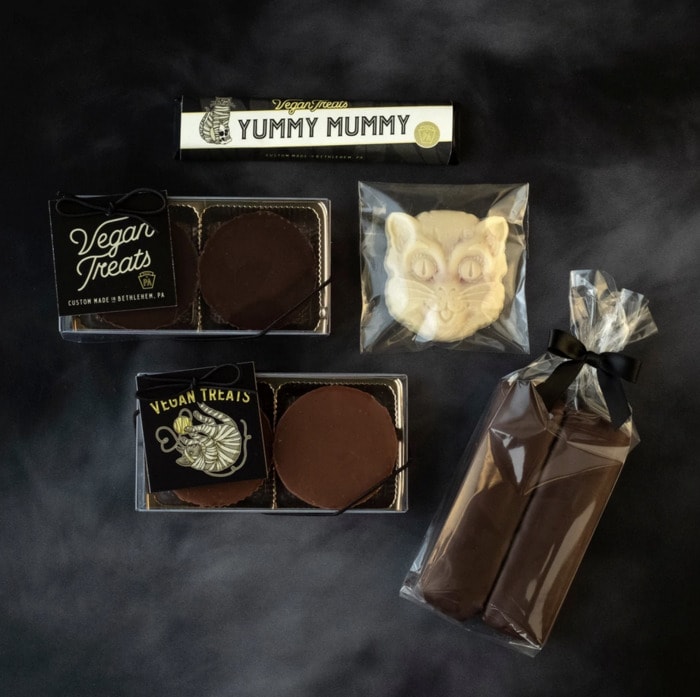 5. My Vegan Valentine Chocolate Box Assortment
While this item is sold out for this year, it's always good to start preparing for next year. Possibly the only time we'll say that in regards to Valentine's Day. Each box is filled with 15 pieces of chocolate and includes three of each of the items below:
Rice milk chocolate Bolivian rose sea salt caramel domes
Hazelnut praline with roasted hazelnuts Swiss chocolates
Swiss chocolate peanut butter cups
Very berry blast Swiss chocolate roses
Madagascar vanilla strawberry cream filled white chocolate hearts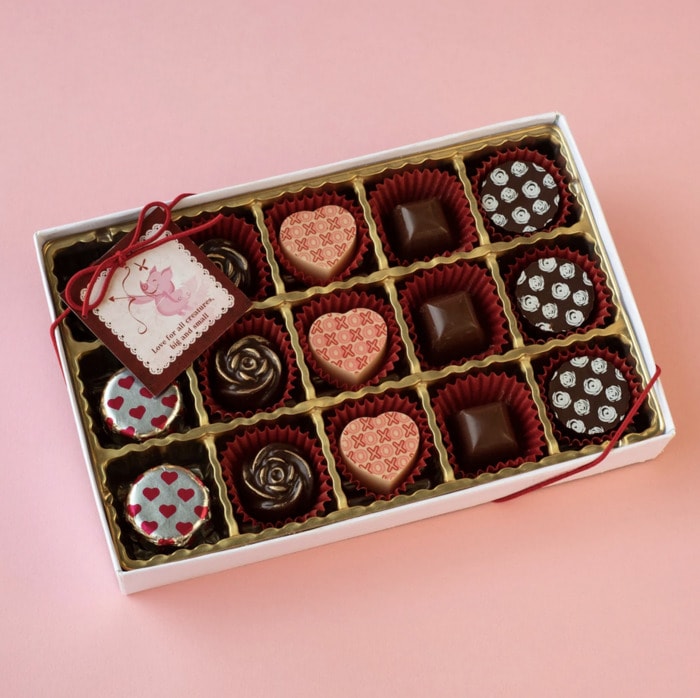 6. Chocolate Cookie Dough Cake
One of the best things about vegan cookie dough? No eggs, no risk of salmonella. Not that it stopped us before. There's a gluten-free version too. (Not available for shipping.)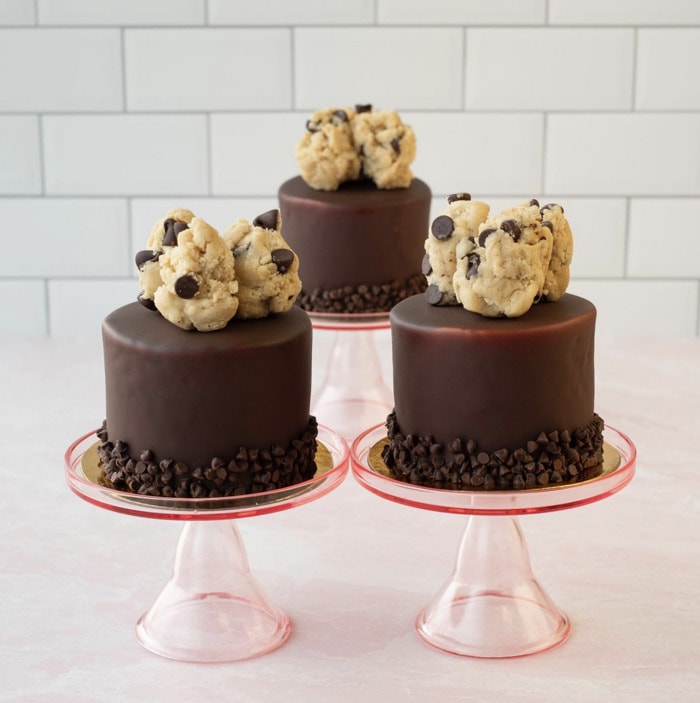 7. Peanut Butter Tandy Cakes
No, we spelled that correctly. These 6" heart-shaped cakes are layered with peanut butter mousse, chocolate cake, and vanilla cake before being covered in Belgian chocolate and topped with handmade peanut butter cups.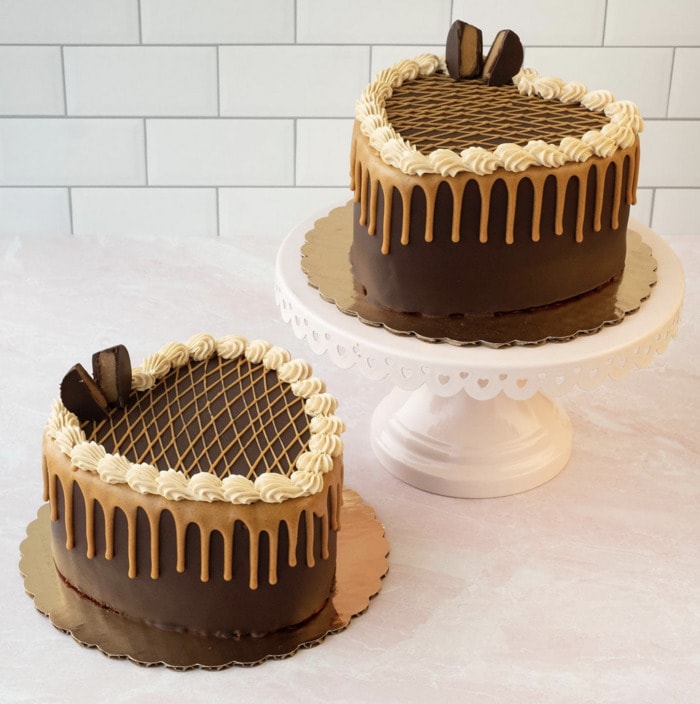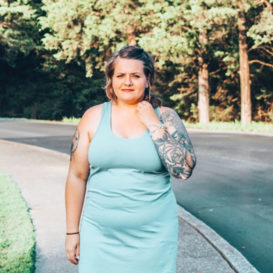 Latest posts by Ashley Hubbard
(see all)