Each year around February 14th, chocolate shops, florists (and Target) prepare for one of their busiest holidays: President's Day! But, there's more to this weekend than celebrating your love for William Taft. It's also Valentine's Day, and donut shops are packed with Valentine's Day donuts.
We love all types of donuts (except you, crullers) but around this time of the year, we can't help but indulge in donuts decorated with pink or purple icing, heart-shaped sprinkles, and Cupid's arrows. So pick up (or bake) one of these Valentine's donuts this weekend. And, make sure to leave one out to honor Mr. Taft!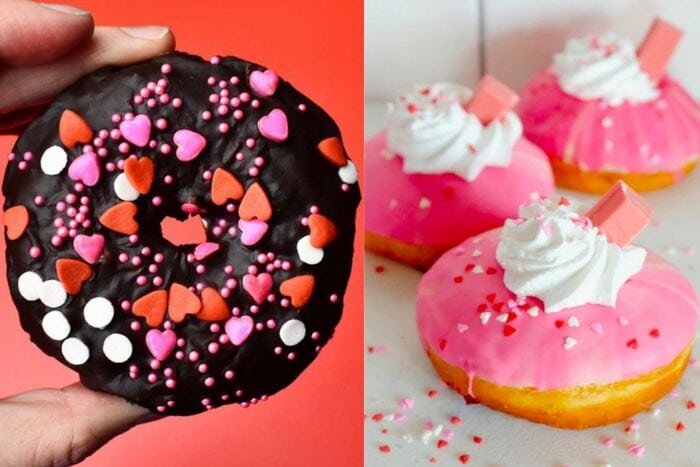 18 Pretty Valentine's Day Donuts
1. Kissable Valentine's Day Donuts
A retired nurse and grandma makes these donuts out of her bake shop in Canada and we're ready to buy them by the dozens. They just need to let us into the country first!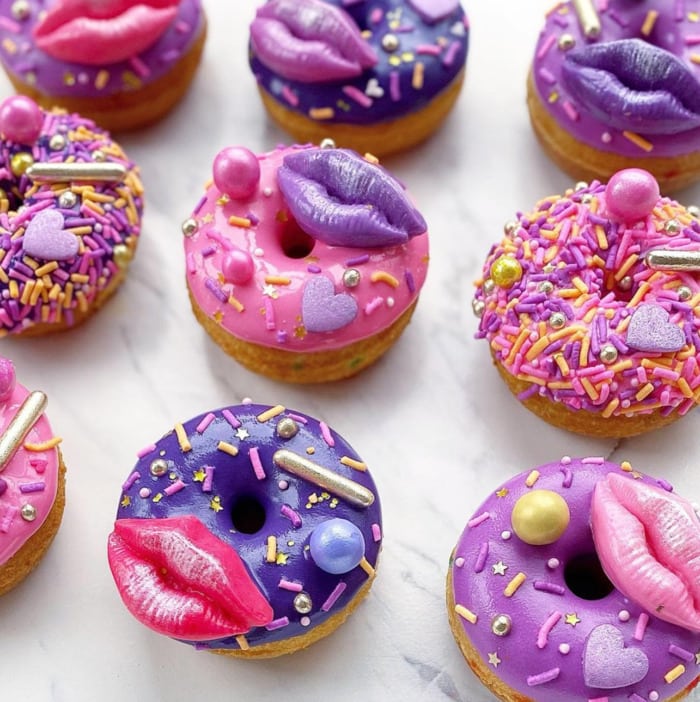 2. Heart-Shaped Cream Filled Donuts
These heart-shaped donuts from Somethin' Sweet Donuts in Chicago come filled with lemon, raspberry, blueberry or Bavarian cream. Our significant other said they'd fill our donuts with cream too, but then they used up all the CO2 making nitro cold brew. In other news, we're single now.
3. Strawberry Glazed Baked V-Day Donuts
This batch of baked donuts are baked using a donut pan and made with strawberry cake mix and real strawberries. The plastic ones just don't taste as good.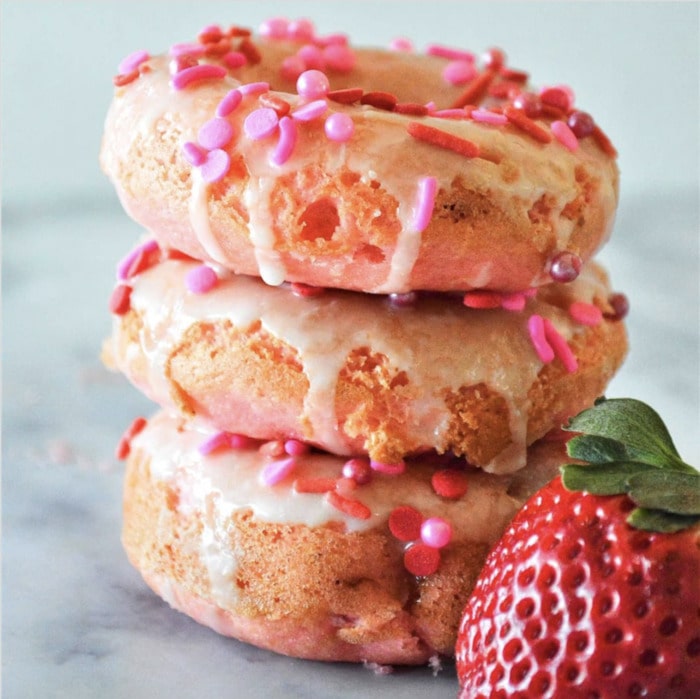 4. Love is Among Us Valentine's Day Donuts
The perfect snack for your next Among Us sesh. You can get these custom made beauties from Date's Donuts in Dinuba, California.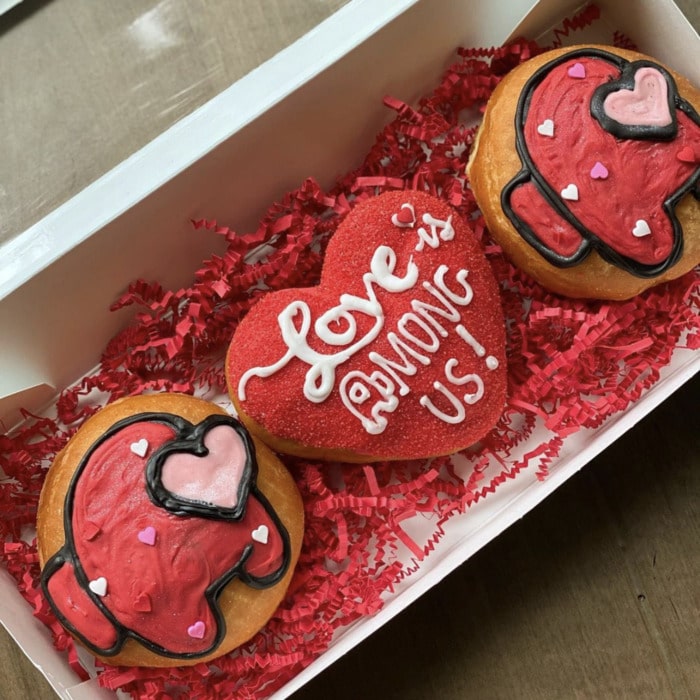 5. Strawberries & Creme Baked Donuts
We are fully head-over-heels in love with these pastel Valentine's Day donuts. So perfectly round, so gorgeously decorated… what more could you want? Oh, the sprinkles? Get similar ones here.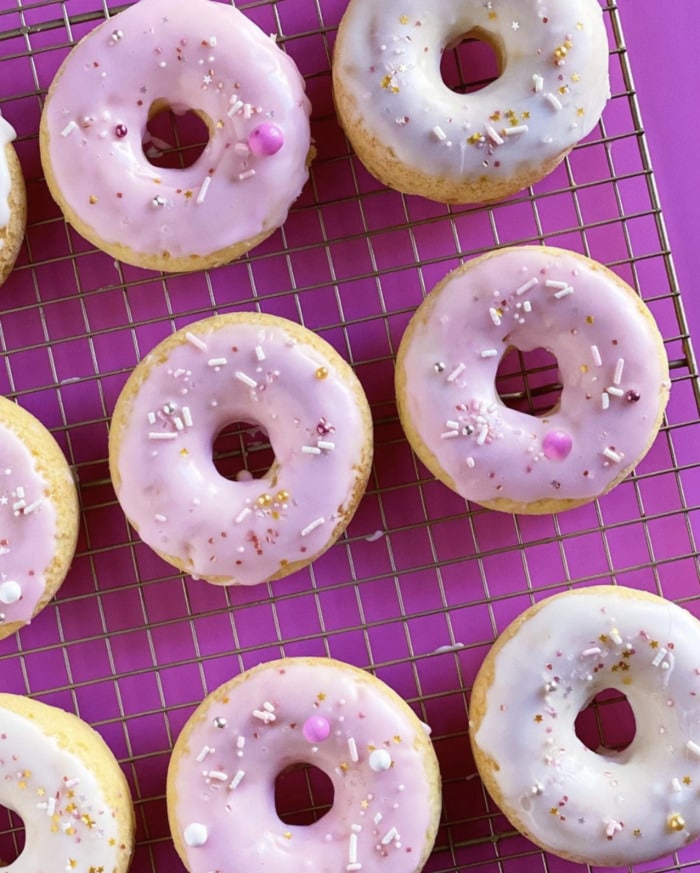 6. Heart-Shaped Valentine's Day Donut Bouquet
Forget the bouquet of red roses. All we want for Valentine's Day is a bouquet of donuts. And roses. And a pony.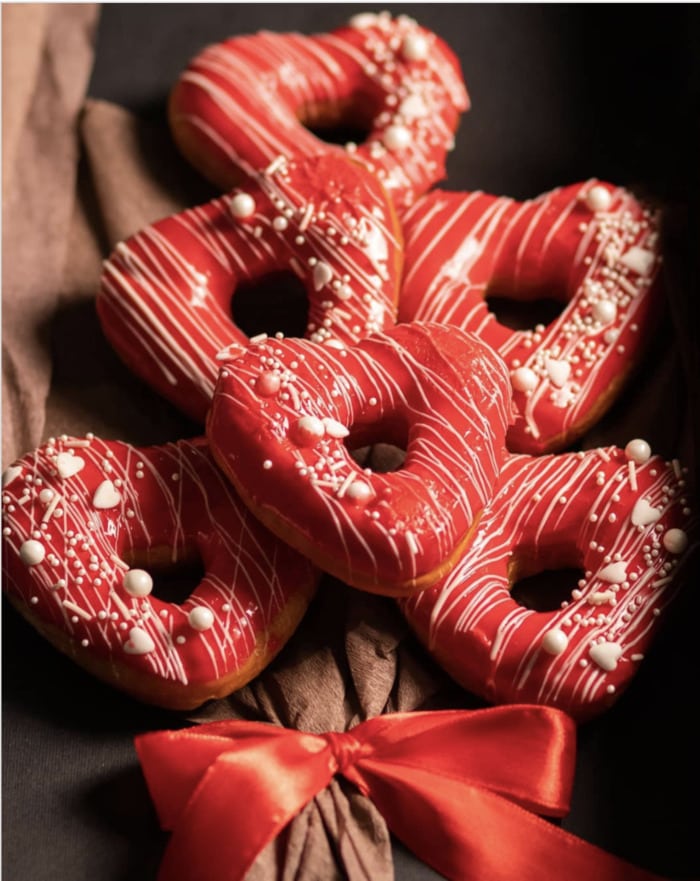 7. Conversation Heart Valentine's Donuts
Who needs dry, flavorless conversation hearts when you can have a conversation heart donut? Call us, Station Donuts! Oh, we're supposed to call you? Well, that explains a few things.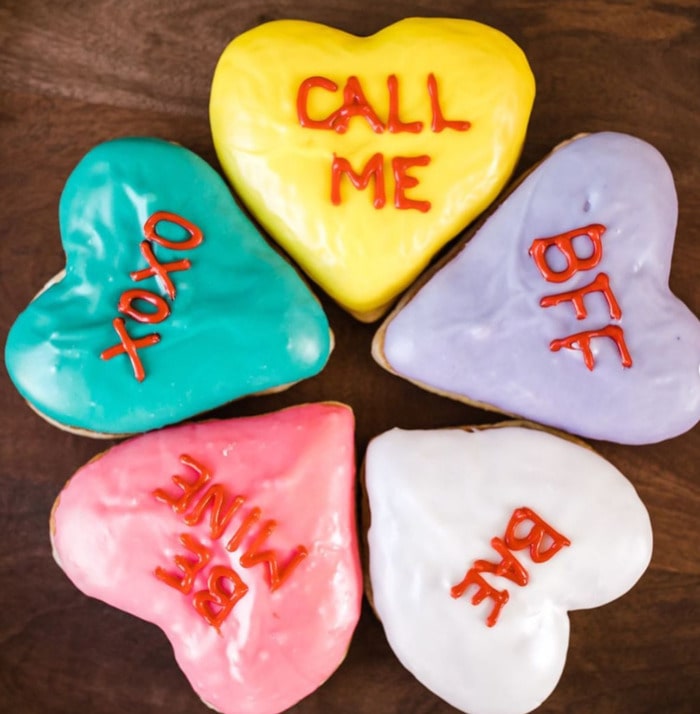 8. Pink Valentine's Day Donuts
Not only do these donuts look like a unicorn threw up (we mean that in a good way), but you can get them delivered to your sweetie (or yourself, we don't judge) if you live in Sydney, Australia. Because, you know. Social distancing.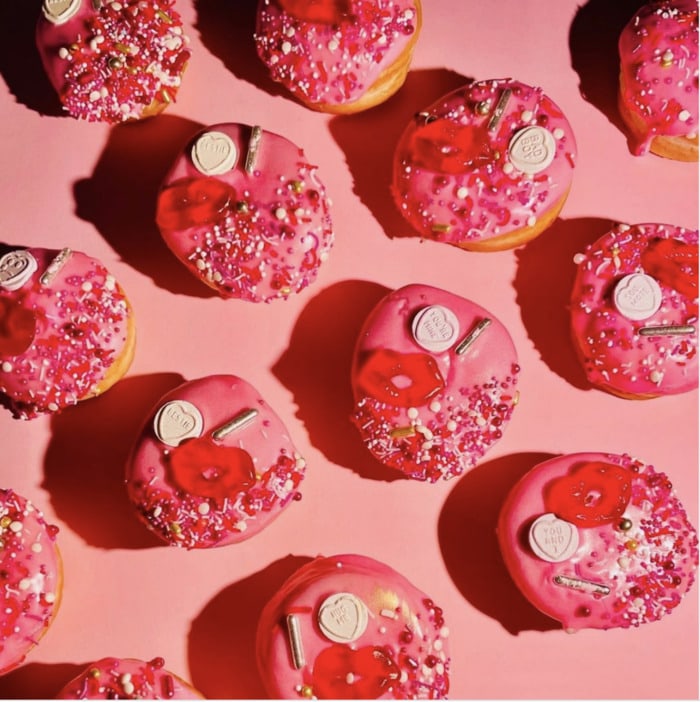 9. Vanilla Cake Donuts with Rosewater Glaze
These baked beauties are gluten-free and topped with a special rosewater glaze. Rose petals not included.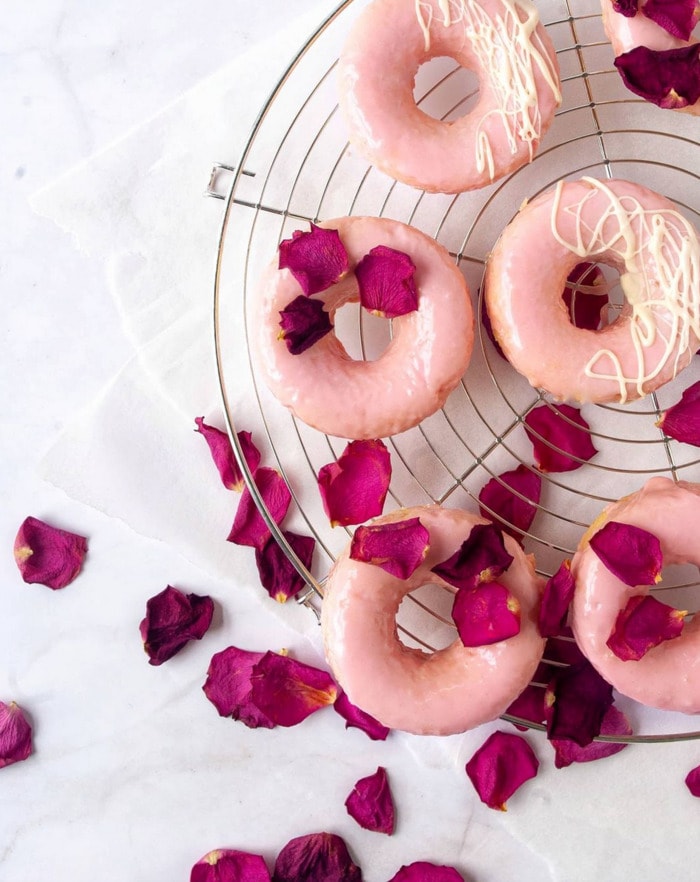 10. Double Chocolate Donuts
You can't go wrong with chocolate on chocolate. Topped off with pretty heart sprinkles, this donut is what love is made of.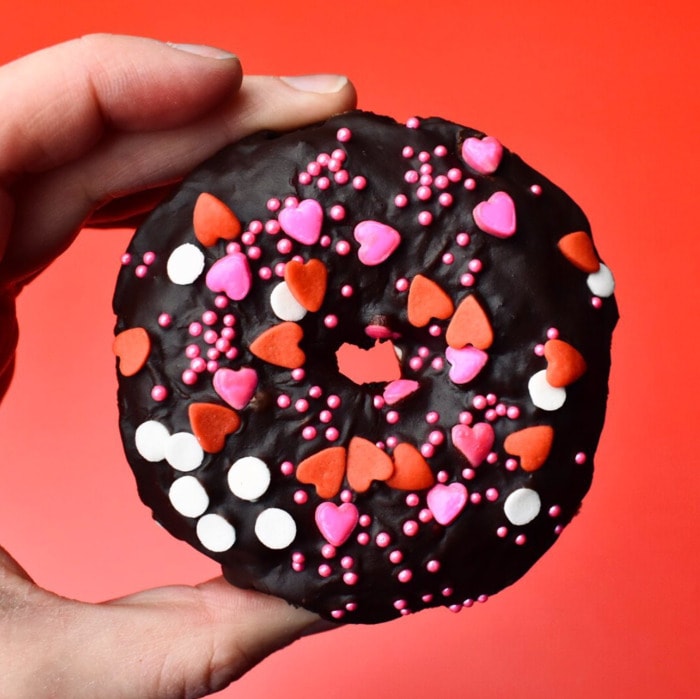 11. Red Velvet Donuts
If you're as obsessed with red velvet as we are, you have to try our secret recipe for baked donuts. Secrets mean you tell everyone, right?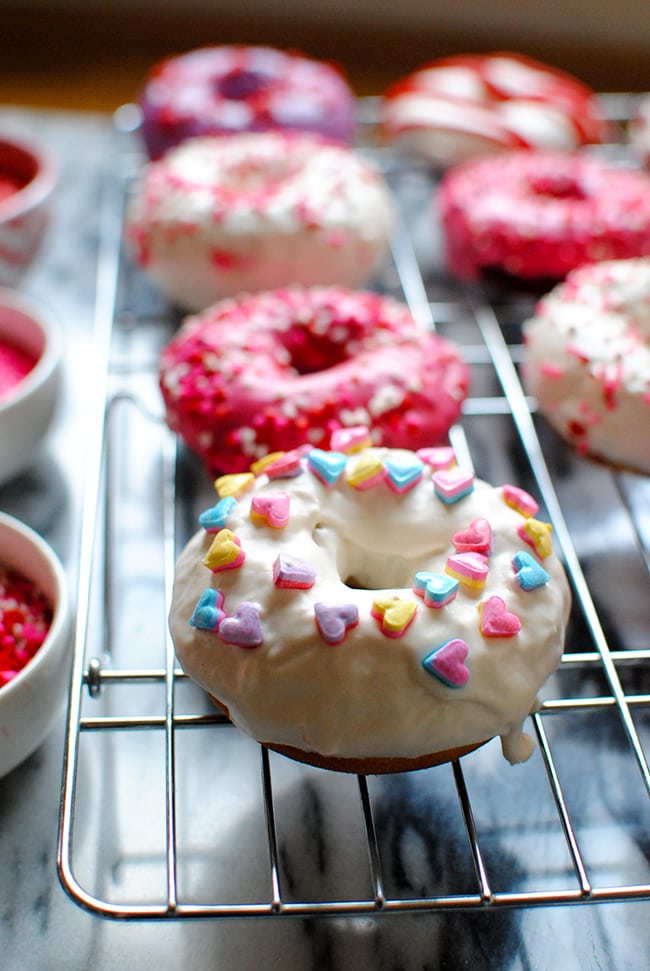 12. Strawberry Glaze Donuts with Valentine's M&Ms
Plating Pixels baked up these donuts using strawberries, crunchy M&Ms, and a hint of lemon zest. We're still not sure where their clues are leading us, but hopefully somewhere good!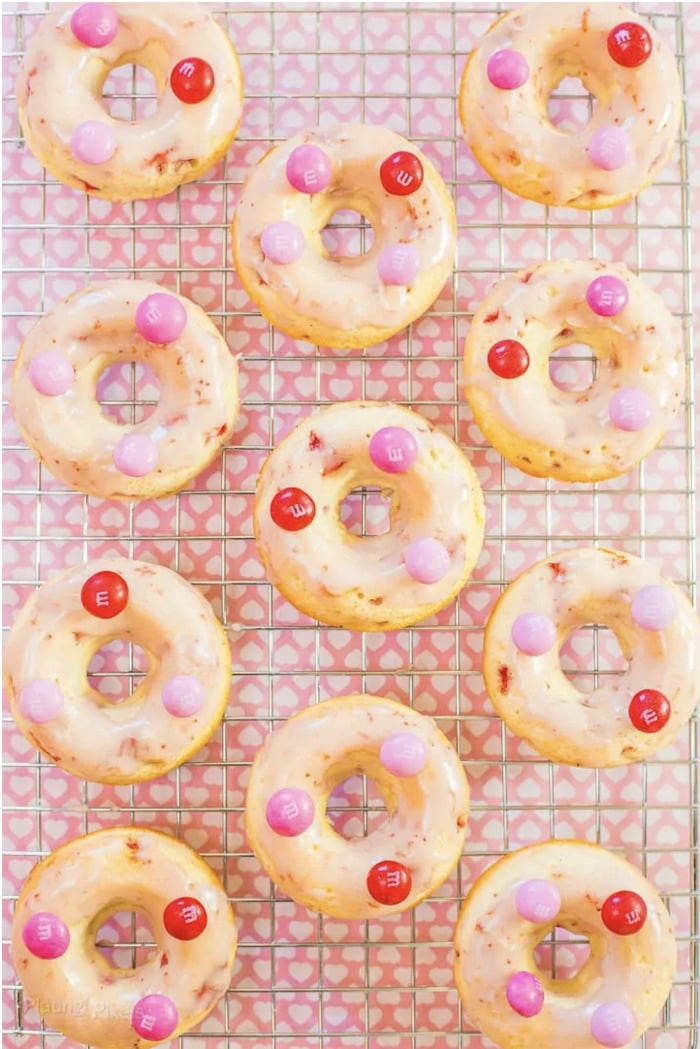 13. Air Fryer Valentine's Day Donuts
This donut recipe is made using flaky biscuits baked in your air fryer. What can't that contraption do? Math.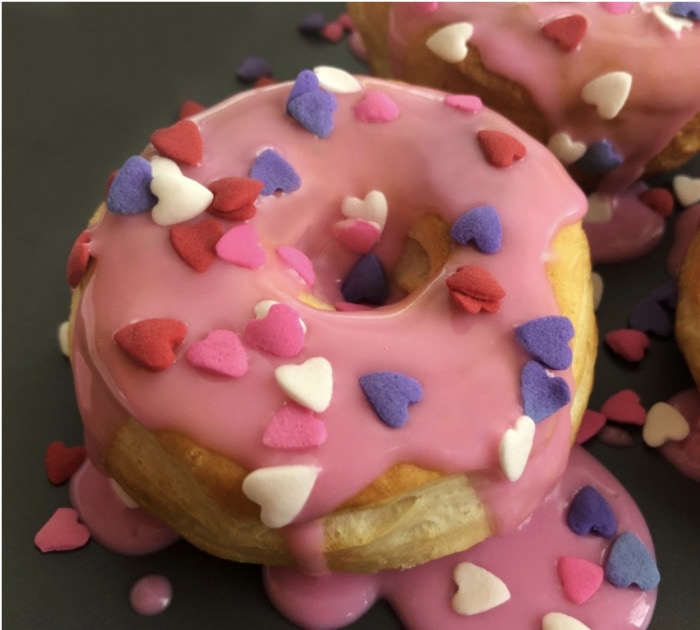 14. Heart-Shaped Air Fryer Donuts
Follow this recipe to make heart-shaped donuts. Make sure to send one to Armie Hammer. He loves sweets!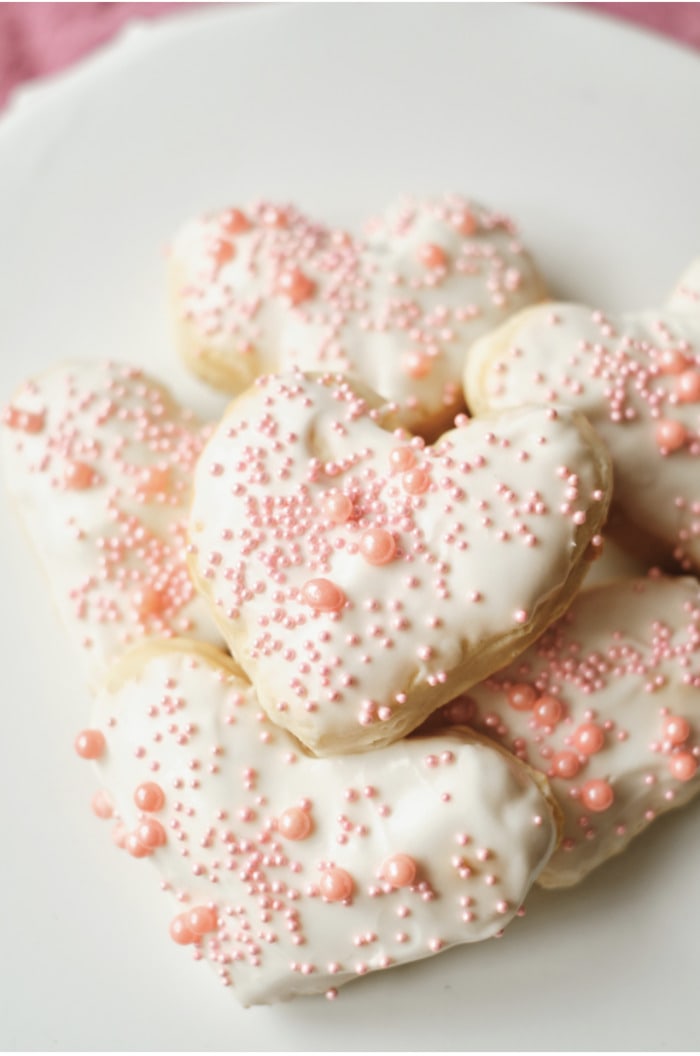 15. White Chocolate Dipped Valentine's Day Donuts
These donuts are fully encased in white chocolate with crystallized sugar on top. Look, we know white chocolate isn't chocolate, but we all can pretend just this once.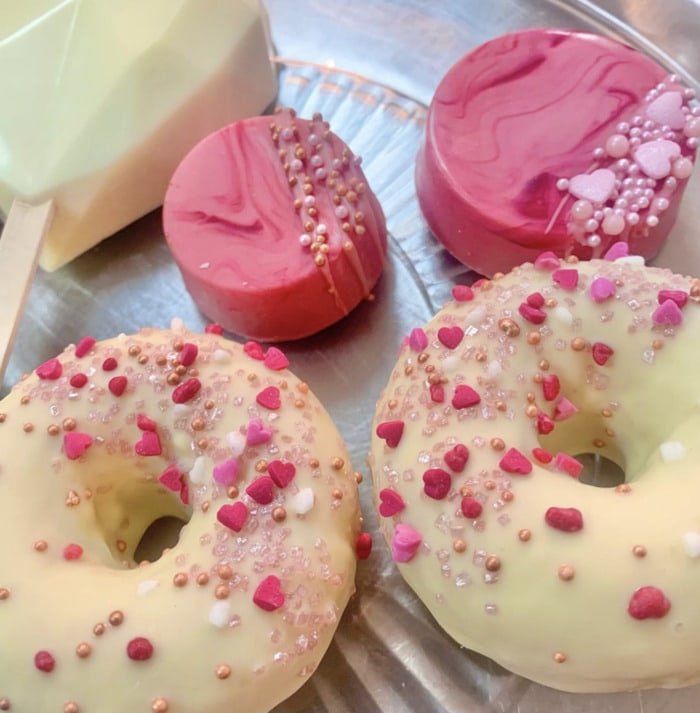 16. Krispy Kreme Dough-Notes
This year, Krispy Kreme's Valentine's day donuts are inspired by love letters and are available in sugar-cookie, strawberry, caramel or cake batter flavors. They're almost as romantic as all of us collectively rescuing the post office from the brink of collapse!
17. Raspberry Creme Kit Kat Valentine's Donuts
These festive doughnuts are topped off with fresh whipped cream and a pink, raspberry-flavored Kit Kat and available at California Donuts in Los Angeles.
18. Punk Rock Donuts
Last, but not least, these spiky heart-shaped sweets from Mad Over Donuts come topped with a chocolate-dipped, heart-shaped palmiers cookie and framed with pretty pink icing.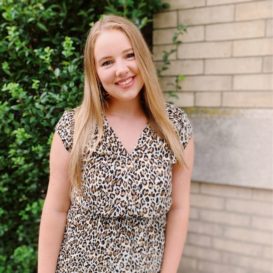 Latest posts by Laura Davis
(see all)