Craving a donut? Need an excuse for a road trip? Then, check out our list of Black-owned donut shops and satisfy your sweet tooth with an old-fashioned, chocolate iced, or apple fritter from one of these donut shops.
If you live in a big city, it's likely one of the ones below is in your area. If not, time to pack up your car and use this list to plan one sweet road trip!
20 Black-Owned Donut Shops
1. Sublime Doughnuts (Atlanta, GA)
Kamal Grant opened Sublime Doughnuts to share "flavors and textures from around the world on a doughnut canvas." This Picasso of pastry joined the Navy and used the locations he deployed to inspire his expansive menu. We hear the Fresh Strawberries and Cream is a must-try, though this golden donut topped with CBD Honey, Lavender, Chamomile, and Turmeric Glaze is just the thing our nerves need.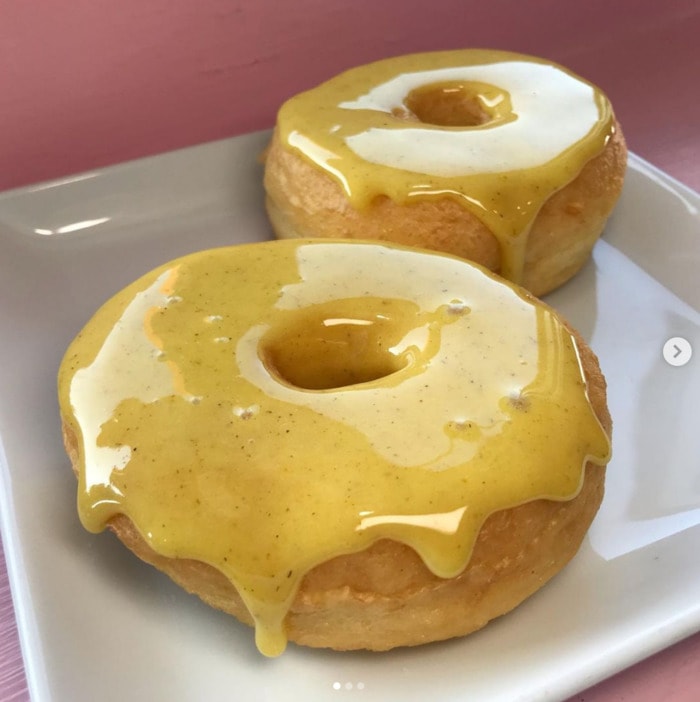 2. Blondie's Doughnuts (Baltimore, MD)
Blondie's signature doughnut is a brioche filled with sweet and tangy lemon curd. It's better known as the Jazzy Josie bombshell doughnut, and it gets its moniker from entertainer extraordinaire and civil rights activist, Josephine Baker.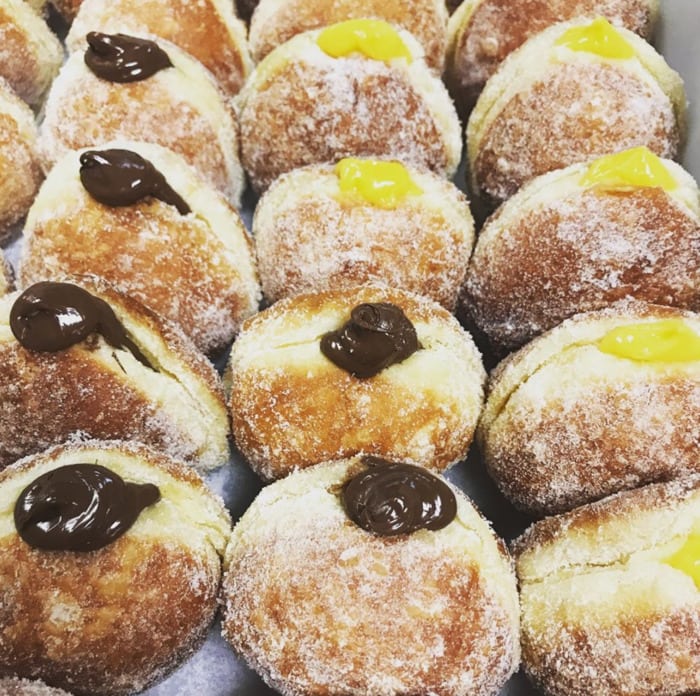 3. Dat Donut (Chicago, IL)
Dat Donut is open 24 hours a day, except on Sundays, when they close at 5pm. So when your Great British Baking Show binge leaves you with a 3am sweet tooth, you're covered! Crowd favorites are the pineapple, strawberry, and chocolate donuts, but you really can't go wrong. Unless you try to get that pineapple near our pizza.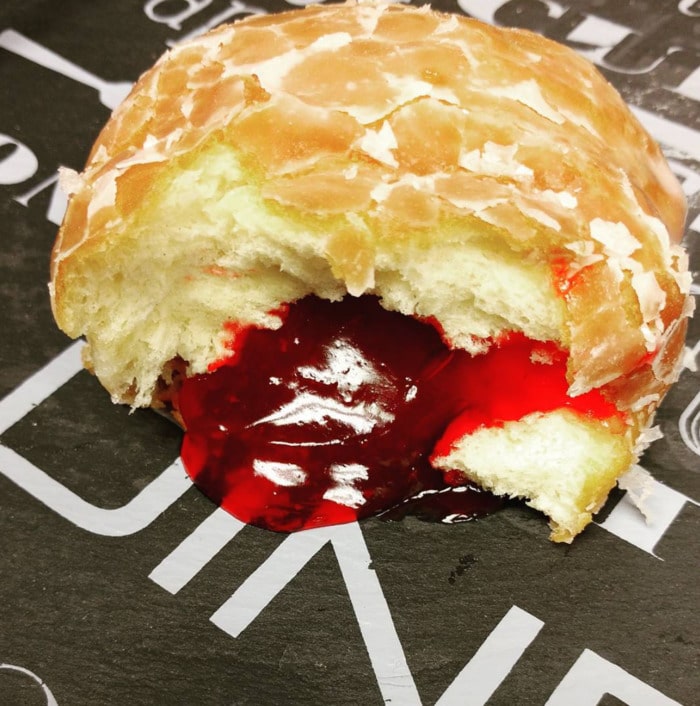 4. Cuzin's Duzin (New York City, NY)
At Cuzin's Duzin, the signature treat is Donuts For Grownups. These mini donuts have an alcohol-infused drizzle. The most popular flavors include Hennessy, Coquito, Ciroc, and Pink Moscato. It's also one of the most acceptable ways to enjoy booze before 10am. (The other is in our coffee.)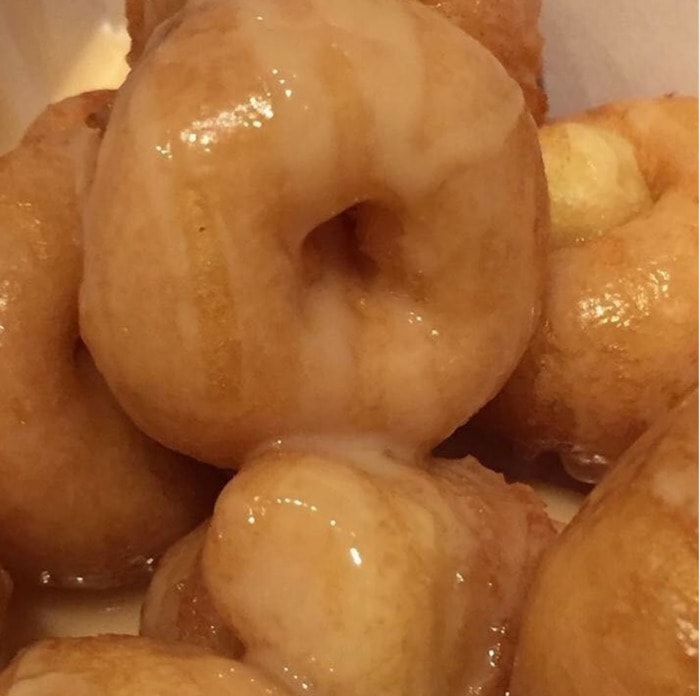 5. Palmer's Sweetery & Cafe (Maplewood, NJ)
It took the mother-daughter team at Palmer's 3 years to be satisfied with their dough. These small circles of joy are made in small batches and are available by pre-order only. So reward yourself for making it to Wednesday by reserving donuts for Friday. Future you says, "Thank you!" Also to look out for falling anvils.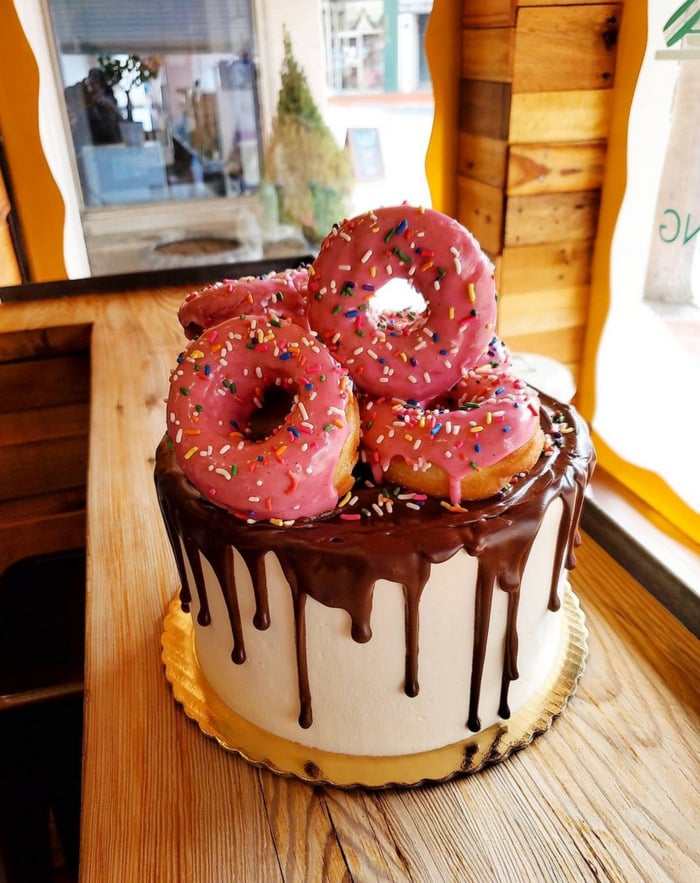 6. Detroit Mini Donuts (Detroit, MI)
Big flavors come in small packages at Black-owned donut shop Detroit Mini Donuts. From a tent to a food trailer to future brick and mortar locations, this shop serves bite-sized beauties with a variety of toppings. Might we suggest they add the Tyrion Lannister Mini Throne-nut to the menu?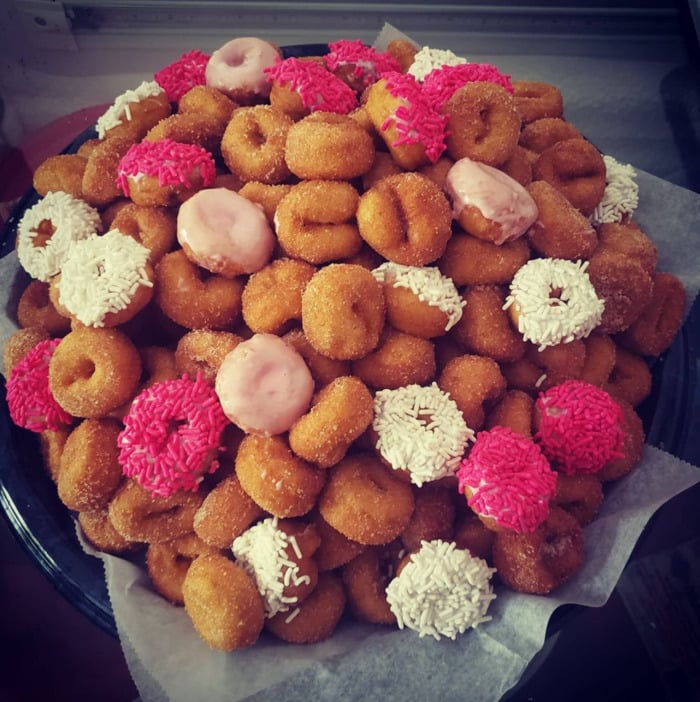 7. M&T Donuts (Los Angeles, CA)
M&T Donuts is housed in a rather nondescript building in Los Angeles' Watts neighborhood. But step inside, and you'll find pillow-soft, melt in your mouth crullers, donut holes and sprinkle mini-donuts. It's like stepping through a wardrobe into a donut Narnia. Except Mr. Tumnus is a yeast donut and since you ate him right away, so good luck finding your way around!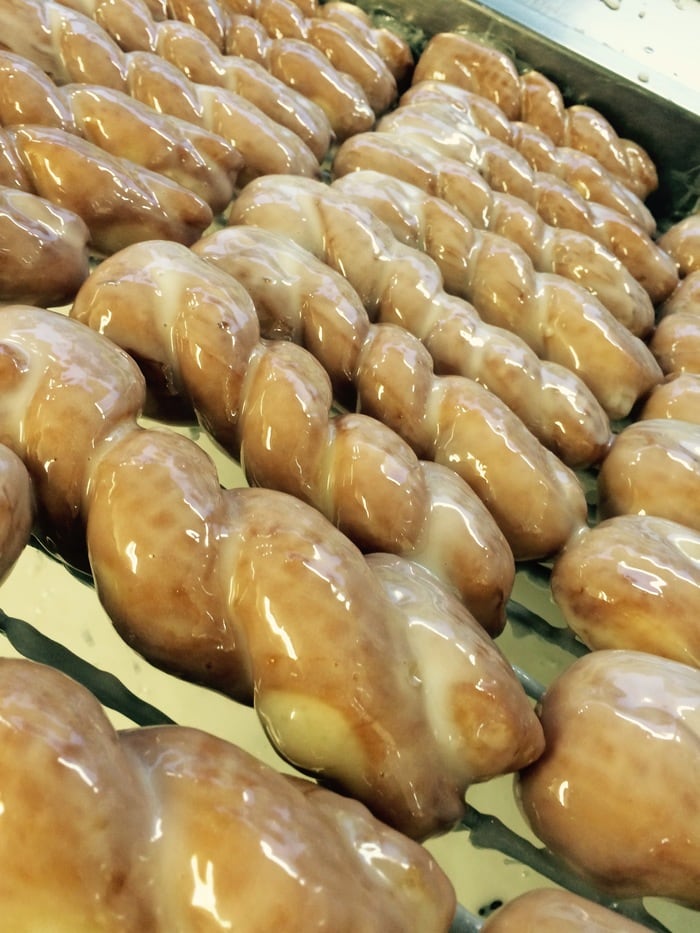 8. D&D's Place (Chicago, IL)
The husband and wife team at D&D's Place won 'Chicago's Best Donuts' at Donut Fest and made history for being selected crowd favorite three years in a row.
Take a bite of their Amazing Lemon, Ripe Raspberry, Fresh Strawberry, Homemade Caramel, Blueberry Heaven, or Citrus Orange donuts. These treats are pair well with milk, coffee, and browsing Zillow to find a nearby apartment so you can become a D&D's regular.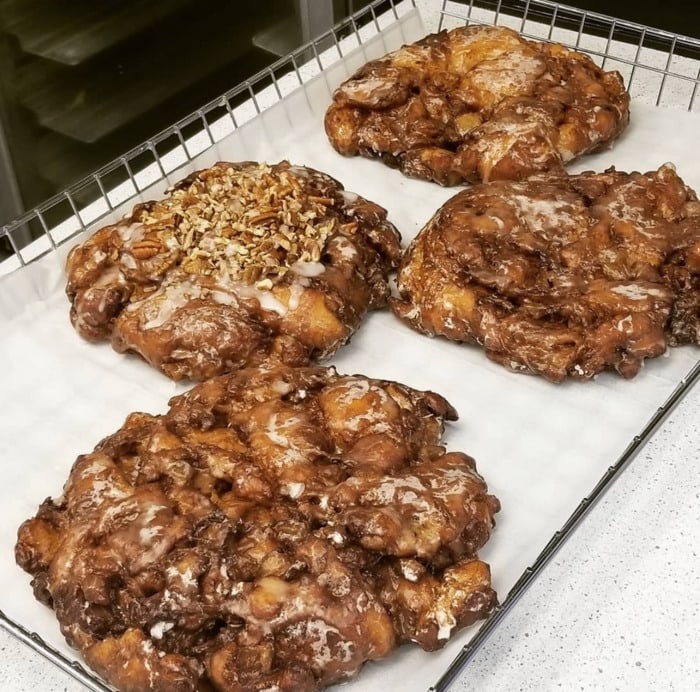 9. Old Fashioned Donuts (Chicago, IL)
If you don't see your favorite flavor at Old Fashioned Donuts, come back tomorrow! Their flavor rotation includes a variety of crullers (strawberry included) and blueberry donuts. One constant is their legendary one-pound apple fritter, topped with sugar glaze. If you need to justify your sweet tooth, 20 AA batteries weigh one pound, so think of all the energy you'll get from this fritter!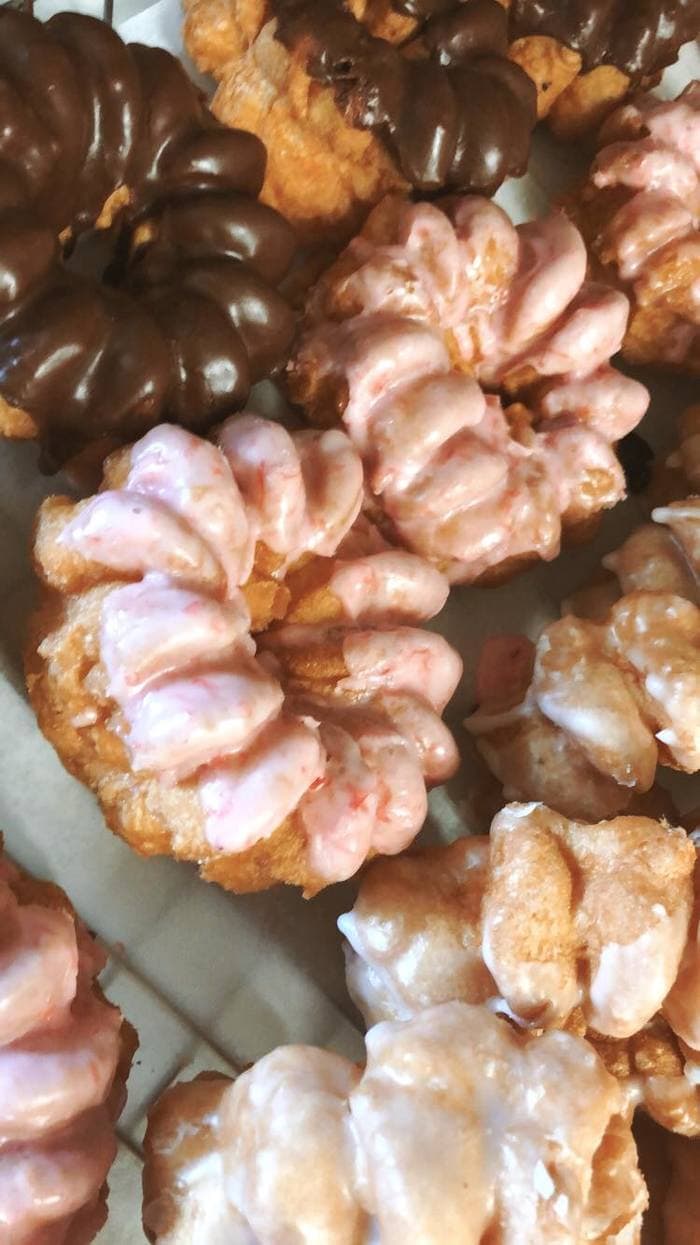 10. Dilla's Delights (Detroit, MI)
Herman Hayes has gone from humble entrepreneur to local legend thanks to his downtown Detroit donut shop, Dilla's Delights. The shop is a tribute to Hayes' nephew, legendary hip hop producer J. Dilla. Try creative offerings like sweet potato donuts, or the Rico Suave Cinnamon Raisin Cake vegan donut, while enjoying one of their music podcasts.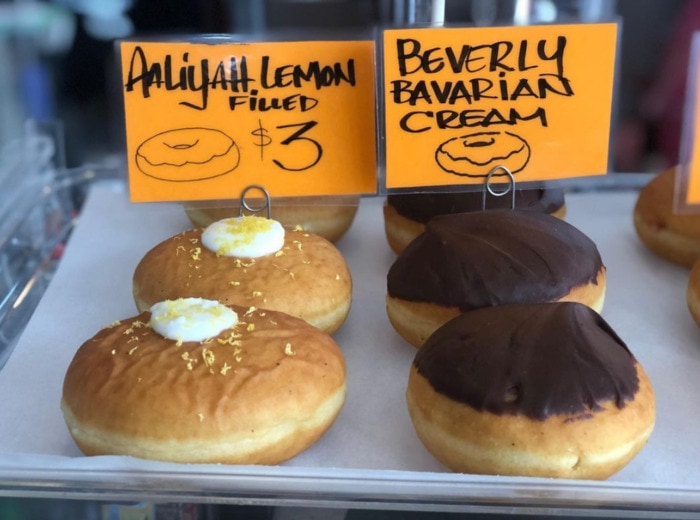 11. Dough Boy Donuts (Fort Worth, TX)
Looking for a donut topped with fruity pebbles cereal? Dough Boy Donuts has them. How about a maple donut finished with a thick slab of bacon? Check.
If those items are a little too pedestrian, try their take on a classic burger. It's a beef patty with American cheese, lettuce, tomato, housemade pickles and homemade spicy aioli, all sandwiched between a Dough Boy classic donut. Anything that makes our afternoon donut habit seem normal.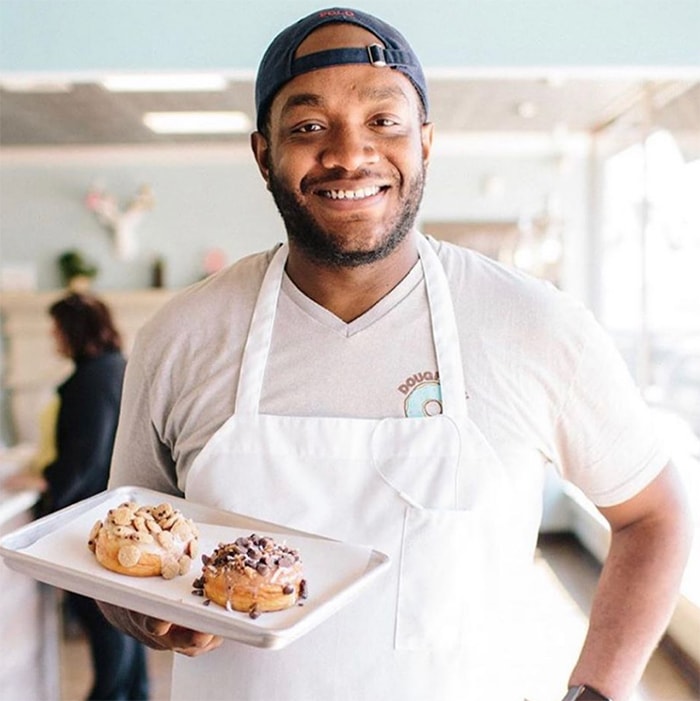 12. Glazed: The Donut Cafe (Houston, TX)
This 24-hour family-owned cafe serves up some of the best artisanal donuts in the country. We're talking S'mores, Creme Brulee, Bananas Foster, and Reese's Peanut Butter Cup donuts, and they do not skimp on the toppings! If you're looking for something savory, make sure you order their Bacon, Egg and Cheese sandwich on a glazed doughnut.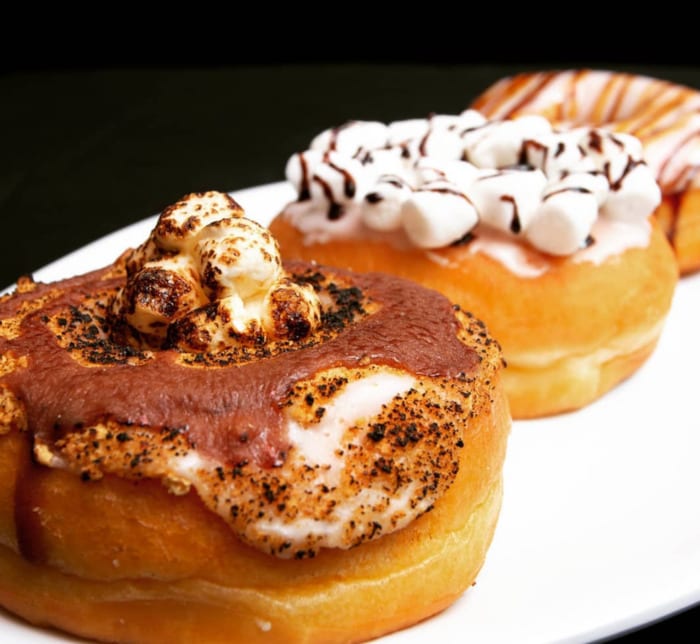 13. The Vegan Doughnut Co (Lakewood, OH)
Not only is this Ohio's first and only 100% vegan doughnut shop, but it's also 100% owned by Black women. The flavor rotation includes lemon lavender, strawberry shortcake, banana pudding, and a glazed twist. But don't drag your feet! They typically sell out by 11 am. Just bring a few extra to your meeting and no one will be mad that you're late. Or just bring one, and enjoy the ensuing battle royale.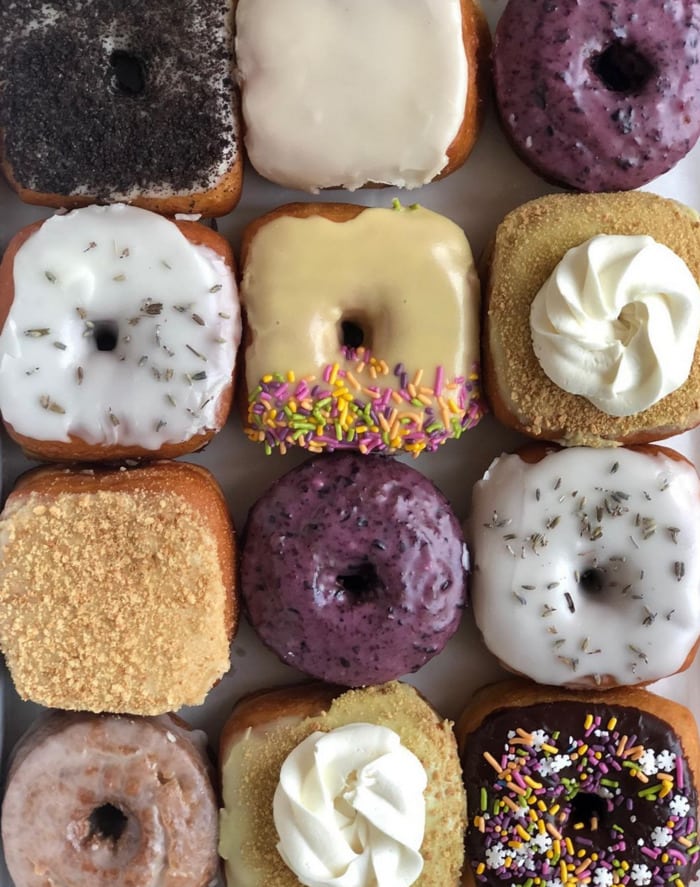 14. Mojo Monkey Donuts (St. Paul, MN)
Lisa Clark drew her inspiration for her shop's name and logo from her kids' obsession with Power Puff Girls' nemesis, Mojo Jojo. But in this shop, the donuts are the hero! Mojo Monkey serves an assortment of cake donuts, crullers, raised, fritters, bars, bismarcks, and donut holes. And yes, everything is made with sugar and spice and everything nice!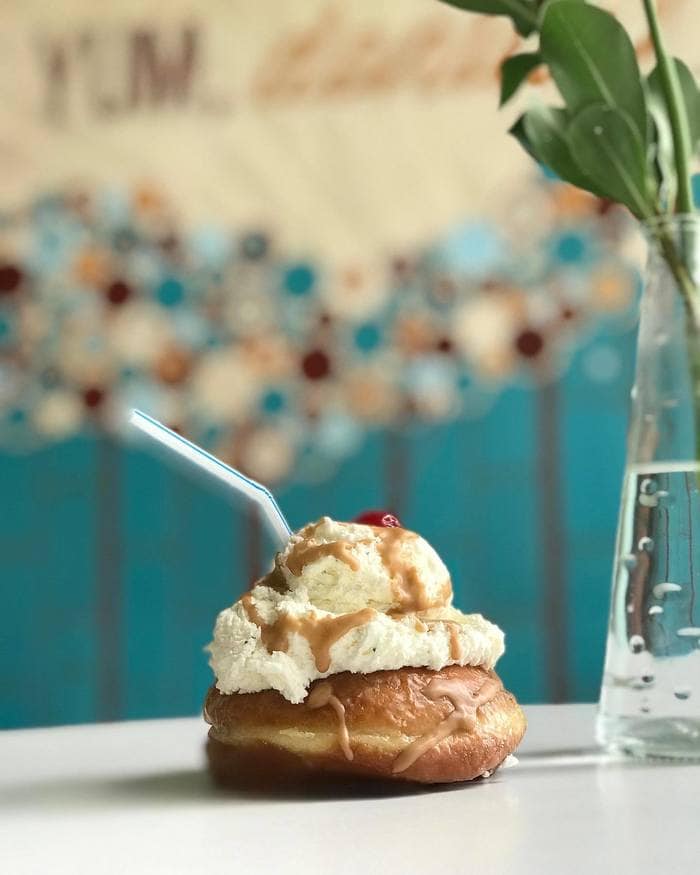 15. Blue's City Donuts (Memphis, TN)
A crispy piece of fried chicken drenched in Buffalo sauce, sandwiched between a glazed donut? Blues City Donuts calls it the Buffalo Chicken Bismarck. It's just one of their creative confections that include flavors like Jolly Rancher and cheesecake. Donuts: They're what's for dinner (and dessert).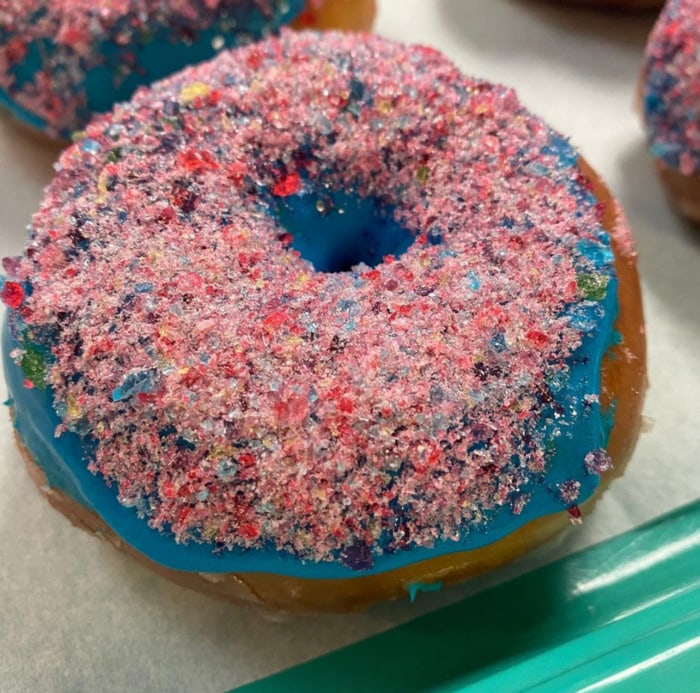 16. Thrive Doughnuts (Los Angeles, CA)
With keto, vegan, and paleo options, Thrive Doughnuts challenges the notion that donuts can't be healthy. The entire menu is gluten, grain, and refined sugar-free because it's LA!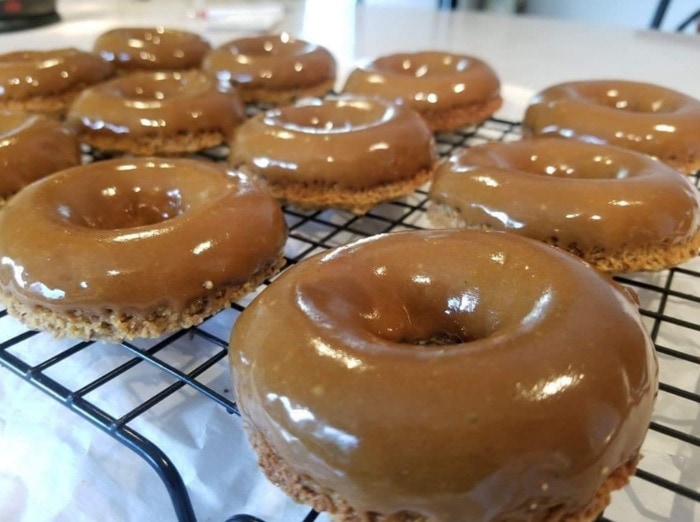 17. The Donut Guy (Winnsboro, SC)
The Donut Guy's mini donuts come smothered in a variety of toppings. You'll find adventurous flavors such as blueberry lavender and blackberry sage, as well as favorites like cinnamon sugar and red velvet. If only every guy were this adventurous.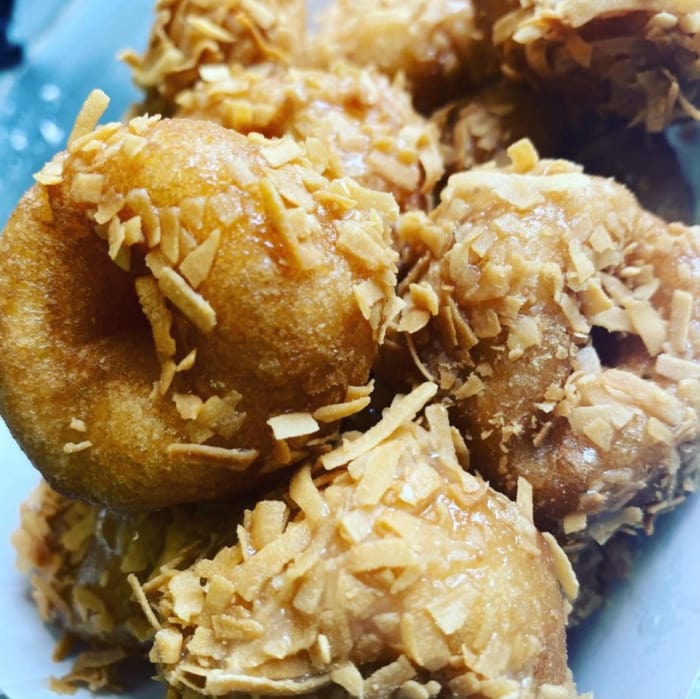 18. The Donut (Centennial, CO)
This coffee shop serves up the new donut classics: maple bacon, red velvet, bear claws, and every glazed and sprinkled variety you can think of. Enjoy them with other new classics like pumpkin spice lattes and baby Yoda.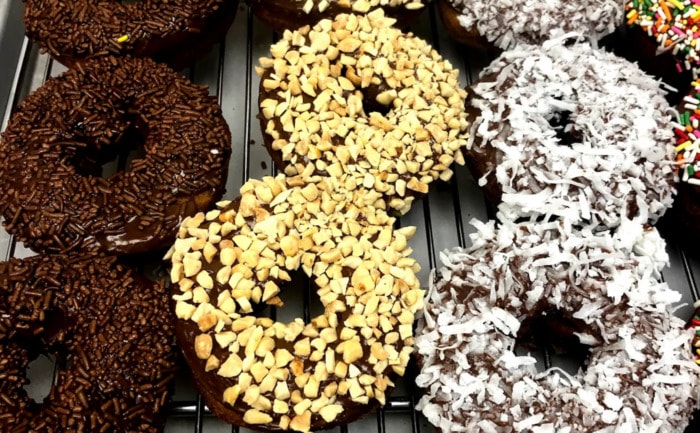 19. Brown Sugar Chicken & Donuts (Kansas City, KS)
Sweet and savory has always been a winning combination, but Brown Sugar Chicken & Donuts takes the concept to the next level. Their menu includes a chicken & donut sandwich, a Nutella-filled delight, and a sugar and spice breakfast burrito bowl served with a brown sugar donut.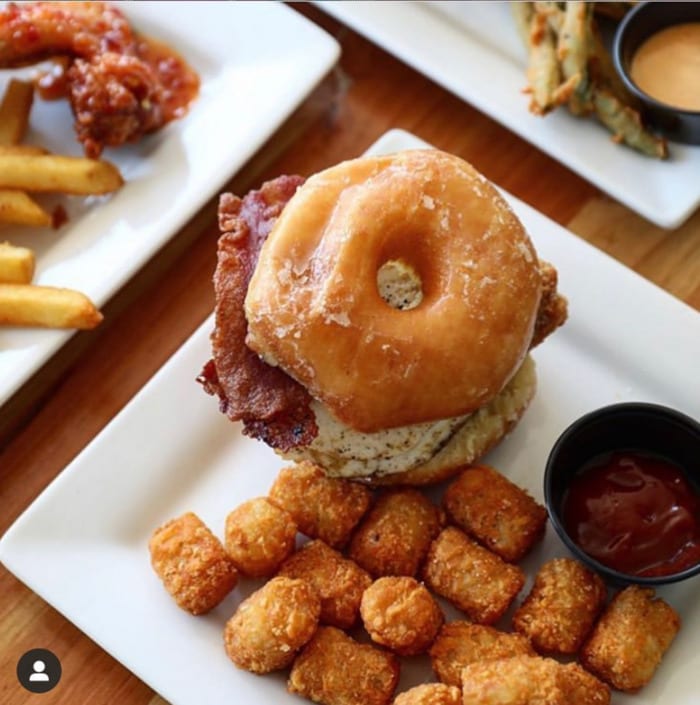 20. Downstate Donuts (Chicago, IL)
Downstate Donuts' potato donuts are gluten-free, while retaining the crunchy exterior and moist bite of traditional fried dough. Some of the most unique flavors include guava & cream, sweet potato ginger, and banana cream with macadamia crumble. Give'em a try. We think you'll be best spuds.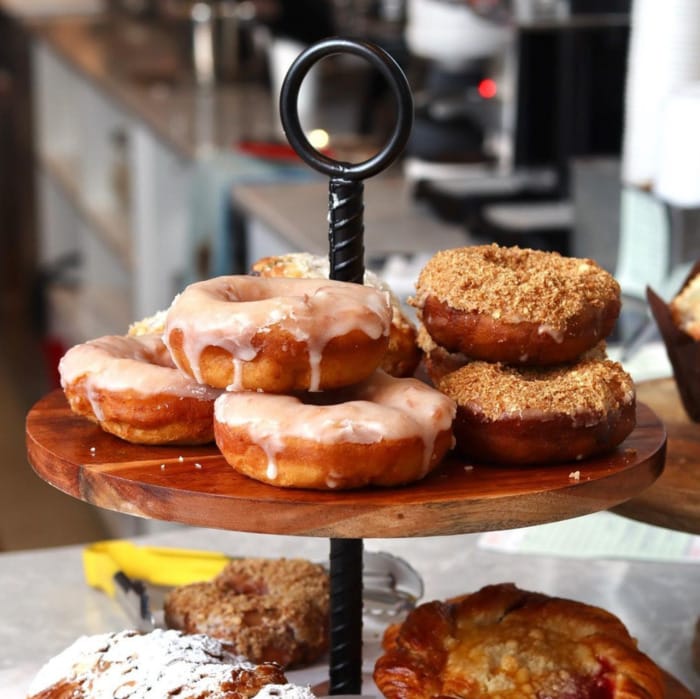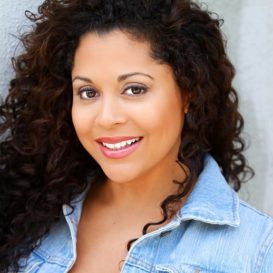 Latest posts by Vianessa Castaños
(see all)