Hocus Pocus season is upon us once again. And with Hocus Pocus 2 coming out on September 30, our viewing parties would be incomplete without at least one of these cool Hocus Pocus cakes. Oh, and wine.
The confections are decorated with buttercream frosting eyeballs, Sanderson Sister cake toppers, and spooky spell books. Just add a black flame candle (or three hundred) to top it off.
And then join us on our crusade to get Winifred to drop her skincare routine. So grab your witches, cats, and children, and enjoy a slice. Of the cake. Not the children. Although, we've heard they do wonders for wrinkles.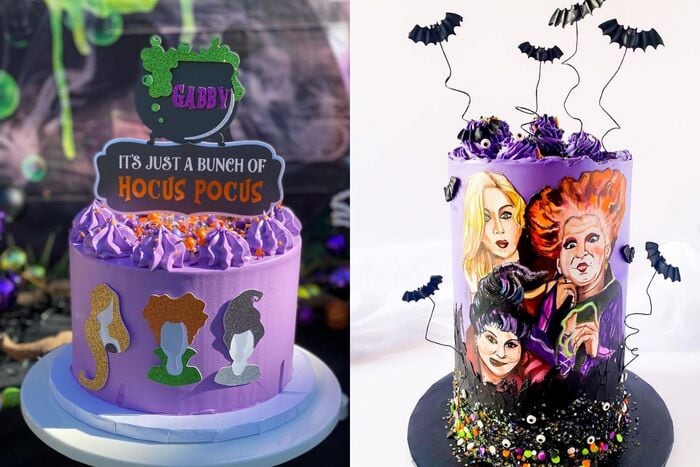 21 Hocus Pocus Cakes
1. Sanderson Sisters Cake
They're hereeee. For a cake that will scare all children in the vicinity, check out this one. The hand-painted details are almost enough to lure them out of hiding. What? We're out of moisturizer.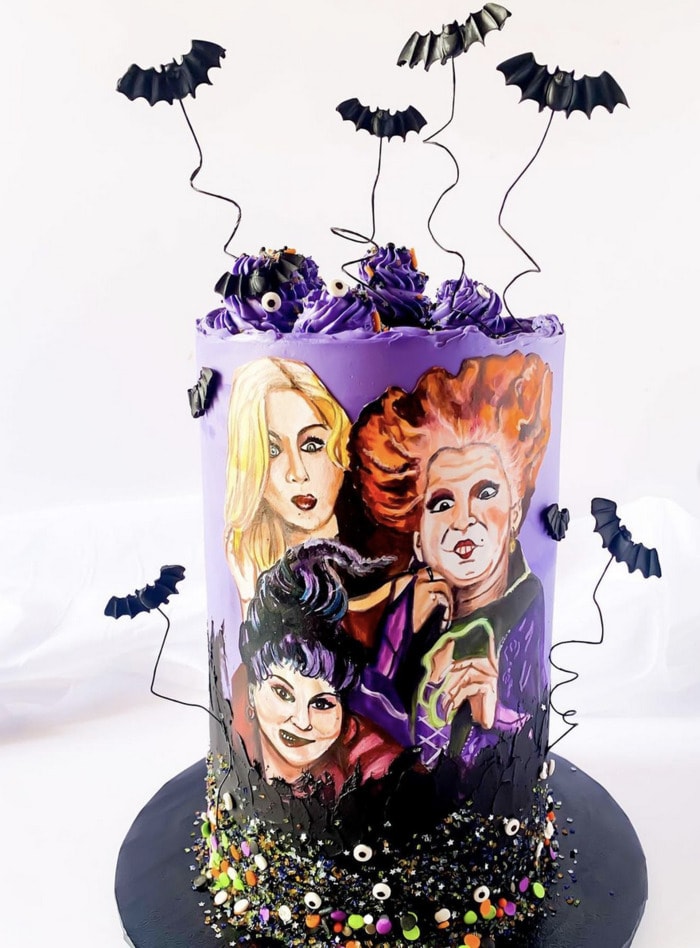 2. Hocus Pocus Book Cake
This cake brings out the little details like Winifred's grimoire, the black flame candle, two brooms, and even the vacuum cleaner. Maybe in Hocus Pocus 2, Mary's ride will be upgraded to a Roomba.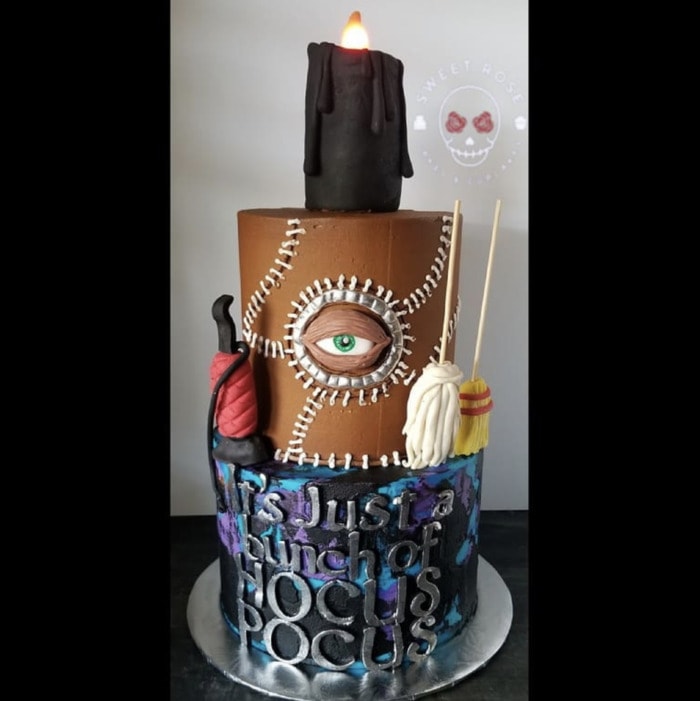 3. Hocus Pocus Pull-Apart Cake
Defeat the sisters for good with this pull-apart cupcake cake. Revenge never tasted so sweet. Um…nevermind. Winifred, you're a salty girl.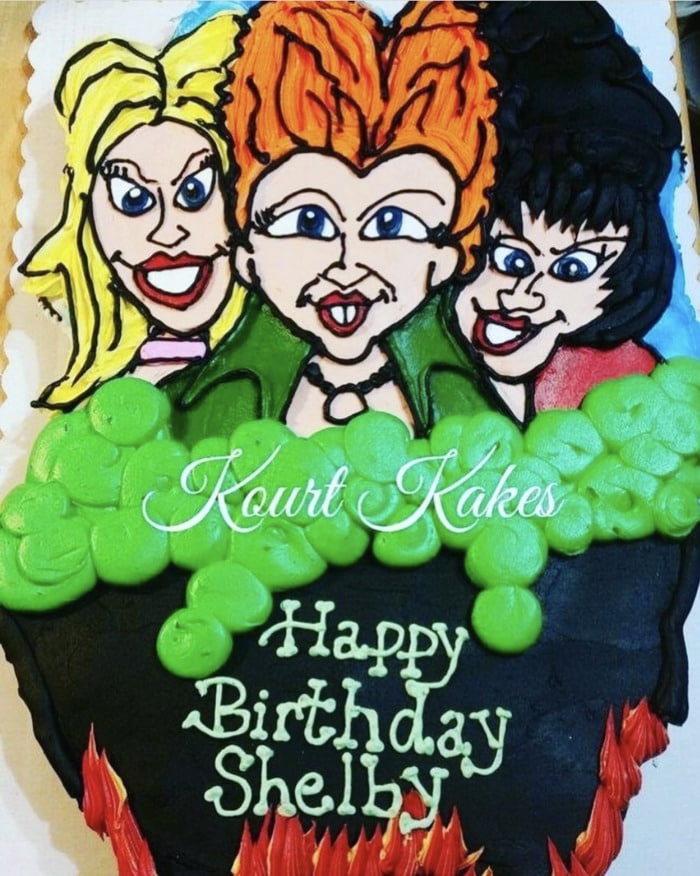 4. Winifred Sanderson Cake
Sculpted cakes are all the rage, and this one of Winifred will add some spooky fun to your next binge-watch. Plus, if you've ever seen a bust of a scary witch lady and said, "hmm, I wonder what that tastes like," now you'll know. More lemon-y than we anticipated.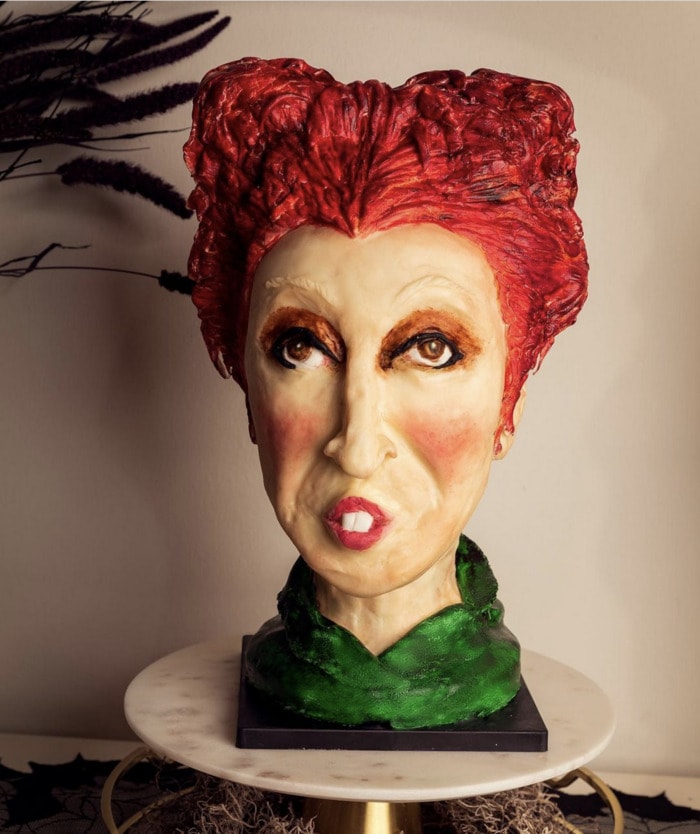 5. I Smell Children Cupcakes
These Halloween-themed cupcakes come in black and purple and feature the classic Mary quote, "I smell children." That's the difference between us and the Sanderson gals: the only times we've ever smelled children, we ran in the opposite direction. Not our kid, not our diaper change.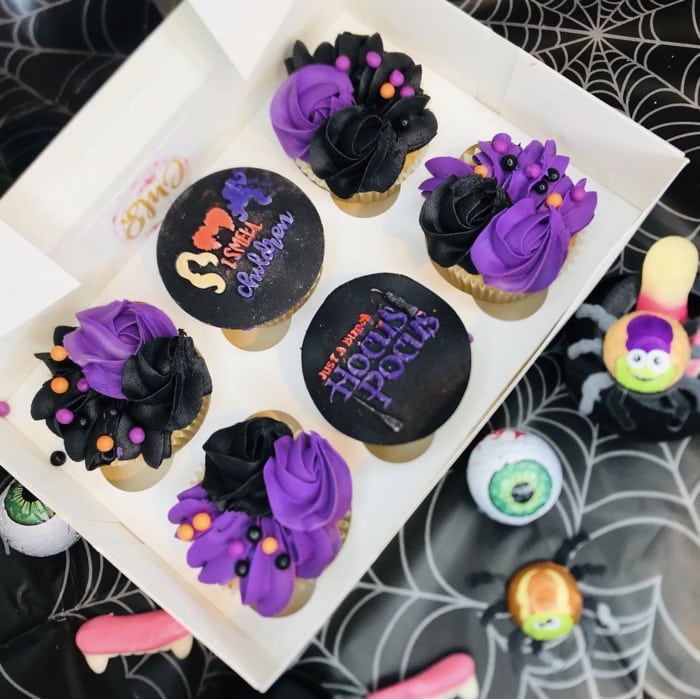 6. Hocus Pocus Cake
When we attempted to bake this cake, it got all deflated and soggy-looking. Then we realized we forgot to add the eye of newt. Foiled again!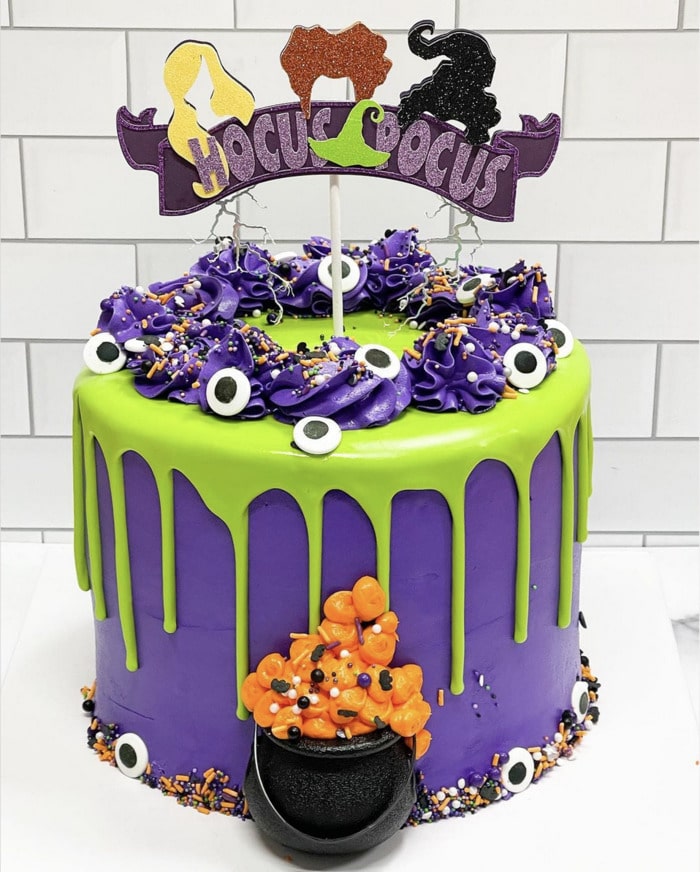 7. Thackery Binx Cake
Many cakes feature the sisters or their hair, but this one adds some of our other favorite characters, like Billy and Binx. We just have one question: where do we go to adopt a giant cat?
8. Cauldron Cake
Make sure whoever eats the cauldron part doesn't have to go to work tomorrow. We've heard rumors of never-ending dance parties and Madonna impersonators. Or was that just a dream about our high school prom?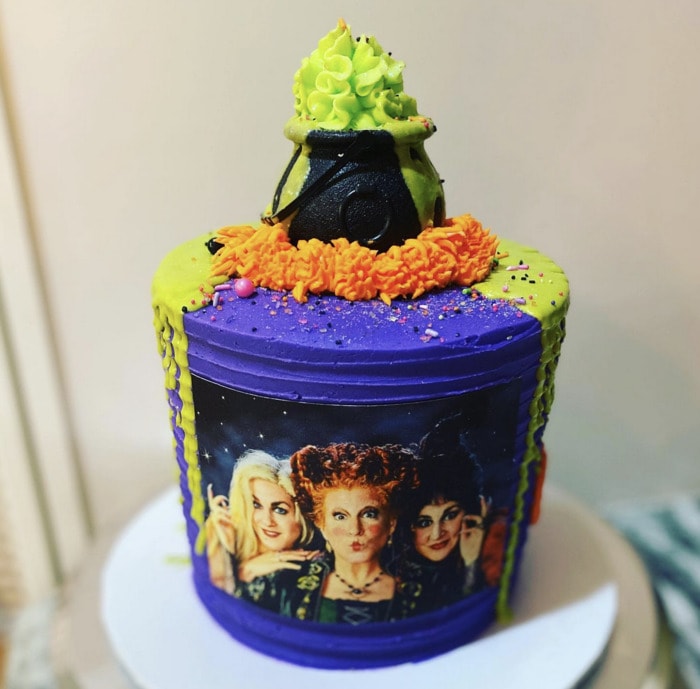 9. Black Flame Candle Cake
If Disney+ didn't already beat you to it, here is your very own black flame candle to bring the witches back again. We're a little low on virgins, though.
10. Dani's Hat Cake
For a child-friendly cake, this one features glittery pumpkins and Dani's witch hat. The sisters are still represented by their trademark hairdos. Let it be known that Winifred rocked space buns before they were cool.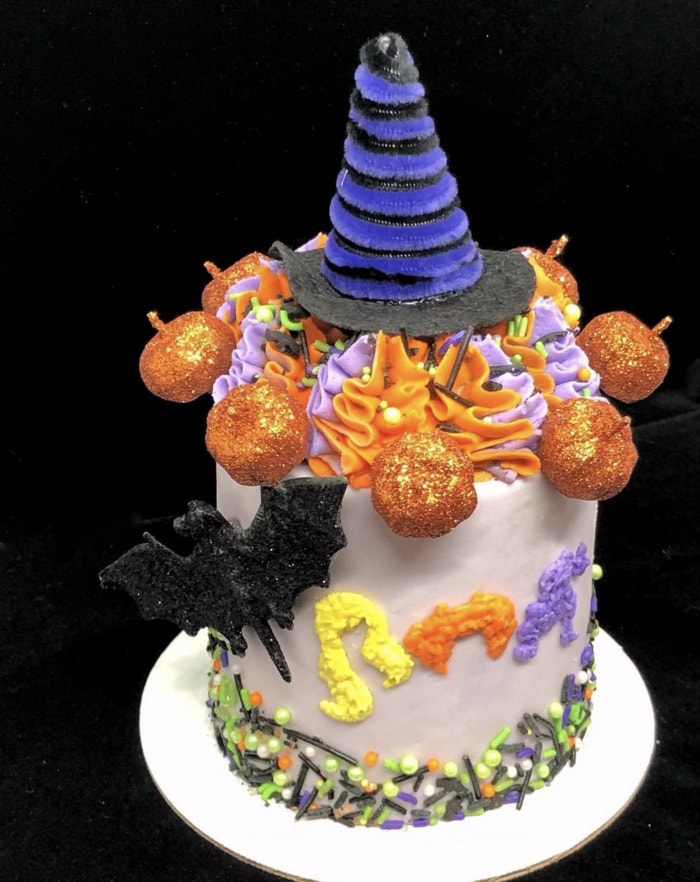 11. Funko Pop! Cake
Finally, a way to use our Funko Pop! collection. Now we just have to figure out how to unload all those old PEZ containers.
12. I Put a Spell On You Cake
Is this one of those things where if you see them, it's already too late? If so, we will take that third margarita, thank you.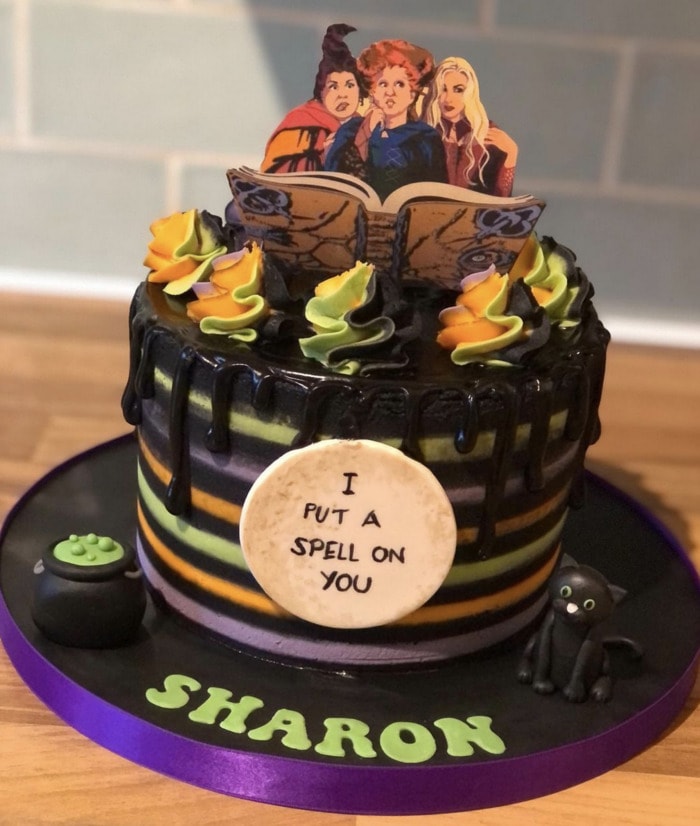 13. Just a Bunch of Hocus Pocus
Don't let the sign fool you. Gabby tasted amazing.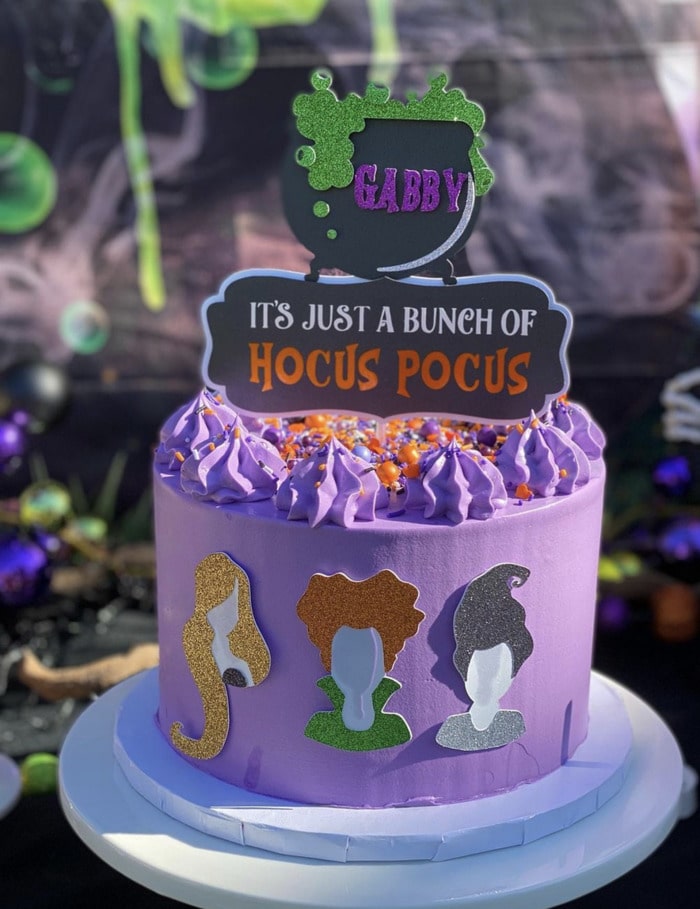 14. Sanderson Sisters Cake
Apparently this unicorn-cake inspired dessert tasted just as good as it looks. No thank you, we're full. Really.
15. Winfred's Hair Cake
This cake really emphasizes the part of the movie where she melts into oblivion, leaving only a cloud of Aqua Net hairspray behind. If you're looking Alice in Wonderland cake, this could work in a pinch. Actually, yes, that's the spot.
16. Hocus Pocus Characters Cake
There's nothing better than a cake featuring all of our favorite characters. Billy's head comes pre-cut, so you only have to avoid beheading the rest of them.
17. Winifred's Spell Book Cake
The Manual of Witchcraft and Alchemy (also known as Booooooook) is a staple at any witchy party. Just one more bite until we learn the flying spell.
18. Winnie, Mary, and Sarah
Winnie looks practically pleasant on this Hocus Pocus cake. That's what 300 years of beauty sleep will do for ya.
19. Two Hocus Pocus Cakes
What's better than one Hocus Pocus cake? Two, obviously. Next, we'll cover multiplication.
20. Hocus Pocus Cupcakes
Cupcakes are technically cakes. Our DMs are closed. We've seen more than enough feet pics for one day.
21. Hocus Pocus Cake
The purple and green color scheme really brings out Billy's eyes, don't you think?
Latest posts by Kristen Winiarski
(see all)