Since his debut on The Mandalorian, the Child — AKA, Grogu, AKA Baby Yoda — has inspired memes, merchandise and heated Reddit conversations. (And, no, your mean comment about Luke did not make us cry!) He's basically so cute you could eat him up, so… here are a dozen Baby Yoda cupcake ideas so you can do just that.
Grab your saber — er, spatula — and prepare to keep him nice and safe, Sarlacc-style.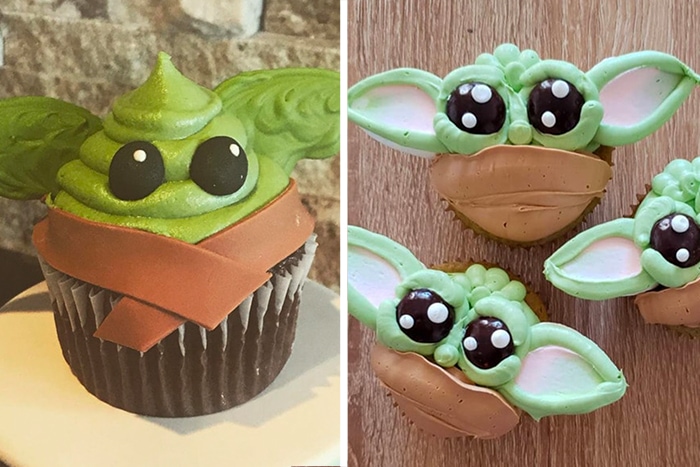 12 Baby Yoda Cupcakes
1. Buttercream Baby Yoda Cupcakes
These matcha pistachio creations by Carulli Cakes feature Junior Mint eyes, marshmallow ears, and decorative buttercream. LeeAnn Carulli says the cupcake design has gained a lot of popularity in her Mandalorian-obsessed community and she plans to hold small, in-person Baby Yoda cupcake classes soon.
If you're in the Mesa, Arizona area, check their site for class updates. (Tip: You can also check the website before arriving in Mesa — the Internet works pretty much everywhere!)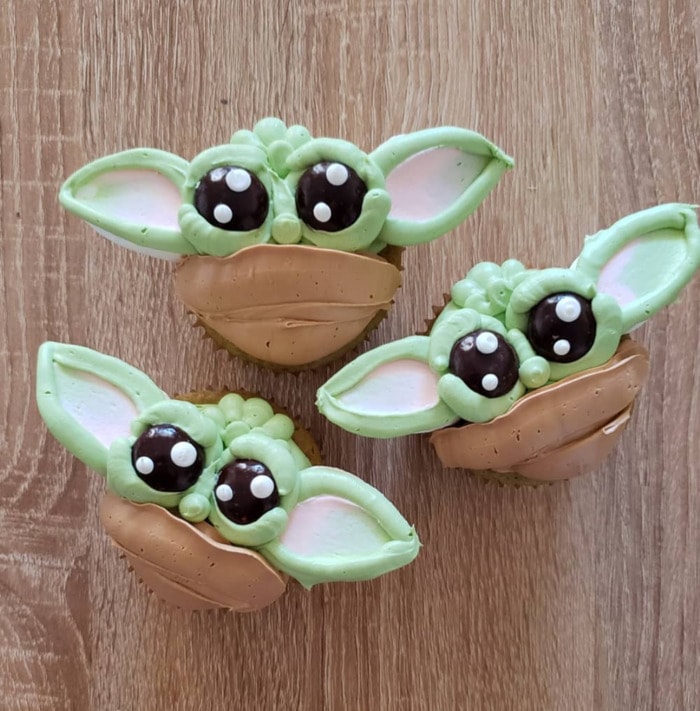 2. Yoda Cupcakes
These aren't really Baby Yoda cupcakes, but their faces really haven't aged a day past 50. We learned from this video tutorial by the owner of Choco la Bella how to mold neon green fondant into Yoda cupcake toppers and also that there are such things as "fondant tools."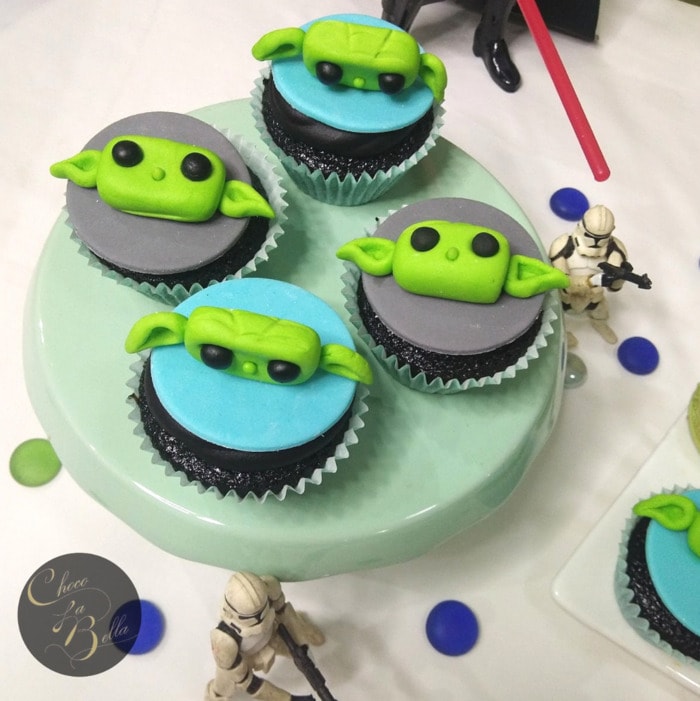 3. Baby Yoda and Baby Leia Cupcake Toppers
If Baby Yoda met Princess Leia when she was a kid, they'd totally be best friends — she seemed pretty into cute-meets-violent playmates. This instructional video from Cake Therapy shows you how to shape and texturize fondant into Baby Yoda and Leia cupcake toppers, so they can live together happily ever after… until you eat them.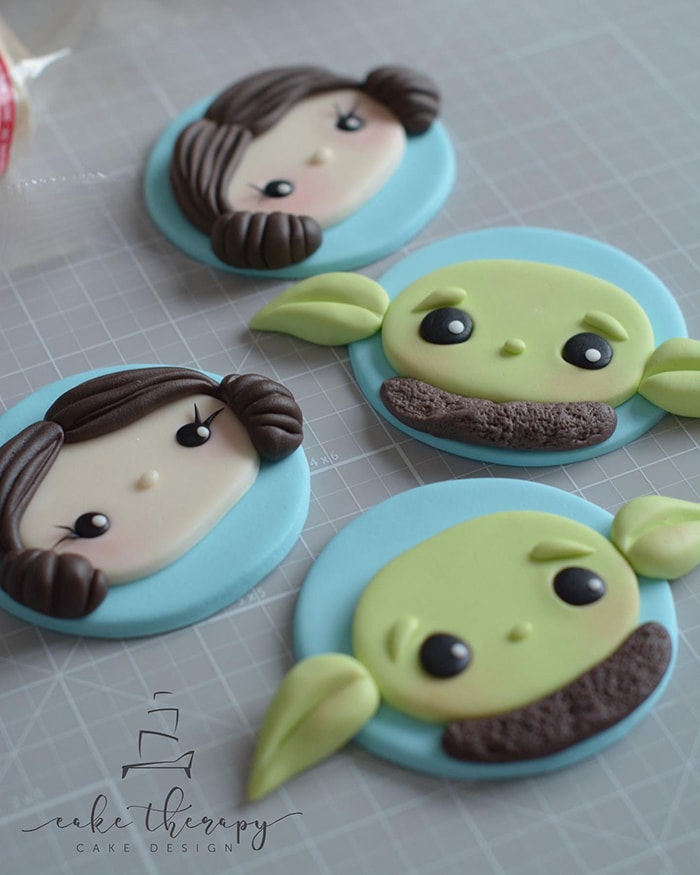 4. Matcha White Chocolate Baby Yoda Cupcakes
We're fawning over the recipe for these Baby Yoda cupcakes from Drop of Disney. They're topped with swirled frosting made with matcha powder and white chocolate chips. Then just add fondant ears and raisins or candy for the eyes. The fact that it more closely resembles a classic cupcake, not the most precious alien ever, will make you feel less guilty about devouring two (or 10).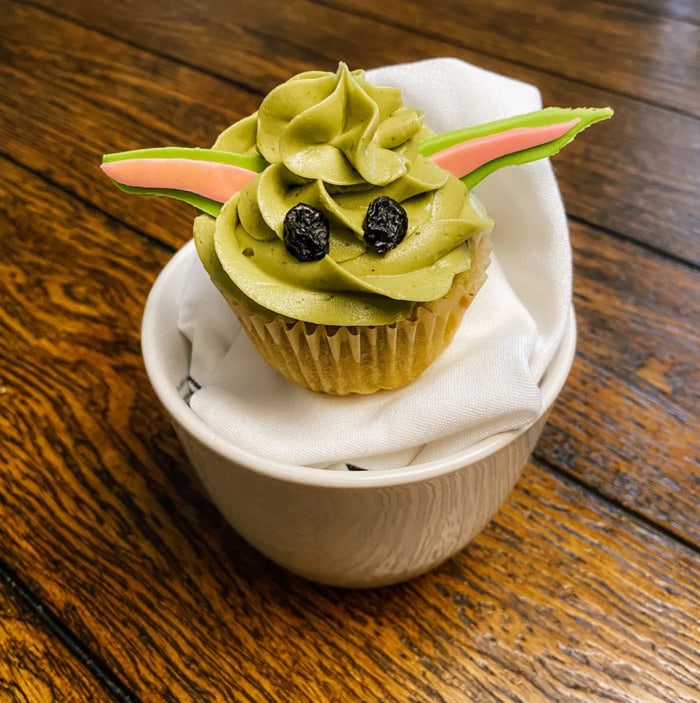 5. Minimalist Yoda Cupcakes
These treats are labeled as Yoda cupcakes, but since they are faceless, we're totally going to fool people into thinking they're Grogu. To make the simple recipe from 1 Fine Cookie, you'll need a batch of vanilla cupcakes, white frosting, food coloring, and olive green candy melts to form his perky, wing-like ears.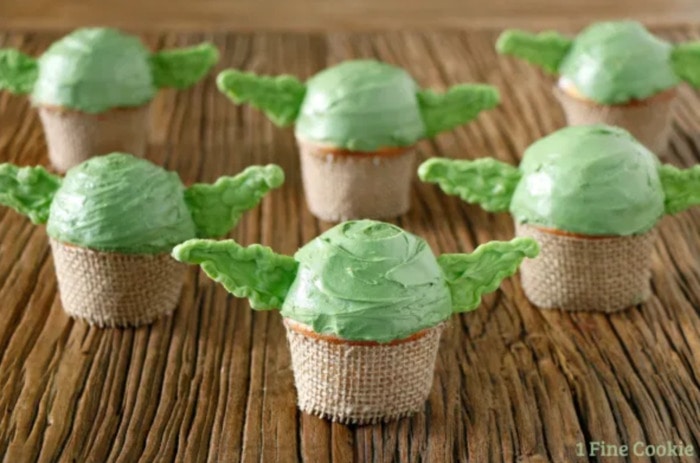 6. Mandalorian Baby Yoda Cupcakes
These cupcakes from Ever After in the Woods get their St. Patrick's Day color from green candy melts and their shiny black eyes from piping gel. They're easy to make and slightly easier on your liver than actual St. Patrick's Day.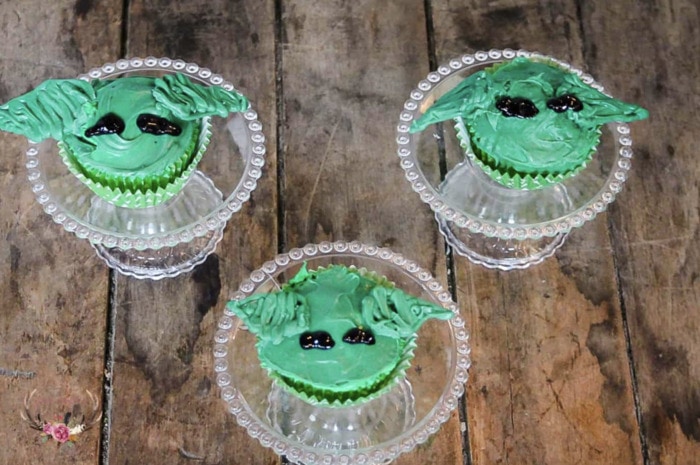 7. Key Lime Baby Yoda Cupcakes
Reddit user MaximumFuss shared these Baby Yoda cupcakes that feature the tropical flavor of key lime. (OMG, can you just picture the Child on a beach in little swim trunks and an umbrella in his soup mug? Because we can't. It's too unlikely a scenario.) These cuties have ears made from – surprise! – green candy melts and uses chocolate chips for eyes.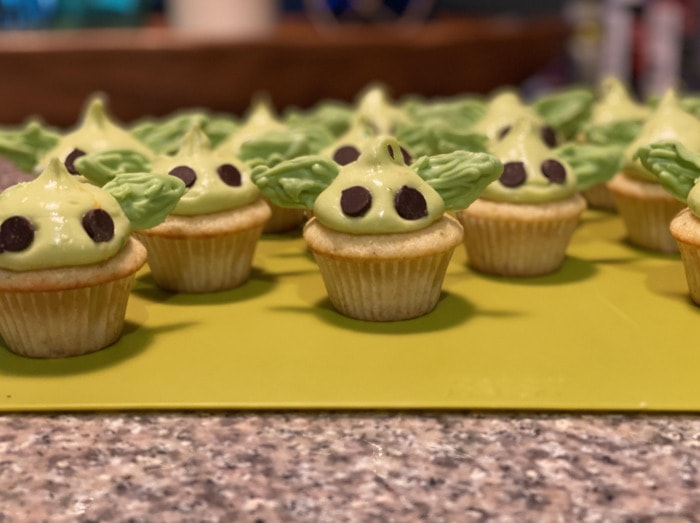 8. Galaxy Confetti Baby Yoda Cupcakes
These sparkling beauties represent what Baby Yoda would look like after a long night of partying at Studio 54 in 1981. The geniuses at Frosted Cakery in Fresno, California made them using blue and purple confetti cake, confetti buttercream frosting, edible glitter, and fondant Baby Yoda faces. They're available as a custom order.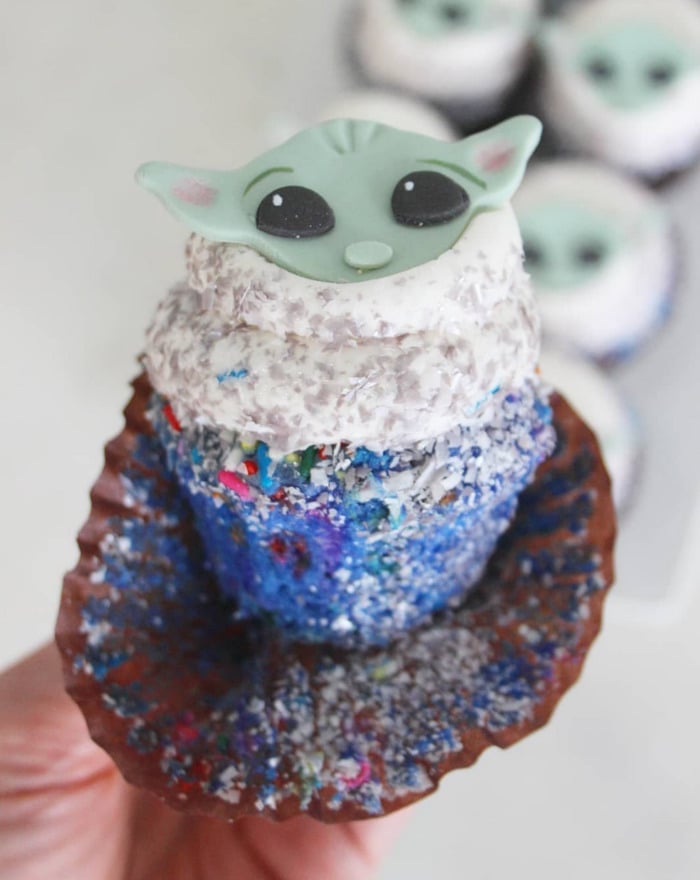 9. Valentine's Day Baby Yoda Cupcakes
These bug-eyed sweet treats from the Delhi, India-based Oraya's Oven display the piped-on phrase "Baby Yoda one for me." We thought it was six for us. Anyway, happy Easter!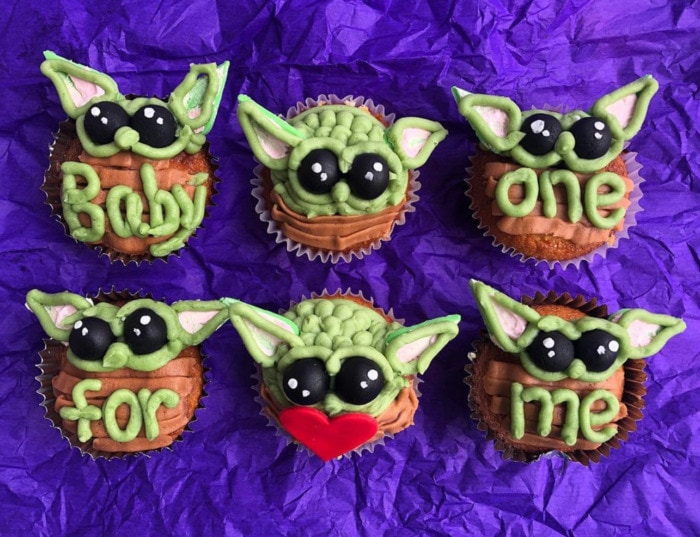 10. Chocolate Baby Yoda Cupcakes
These chocolate cupcakes from Nina's Sweet Treats are topped with a pyramid-shaped swirl of green frosting and are cozied up in a brown fondant ribbon sash. If you try to recreate these at home, make sure to limit the brown color to the sash, otherwise you'll end up with poop emoji cupcakes.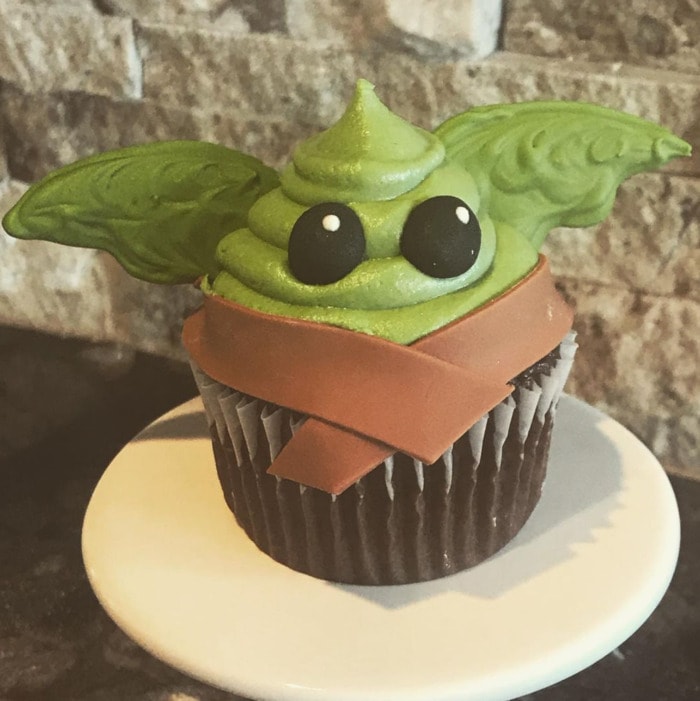 11. Macaron Baby Yoda Cupcakes
What's better than a cupcake decorated to look like Baby Yoda? A cupcake from Cake Emo decorated with frosting and topped with a Baby Yoda macaron. Which look awfully similar to those Frog eggs…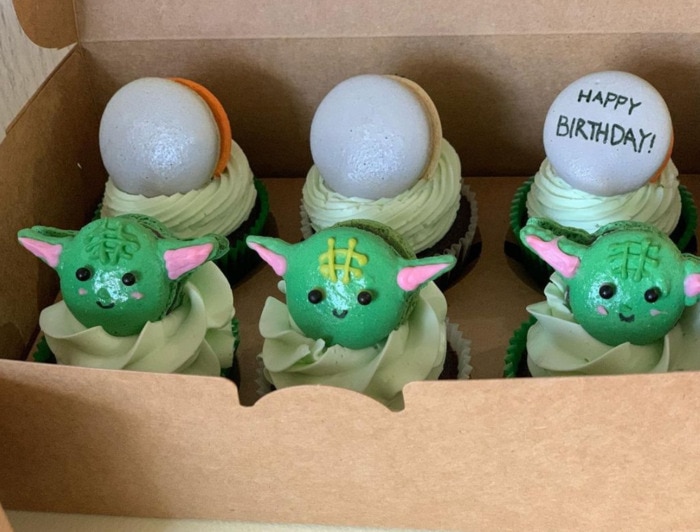 12. Fondant Baby Yoda Cupcake
In this video tutorial from Cakes by Tori Elizabeth, instructor Allie assures viewers that it's OK to mess up this detailed, life-like design because "as Yoda says, the greatest teacher, failure is." So when your end result is several lopsided green blobs, you'll learn this important lesson: Um, cupcakes are yummy? OK, so failure isn't always forthcoming with its teachings.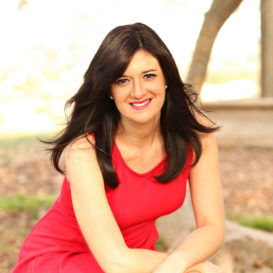 Latest posts by Natasha Chilingerian
(see all)