On July 8, BuzzFeed Tasty shared a video of people were slicing into mundane objects to reveal that these were all cake. It's not a White Claw! It's cake! It's not a Croc! It's cake. Which made us wonder. Are you cake? Am I cake? Why are people eating shoes? So many questions.
The cake makes us feel like a good time to bring back our favorite hyper-realistic cake: this snake cake by North Star Cakes. Oh, it wasn't a good time? You're still scared of snakes? Fine. We suppose we can share some Twitter reactions to the viral compilation video featuring Red Rose and Tuba Geçkil's cakes too.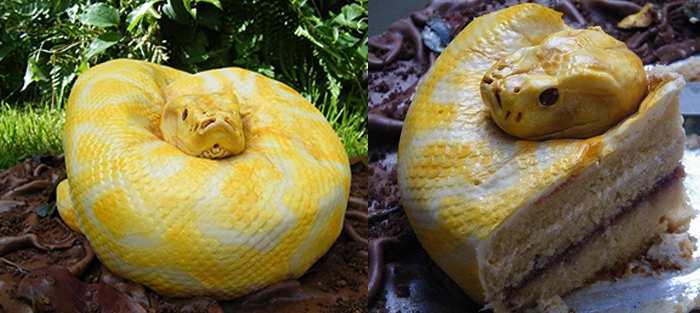 The original tweet from Tasty that started these cake memes:
These Are All Cakes pic.twitter.com/ejArkJHaid

— Tasty (@tasty) July 8, 2020
25 Funny These Are All Cakes Memes
1. Only the best ingredients.
Do you like our owl?

It's cake?

Of course it is.

Must be expensive.

Very. pic.twitter.com/Jj88v3H5NW

— Mike "Mike Rugnetta" Rugnetta (@mikerugnetta) July 12, 2020
2. Red velvet?
127 hours but when he finally cuts his arm it's a cake

— ???????????????????????????????????? (@spinubzilla) July 11, 2020
3. Time to get a better knife.
unbelievable cake pic.twitter.com/R2IkHmcYmA

— maureen monahan (@momonahan) July 9, 2020


4. That's one way to check.
Normal heart rate:
⠀ /⠀ ⠀ ⠀ ⠀ /
__ / __/__ / _
/⠀ ⠀ ⠀ ⠀ /

My heart rate when I'm a cake:
⠀
_________________________
⠀

— Carson (@CallMeCarsonYT) July 12, 2020


5. Cake tester keeps coming out not done.
i have chained my roommate to the kitchen table. i will be cutting him open to see if he's a cake. he says he isn't, but that's exactly something a cake would say https://t.co/DdBFYGmHVg

— royse (@Roysenotes) July 10, 2020


6. That poor doggo.
Amazing, but nothing will ever beat this one pic.twitter.com/BRE2T0r2kD

— arlo (@ArloNC) July 8, 2020


7. OMG everything really is cake.
If you get this joke it's time to take a break from Twitter. pic.twitter.com/iiSup36Nem

— Jesse McLaren (@McJesse) July 12, 2020


8. No, unfortunately, fondant.
E tu, buttercreme?

— Alex Eiden (@thesportswizard) July 12, 2020


9. Done.
let them tweet cake

— Tony Tulathimutte (@tonytula) July 12, 2020
10. Oh, well we feel all better then.
HANNIBAL SEASON 4 PLOT TWIST pic.twitter.com/MSkgM9Yovv

— bear (@Iecterh) July 11, 2020


11. Unless he was carrot cake. Then, no.
prosecutor: why did you murder that man

me: i thought he was cake

prosecutor: you "thought" he was cake?

me:

prosecutor:

me: i hoped he was cake

— Taming Fred Savage (@FredTaming) July 11, 2020


12. They were not.
Saw was just filled with a dude testing out a bunch of people and trying to figure out whether or not they were snaccs

— Love, gee kay❤️(she/her) (@eurydiceyaki) July 11, 2020


13. Gives a whole new meaning to the word.
Now I know why "looking like a snack" is a compliment.

We're all cakes.

— Tolu (@TeeIjiti) July 12, 2020


14. Eat the rich?
the french beheading marie antoinette was their way of finding out if she was made of cake or not

— ً (@filmcal) July 11, 2020


15. They're getting louder.
This is super impressive but I can sense the screams rising from r/fondanthate all the way over here

— Locke, dangerous dumbass bi (@giantrobit) July 9, 2020


16. Where's our eye of newt?
Witchcraft ???????? https://t.co/m1w3ELaomz

— shortay???? (@_sylvi_shortay_) July 12, 2020


17. Not sure what the best answer is.
First date question: are you a cake?

— ???????????? (@glochelr) July 12, 2020


18. A cool cake.
i'm not like other girls i'm actually cake

— ???????????????? #OustDuterte (@BUKOJUlCE) July 11, 2020


19. Could have been worse?
got a paper cut and found out i'm a cake wtf

— 333 (@ih8threat) July 11, 2020


20. Paging the Donner Party.
Everything is a cake if you're hungry enough

— FE40536 (@Blood_Peace) July 11, 2020


21. Uh oh!
everything's cake nowadays pic.twitter.com/s0ydQTka8p

— Duke of Ash (@DUKE_of_ASH) July 12, 2020
22. We stan this.
my parents: why do you spend so much money on those kpop albums?

me, cutting my stack of kpop albums with a knife: this is all cake

— ????♡???? (@momotozakis) July 12, 2020
23. It's a match made in heaven.
2020 And here I am with my cake husband Jimin pic.twitter.com/7ptFIhMgSm

— Natalie Sideserf (@NatalieSideserf) July 10, 2020


24. Gotta grab a slice of that super thicc cake.
This too, is unbelievable cake… pic.twitter.com/gA2XDQdD4b

— Eclectic Eel (@zang808) July 9, 2020


25. Send help.
EVERYTHING IS MADE OUT OF CAKE ???????????? pic.twitter.com/rZusaXV84l

— Coolman Coffeedan (@coolcoffeedan) July 12, 2020
Want to make your own realistic cake? Natalie Sideserf shows you how it's done.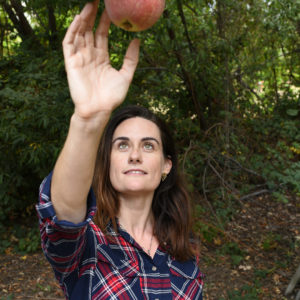 Latest posts by Rebecca Swanner
(see all)