If you want to learn how to bake, you probably wonder what essential baking tools you need. These are the baking tools I think every baker should own, in order from most to least essential.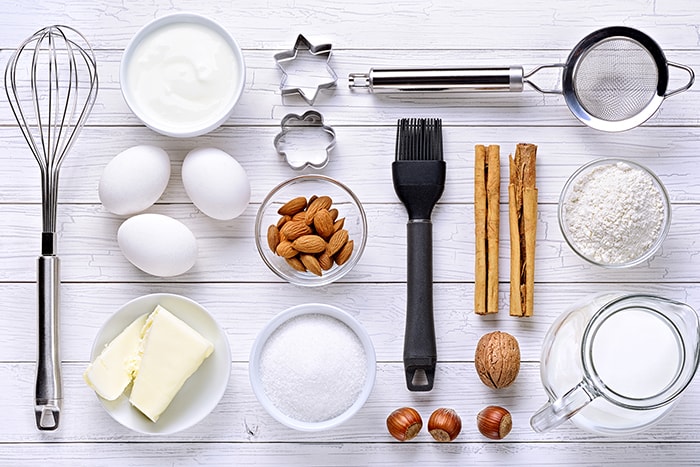 Do you really need a rolling pin? What about one of those fancy silicone baking mats? Will your pie crust be a baking disaster if you don't own a pastry brush to do a proper egg wash? (Spoiler alert: No, no, and pie crust is always delicious.)
Baking in a well-appointed kitchen filled with all sorts of baking accessories and appliances and a chocolate mold in the shape of the Eiffel Tower could make things easier, but you don't need all that stuff to get started. In fact, when I first started baking, I barely had any equipment, because I believe in taking a minimalist approach and mastering the basics.
Just kidding. I was unemployed and broke.
Every baking recipe will call for something specific. A bread recipe might need a loaf pan. Cupcakes and muffins will need cupcake liners and a muffin tin. Cakes call for all sorts of cake baking tools.
After all, baking is a science, and lab experiments call for the proper equipment.
Luckily, you can find a workaround for most specialty baking tools — but there are a few essential baking tools that nearly every recipe requires. These are them.
14 Essential Baking Tools
1. Oven Mitt
What I Recommend: Rosanna Pansino Oven Mitt
Safety first! All of the other baking tools on this list are going to make it easier for you to bake, especially if you're just starting out. But, unless you're only making raw treats, you'll need a safe way to remove those cookies or cupcakes or pies from the oven. That's where an oven mitt comes in. I have this 8-bit-heart-print mitt, along with the matching cookie cutter (which, obviously, is also a need).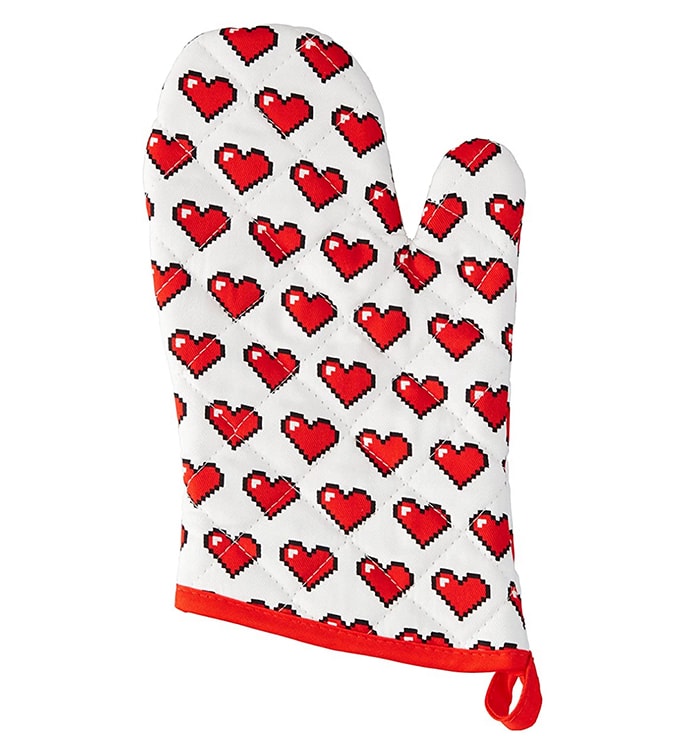 2. Oven Thermometer
What I Recommend: Taylor Oven Thermometer
If your cookies always come out under cooked (or overcooked) you might be tempted to give up baking and maybe take up needlepoint as a hobby instead. Before you do that, get thee an in-oven thermometer. There's a very good chance your oven temperature doesn't match what it says on the dial or digital readout — it could be off by 25° or more. This inexpensive gadget can save you a lot of frustration.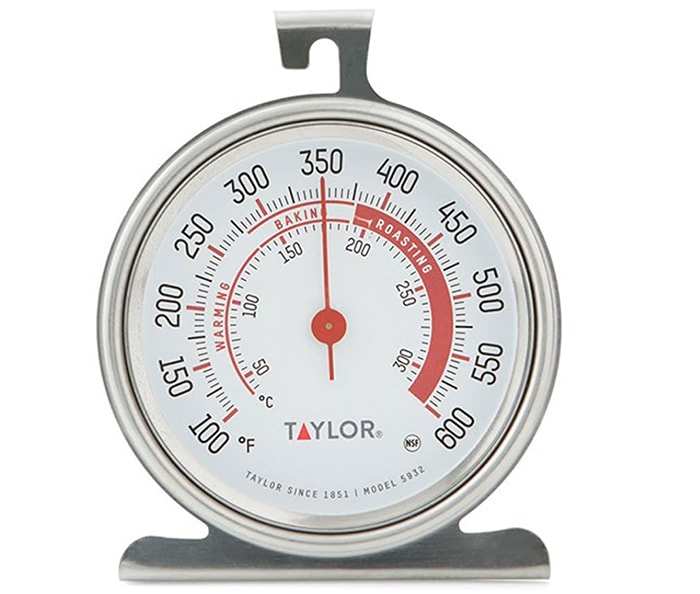 3. Measuring Cups and Measuring Spoons
What I Recommend: Farberware Measuring Cups and Spoons Set
Now that you can bake things at the right temperature and safely remove them from the oven, it's time to get the tools you need to make the things! First and foremost, you'll need at least one set each of measuring cups and spoons, because recipes never seem to call for "a fistful of flour." Buying two sets will save you washing time. Hiring an assistant pastry chef is an even easier option.
For measuring cups, look for a metal or plastic set with handles. Bonus points if each measurement size is a different color. Same goes for the measuring spoons, and make sure the set includes ½ and ¼ teaspoon measures. Skip the dainty hand-painted ceramic measuring spoons — they last about three minutes. We all make this mistake (they're so cute), but you don't have to.
You don't actually need a liquid cup measure. But if your retail therapy game is strong right now, here's the one I use. You can use the dry cup measure, unless it's by weight — in which case, use a kitchen scale (#12 on this list.)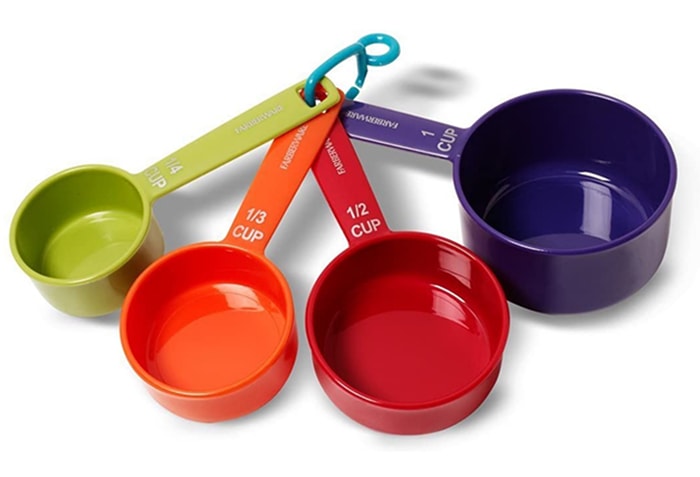 4. Mixing Bowls
What I Recommend: Anchor 10-Bowl Set
From here on out, everything on this list of baking tools is optional. But hear me out: You're going to want a set of heavy-duty mixing bowls. Plastic mixing bowls are fine if you're on a very tight budget, but glass ones will move around less and make it easier for you to mix, whisk, and combine baking ingredients.
Yes, you can technically use any serving bowl for mixing ingredients. You can also technically swim in jeans, but it's not going to be fun. Rummaging around your kitchen for the right size bowls for wet ingredients and dry ingredients is going to be a pain — and do you really want to run a hand mixer inside your favorite mango wood salad bowl?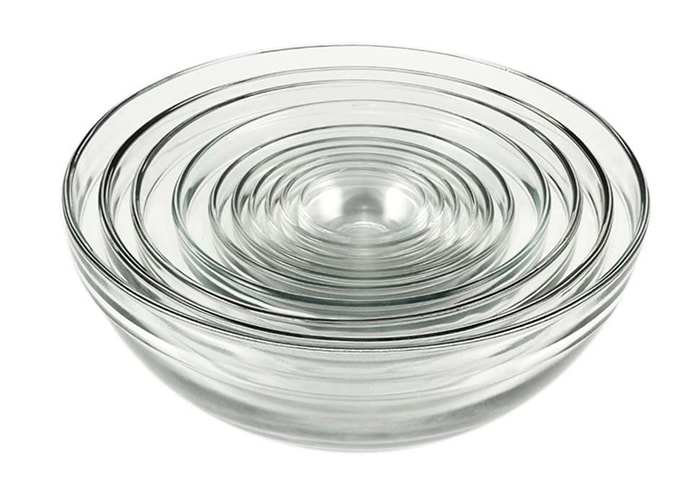 5. Silicone Spatulas
What I Recommend: Tovolo Silicone Spatula with Wooden Handle
My silicone spatula is my favorite kitchen tool. It mixes batter! It scrapes every drop of batter into the pan! It stirs melting chocolate! It transports melted chocolate to my mouth! What about a wooden spoon? Won't those work? They're great if you're making pate a choux! Otherwise, they will soak up the moisture in your batter. And, no one likes dry cake. Not even Marie Antoinette.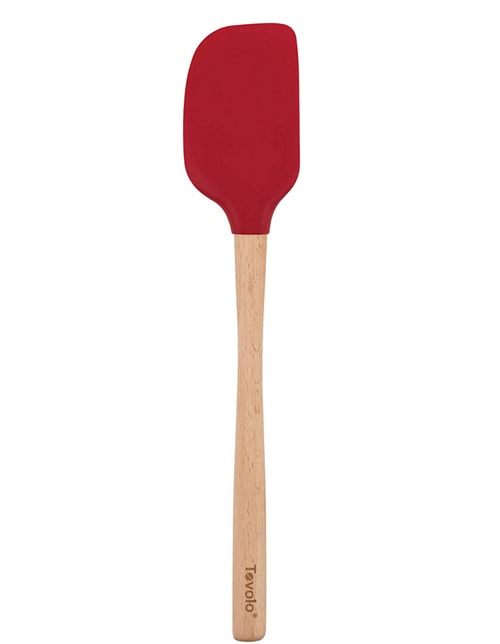 6. Baking Sheet Pans
What I Recommend: USA Half Sheet Baking Pan
Baking pans, sheet pans, cookie sheets — they're all the same thing. For some recipes, you do want completely flat baking sheets, but if you're starting out, a rimmed cookie sheet will do just fine. You'll use them for baking cookies, galettes, sheet pan cakes, chocolate prep, and more. You might even use them to cook savory dishes. And you'll definitely use them to accidentally splash water all over the kitchen when you're washing them. Get a few of these at the 12 x 17-inch size.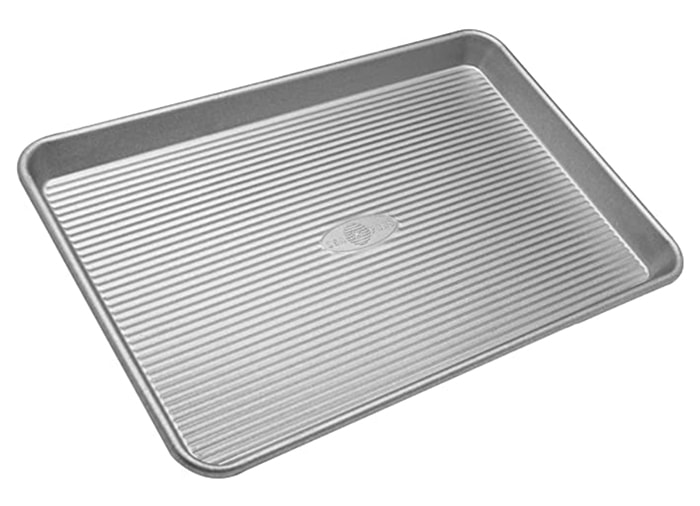 7. Cooling Rack
What I Recommend: Bellemain Cooling Rack
After you take your cake pan or baking sheet or brownie pan out of the oven, where are you going to put it? Leaving the pan on the stovetop while it cools may sound like the obvious answer, but the pan is hot, which means your baked goods will keep cooking. A cooling rack gives them a place to cool off faster, so you can get to the best part: eating them.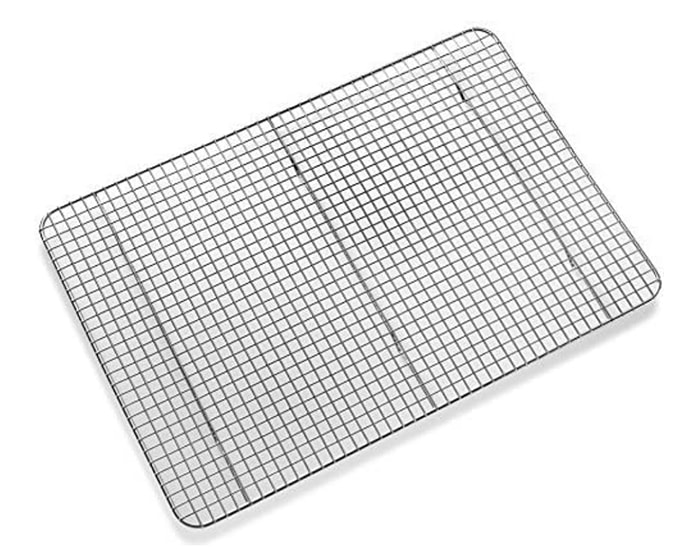 8. Whisk
What I Recommend: Winco Stainless Steel 10" Wire Whip Whisk
I'm all about small metal whisks. Maybe it's because I'm 5'2" and when I use a big whisk, the whisk-to-person ratio just feels wrong. Small whisks fit comfortably in your hand, are easy to maneuver, and fluff up dry ingredients and eggs like nothing else. But if you want a bigger whisk, we won't stop you! It's not the size of the whisk, it's the motion of the…whisk.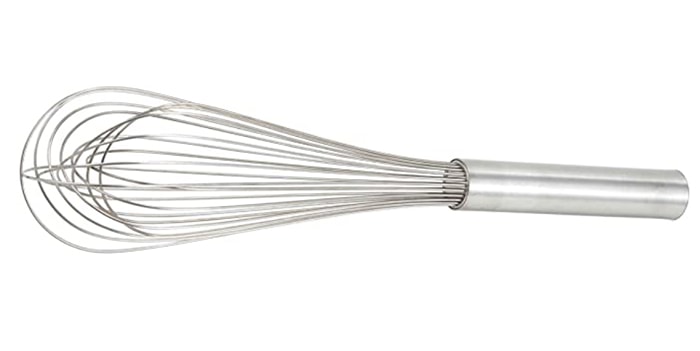 9. Stand Mixer or Hand Mixer
What I Recommend: KitchenAid Tilt Head Stand Mixer or the KitchenAid 5-Speed Hand Mixer
Some baking recipes can be made without a mixer. But, for many, the extra speed and power of a mixer is essential. I'm very partial to my 4.5-quart KitchenAid Stand Mixer and prefer the tilt head model. It mixes ingredients beautifully, and I can easily change out the paddle attachment for the whisk attachment or dough hook.
However, stand mixers are expensive. If you're not ready to drop a few hundred (and sacrifice the counter space), get a hand mixer instead. My recipes are made with a stand mixer in mind, but my hand mixer has worked in a pinch.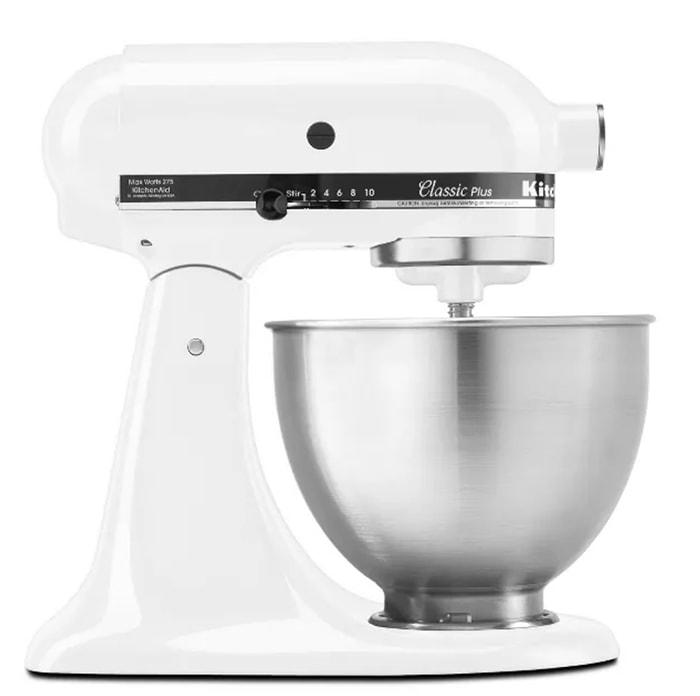 10. A Good Knife
What I recommend: Zwilling J.A. Henckels 8" Chefs Knife
Good knives are sharp, sturdy knives. I prefer large chefs knives to cut almost everything from butter to strawberries to dark chocolate brownies. Wash and dry them immediately after each use so they don't rust.


11. Citrus Juicer
What I recommend: Sur La Table's Glass Citrus Juicer
When I was first baking, I didn't use my juicer often — until summer came around. Suddenly I was using my juicer all the time to add fresh lemon or lime juice to desserts and drinks. (If you plan on zesting a lot of citrus, also get a zester – not a box grater. We want you to keep your knuckles.)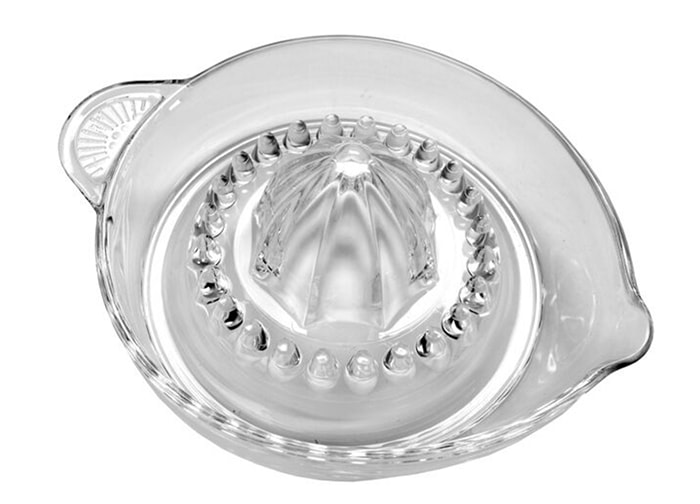 12. Kitchen Scale
What I Recommend: Ozeri Kitchen and Food Scale
I've referenced this kitchen scale in countless recipes because I use it so often. If you're following a baking recipe on the Internet or from a cookbook, most of the time, the measurements will be by volume. However, for some recipes — like this galette recipe — you will need to be precise and measure by weight. Also works great if you're obsessed with stamps.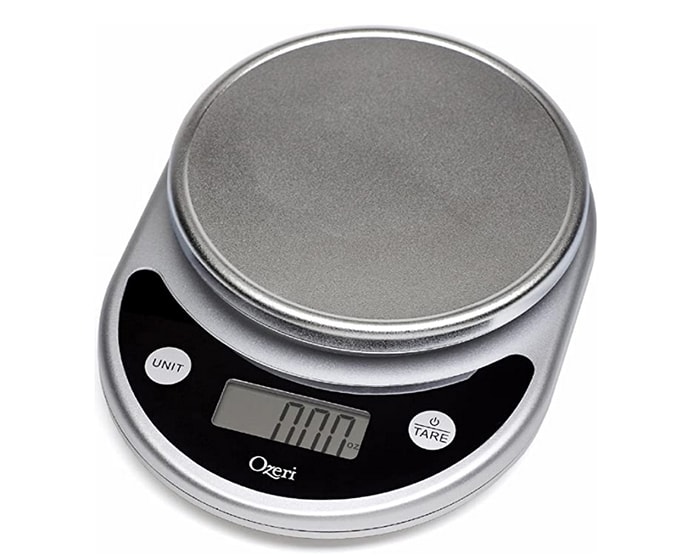 13. Parchment Paper
What I Recommend: 120 Pre-Cut Parchment Paper Sheets
Parchment paper prevents your cookies, cakes, and Swiss rolls from sticking to the pan. But rolls of parchment paper are the actual worst — they're expensive, they curl up when you're trying to use them, and you have to measure them to fit. Save yourself the hassle and buy pre-cut parchment paper that fits your cookie sheets (or cake pans).
14. Spatula
What I recommend: KitchenAid Turner
Turning spatulas are the best kitchen tool for removing cookies from baking pans. They're also the best for throwing in the kitchen drawer at an awkward angle so the drawer won't open the next time you need your spatula.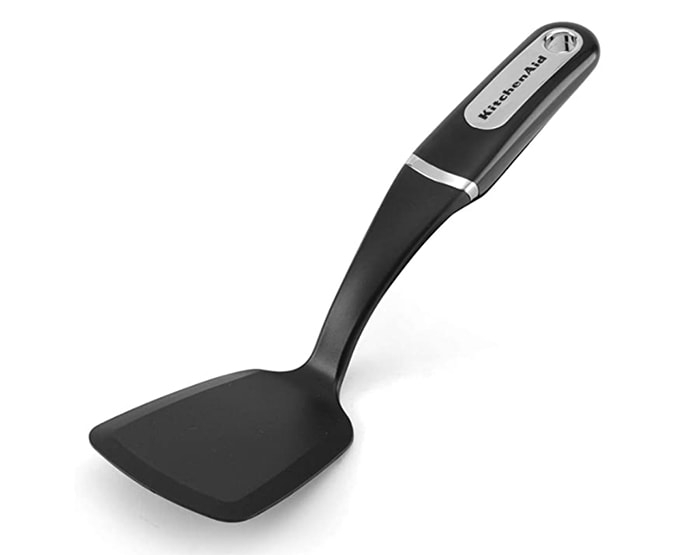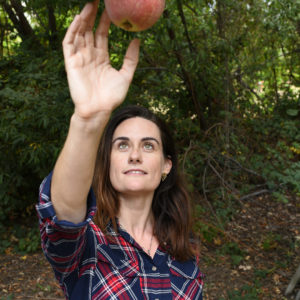 Latest posts by Rebecca Swanner
(see all)