Spooky season and Hocus Pocus season are one in the same in our household. We anxiously wait for that first chilly, overcast day to arrive so we can press play on our favorite Halloween movie. And now, this Hocus Pocus food is the movie night addition you've been missing.
Whether you're in the mood for sweet, salty, both, or other (uh… spell-y?), we've got a treat for you. From chocolate brownies that look like Winifred's spell book to Sanderson sister cookies that would raise Mary from her grave, to themed cocktails that would get Sarah dancing, this is your ultimate Hocus Pocus food guide.
Not included? Hair balls for Thackery Binx. Even in cat form, we think that might offend.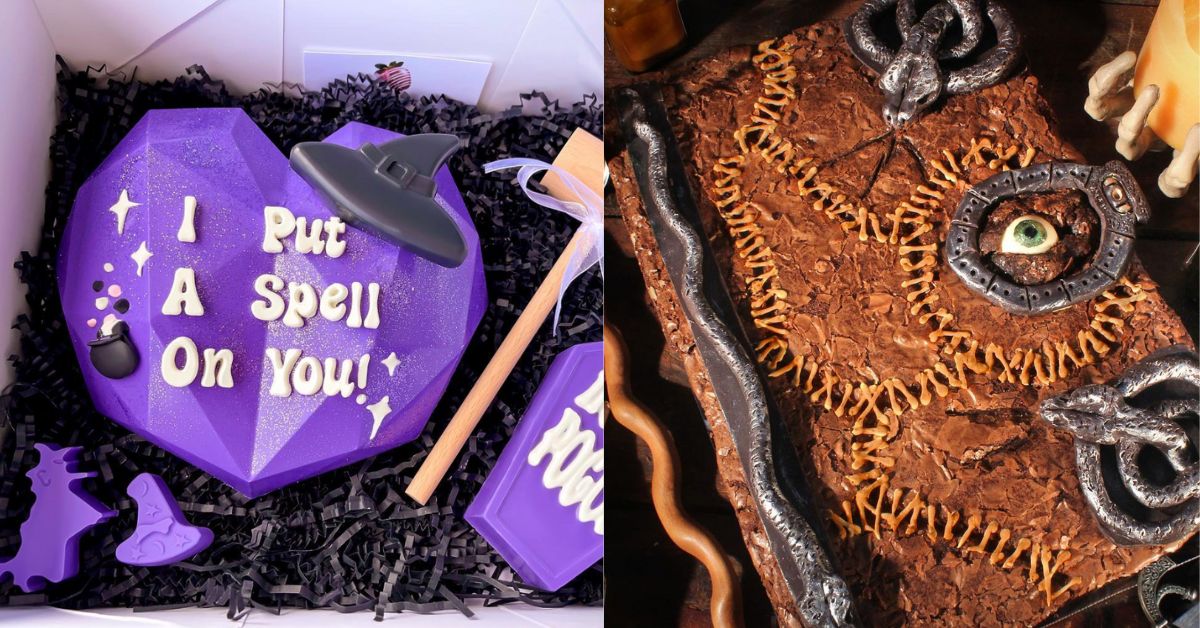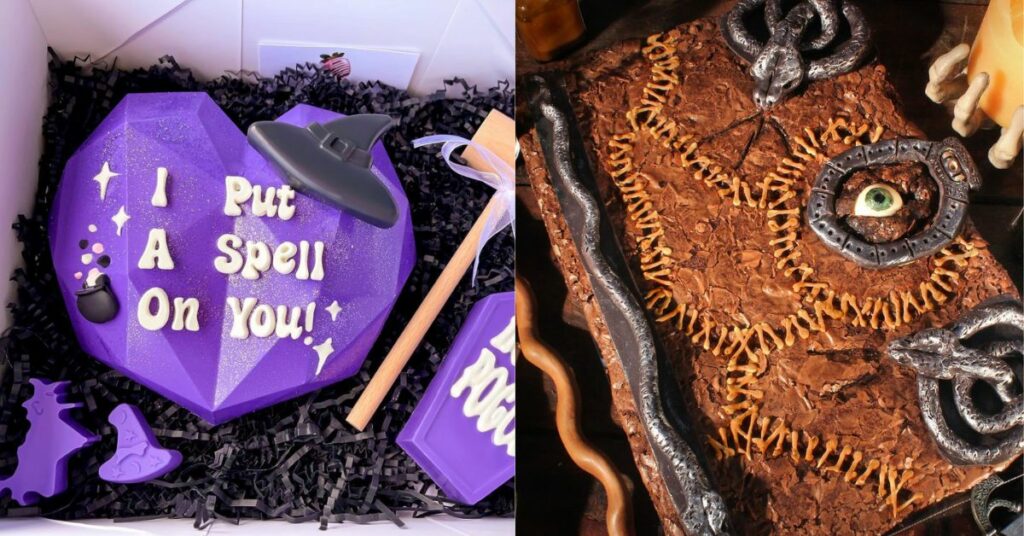 20 Hocus Pocus Food Ideas for Your Watch Party
1. Hocus Pocus Chocolate Covered Strawberries
Strawberries likely taste better than children under normal circumstances, but we're absolutely sure they do when they're coated in chocolate. If only the Sanderson sisters were around during the era of delicious desserts.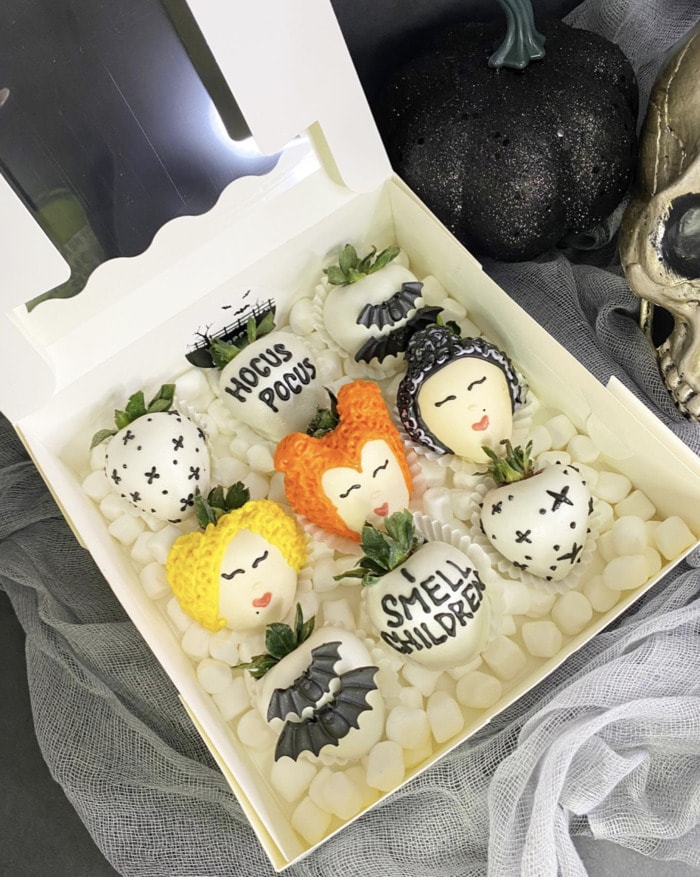 2. Sanderson Sister Hair Cupcakes
Most bakers go out of their way to make sure hair doesn't get in the food, but in this case, the hair is the food. Don't call the health department.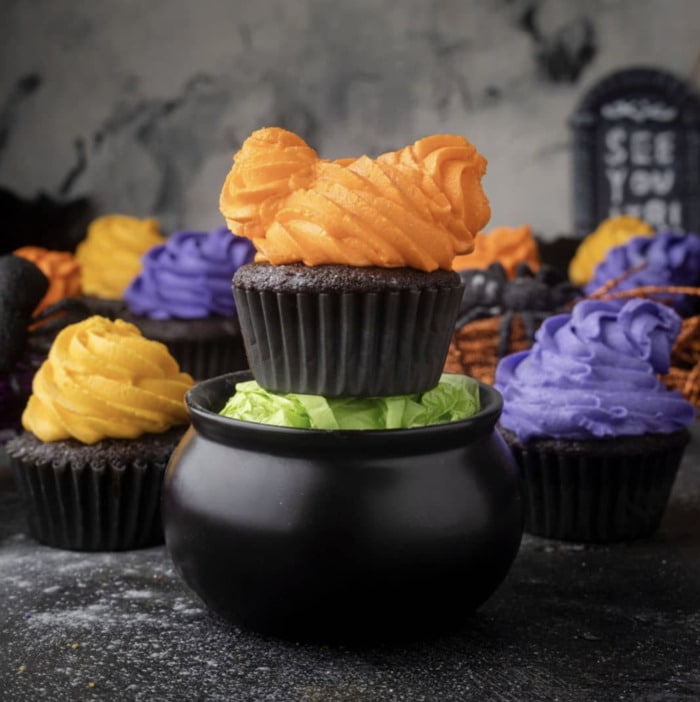 3. Giant Boooook Brownie
Your Betty Crocker brownie package could never.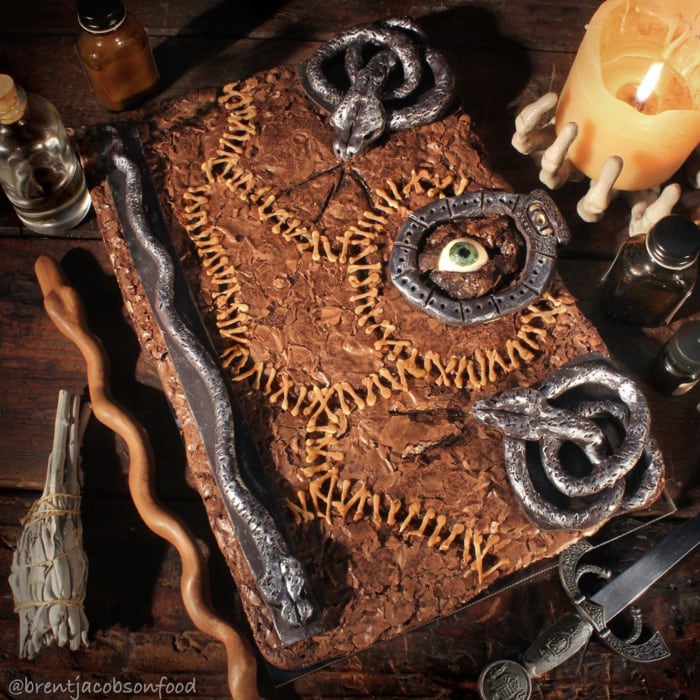 4. I Put a Spell On You Breakable Chocolate Heart
These breakable chocolate hearts are all the rage around Valentine's Day, but they work for Halloween, too. Eat your heart out, Winifred. Or, uh, we will.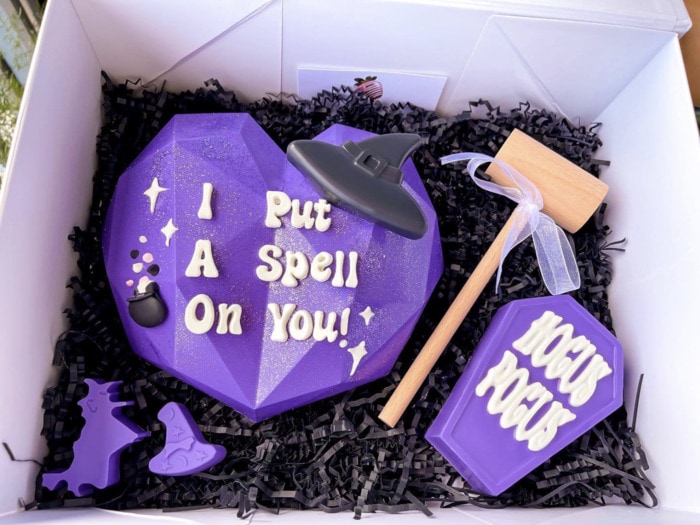 5. Sanderson Sister Cakesicles
The Sanderson sisters, in cake pop form. Starbucks, your move.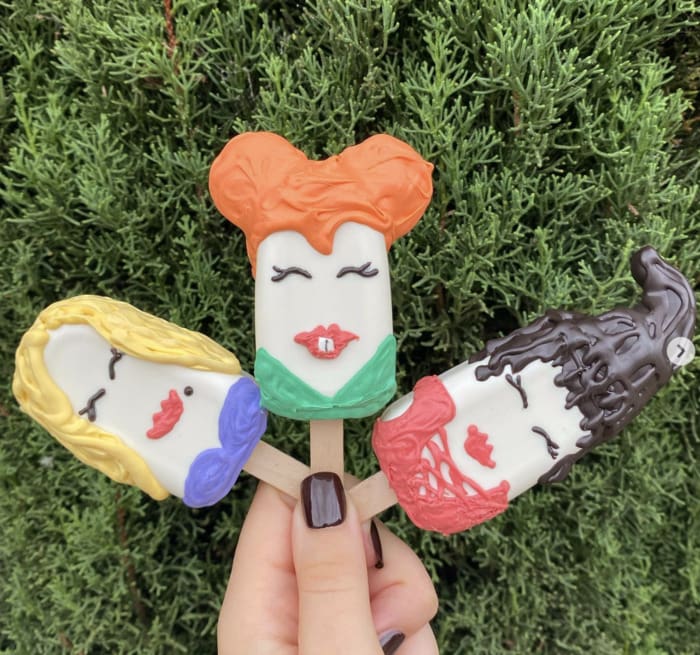 6. Fruit Salad Sanderson Sisters
Want some tasty Hocus Pocus food without the massive sugar hangover? This fruit salad version should do the trick. Wait, fruit has sugar in it?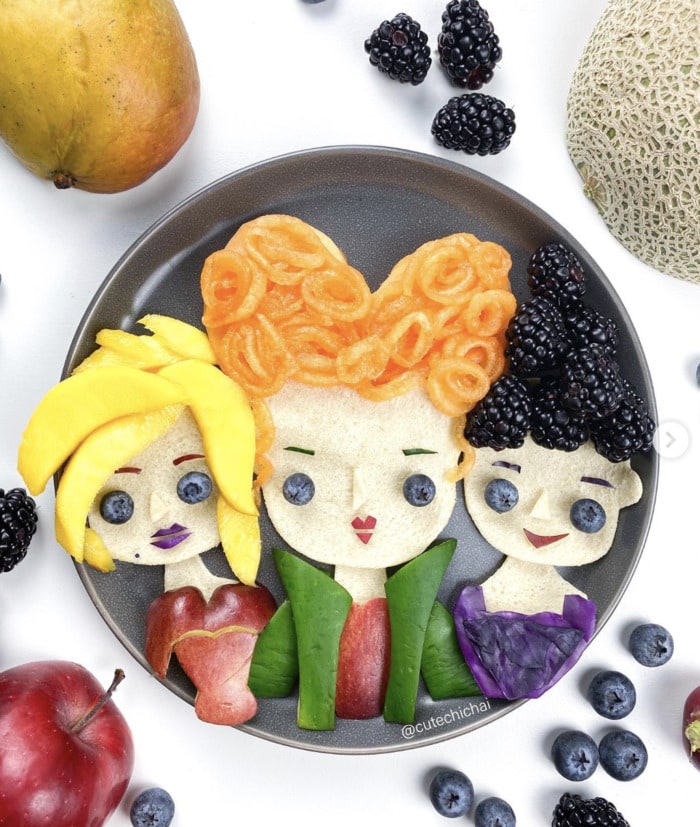 7. Bubbling Green Cocktail
If we're being real, the cup really makes this cocktail. But the green, smoky vibe certainly gets the point across, too.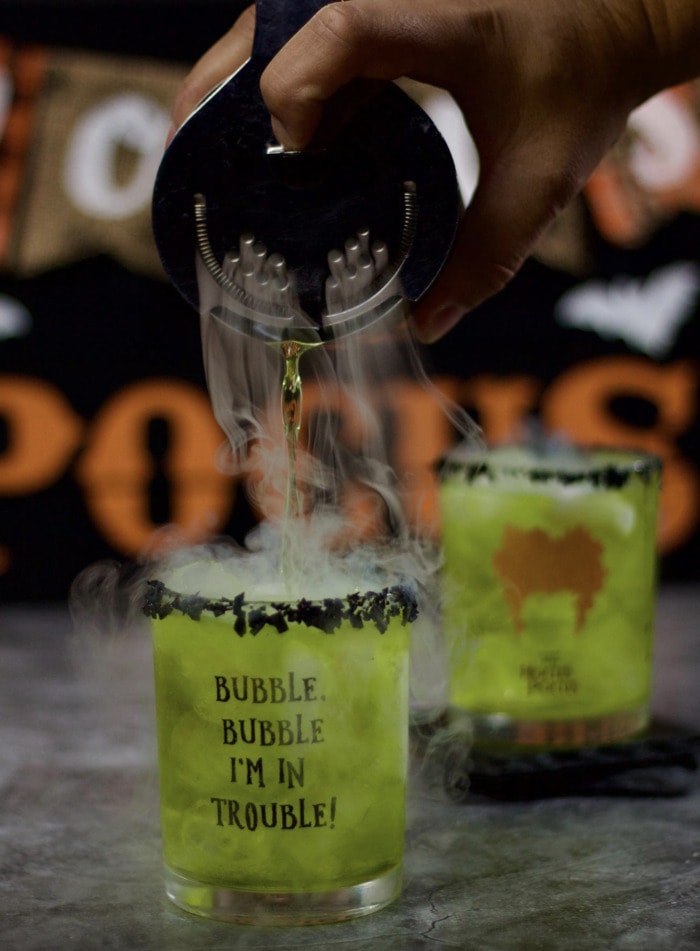 8. Sanderson Pancakes
Throwing a Hocus Pocus brunch party? These pancakes are the move. By the time you arrange all the fruit, the pancakes themselves will be ice cold, but at least your Instagram followers will be happy.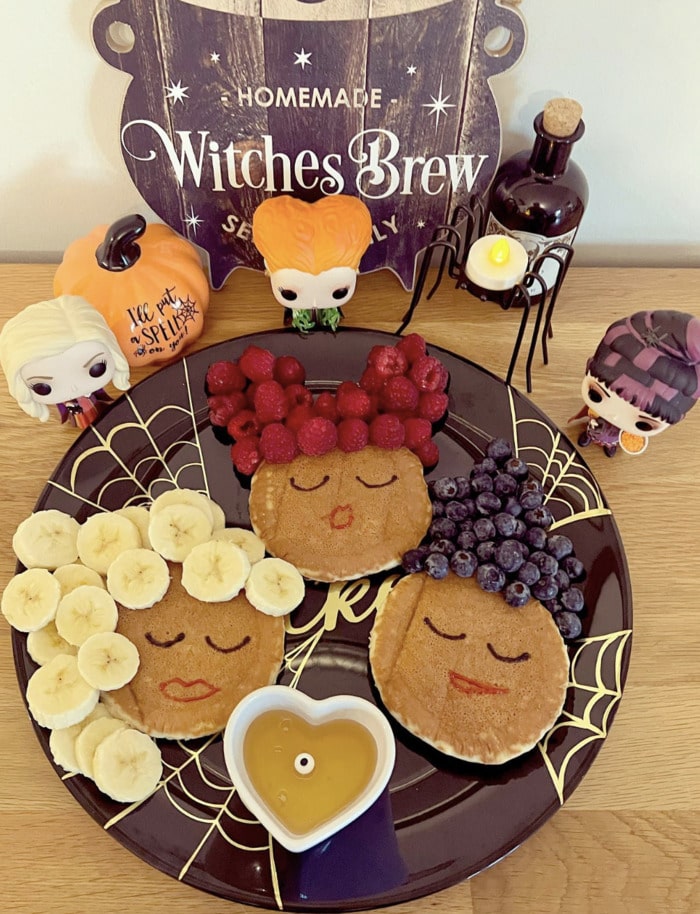 9. Spooky Salsa
Looking for a more subtle spooky nod to your favorite Halloween movie? This spooky salsa mimicking the spell the ladies cast on Dani is spot on. Summoning the courage to actually take a bite is a different story.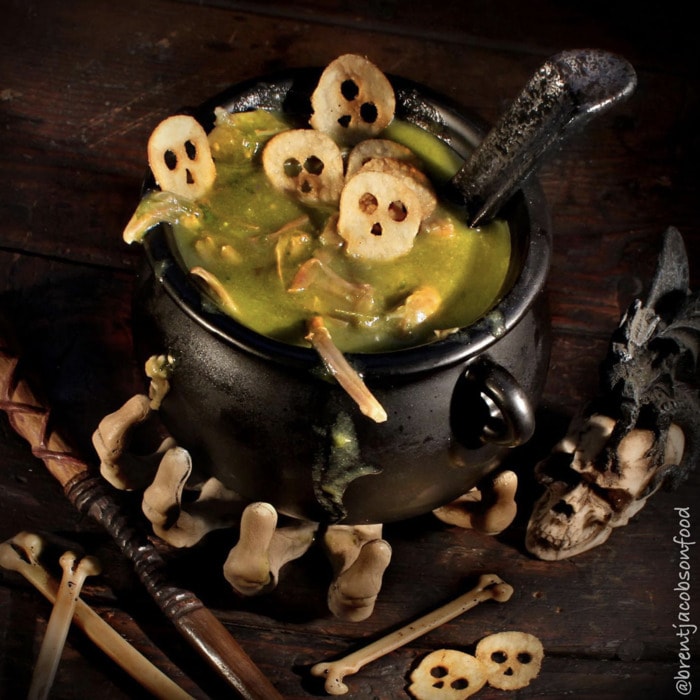 10. Hocus Pocus Cookies
You can't get more straightforward than cookies that literally say "Hocus Pocus." And hey, it has edible glitter stars, so we're sold.
11. Winifred Sanderson Cake
Who wants the slice that's entirely buttercream hair? No one? More for us.
12. Hocus Pocus Milkshake
When in doubt, throw everything together on top of a mug of ice cream and you truly cannot go wrong. Unless you're lactose intolerant, that is.
13. I Put a Spell on You Pie
Pumpkin pie already fits in during spooky season, and this one comes with a movie-themed message as well. It's a not-so-subtle admission of guilt, but would it stand up in court if you've already digested it?
14. Sanderson Sister Cookies
These cookies are goals. Not only because the hand-painted decorations are incredible, but also because we wish our good hair days were immortalized in icing.
15. Pumpkin Television Cookies
Looking for a quick and easy Hocus Pocus dessert idea? This one is not it. Looking for a way to get cast on Nailed It!? Give it your all.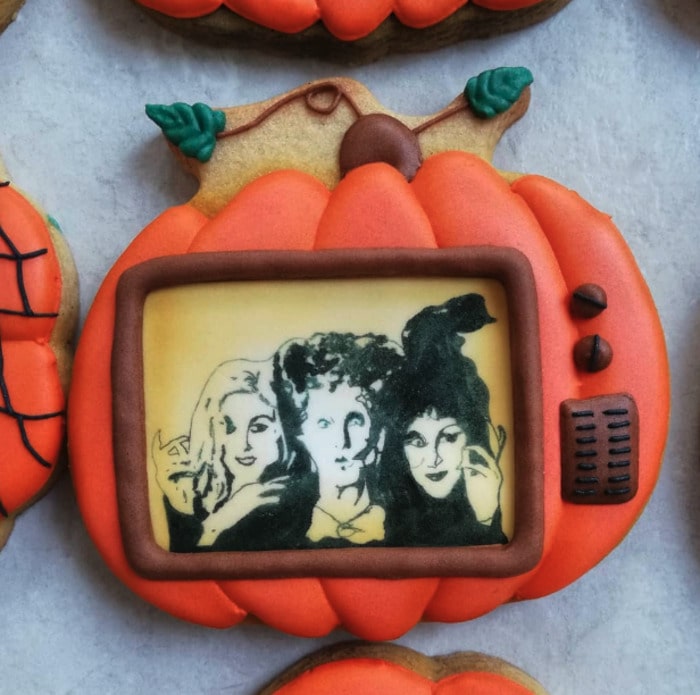 16. Mini Book Brownies
If the full-size book brownie is too intimidating, give this design a try. Betty Crocker brownie mix, we're sorry about what we said before. Can we try again?
17. Dead Man's Toe
Does this look appetizing? Absolutely not. Is it great preparation for the day when you finally make it on Survivor and have to eat a bunch of nasty things to survive? Uhh, sure. Tell yourself that.
18. Hocus Pocus Cauldron Cake
Cutting into this beautiful cauldron cake feels like it should be illegal, but watching it slowly rot without being eaten would be equally painful. At least one solution results in a mouthful of cake.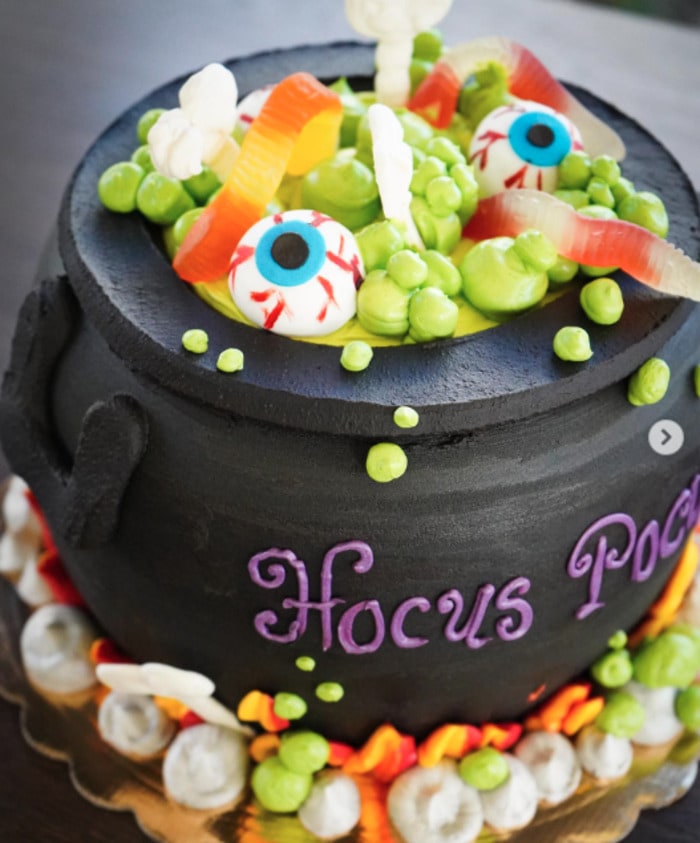 19. Chocolate Witchy Cupcakes
These are cute and festive, and easy enough that anyone can recreate them. Even without a spell book.
20. Hocus Pocus Cupcakes
Is your favorite part of the movie the few scenes before Max Dennison lights the black candle? These cupcakes may be for you. Did anyone ever tell you you're kinda morbid?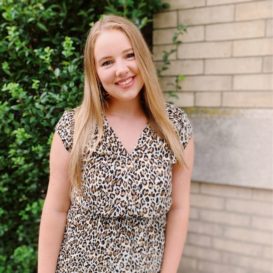 Latest posts by Laura Davis
(see all)