Not every couple's vision for their wedding aligns with what's considered "traditional." If you and your loved one met at an '80s night in a goth club, have black bedroom walls, and treat Halloween like a religion, these goth wedding cakes are perfect for you.
Scroll for sweet masterpieces that invoke the moon, dark glamour, The Nightmare Before Christmas, and all things gothic love. And now that you've picked a cake, you can move on to designing your perfect Lydia Deetz gown for the occasion.
And, uhh… don't forget to send our invite.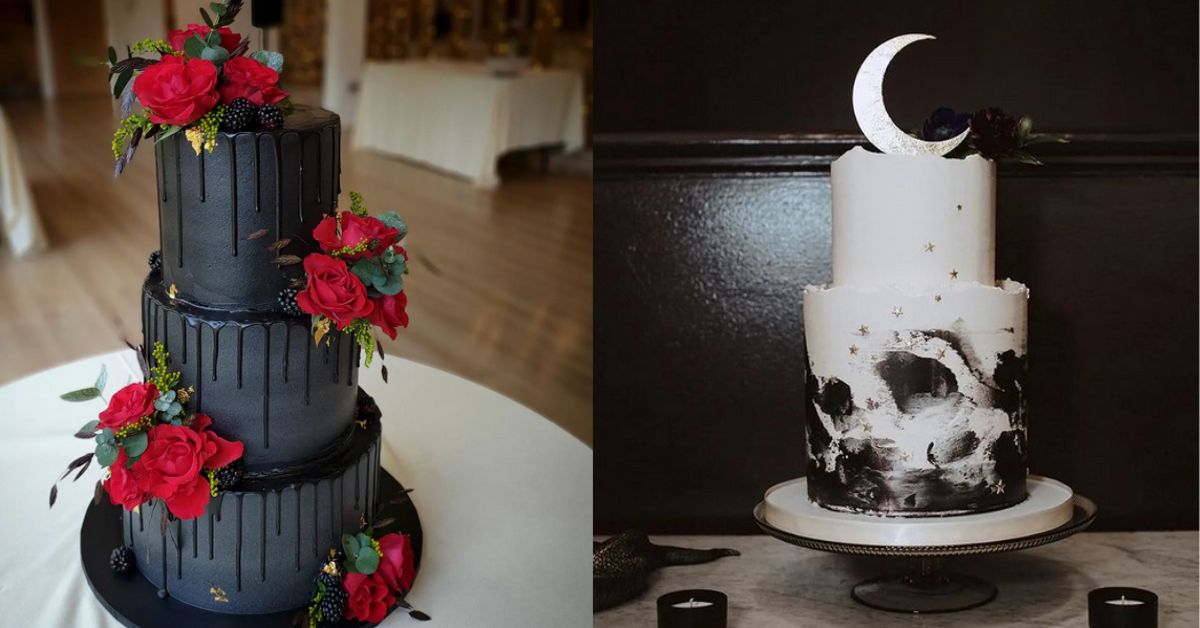 21 Goth Wedding Cakes
1. Dark and Moody Moon Cake
This stark black-and-white design topped with a crescent moon works for both witches and werewolves. And especially if your wedding song is Type O Negative's "Wolf Moon." IYKYK.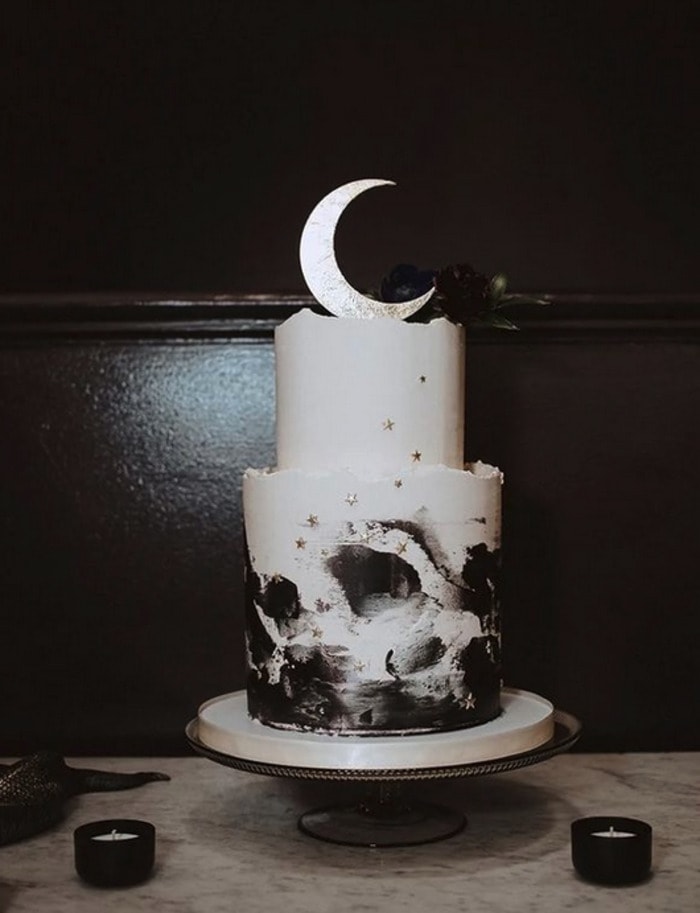 2. Dripping Skull Goth Wedding Cake
If you're most excited to twirl in the fog with your vampire mate, you'll love this drippy cake design. Be sure to brush your fangs after eating to keep them looking as good as this guy's chompers. And because poppy seeds are relentless.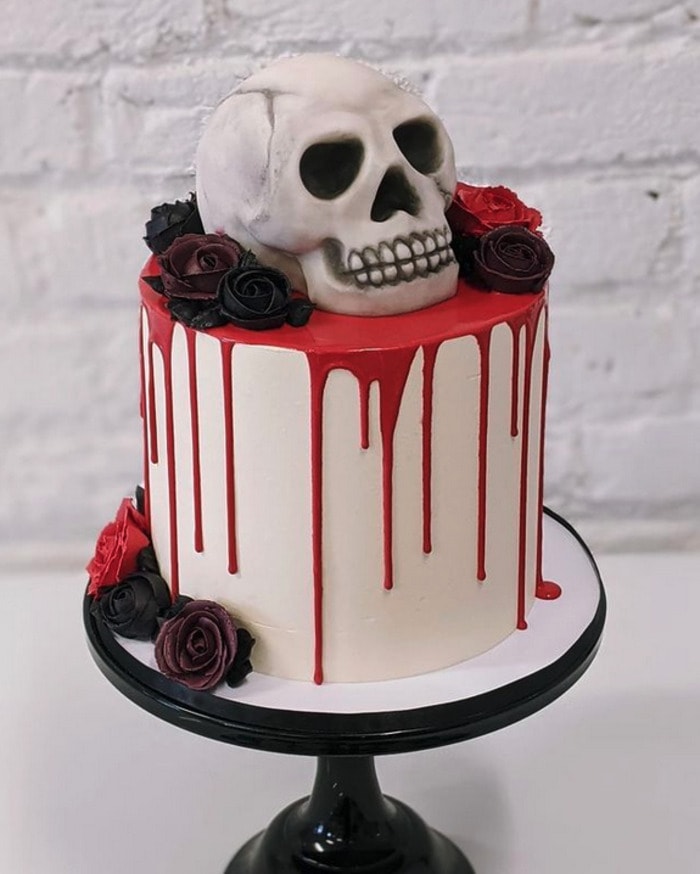 3. Nightmare Before Christmas Wedding Cake
This may be the most colorful cake design that can still be considered goth, thanks to the Tim Burton color palette. Cut the cake, "sit together now and forever," and hope that Oogie Boogie's invitation got lost in the mail. Just like ours…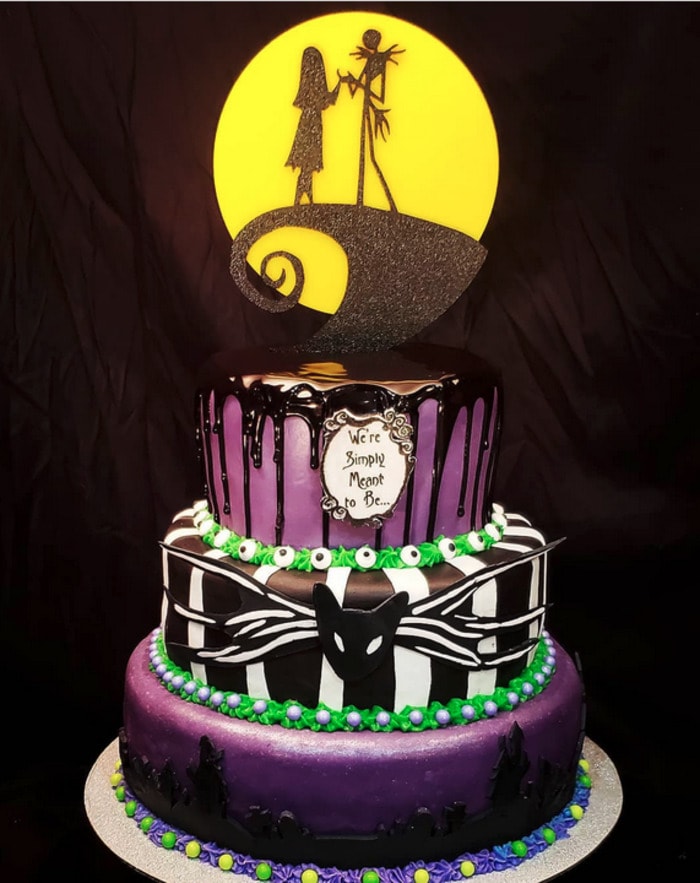 4. Goth Abundance Wedding Cake
This decadent dessert features blackberries, which should keep Bunnicula happy. Also fruit means it's healthy, right? This is basically a black fruit salad—eat up!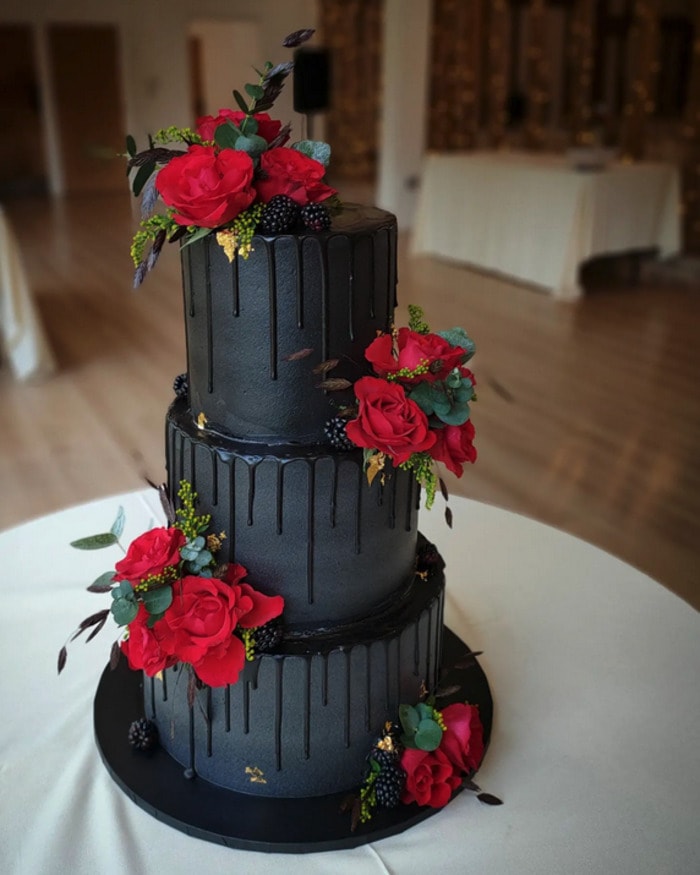 5. 'Til Death Do Us Part Wedding Cake
The silhouetted Victorian skeleton couple on top of this darkly sweet treat is the perfect ghoulish touch. Even though they look like they've never eaten cake.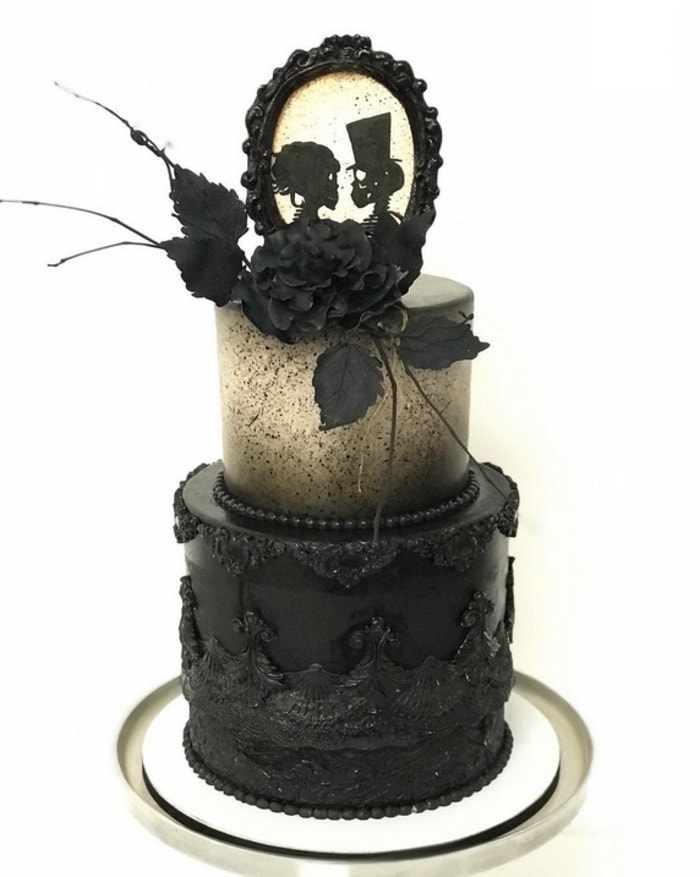 6. Dark Romantic Wedding Cake
Let's have a black celebration with this darker than dark cake covered in gilded fondant. Your guests will know that you and your mate share a strange love when this gorgeous void is wheeled into the crypt—I mean, chapel.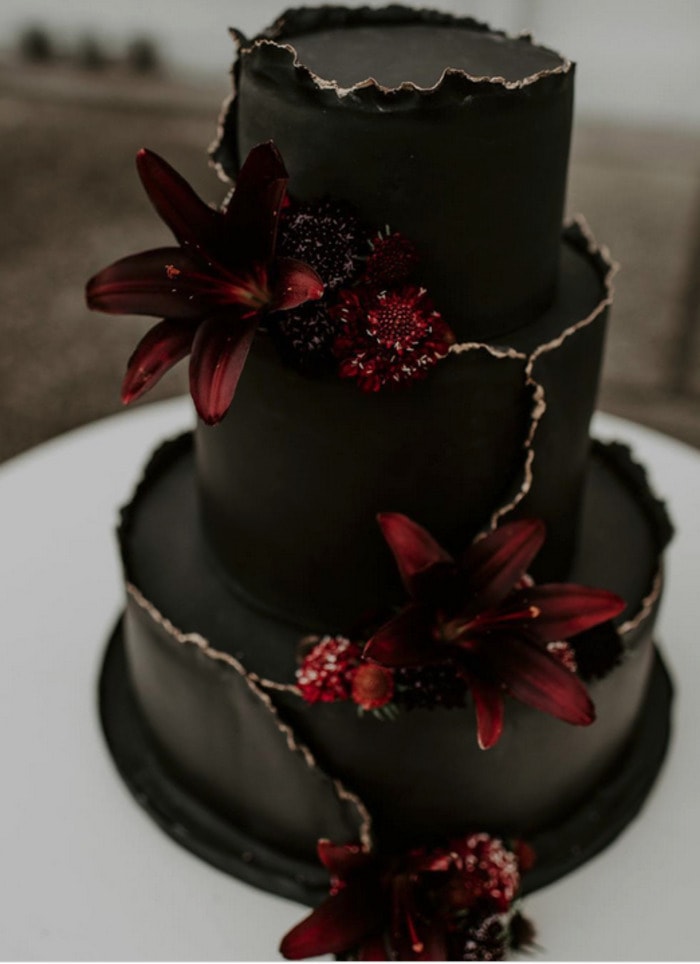 7. Gilded Gothic Wedding Cake
If you're more of an elegant Victorian goth than a mall goth, you'll be spellbound by this four-tier cake. Make sure to wear your platform Demonias, or you might not be able to reach the top. And that's where all the best frosting is.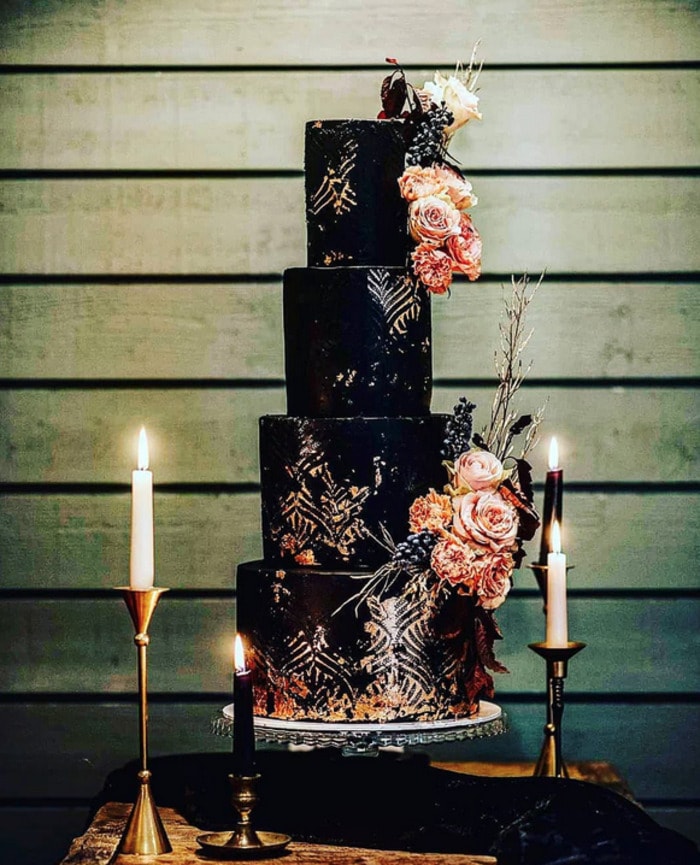 8. Wednesday and Enid Wedding Cake
This split design embodies the creepy and kooky Wednesday vibe and the sweet and peppy optimism of Enid beautifully. We also love this idea for a queer wedding with one partner who is more femme-presenting than the other.
9. Skulls and Flowers Goth Wedding Cake
This black-and-white cake is pretty to look at, but also perfectly grim. If you're so goth that your soul sucks all of the colors out of room, this three-tiered vision of trapped souls will work for your special day. Hey, as long as no one else showed up wearing black. The audacity.
10. Penny Dreadful Wedding Cake
We think Vanessa Ives would be impressed by this tribute. Although her view of love being "a creature waiting to be unbound… A malady," should probably be kept out of the wedding vows. For grandma's sake.
11. Roses and Skulls Goth Wedding Cake
The great thing about this cake is that if you find it too pretty to cut into, it can double as a top hat. The baker said not to put it in a hot room or the buttercream would melt. They said nothing about wearing it on the dance floor.
12. "Normal Is An Illusion" Spider Wedding Cake
When is it not a nice day for a white wedding? If you're dying for a goth wedding but still drawn to a more traditional color palette, this spiderweb cake with black candy spiders will please the newly-webs. Arachnophobes need not attend.
13. Black Gothic Wedding Cake
The balance of black and white in this pretty three-tiered wedding cake has us feeling all yin-yang. And also hungry.
14. Black, Red, and White Goth Wedding Cake
Show your partner that you love them to death. Also, that groom's outfit slaps. Where can we find that in our size?
15. Black Widow Wedding Cake
We totally pledge our allegiance to this black widow. This insanely detailed cake looks like the dress we wore to the Whitby Goth Weekend a few years ago. If you don't know what that is, can you even really call yourself a goth?
16. Skulls Forever Purple and Black Goth Wedding Cake
If you're afraid that love will tear you apart, maybe this buttoned-up cake will keep it together. We love everything about this rich, jewel-toned cake. Except the fact that it's literally better dressed than we are.
17. Guts and Skulls Wedding Cake
This cake has one side that's elegant and parent-approved, while the back has a sneaky guts-falling-out crevasse for gore freaks. This is for the bride who demands her whole wedding party learn the "Thriller" dance. It's also a great test to see which of your friends are down to clown. Cake that looks like guts or cake that looks like cake?
18. Dark Gothic Wedding Cake
You know you want to live deliciously with Black Phillip. We're sure this is what he meant.
19. Dark Steampunk Wedding Cake
If you don't feel that steampunk is just for goths who wear brown, grab your goggles and gear up to be shocked by this black buckled fantasy. We're not even totally convinced it's real cake, but that's just our trust issues acting up.
20. Goth Gold Skull Wedding Cake
This cake has a dark boo-lesque vibe that we love. Although, is it a good idea to put feathers so close to frosting?
21. Cracking Apart Goth Wedding Cake
We can't imagine a darker and starker cake for goths who live in a "black planet, black world." Better put some extra candles out, as this will absorb all of the light in the room. In the best way.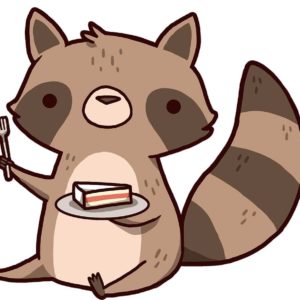 Latest posts by Christine Colby
(see all)