Maybe your love language is words of affirmation or acts of service. The way to our heart is through baked goods. So if you're looking for a way to treat us this February, check out these Valentine's Day cake ideas.
Ok, sure, we guess they would be good ideas for someone you actually know, too.
As you could imagine, these cake decorations include heart motifs, red and pink hues, and tons of "I love yous." And, there are just enough dirty innuendos for those who like a steamier celebration of romance.
After you get out of that sugar coma, of course.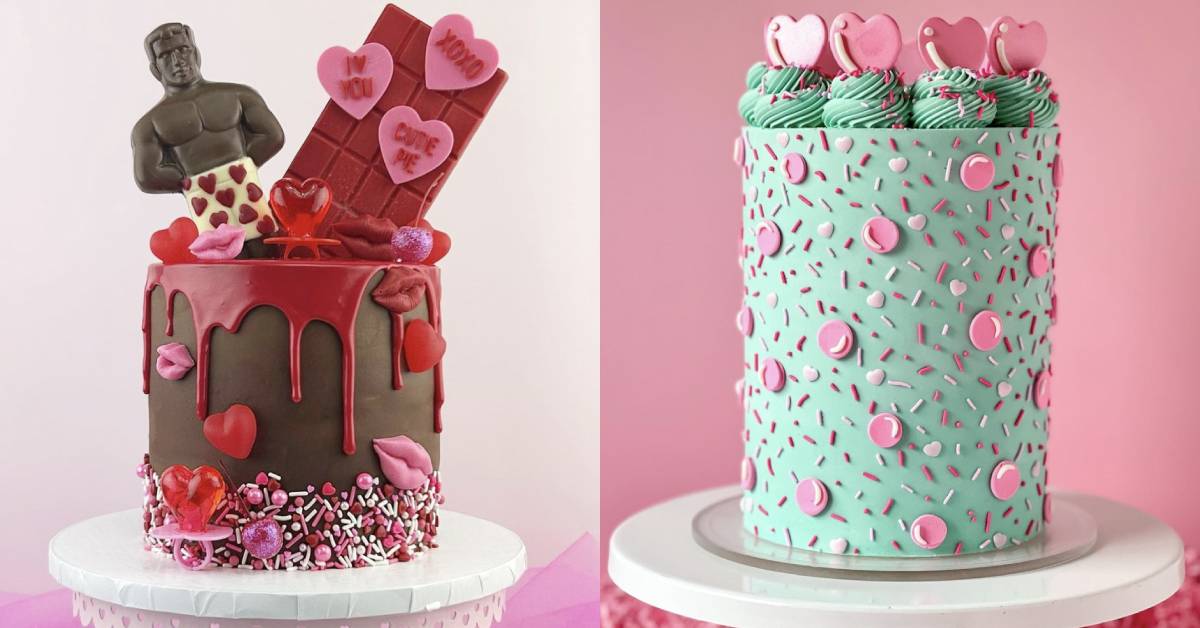 20 Valentine's Day Cake Ideas
1. XOXO Cake
In the words of our Queen Beyoncé, we feel like fallin' in love with this cake. We love it like XO. Surfboard. Well, two out of three references work. Not bad!
2. Valentine's Cartoon Cake
If your heart feels like it's popping out of your chest with love, this comic cake design is perfect for you. Also, maybe go see a doctor.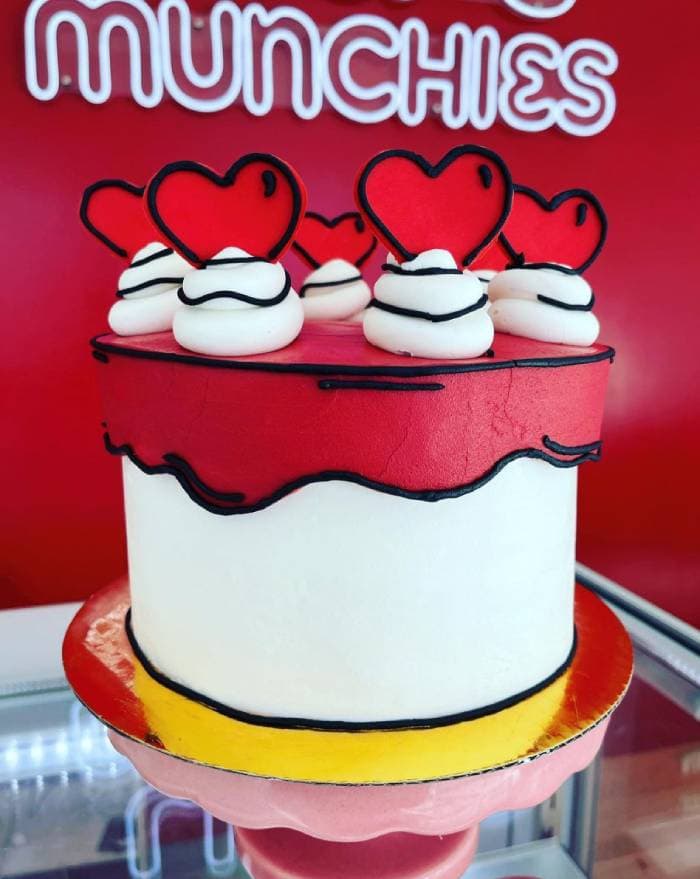 3. Conversation Hearts Cake
Candy hearts and cake are a match made in sugary heaven. If only there was a heart that says, "Remind me to schedule a dentist appointment."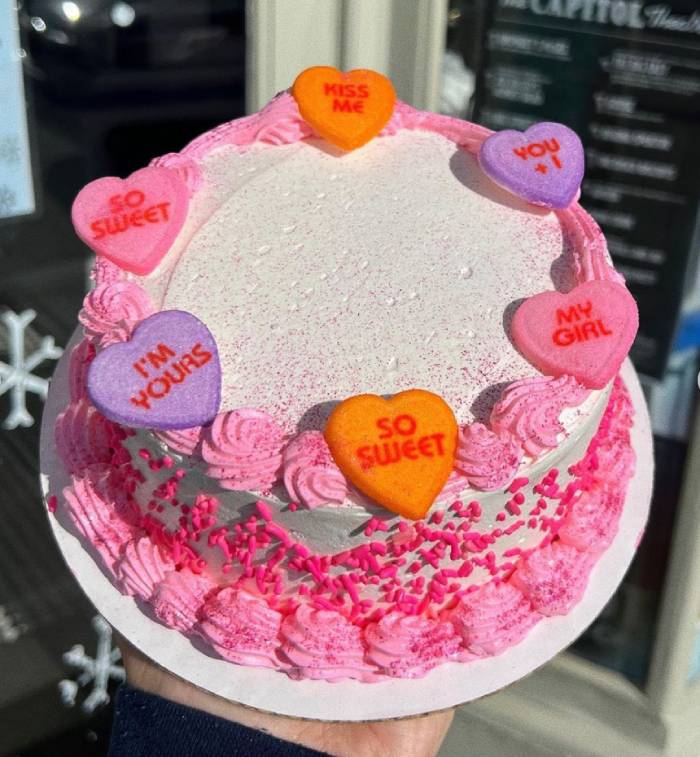 4. Chocolate Hunk Valentine's Cake
Sorry to all boyfriends and husbands, but they're no match for this man. Unless they're the literal sun. Then they might win in a fight.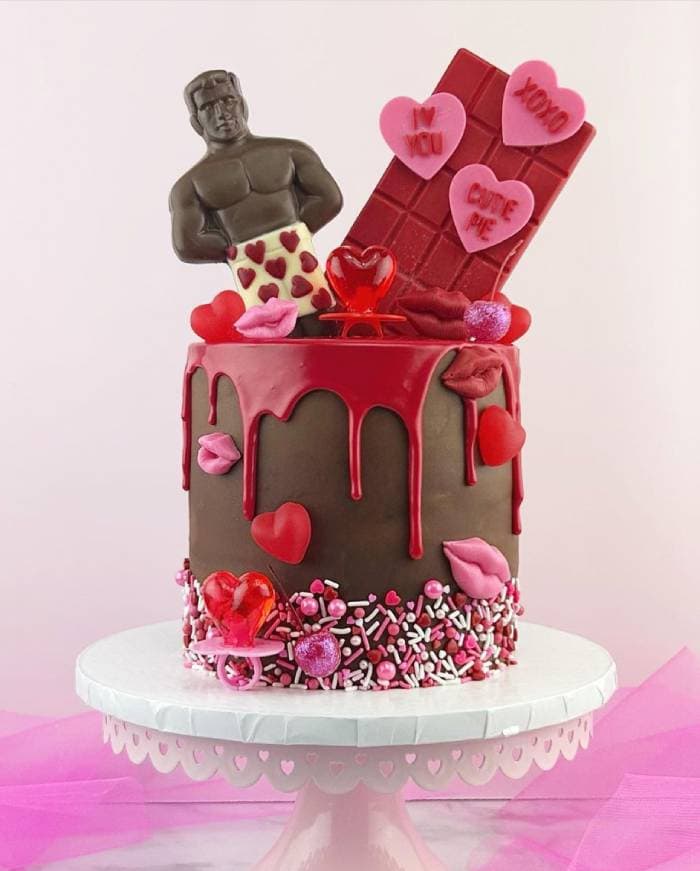 5. I Wuff You Valentine's Cake
There's no better love than the kind between a human and their dog. Unless they ate your favorite shoe for the fifth time. And are a cat.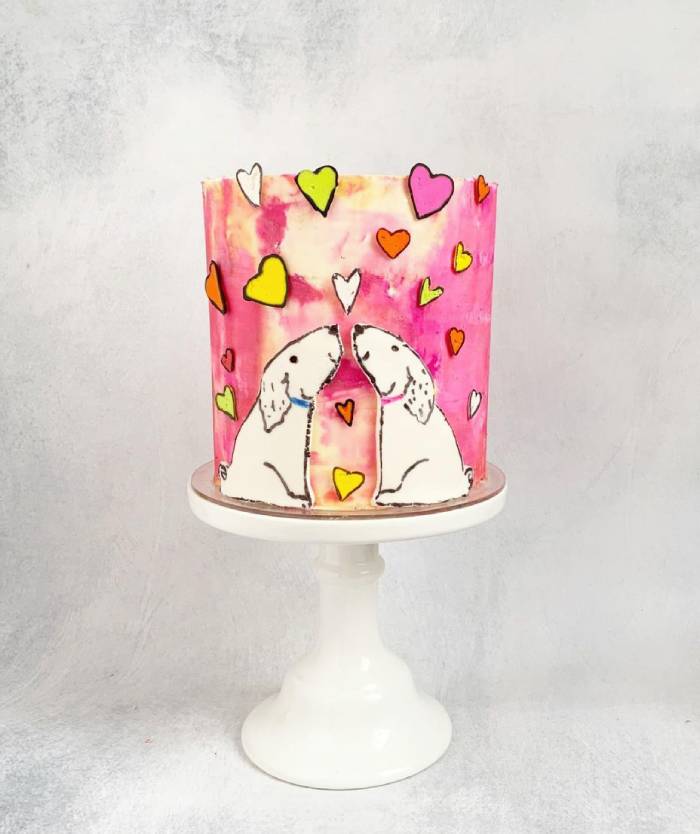 6. Dirty Valentine's Day Cake
Give this to the whale lover in your life!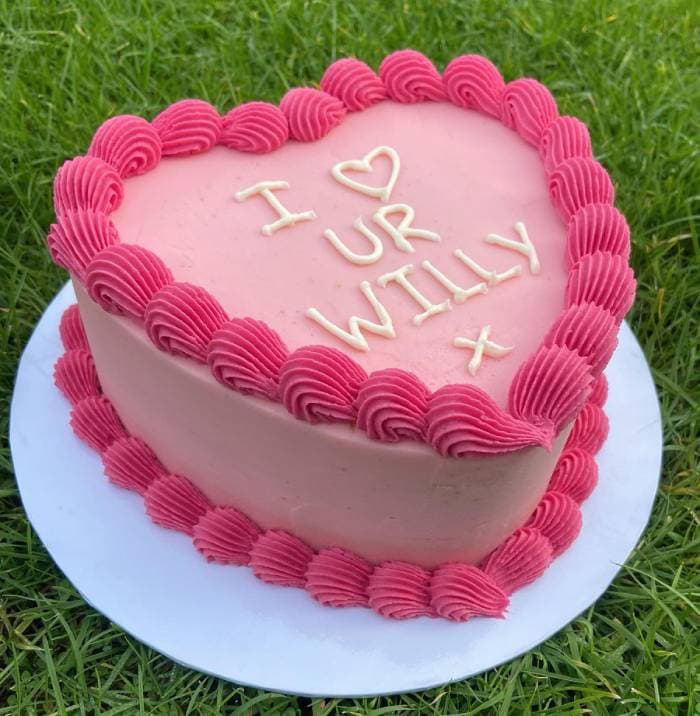 7. Pink and Purple Heart Cake
This heart-shaped cake is so gorgeous we almost missed out on the chance to make a nut joke about the shaved coconut on top. Almost.
8. Black and White Valentine's Day Cake
Keep things classy with this simple black-and-white comic cake. That is, until you get to the bedroom. All bets are off when you break out the Scrabble board in bed.
9. Red Lips Cake
We love this Valentine's Day cake idea so much we could kiss it! But that would be weird. Right? Right, totally. Unless? No, okay, whatever.
10. Marble Valentine's Day Cake
Did you mess up and smear the colors together, or was this a total intentional marble look? Yes. No further questions.
11. Valentine's Cake Roll
No time for a tiered cake? No worries! This cake roll covered in hearts gets the point across just the same, and it fits perfectly in a large to-go coffee tumbler. We assume.
12. Simple White Valentine's Day Cake
If you want a happy life, you don't need glitz and glam when you have love. And butter and sugar. You definitely need those things, and don't believe anyone who tells you otherwise.
13. Love Stinks Emoji Cake
Look, Valentine's Day doesn't have to be everyone's favorite holiday! But that doesn't mean you should have to miss out on cake. Unless you get here after 8pm, then it will all be eaten already.
14. Green and Pink Heart Cake
This green and pink design is giving us major watermelon vibes, which totally makes sense, since Harry Styles is our Valentine. At least that's what he says when you play "Watermelon Sugar" backwards. And remove every third word. You know what? Just take our word for it.
15.Chocolate Macaron Cake
This Valentine's Day cake idea has everything you could ever want: chocolate, macarons, and $100 hidden inside. You'll have to eat the whole thing to find out if that last one is true.
16. Roses Valentine's Day Cake
Roses are red, and also pink. We'd really love to try this cake….wink, wink, wink.
17. I'm A Sucker For You Cake
A treat on top of a cake?! What did we deserve to be blessed with this beauty! Spend eight hours searching for Valentine cakes on Instagram? Worth it. Wait, it's March now?
18. Galentine's Day Cake
This year, treat your best gal pals to this adorable vintage cake. And if you don't like the cherries on top, we'll take them all for our pina colada.
19. Buttercream Heart Cake
The best part of these roses is that they have no thorns. Unless you drop the cake in a rose bush on the way out of the store. But we'd never be that clumsy. It came out of nowhere, okay?!
20. Teddy Bear Valentine's Day Cake
This Valentine's Day cake idea is cute, cuddly, and oh so smushy. Not that we'd ever squish you, little guy! Shh…shh…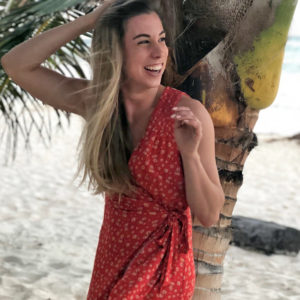 Latest posts by Hannah Rex
(see all)