The Great British Baking Show may have you thinking otherwise, but baking isn't always easy. Baking a successful cake requires you to create a moist, delicious cake and more patience then we'll ever have to frost it beautifully. And, that's why we stick mostly to cupcakes.
If you need some inspiration, here's plenty of funny cakes — and some cake fails. Just know that yours probably won't be this bad. And if it is, we heard Nailed It! is accepting applications.

25 Funny Cakes
1. Hedgehog Cake
And you thought the blobfish was ugly. This SNL-inspired hedgehog cake takes the… well you know.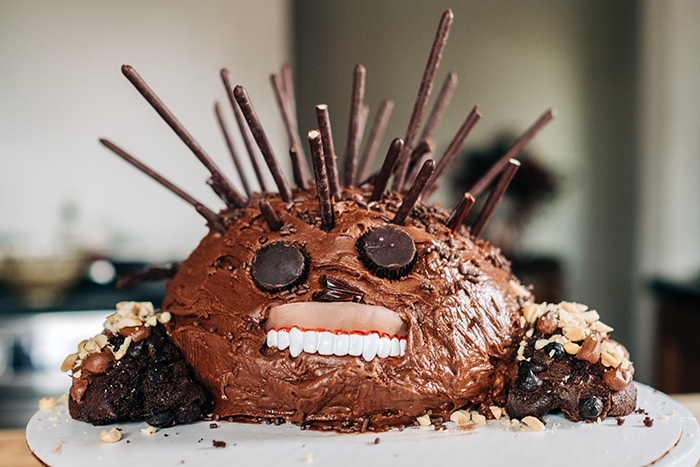 2. Nintendo Switch Cake Fail
Whoever baked this funny cake should not quit their day job. Oh, this is your day job?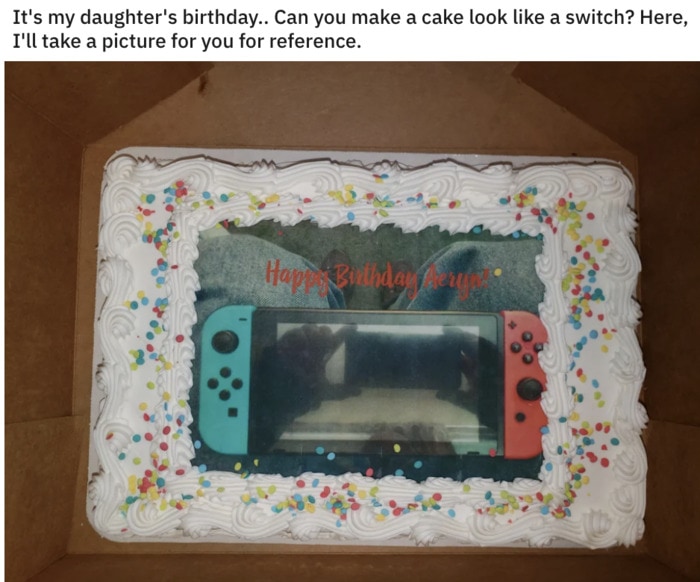 3. Thomas the Train Cake
This cake is a trainwreck. Rather, this train is a cake wreck. Look, all we know is that we'd eat it either way.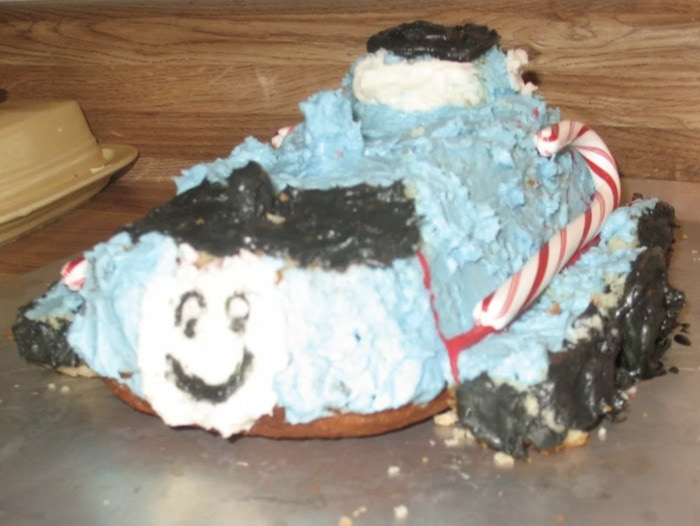 4. Pumpkin Paws Cheesecake
A novice baker tried his paws at baking a pumpkin cheesecake, and this was the result. It looks a lot cuter than it would if we stepped on it, so we'll call this one a win.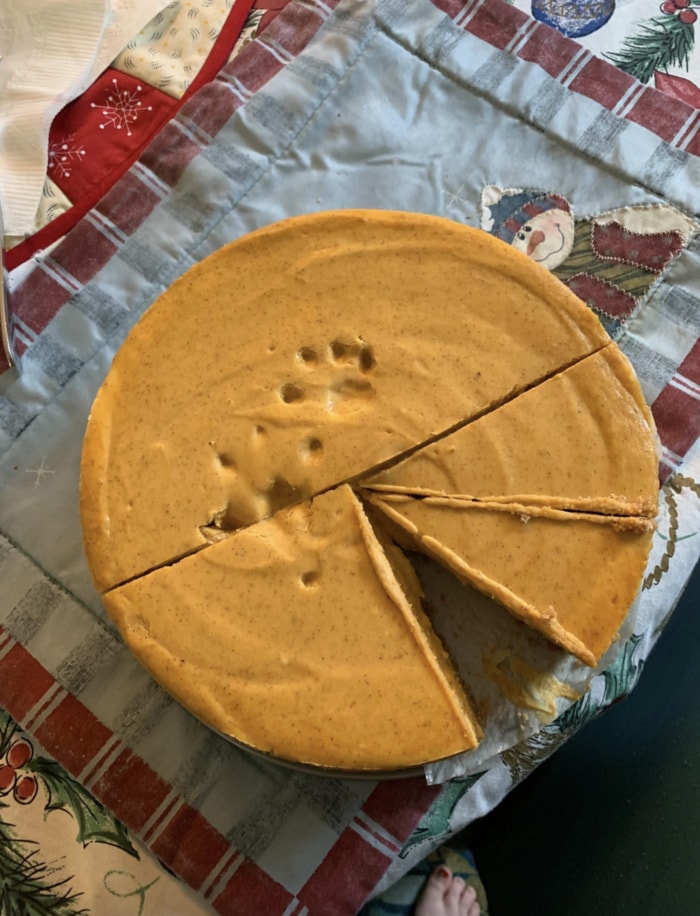 5. At Least Your Neck Grew In Cake
From the baker: "My brother failed the bar exam. Therefore – fail cake." We've heard that necks are more helpful than law degrees anyway.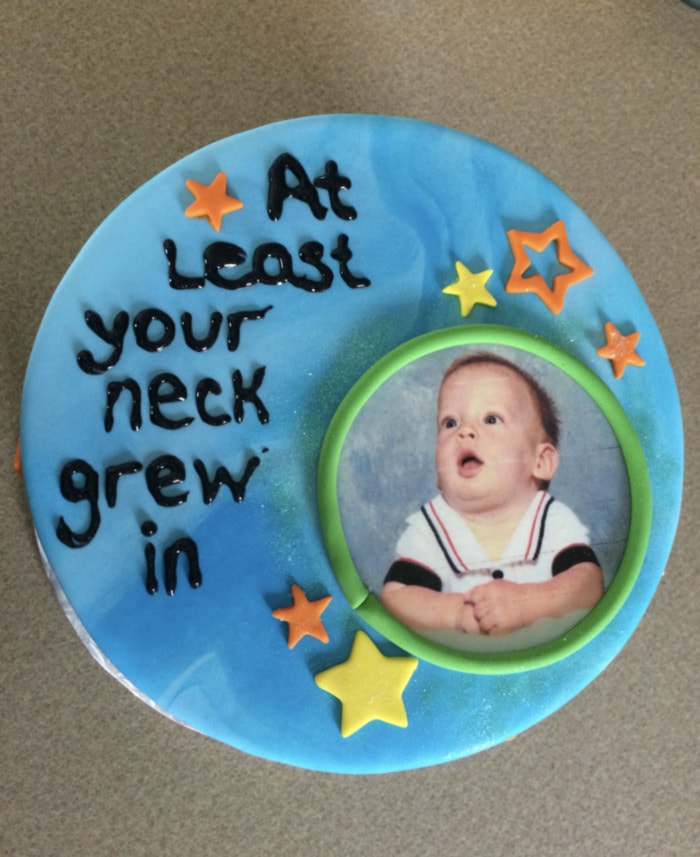 6. Easter Bunny Nightmare Cake
This cake's visage looks more like a demon than an Easter bunny. 'Tis the reason for the season?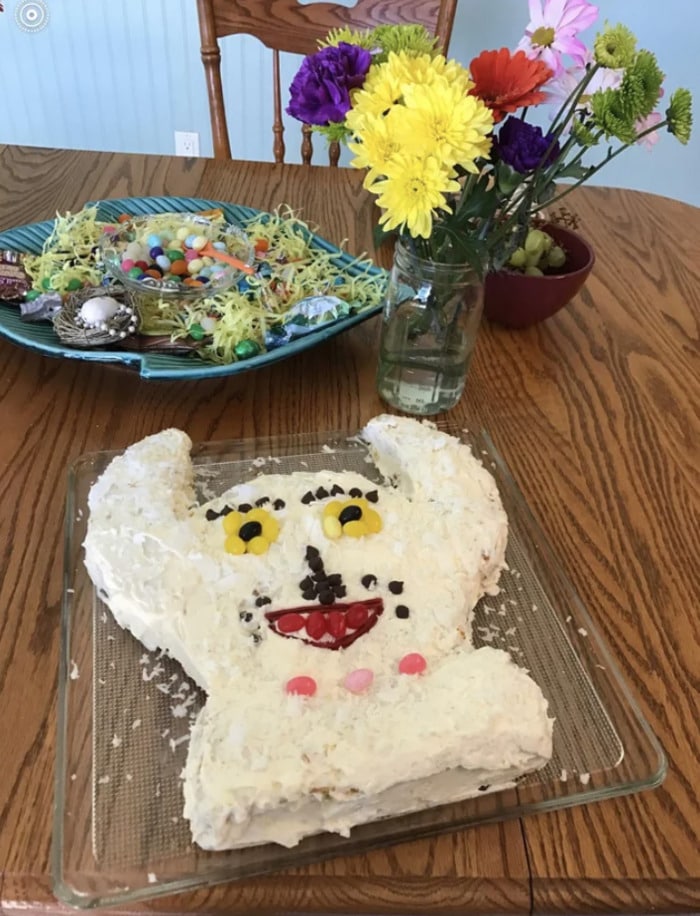 7. Baby Yoda Cake
It's not real. It can't hurt you. It's not real. It can't hurt you. Might we advise you to cut into that thing and start eating it before it eats you? Or make these instead?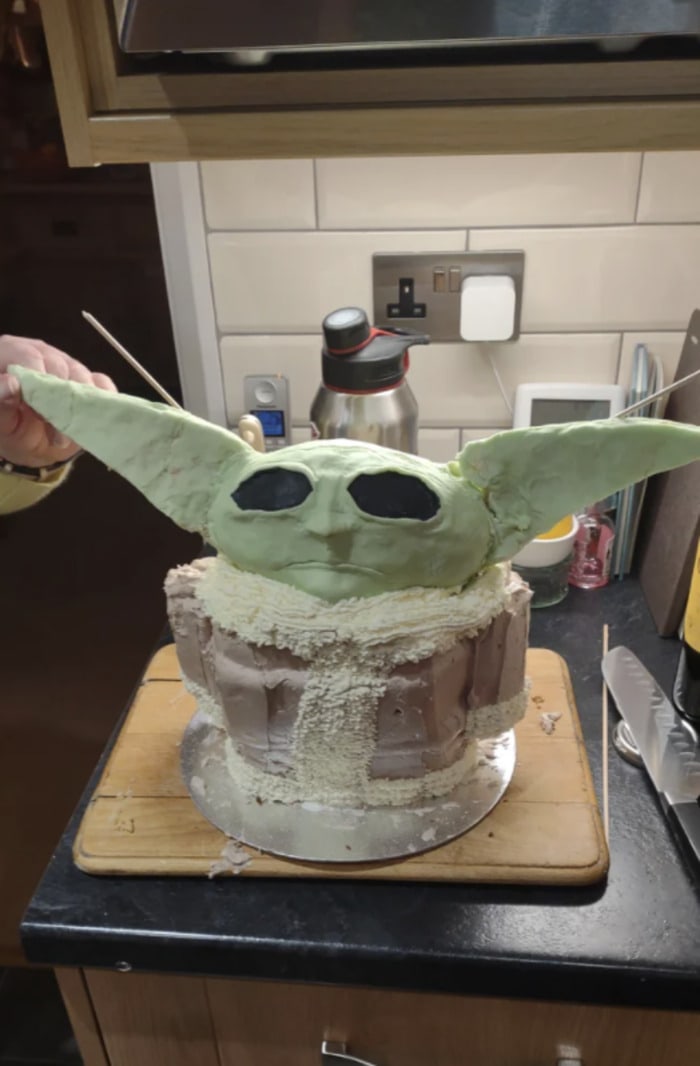 8. I Tried Cake
This reminds us of the time we tried to run a marathon and gave up halfway through. They didn't even give us a cupcake after that, though, so this is much better.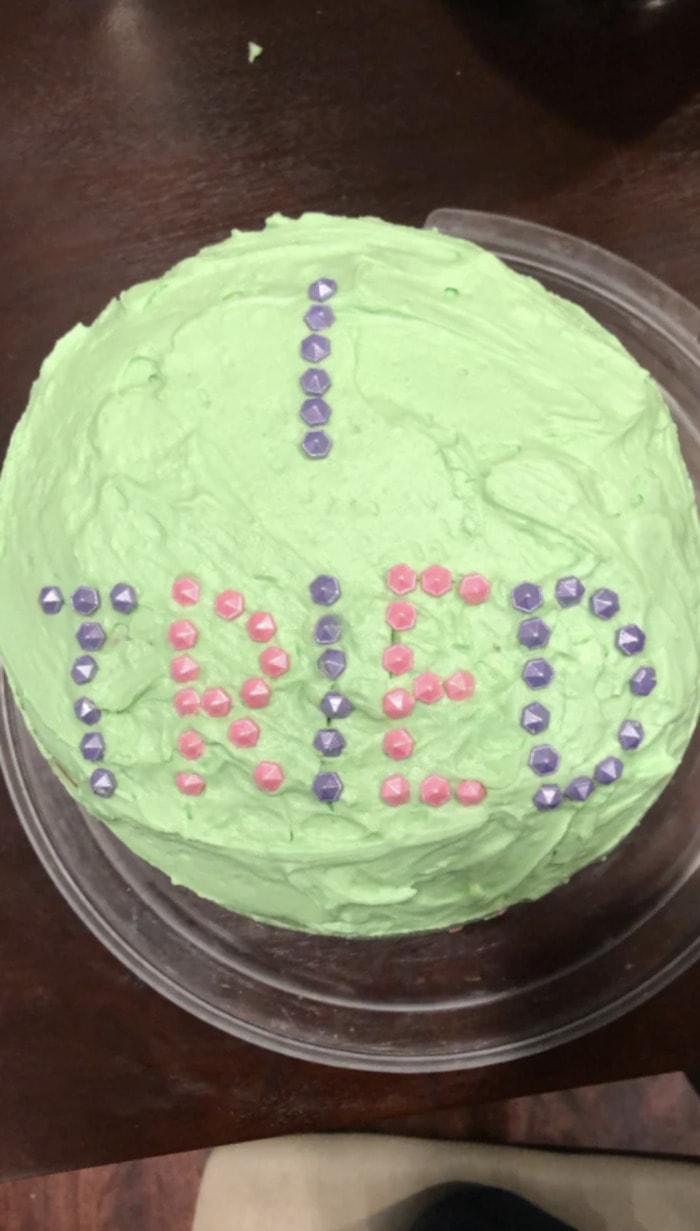 9. I Am Groot Cake
Tree Monster. Groot. Tomato tomato.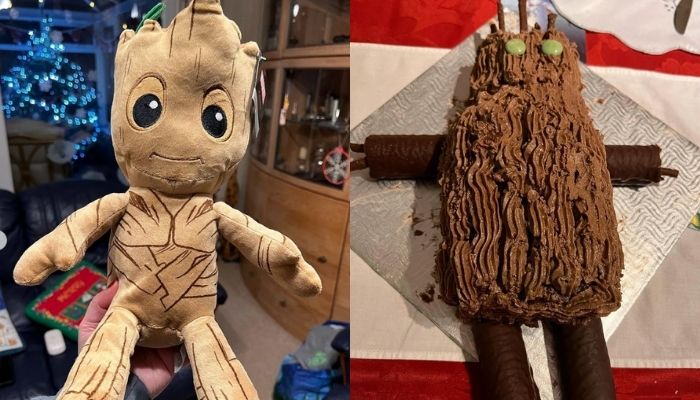 10. Mind Blown Emoji Cake
Mind-blowing is one way to describe this cake. Another way is facepalm.
11. Wimbledon Celebration Cake
And this is why you should let a cake cool down before you decorate it.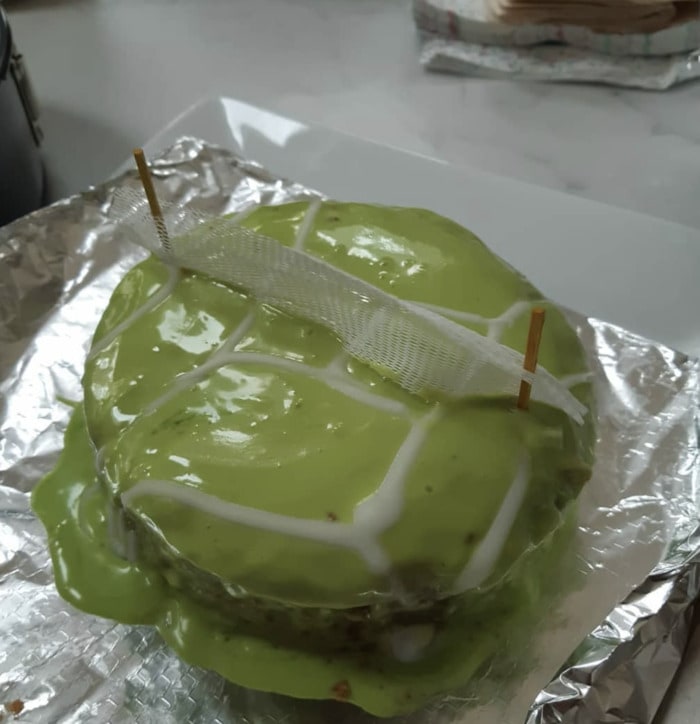 12. Christmas Tree Ice Cream Cone Cake
The dinosaurs were an inspired touch. After all, this cake is a sight for saur eyes.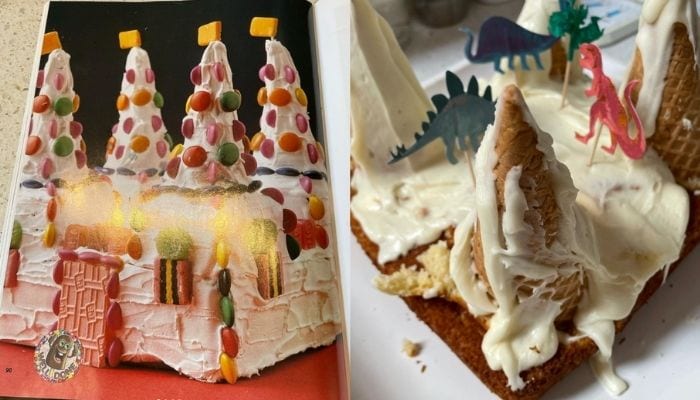 13. Castle Cake
This is either a castle or a mold from a botched boob job. All it needs is a couple cherries on top to be sure. That's how they built medieval castles, right?
14. Whale Cake
We're not sure what the cake designers were thinking when they frosted this cake. Are they taunting the recipient about their inability to catch whales? Is his name Ahab?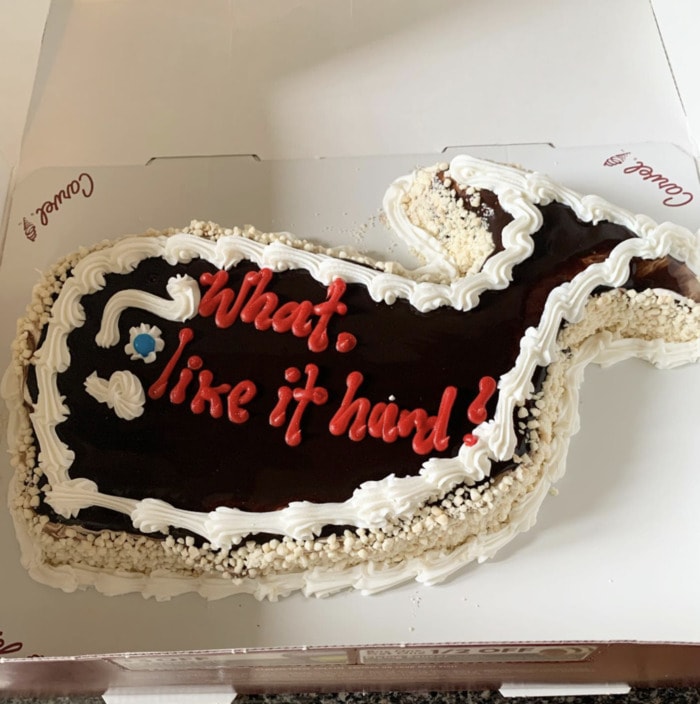 15. Sorry I Dropped It Funny Cake
Honesty is the best policy. As long as the five second rule was observed, we have no qualms. Okay, ten.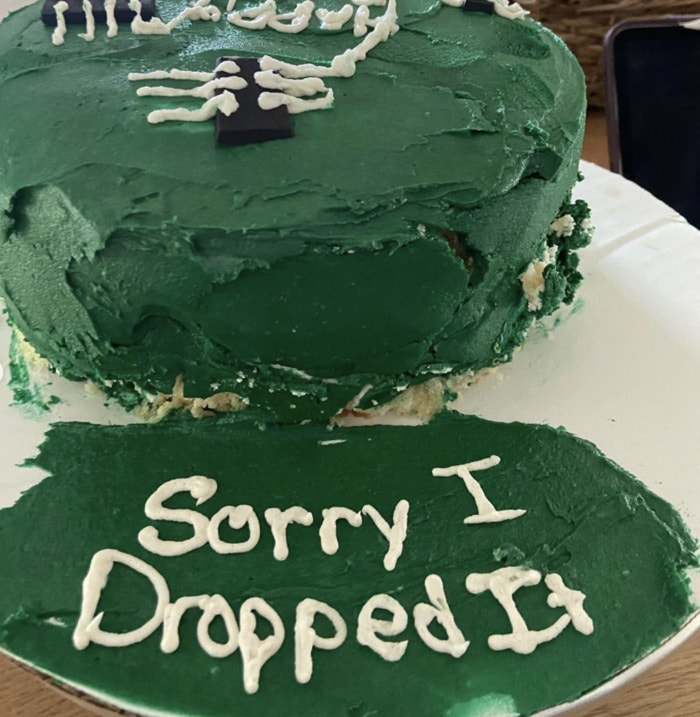 16. Friday Night at Freddy's Cake
How it started vs. how it's going. Alternatively named: 2019 vs. 2022.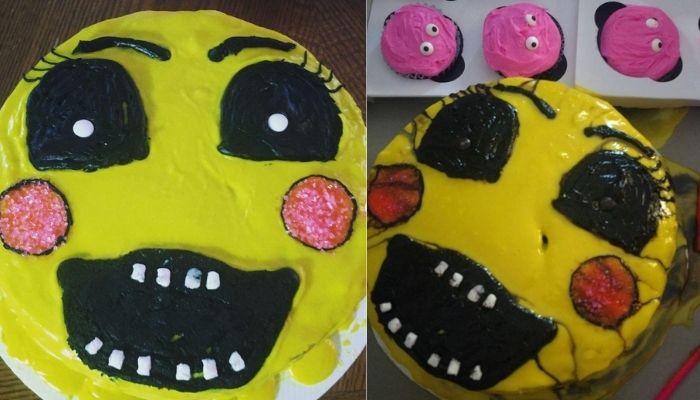 17. Frog Cloud Cake
Those frogs are in for a very rude awakening.
18. Sleep Paralysis Demon
When you blur the line between sleep paralysis demon and Sonic the Hedgehog this horrorshow is the result. Kind of like the line between 'chatty' and 'disruptive,' if you asked our first grade teacher.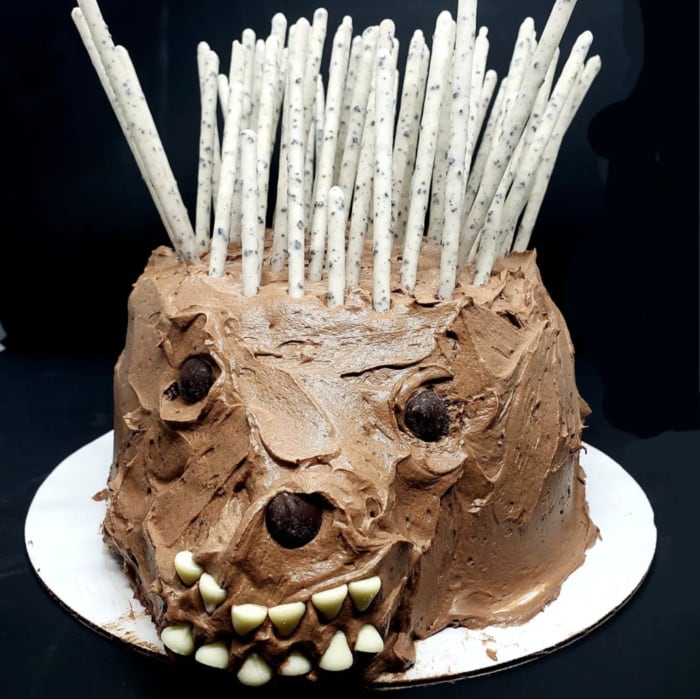 19. Totoro Cake Fail
This cake went from Totoro to totor-oh no real fast.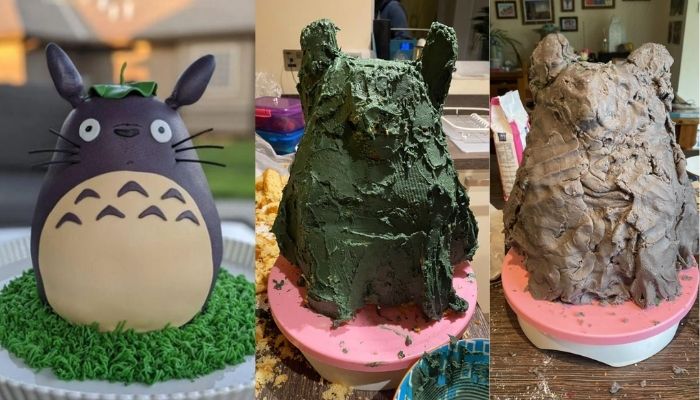 20. I Want Sprinkles Cake
You can't always get what you want. Welcome to the real world!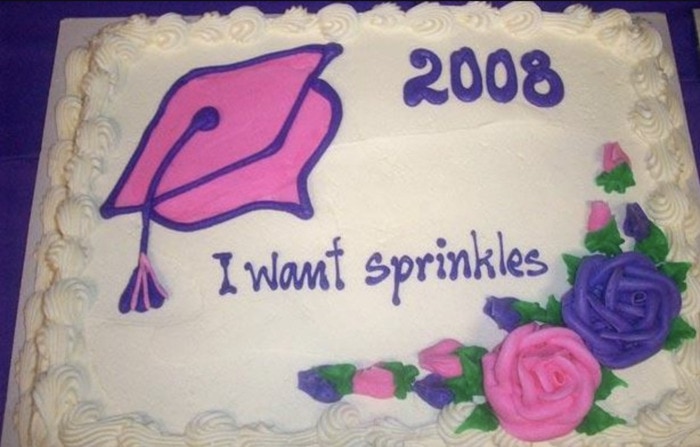 21. Elsa Frozen Cake
This cake comes with one free therapy session per child at the birthday party.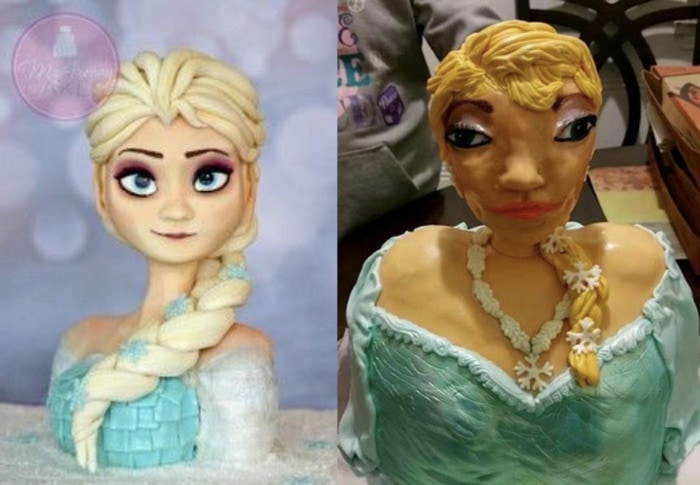 22. Happy Birthday Dick Cake
Tell us how you really feel. Or don't, we're kinda sensitive.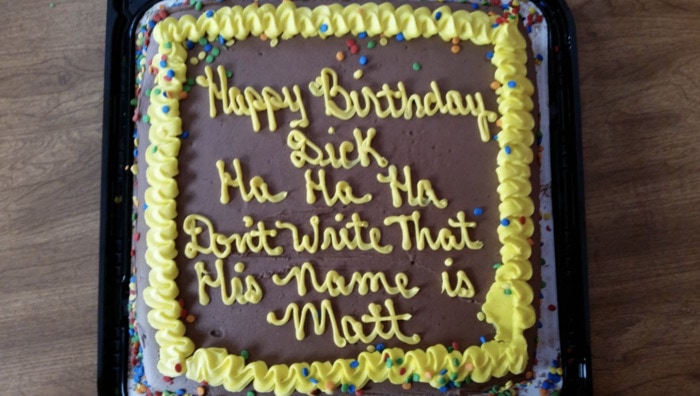 23. Cat Cake
The look of total disdain on the cat's face is… well, probably always there, to be fair.
24. Poop Emoji Cake Fail
When the cake is closer to the real thing than the emoji is, we're not sure whether or not to call it a cake fail or not.
25. Sloth Funny Cakes
They say that eyes are the window to the soul. In this case, these eyes will be haunting us for the next ten years.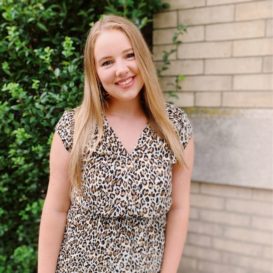 Latest posts by Laura Davis
(see all)