If you're looking for a cute Sonic the Hedgehog cake, you've definitely come to the wrong place. Maybe try these Baby Yoda cookies instead?
Sonic the Hedgehog was once just known as that speedy, feisty blue hedgehog that zipped around on the Sega Genesis collecting gold rings. But then someone got the idea to make a live action version — complete with human teeth — and we've had nightmares since.
We thought that was the scariest incarnation we'd ever seen of poor Sonic. But, no. Eddie Murphy actually created an even scarier version of Sonic for SNL… one made out of cake. And, likely inspired by all of these hedgehog cake fails.
This week, Stan Horaczek made his own SNL Sonic Cake and shared the step-by-step photos with us so you can make your own demonically possessed cake at home.
The Original SNL Sonic the Hedgehog Cake
In December, Eddie Murphy "competed" in SNL's Holiday Baking Championship skit. The bakers were asked to bake cakes based on holiday childhood memories. Playing the role of Mitch, Murphy explains that one of his favorite memories was playing video games with them on Christmas mornings.
Before the reveal, Mitch explains that his Sonic the Hedgehog cake is made from sour blue royal icing with shoes of hot cinnamon and speed lines of homemade red licorice. Turns out his baking is so bad he accidentally opens a portal to Hell.
How to Make a Sonic the Hedgehog Cake
Follow these steps to make your own version of the SNL cake.
1. Bake your favorite vanilla cake in an igloo mold. Cut off the door. Here's the mold Stan used.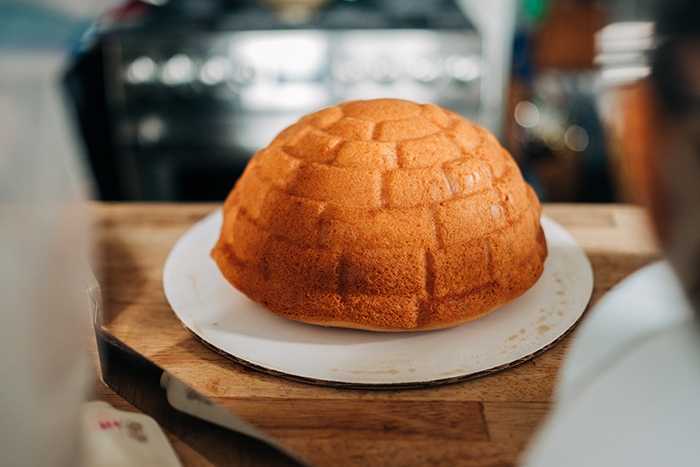 2. Wait until the cake cools, or follow Stan's advice: "Cutting the cake in half made it cool faster. We put a layer of frosting in the middle to hold it together. On the way home, though, the layers started sliding apart and it looked even more evil than before."
3. Make chocolate frosting and spread it all the cake. It's even better if it looks a bit messy. "We initially bought canned frosting, but it was too dark. My mom made some white frosting for us to mix in to get it to the right color. It also produced a way better texture."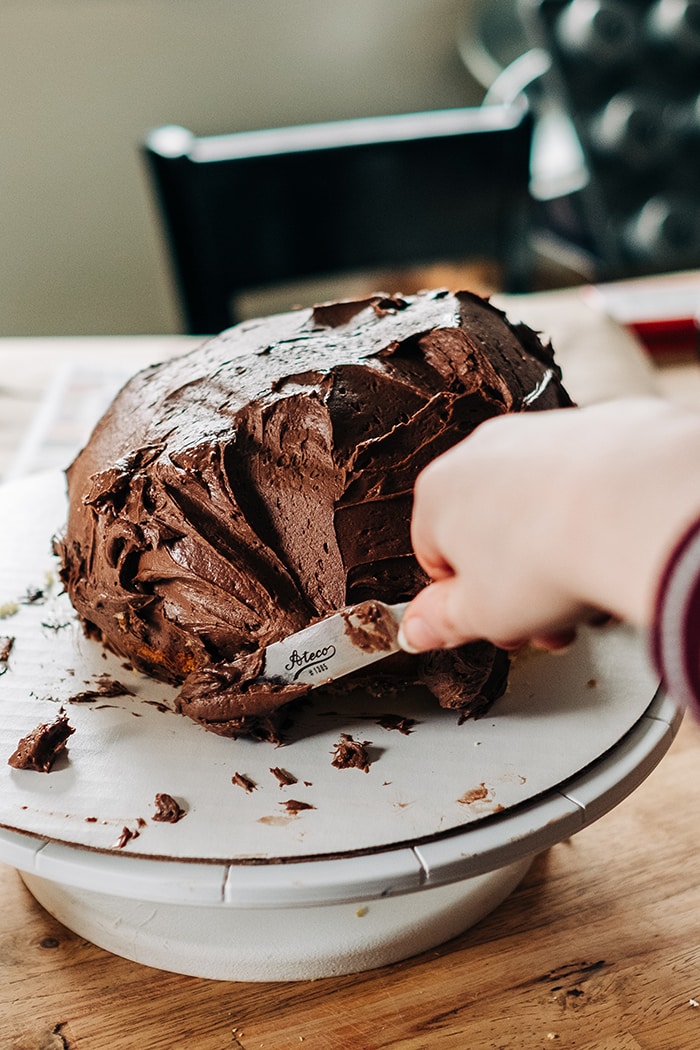 4. To make the feet, split a chocolate muffin in two, and frost the bottom to get it to stick. Spread chocolate frosting on top and sprinkle with chopped nuts. If you want it to look closer to the SNL version, use large chocolate truffles.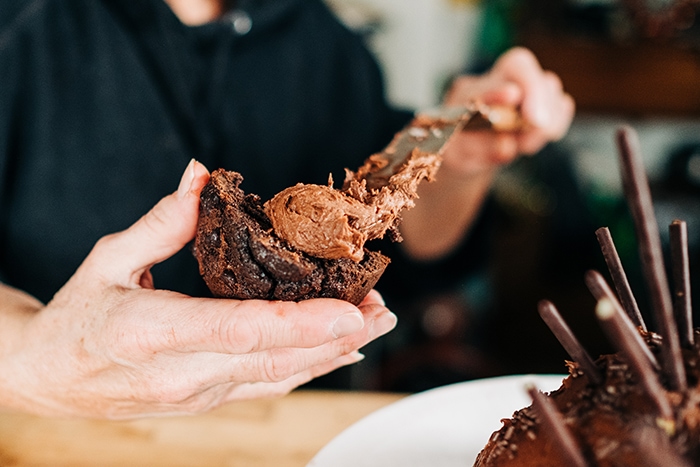 5. Insert Trader Joe's peanut butter cups for the eyes. Cut a bite-size chocolate Twizzler for the nose. Insert chocolate Pocky for the spines.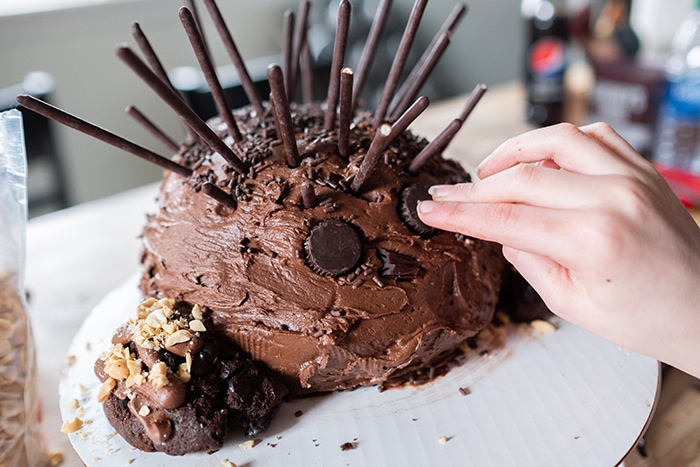 6. For the final touch, cut a hole for the mouth and insert fake teeth."We had a hard time finding fake teeth in this decidedly non-Halloween season. We ended up at Party City and found a pair of crummy vampire teeth. Those are actually the bottom teeth—the top ones had big fangs."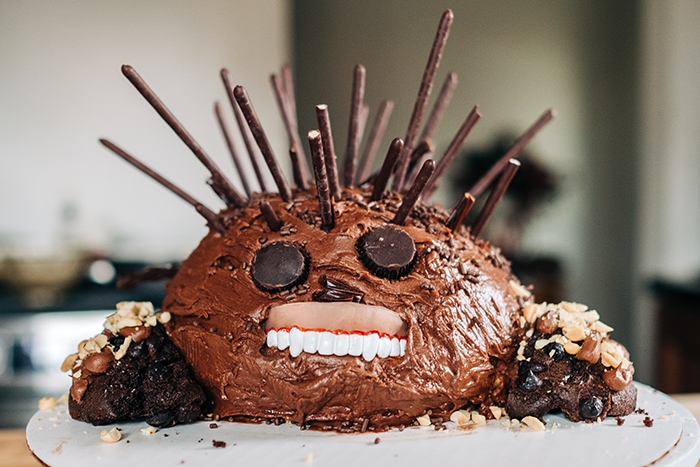 Then just wait for the portal to the underworld to open!
A Few Questions for the Cake Creator
What inspired you to bake your own Sonic the Hedgehog cake?
Stan Horaczek: My son randomly found me watching the Bodega Man musical sketch in the John Mulaney episode of SNL a while back. He loved it and started watching SNL even though he's only in grade school and understands zero of the political jokes. We watched the Eddie Murphy episode and the baking sketch killed. He made his sister watch it, and his mom. He even made some relatives watch it on his phone over the holiday.
Last weekend, my son and I were grocery shopping and thinking about what kind of food we could make for Super Bowl Sunday. We don't care about football, but it seemed like a good excuse to do something ridiculous.
He jokingly said, "We could make the Satan cake from SNL." It sounded like a fine idea to me, so we bought all the ingredients and brought them to my mom's because I'm tragic when it comes to baking.
This seems like the perfect cake to bake then!
My mom makes really awesome and elaborate cakes. Last year, she made my daughter a really fantastic cake of her Road Hog, her favorite Overwatch character. She also loves cooking competition shows, so we thought she'd get a kick out of the sketch and the ridiculous final product.
Follow the recipe below to make your own. And, follow Stan on Twitter or Instagram at @stanhoraczek!
Sonic the Hedgehog Cake
Print Recipe
This SNL-inspired Sonic the Hedgehog cake is sure to give all your guests nightmares.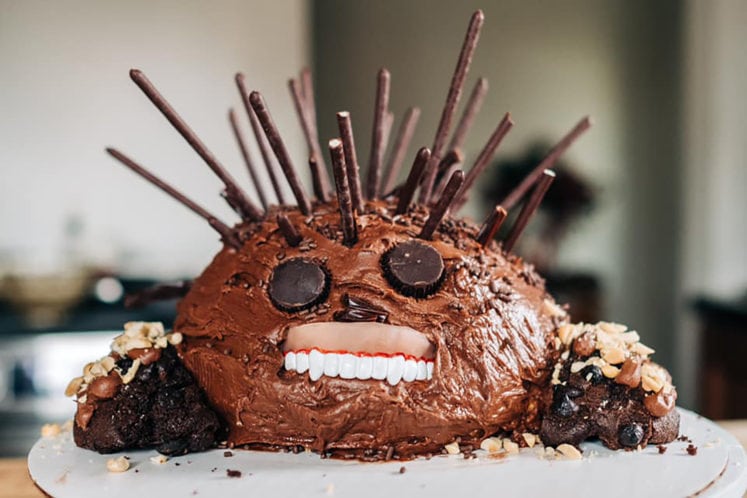 Servings: 12 slices
Instructions
Bake your favorite vanilla cake in an igloo mold and cut off the door.

Make your favorite chocolate frosting.

Wait until the cake fully cools, then spread the chocolate frosting generously on top.

Remove the muffin top from a chocolate muffin. Split the muffin into two and place on either side of the frosted cake. Top with chopped nuts.

Insert two mini peanut butter cups for the eyes.

Cut a bite-size piece of chocolate Twizzler and insert it for the nose.

Insert chocolate Pocky for the spines.

Cut a hole for the mouth and insert fake teeth.
Notes
Instead of a chocolate muffin, you can use large chocolate truffles.
If your cake turns out to be so horrifying it opens a portal to the underworld, don't say we didn't warn you.
Nutrition Facts
Sonic the Hedgehog Cake
Amount Per Serving (1 slice)
Calories 200
* Percent Daily Values are based on a 2000 calorie diet.
Did you make this recipe?
Leave a review below, then take a photo and tag @letseatcakeblog on Instagram so we can see it!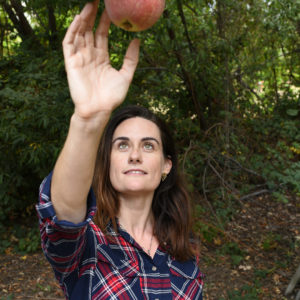 Latest posts by Rebecca Swanner
(see all)