February may be the shortest month of the year, but Trader Joe's lineup for February 2023 isn't letting that slow things down. They have jam packed the shelves full of new products, returning favorites, and just enough heart-shaped foods to help you remember to buy a Valentine's Day card.
How will we try everything before the March items roll in? How can we work them into the week we plan to subsist entirely on discount chocolate we bought on February 15th?
We don't know how we'll get through everything, but we're dang sure we're going to have a great time trying. Heart shaped or not, Trader Joe's has a ton of ways to turn February to Fab-ruary. Let's dive in!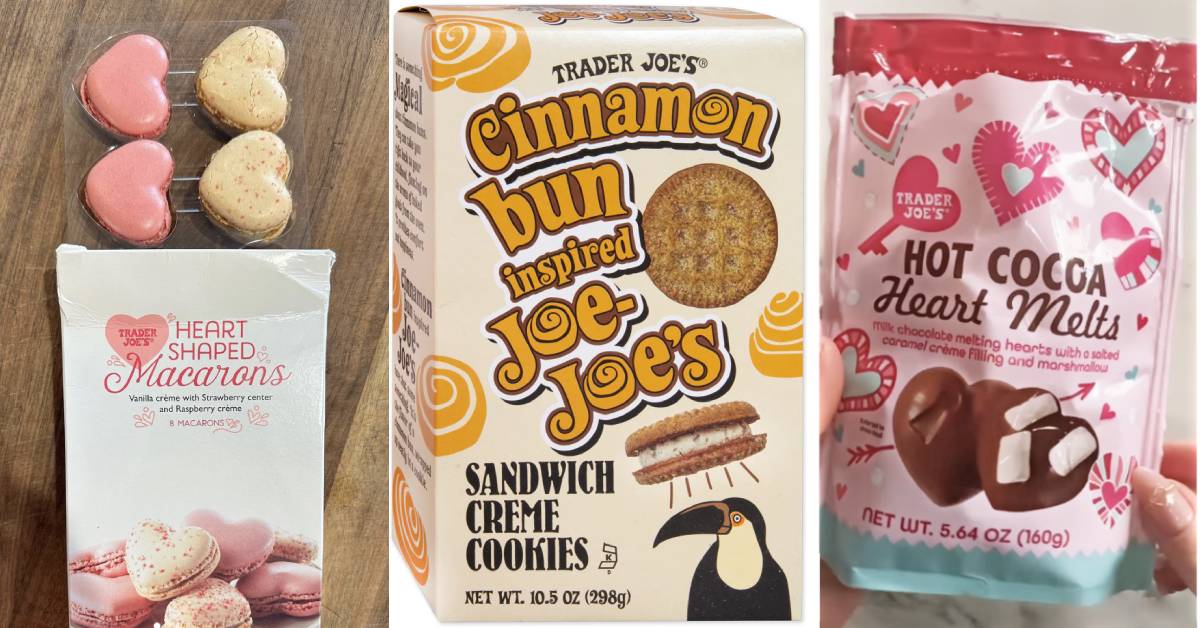 The Best New Trader Joe's February Items 2023
1. Cheddar Jalapeno Pull-Apart Bread
We love finding ways to spice up our love life. Jalapenos are the perfect way to do that, especially because, by love life, we meant bread.
We're also really excited by the pull-apart concept, because it makes it easier to share…the load between our right and our left hands. Get your own loaf!
Available at Trader Joe's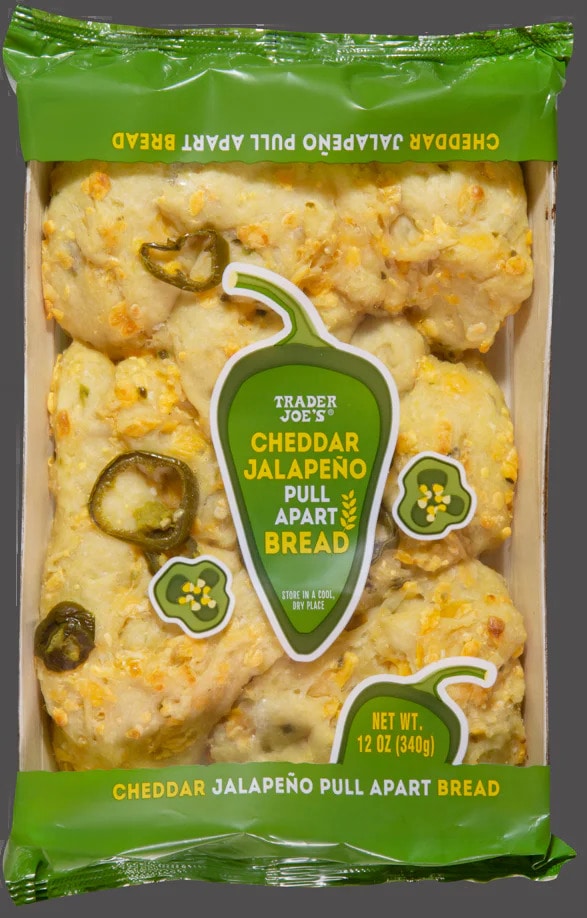 2. Cinnamon Bun Inspired Joe-Joe's
If you told us we'd ever get excited about a hard, crunchy, dry cinnamon bun, we'd be offended. We know we're monsters, but we'd never go that far. The beauty of the cinnamon bun is the warm, soft, pillowy middle and gooey cream cheese frosting.
Trader Joe's said "hold our beer," and came back to show us that actually, a cinnamon can be enjoyed in cookie form. Actually, they said "Hey, could you hold our cider for just a minute? If it's not too much trouble." But you get the point.
Available at Trader Joe's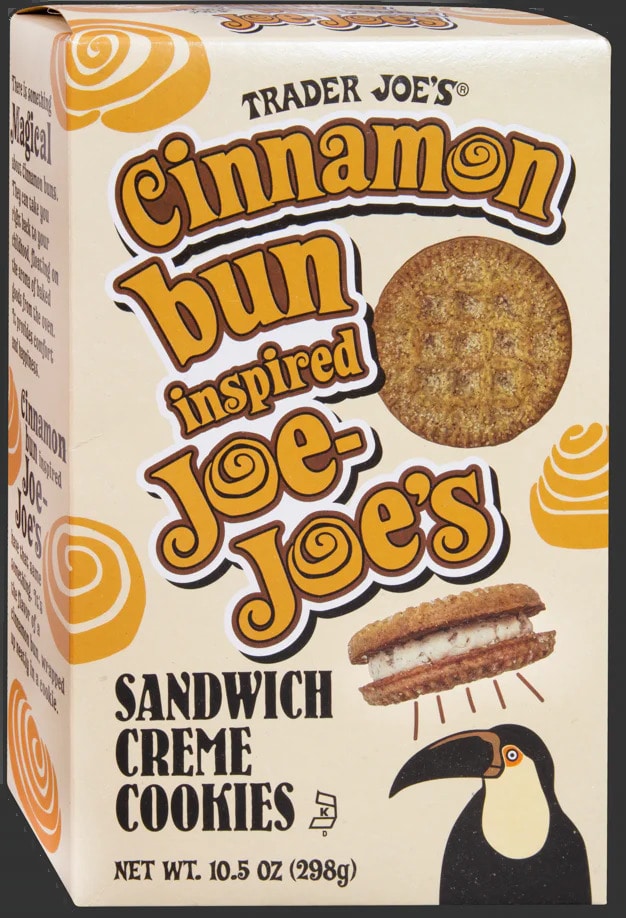 3. Peanut Butter Brookie
Peanut butter is a hit. Cookies are a hit. Brownies are a hit. Is too much of a good thing a bad thing? Mwmwmmmwmww. Sorry, we were trying to talk with our mouths full of these peanut butter brookies.
In this case, too much of a good thing is still a good thing.
4. Hot Cocoa-Inspired Cream Cheese Spread
Two things we learned we have in common with this cream cheese: bagels are our best friend, and we are inspired by hot cocoa.
And if you're hesitant about the idea of a sweet cream cheese spread, just think of it like frosting on a donut. We're not above eating cream cheese frosting out of the container, but this feels more acceptable.
Available at Trader Joe's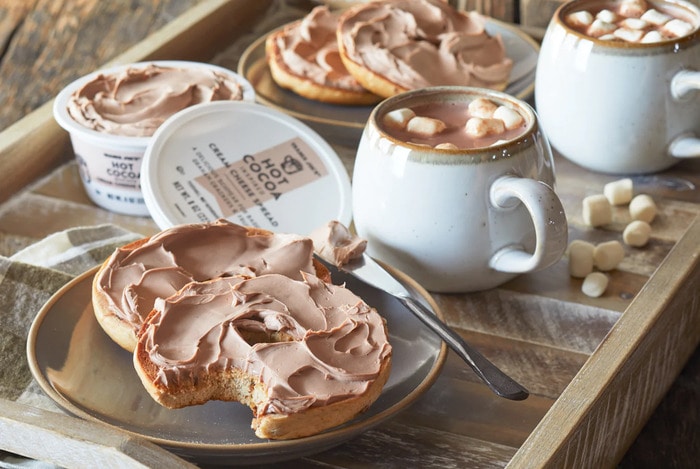 5. Chocolate Raspberry Swirl Ice Cream and Sorbet
This February product is labeled as simply "Chocolate Raspberry Swirl" with little further description. You don't even really know what it is yet. But your mouth is watering, isn't it?
Leave it to Trader Joe's to know their customers, and that the draw of the two flavors together is so strong that we don't even care what it is. We know it's going to be good. For what it's worth, it's chocolate ice cream and raspberry sorbet. But you probably figured that out two scoops ago.
Available at Trader Joe's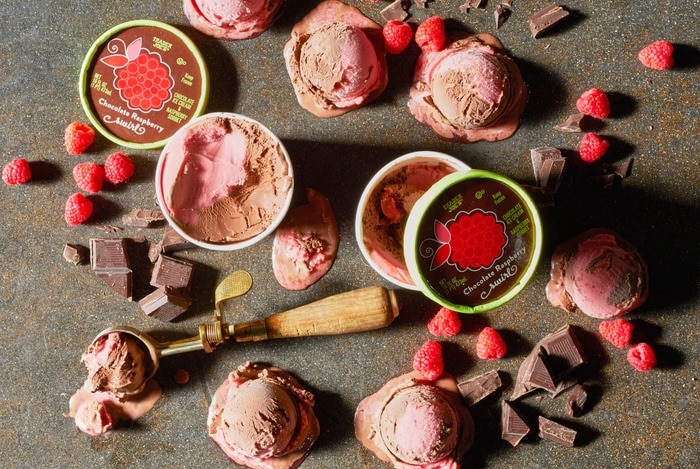 6. Dark Chocolate Caramel Hearts
We're going to go with an unpopular opinion here, but full priced chocolate can still taste as good as discounted chocolate. For that reason, we'll be stocking up on these limited-edition caramel hearts for the entire month.
And maybe we'll give some away for Valentine's Day. Especially if you still that V-Day mailbox you made in elementary school.
Available at Trader Joe's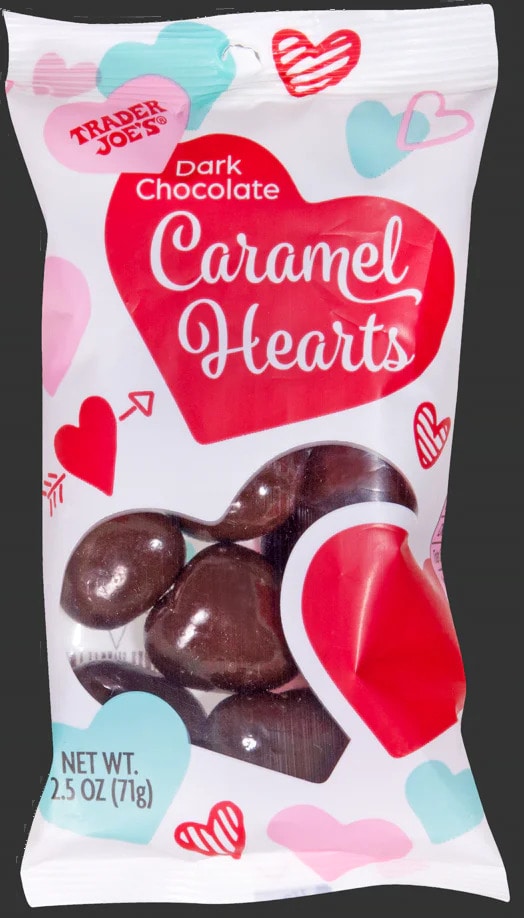 7. Salmon Rub Seasoning Blend
This seasoning blend comes just in time to make a romantic salmon dinner for your partner. And many practice dinners before February 14th.
This delicious spice rub will never have your salmon saying, "hey you're rubbing me the wrong way!" We looked on Food Network and found that if your salmon does offer unsolicited, blunt criticism, it's very undercooked.
Also, you have mercury poisoning. Your fish should not talk. Do not pass go. Go directly to the hospital.
Available at Trader Joe's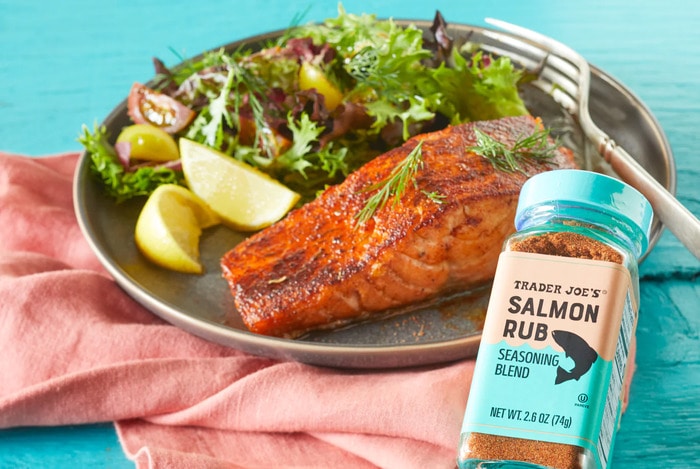 8. Sweet Cannoli Dip
Sweet dips are underrated. Queso, salsa, and French onion are all great, but they shouldn't get all the love. This cannoli dip is the perfect landing zone for waffle cone pieces, graham crackers, or just a big ol' spoon.
Sure, you could use it to fill cannoli shells. But that seems awfully limiting. You can only fit so much filling into those tubes!
Available at Trader Joe's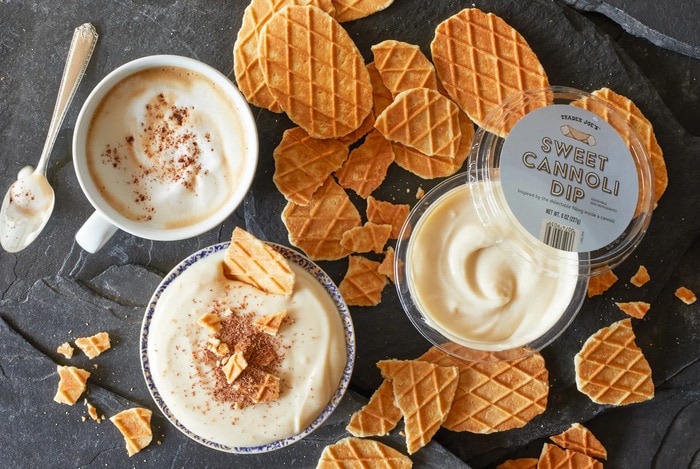 9. Hot Chocolate Heart Melts
If you got caught in the great polar vortex of 2023, you deserve to drink your weight in hot chocolate filled with these heart melts. The melts, which themselves are filled with caramel and marshmallows.
The caramel and marshmallows, which themselves are filled with love and joy and just a little bit of narcissism. But we love them anyway.
10. Heart-Shaped Macarons
These adorable macarons have returned for the 2023 Valentine season! They're giving us vanilla, raspberry and strawberry flavors, and an aesthetic that any Pinterest Princess would envy.
Add in some cheesy signage and you're all set.
11. Vegetarian Meatless Cheeseburger Pizza
Meatless cheeseburger pizza? It sounds like there's a lot going on, and that it'll be chaos. Meatless cheeseburger? Confusing. Cheeseburger pizza? Two strong identities that are sure to fight each other.
But somehow, it all makes sense and everything lives together in harmony. UN, take notes.
12. Rigatoni Alla Contadina
This comforting frozen dish consists of rigatoni with asparagus, broccoli, and green peas in a creamy sauce. The bright vegetables lighten it up enough to eat in warm sunshine and the luscious sauce makes it hearty and comforting enough to enjoy on a cold winter's night. Not that pasta needs any justification at any point in the year.
13. Apple Chip Duo
When we think of red and green, we'll no longer think of Christmas. We'll think of the apples used in this duo. It's not that Christmas is bad, it's that these chips are that good.
We didn't know that we wanted to combine the eating experience of potato chips with the taste of an apple, but our minds, hearts, and mouths have been opened.
14. Maple Pancake Snaps
Step aside, ginger snaps! But like, just a little to the side. Still stay on the table. But make room for maple pancake snaps!
Last month brought the maple puffs, this month brings these cookies. Maybe next month will bring a sugar crash, but we'll cross that bridge when we get there.
15. Chocolate Palette
The Russell Stover and Godiva boxes are basically strutting around the stores these days. They think they have a stranglehold on the box of assorted chocolate market, but they've got another thing coming.
Nothing humbles a box of chocolates like seeing this delectable competitor enter the game. Or getting eaten. We hear that'll take something down a peg or two.
16. Ricotta Cuoricini Ravioli
If you're looking for an easy Valentine's Day dinner, look no further than this cheesy pink ravioli. Yes, you can eat them even if it's not a Wednesday!
17. Triple Ginger Pretzels
If someone gives you a hard time for devouring this gingerfied snack, just tell them that it's your way of avoiding that seasonal sniffles that are going around. That's what pretzels do, right?
18. Squiggly Knife Cut Style Noodles
We were disappointed to find that Knives Out wasn't a documentary named for the first step to make these Squiggly Knife Cut Style Noodles. We wasted two hours waiting for noodles to be made! That'll teach us to read the plot ahead of time.
Luckily, nothing makes us feel better like a pack of soy sauce and sesame noodles. Except maybe two packs.
Available at Trader Joe's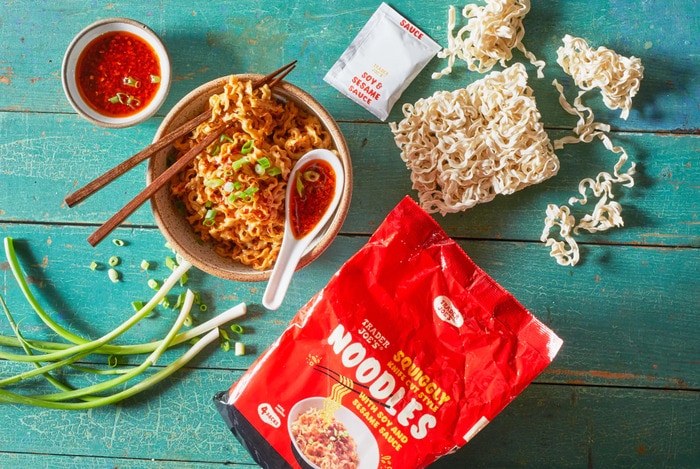 19. Ubriaco Al Cabernet Cheese
What's not to love about this new fromage? It's cheese. It's wine. And it fits perfectly into our triangular pockets. What a time to be alive.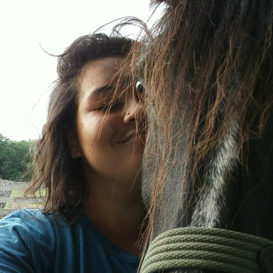 Latest posts by Hebba Gouda
(see all)