Trader Joe's is starting off the new year with a bang! And not the kind of annoying sound that our nephew was making throughout our entire holiday vacation. Instead, the Trader Joe's January 2023 lineup is full of food and drinks that have us rubbing our bellies in delight.
There may not be overarching themes of seasonal flavors like we've seen in the past few pumpkin and gingerbread-laden months. But TJ's has brought in some evergreen, non-denominational treats that have us actually putting on our pants and dragging our tired bodies out into the January weather.

Maybe you need some fuel to finally clean the wrapping paper off of your living room floor. Maybe you jump at the opportunity to go grocery shopping, if only to procrastinate taking down the Christmas tree. Or, maybe you don't even celebrate Christmas, and you're tired of the assumption that you do, and you just want to get through one thing without it being all holly jolly.
Whatever your motivation is, here are 22 items new to Trader Joe's this January to usher us into a new year.
The Best New Trader Joe's January Items 2023
1. White Miso Paste
The Trader Joe's website claims that Samurai warriors thrived on this. And if your New Year's resolution wasn't to become the next Samurai Jack, then what are you even doing?
Miso is a salty, savory, umami bomb made from fermented rice and beans. Sure, it might not sound super appetizing at first. But these guys are fermentation pros. You won't yield the same results from just leaving that take-out rice in the back of your fridge. Trust us.
Available at Trader Joe's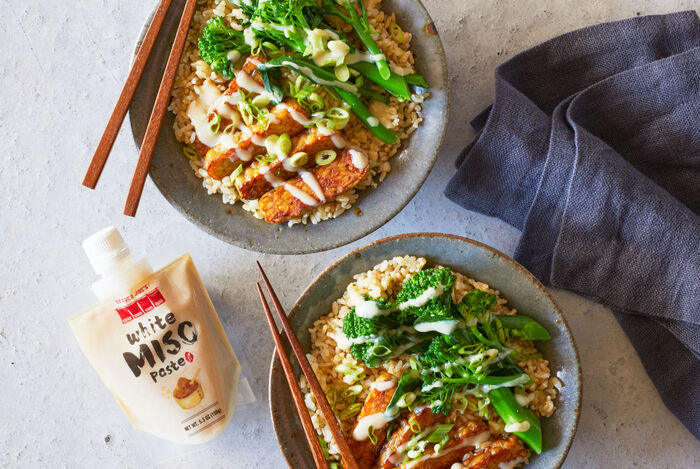 2. Stir Fried Garlicky Cabbage
We could never date a vampire. That's because a) they're fictional and b) we don't want to. And most importantly, c)there's just never a world where we'd ever give up garlic. Especially in the form of this stir fried garlicky cabbage.
Inspired by the Thai dish Galam Plee Pad Nam Pla, this stir fry consists of garlic, cabbage, garlic, fish sauce, and garlic. The TJ's spin on it replaces the fish sauce with a vegan substitute of yeast extract and kombu, but don't worry! The garlic is still there.
You can breathe a sigh of relief. Just breathe that stanky garlic breath upwind of anyone.
Available at Trader Joe's

3. Seasoned Corn Ribs
Corn on the cob is delightful. Just ask every other TikTok that pops up on your feed. But how can you enjoy it when you're staring down the barrel of the physically demanding method of eating it?
Instead of unhinging your jaw to scrape the kernels off, Trader Joe's gives us these "ribs" of corn that are smaller, more manageable to consume, and reduces any potential for lockjaw. And since they're vegan, gluten free, and perfectly seasoned, it's no coincidence they look like smiles.
Available at Trader Joe's

4. Four Cheese Ravioli
Trader Joe's has a ton of really creative ravioli options. But sometimes you just want to go back to the basic cheese option.
But of course, one cheese is good, and four cheeses is better. Yeah, we passed a math class back in the day. Nothing more needs to be said.
Available at Trader Joe's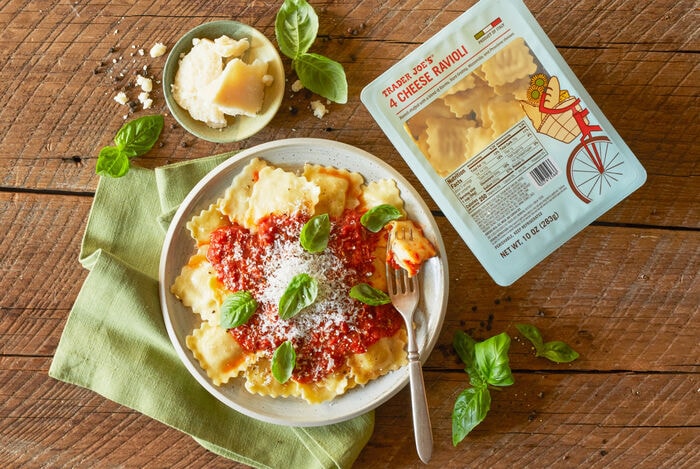 5. Decaffeinated Black Tea
Black tea is delicious, but let's be real. It's after 4PM, and you're not the wildcard you used to be. Now you can enjoy the ritual of sipping on a hot beverage, and still be in your jammies to puzzle by 8pm, and in bed by 9pm.
Live it up, kids.
Available at Trader Joe's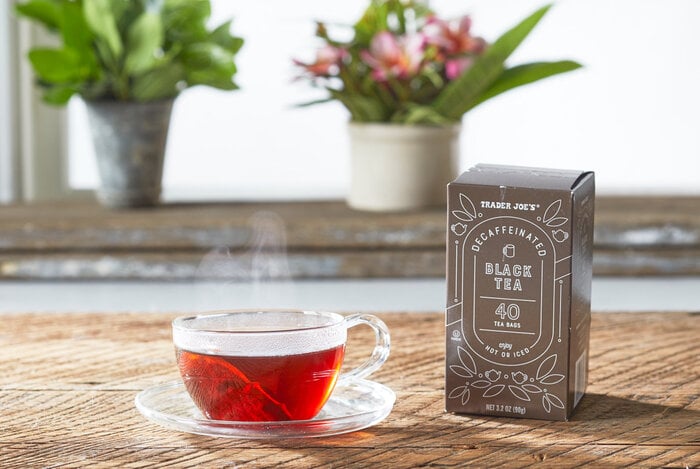 6. Italian Tomato and Red Onion Focaccia
It's rare we meet a bread we don't like, and this one is no different. We get that a frozen variation of focaccia probably doesn't hold a candle to one freshly baked in Italy, but that's just as well. We don't know that we'd be able to control ourselves anyway.
We'll take a plain focaccia any day, but add tomato and red onion? We'll take 20. Apologies to anyone shopping behind us. Walk quicker next time.
Available at Trader Joe's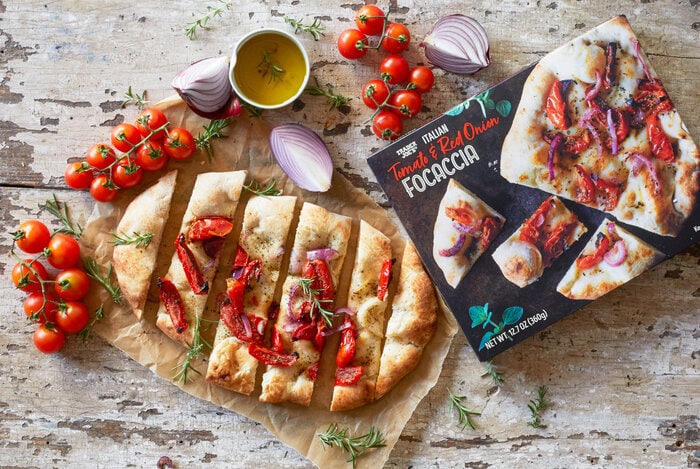 7. Brewed Ginger Beer
We like to think of ginger beer as ginger ale's punchier cousin. Or the backbone of a dark and stormy. Actually, we just like to think of ginger beer in general. In a box, with a fox, in a glass…you get the picture.
The TJ beverage offering is non-alcoholic, so you can indulge without fear of a hangover. But you won't be exempt from the devastation of knowing you don't have any left. Better stock up!
Available at Trader Joe's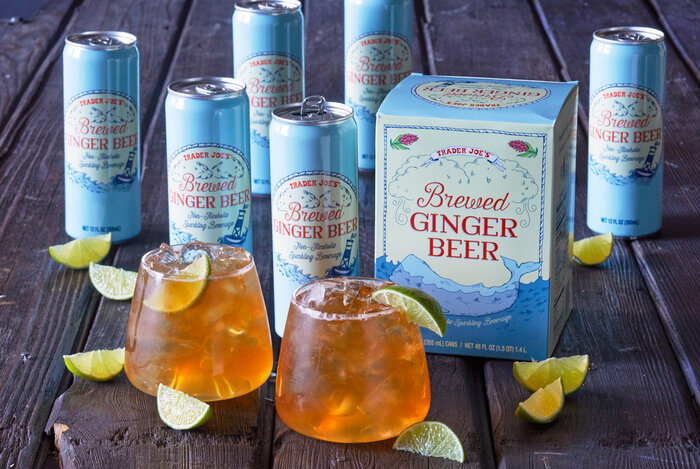 8. Roasted Red Pepper and Almond Pesto Sauce
Apparently, the word "pesto" means "to pound, or crush" in the Ligurian language of the Middle Ages. That makes sense, 'cause we could easily crush a pound of this sauce.
This "rich, roasted, cheesy, nutty, flavorful" sauce is delicious on pasta, bread, directly out of the jar at midnight by the light of the microwave as you wait for your leftovers to heat up. If anyone has done that last part, let us know how it is. We definitely have no experience with it.
Available at Trader Joe's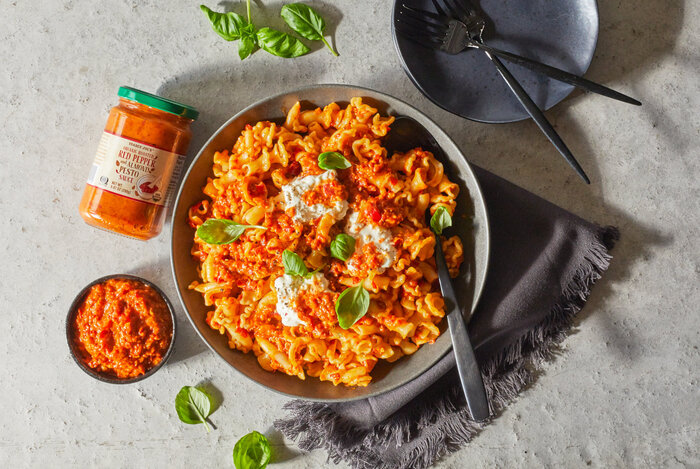 9. Sliced Korean Rice Cakes
Sliced Korean Rice Cakes are flat, gluten-free disks that come plain, without any sauce. But somehow, they taste way better than other options that fit that description. Lookin at you, frisbees.
Trader Joe's offers these as a frozen item. When you're ready to eat, all you have to do is boil them, brown them, and mix them with whatever sauce, veggies, or proteins you prefer. Sure, they don't fly through the air very well, but they're pretty darn tasty. We all have our strengths.
Available at Trader Joe's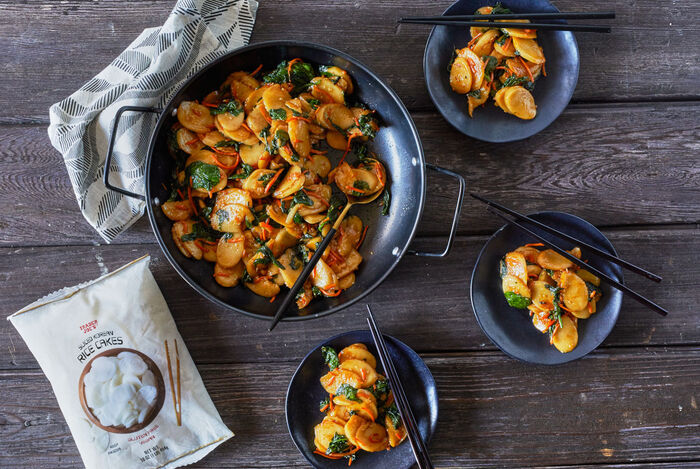 10. Super Seedy Cheese Snack Bites
As a general rule, we steer clear of things like emails or MLM schemes that are described as "super seedy." However, we can't say the same for cheese. Especially this new Trader Joe's snack that hit shelves this January.
These bite-sized parmesan chips are mixed with a crunchy blend of sunflower seeds, pumpkin seeds, puffed quinoa, and black sesame seeds. Sounds just a tad better than cheaply made patterned leggings, doesn't it?
Available at Trader Joe's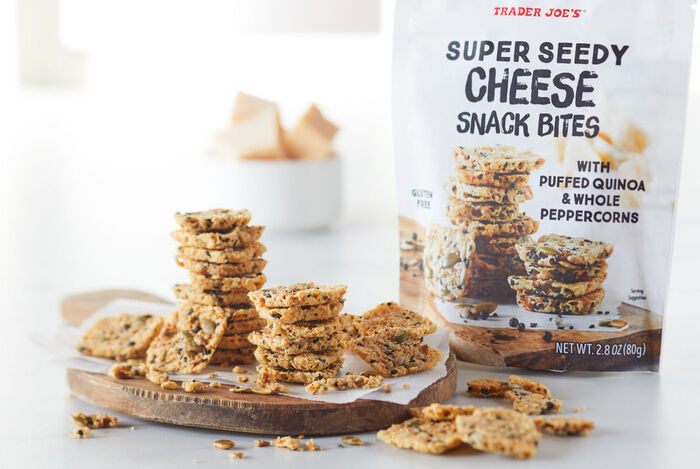 11. Figo! Half Dipped Chocolate and Vanilla Sandwich Bars
"Figo" means "trendy" or "cool" in Italian, so that makes TJ's a triple threat: affordable, delicious, and DuoLingo's top competitor.
These delicious snack-sized treats are perfect for people who can't decide between chocolate and vanilla, or between a klondike bar and ice cream sandwich. Decisions are overrated. Right? Maybe. Probably. Ask again later.
Available at Trader Joe's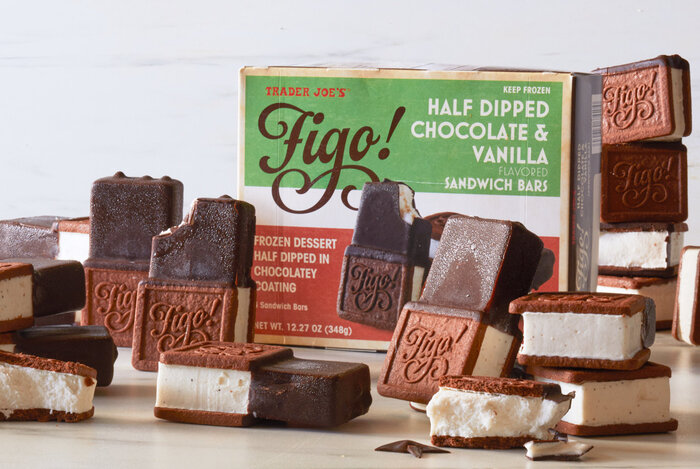 12. Umami Flavored Corn Tortilla Chips
Let's face it. Truffle, soy sauce, miso…these are all instances of, "tell me it's umami without telling me it's umami." We respect the gall of these chips for just telling it like it is.
Now, we don't respect them enough to not eat them, but at least they won't die in vain. They're martyrs. We're satisfied. Everybody wins.
13. Pau D'Agua
Hey baguettes. You've met your match. These pau d'agua Portugues rolls are crusty on the outside, soft on the inside, and are small enough to hold in our hands like a small baby bird.
Sure, we can't use them like a lightsaber. But we're adults, so of course we're going to make perfectly sized sandwiches with them. Or, throw them at people like snowballs. We're fun adults.
14. Herbs De Provence Potato Wedges
Trader Joe's simply describes these as "fried potatoes coated in herbs and olive oil." We just think that's really beautiful. And slightly classier than frozen, crinkle cut French fries. We can't explain it, but you know we're right.
15. Tri-Colored Mini Gnocchi
Do you ever want to eat a bowl full of gumdrops and think about how you haven't had dinner yet, so that's probably not the best idea? Welcome to the best of both worlds! These colored gnocchi will make your meal even more fun than it is to say "gnocchi." Which is pretty darn fun.
16. Classic Bitters
We used to think "classic" and "bitter" were only used to describe our curmudgeon of a neighbor who starts every sentence with "back in my day." Now, we are that neighbor. But TJ's is rebranding classic bitters anyway! Whew, just in time.
Add a few dashes of this delight to a cocktail, mocktail, or a bowl of fruit or ice cream. It does contain some alcohol, so keep it away from the kiddos. Or as we like to say, "those darn whippersnappers."
17. Double Chocolate Wafer Cookies
Double chocolate? Yes. Wafer? Yes. Cookies? Yes. Call this product Kelly Clarkson in her American Idol audition because it gets three "yes" votes. And we'll probably bust it out while we're folding laundry on a Friday night.
18. Italian-Style Wedding Soup
For most people, January is a dark, cold, dreary month. For everyone else, half of their paycheck goes to paying off a sunshine tax. Luckily, this affordable Trader Joe's wedding soup can satisfy the needs of both groups.
Made with meatballs, vegetables, pasta, chicken broth, it'll warm you up without draining your bank account. And make you wish that all weddings were this simple.
19. Maple Pancake Flavored Puffs
Whether you can't decide between pancakes or corn puffs for breakfast, or it's 11:30pm and you have a hankering for maple, these puffs are here for you. The only issue is it's way easier to rip open the bag than to make pancakes, so you may never eat anything else again.
20. Gnocchi Alla Romana
Gnocchi Alla Romana is a side dish made with semolina flour, parmesan cheese, milk, and butter. We're not going to bother writing any more because we assume you've already left to go buy some. Here, take our Lactaid.
21. Pizza Sprinkle Seasoning Blend / Ketchup Flavored Sprinkle Seasoning Blend
Trader Joe's heard the pained cries of 90's kids everywhere: "We miss popping open a bag of Pizzarias chips and firing up the VCR for the evening!" TJ's probably can't bring back the VCR (thanks, Netflix), but now you can make your own pizza flavored chips. And pizza flavored chicken. And pizza flavored whatever the heck you want.
Want to simplify the flavor profile and focus on the tomato aspect? Try the ketchup seasoning! The world is your oyster. Your ketchup flavored oyster.
22. Riced Hearts of Palm
Cauliflower is so exhausted. It's tuckered from being pizza crusts, steaks, chicken nuggets, you name it. Sleep easy, our sweet cauliflower. Hearts of palm is here to relieve you. As rice, at least. You've still gotta do all the other stuff so come on, chop chop!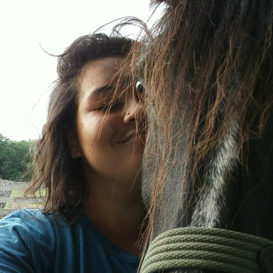 Latest posts by Hebba Gouda
(see all)