Even without Christmas, December is its own holiday at Trader Joe's. Gingerbread and peppermint line the shelves, and chilly winter weather calls for hearty, cozy meals. And at least one round of all these new 2022 December Trader Joe's items.
Sure, scraping frost from our windshields and sunset at 4PM are tough. But it's all a little easier with food on our sides. Yeah, we're packing sandwiches in our jacket pockets. What's it to you?
Every year, our favorite trader welcomes back some old heroes. (Hello again Jingle Jangle and peppermint Joe-Joe's!) And still, they somehow manage to always roll out new ideas.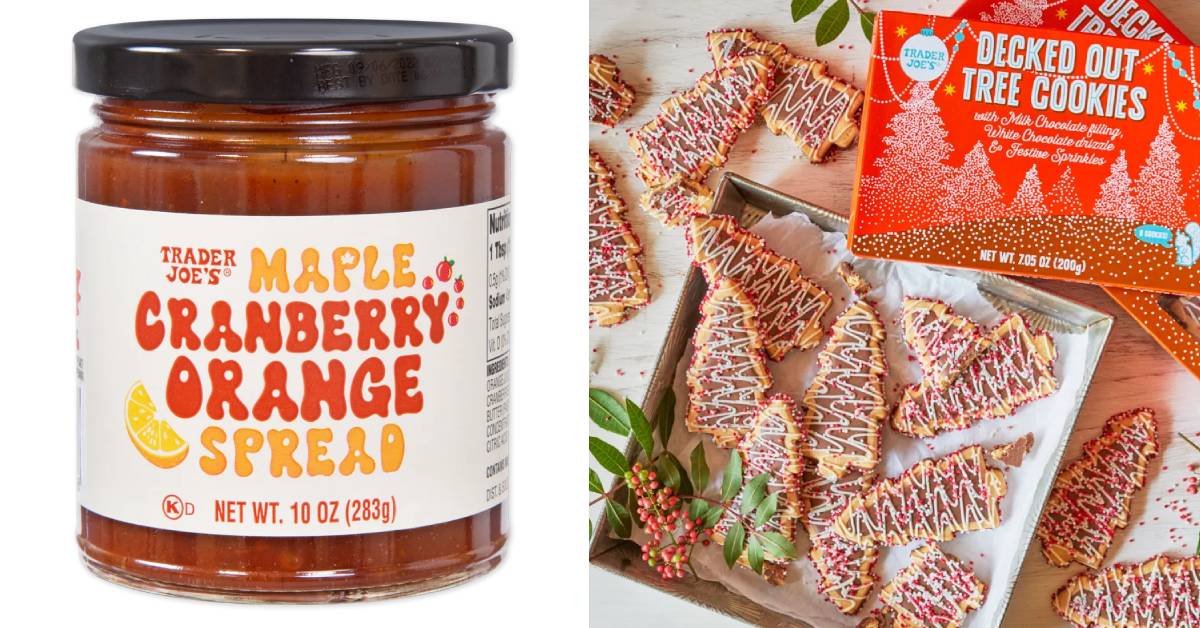 We'd love to know how their crew stays so creative, and if they're available to help us with our next writing assignment. But until then, we're going to dive head first into their latest new batch of glorious food. Here are the best new items you'll find on the Trader Joe's shelves this December.
Okay maybe we should have gone in feet first.
The 18 Best New December Items From Trader Joe's
1. Panopoly of Organic Italian Pasta
This collection of pasta is all of the things we love: variety, pasta, color, pasta, accidentally learning Italian, and more pasta. Each type of pasta is a different shape and flavor, making this a perfect set for when you don't want to commit to one tried and true option.
Plus, making this panopoly will end in so much less tension and bloodshed than playing Monopoly. Essentially, this set could save your family this Christmas.
Available at Trader Joe's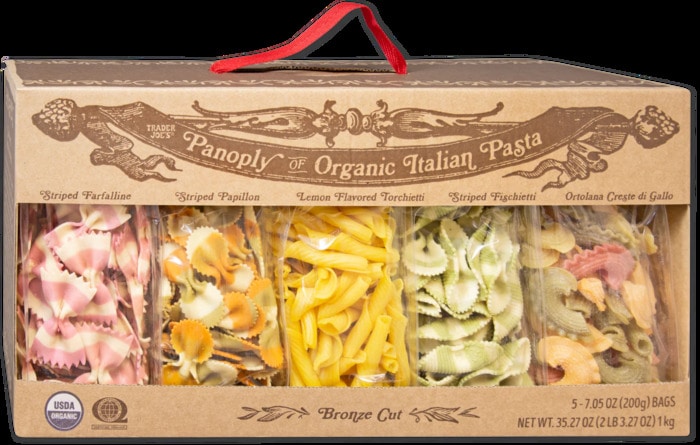 2. Chocolate Peppermint Loaf and Baking Mix
As much as we love loaves (bread, meat, or otherwise), we have to admit it's not the most appetizing word. But, like most things, adding "chocolate" and "peppermint" in front of it makes it 10000 times more appealing. Plus who doesn't look good in red?
Available at Trader Joe's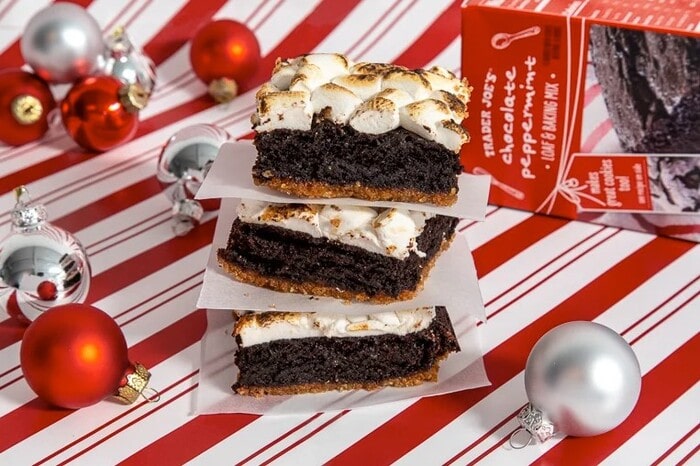 3. Dark Chocolate Covered Gingerbread Cookie Folk
Dark chocolate is great. Gingerbread is great. Gender neutral terms are great. What's not to like here?
Available at Trader Joe's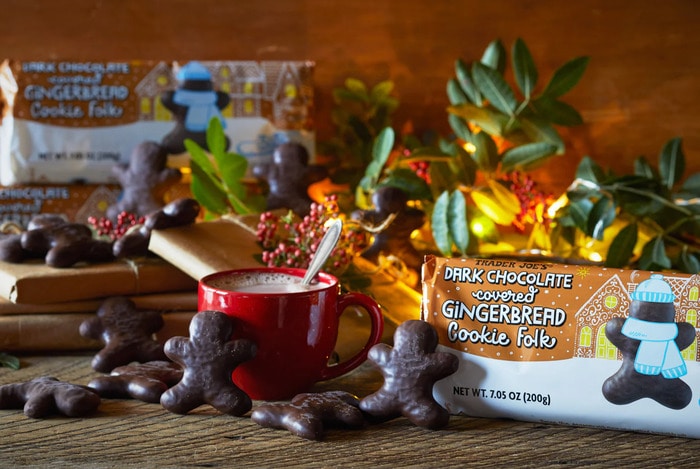 4. Favorite Sweets: An Inspired Truffle Collection
Bite sized chocolates filled with cookie-inspired flavors like stroopwafel, peppermint, panettone, and gingerbread? No wonder this polar bear said, "see ya, Coca-Cola. I'm going to live my best life at TJ's instead."
Available at Trader Joe's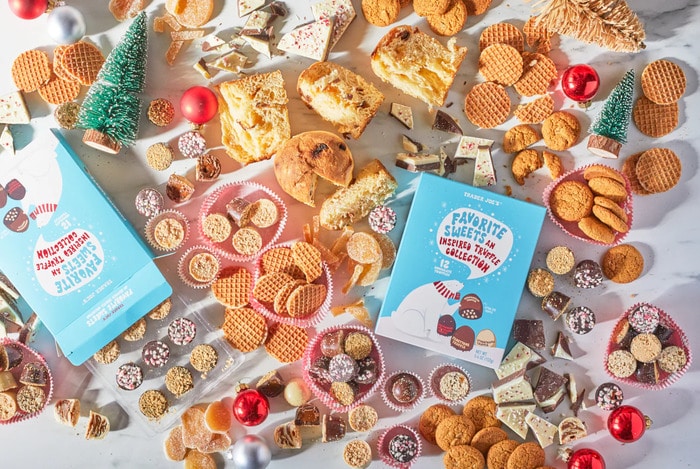 5. Ratatouille Bites
We know you've been enchanted by ratatouille ever since Remy showed you the ways of cooking and friendship in…2007? No, that can't be right. Because 2007 was three whole years ago.
But the delicious veggie dish is given a twist in this bite sized, hand-held version, that you can enjoy as you pace around the room wondering where the time has gone.
Available at Trader Joe's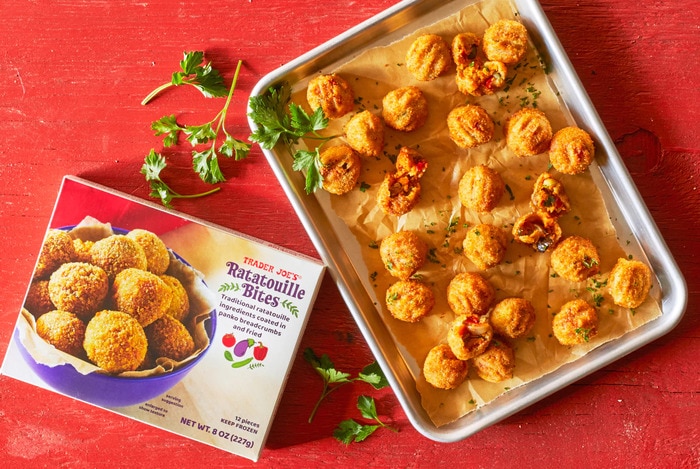 6. Jingle Jangle Pretzel Twists
For people that love the OG Jingle Jangle, Trader Joe's now added a twist to the mix! A pretzel twist and a plot twist. Give the marketing team a raise already.
Available at Trader Joe's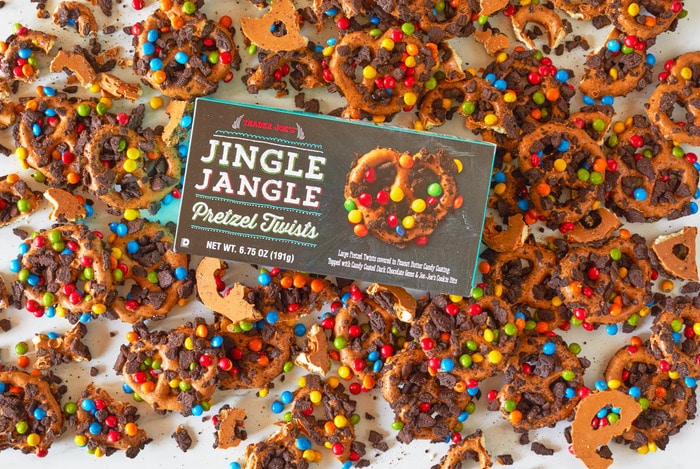 7. Minty Flavored Cocoa Truffles
Do they look like the poop emoji? Yes. Do we care? No! Hand us another.
Available at Trader Joe's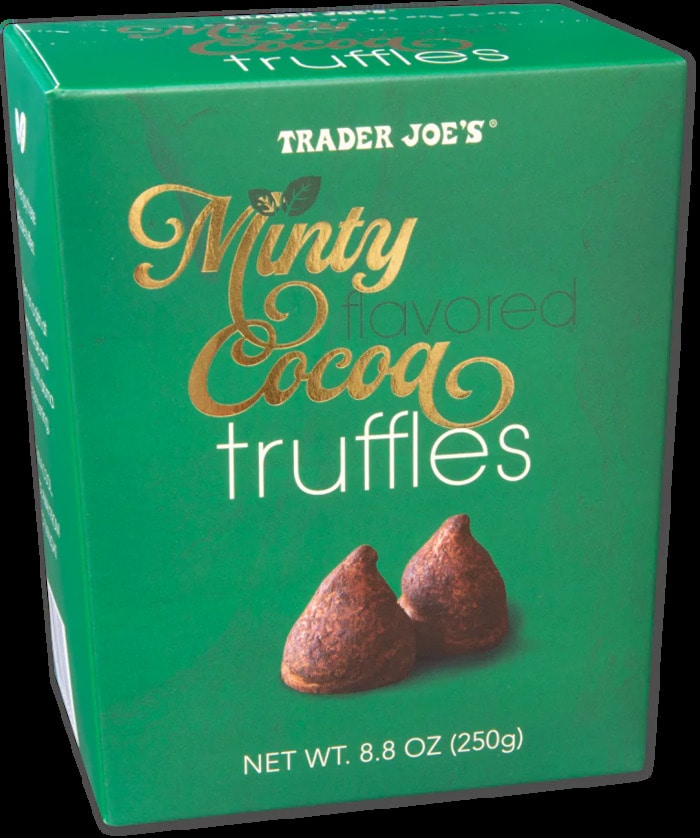 8. Decked Out Tree Cookies
Okay, our actual tree is adorned with generations of beloved holiday trinkets, steeped in the memory of everybody coming together to decorate and appreciate the beauty of the tree. But these are filled with milk chocolate cream so…you understand, right, Nana?
Available at Trader Joe's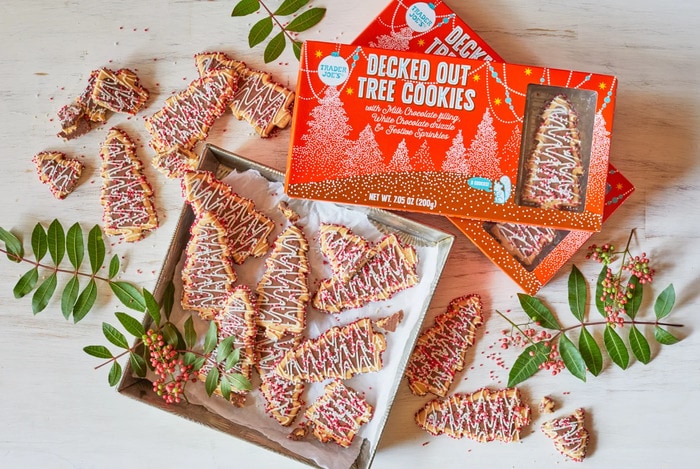 9. Coins of the World
Two things we love: money and chocolate. We also love smashing the patriarchy, but it's harder to fit that into a chocolate coin.
Available at Trader Joe's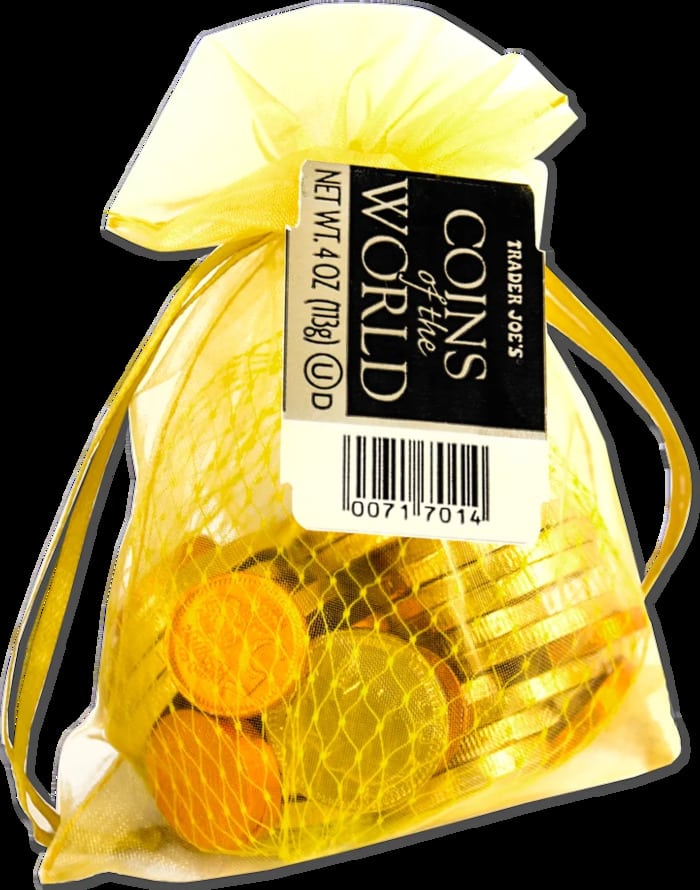 10. Glazed Maple Donuts
Apple cider donuts are wonderful, don't get us wrong. But these donuts are a delicious breakfast (or anytime) treat that has maple already infused! All of the crisp edges and fluffy inside of a waffle without any of the work of applying our own syrup? A true Christmas miracle.
Available at Trader Joe's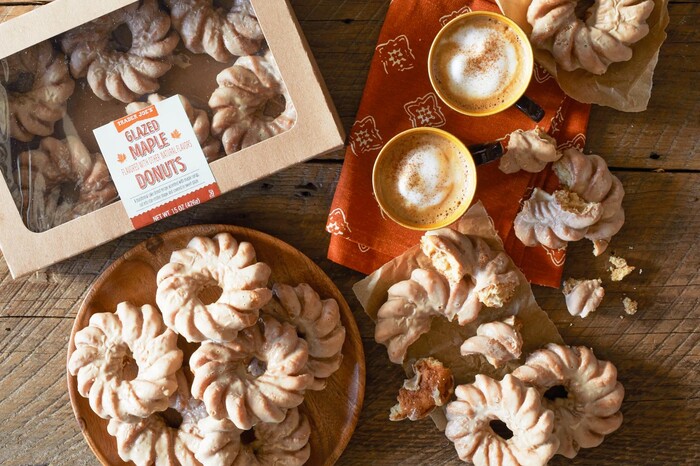 11. English Toffee with Nuts
Crunchy, buttery, and sugary. These might make our dentist say, "I'm not mad, I'm disappointed. But they will definitely make us say, "we don't care, bring it on!" We might feel differently when we're getting those cavities filled, but life is short.
Available at Trader Joe's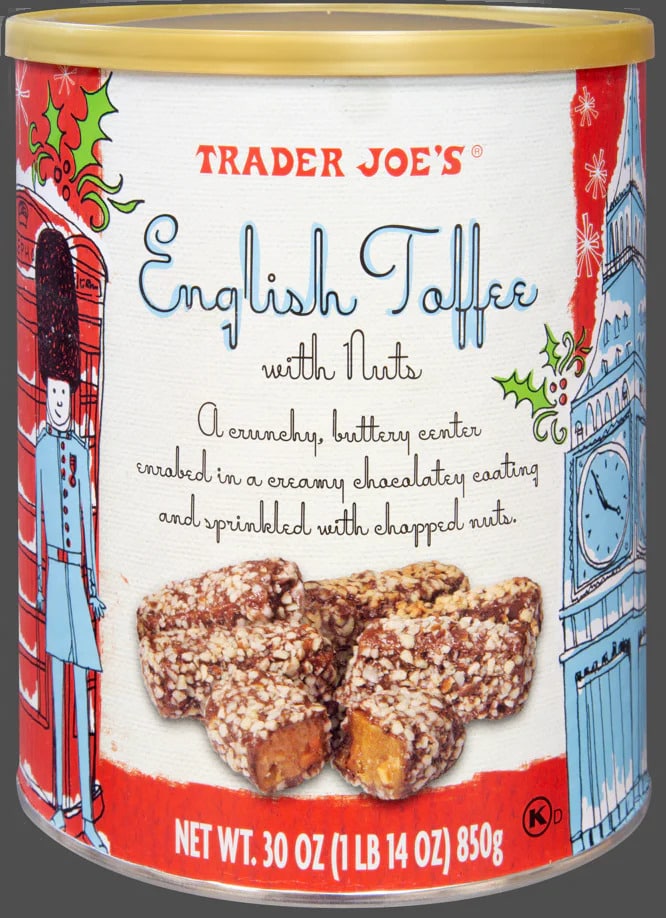 12. Gingerbread Ice Cream
Gingerbread is pretty famously filled with warm spices…so does that mean we have to eat this fast before it melts? Or that we can eat it by the shovel without getting brain-freeze? Only one way to find out!
Available at Trader Joe's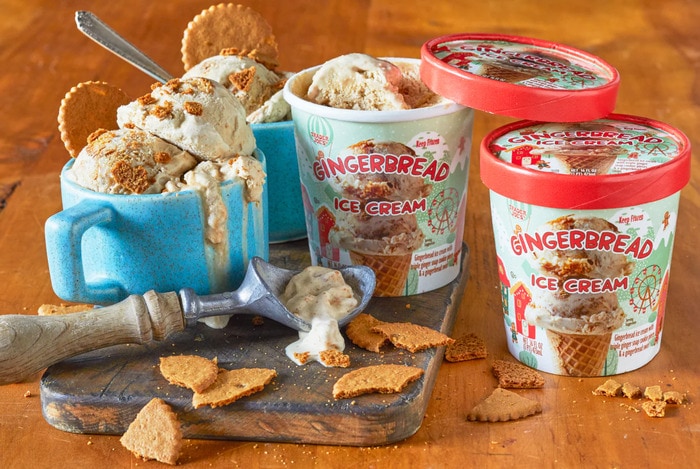 13. Maple Cranberry Orange Spread
With a name like Maple Cranberry Orange, our first thought is that this should be called a triple threat. Then we learned that it can be spread on toast, paired with cheese, or used as a marinade, then we'd really have to call it a triple threat. So all we're saying is…we were right with our first assessment. And we'll need at least three jars of it.
Available at Trader Joe's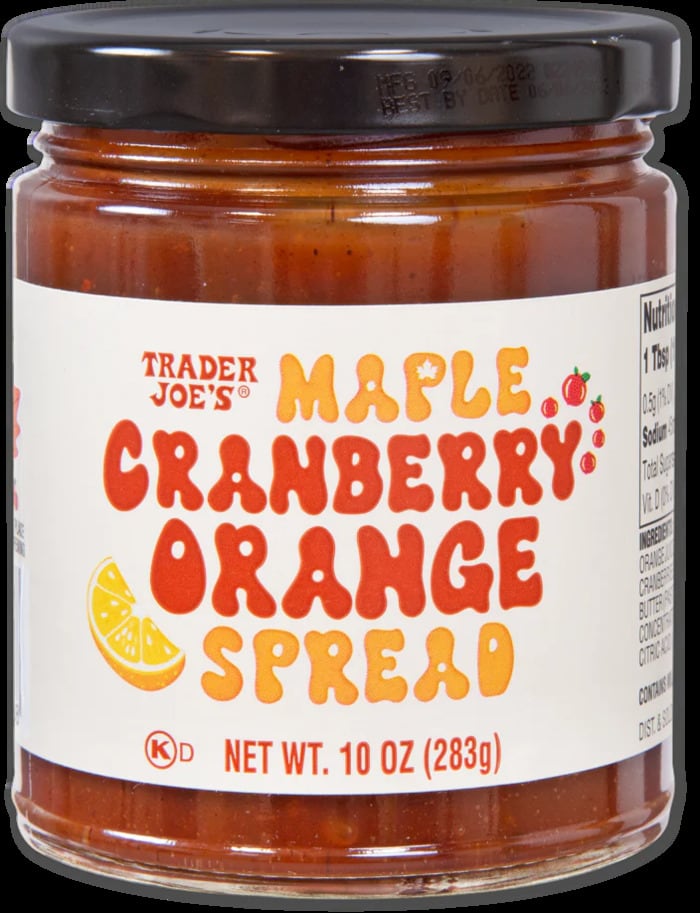 14. Truffley Soy Sauce
Do you want some umami with your umami? Yeah, sign us up.
Available at Trader Joe's


15. Uncured Bacon Porchetta Pork Roast
This show stopping main course is already assembled for you, so you'll have plenty of time to practice your gracious and natural responses to all of the compliments of your home cooked meal. Nobody has to know.
Available at Trader Joe's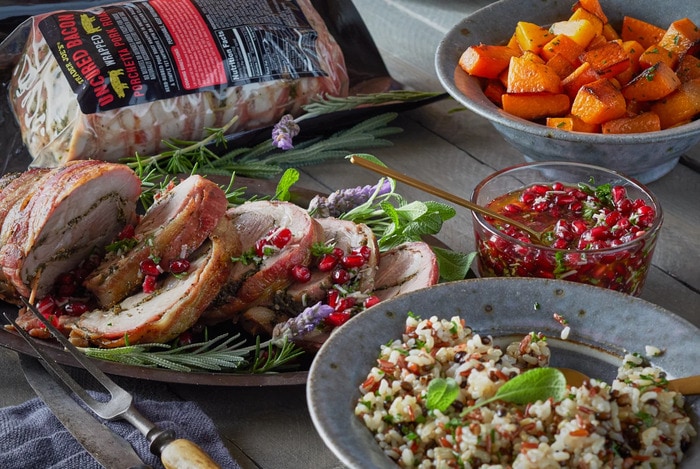 16. Cinnamon Bun Inspired Kettle Popcorn
The whole "running down the stairs on Christmas morning to cinnamon buns for breakfast" thing sounds great…except ugh running and ugh stairs. But with this treat, that problem is solved! Christmas can now start with fistfuls of cinnamon bun kettle corn in bed. Talk about the good life.
17. La Fondue
It's described as "ready to eat fondue." Incidentally, that's also our Tinder description.
18. Boozy Macarons
Not enough booze in your eggnog? No problem. Now you have all the makings of an adult cookies and milk.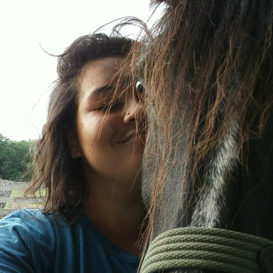 Latest posts by Hebba Gouda
(see all)