'Tis the season to be jolly, and nothing says jolly like an amazing Christmas cake. Don't worry, we're not talking about fruitcakes. Unless you like fruitcake, in which case, can we just ask why? No judgment, just wondering.
But for the rest of us, here are some impressive Christmas cakes that would make even Scrooge smile. No bah humbugs or any other bugs to be found here! Just treats to satisfy your sweet tooth and your love of all things merry and bright.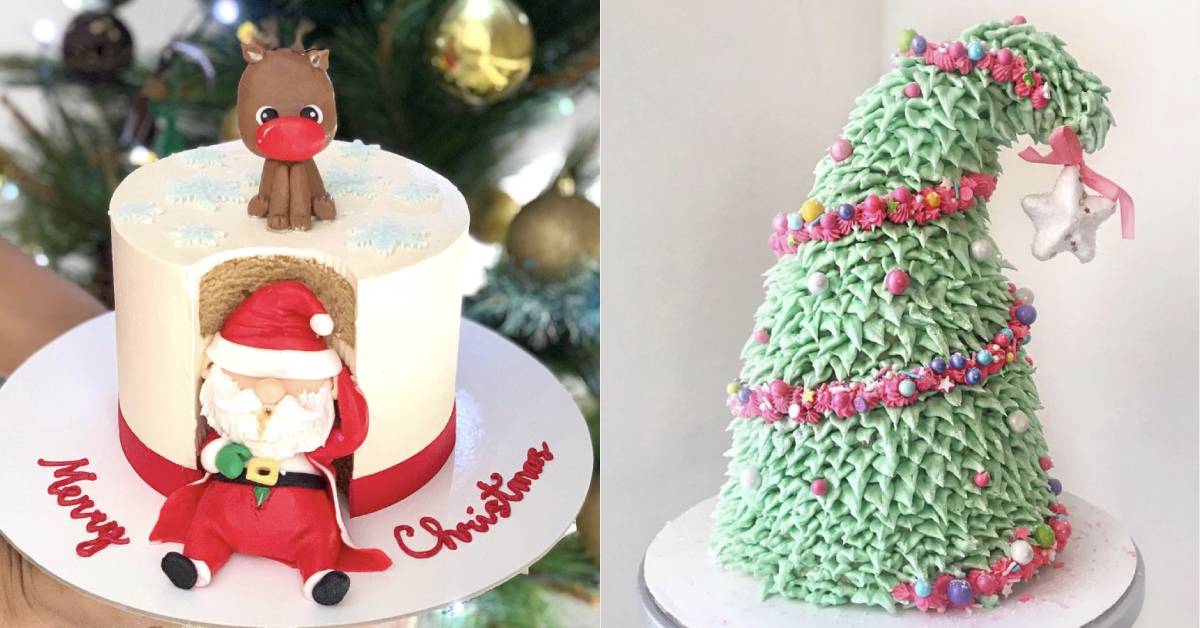 20 Christmas Cakes to Make Your Holidays Even Jollier
1. Weight-Lifting Santa Cake
Santa's a little tired of all the Christmas songs and poems about his belly being "like a bowl full of jelly." So, next year, he's hoping we sing about his rock-hard abs and jacked arms.
And look, we're no Don Draper. But Peloton really should have gone with this angle for their Christmas advertisement instead.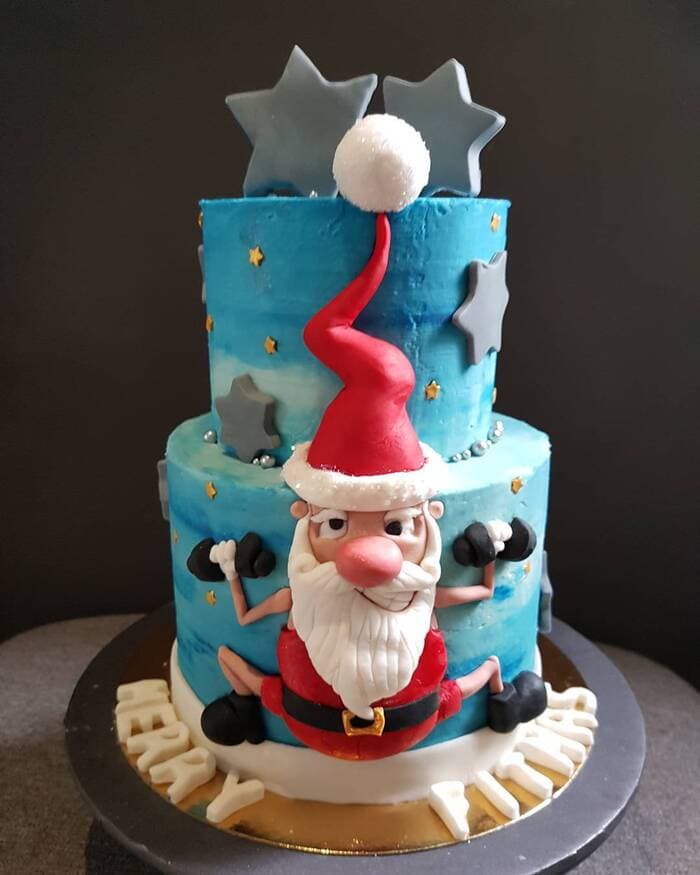 2. Melted Snowman Cake
Elsa, we've got a problem. We know Olaf likes warm hugs, but we think it's probably past time someone told him the truth. But we're sure a little Christmas magic should fix him right up. That, and a walk-in freezer.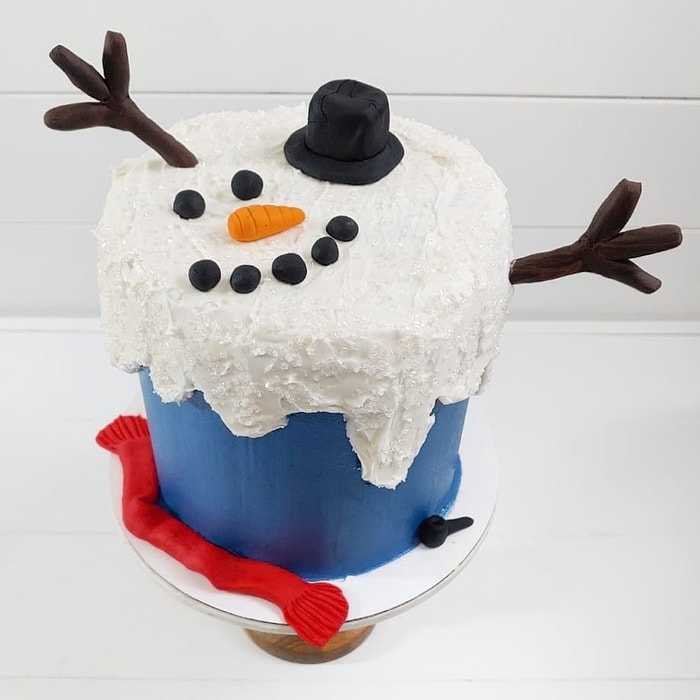 3. Jack Skellington Meets the Grinch Cake
Well, well, well, what have we here? Apparently, both Jack and the Grinch decided to steal Christmas this year. Fingers crossed Zero and Max get a puppy play date.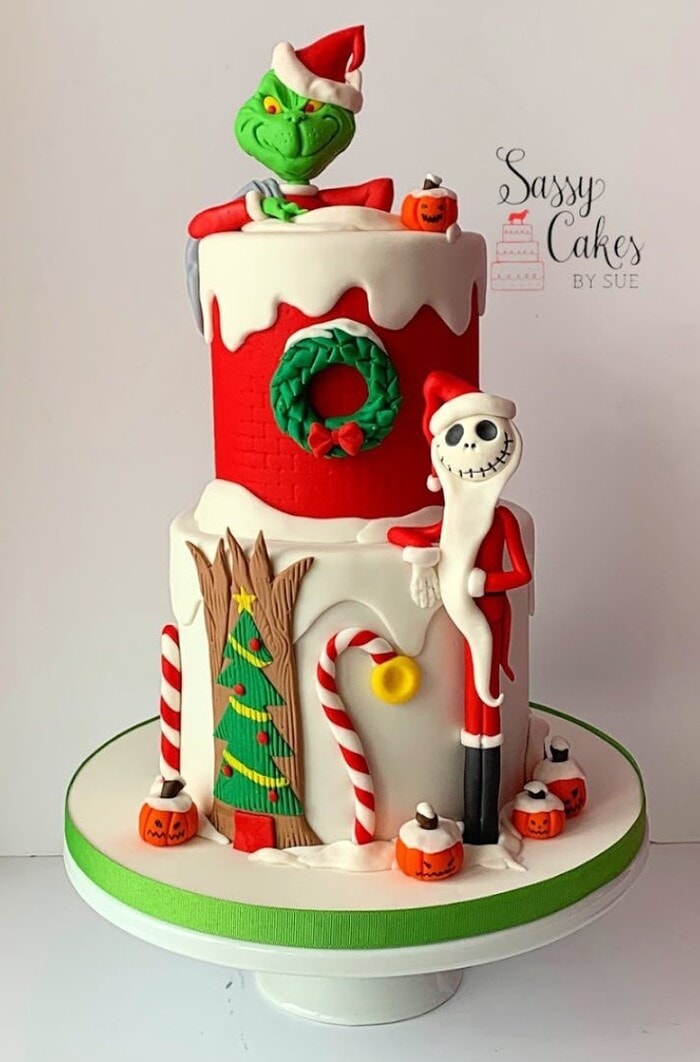 4. "I Know Him!" Elf Cake
You know what Buddy says — "The best way to spread Christmas cheer is singing loud for all to hear." But we'd argue eating a cake with Will Ferrell's face on it is also a pretty great way to spread some cheer. Trust us, we're not sitting on a throne of lies.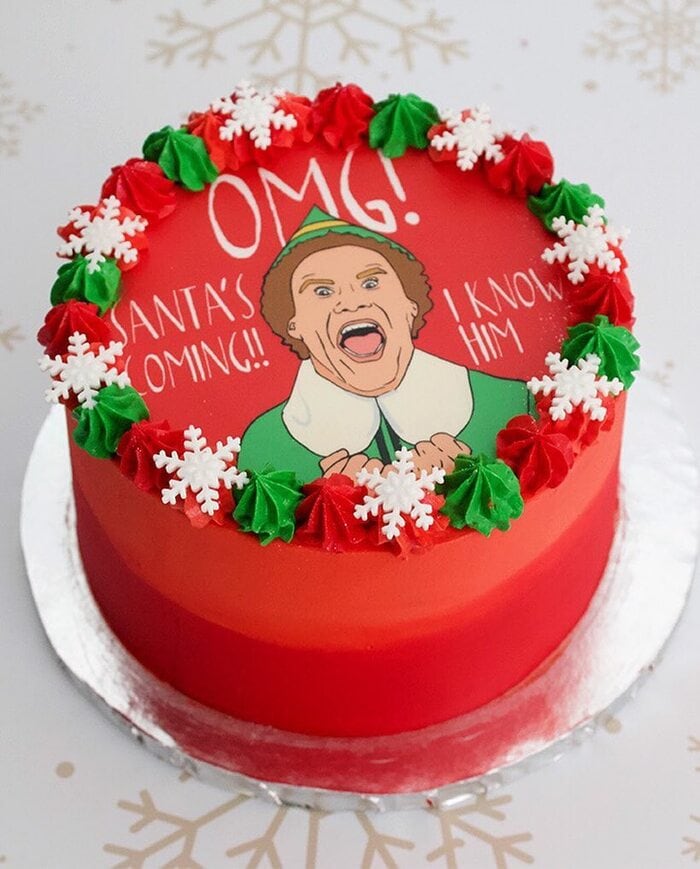 5. Sleeping Santa Cake
Fun fact: Unlike bears, Santa actually hibernates in the spring and summer. It puts a strain on his and Mrs. Claus's relationship (who may or may not spend those seasons with the Easter Bunny). But it's the only way Santa's found he has enough energy to go all night long on Christmas Eve.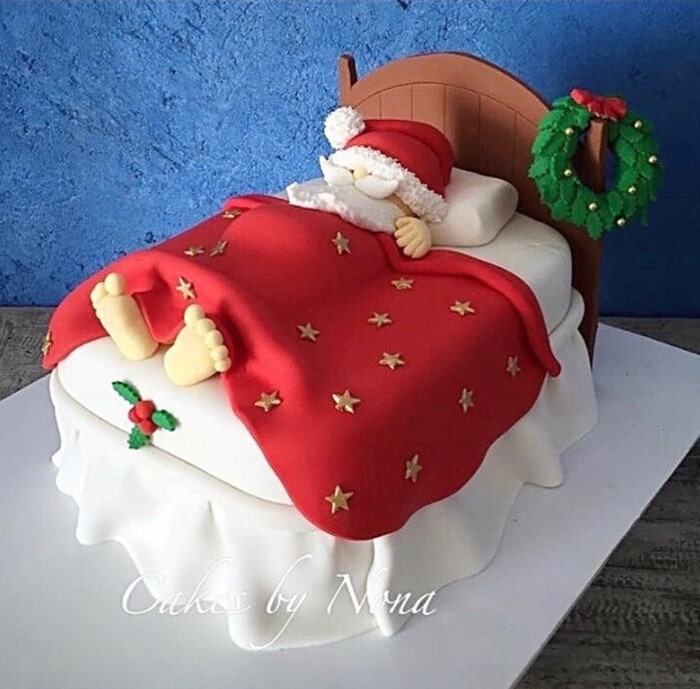 6. Surfing Santa Cake
Surfin' USA? Try surfing at the North Pole instead! Not quite so easy. It's no wonder that Santa's favorite stops on Christmas Eve are the most tropical ones. Hang loose, Santa, you deserve a break.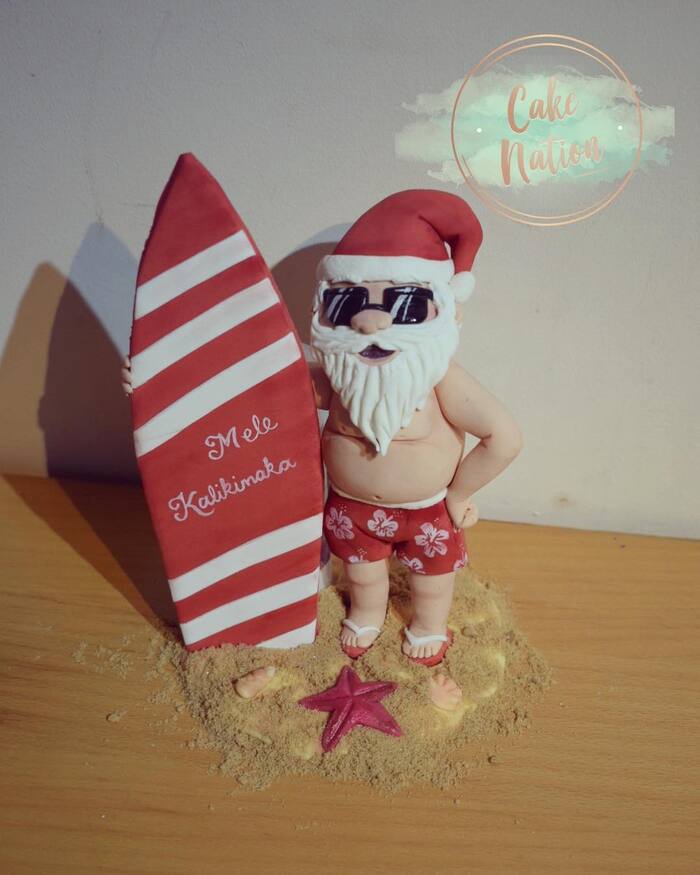 7. Santa's Breaktime Cake
Come on, Santa! The milk and cookies were for you, not the cake! You should know how this works. You've been doing it for centuries. Speaking of…what's your skincare routine?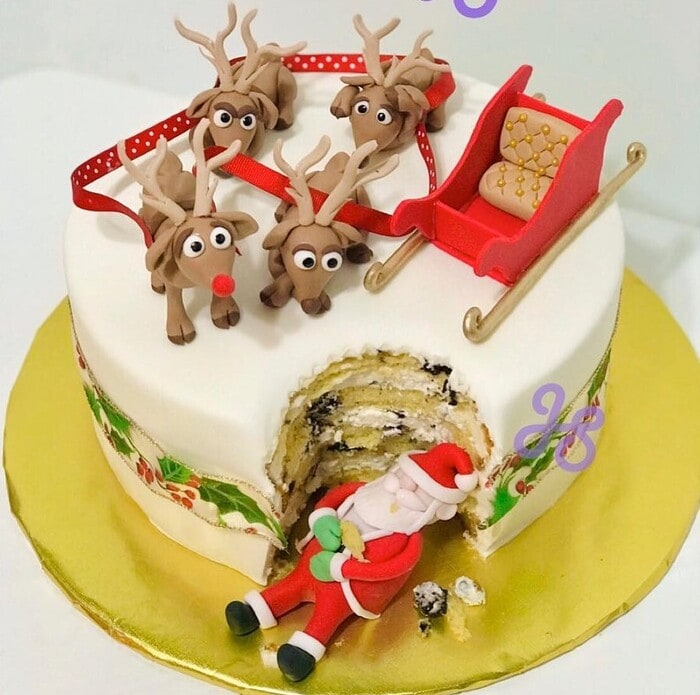 8. The Grinch Stealing Christmas Cake
This Grinch cake will make your heart grow three sizes. And with that, you'll need at least three slices. Okay maybe four to be safe. All that loving is exhausting!
9. Face-Plant Santa Cake
This cake reminds us so much of the beginning of The Santa Clause. Looks like Scott Calvin needs to get into the Santa suit again. Ho-ho-ho-holding out for a hero!
10. Hot-Tubbing Santa Cake
All Mariah Carey wants for Christmas is you. But all Santa wants for Christmas is a vacation. He's about ready to ask Mrs. Claus to relocate his headquarters from the North Pole to Cabo. And you know what, we don't blame him one bit. We'll even get in on that timeshare.
11. Cousin Eddie Cake
Let's be honest, we all have someone like Christmas Vacation's Cousin Eddie in our lives. But a word of warning, if they say they'd like to get you something "real nice," you'll probably end up with your boss tied up with a red ribbon in your living room on Christmas Eve.
Happy holidays, and if you see an RV pull up on your lawn the week before Christmas, run.
12. Santa Stuck in the Chimney Cake
The Grinch made it look so easy, but apparently it's pretty hard to slide down a chimney! We personally wouldn't have gone head first, but we appreciate the dedication to keeping the boots clean.
13. Upside-Down Elf Cake
Looks like this elf may have wanted to give sliding down the chimney a try, too. Don't quit your day job, buddy. Unless you want to become a dentist. In which case, follow your dreams, no matter what those meanies in Rudolph tell you.
14. Santa After Too Much Eggnog Cake
The stars truly are just like us. And that includes Santa. He drinks too much eggnog, eats cake that doesn't belong to him, and falls asleep in strange places. You don't do that? …Oh, yeah, not us either…
15. Silly Rudolph Cake
Looks like Rudolph didn't know the eggnog was spiked. Sleep it off, Santa needs you bright-eyed and bushy-tailed Christmas Eve! Or should we say bright-nosed?
16. Christmas Vacation Cake
Say Grace (even though she passed away 30 years ago) and dine on this one-of-a-kind Christmas Vacation cake. Don't forget to pair it with lime Jell-O, but look out for the cat food. Aunt Bethany's cat loves lime Jell-O.
17. Elf Riding a Polar Bear Cake
We've heard of American Ninja Warrior. But how about American Elf Warrior? We're willing to bet this polar-bear-riding elf takes home first prize, which is a lifetime supply of hot chocolate and a day off. Sounds like a score to us!
18. Elf Breakfast Cake
Only a cotton-headed ninny muggins wouldn't appreciate this cake inspired by Buddy the Elf's favorite breakfast. Or maybe you're just an angry elf. Either way, take a bite of this cake to put a smile back on your face.
19. Topsy-Turvy Whoville Tree
The only thing that would make this Whoville-inspired Christmas tree better is some who-pudding and rare who-roast beast. Quick question: Where does roast beast come from? Dr. Seuss left that part out.
20. North Pole Human Resources Cake
Elves sleeping on the job? Mixed up Malibu Barbies with Holiday Barbies? Gave out Nintendo Wiis instead of Playstation 5s (Yikes!)? It's time to send those elves to the North Pole HR. It's like regular HR, but with disapproving looks from Santa Claus himself.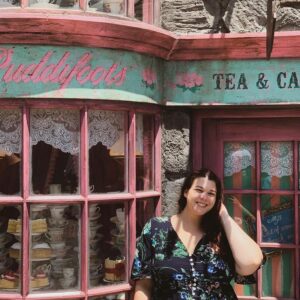 Latest posts by Jacqueline Gualtieri
(see all)