It's almost Halloween season, and while we're spooked by the looming end of summer, one trend has us revved up for fall: Halloween charcuterie boards.
It's no secret that charcuterie boards as a whole are popular right now. Just like flare leg jeans, TikTok, and… duck nails, apparently. We prefer to keep our nails shaped like chickens as nature intended.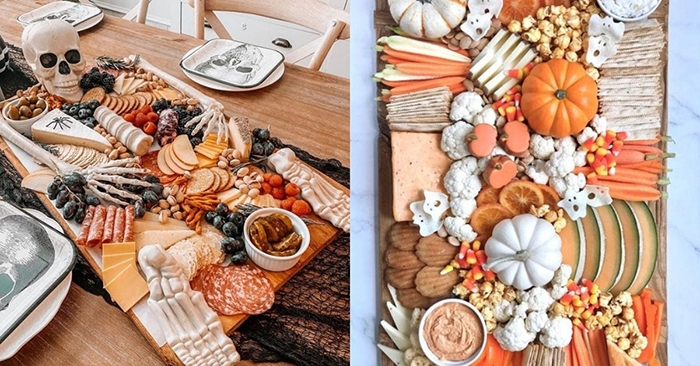 Things have gone far beyond the traditional meat-and-cheese board and now there's boards for everyting from pancakes to s'mores boards. All of which look great on these slabs.
But we're spooky witches at heart, and these Halloween charcuterie boards are calling to us. Like, they're literally calling. Maybe we should get that checked out?
17 Bewitching Halloween Charcuterie Boards
1. Ghostly Grazing Board
This charcuterie board has it all – pumpkins, spiders, and ghostly cheese wheels. Normally we'd call them gassy cheese wheels, but we remembered to take our Lactaid. Get your own from Crumb & Cow.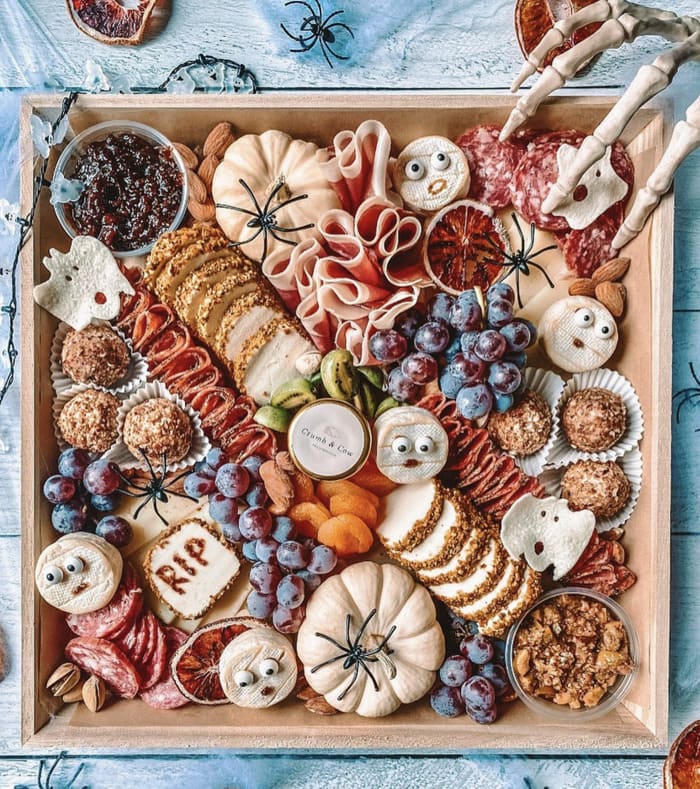 2. Orange Pumpkin Charcuterie Board
If you're looking for an aesthetic, monochromatic platter, Social Spreads has you covered. The orange and white pumpkins really bring out your eyes. Put them back in before company arrives.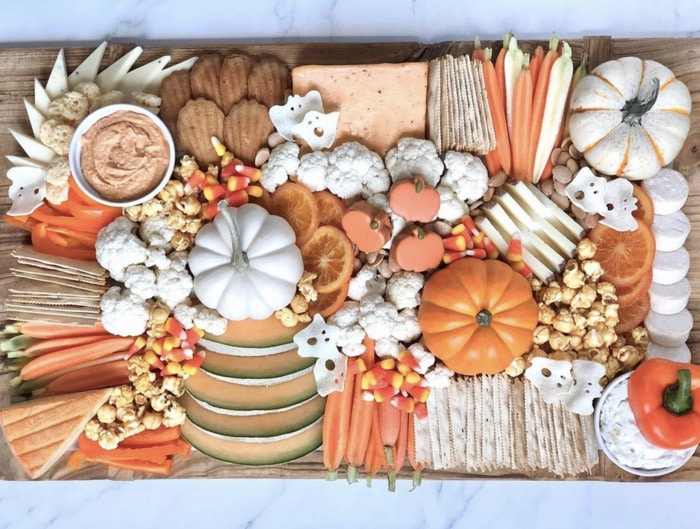 3. Skeleton Charcuterie Board
We have no bones to pick about this skeleton charcuterie platter. It's like a DIY game of Operation, only better because you get to eat cheese on all of your turns.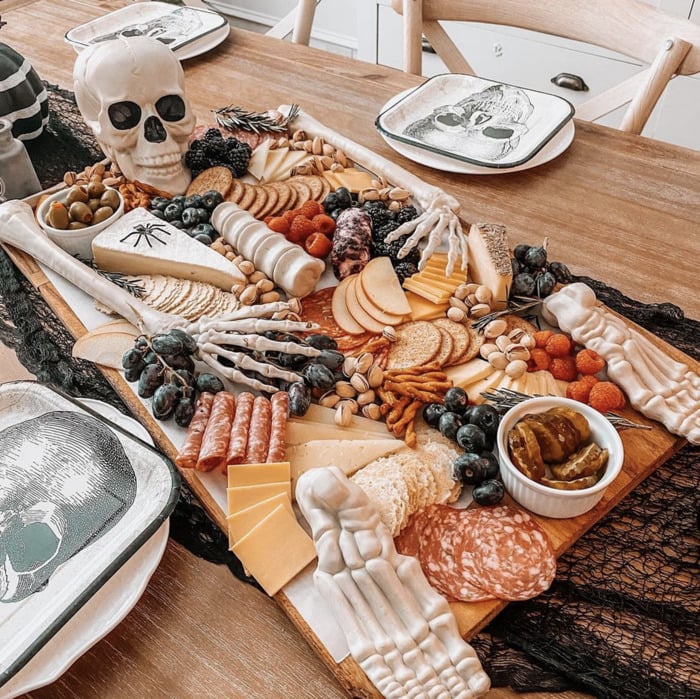 4. Sanderson Sisters Charcuterie Board
This board is almost too pretty to eat, but if we don't, it'll eat us first. From a pure survival standpoint, we call dibs on the Winifred cookie. Black Magic Cakery will brew you a batch if you ask nicely.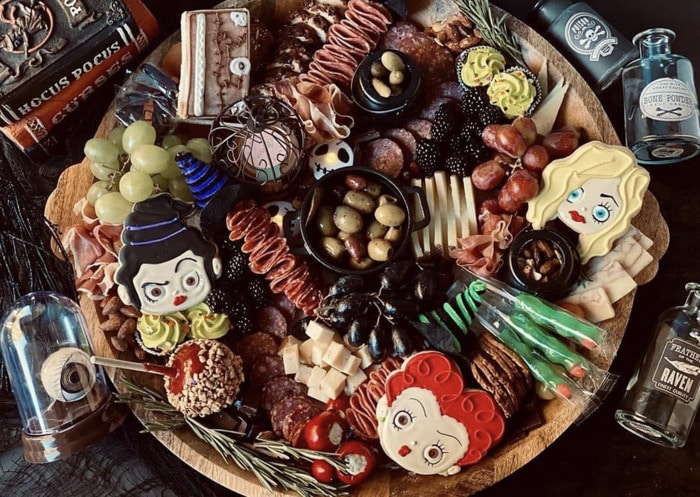 5. Dia de Los Muertos Charcuterie Platter
Creating a sugar skull out of cheese, jam and cured meats is so genius, it's scary. Order your own from Petal & Platter.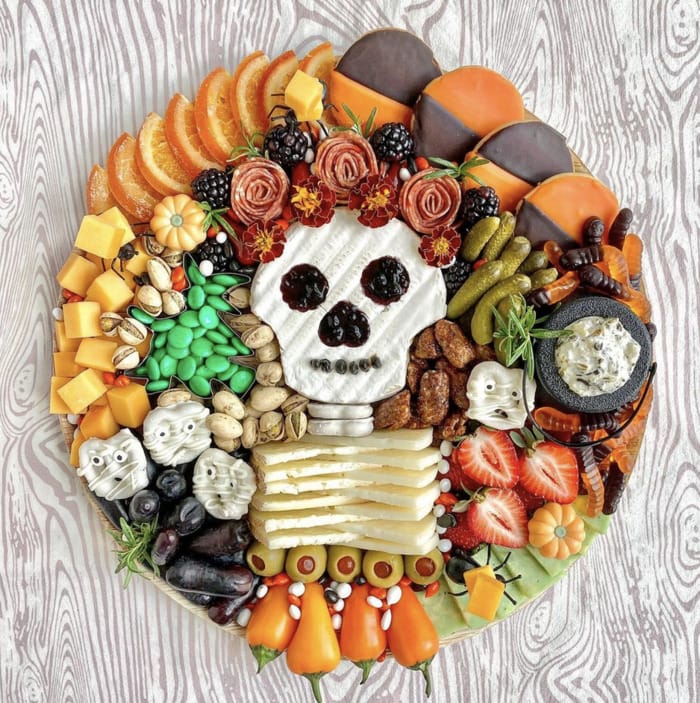 6. Monster Cheese Board
Two words: kiwi Frankenstein. And Babybel monsters. And pomegranate pumpkin guts. And this is why we're bad at Scrabble. Charcuterie by Cait.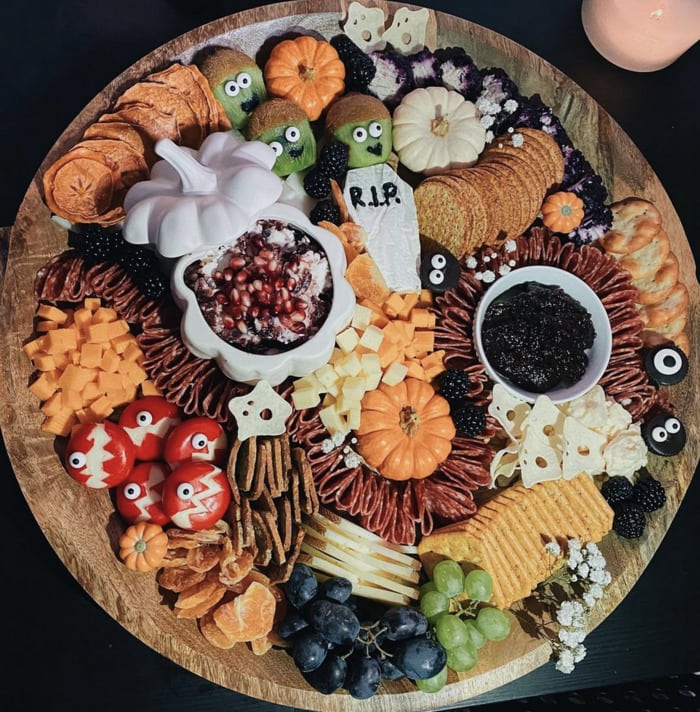 7. Hocus Pocus Snack Board
This snack platter is the perfect binge fuel for your next Hocus Pocus screening. The only thing it's missing is a dead man's toe. Oh, it has that, too? That's all yours.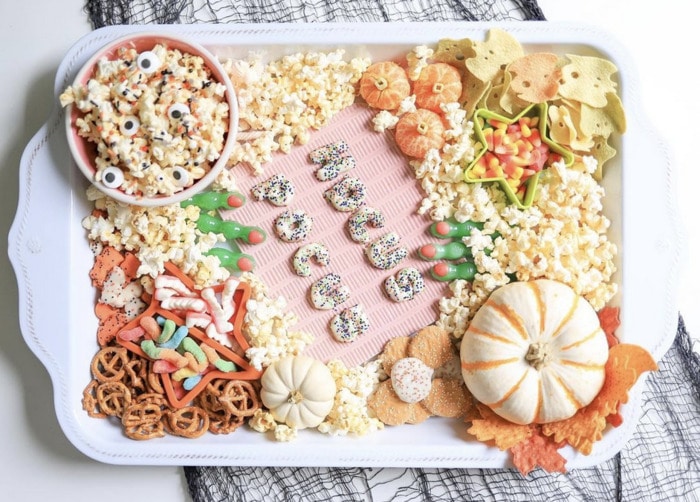 8. Halloween Dessert Board
This cookie dessert board is making us feel all crumby. We admit it, that joke was half-baked. We promise we can dough better! Luckily, this Halloween pumpkin charcuterie board from 203 Board Mama is here to save you from our bad puns. It's too late for us.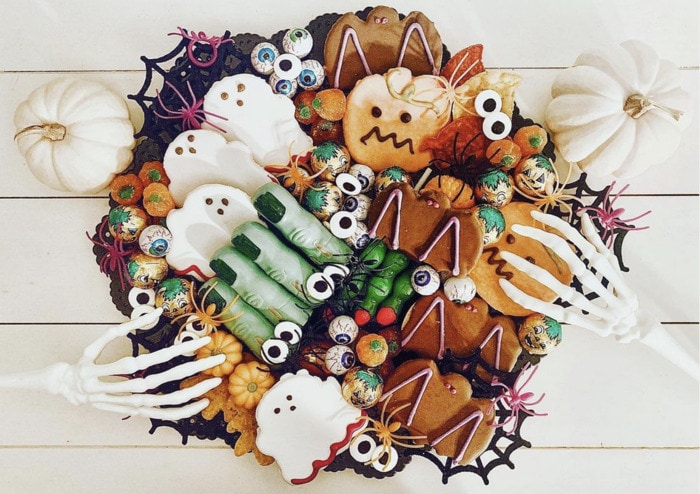 9. Coffin Shaped Charcuterie
This is so cute, we are literally dead. We got the coffin from Grazefulle Yours just in case we mean that literally.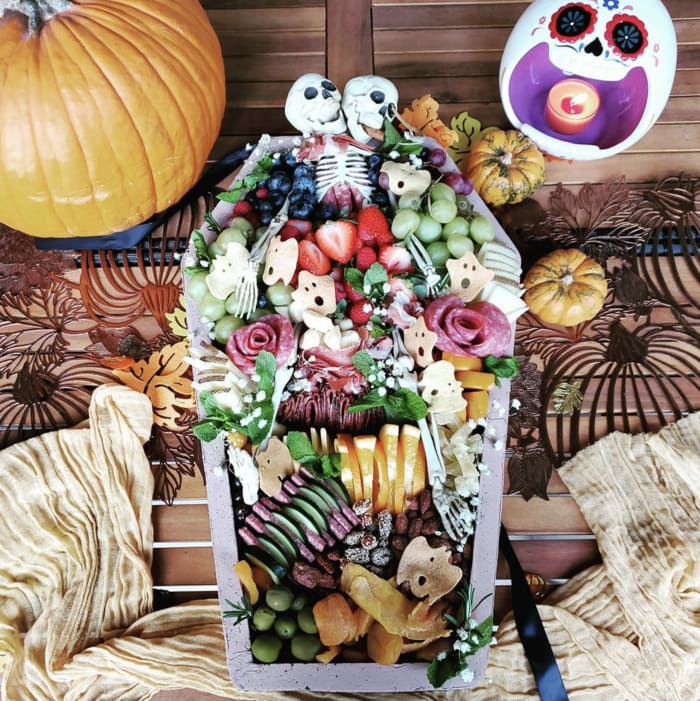 10. Skeleton Head Charcuterie
Nothing like being faced with your own mortality at the cheese table. Why yes we will have another slice of brie.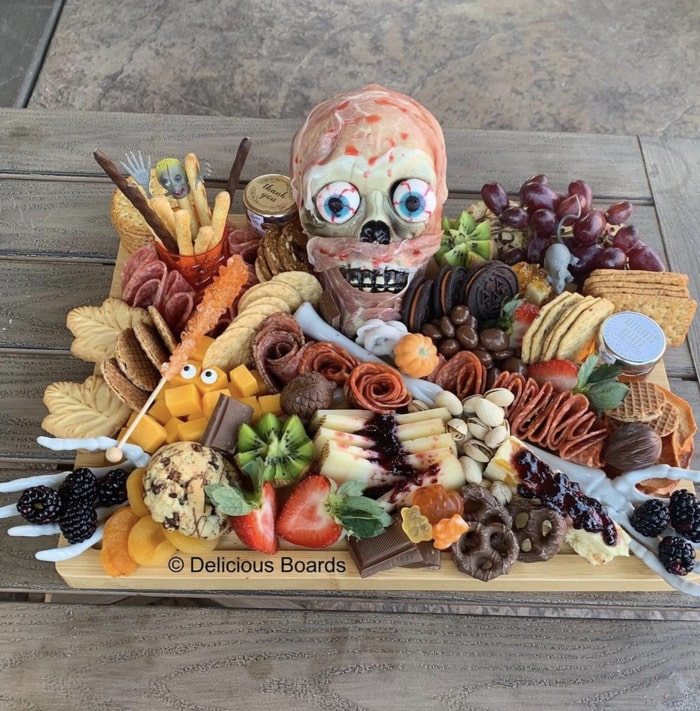 11. Healthy Halloween Snack Platter
Everything about this board says "healthy." Especially those Oreos and the candy pumpkins no one is going to eat.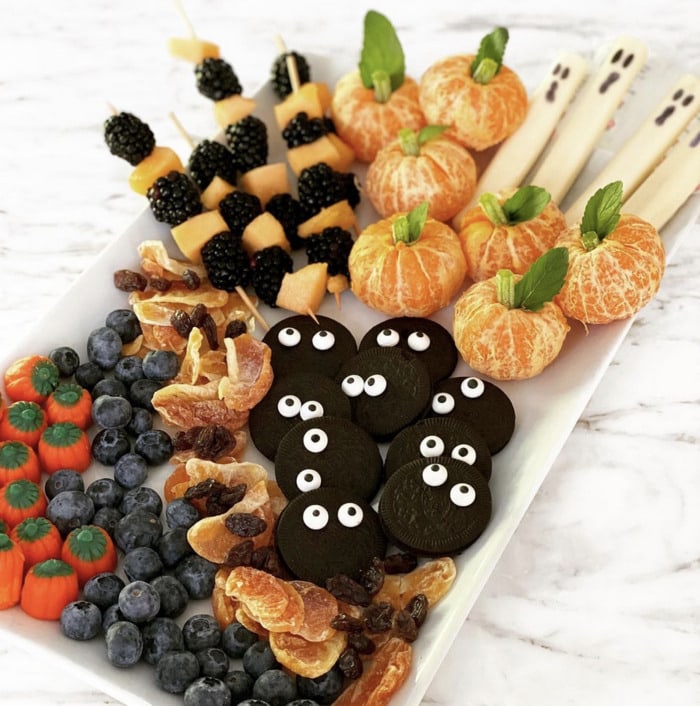 12. BOO-tiful Halloween Charcuterie Board
No, these spiders aren't edible. Not even if you deep fry them.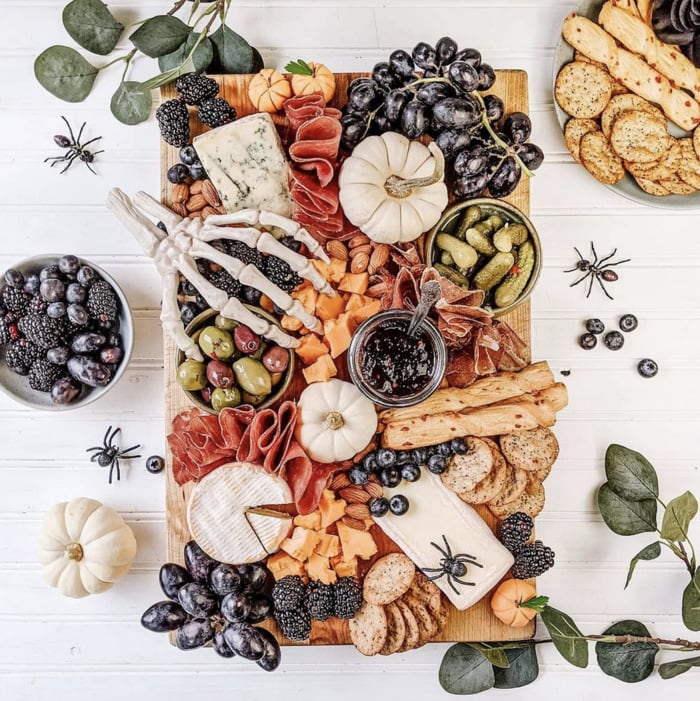 13. Spooktacular Grazing Board
A syringe filled with jam seems like the most efficient way to shovel it into our bellies. Or as spoon.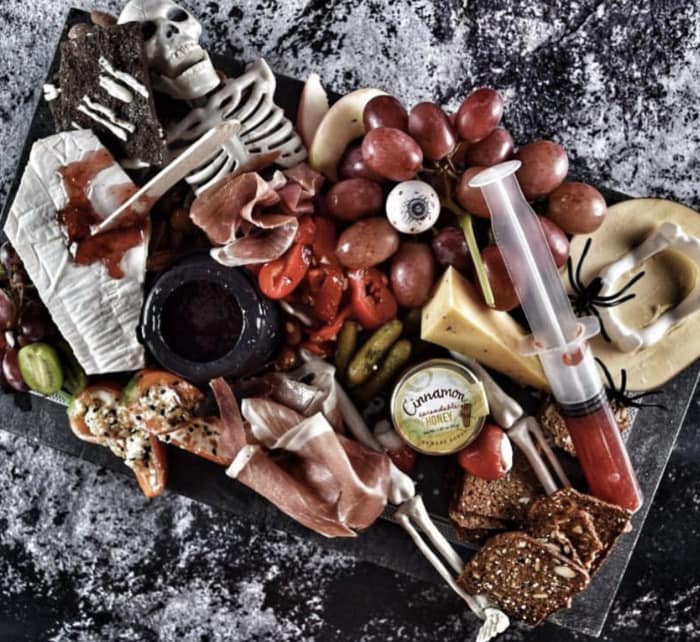 14. Halloween Candy Dessert Board
Don't get us started on this one featuring Halloween donuts. The scariest part about this one is that we'd eat it all by ourselves. Our kindergarten teacher is totally going to flunk us again.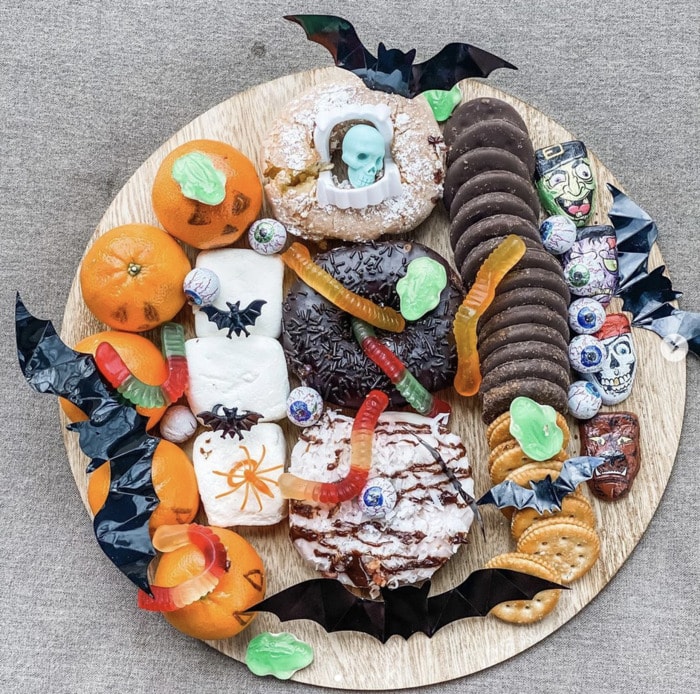 15. Autumn Pumpkin Charcuterie Board
If you're wondering where to get those ghost chips, there's a bag of them that's been sitting on our counter for two years. Or you could just go to Trader Joe's.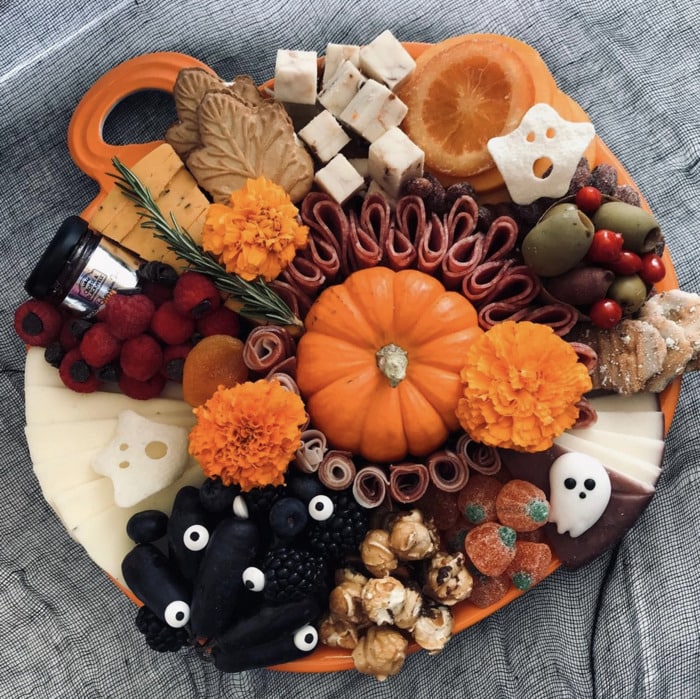 16. Ghoul Gang Halloween Platter
We only eat this pink sugary dessert board on Wednesdays.
17. Rest in Pieces Snack Board
At this year's Halloween party, make sure to drink water and graze at these boards so you don't end up like that bat.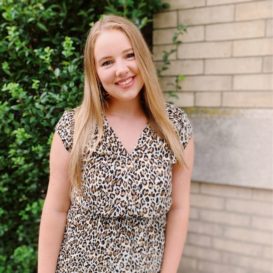 Latest posts by Laura Davis
(see all)