With over 750 stores across the country, Crumbl Cookies is quickly becoming a household name. And while they might not make the best cookies that money can buy, their business model is genius. They have a rotating menu, and each week they release brand new flavors. So as a public service, I decided that I would rank as many Crumbl Cookies flavors I could get my hands on.
Or, at least as many as my sugar levels could tolerate.
Now, it's impossible to rank every single flavor. Partly because that list has surpassed 275 cookies. But mostly because Crumbl puts out four to five new recipes every week, and they usually don't repeat. And despite my best efforts to be the main character in a sci-fi rom com, I still haven't figured out how to turn my bathtub or refrigerator or car into a time machine.
Instead, I became a regular at my local Crumbl Cookies store over the course of a few weeks. Through this process, I realized that their business model is absolutely genius, and does a great job of making people want to come back for more. Does it give off slight MLM vibes? Sure. But instead of tacky leggings, you're getting conned into trying out a cotton candy cookie.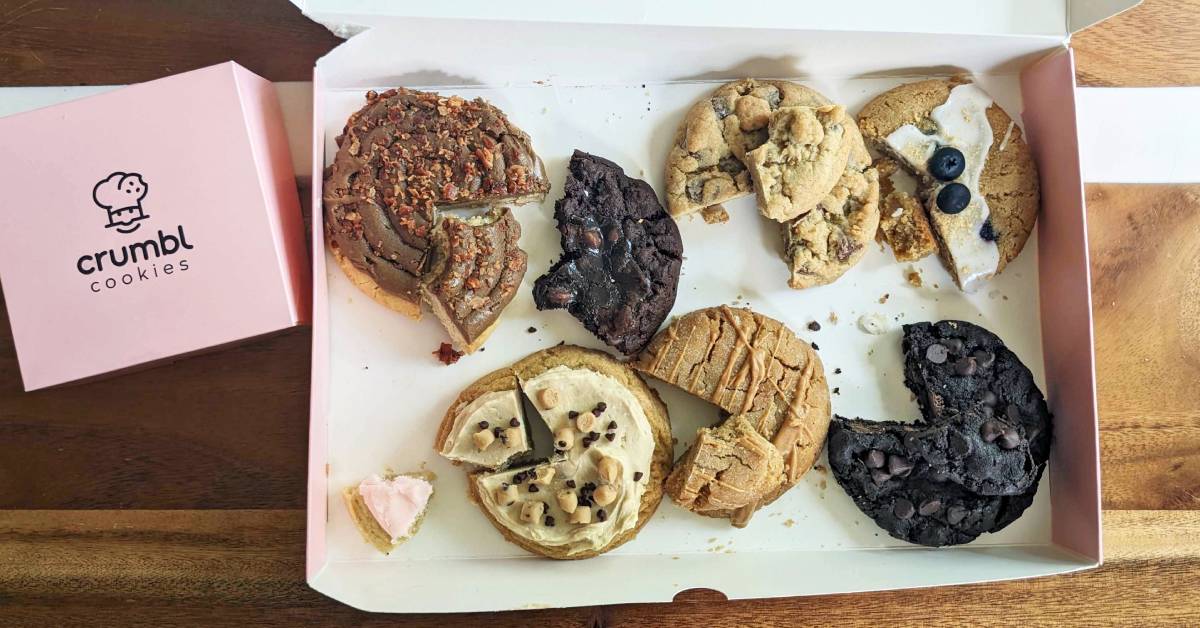 In my taste-testing experiment, I got to try out a range of Crumble Cookies flavors, 21 in total. There were some traditional recipes, like chocolate and peanut butter. And there were some creative offerings, like blueberry crumb cake.
Regardless of the flavor, I'd be lying if I said that these are the best cookies ever made. They're just…alright. They're perfectly acceptable for a chain-made dessert. I don't think they'll make anyone throw away all their cookie recipes (you know, if people had physical recipes anymore), but a Crumbl cookie is certainly a nice treat.
Also, they are absolutely massive. The're technically four servings in each one, which is something I found out at the end of my experiment. You can even buy a Crumbl Cookie Cutter to help you stick to those portions. wink wink.
So here's my totally scientific Crumbl Cookies flavor ranking to help you get a sense of what to expect the next time you walk into a store.
21 Crumbl Cookies Flavors Ranked Best to Worst
1. Sea Salt Toffee
A delicious infusion of toffee and milk chocolate chips, topped off with a dash of sea salt.
This was a nearly perfect combo of sweet and salty. It had crunchy toffee bits, smooth and creamy milk chocolate pieces, all mixed into a lovely, chewy cookie. There was a large melted chunk of toffee on the edge that brought my taste buds one step closer to heaven. I could have used a smidgen less salt. But hey, it is in the name. And you can't say that for Rocky Mountain oysters. 9/10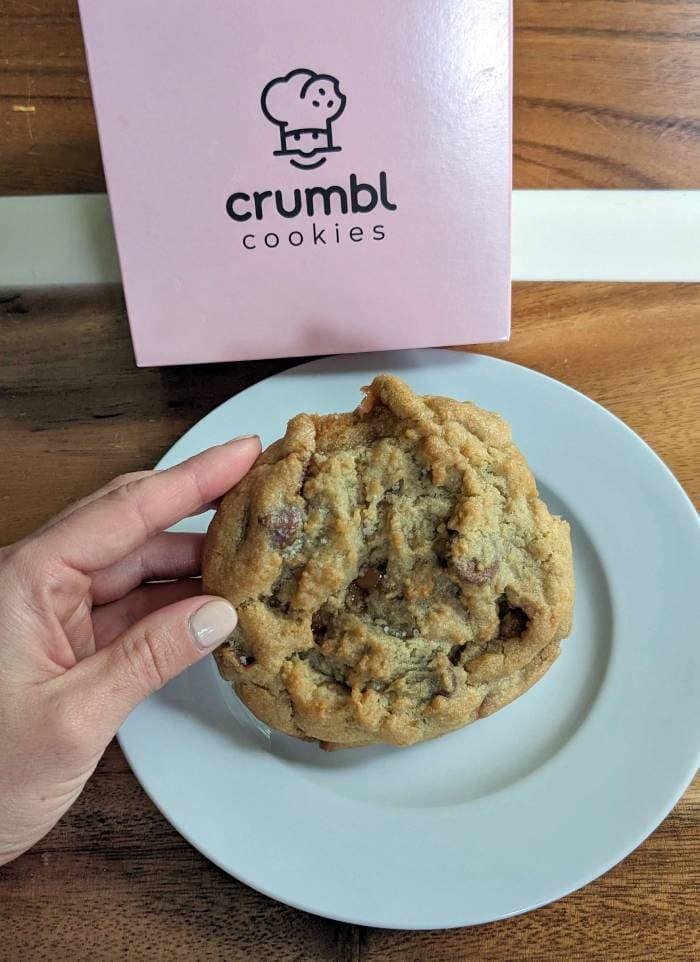 2. Chocolate Peanut Butter (Oreo)
A chocolate cookie popping with OREO cookie pieces and peanut butter chips, then topped with a decadent peanut butter mousse and a mini OREO cookie.
Nailed it! It was topped with a fantastic creamy peanut butter frosting on it, and that flavor was amplified even more with the peanut butter chips mixed into the cookie. The cookie was a solid chocolate flavor, and there were two mini OREOs on top! A treat on a treat? Say no more. 9/10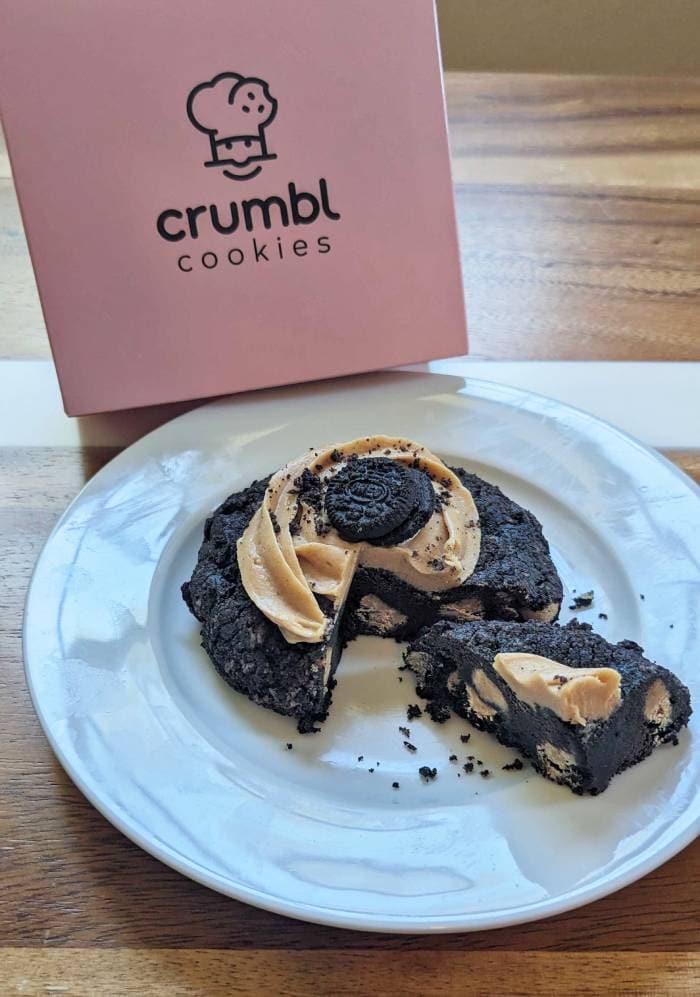 3. Brownie Batter
A thick and delicious treat crafted with chocolate, brownie batter, and semi-sweet chips.
The soft part in the center legitimately tasted like Betty Crocker brownie batter, salmonella be damned. It was like I was licking it off the spoon, but the spoon was the cookie. Magically, the outside edge was cooked perfectly. All in one cookie, you get the brownie edges and the gooey center. 8.5/10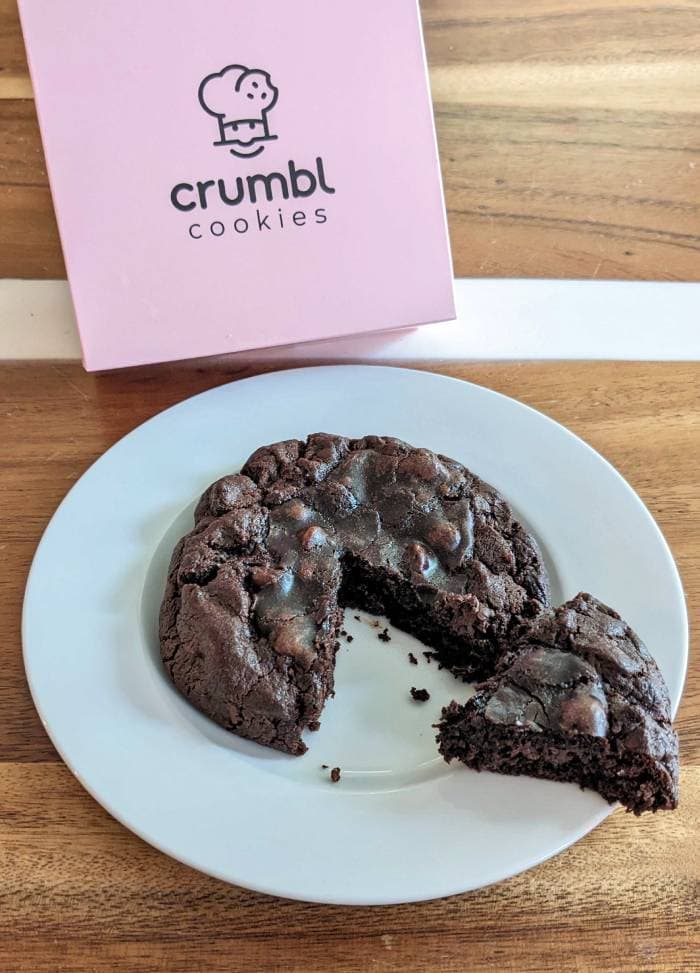 4. Cinnamon Roll
A soft cookie covered in cinnamon brown sugar and a swirl of cream cheese frosting.
From my very descriptive notes: "Yes." But if I wanted to get paid by the word: the cinnamon sugar layer was the best part. I understand that it was most likely just butter, cinnamon and sugar, but it had a very "homemade" taste to it. There's nothing fancy to it, but it delivers exactly what it needs to. 8/10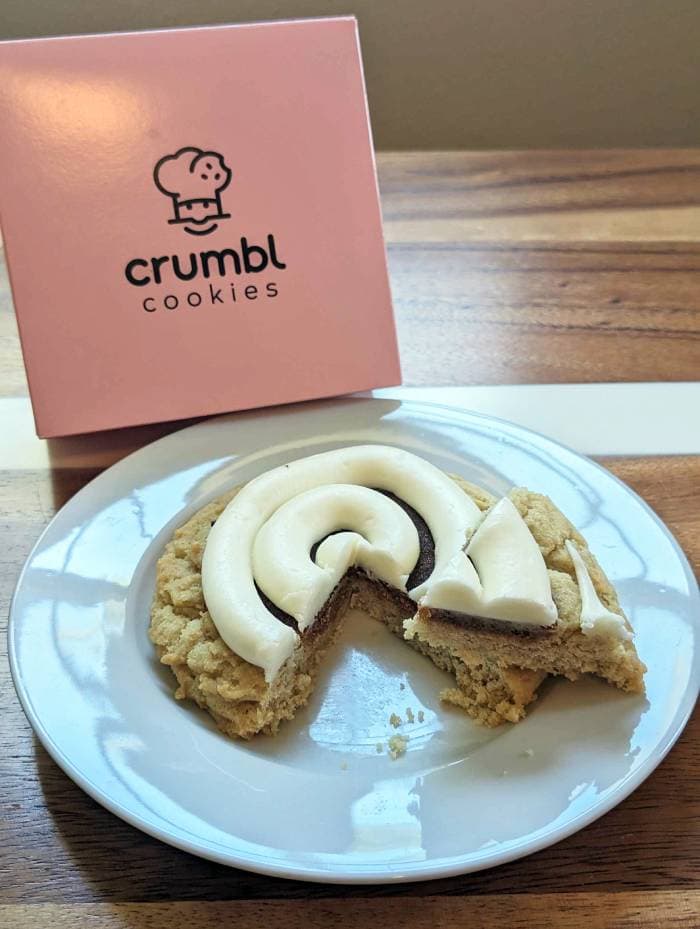 5. Raspberry Cheesecake
A rich cheesecake ice cream base with swirls of raspberry and graham cracker.
This was the definition of a thick boy. I initially thought there'd be too much going on with it, but it was surprisingly good. I loved the raspberry jam on top – it wasn't too fake or sugary. And the cookie base was delightful. It had a crumbly/oaty taste which was a nice change from the normal cookie bases. I would definitely categorize this as a cookie-cupcake hybrid, so I knocked it a few points for the cookie traditionalists. But people do love Prius for a reason. 8/10

6. Milk Chocolate Chip
The classic—you can't go wrong. Thick, soft, and packed with milk chocolate chips.
This is one of the two Crumbl Cookies flavors that is on the menu every single week. It's for the people who need some consistency in their lives. And who probably haven't tried a new food since second grade.
I was expecting this to be just your basic chocolate chip cookie, but somehow, they made this more. Maybe it's the name influencing my thoughts, but it tastes like you already dipped the cookie into a glass of milk…without all the soggy bits. It had a smooth, creamy taste to it, but I don't know if that came from the cookie part or the chocolate chips. It's not necessarily sweeter, but it had a milky taste to it. 7.5/10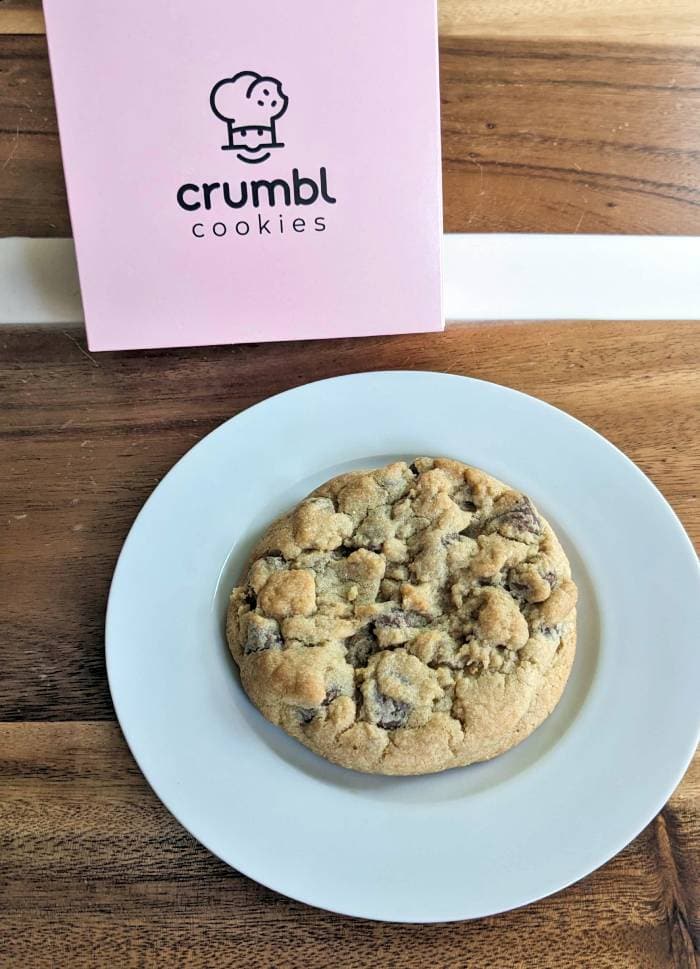 7. Strawberry Cheesecake
A chilled graham cracker cookie, vanilla cream cheese frosting, and a topping of strawberry jam.
This was delightful, but mostly because of the strawberry jelly on top. I don't need to know exactly what it is or how it's made, but I could see whole(ish) strawberries in them, so I'm going to naively tell myself that it counted as a serving of fresh fruit. The rest of the cookie wasn't that exceptional, but it delivered on the name and the description. 7.5/10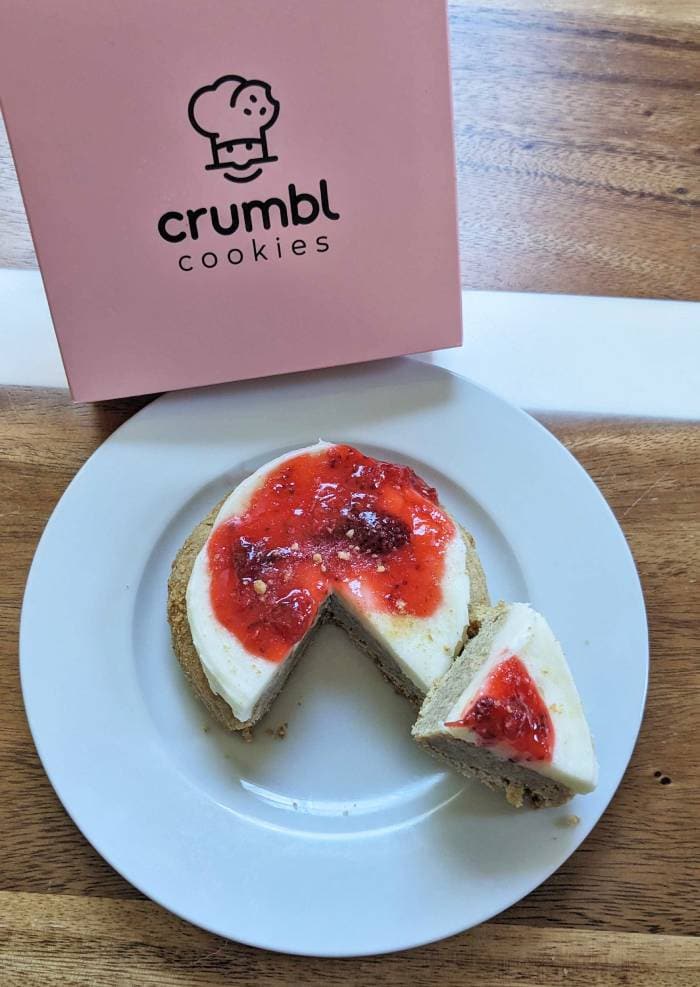 8. Maple Bacon
A fluffy buttermilk cookie swirled with thick maple frosting, a sprinkle of real crispy bacon bits, and a drizzle of maple syrup.
I love frosting more than most people (I will happily challenge anyone on that), but this may have had too much maple icing on it. The cookie part was very mild, which was needed with how strong the flavors were on the topping. I was shocked that it featured real bacon bits on top. Or, real tasting enough. Overally, it was definitely giving more donut vibes. Not a bad thing, but it just wasn't really giving "cookie." Blue monsters everywhere would be confused. 7.5/10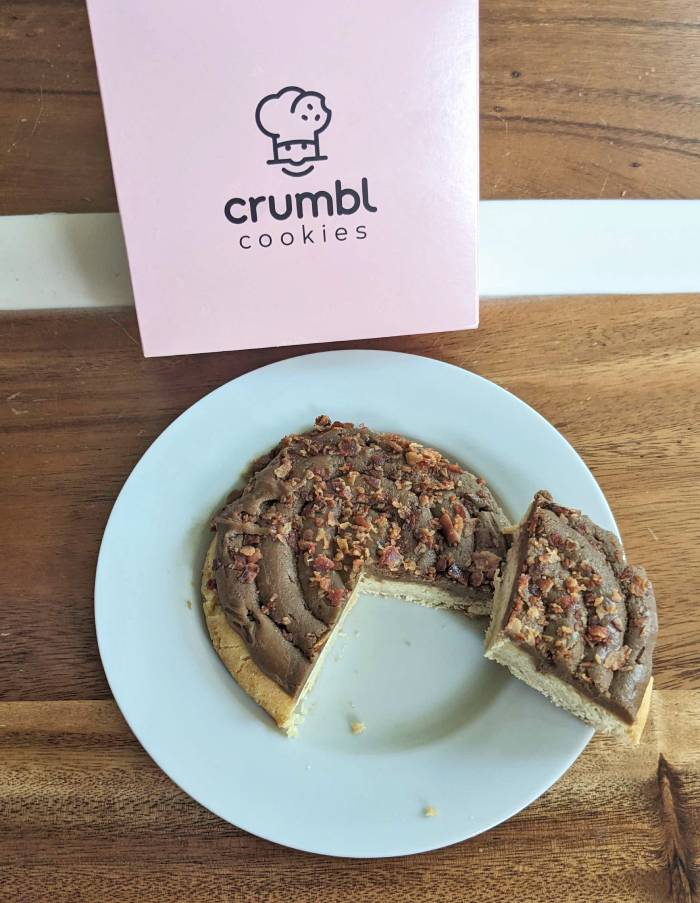 9. Peanut Butter Creme (Nutter Butter)
A peanut butter cookie with Nutter Butter pieces and peanut buttercream.
Call me a sucker for marketing, but I enjoyed this cookie a lot more once I realized this was just peanut butter, but Nutter Butter. I couldn't tell you the last time I had an actual Nutter Butter, but apparently I fond memories of them. As for the Crumbl cookie, a lovely peanut butter frosting topped a very average sugar cookie. Nothing about it was too overwhelming or exceptional.
It was like the Goldilocks of cookies. Unless you're allergic to peanuts. Then that would make for a different story. 6.5/10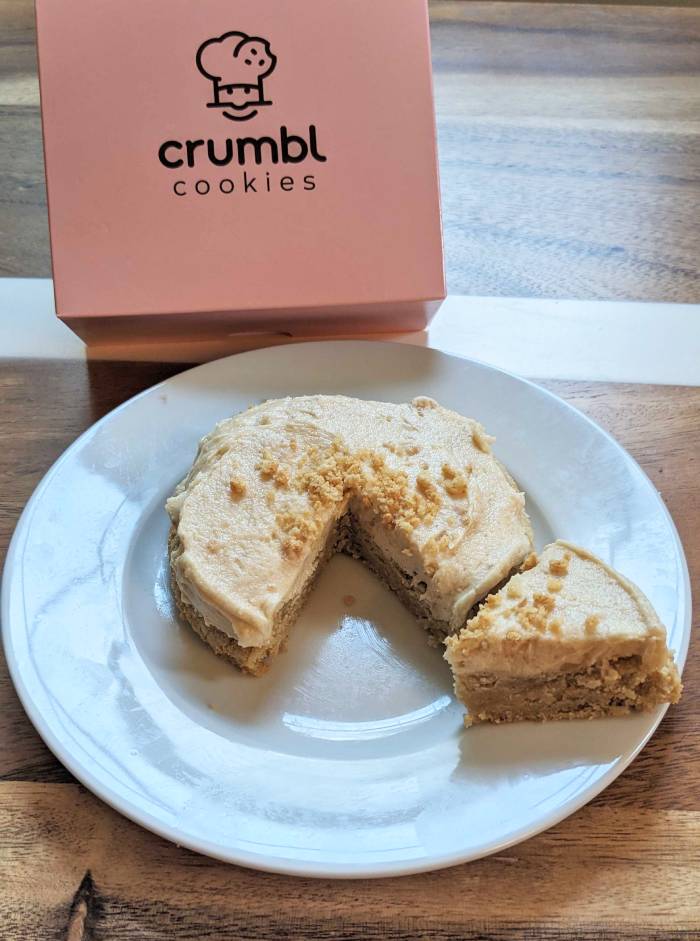 10. Dark Dream
A decadent chocolate cookie packed and topped with loads of melty, gooey, semi-sweet chocolate chips.
It's a chocolate chocolate chip cookie. It's just what you'd expect from a chocolate cookie stuffed with chocolate chips. And while it's not extraordinary or revolutionary, it is delicious. I certainly won't be dreaming about it, but it won't give me nightmares. The clowns still have that job. A solid 6/10.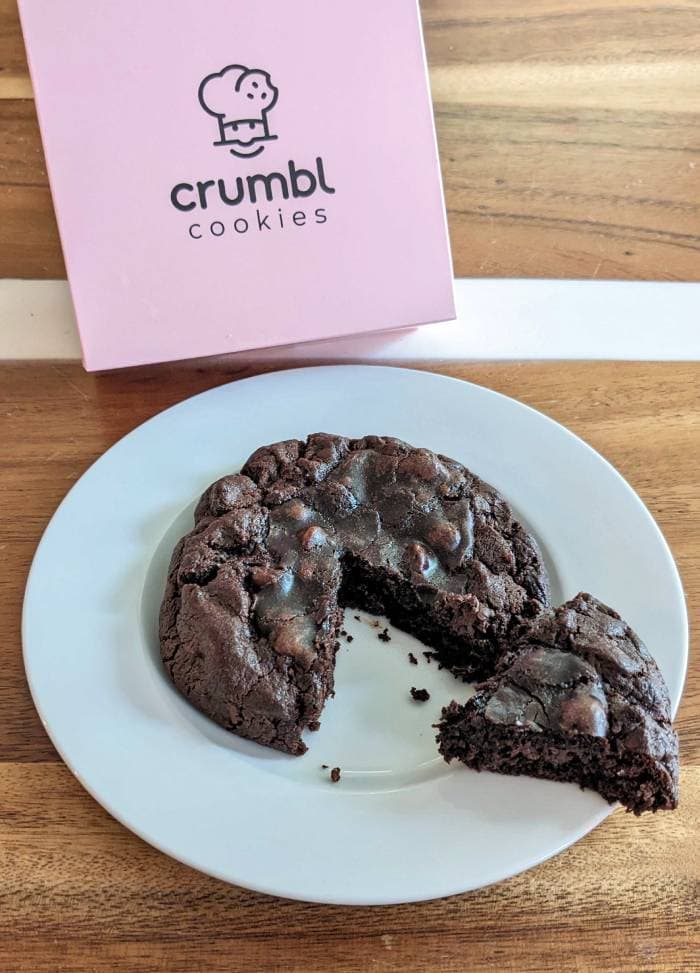 11. Texas Sheet Cake
A warm, cakey chocolate cookie with a fudgy glaze and crunchy toasted pecans.
I didn't know that chocolate was Texas's main export, but according to this cookie, it apparently is. It was giving off chocolate cake vibes at first, but then it kind of settled into box brownies. It was thick and just a little crispy. The walnuts gave it a nice nutty contrast, and the icing was an absolutely bop.
I gave it a slightly lower ranking because it wasn't that incredible compared to the rest of the cookies, but I'd definitely go on a second date with it. It's paying, right? 6/10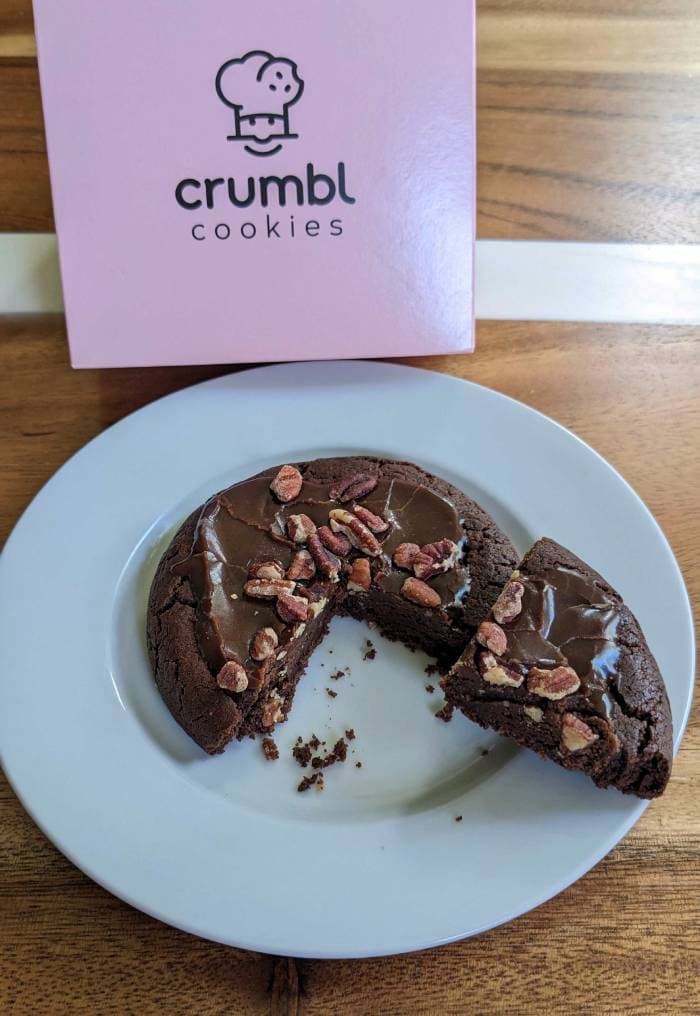 12. Snickerdoodle Cupcake
A classic made even sweeter—a cinnamon sugar cookie topped with cream cheese frosting and an extra splash of cinnamon sugar.
The star of this show was the heavy helping of cream cheese frosting on top. I have to admit that this wasn't my cup of tea, but it wasn't bad. And at least it wasn't actual tea.
As for the cookie, I think it could have used a little more cinnamon flavor. But maybe that's just how snickerdoodles are? I'm a firm believer that snickerdoodles are only good when they're homemade, fresh out of the oven. And Crumbl isn't going to give you that. All in all, this was another fairly bland cookie that they tried to spice up with some yummy frosting. 5.5/10.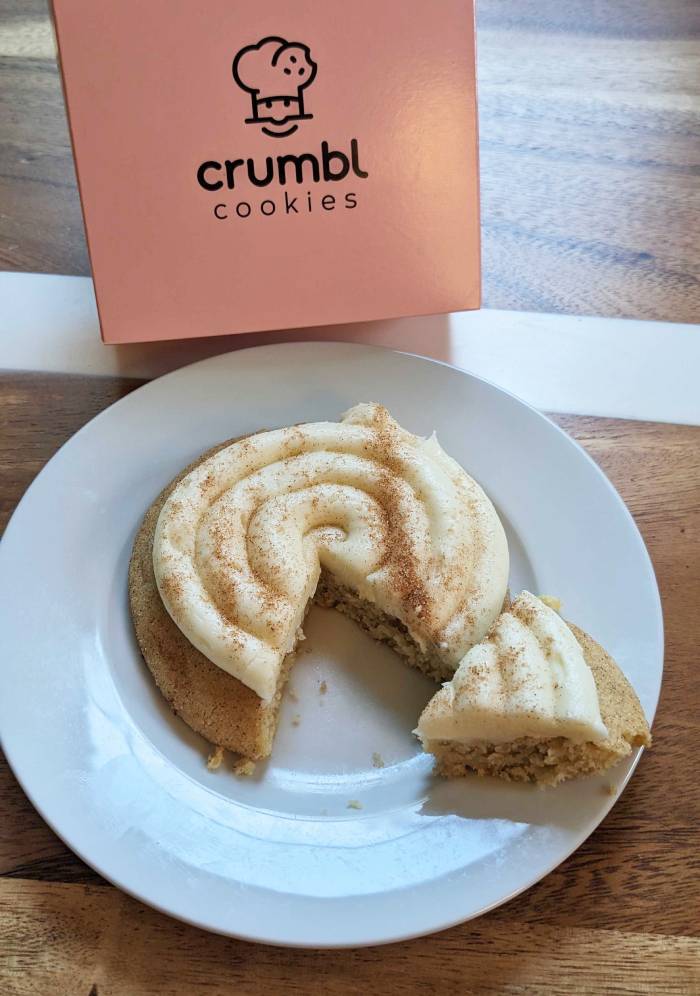 13. Cookie Dough
A brown sugar cookie topped with cookie dough buttercream and chunks of delicious cookie dough pieces.
This did indeed taste like cookie dough, and the cookie dough chunks on top were a nice touch. But the icing was so sweet and creamy. It tasted like cookie dough before you've added in the dry ingredients. So…butter and sugar.
The cookie is just a basic vanilla sugar cookie. So the icing – which was good, but very simple – was the only thing that made this flavor stand out. Overall, a little bland. 5/10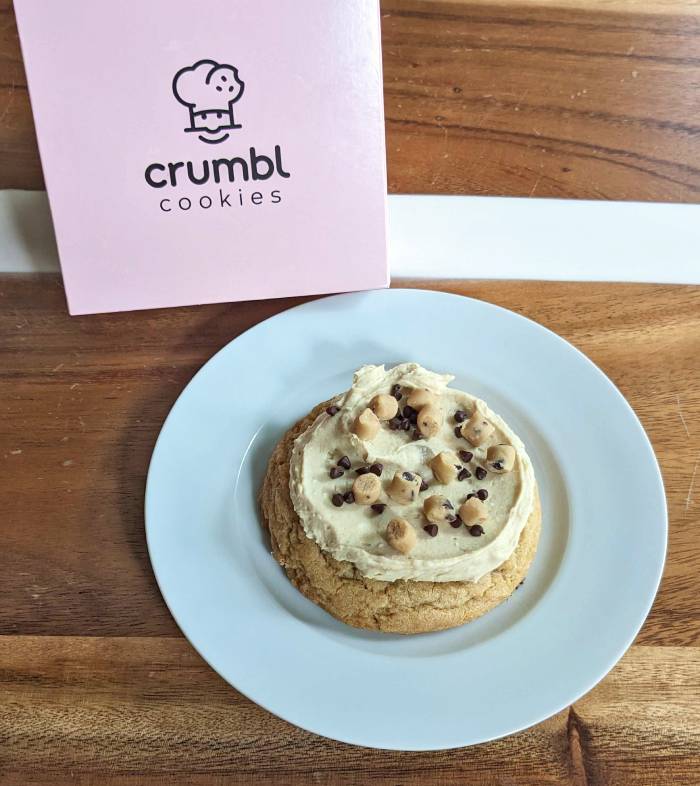 14. Monster
A warm peanut butter oatmeal cookie with M&M's, creamy peanut butter chips, rich semi-sweet chocolate chunks and brown sugar.
This had a very peanut buttery base. I didn't hate it, but it did kind of overshadow the big M&Ms. And the last thing we want to do is make the Green M&M angry.
There wasn't anything wrong with this cookie. It had all the right elements with the flavors and the add-ins. But is it groundbreaking? No. Could I easily make something very similar myself? Yes. Would I choose to just devour a handful of M&M's instead? Absolutely. 5/10.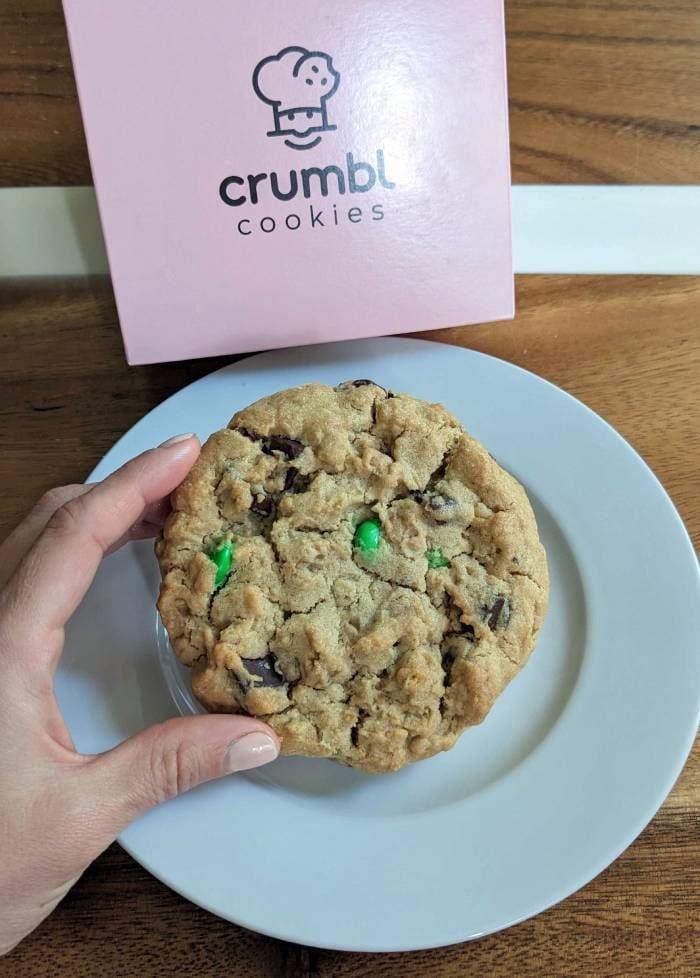 15. Classic Pink Sugar
An all-time favorite—a vanilla sugar cookie topped with a perfect pink swoop of real almond frosting. (Now containing real almond extract.)
This weekly Crumbl Cookies flavor tasted slightly fruity with the first bite. Like strawberry or cherry with a hint of lemon. In hindsight, that's the almond extract. And now I have some questions for almonds.
The cookie part was solid. Not quite as basic as a sugar cookie, but a little extra something, like a cooked butter flavor. What they absolutely nailed was the ratio of cookie to frosting is great. But at the end of the day, it's pretty standard. 4.5/10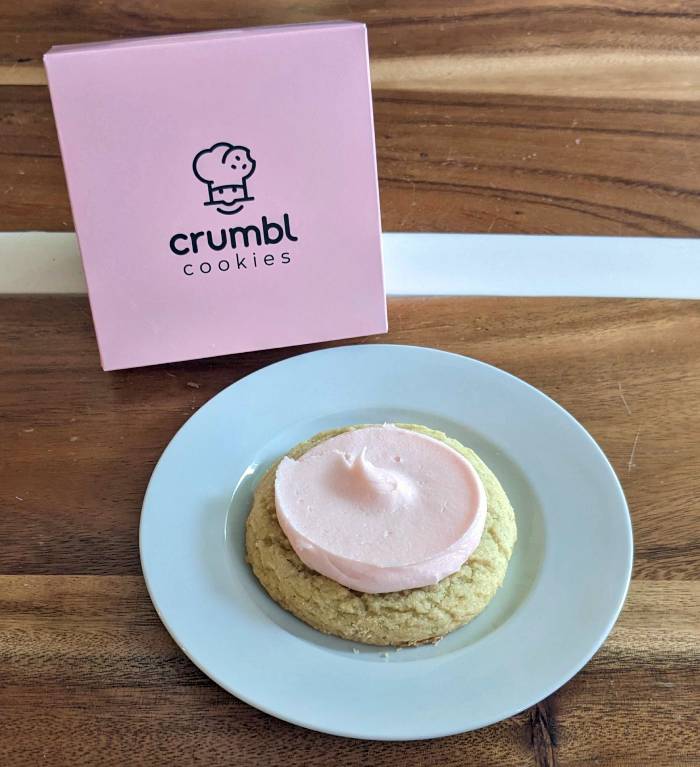 16. Blueberry Crumb Cake
A warm lemony graham cookie with pops of blueberries and a tangy lemon drizzle.
Blueberries are always a staple on my shopping list, so I was pumped to see these fresh blueberries on top and mixed into the cookie. But in a weird twist of fate, they were almost too real compared to the blueberry "flavor" of the rest of the cookie.
The icing was pretty subtle. It was nice and bright and not overwhelming. It gave the cookie a little oomph, which otherwise tastes a bit dry and bland. Maybe that was the "crumb" part they were going for? It tasted like what you'd think it would taste like. No more and no less. 4/10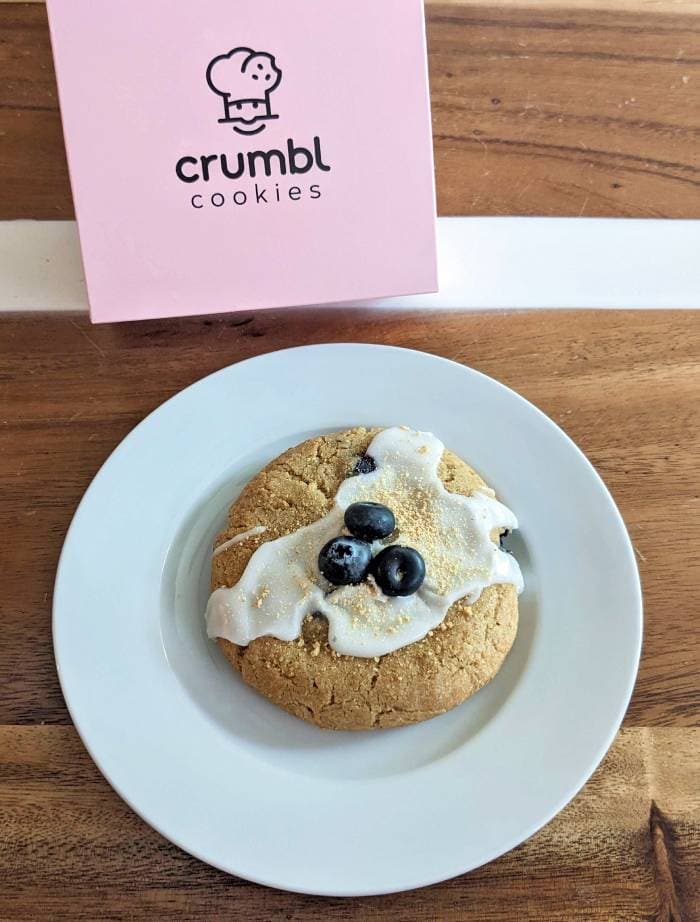 17. S'mores
A graham cracker cookie stuffed with milk chocolate chips then topped with a toasted marshmallow, a drizzle of chocolate, and a dash of graham cracker crumbs.
I loved the presentation of the marshmallow on top. Made it kind of awkward to cut, but hey, now it's just a cookie you don't have to share! They did do a good job of recreating that fake chocolate and graham cracker taste. That being said….the chocolate flavor wasn't quite what I want in a cookie that I paid $4 for. 4/10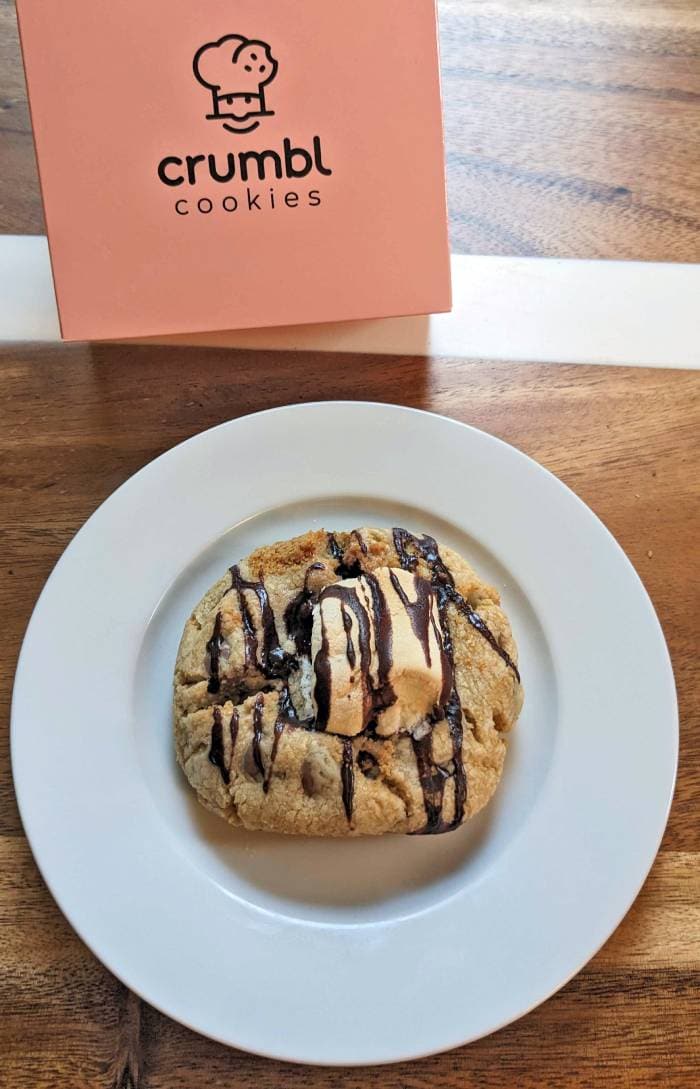 18. Lemon Poppy Seed
A lemon poppy seed sugar cookie stuffed with lemon filling and covered in a sweet almond-flavored lemon glaze.
This was so under baked and very flat. Maybe it was a fluke. Maybe Crumbl is trying to cut back on their utilities.
My main complaint is that I wanted this to be more lemony. Instead, it tasted very floury. There's a lemon custard in the center, but it wasn't super noticeable. And, the icing was pretty bland. Go get a lemon poppyseed muffin instead. 3.5/10.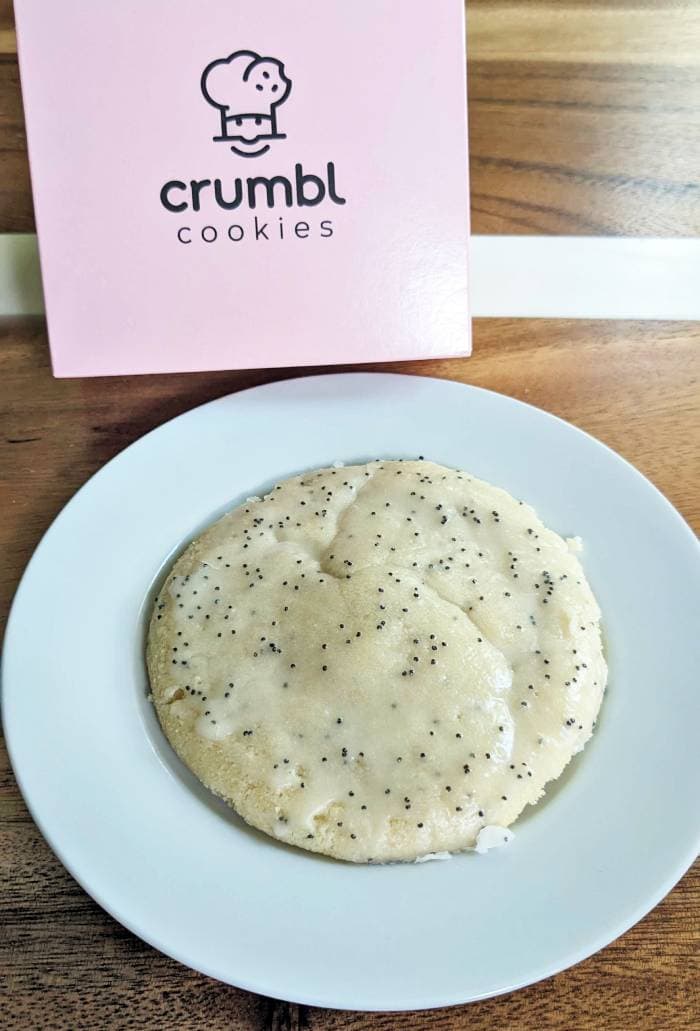 19. Cookie Butter Lava (Biscoff)
A melty, mouth-watering cookie stuffed with Biscoff cookie butter, then drizzled with Biscoff cookie butter spread and garnished with crumbly cookie butter morsels.
So underwhelming. I love cookie butter, and this was just not giving any of that creamy cookieness. It was very bland and tasted very dry. It wasn't repulsive, but it did absolutely nothing for me. Turns out that a cookie-flavored cookie just isn't something that works. 3/10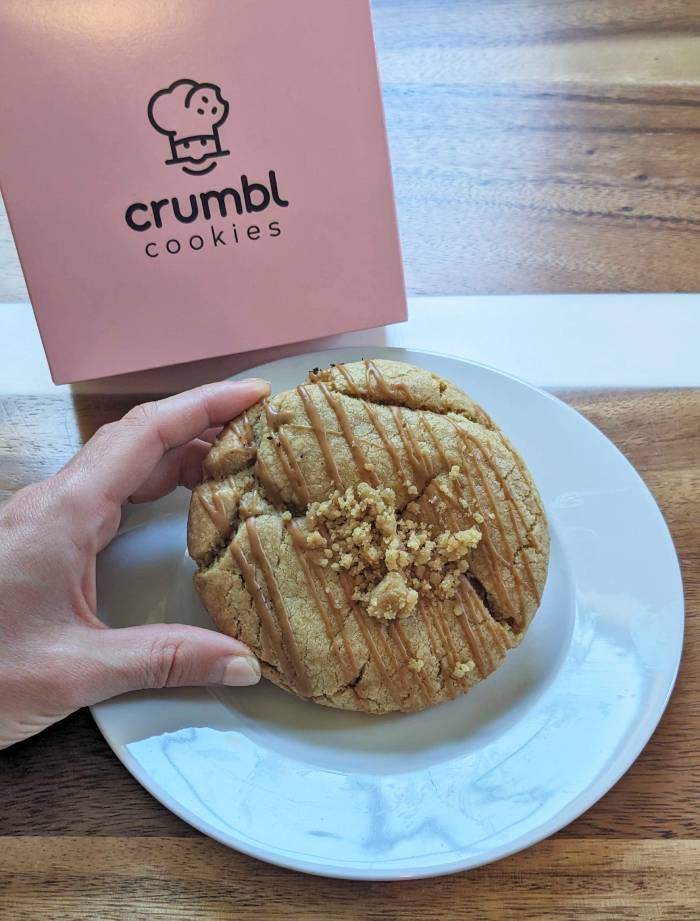 20. Macadamia Nut
The classic cookie filled with layers of creamy white drops and buttery macadamia nuts.
Disclaimer: I'm not a huge white chocolate fan. And there were a lot of white chocolate chips in this. Yet, not a lot of macadamia nuts. And the ones that were in there make the whole thing taste kind of stale. This was very bland overall. In color, taste, everything. But if you love white chocolate, sure. Do your thing. Preferably all by yourself. 2.5/10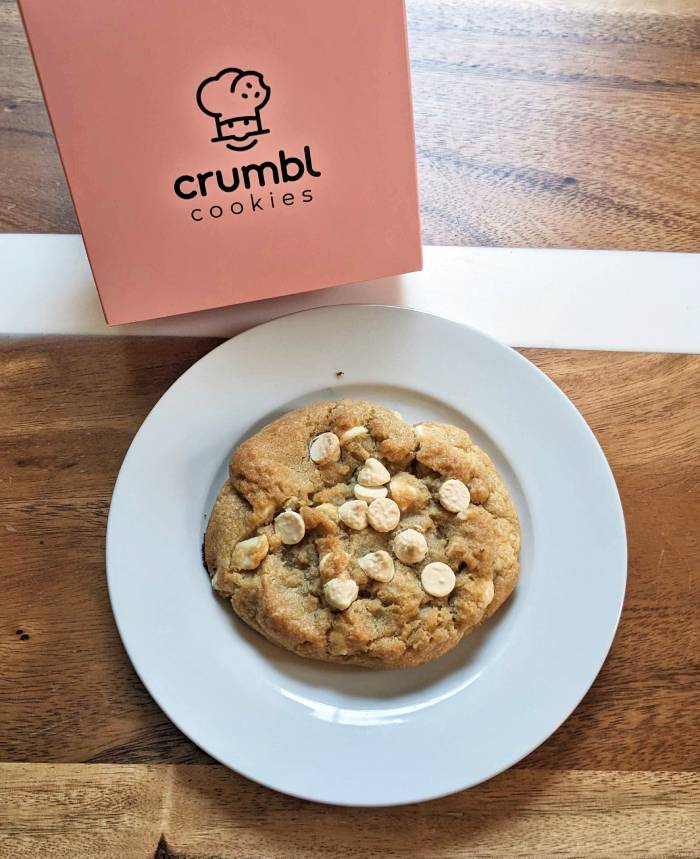 21. Ultimate Peanut Butter
A peanut butter lover's delight. A peanut butter cookie filled with peanut butter and rolled in sugar.
There is no way this wasn't a mistake batch. It had SO MUCH SALT. It literally felt like my mouth was being burned by chlorine. The name and the appearance the only reason why I knew this was peanut butter. BRB while I wait for my taste buds and my throat sensations to come back.
Now, I did lick off some of the PB drizzle on top that hadn't been coated in salt. And I guess it was your standard PB? But if this is what this cookie is actually supposed to be like, run far, far far away. -100/10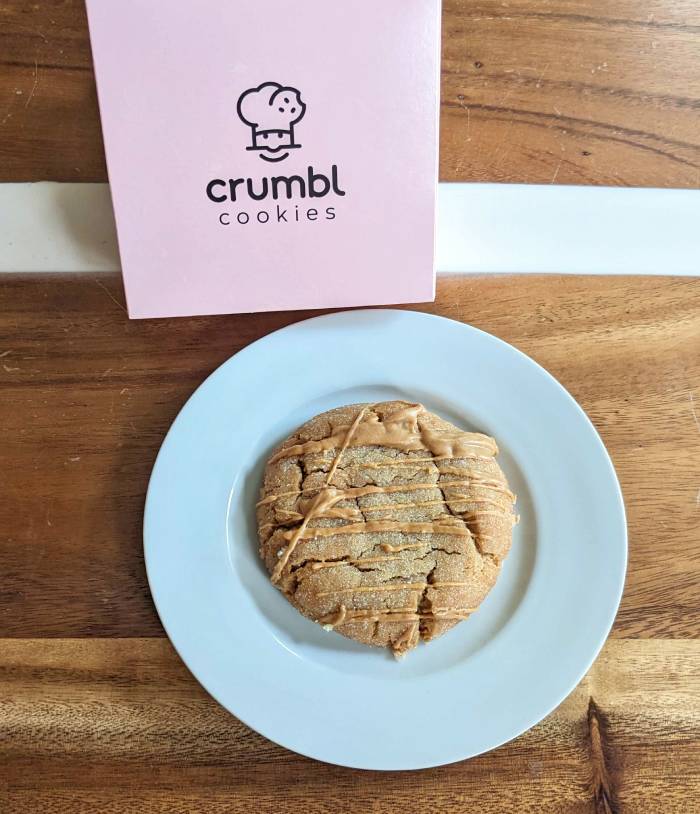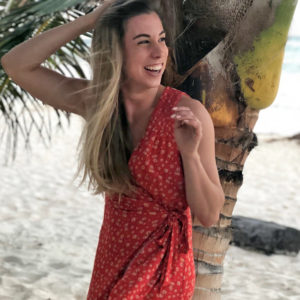 Latest posts by Hannah Rex
(see all)