Looking for a cup of coffee in Los Angeles? Skip the corporate coffee giants and head to one of these Black-owned coffee shops in LA. Here's where to get your caffeine fix when you're in Los Angeles.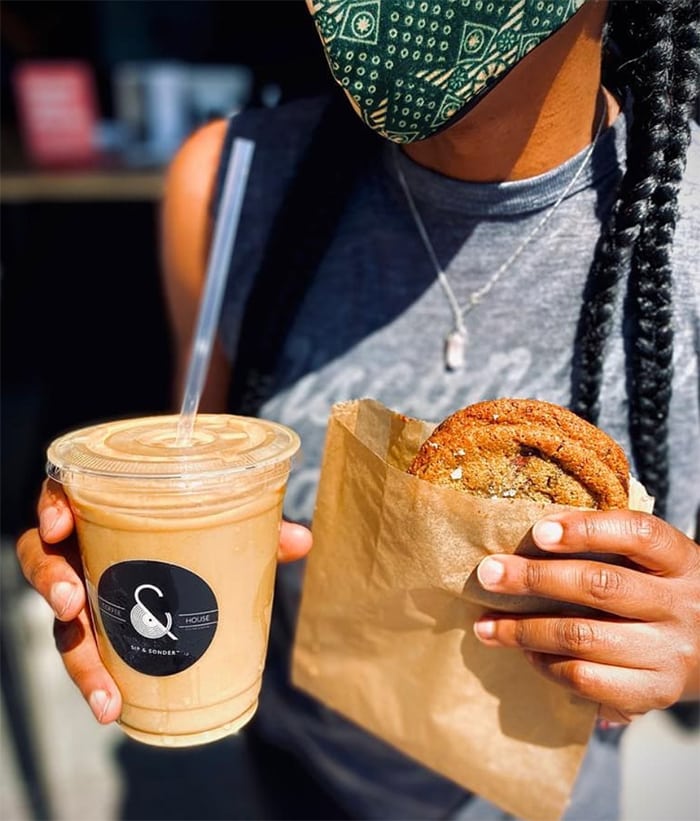 10 Black-Owned Coffee Shops in Los Angeles to Check Out ASAP
1. Sip & Sonder (Inglewood)
Located in downtown Inglewood, Sip & Sonder is known for its modern, airy interior that doubles as an event space. Founded by two lawyers, Amanda-Jane Thomas and Shanita Nicholas, Sip & Sonder was designed to serve as a place where customers could share ideas and stories in the Black community.
Must-try coffees include the Rose Latte and the Honey Latte. If you order one of each, you're basically a bumblebee. (Is that what they meant by "sharing ideas"? No?)
Located at 108 S Market St, Los Angeles. Sip & Sonder opens at 8 am M-F and 10:30am on the weekends.
2. Flowerboy Project (Venice)
If the hardest part of grabbing a coffee is leaving your houseplants all alone, head to Flowerboy. Owners Stella Shirinda and Sean Knibb created this space that's part coffee shop, part florist, and basically paradise for botany nerds.
Their specialties include the Lavender Boy and the Dirty Rose Girl, along with espresso from Counter Culture. While you're sipping your coffee, you can stock up on fresh flowers, cashmere beanies, and candles based on the scents of LA. No, there's no In-N-Out burger-scented candle. Yes, we checked.
Located at 824 Lincoln Boulevard, Venice. Flowerboy Project opens at 7am.
3. Obet & Del's Coffee (Thai Town)
Obet & Del's Coffee is one of the few Black-owned coffee shops in Hollywood, this relatively new spot is known for its yummy baked goods and the super-Instagrammable retro interior.
Must-try drinks include the Filipino Iced Coffee and the Thai Town Latte. If you're a donut or croissant aficionado, be sure to order early, because they tend to sell out quickly.
Located at 5233 Hollywood Blvd, Los Angeles. They open at 7 am.
4. Bloom & Plume Coffee (Historic Filipinotown)
Started by florist and artist Maurice Harris, Bloom & Plume is inspired by the South African philosophy of ubuntu, which emphasizes connection and community. Likewise, Bloom & Plume Coffee serves as both a coffee house and a community space. It also serves as retail therapy, with funky merch including accessories, clothing, and flowers.
Macchiatos are Bloom & Plume's specialty. But if you're hungry or hungover, you also need to try the cornmeal waffle from the menu's "waffle ministry."
Located at 1638 West Temple Street, Los Angeles. Bloom & Plume opens at 8am.
5. Nimbus Coffee (DTLA)
If you feel the need to accio coffee, then hop on your broomstick and head over to Nimbus Coffee, a Black-owned, magic-themed coffee shop. You'll find subtle nods to Harry Potter, such as a deli case labeled "Fantastic Treats and Where to Find Them" and a wall filled with magic wands underneath a neon sign reading "Levizzle." There's also delicious flavored coffees like the Notorious Black, a charcoal rosemary latte.
Located at 1115 South Hope St. Los Angeles. Nimbus Coffee opens at 8am M-F.
6. Lou, The French on the Block (Burbank)
Oui, oui, mon amis, if you're a Francophile or just adore croissants, then try Lou, The French on the Block. Chef "Lou" and his wife Karima first arrived in Los Angeles in 2012 and began a catering company. In 2016, they opened up their own patisserie and coffee shop.
The menu includes the usual coffee shop standards like Americanos, Cortados, and Lattes, along with a selection of artisan teas. But let's be real, you come to this coffee shop for the amazing pastries and quiches, so be sure to leave room for chouquettes.
Located at 4007 W Riverside Drive, Burbank. Lou, the French on the Block opens at 8am Friday to Sunday.
7. Hot & Cool Cafe (Leimert Park)
Started by owner and "chief brewer" Anthony Jolly, Hot & Cool Cafe was designed to be a home away from home for coffee lovers. If you want to deep-dive into coffee culture, you'll get the full "crop to cup" experience here.
While there's a variety of coffee and tea on the menu, Hot & Cool Cafe is also known for their delectable smoothies and vegan versions of quiche and mac and cheese.
Located at 4331 Degnan Blvd, Los Angeles. Hot & Cool Cafe opens at 7am.
8. Patria Coffee (Compton)
Head straight into Compton (see what we did there?) and check out this simple, modern coffee bar. Serving their own small-batch roasted coffee, Patria offers whole beans, flash brew pouches, and hot or iced drinks to go.
Patria Coffee is known for their lavender latte and the iced lavender hibiscus tea — perfect if you need a bit of calm in this dumpster fire of a year.
Located at 108 North Alameda Street, Compton. Patria Coffee is open at 8am M-F and 9am on the weekends.
9. Undergrind Cafe (Beverlywood)
If there's one thing we need almost as much as coffee right now, it's comfort food, and you can find both on the west side at Undergrind Cafe. This coffee shop has a light and airy atmosphere and a menu full of creative coffee drinks and hearty breakfast foods.
Start your day with shrimp and grits, a Greek scramble, or sweet cream pancakes. And obviously you came for the caffeine, so order a Tiger Island Latte (chocolate, coconut, and chai) or a Filthy Chai Latte (espresso and chai).
Located at 2713 South Robertson Blvd, Los Angeles. Undergrind Cafe is open at 7am M-F and 8am on the weekends.
10. Vanilla Black LA (Echo Park)
In 2017, besties Vanessa Butler and Justine Zimbron opened Vanilla Black in hipster haven Echo Park. You can't miss the adorable storefront, decorated with faux grass and a hot pink neon sign emblazoned with their name.
Try the Layla Latte, named for Butler's daughter, which is a mix of lavender, vanilla and espresso. And grab a pastry to go — you'll find vegan options along with decadent baked goods like Nutella Espresso Bread.
Located at 1825 Sunset Blvd, Los Angeles. Vanilla Black is currently closed but is usually open at 7am. To support their GoFundMe that's raising funds for Vanessa's mother, click here.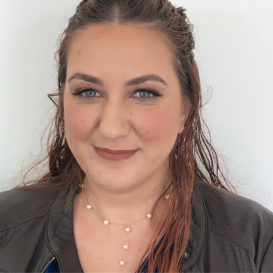 Latest posts by Sarah Mina Osman-Mikesel
(see all)