Move over Pumpkin Spice Latte, there's a new Starbucks drink in town that has the coffee world buzzing. I'm talking about their latest creation, the Starbucks Oleato line. These olive oil-infused coffee drinks have caused quite the stir, but do they live up to the hype?
Last week, I got to try them at an underground, speakeasy-style Starbucks. (Ok, it was just inside an office building in Century City, but still.) So, here's my Starbucks Oleato review.
The line boasts three core drinks: the Oleato Caffè Latte, Oleato Iced Shaken Espresso, and Oleato Golden Foam Cold Brew. I was eager to taste test the Italian-style drinks and see if they could become my new morning favorite. The latte could for sure. As for the rest… well, keep reading.
What Are Starbucks' Oleato Drinks?
The Starbucks Oleato line is comprised of drinks infused with Partanna extra-virgin olive oil. They launched on February 22nd, 2023 at the Starbucks Reserve in Milan, Italy and arrive in America on March 23rd.
They're basically the Mediterranean version of bulletproof coffee.
Where did this unusual combination come from? According to a press release, it all started with Starbucks interim CEO Howard Schultz's trip to Sicily, where he discovered the "Mediterranean custom of taking a spoonful of olive oil each day…he soon began enjoying a spoonful of Partanna extra virgin olive oil as part of his daily ritual in addition to his morning coffee, and soon he had the idea of trying the two together."
Because, apparently, taking a shot of olive oil straight up was just too easy. CEOs be CEO-ing, except that when Schultz does it we get new drinks or Italian names for cup sizes. And when Musk does it we get a worse version of Twitter.
My Review of the Starbucks Oleato Drinks, Ranked
Ok, so do these Oleato drinks actually taste good? Well, I tried them, and let's just say, it's a mixed bag.
When I arrived for the tasting, Nick, the Starbucks barista at the store I visited, brightly walked me through how he makes each of the three beverages and then I got to try each.
1. Oleato Caffè Latte Review
The Oleato Caffè Latte was, by far, my favorite of the core drinks. The official version is made with oat milk (or as Starbucks calls it "oatmilk") and their Blonde Roast Espresso. I'm someone who usually sticks with whole milk in my morning coffee, but the oat milk was tasty. Unlike anything made with almond milk.
To make the latte, Nick steamed a press of olive oil along with the oat milk, creating a frothy combination that he layered on top of the espresso shots.
The resulting drink had an almost earthy flavor. The olive oil knocked out oat milk's sweetness and it didn't feel like I was drinking salad dressing. (Old habits die hard.) Instead, it felt like there was simply another layer of flavor and richness within the drink. Overall, the latte was surprisingly velvety smooth and lush, just like Starbucks promised.
The only downside was the foam deflated faster than it usually would have, likely due to the density of the olive oil. Overall, the Oleato Caffè Latte is like drinking a walk through the forest, if the forest was filled with espresso shots and the occasional olive tree.
Nutritional Information: A grande (16 oz.) Starbucks Oleato Caffé Latte with Oatmilk has 330 calories, 6g of sugar, 3g protein, and 170 mg of caffeine.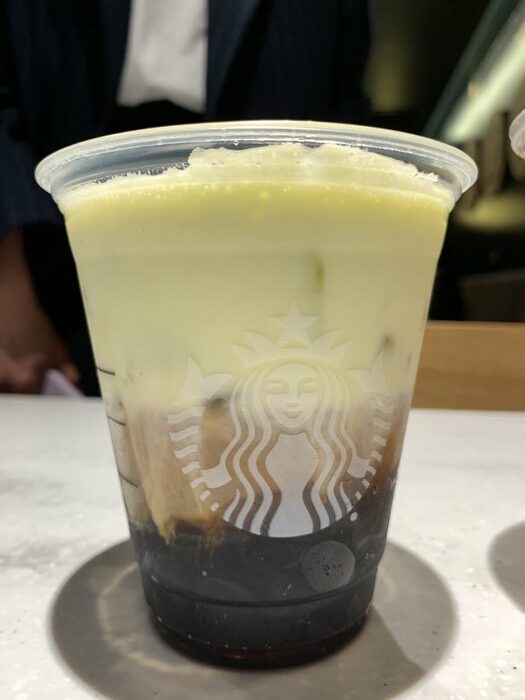 2. Oleato Golden Foam Cold Brew Review
The Oleato Golden Foam Cold Brew best highlights the concept of alchemy, both in the creation process and in the way the drink is layered.
Starbucks baristas use a Vitamix blender fitted with an aerating disc (like this one) to create Cold Foam, but the Golden Foam seems to use an entirely different blender that I couldn't find anywhere on the Vitamix site.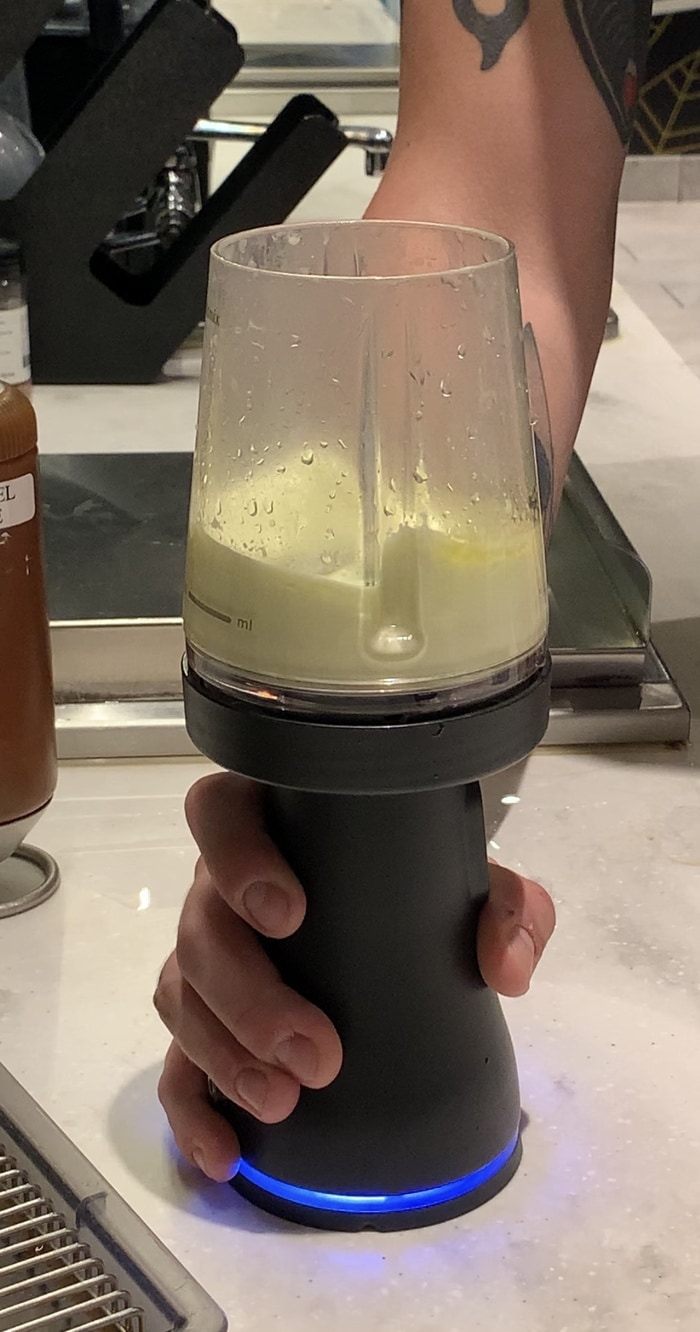 The magic begins with the emulsification of two pumps of olive oil with sweet cream, using a blender that could be from another dimension, for all I know. When layered on the Cold Brew, it creates a pastel yellow foam (the gold) that sits atop the dark coffee (the lead) at the bottom of the cup.
As soon as I took a sip, I was hit with the intense flavor of olive oil. But, the texture of the cold foam made it feel like I was enjoying olive oil ice cream. As I sipped more of the drink, the bitter taste of the cold brew complemented the sweetness of the foam.
This was probably my second favorite and, if I wasn't a daily latte drinker, would have been my top choice.
Nutritional Information: A grande (16 oz.) Starbucks Oleato Golden Foam Cold Brew has 380 calories, 19g of sugar, 2g of protein, and 185mg of caffeine.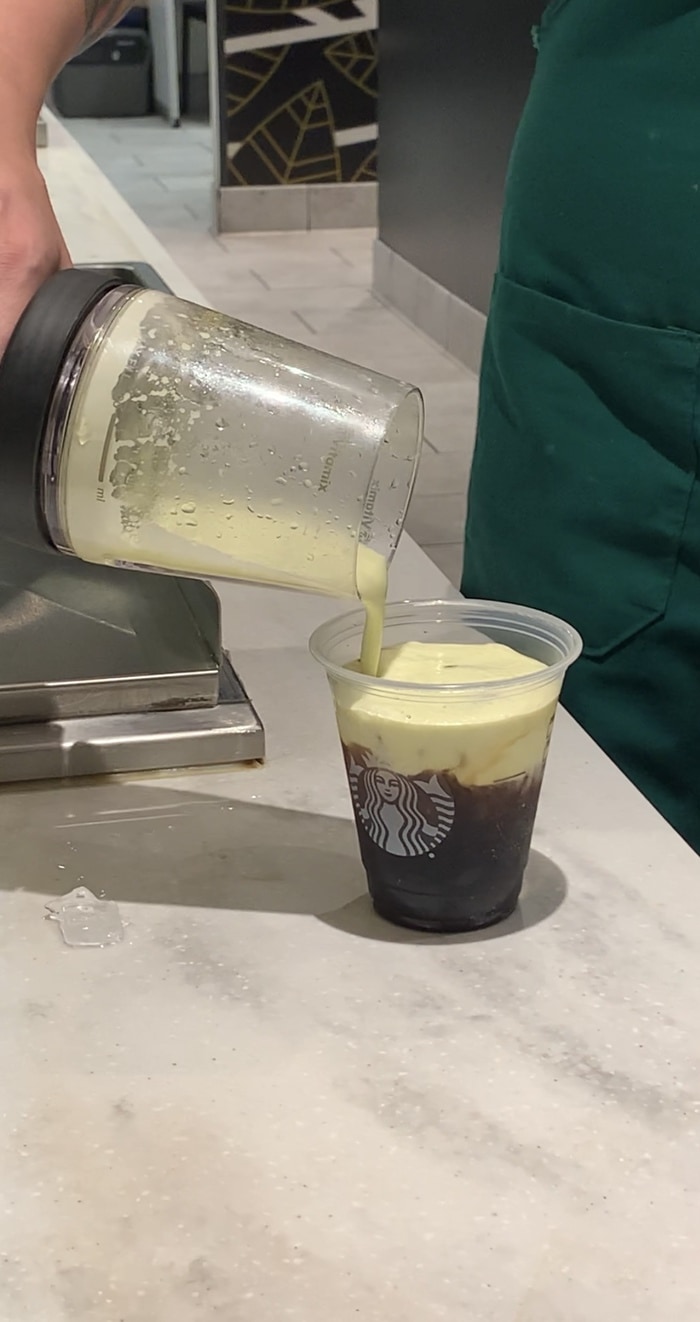 3. Oleato Iced Shaken Espresso Review
The Oleato Iced Shaken Espresso combines toffee nut syrup with olive oil (and coffee). To make it, Nick filled a shaker with ice, added a press of olive oil, and four pumps of toffee nut syrup. He then added three shots of Blonde Roast Espresso and shook it all together before pouring it into the cup. He finished it by topping it off with oat milk.
At first, the olive oil is very front-and-center, but if you let it sit, it steps back and the toffee flavor comes forward.
But beware, if you let it sit too long, the oil will float to the top and create a yellow oil slick on the surface of your drink. It doesn't really affect the flavor as you can simply shake your iced coffee to get rid of it, but it's also not exactly Instagram-worthy. Hey, it's what's on the inside that counts, right?
Despite having a whopping four pumps of toffee nut syrup, the Oleato Iced Shaken Espresso isn't overly sweet. In fact, there was almost a slight bitterness from the olive oil that balances it out. Not bad, but I'd probably just drink a standard Shaken Espresso instead.
Nutritional Information: A grande (16 oz.) Starbucks Oleato Oatmilk Iced Shaken Espresso has 250 calories, 12g of sugar, 2g of protein, and 255 mg of caffeine.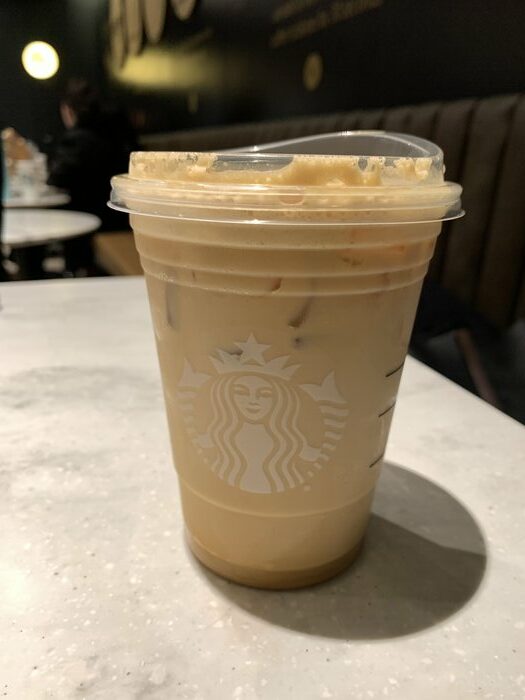 So, Will There Be Secret Menu Oleato Drinks?
Yes. Since secret menu drinks are customer creations, you're welcome to tinker and create whatever delicious (or horrifying) concoctions you desire with the press of olive oil.
I give it an hour until someone posts an olive oil Frappuccino on TikTok or Instagram.
Where Can I Get the Oleato?
The Oleato beverages are slowly marking their way to stores around the U.S. As of June 6th, you can order them in these states:
Alaska
Arkansas
Connecticut
Florida
Massachusetts
Maine
New Hampshire
New Mexico
Rhode Island
Texas
Vermont
And in these major cities:
Los Angeles
Seattle
Chicago
New York
Boston
Dallas
Miami
Austin
Where did the Oleato Launch?
They arrived on March 23rd at the Starbucks Reserve Roasteries in Seattle, New York City, and Chicago. They arrived in Los Angeles and Seattle a few days later.
In Seattle, customers can also try the drinks at the Starbucks Reserve SODO and 1912 Pike. Meanwhile, New York will also have the beverages available at the Starbucks Reserve in the Empire State Building and on Greenwich Lane.
These stores will all carry four Oleato drinks made with Starbucks Reserve coffee:
Oleato Iced Cortado
Oleato Caffè Latte
Oleato Golden Foam Cold Brew
Oleato Golden Foam Espresso Martini
There is also a tasting experience at the Starbucks Reserve Roastery in Seattle and Chicago and at the Starbucks Reserve in the Empire State Building.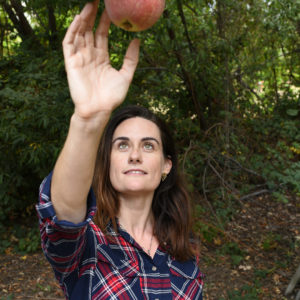 Latest posts by Rebecca Swanner
(see all)