We love independent coffee shops and small-batch brands. But, sometimes you want to go with the tried-and-true — especially if the next best coffee is at 7-11. In which case, unless you're in Japan, Starbucks it is!
While many of the coffeehouses are nothing out of the ordinary, some of the 32,000 locations — including one in a secret CIA bunker — are architecturally fascinating. Here are some of the coolest Starbucks locations in the world.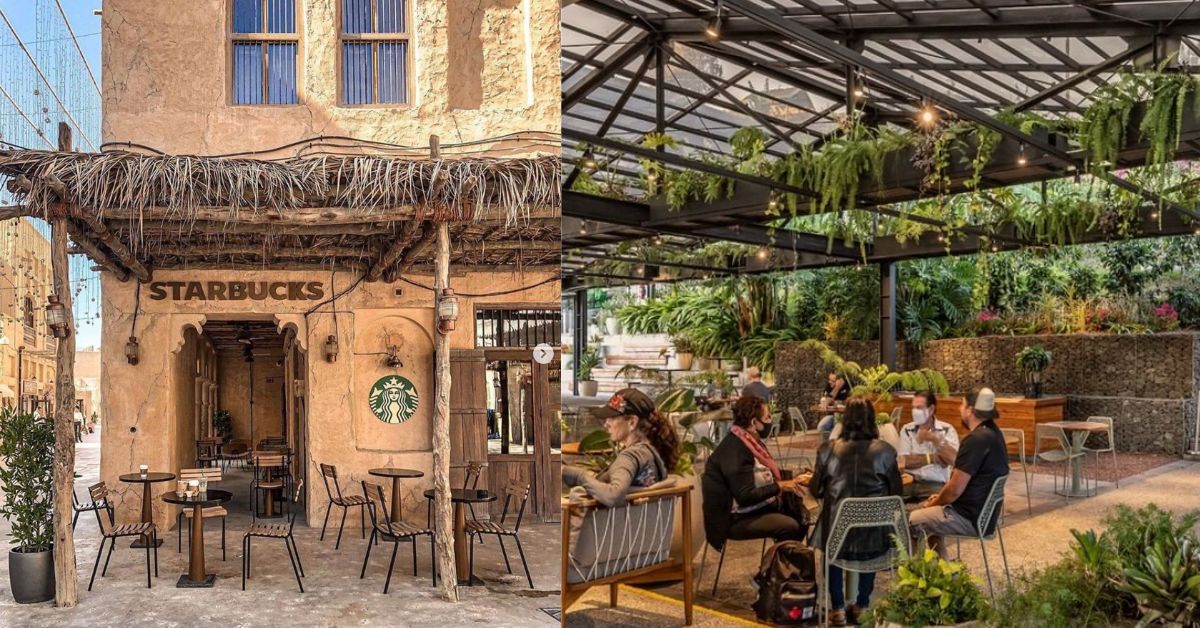 The Coolest Starbucks Locations In the World
1. Starbucks Famille Park – Seoul, South Korea
This Starbucks is known as the most beautiful Starbucks in Korea. It boasts a glass dome exterior, a wooden-paneled interior, and an installation of metal birds hanging from the glass ceiling panels. Do you think they still have that hedgehog collection we put on hold?
Address: 205 Sapyeong-daero, Seocho-gu, Seoul, South Korea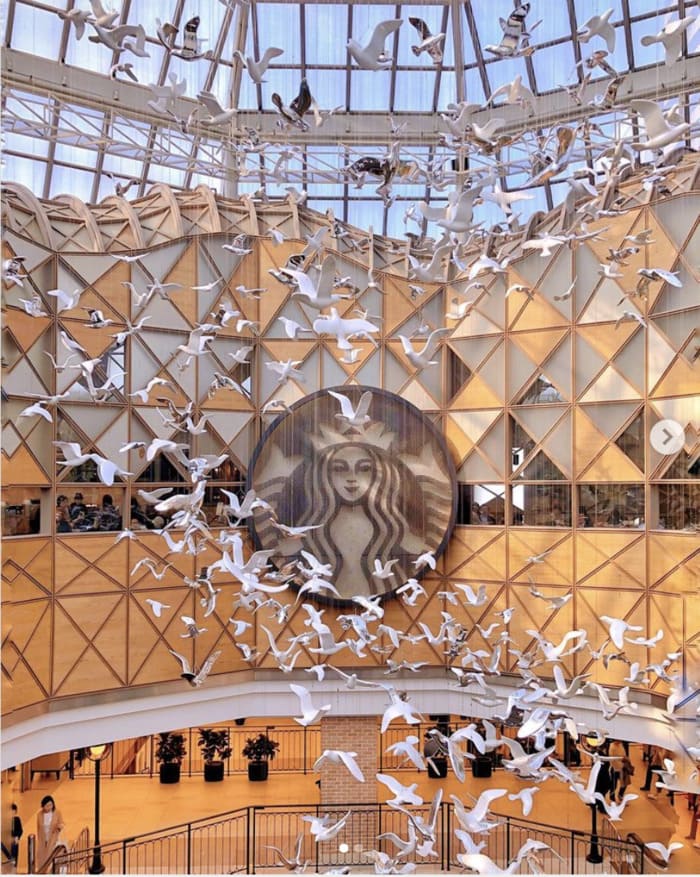 2. A 1920s Movie Theater – Rio de Janeiro, Brazil
This Starbucks location in Cinelândia Square was originally a movie theater from 1926. When converting it, they incorporated the original doors and windows, graphic patterns, and Art Deco motifs.
Address: Praça Floriano, 7 – Centro, Rio de Janeiro – RJ, 20031-050, Brazil
starbucks da cinelândia = tudo pra mim pic.twitter.com/xB4z0rwKsr

— vinicius (@ViniciusRoiffe) September 11, 2019
3. Shipping Container – Hualien City, Taiwan
At this Starbucks shop, you can grab an iced coffee in a building made from 29 recycled shipping containers. The structure was designed by Japanese architect Kengo Kuma, and offers a breathtaking view of the Pacific Ocean.
Meanwhile, ours is across from a Jiffy Lube. Which, depending on your aesthetic preferences, could also be pretty breathtaking.
Address: 17 Fuqian Rd., Hualien City, Hualien County 970, Taiwan (R.O.C.)
4. Coffee Farm – Alajuela, Costa Rica
It might take a lot to impress someone in a country known for their coffee, but have you tried placing it in front of a volcano?
At Hacienda Alsacia, you can book a 90-minute tour which includes a look at the working tree nursery, wet mill, drying patio, and roaster. Throwing jewelry into the middle of the Poás Volcano is (probably) extra.
Address: Dulce Nombre, Alajuela Province, San Isidro, Costa Rica
5. The First Starbucks – Seattle, Washington
If you are a Starbucks fan, you'll want t eventually make your way to the first official location in Seattle. It's on the waterfront by Seattle's Pike Place Market. Just look for the line.
Address: 1912 Pike Place, Seattle, Washington.
6. Bank – Amsterdam, Netherlands
It's mere coincide that this Starbucks is located in an old bank vault and we spend way too much of our budget buying coffee that we could make at home. Local designers worked with Starbucks to fill this space with Dutch oak furnishings and recycled materials while still keeping the concrete walls and marble floors from the 1920s.
Address: Utrechtsestraat 9, 1017 CV Amsterdam, Netherlands
7. Former Gas Station – Los Angeles, California
This gas station has been through a thing or two, from having a cameo in LA Story to earning a Conservancy Preservation Award in 2018. The site is now a working Starbucks in case you need a different kind of fuel. And, it's cheaper than a gallon of gas.
Address: 859 North Highland Avenue, Los Angeles, California.
8. Starbucks Signing Store – Washington, DC
The first U.S. Starbucks Signing Store is led by a team fluent in American Sign Language (ASL). It features high-tech options for assisting with communication, drink ordering, and receiving your beverages. We hope that one day all of their shops offer this for their deaf customers. (There are five other signing stores. Those are located in Kuala Lumpur, Guangzhou, Penang, and Tokyo.)
At the DC store, there's also a mural created by deaf artist Yiqiao Wang which includes letters, signs, and symbols representing ASL, deaf culture, and coffee.
Address: 625B H St NE, Washington, DC
9. Church – Ketchum, Idaho
While there aren't any official Bible quotes about coffee, we're pretty sure Jesus would approve of the caffeine jolt. Maybe not so much about a church getting turned into a coffee shop that looks like a ski lodge. But, hey, maybe the dude would have enjoyed shredding.
Address: 491 Sun Valley Road, Ketchum, ID
10. In the CIA – Langley, Virginia
Spies — they're just like us. Rumor has it that the Starbucks hidden within the CIA's headquarters in Langley, Virginia is the busiest in the world. There, at Store Number 1, baristas go through rigorous interviews and background checks.
There are also no names on cups and no rewards cards. But that doesn't mean the baristas won't remember you. One barista told the Washington Post, "There's caramel macchiato guy" and "the iced white mocha woman." So if you're trying to stay undercover, maybe don't be the person who holds up the line with your secret menu order.
Address: 1000 Colonial Farm Road, Langley, Virginia

11. Saraswati Temple Complex – Ubud, Bali
Starbucks and Bali? Interesting choice. Starbucks created this shop within the Saraswati Temple complex in a vacant storehouse. Finally, the caffeinated zen garden of our dreams.
Address: Jl. Raya Ubud 2C, Ubud Indonesia
12. Artist-Driven – Guadalajara, Mexico
This Starbucks location in Mexico features handcrafted borlas made by local artisans that mirror the brightly colored buildings within the city.
Address: Degollado 10201-207 A 202211213 Guadalajara, Jalisco, Mexico
13. Old Meets New – Al Seef, Old Dubai, UAE
No, this isn't a Starbucks at Disney's Galaxy Edge. When you think Dubai, you might think indoor skiing, but on the banks of the Dubai Creek and just next to the Al Fahidi Historical District is this striking ancient-looking Starbucks. It's even got a thatched roof to shade you from the desert sun and sells a Spinach Feta Pretzel Supreme. Which, hey, America, can you get on this?
Address: Marsa Al Seef, Dubai, United Arab Emirates
14. Apothecary-Inspired Shop – French Quarter, New Orleans
New Orleans is known for many things, including witchcraft. So it makes sense that a portion of the French Quarter store is designed to resemble an old-fashioned apothecary. What's the spell to conjure up beignets again? Ours keeps making pancakes.
Address: 700 Canal St, New Orleans, Louisiana
15. Lighthouse – Blaine, Washington
This location isn't an actual lighthouse, but it is inspired by one. We got one coffee here and we've already given our bathroom a nautical overhaul. Ahoy, maties! (That's sailor speak for "do you want cream and sugar.")
Address: 530 Peace Portal Dr, Blaine, WA
16. Pink Starbucks Store – Grand Turk, Turks & Caicos
On Wednesdays, we wear pink and then fly to Turks & Caicos to visit this perfectly pastel shop and grab a Serious Strawberry Frappuccino. Oh look, we forgot to by a return ticket. That's weird.
Address: Unit 10b and 10c Grand Turk Cruise Center, TKCA 1ZZ, Turks & Caicos Islands
17. The Largest Starbucks in the World – Chicago, Illinois
The Starbucks Reserve Roastery Chicago is home to the world's largest Starbucks. Located on The Magnificent Mile, sits the five-story and 35,000 square feet Roastery. Go there for interactive tours, on-site roasting, a rooftop deck, and exclusive drinks. And to tour a coffeehouse approximately… quick calculation… 50 times larger than our apartment.
Address: 646 Michigan Ave, Chicago, Illinois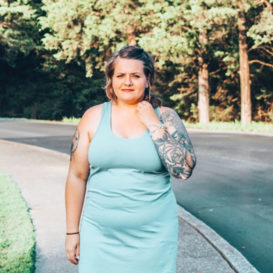 Latest posts by Ashley Hubbard
(see all)