The Starbucks Pink Drink is the coffee chain's fake-it-til-you-make-it drink. The rags to riches drink. The, "if you build it, they will come" drink.
And no, we're not being completely dramatic here. The Pink Drink was originally a "secret menu" customer creation after it took off on Instagram in 2016. Makeup artist and beauty YouTuber James Charles helped it gain further popularity, and finally, in 2017, Starbucks added it as an official menu item.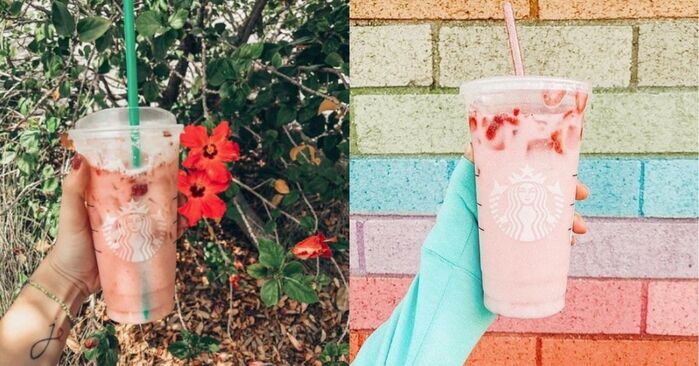 The Pink Drink proves we can make corporations bend to our will. Next, we'll come after that non-dairy milk up-charge. Or maybe we've had too many cups of ambition this morning.
In honor of this grassroots feat, here's everything you need to know about the game-changing Starbucks Pink Drink.
What Is the Starbucks Pink Drink?
The Starbucks Pink Drink uses the Strawberry Açaí Starbucks Refresher base which has hints of passion fruit and açai. But the barista adds coconut milk, instead of water, and tops it off with fresh strawberries, blackberries, or both to add texture, color, and flavor. It does have a teensy tiny bit of caffeine in it, as there's some green coffee extract in the Refresher base. But we wouldn't bank on this being a replacement for espresso.
There is some confusing information out there that the Pink Drink is the Strawberry Açaí Starbucks Refresher, but that's not true. They aren't often seen in the same place at the same time. Like Batman and Bruce Wayne. No, but really, they're not the same.
The coconut milk is, of course, what gives the beverage that milky pink shade that Instagram loves so much. We called that Pepto Bismol back in our day, but that was before we had better tasting things to cure hangovers.
What Does the Starbucks Pink Drink Taste Like?
According to the official Starbucks description, this drink tastes like a "fruity and refreshing sip of spring."
People who aren't on Starbucks' marketing team compare it to a lighter version of strawberry milk, the yogurt-based Asian beverage Calpico, or even strawberry Starbursts. We guess everyone really does have different taste buds. Just stop hating on our cilantro or our taste in men, okay?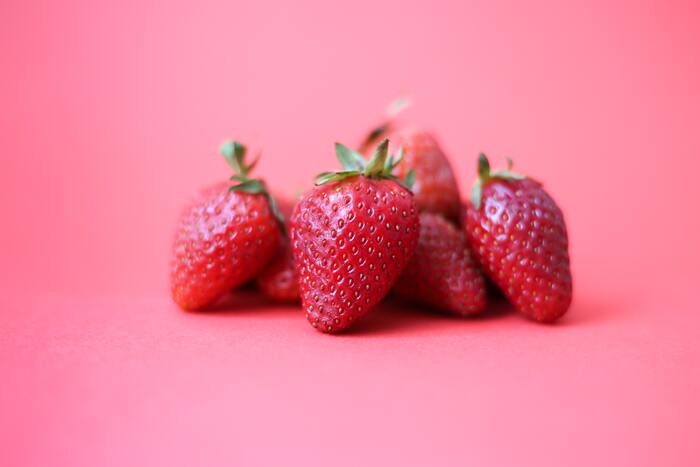 How to Customize the Starbucks Pink Drink
Add cold foam. You can ask for sweet cream cold foam, matcha cold foam, chocolate cream cold foam, or vanilla cold foam.
Make it keto-friendly. Order a sugar-free passion iced tea with sugar-free vanilla syrup, heavy cream, and freeze-dried strawberries.
Make it vegan. Surprise! The Pink Drink is vegan as-is. For once, they don't have to customize anything. Take that, ketos.
Order it 'skinny.' Order a Venti unsweetened Passion tea with no water. Then, ask for light coconut milk, two pumps of sugar-free vanilla syrup, and two Stevia. Don't forget the strawberry inclusions and a tip for your barista!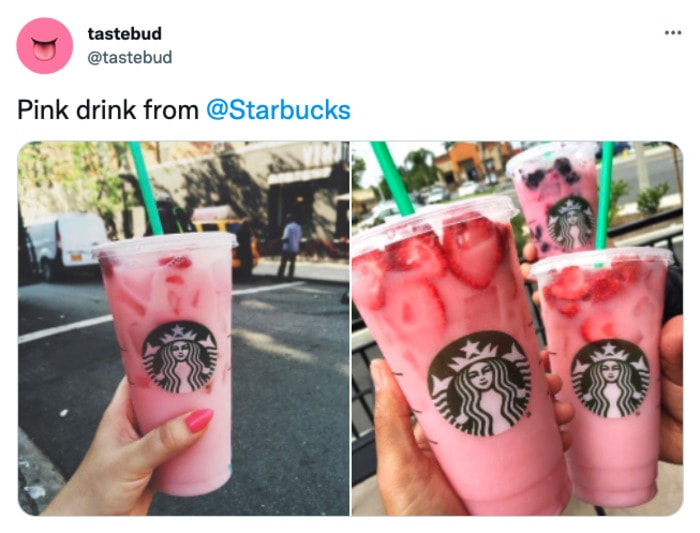 Starbucks Pink Drink Secret Menu Ideas
1. Matcha Pink Drink
Ask for 3 parts Pink Drink.
Ask for 1 part of matcha coconut milk on the rocks.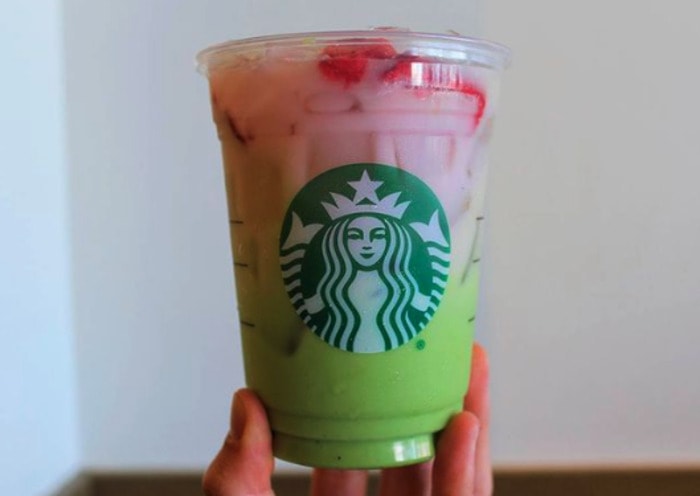 2. Chocolate Pink Drink
Order a Venti Pink Drink.
Add vanilla sweet cream cold foam.
Ask for 2 pumps of chocolate mocha syrup in the foam.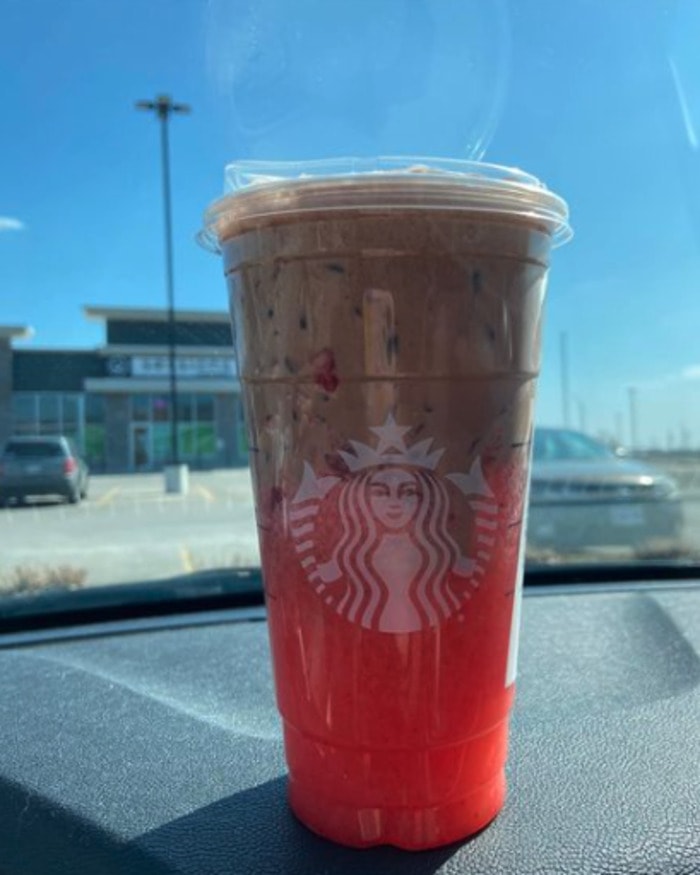 3. Ombré Pink Drink
Order a Violet Drink or Dragon Drink.
Top with Passion Tango Tea.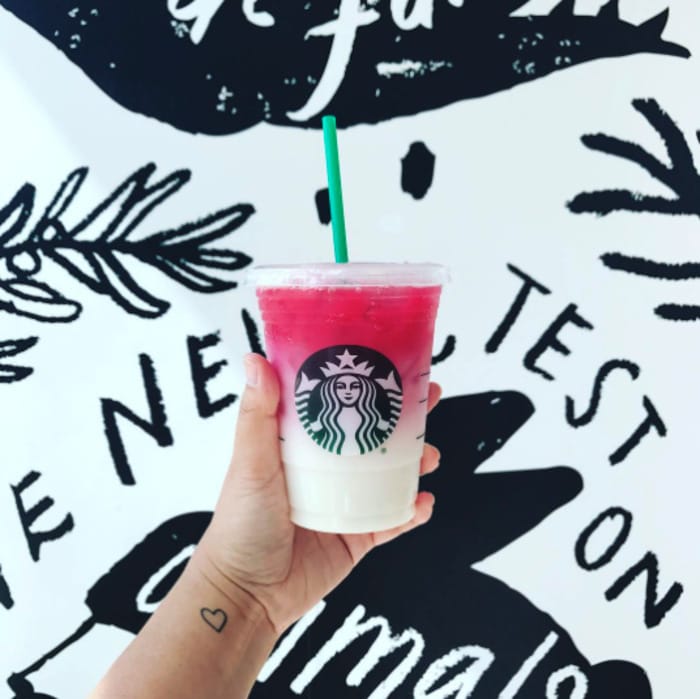 4. Blended Pink Drink
Order a Pink Drink with extra ice and strawberry puree.
Ask for it to be double-blended.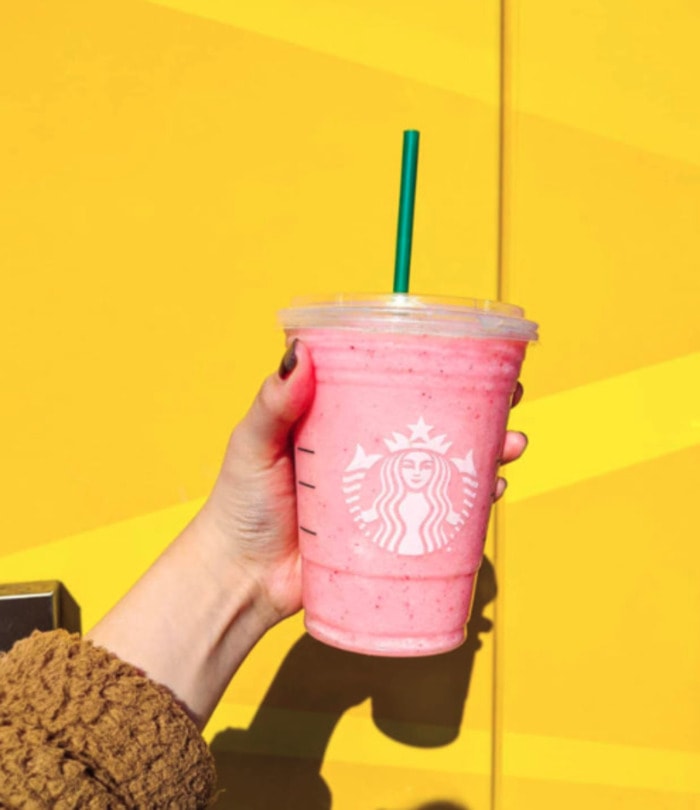 5. Pink Starburst Refresher
Order a Venti Pink Drink.
Add 2 pumps each of white mocha and vanilla.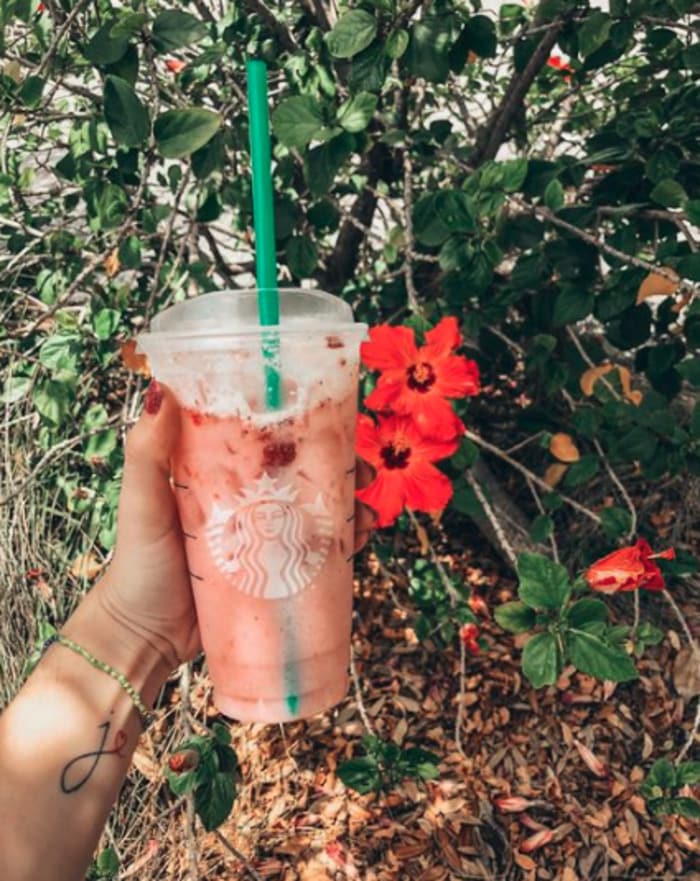 6. Pink and Purple Drink
Order a Passion Tango Iced Tea.
Add soy milk.
Add vanilla syrup.
Add 3 scoops of strawberries.
Add vanilla sweet cream cold foam with strawberry puree blended into foam
7. The Spring Blossom Drink
Order a grande Pink Drink.
Add 2 pumps of vanilla syrup.
Add sweet cream cold foam blended with 1 scoop of matcha and 1 pump of raspberry.
8. Chocolate Covered Strawberry
Order the Pink Drink
Add Vanilla Sweet Cream Cold Foam
Add mocha in the foam
9. The Material Girl
Order a Grande Pink Drink
Add strawberry puree
Add 3 pumps white mocha
Add Vanilla Sweet Cold Foam
10. Strawberries and Peach
Order the Pink Drink
Add raspberry syrup
Add Vanilla Sweet Cream Cold Foam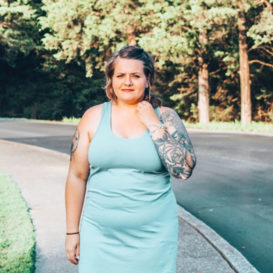 Latest posts by Ashley Hubbard
(see all)