Coffee and espresso lovers are always ready for the newest trend, whether that's cold brew, mushroom coffee, or the arm workout that is Dalgona.
But, there's one trend that has been slowly growing in popularity every summer: the espresso tonic. While the coffee drink hasn't yet made it onto the menus of larger coffee shop chains, we've noticed it starting to pop up on a fair number of local, independently-owned shops all across the country.
What Is An Espresso Tonic?
Espresso Tonic is made of two very unexpected ingredients: espresso and tonic water. We were surprised too. Almost as surprised as we were to find out the plot of Snakes on a Plane.
There's one rumor that it originated at Sweden's Koppi Roasters. Legend has it that the cafe owners came up with the mixture with leftovers from a company party. It was a smash hit and added to the menu at the cafe in short order.
But, according to Bon Appetit, Espresso Soda or Sparking Coffee has actually been around in America since the 1800s, and longer in Europe.
Either way, it started popping up around 2015 in local coffee shops all the United States including Stumptown Coffee, Dayglow, and, recently at Los Angeles's Coffee Memes.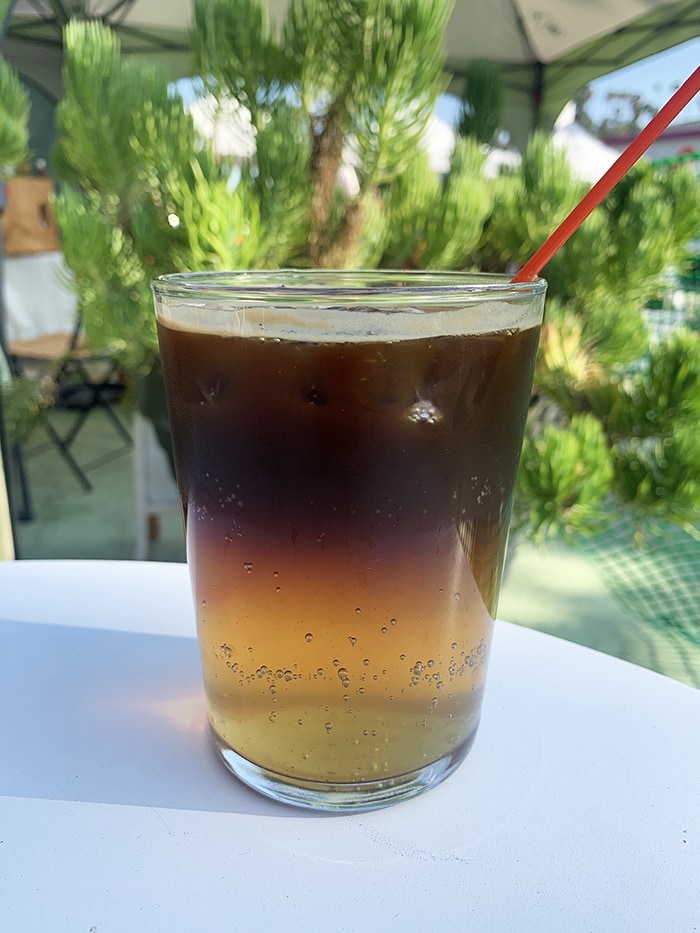 Drinking espresso and fizzy water together might sound strange, but consider that in Italy, espresso bars traditionally serve a shot of espresso paired with a shot glass of carbonated water.
Curtis Park, the owner of Coffee Memes explains, "A traditional espresso and tonic beverage has just like tonic water, which has quinine. That gives it that distinctive taste and sparkle. It's like a classic Italian coffee cocktail."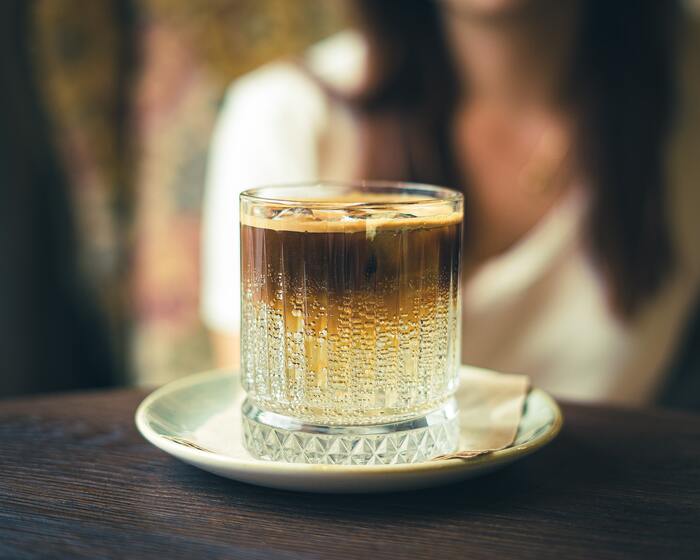 What Does the Espresso Tonic Taste Like?
In theory, the Espresso Tonic sounds like it shouldn't work. But, it actually ends up tasting a bit like a coffee-flavored soda. Or, if there's a fruit infusion like the one served at Coffee Memes, a non-alcoholic Negroni.
Tonic water is made of water, carbon dioxide, and natural alkaloid called quinine. Quinine has a naturally bitter flavor, which is why most tonic waters have added sugar in them to make them more palatable. Kind of like how politicians have dogs to make them seem more likable.
When mixed with espresso, the tonic counters the natural acidity that coffee has. The result is a citrusy, fresh, drink that has a slight fizz from the tonic water.
Park says his decision to add apricot essence to their espresso, matcha, and chai tonics was an homage to his roots. "I'm Korean and I was raised with this great apricot concentrate. My mom would feed it to me when I was little. Whenever I had an upset stomach. Or when I needed to rehydrate. I don't think any of it is scientifically proven, but, you know, it's always been passed on for generations." (The traditional version of maesil-cha is made using Green Apricot Plums and sugar.)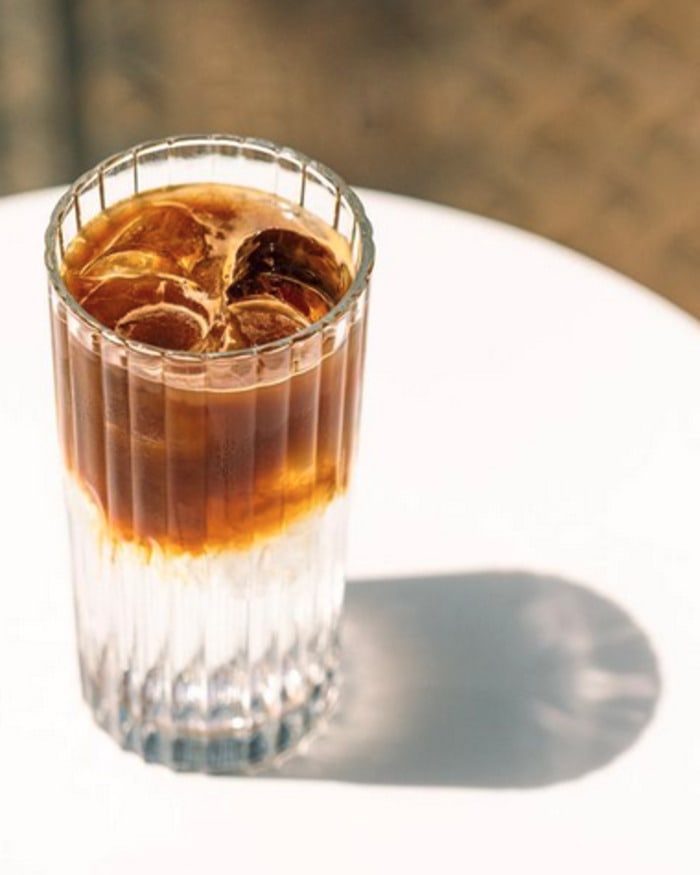 How to Make a Good Espresso Tonic?
Espresso Tonic
Print Recipe
Here's how to make the fizzy coffee drink at home.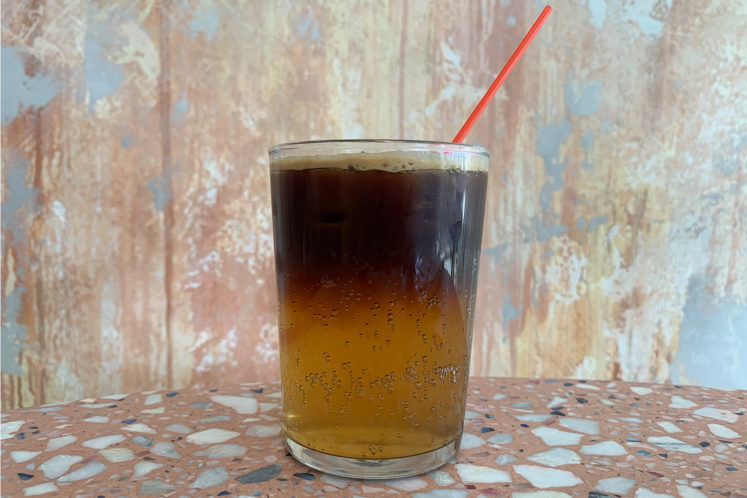 Servings: 1 drink
Ingredients
1 cup ice
⅔ cup tonic water
1 shot espresso
1 tsp simple syrup (optional)
1 maraschino cherry (or slice of orange peel, lemon, or lime (optional))
Instructions
Fill cup with ice.

Add tonic water.

Make espresso and pour on top of tonic.

Add simple syrup. (Optional.)

Add maraschino cherry, slice of orange peel, or slice of lemon or lime. (Optional.)
Notes
Calorie count does not include simple syrup.
Tips:
We prefer Fever Tree tonic water as it comes in eight different flavors, including rosemary and lemon thyme.
Unless you like bitter things, add the simple syrup.
Nutrition Facts
Espresso Tonic
Amount Per Serving (1 drink)
Calories 54
* Percent Daily Values are based on a 2000 calorie diet.
Did you make this recipe?
Leave a review below, then take a photo and tag @letseatcakeblog on Instagram so we can see it!
Or just watch the video below.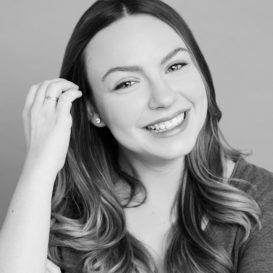 Latest posts by Katie Schindelheim
(see all)