Starbucks is well known for their quick coffee, seasonal drinks, Instagrammable tumblers, and viral TikTok concoctions that inevitably annoy the baristas. But out of all the beverages they offer, what are the best Starbucks drinks you can get?
So glad you asked! I took my taste buds (and caffeine tolerance) on an adventure to try the most popular drinks on the Starbucks menu. We tried the best-selling Pumpkin Spice Latte, the viral Pink Drink, the classic Caramel Frappuccino, and – for the coffee traditionalists – a plain Americano.
And about 16 more. I'm really close with our barista now and am pretty sure I'm invited to her wedding next week.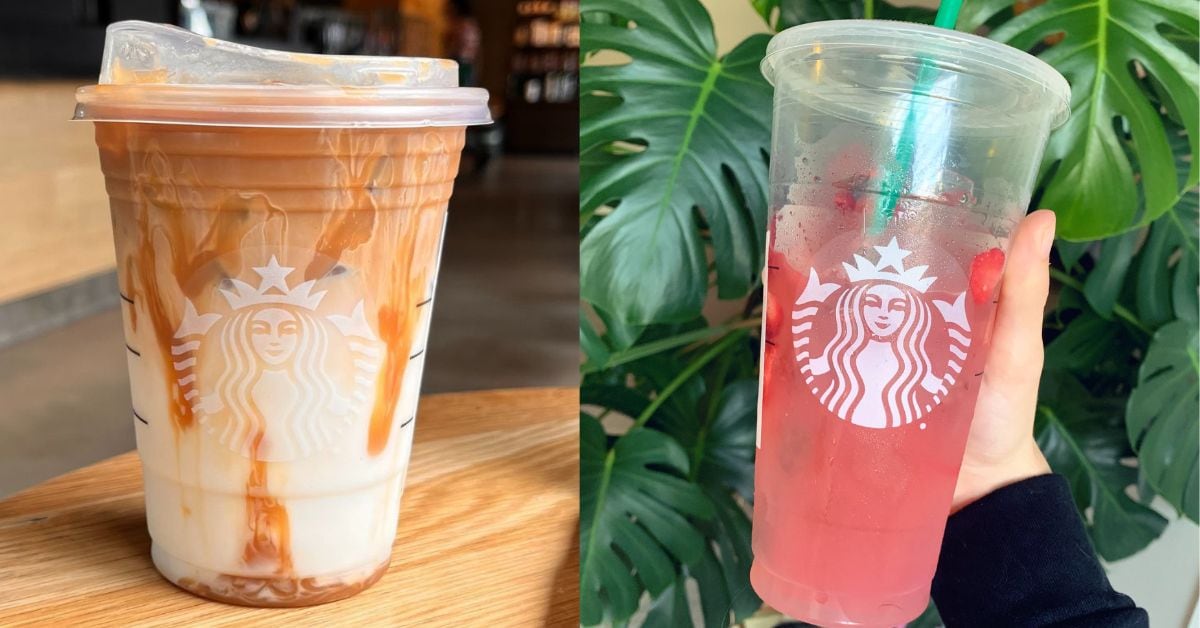 Anyway, after more espresso shots than our body can take, more vanilla syrup than any doctor would recommend, and surprisingly less caramel drizzle than I want my coffee, I put together this list of the best Starbucks drinks listed from favorite to least favorite.
Our Official Ranking of the 20 Best Starbucks Drinks
1. Iced Brown Sugar Oatmilk Shaken Espresso
Our favorite Starbucks drink is the Iced Brown Sugar Oatmilk Shaken Espresso. Sure the name of this coffee is longer than the name of certain Game of Thrones characters, and it might take you the whole morning to order it.
The brown sugar brings in a subtle caramel taste without hiding the real taste of coffee completely. The oat milk makes it nice and creamy, and the "shaken" aspect amplifies the frothiness. Maybe James Bond really was onto something. Other than Le Chiffre.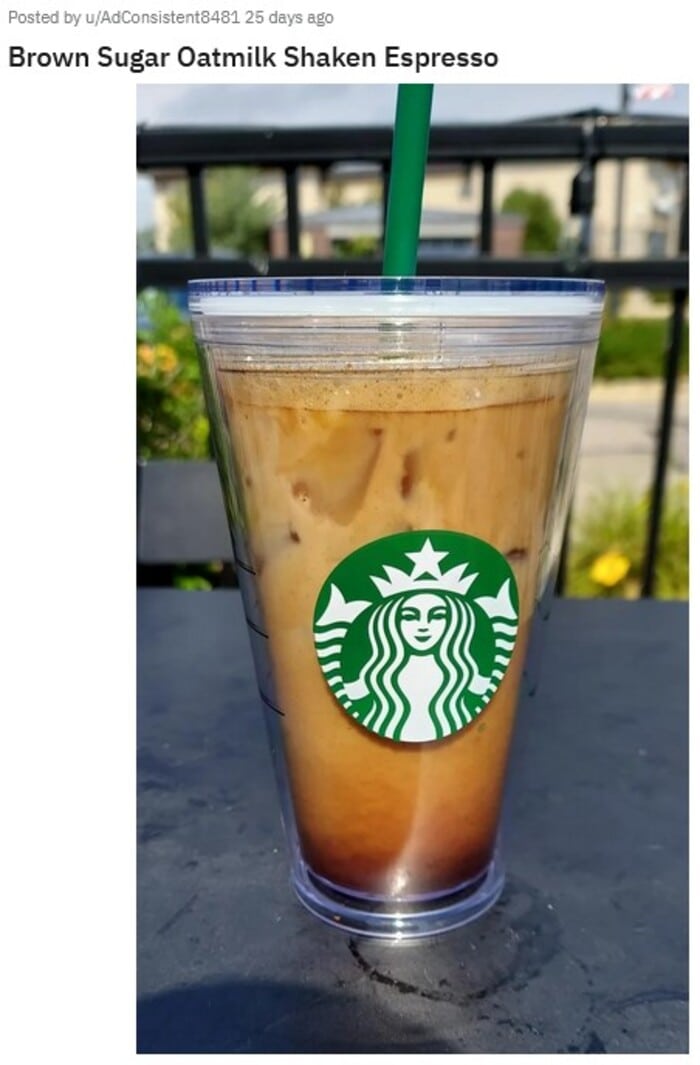 2. Caramel Frappuccino
Does anyone even actually blend the whipped cream with the coffee, or do you just devour it first too? Even without the whipped cream mixed in, we thought that this Starbucks drink would taste more like coffee, which it does not.
Still, it comes in at spot number two. The classic Caramel Frappuccino is sweet, has a hint of coffee flavor, a very creamy texture, and a loads of caramel flavor. If you don't like coffee, but still need that caffeine boost, this one's for you. Hope you don't mind if sugar tags along.
3. Mocha Frappuccino
You know that chocolate milk you loved as a child? Say hello to its counterpart, the Mocha Frappuccino. As you would think, it's super chocolaty and creamy. It is almost like a liquid brownie.
If you're the type of person who drinks iced coffee in the winter, you'll love this Starbucks drink. Also, have you considered moving to a warmer climate?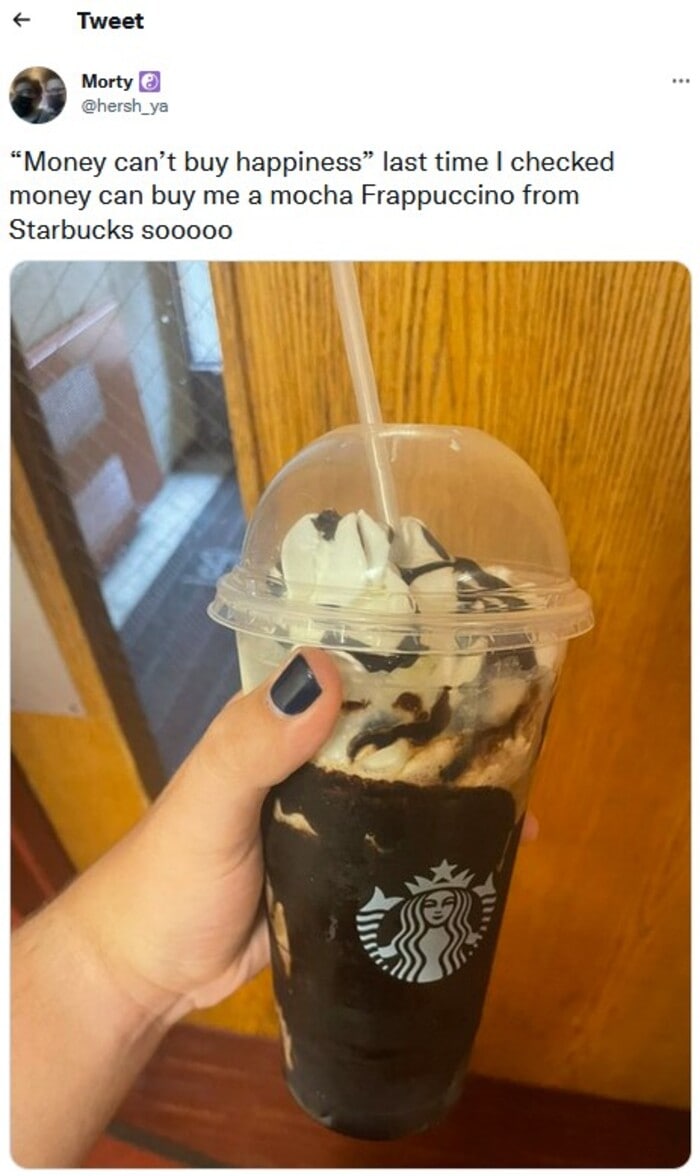 4. Pumpkin Spice Latte
It's really no surprise that the Pumpkin Spice Latte is high on this list. Even if John Oliver is right that it does taste like drinking a candle.
If I was playing FMK with Starbucks drinks, this is absolutely, and without a doubt, Starbucks beverage we'd marry for cuffing season. Every single sip of the PSL tastes like creamy, sweet, cinnamon-y seasonal goodness. And gives me the odd desire to wear an infinity scarf and hibernate in an apple orchard.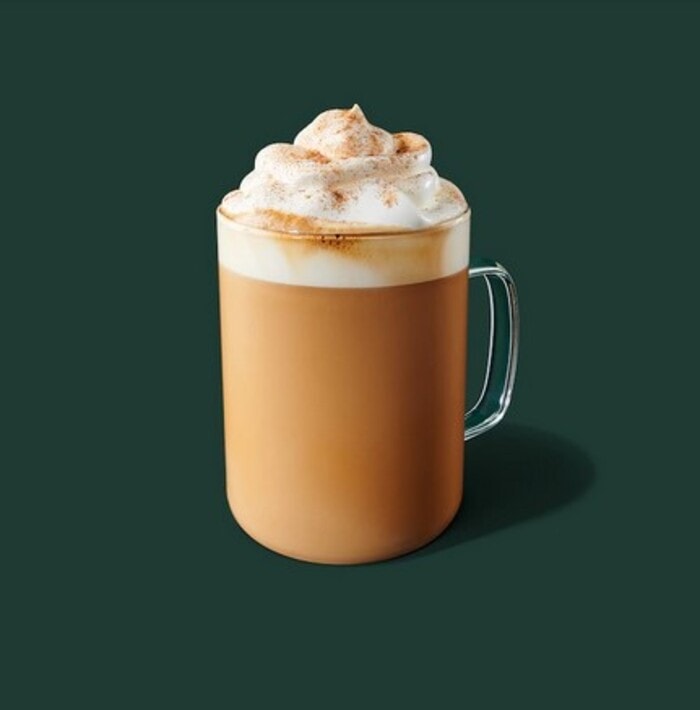 5. Iced Salted Maple Caramel Latte
After the success of the PSL, Starbucks expanded their collection of specialty fall drinks to include this iced beverage with the perfect caramel-to-coffee ratio. Most caramel-flavored drinks lose the taste of coffee along the way, but this one doesn't. It did get lost on its way across the pond though, as it's only available in the UK.
The only downside is that the salted maple flavor is a little light. It's still tasty, but a die-hard Vermonter would be upset. Thankfully, they carry a flask of maple syrup for occasions just like this. Maybe they'll share.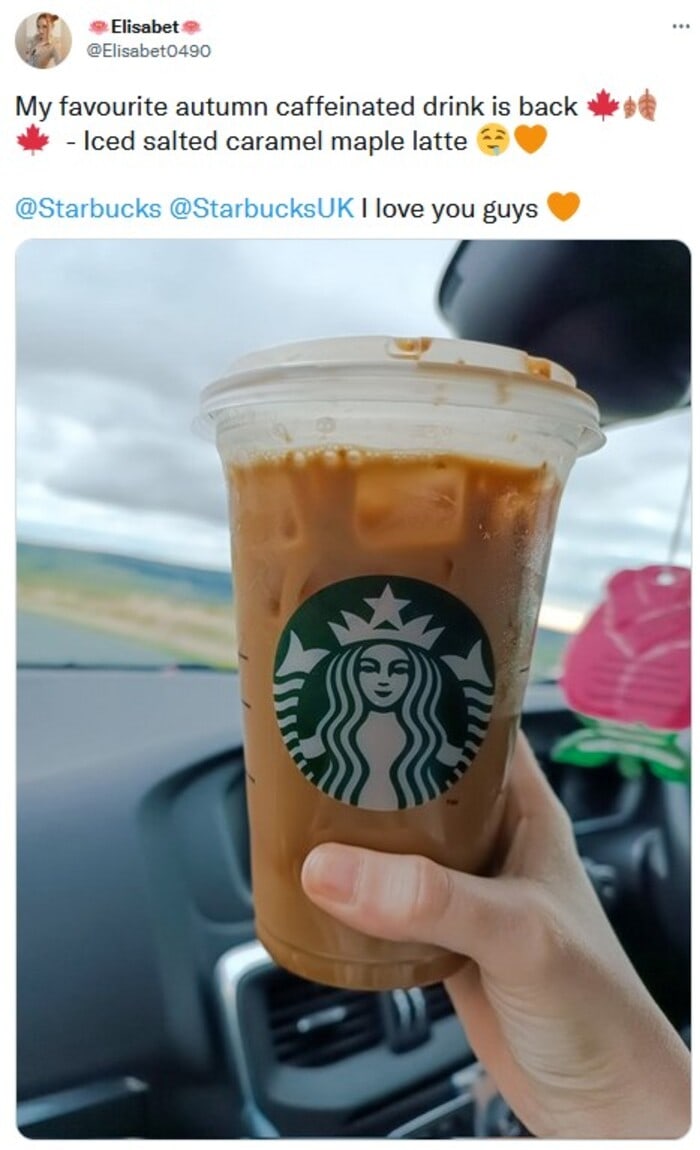 6. Caffè Mocha
If you want a more sophisticated version of the Mocha Frappuccino, you'll want to try the Caffè Mocha. Just look at that accent – I feel fancy already.
The mocha comes in both iced and hot versions, and has a stronger coffee flavor than the frapp. Drinking this felt like we were hanging out with George Clooney. It's smooth and luxurious, but it doesn't try too hard. It made us all tingly inside, and…okay maybe that's just us thinking about George Clooney. Anyway, this drink is solid.
7. Caramel Macchiato
If you like to flex your knowledge of coffee terminology but don't really enjoy the taste of coffee, the Caramel Macchiato is for you. It tastes more like caramel syrup mixed with skim milk.
In Italian, "macchiato" means marked. As in, the espresso is "marked" with a small amount of milk. Starbucks took that definition and threw it into the coffee grinder, since their version has a whole lot of milk, plus coffee and caramel. What's in a name, anyway? Er, except for you, Karen.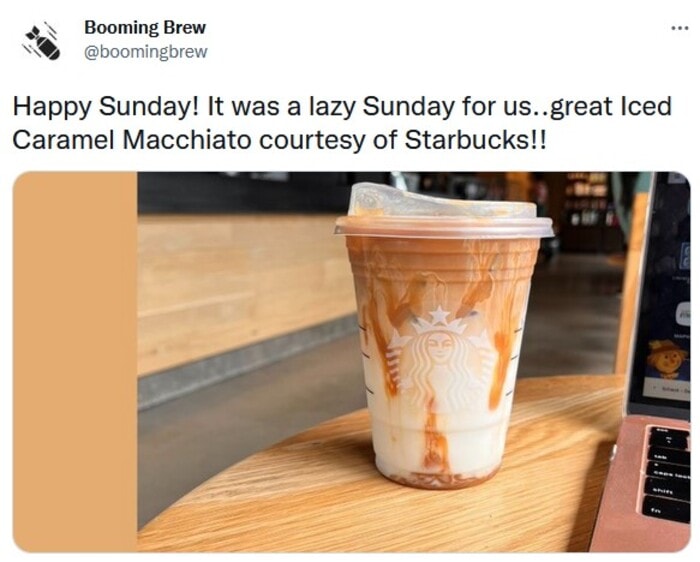 8. Pumpkin Cream Cold Brew
The PSL walked so the Pumpkin Cream Cold Brew could run. But it was so hyped up on caffeine that it sprinted right into a gate and then fell asleep in a pumpkin patch.
This Starbucks drink tastes mostly like coffee with a bitter pumpkin aftertaste. It wasn't my favorite, as the bitter taste of the cold brew drink was too intense for me.
9. Iced Latte
This Starbucks drink is your classic iced coffee with milk that you can order anywhere. It's solid. It will make you feel secure in your coffee order. But is it special? Meh.
You can order it with any kind of milk you want: whole milk, almond, coconut, soy, oat, or whatever the latest nut milking trend is. The drink doesn't come standard with a sweetener, but that can be added in as well. It's the nice guy of drinks.
10. Iced Americano
For an Iced Americano, take the Iced Latte and hold the milk. Without the creaminess to cut the espresso, it tastes much stronger and more bitter. Like us before coffee.
11. Iced Hibiscus Tea
This posh, caffeine-free pinkish-red Starbucks drink is refreshing and has a fruity flavor. It's sweet, but not sickly. However, the fruity flavor will become watered down if you let it sit and suddenly you'll be drinking tinted water. Which means its still a step above La Croix.
12. Pink Drink
Just for the number of times that this drink obnoxiously popped up on my FYP on TikTok, I'd put it at the bottom. But this is a professional review. Despite the fact I'm writing it in my pajamas.
Prior judgments aside, the Pink Drink tastes like Strawberry Nesquik combined with a watered-down strawberry. It has a slightly milky texture from coconut milk, which should have helped…but really just made me want to book a tropical vacation away from it.
Overall, I don't think it deserves the hype it's acquired. But if you have a sweet tooth and love strawberries, then it could potentially be a winner for you. We'll await your review as we lounge on the beach in Bora Bora.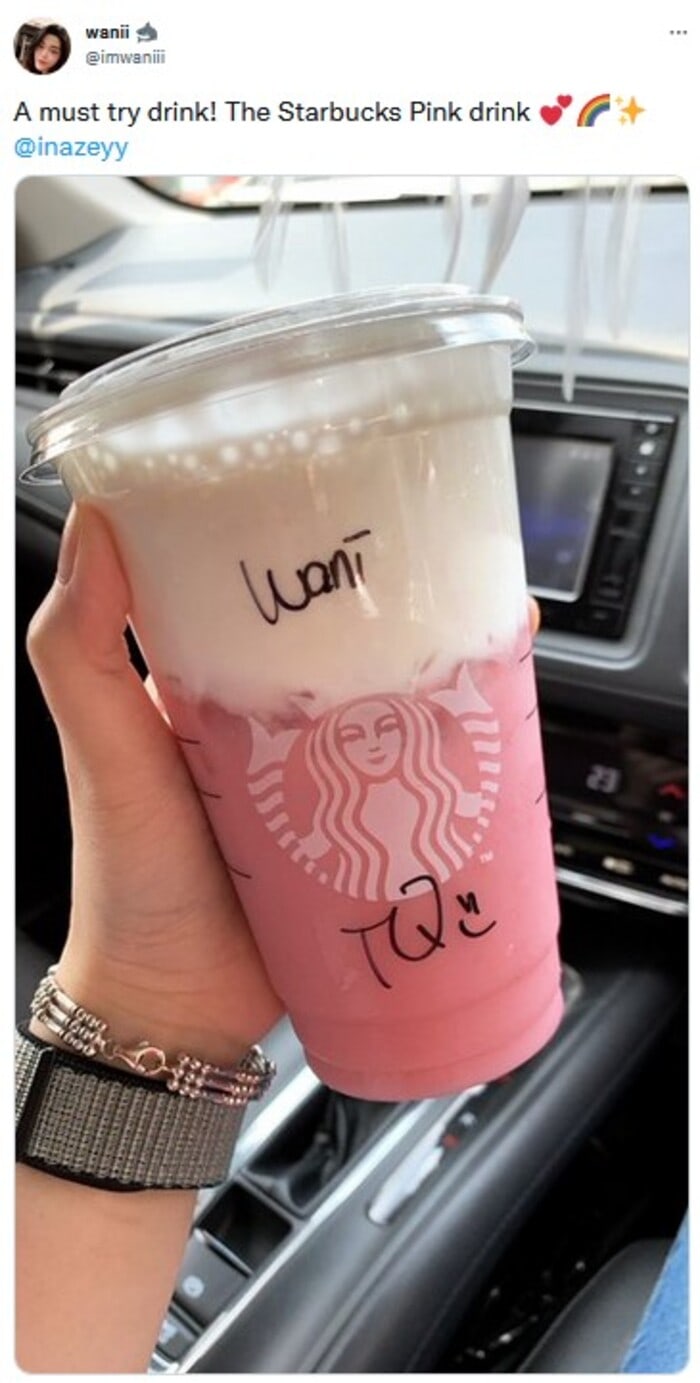 13. Almondmilk Honey Flat White
For my review, I unintentionally got the fancier version of this coffee. The Starbucks location I went to was out of honey syrup, so instead, they used real honey. Now, why would they make a "honey" drink with honey syrup if they have real honey? I'll be spiraling in an existential crisis while I await the answer.
The drink itself wasn't bad. It just tasted like a mix of almond milk with honey and coffee. And, because of its lack of personality, it falls into the second half of this ranking.
https://www.instagram.com/p/B77XhuVgCRp/
14. White Chocolate Mocha
I was so excited about this drink that I set my expectations too high. The flavor of coffee is barely there, and it tastes more like milk mixed with sugar with a drop of mocha. Perfect if you're looking for a sugar high and have misplaced your Pixie Stix.
The first sip of the White Chocolate Mocha felt like biting into a slice of week-old cold pizza. You know it should taste good. It has all the right elements to make it taste good. But ultimately, it's going to make your stomach churn a bit too much for a Wednesday morning.
15. Chai Tea Latte
Apart from the two pounds of cinnamon, the Chai Tea Latte was okay. But it was mainly giving watered down English Tea vibes with cinnamon. Did we mention the cinnamon?
If spiced tea is your thing, then this is definitely not the worst cinnamon beverage you could drink. Sprinkle of cinnamon, anyone?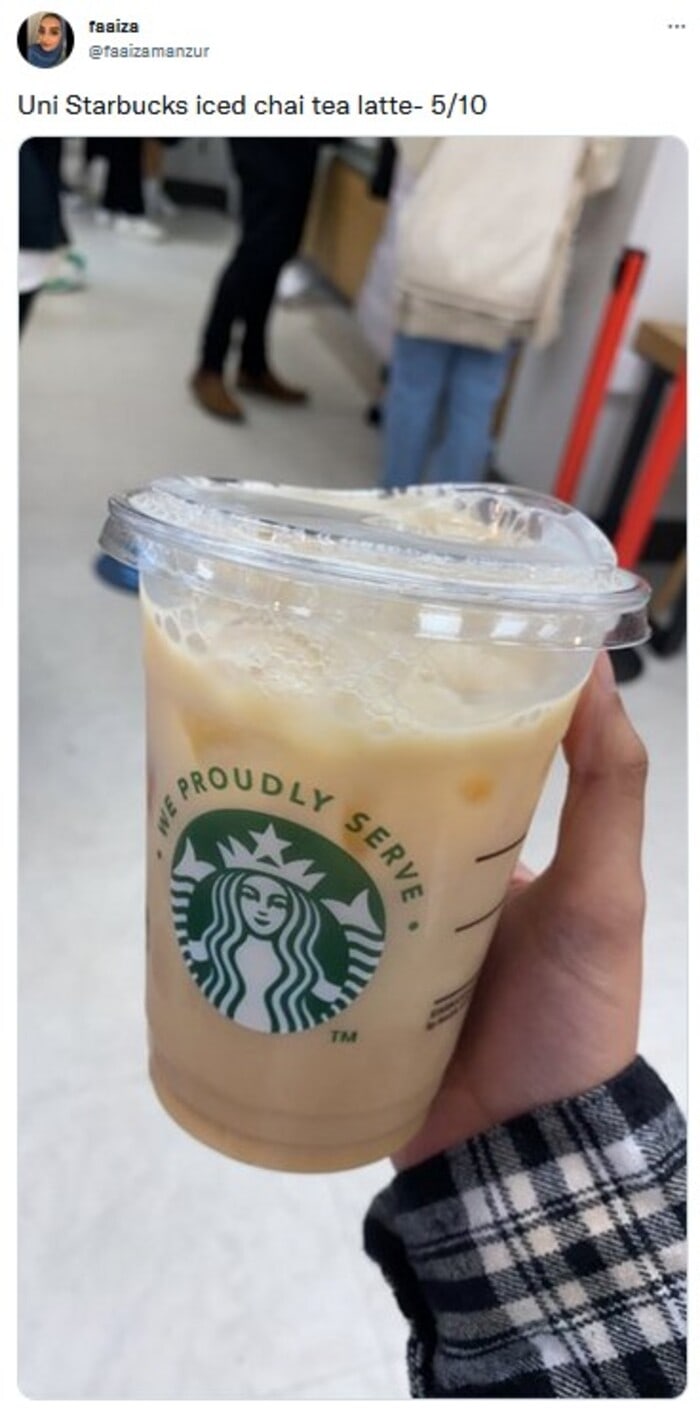 16. Peppermint Mocha
There are two types of people in this world: The ones that love mint chocolate, and the ones that hate it. If you were guessing, I'm the second one.
Despite that, the Peppermint Mocha wasn't bad at all. It combines warm mocha with a fresh aftertaste of peppermint. I know people love this one, but for me, it tasted like drinking hot chocolate with chewing gum in your mouth. But I've had worse. (See below.)

17. Nitro Cold Brew Coffee
For me, the Nitro Cold Brew is a 1/10. But, if you prefer coffee without milk or sugar, you'll probably give it an 8/10. The cold brew has a lovely velvety consistency on top, which is nice for the people who love "coffee" coffee. Or caffeine.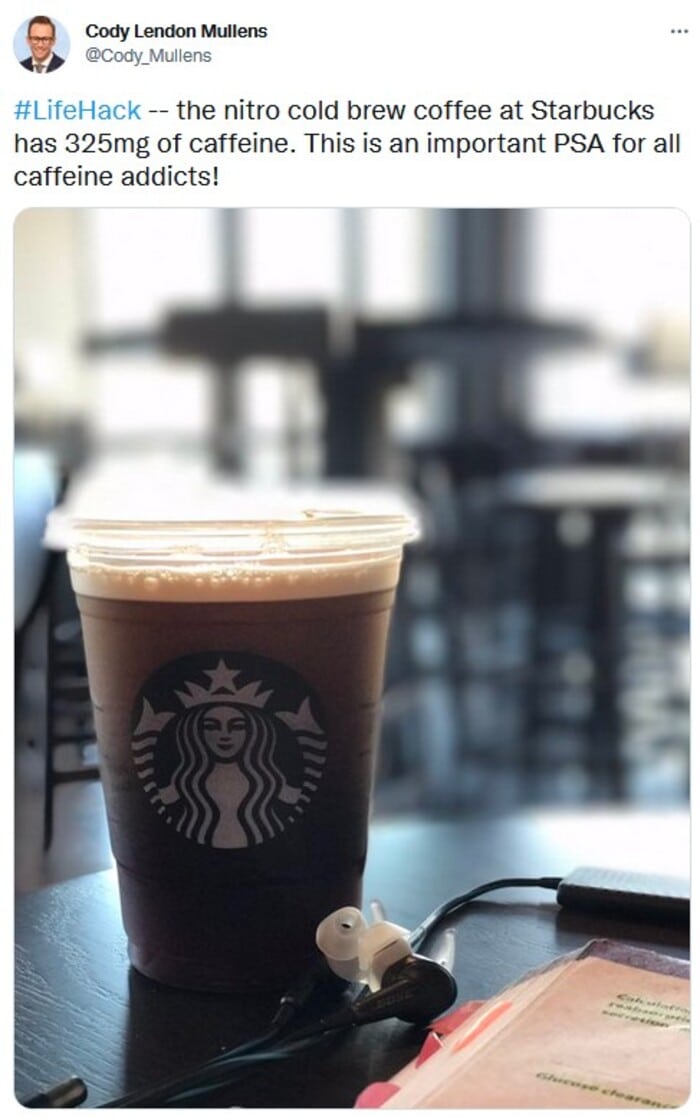 18. Vanilla Sweet Cream Cold Brew
Remember that Pumpkin Cream Cold Brew from earlier? Meet its cousin that is not getting invited back to any of our parties: the Vanilla Sweet Cream Cold Brew.
Although the name makes it sounds promising, I thought it tasted like burnt coffee mixed with something sweet that is supposed to be vanilla cream. In reality, it didn't taste strongly of vanilla. Instead, it tasted more like the smell of soggy cardboard.
19. Strawberry Açai Refresher
We get that people are into the Refreshers, but, to me, this drink tasted like a melted ice cream popsicle. And somehow, it was also sour. I'll acknowledge that many people like to customize it with different syrups, additions, and bases. But all of that work for a drink without any caffeine? I'll pass.
20. Matcha Latte
It's giving cow milk with a side of grass in a Starbucks cup. How is this drink so popular? Do people drink it with non-dairy milk? Do they add syrups to it? Is grass a part of their diet?
I love green tea, but after finishing the Matcha Latte, I can confirm that fancy powdered green tea is not for me.
After I tested this green monster, my friend informed me that she swears by this drink when it's made with coconut milk and vanilla syrup. So we'll leave you with the suggestion that you should try a matcha latte made like that. You know, if you want to give this grass drink a go.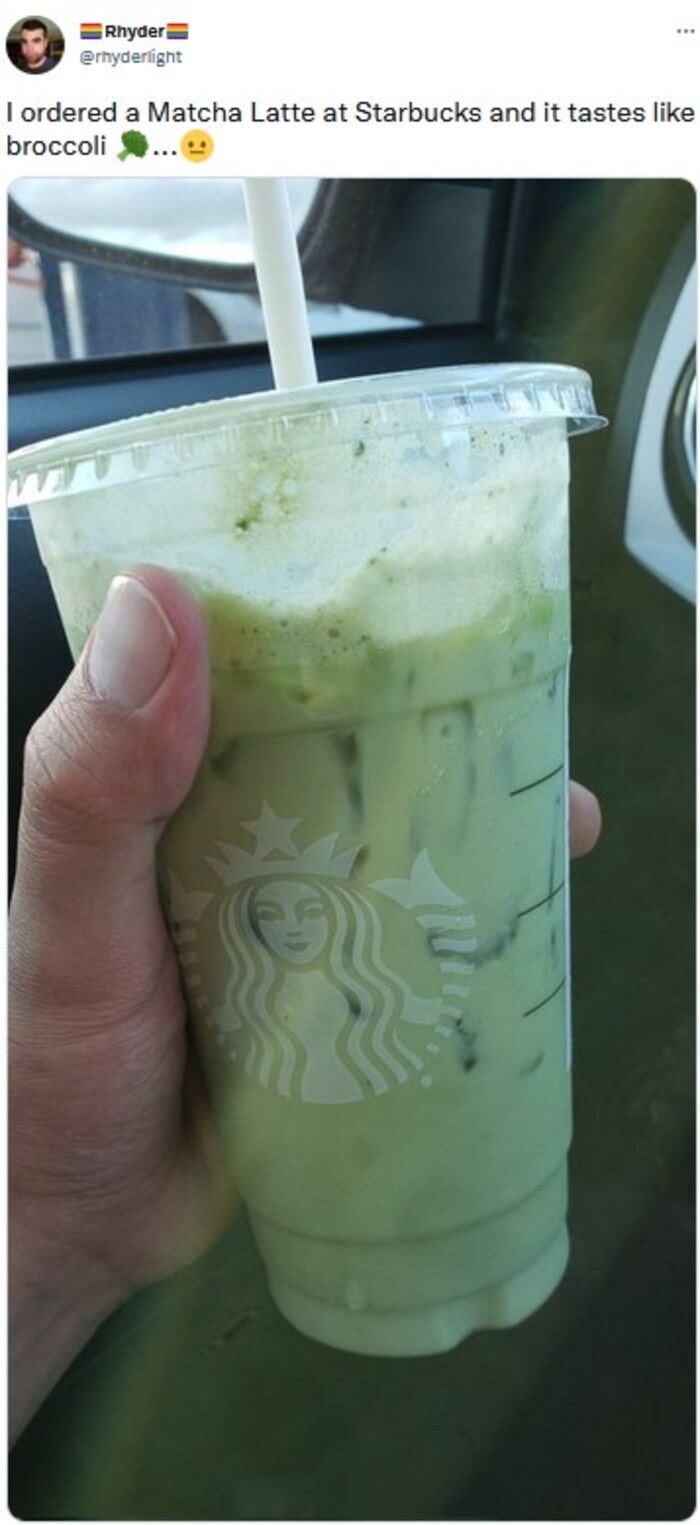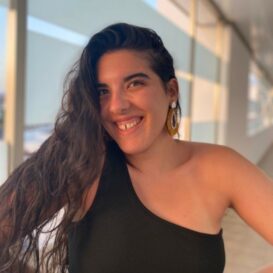 Latest posts by Nora Garcia
(see all)