The charcuterie trend has taken the world by storm, because who doesn't love adult Lunchables? And, as a result, there are so many creative charcuterie board ideas to make your basic meat and cheese combo TikTok-worthy. These creations look pretty, are easy to make, and are a totally acceptable way to consume a whole block of cheddar in one sitting.
Or whatever cheese you prefer. Our favorite's gouda.
And if you're trying to diversify your eating options, you're in luck! The Internet has given "charcuterie" boards a whole new meaning with variations that will please the pickiest person in the room. There's sweet treats, vegan foods, holiday-themed boards, and more, all placed beautifully on a board.
Or a plate. Or the coffee table, if you ran out of all your clean dishes. Whatever your taste and the dietary restrictions of your friend group are, these charcuterie board ideas will make you the coolest host on the block.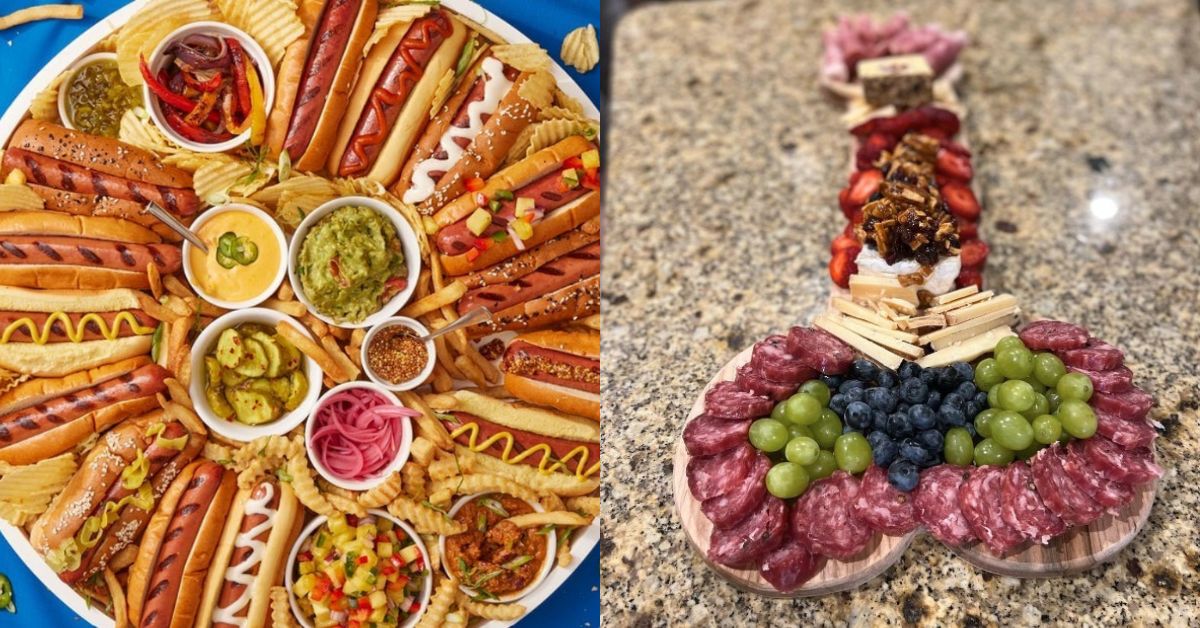 22 Unconventional Charcuterie Board Ideas
1. Rainbow Charcuterie Board
They say it's important to include lots of colors into your diet, and this gorgeous charcuterie board covers them all. Not sure this is actually a rainbow? Squint harder.
2. Bagel Charcuterie Board
A New Yorker may call this blasphemy, but we call this our perfect weekend breakfast. Look, we saved you all the kiwi!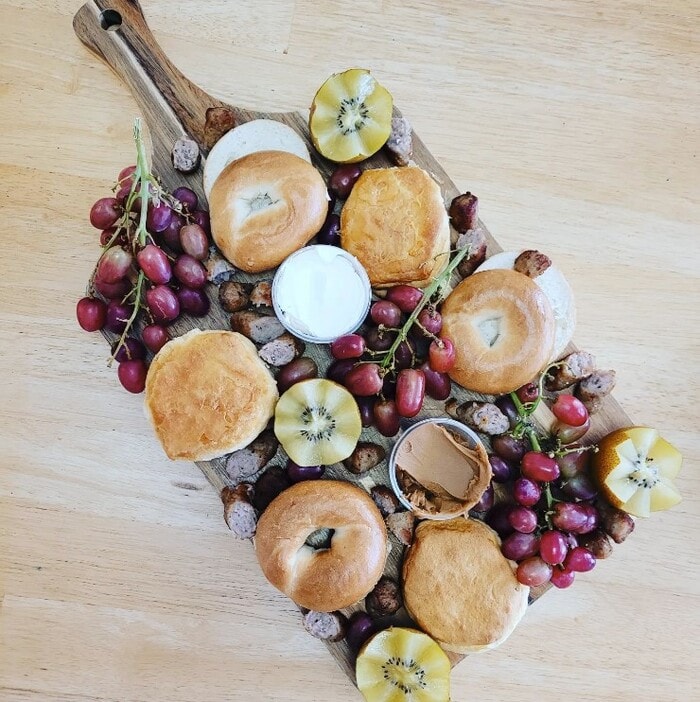 3. Butter Charcuterie Board
Butter boards may just be charcuterie boards that jumped the shark, but we're kind of obsessed. Are they impractical? Sure. But do they let us live our intrusive thoughts of covering everything in a creamy, delicious layer of butter? Absolutely. It feels good to be seen.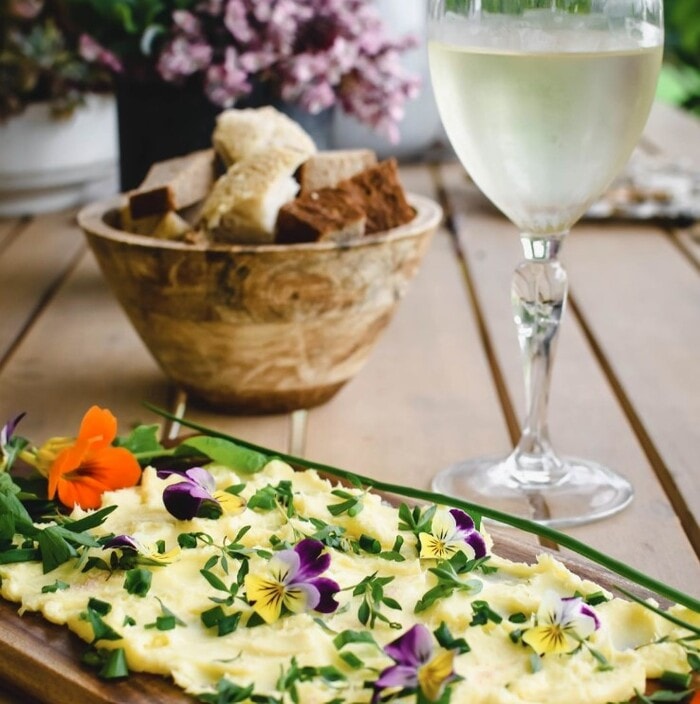 4. Bachelorette Party Charcuterie Board
Keep your raunchy straws and don't waste your money on balloons. If you're planning a bachelorette party, this creatively shaped charcuterie board takes the c…ake.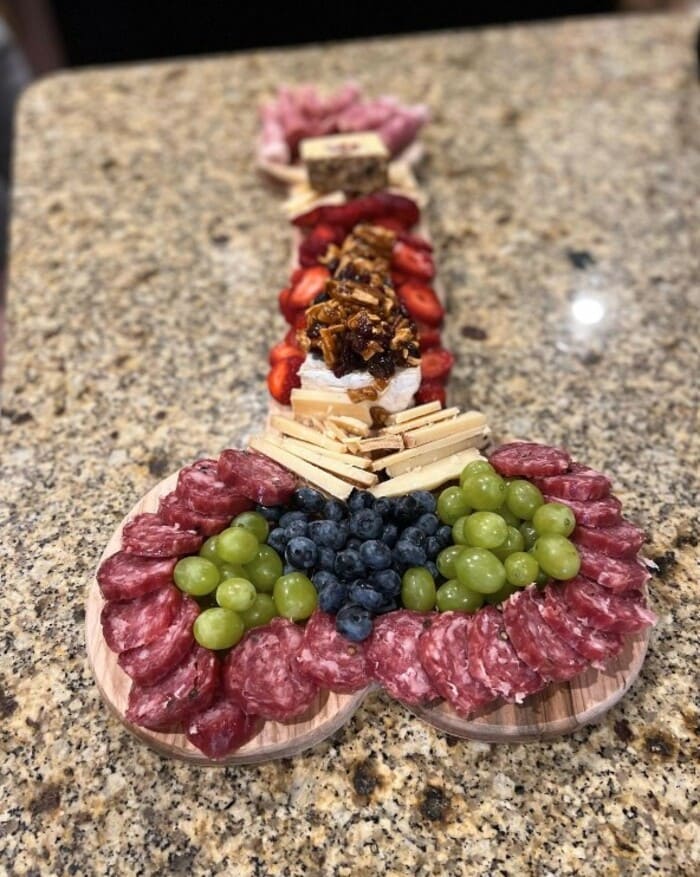 5. Christmas Charcuterie Board
If it's between decorating a real Christmas tree and designing this charcuter-tree, we'll take the second option any day. We're still not over the debacle with the string of lights from 2009. We will, however, tell you that the ornaments aren't spaced very evenly.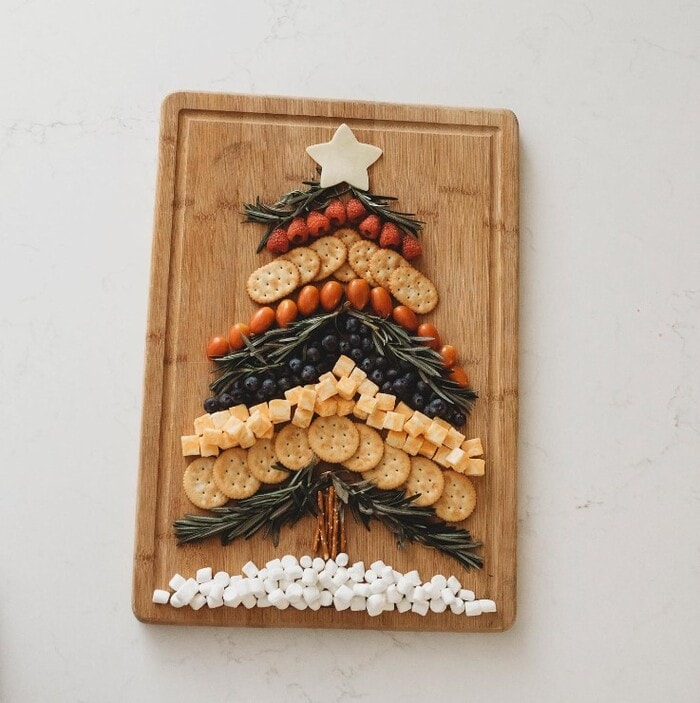 6. Sweet Treats Charcuterie Board
You know it's rough out there when Willy Wonka has to start a side business as a charcuterie board out there. Well, rough for him. We're loving this!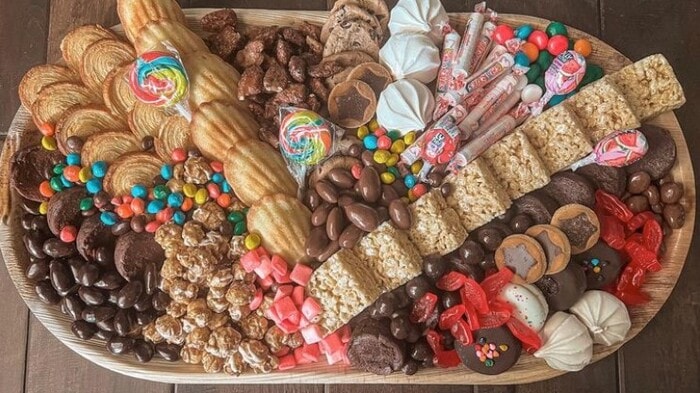 7. Baby Shower Charcuterie Board
Charcuterie boards aren't only for adults complaining about their jobs with a bottle of wine. They're also for new parents who are complaining about their jobs with a bottle of milk! And their friends who are there for moral support. And cheese.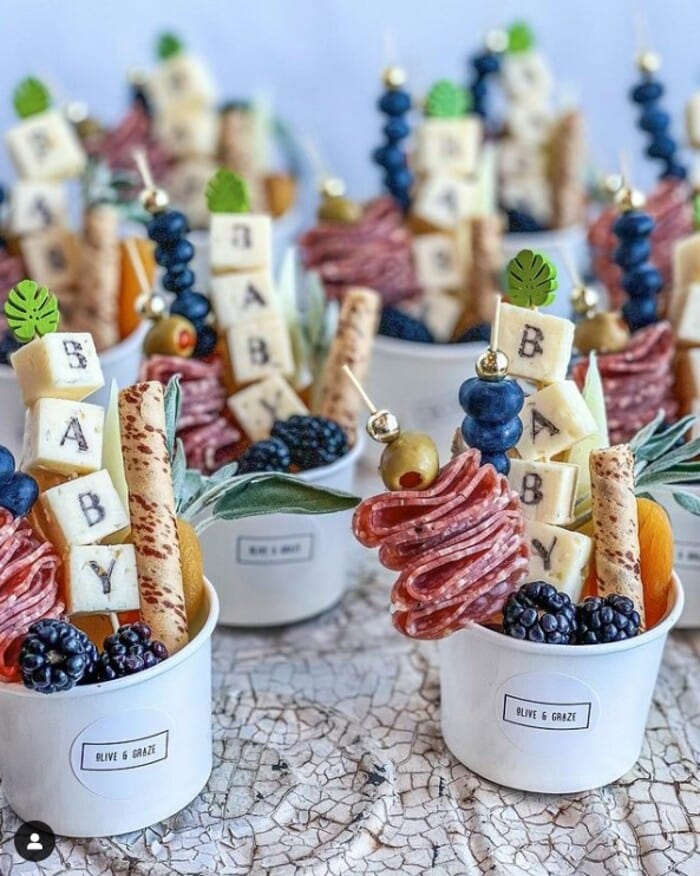 8. Movie-Themed Charcuterie Board
Popcorn had it's time, but we are *adults* now. And for our movie snacks, we will now be playing with our food and designing it into fun shapes that look like our favorite characters. Like *adults.*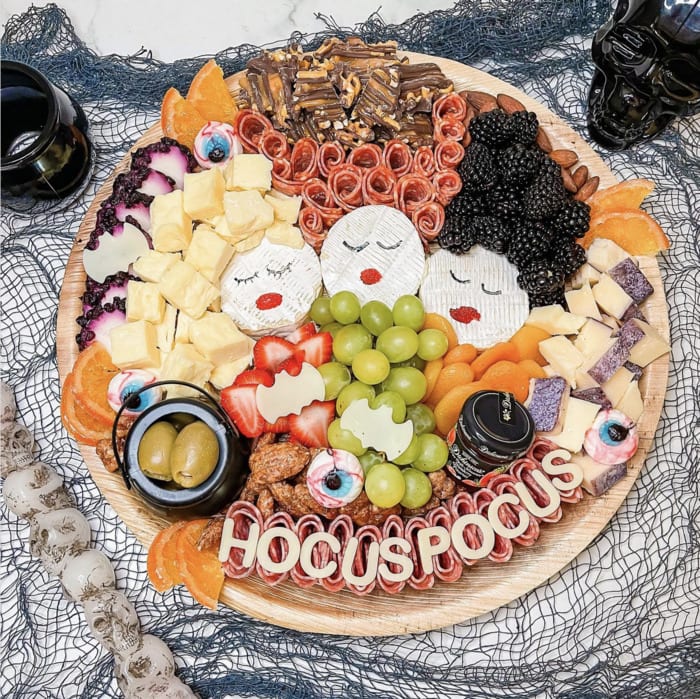 9. Vegan Charcuterie Box
You know, like a charcuterie board, but…vegan! And in a box. Because you can get a lot more vegan cheese stacked up with those sides.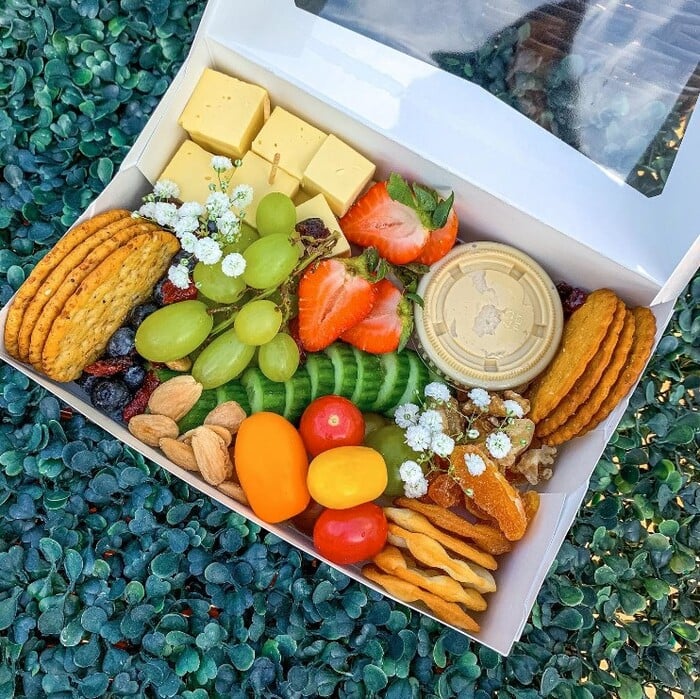 10. Charcuterie Cones
With this genius hack, you can take your charcuterie on the go. Although it will be insulting to present it as a charcuterie board, it's the perfect snack for a weekend walk around the park. Just watch out for extra needy birds.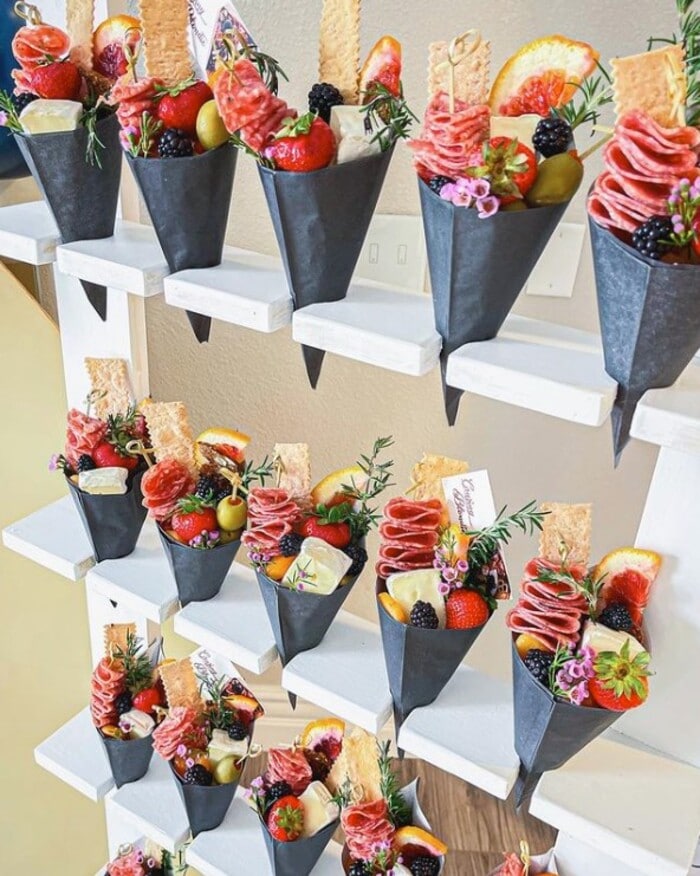 11. Infinite Charcuterie Board
This infinite charcuterie board – nay, table – is high up on our vision board. When you've reached this level of meat-urity and can afford this amount of meat, cheese, crackers, and sure, fruit, you know you're living the good life. And no we didn't steal this idea from The Lost City.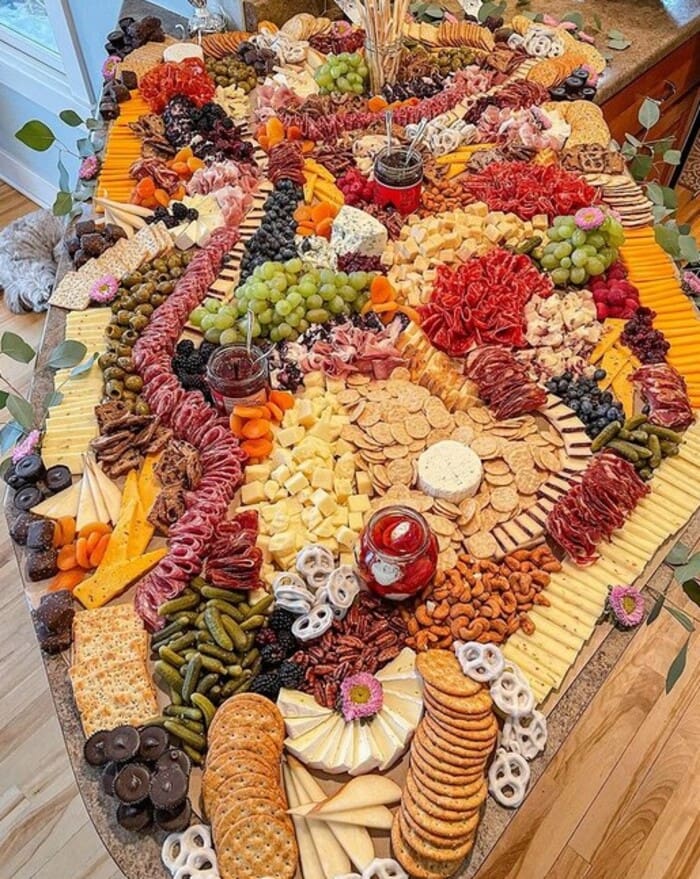 12. Veggie Charcuterie Board
A perfect choice for your veggie and vegan friends, this stunning design looks like it came right out of Barbie's kitchen. Luckily, it's not all plastic. Though raw radishes pretty much taste the same as Barbie's shoe.
13. Peanut Butter and Chocolate Charcuterie Board
Peanut butter and chocolate is a match made in heaven. Put them together on a board with apple slices for dipping, and angels start to sing. Be not afraid!
14. Hot Dog Charcuterie Board
If the United States were a charcuterie board, it would be this hot dog board. Featuring pickles, fries, chips, and other accouterments, it's the perfect way to elevate your next cookout. Just ignore the beer pong game.
15. Pasta Charcuterie Board
This pasta board may be a case of looking better than it tastes, but we're here for it. And it's better than that "let's make pasta directly on the counter" trend. Our eyes are satisfied, and our mouths, well…they'll just skip those raw eggs and dive right into the mac and cheese.
16. Halloween Charcuterie Board
The idea of peeling off meat from a skull is a little questionable, but there's no doubt that cheese ribs are irresistible. This spooky charcuterie board is ideal for horror movie marathons, especially if you want to spend as much time being distracted from the scary parts.
17. Birthday Charcuterie Board
This creatively constructed meat and cheese board may just be the best way to enter a new year of life. Well, other than that Batman cake from your fourth birthday. But it's a super close second.
18. Breakfast Charcuterie Board
If you thought the brunch aesthetic was good already, it skyrockets to a whole new level with this waffle and pancake-packed breakfast board. And, gets substantially stickier. Turns out plates are pretty good at holding in syrup.
19. Pizza Charcuterie Board
The idea of this pizza board with a glass of wine sounds like the perfect plan for a Friday night. Or Saturday. Or Sunday, or Monday…okay we may need to get a few more boards.
20. Candy Charcuterie Board
Is this a brilliant idea for a child's birthday party? Definitely. Is it also a way to make an adult's sweet tooth more acceptable? Probably. We'll have to test it out to decide that. Don't mind us.
21. St. Patrick's Day Charcuterie Board
We're not sure that green food coloring makes this board healthy, but we're also not not sure that it doesn't. Really, who's to say that green Kit Kats aren't just as good as green grapes? Ignore all those doctors, it's fine.
22. Fast Food Charcuterie Board
Okay, we can admit that this fast food "charcuterie board" is really stretching the concept. But it looks great, tastes good, and help you catch up on all that sleep you've been missing.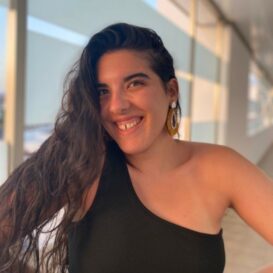 Latest posts by Nora Garcia
(see all)