Do you love bread, butter, and own just one set of utensils? Then the latest TikTok food trend is for you! Butter boards have been sweeping FYP's across the nation. It's exactly what it sounds like: A board. Covered in butter. And people have gotten extremely creative with these butter board ideas.
It started off simple. It started off wholesome. People covered their best wood cutting board with whipped up goat milk and topped it with sweet or savory toppings.
Then, people started swapping the butter for other spreadable things. Cream cheese, peanut butter, and even mashed up beans entered the chat.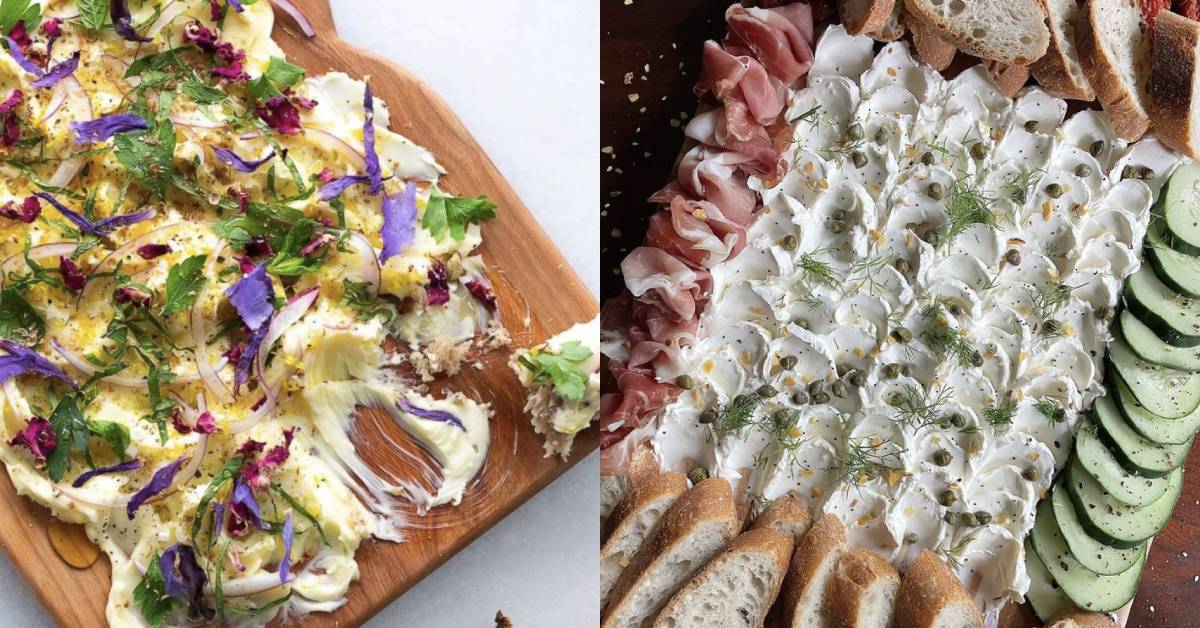 We got so wrapped up into these aesthetically pleasing looks of all these creations that we never stopped to think: is this really the best way to present food? What happened to bowls? And, can't we just splurge on one more knife, fork, and spoon? Heck, we'll settle for a spork!
Alas, TikTok is known for selling a vibe, not practicality. So the butter board variations multiplied, and we kept eating it up. Metaphorically. Although we wish it was literally.
If you're planning a part, a foodie gathering, or just want to get fancy for your next solo movie night, take inspiration from some of these ideas below. From traditional butter boards to peanut butter boards to cream cheese boards, you'll be the coolest Gen Z'er at the kitchen table. (That middle part is really fooling everyone!)
15 of the Coolest Butter Boards and Other Variations
1. Herb Butter Board with Flowers
With herbs, onions, and spices, you can get more classic than this. Because doesn't everyone have edible flowers on hand? No…not that kind. Although…?
2. Butter Board with Goat Cheese and Figs
We're getting jiggy for these figs. Think we'll share? Nah, nah, nah, nah, nah, nah, nah.
3. Carnivore Butter Board
This is giving us trauma flashbacks to the time Derek from accounting was on an all-meat carnivore diet. But it's also giving us mouthwatering flashbacks to a life-changing cheesy beef dip from a 2016 Super Bowl party. We only hope that this butter board can eventually start taking as much as it's giving.
4. Sweet Butter Board with Fruit
This has all the makings for a healthy breakfast: fruit, butter, more fruit, more butter, and a drizzle of honey. We'll make it to at least 9:30am before crashing!
5. Savory Butter Board
The best thing about this trend is that you can put literally anything onto the butter board and call it a masterpiece. This one has herbs, seeds, spices, and globs of leftover pizza sauce. We might be wrong about that last ingredient, but you knew you were ready to try it.
6. Everything But The Bagel Cream Cheese Board
Did…did Trader Joe's make this? The New York Bagel Mafia is shaking.
7. Cream Cheese Butter Board with Prosciutto and Cucumbers
Can copious amounts of cream cheese be counteracted by a few circles of cucumbers? We may never know. But we will definitely win the alliteration Olympics.
8. Cream Cheese Board with Smoked Salmon
We recognize that this is just a deconstructed lox bagel. But we also recognize the need for rebranding. Speaking of, can someone come up with a cake board for us?
9. Labneh Board with Veggies
If you're not familiar with labneh, it's a Middle Eastern soft cheese that's made from strained yogurt. If you hate how thick Greek yogurt is, try this instead! And then spread it on a board.
Then, top it with savory veggies. Start a food blog. Use it to share all your family secrets. You find a long lost cousin. It's Kevin Bacon. You put him on the labneh board. It's a breakfast sensation.
10. Labneh and Pesto Board
We don't think this is what the doctor meant when she said to add more greens into your diet. But she also didn't explicitly say that this wasn't it. So we're here for this fresh and creamy combo. "Fresh and Creamy" is ironically also the name of our next stand-up set.
11. Italian White Bean Butter Board
Watch out, hummus. This white bean spread is coming for your job.
12. Peanut Butter and Chocolate Board
It didn't take long for people to turn butter boards into peanut butter boards. After all, it's in the name!
And yes, you can use almond butter. Or cashew butter. Or almond cashew butter. Just please don't use sunflower butter. We won't be taking any questions.
13. Peanut Butter Board with Apples and Bananas
The classic after school snack just got a major upgrade. And by upgrade, we mean an opportunity for a toddler to make a bigger mess than ever imaginable. Good luck finding all the places they flung the peanut butter. (Hint: it's right next to the hidden Easter Egg you forgot about last year.)
14. Peanut Butter Board with Chocolate Hummus and Fruit
For a sophisticated sweet treat, pair your peanut butter with chocolate hummus. While it still has a job, anyway.
15. Guacamole Board
And finally, we end with this guacamole board. We're really not sure how this is any different than, well, regular guacamole. But it's clear that Guac's marketing team is worth their money. (They charge extra.)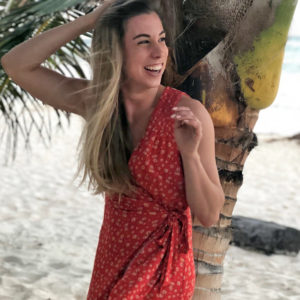 Latest posts by Hannah Rex
(see all)