Hot girl summer is great, the Summer of Love is a classic, but have you considered…the summer of pickles? Yeah, us neither. But, whiskey pickles (also called boozy or drunken pickles) are the newest TikTok food trend. And your new favorite summer BBQ snack. If you're over 21, obviously.
And, they're not alone. Mountain Dew just announced a new pickle-flavored soda for everyone who thought, "this could some carbonation" after drinking the juice at the bottom of the jar. (Don't act like you haven't done it.)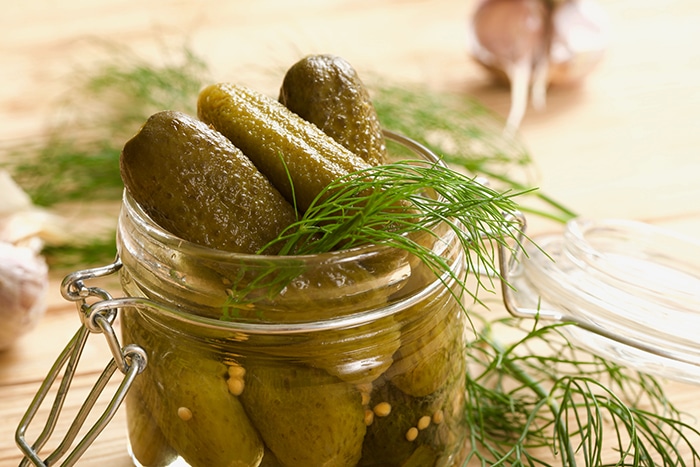 There's also Trader Joe's new dill pickle seasoning blend, falafels, and mustard. And, let's not forget, the hipster takeover of Pickleball. So, here's what they are, how to make them, and some ideas on what to do with them once you do.
What Are Whiskey Pickles?
Whiskey pickles are pickles that have been soaked in whiskey. Because while you can't turn a pickle back into a cucumber, you can infuse it with alcohol and that's the next best better choice.
Considering that a pickleback is a shot of whiskey followed by a shot of pickle juice, it's actually shocking it took this long for these to become a trend. Except that it didn't.
While it is currently trending on TikTok thanks to creators like @meggeroniii, the first Whiskey Pickle recipe was published at least as far back as 1827. Here's the original recipe from the Farmers' & Mechanics Journal:
"I gathered the cucumbers from the vines, and without any other preparation then washing them clean, dropped them into a stand containing a mixture of whiskey and water, one part of the former to three parts of the latter.
I secured them against gnats, flies and eternal air, by tying a flannel close over the top, and laying over this a board or stone, and neither moved or examined them until Christmas, when I found them not merely equal, but decidedly superior to any pickles I have ever tasted.
They were hard and of a very fine flavor, and what has been particularly admired in them, they retained the original color of the cucumber,not exhibiting the green, poisonous appearance of pickles that had been salted and scalded in copper. My whiskey and water (no salt having been used or heat employed) is now an excellent vinegar for the table."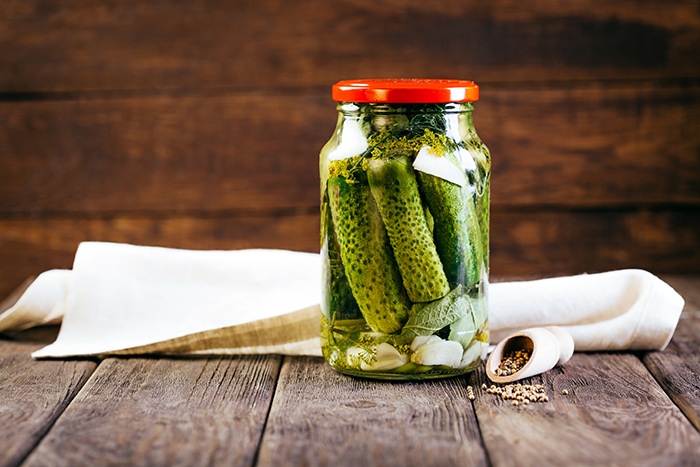 You could buy pre-made ones, but the whole process takes about an hour, perfect for all us procrastinators who need to figure out a last-minute dish to bring to the potluck.
You can also make boozy pickles with tequila, rye, or other spirits, depending on what your favorite alcohol is and what you've got in your pantry. If all you've got in your pantry is a bottle of Pappy Van Winkle or Four Roses Single Barrel, we recommend you go to the store and get a cheaper bottle to make these.
What Do I Do With These?
Uh, eat them?
If you're looking for ideas other than eating them straight out of the jar, here are some things you can throw your now drunk pickles in (or on):
cocktails (for garnish)
macaroni salad
burgers
pizza
make them into relish
air fry them
sandwiches
https://www.youtube.com/watch?v=n5l05rHkivc
Whiskey Pickles
Print Recipe
Combine whiskey, hot sauce, and pickle brine to make these boozy adult pickles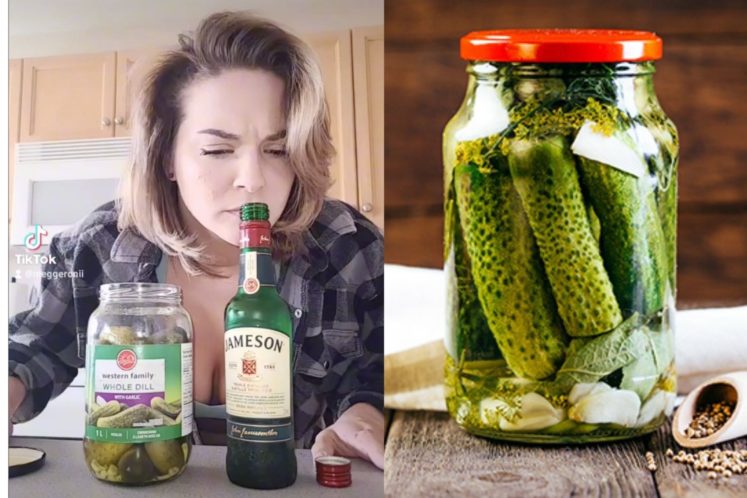 Servings: 8 servings
Ingredients
1 32 oz. jar dill pickles
1 cup whiskey (or tequila, rye, or vodka)
1 jalapeno (optional)
Instructions
Pour whiskey into jar of pickles.

Add jalapeno. (Optional.)

Let sit for at least one hour.
Notes
Instead of jalapeno, you can use hot sauce or any pepper of your choosing. If you do use a pepper, remove it after 24 hours. However, you can leave the pickles in the solution for as long as you want. This recipe is only for those 21 and over.
Nutrition Facts
Whiskey Pickles
Amount Per Serving (1 pickle)
Calories 10
* Percent Daily Values are based on a 2000 calorie diet.
Did you make this recipe?
Leave a review below, then take a photo and tag @letseatcakeblog on Instagram so we can see it!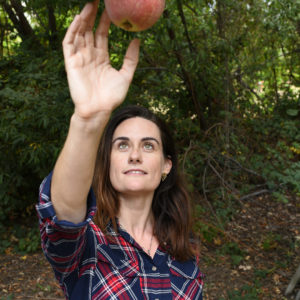 Latest posts by Rebecca Swanner
(see all)