This salty and sweet patriotic candy bark is the perfect last-minute dessert for the 4th of July or a way to honor Memorial Day.
This red white and blue dessert is perfect for when you've got other stuff to do… like finishing up that ice luge or putting the finishing touches on this equally festive Star-Shaped Cream Tart Cake.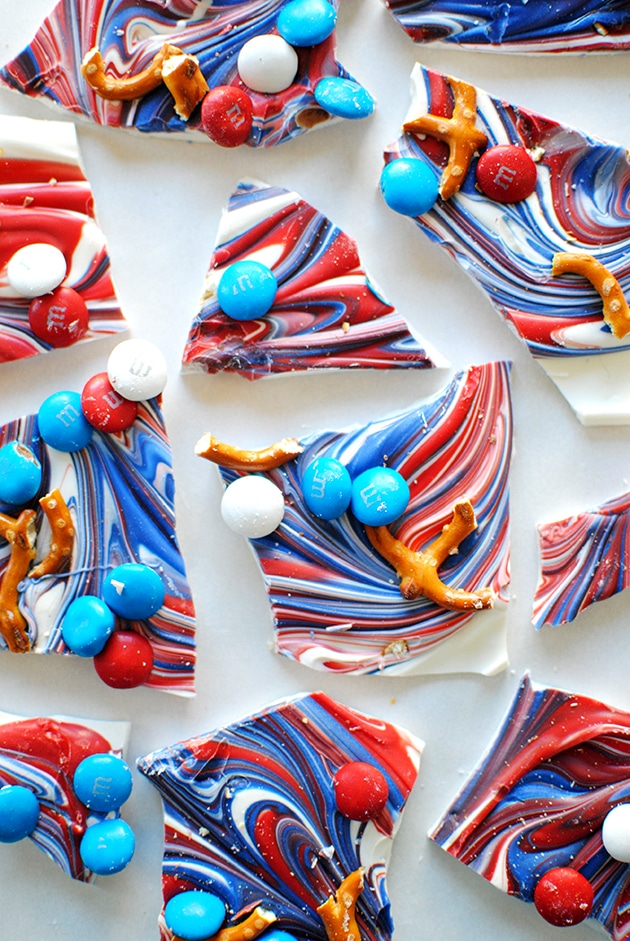 For a long time, July 4th has been one of my favorite holidays. What's not to love about a holiday whose festive traditions include BBQ and fireworks? Unless you have pets that aren't my cats who sit at the window and watch the fireworks all night long. I guess that's what happens when one of them is the reincarnation of John Adams.
And let's not forget the red, white, and blue desserts! Last year, I made some Patriotic Watermelon Wands inspired by Weelicious, but this year I thought I'd try two new things…my first chocolate bark and my first recipe video!
Turns out the red, white, and blue bark was easy! Minus the first attempt in which I thought it was a good idea to use two pieces of parchment paper. Turns out, not so much. Literally. But, everything else was super simple. From start to finish, the dessert took about 30 minutes to make!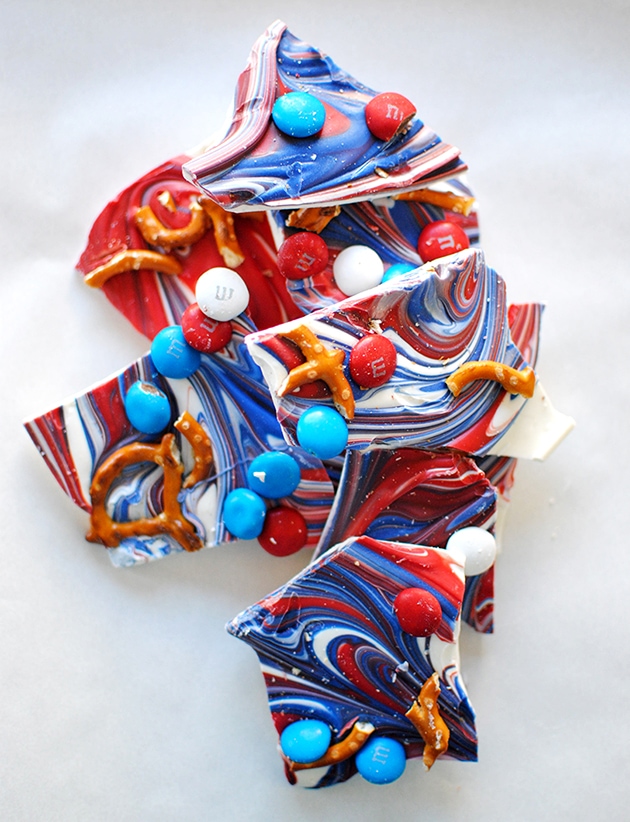 I used Wilton's Candy Melts for this, but you can use white chocolate that you hand dye with gel-based dye too. I heated each color in the microwave for about a minute or so each until they were an even, spreadable consistency. Then, I poured the white onto a parchment-lined baking sheet and spread it into a rectangular shape. I topped this with blue and red, and then used a wooden skewer (a knife would work just as well) to swirl it all together! Just before popping it in the fridge, I sprinkled M&Ms and crushed pretzels on top to give each bite that salty sweet goodness. Then it went into the fridge to harden for 25 minutes!
I'm so happy with their results! The only bad part is that now that I know how to make this, and how good the homemade version is, I might be tempted to make it all the time. Maybe a unicorn bark with hand-dyed white chocolate is next?
Red, White, and Blue Candy Bark
Print Recipe
This Independence Day, make a festive treat even the kids can help with. This red, white, and blue candy bark makes the perfect 4th of July dessert!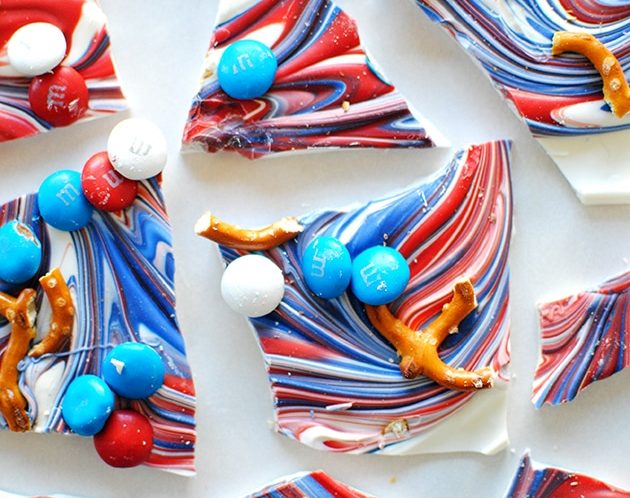 Servings: 10 servings
Ingredients
2 bags white candy melts
½ bag blue candy melts
½ bag red candy melts
¼ cup pretzels (crushed)
¼ cup red, white, and blue M&Ms
Instructions
Melt candy melts in separate bowls according to package directions.

Pour white candy melts on parchment-lined baking sheet and spread into a rectangle.

Drizzle blue candy melts on top.

Drizzle red candy melts on top.

Use toothpick or wooden skewer to stir candy melts to create marbled effect.

Top with pretzels and M&Ms.

Place in fridge for 25 minutes. Break apart and enjoy!
Nutrition Facts
Red, White, and Blue Candy Bark
Amount Per Serving (1 serving)
Calories 50
* Percent Daily Values are based on a 2000 calorie diet.
Did you make this recipe?
Leave a review below, then take a photo and tag @letseatcakeblog on Instagram so we can see it!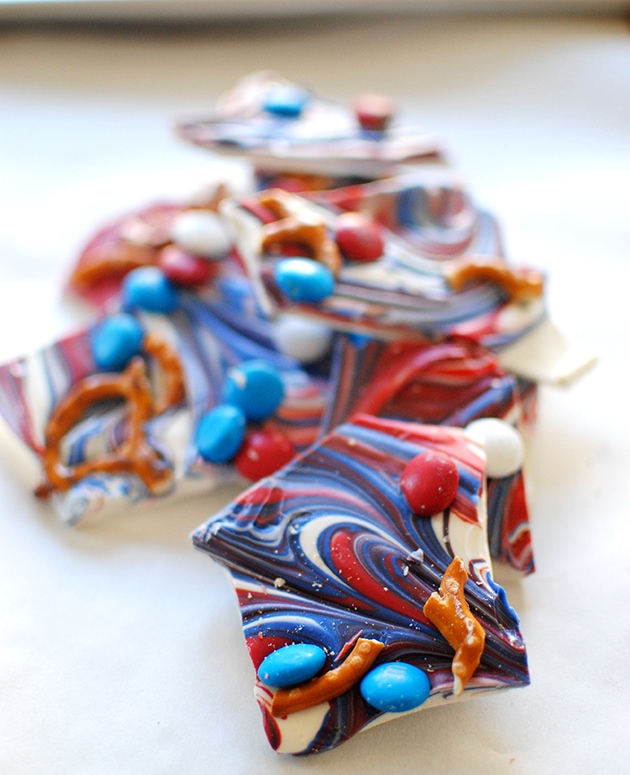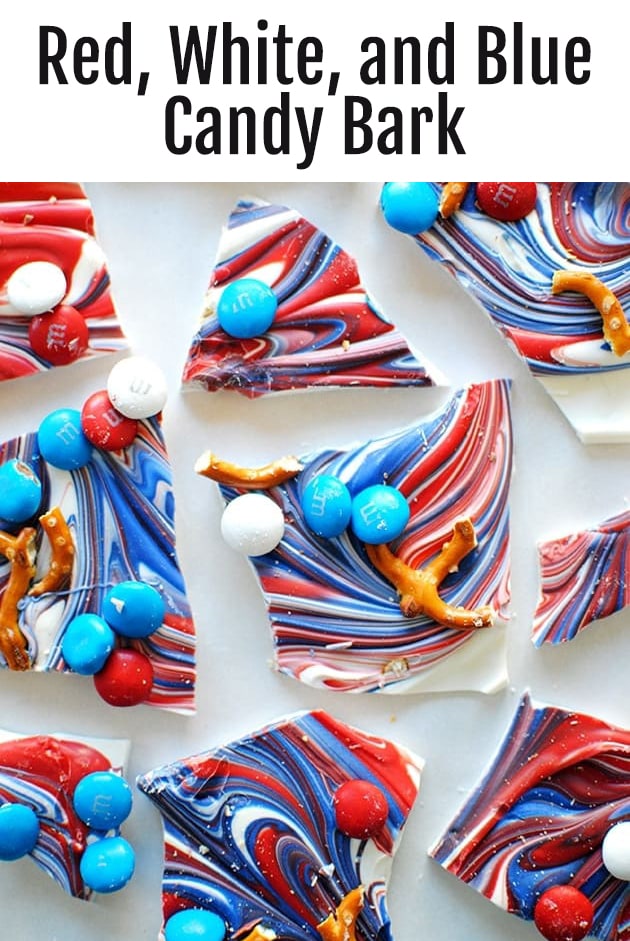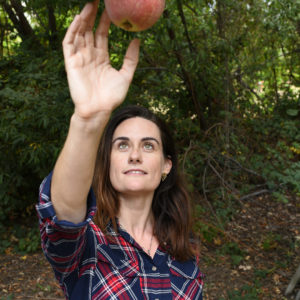 Latest posts by Rebecca Swanner
(see all)