This summer, surprise your guests with this Cream Tart Cake recipe! This star-shaped dessert, inspired by cookie number cakes, is baked in the shape of a star, so it's perfect if you need an easy Fourth of July dessert.
Looking for other patriotic dessert recipes? Check out this Fourth of July Candy Bark or these popsicles.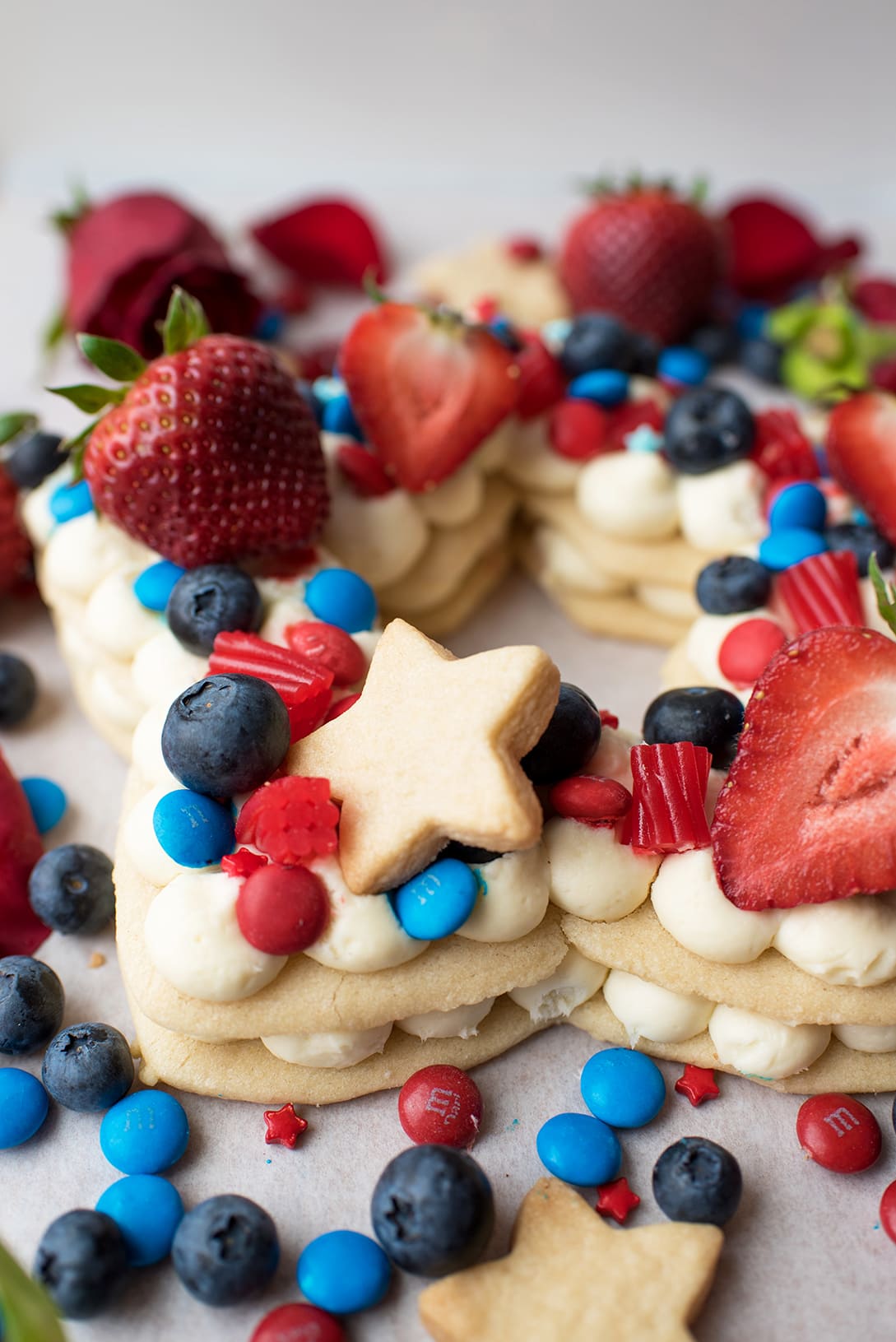 What Are Cream Tart Cakes?
Cream tart cakes are two cookies separated by a layer of pastry cream or frosting. Once you set the second cookie on top, then pipe more pastry cream and decorate it! For this cream tart take, I use fruit, candies, and some individual star-shaped cookies.
But, you can decorate with everything from candies and smaller cookies to flowers, chocolates, and macarons. The world is your oyster. (Avoid decorating with those.)
The tart cakes were invented by Adi Klingofer, a pastry artist from Israel. Around the beginning of 2018, the baking trend started to take over Instagram.
How to Make a Cream Tart Cake
1. Roll out your dough between two layers of parchment and place on a baking sheet. Cut out the shapes you want, making sure they're identical. You can use the extra dough to make more cookie cakes. Below, there are two different sized stars. These would be for two different cakes. I used this cookie cutter set to make the stars.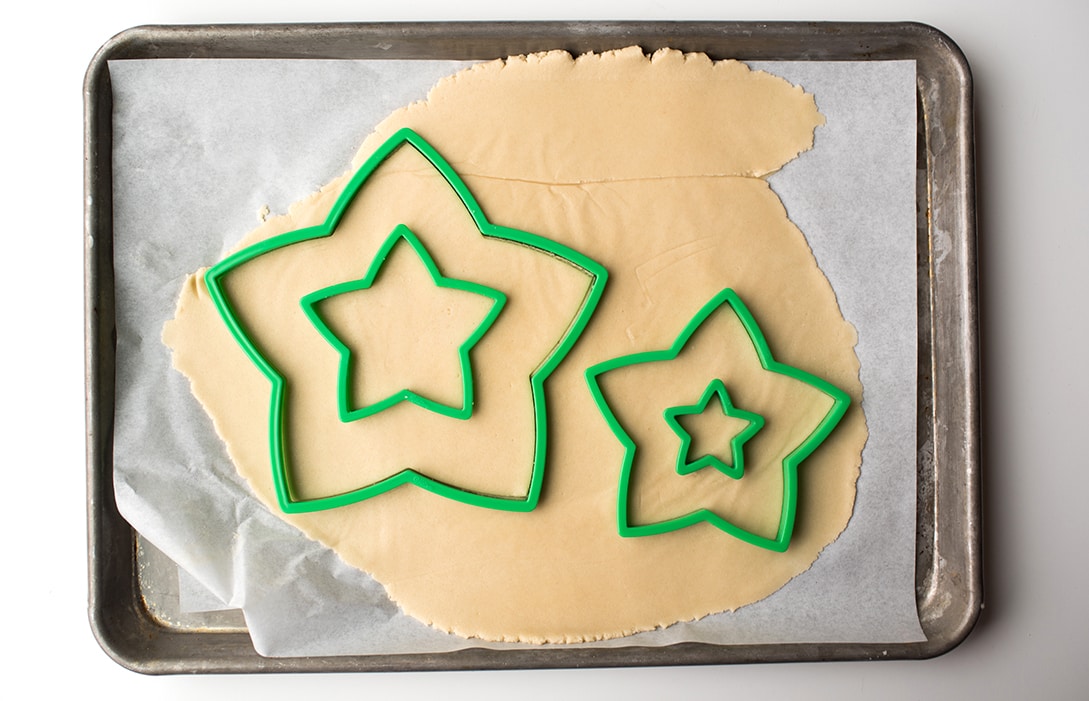 2. Remove the cookie cutters and bake at 350° F for 12 minutes or until edges are just a very light golden brown.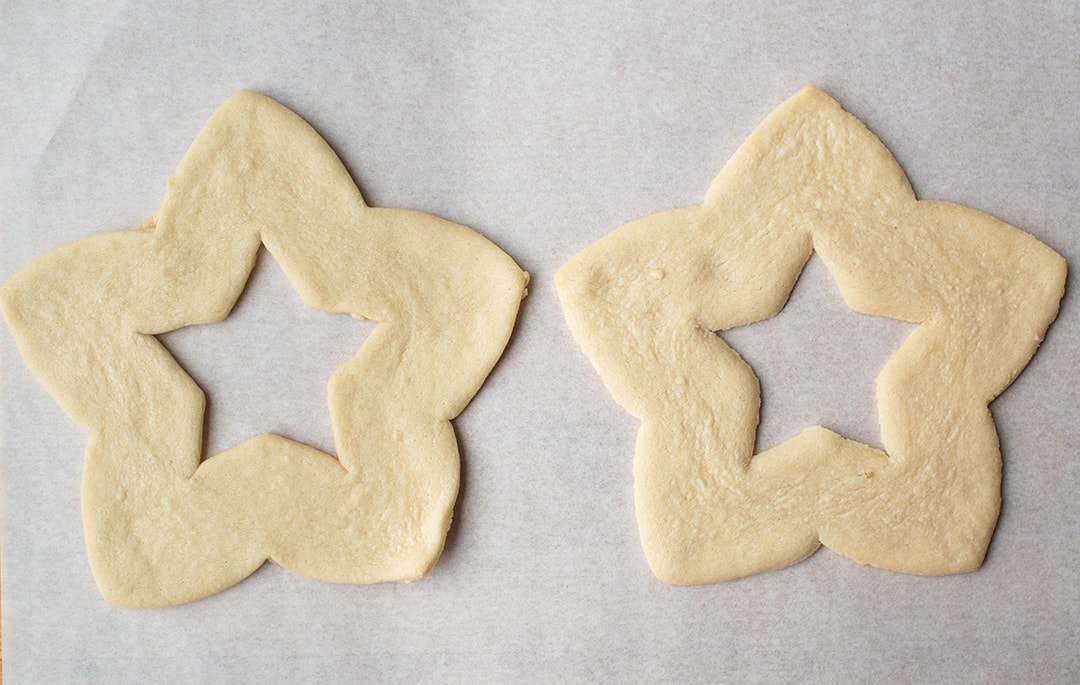 3. Once the cookies have cooled completely, make the frosting and pipe it onto one cookie.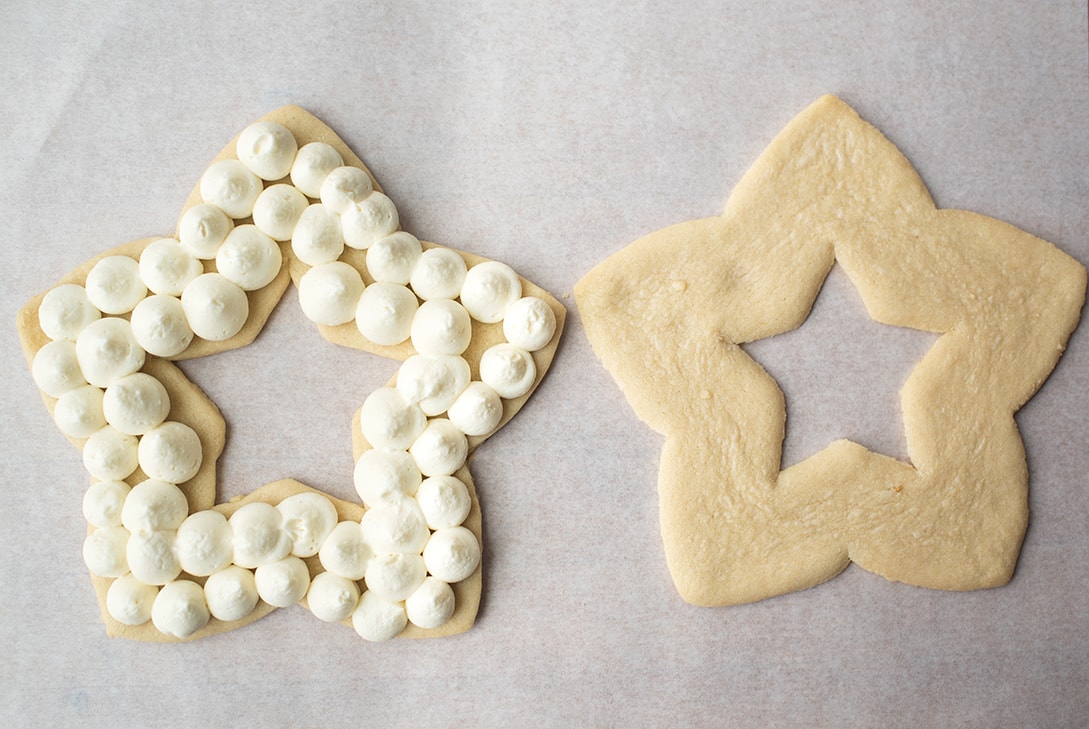 4. Stack the second cookie on top of the first. Cover the second cookie with frosting. I use a piping bag fitted with a round tip to pipe on my frosting.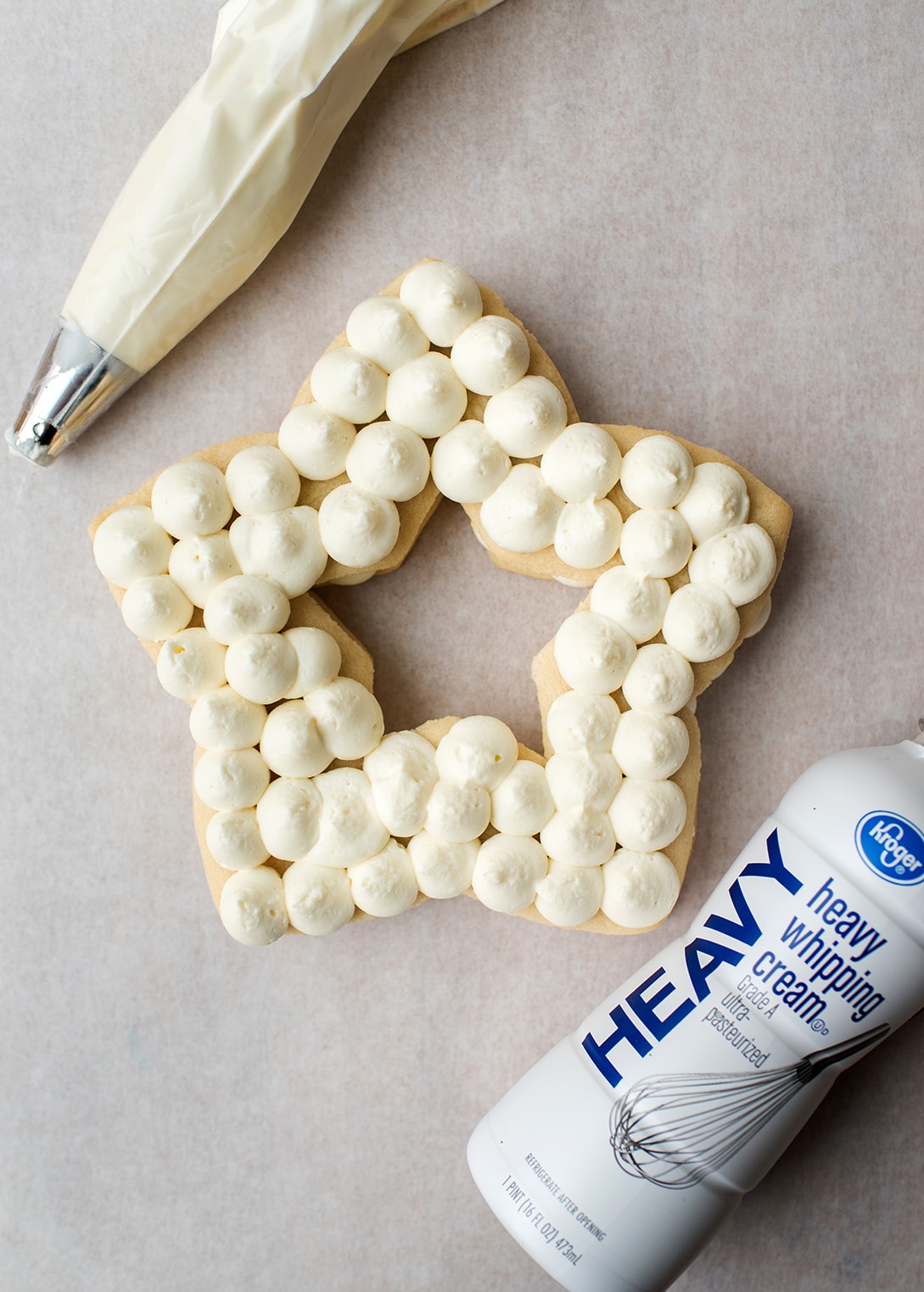 5. Once the cookies have been frosting, it's time to decorate your tart cake! I used strawberries and blueberries, red and blue M&Ms, roses, Twizzlers, and little star sprinkles I found in my sprinkle drawer! These aren't quite the same, but they're close.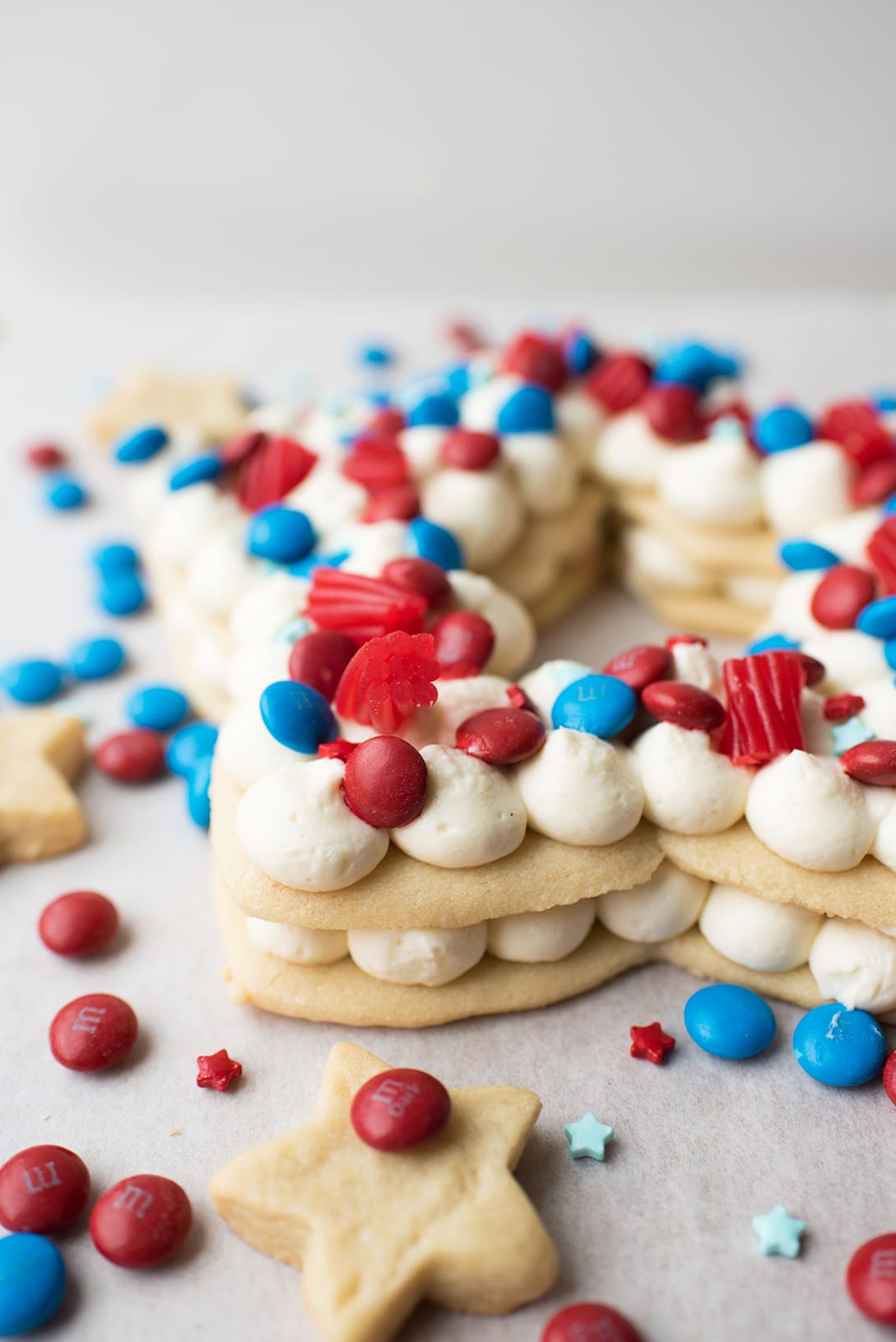 4 Cream Tart Cake Tips
This trendy Instagram number cake tart isn't hard but these tips will help you nail it the first time.
Decorate Quickly
Decide how you'll decorate your cream tart cake ahead of time. The frosting is simply stabilized whipped cream, so it doesn't stay firm for long at room temperature. It'll hold up long enough to eat, but you want to decorate quickly then pop it back in the fridge.
Choose a Design
I used large star cookie cutters from the Wilton Christmas tree kit, but you can also hand draw a template. Or, if you're like me and not artistically skilled in the slightest, look in Google images for a stencil in the shape you want! Searching for "star stencil" will bring up a variety of images that you can print out and trace onto a piece of parchment. Cut it out, set it on top of the sugar cookie dough, and cut around your shape with a knife.
Don't Move the Cookies
Usually, rolling out sugar cookies on a floured surface or parchment paper and then transferring them to the baking sheet is ok. Doing so with this recipe will distort their shape. I roll the cookies out to ¼-inch between two pieces of parchment, remove the top sheet, and then carefully place the other sheet (the one with the cut-out cookie) on the baking sheet. Then, I bake it until the edges are golden brown.
Make Enough Frosting
The frosting amount listed below makes enough for one 8" star cream tart or two 5" tarts. The cookie amount makes enough for four 7" tarts or eight 5" tarts. If you choose to just make one tart, you can easily freeze the leftover dough.
Cream Tart Cake Recipe
Print Recipe
Learn how to make a star-shaped cream tart cake inspired by the number cakes on Instagram!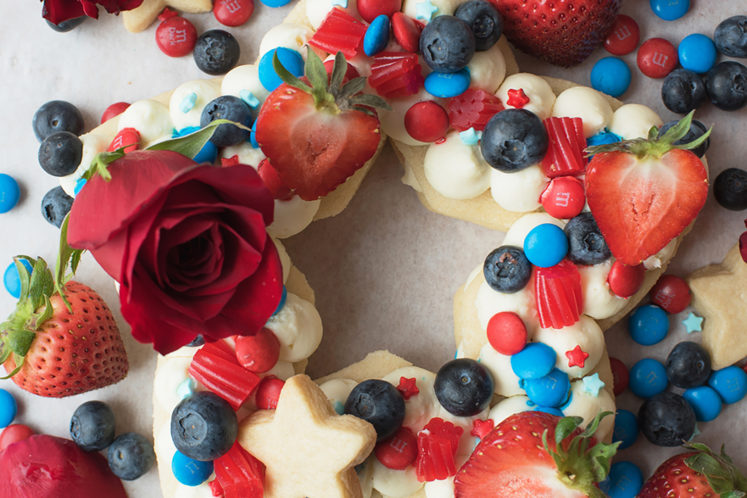 Servings: 8 servings
Ingredients
Sugar Cookie
3¼ cups all-purpose flour
2 tsp. baking powder
½ tsp. fine salt
1 cup unsalted butter (room temperature)
1½ cups sugar
1 large egg
2 tsp. vanilla extract
Cream Filling
8 oz. cream cheese (cold)
1 cup heavy cream (cold)
¼ cup sugar
1 tsp. vanilla extract
1 vanilla bean (optional)
Instructions
Sugar Cookie
Preheat oven to 350° F.

Combine flour, baking powder, and salt in medium bowl. Set aside.


Cream butter and sugar for 3 minutes using electric mixer until mixture is light and fluffy.

Add egg to butter mixture and let combine for 30 seconds.

Add vanilla.

Reduce speed and add flour. Mix until dough starts to come together into a ball.

Divide dough in three equal balls and roll first ball between two layers of parchment paper until ¼" thick.

Cut out desired matching shapes, re roll scraps as needed. Press unused dough into discs, wrap in plastic, and transfer to freezer to be used for a future recipe.

Transfer parchment with cutout cookies to baking sheet.

Bake for 12 minutes or until edges of cookies are light golden brown.

Remove from oven, place on wire rack, and let cookies cool completely.
Cream Filling
Beat cream cheese, heavy cream and sugar on high until mixture has thickened, about 4 minutes.

Add vanilla.

Transfer to pastry bag fitted with round tip.
Cream Tart Cake Assembly
Pipe frosting on the sugar cookie that will be the base. Pipe all the way around the edge, then go in slightly and go all the way around again. Repeat until the cookie is covered.

Place the matching sugar cookie gently on top.

Pipe frosting on the top sugar cookie in the same way, then decorate.
Notes
The cookie cream tart is best enjoyed the same day it is made. If you want to fresh flowers, wait to place these on the cake until just before serving.
Nutrition Facts
Cream Tart Cake Recipe
Amount Per Serving (0.25 of cake)
Calories 591
* Percent Daily Values are based on a 2000 calorie diet.
Did you make this recipe?
Leave a review below, then take a photo and tag @letseatcakeblog on Instagram so we can see it!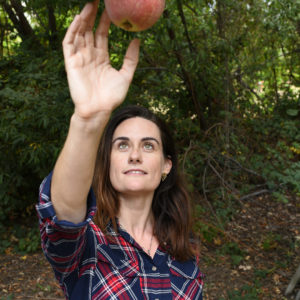 Latest posts by Rebecca Swanner
(see all)